Be Spoilt For Choice With Regent Singapore's Diverse Wedding Venues, Menus & Themes!
2019-11-20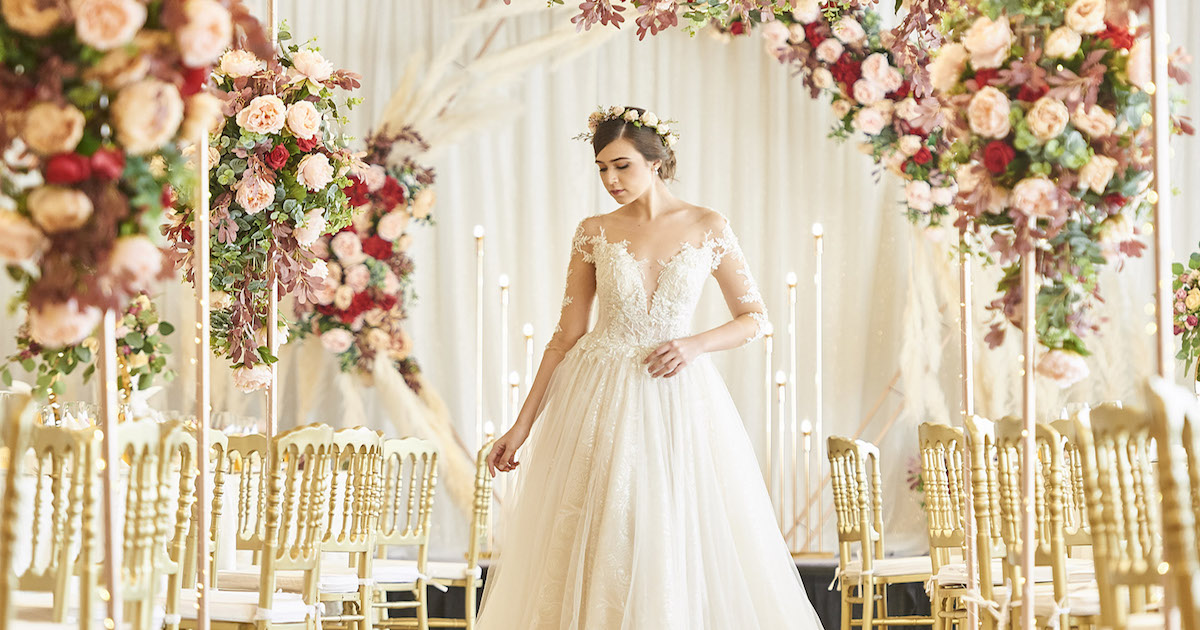 Modern weddings are all about adding a personal flair to your special occasion whilst retaining the elegance and beauty of a traditional wedding. While hotels often offer beautiful themes that come with their wedding packages, the limited number of options available may not always suit your personal preferences.
However, Regent Singapore offers a myriad of themes, venues, and culinary options so there's truly something for everyone.
Venues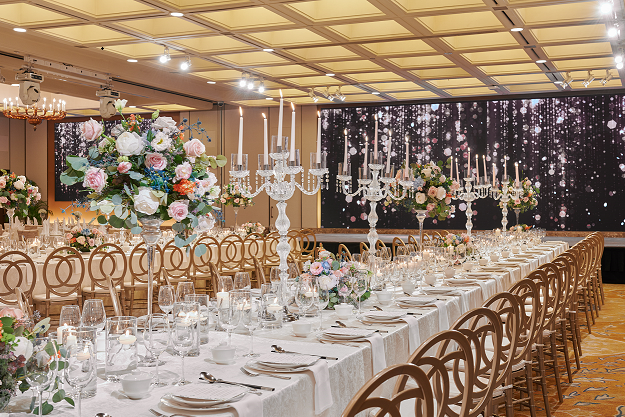 Whether you and your partner are going for a traditional ballroom wedding or a small, quiet celebration with your friends and family, Regent Singapore has a plethora of spaces that cater to dream weddings of any kind. Even if it's just for a private tea ceremony, the hotel's got your back with their intimate Cuscaden Room.
Royal Pavilion Ballroom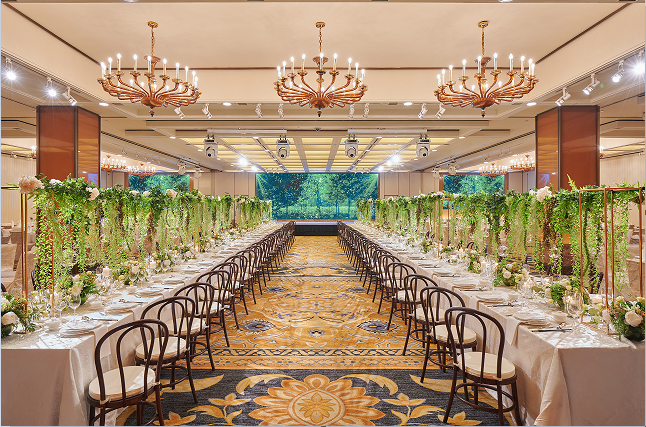 If you and your partner are thinking of throwing a traditional and lavish wedding banquet, the magnificent Royal Pavilion Ballroom has a capacity of up to 500 guests. This grand space also comes with an atrium foyer that is perfect for a dreamy pre-lunch gathering or elegant cocktail reception.
Tanglin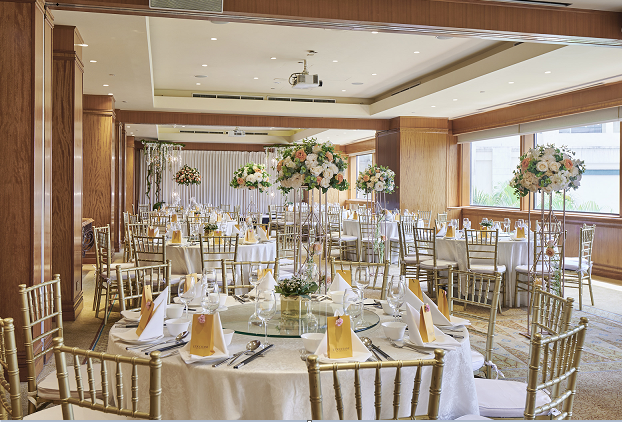 Tucked away with its own private reception area, Tanglin room can seat up to 200 people, or be split further into two to four smaller rooms depending on your specific needs. The wooden panelling in the room also helps to evoke a cosy and warm atmosphere, which is perfect for an intimate gathering.
Nassim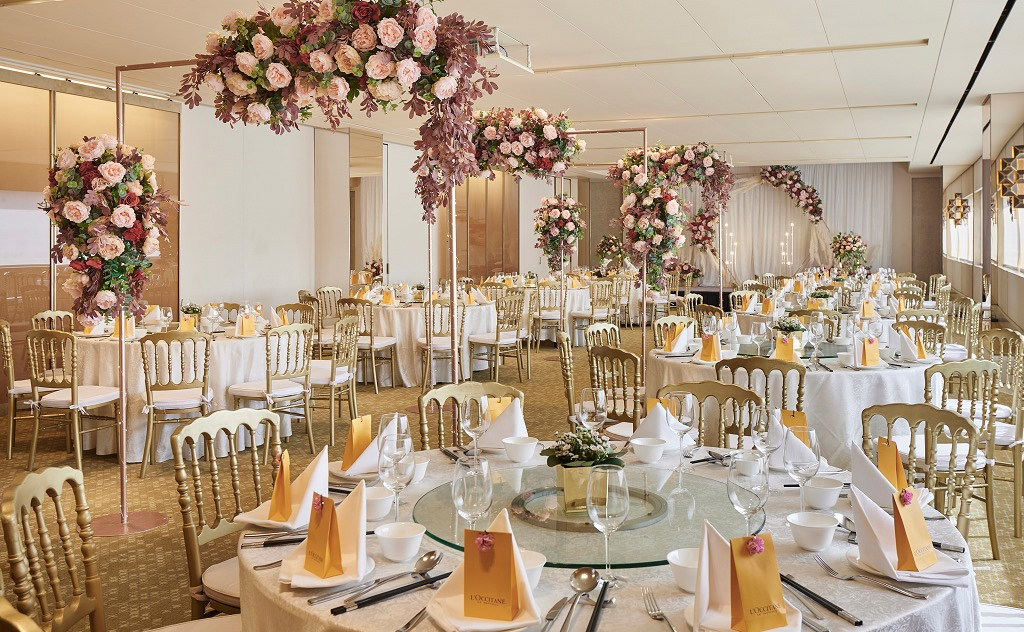 Source: Regent Singapore
Able to seat up to 160 guests, the Nassim room is suitable for mid-to-small-sized ceremonies. With large windows that let in plenty of natural light, the room is great for an intimate wedding, solemnisation, or tea ceremony. You can be sure that your photographs will look great with the natural lighting as well!
Paterson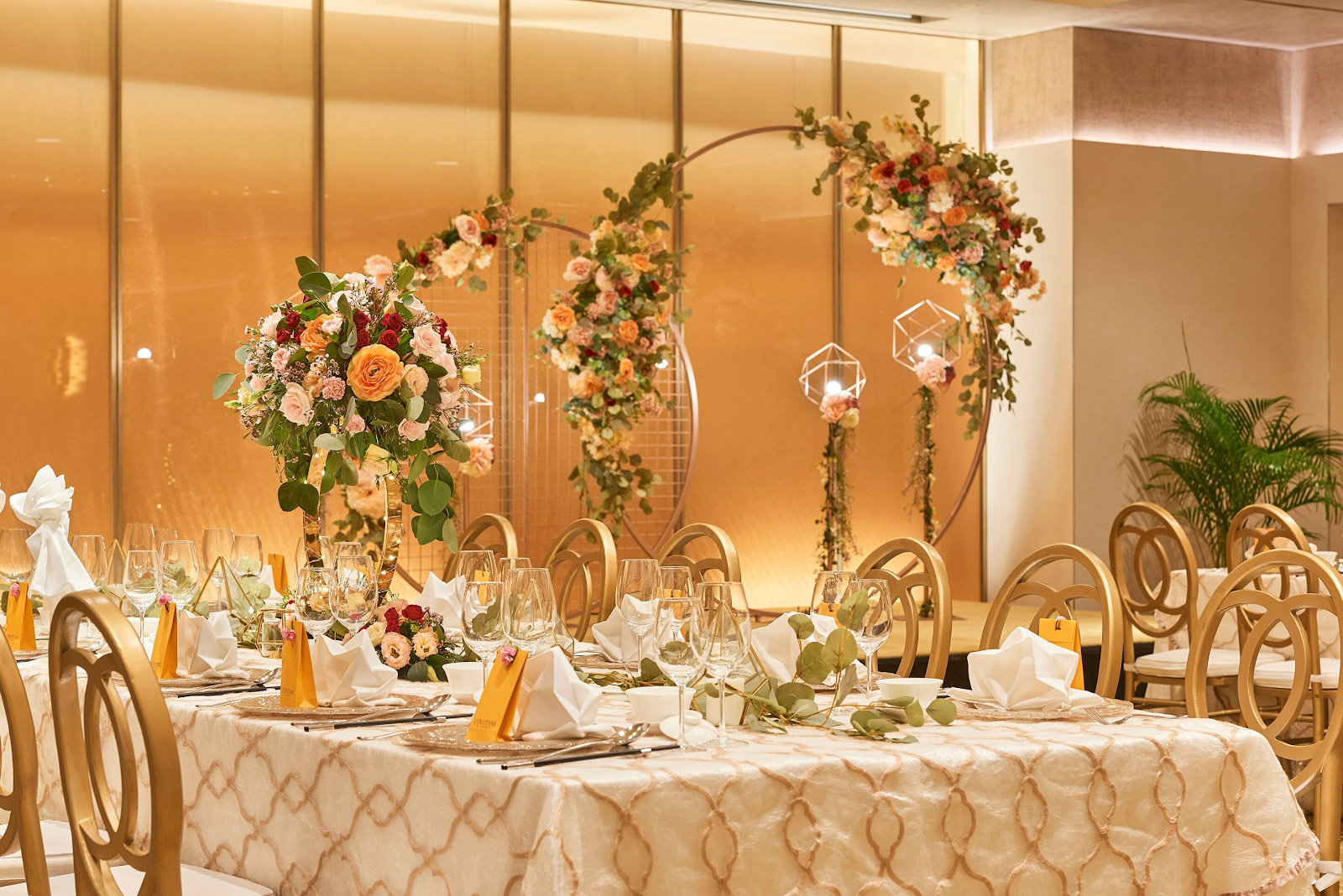 If you're looking for a subtle and modest affair, the Paterson room is a cosy, pillarless and windowless alcove where you can exchange your vows in front of your closest family and friends.
Themes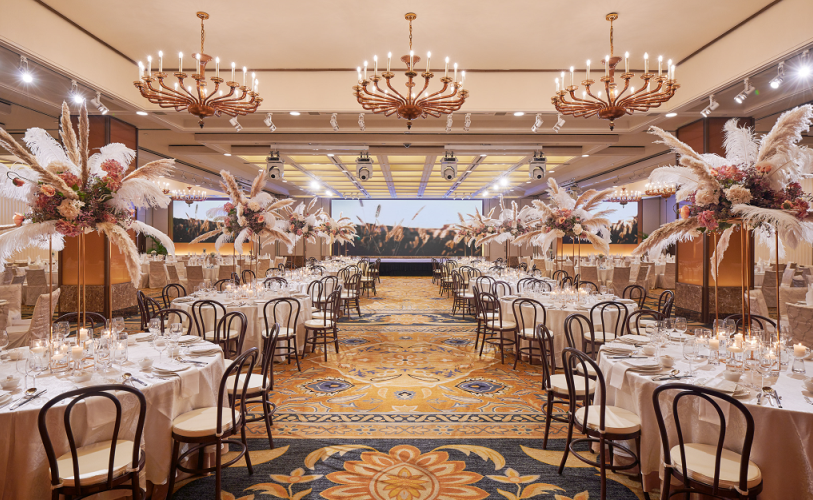 A successful wedding is one that blends seamlessly from start to end. Instead of bearing the extra cost that comes with hiring a wedding planner or stylist, simply choose from Regent Singapore's wide range of distinct and unique themes for a harmonious and beautifully-decorated ceremony!
Love in Provence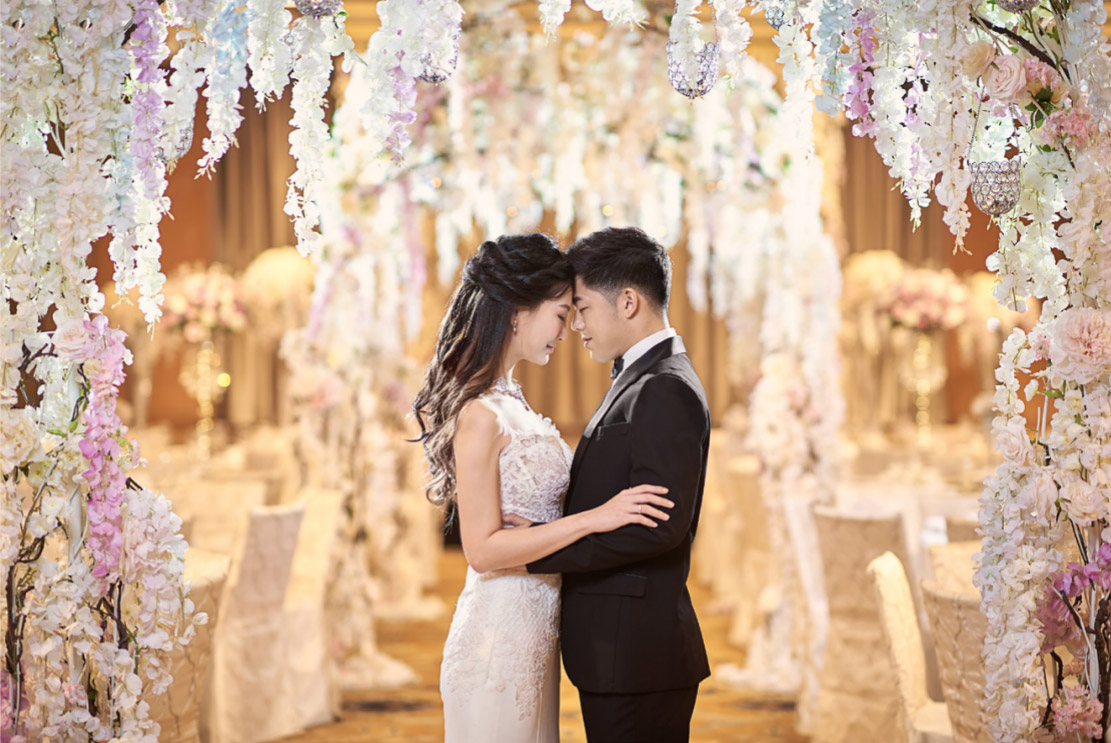 Available to all rooms, this French-inspired theme is a collaboration with L'Occitane and features exclusive wedding favours from the brand. Pastel blooms such as wisteria, roses, hydrangeas and more evoke a rustic, charming setting that is sure to make you feel like the belle of the ball with her prince, and is perfect for lovers of classic weddings.
Elements of Emotion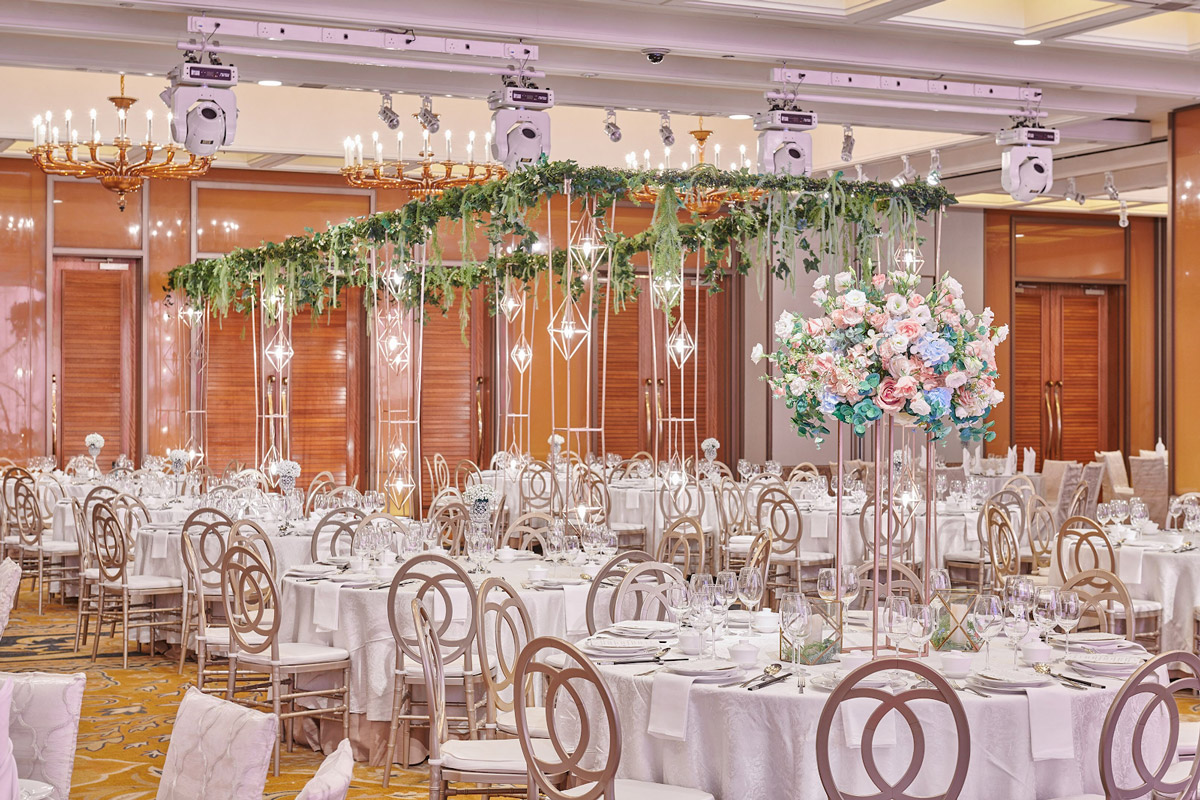 If you're looking for a meaningful theme, Elements of Emotion is designed to reflect the growth of a couple's relationship. As you and your partner walk down the aisle under a canopy of Spanish moss and eucalyptus, the decorations increase in complexity and extravagance, culminating onstage surrounded by intricate pastel floral arrangements. This theme is exclusive to the Royal Pavilion Ballroom.
Infinite Love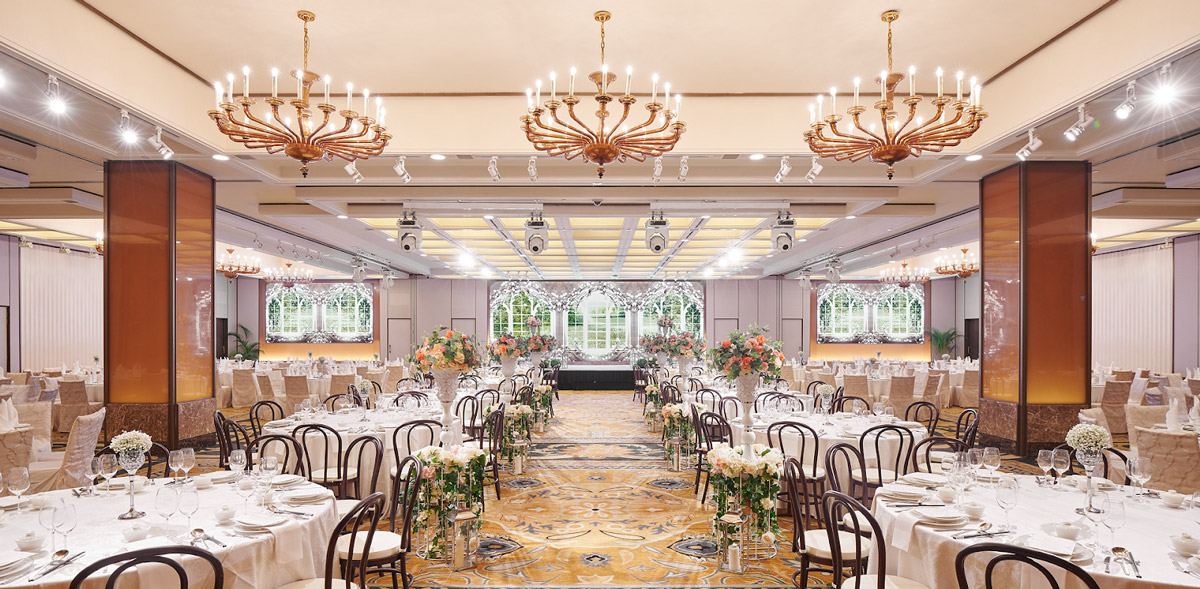 If you and your partner enjoy exquisite floral arrangements, the Infinite Love theme will not disappoint! Lush, generous blooms adorn each side of the aisle in the Royal Pavilion Ballroom, complemented by candlelit lanterns on each side, culminating in an arch of robust blooms.
Enchanting Whispers
Every season is the season of love with the Enchanting Whispers theme. Simple, cascading dove white and ivory decorations on each side of the Royal Pavilion Ballroom complement a selection of centrepieces that correspond to the four seasons. Couples who prefer even more personalisation can even customise their own centrepieces!
Rustic Elegance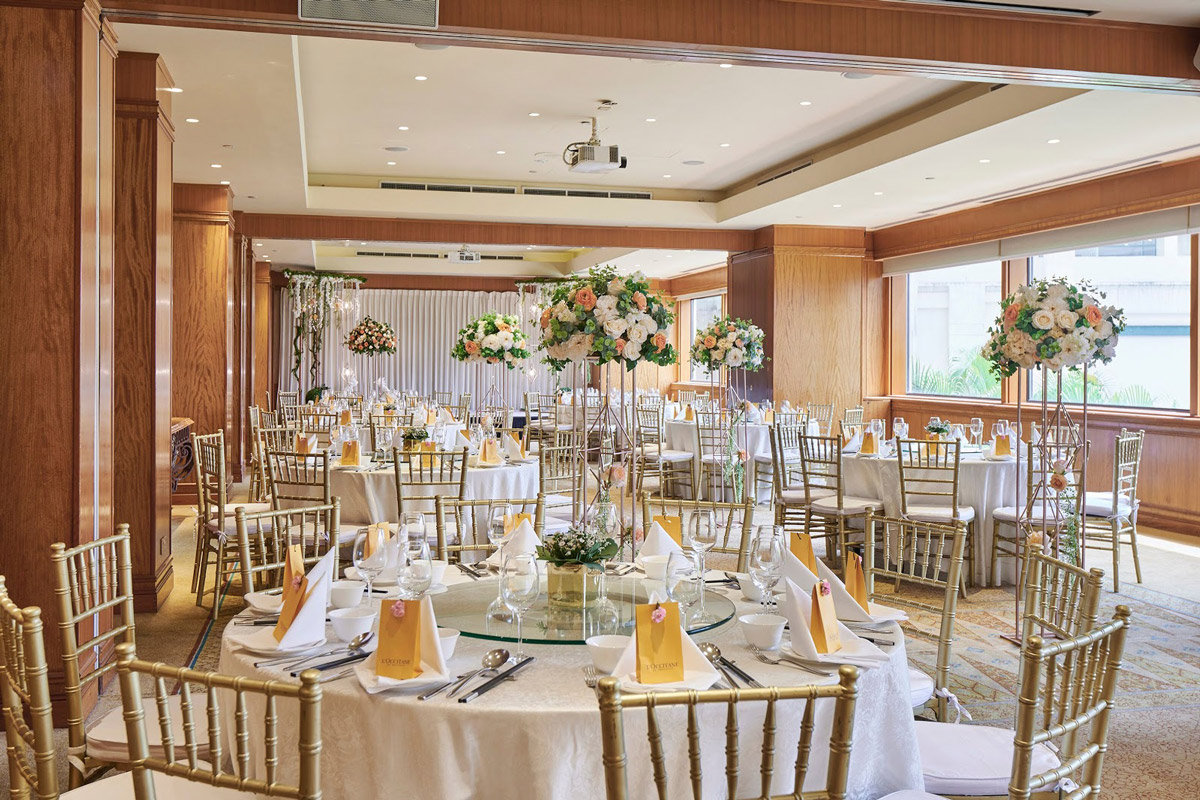 If you and your partner are looking for an escape from the hustle of city life, this new rustic theme, styled and inspired by a rural aesthetic will help to pave the way for a slow and dreamy atmosphere with garlands of wisteria and halos of floral arrangements.
Elements of Elegance
As people about to embark on a new phase in your lives, this spring-inspired theme, exclusive only to the Tanglin Room and Paterson Room, is the ultimate representation of a fresh start. Fresh flowers and crystal baubles bring this fairytale-like theme to life too!
Bohemian Chic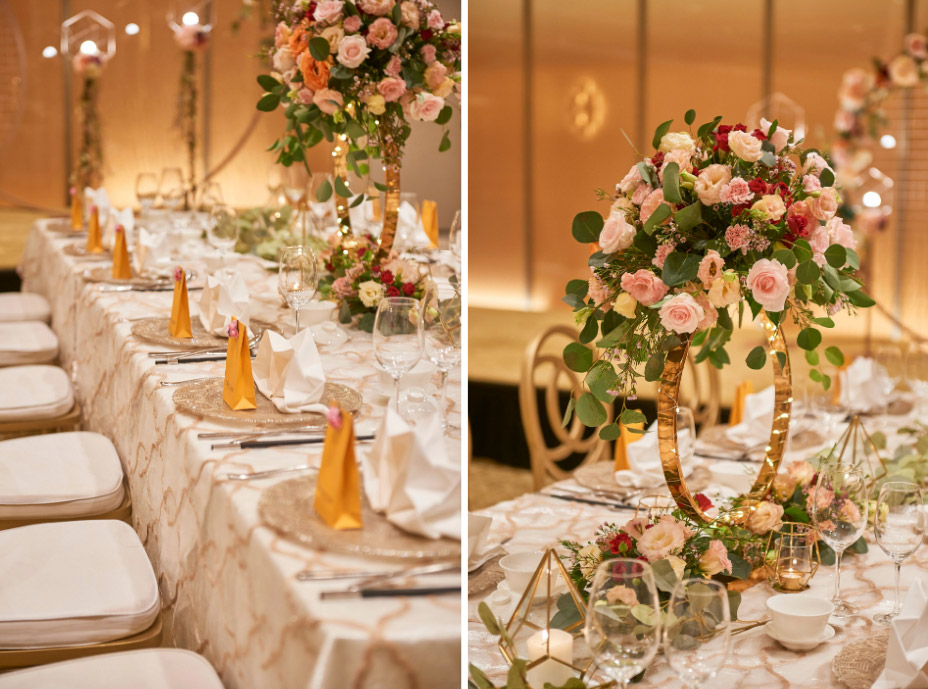 If you prefer flower crowns and garlands to rhinestones, the Bohemian Chic theme may be just what you need! Just released in 2019 and exclusive to the Paterson Room, this theme trades extravagance for a light and breezy atmosphere, transforming the venue into an effortless and light-hearted event.
Timeless Elegance
If you believe that simplicity is key, this simple but gorgeous theme is definitely the right choice for you. A set of intricate floral arches decorate a carpet of rolling green, transforming the Nassim room into an elegant occasion, accompanied by pink and ivory decor.
Pampas Luxe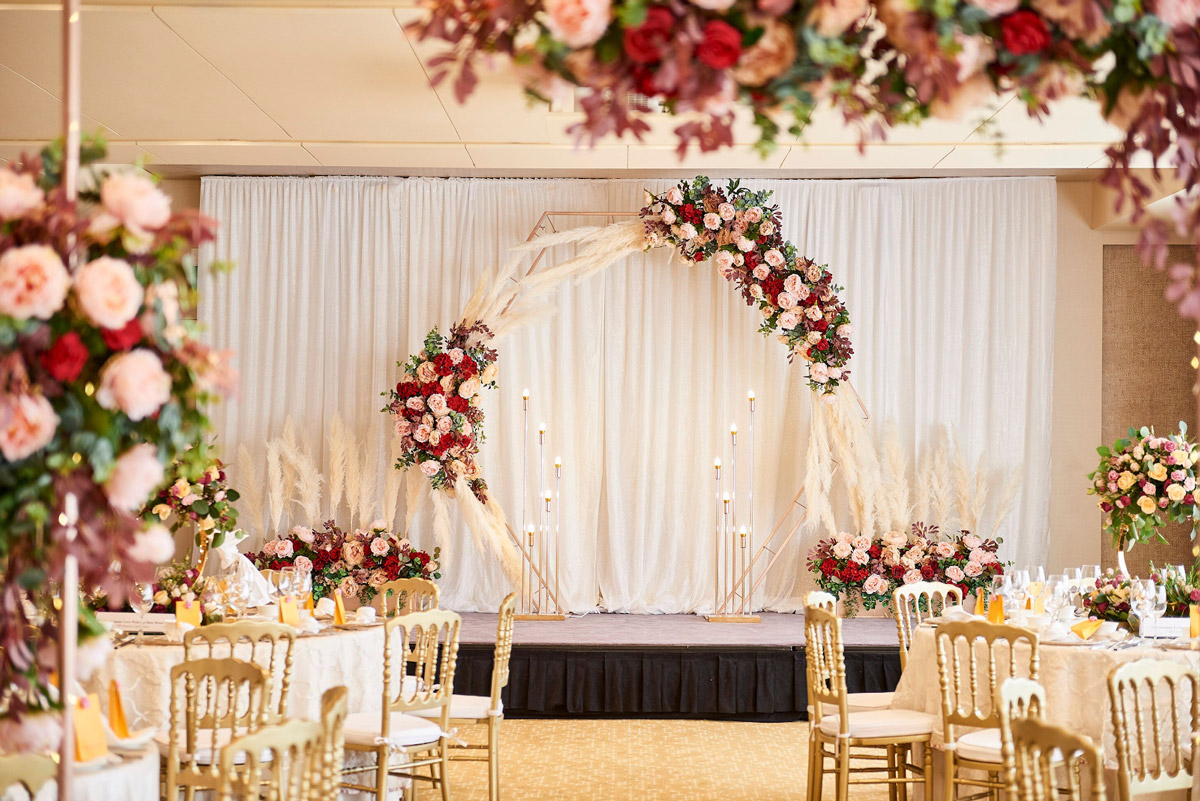 If you love nature-inspired weddings, this new and exclusive theme for the Nassim Room will transform your dreams into reality. Dried flower arrangements of peonies, hydrangeas, roses and eucalyptus are reminiscent of the wild landscapes of South America.
Menus
In addition to the multitude of venues and themes they offer, Regent Singapore is also home to award-winning establishments such as Basilico and the Michelin-starred Summer Palace. Keep your guests satisfied with bespoke menus that are specially crafted to delight and surprise!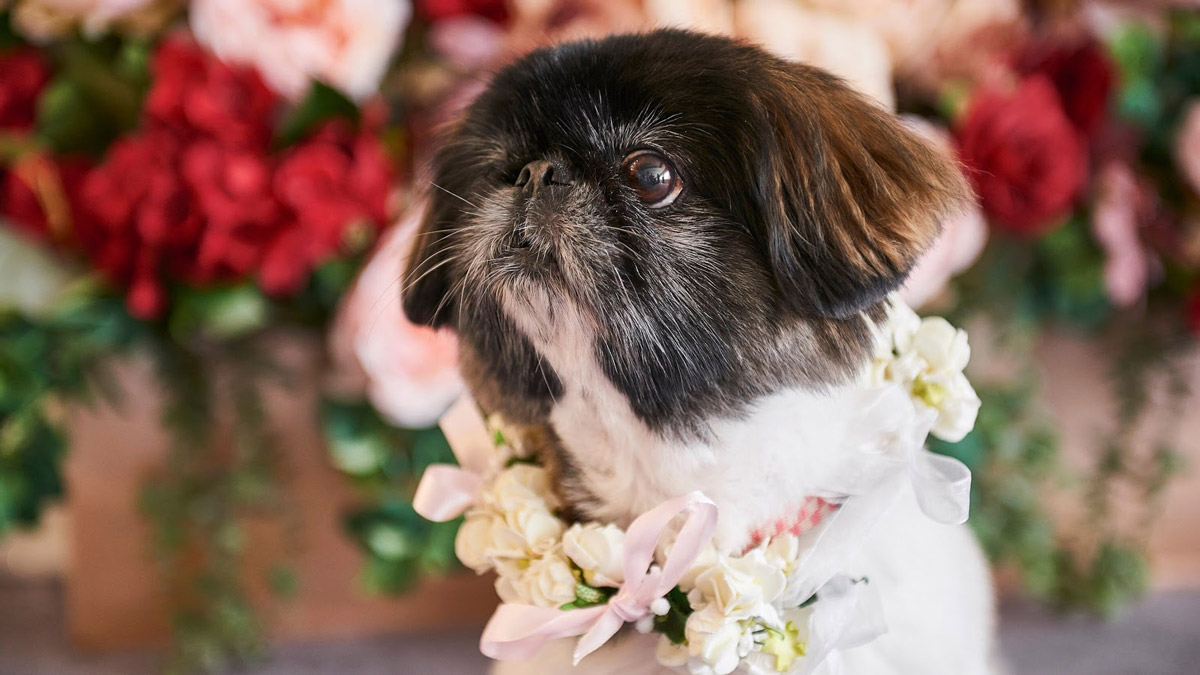 P.S. Regent Singapore is pet-friendly too!
To find out more about Regent Singapore, simply contact them at 6725 3333 or send an e-mail to catering@regentsingapore.com.sg
This article was written for Regent Singapore.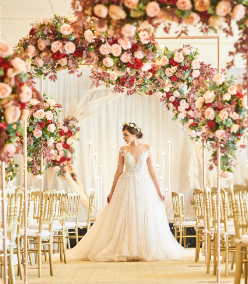 Regent Singapore

Rating:

Address:

Regent Singapore, 1 Cuscaden Road, Singapore 249715

Phone:

6725 3333