Oh Snap: A Preventive Guide to Missing Wedding Photos
2019-02-23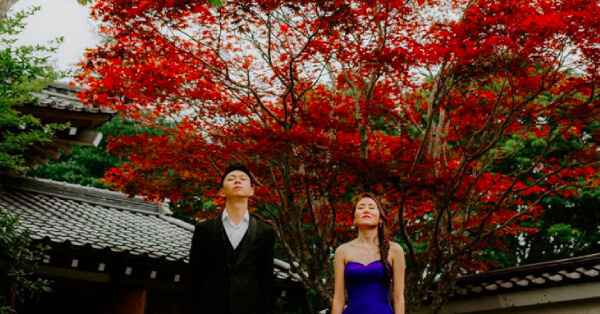 Source: frenchttoast
Wedding horror stories are far and few between, but every now and then, one comes along that makes you double check all the details of your own wedding before saying a few prayers. Recently, local bride, Domenica Tan shared that the photography and videography team she had engaged, French Toast Productions, had been a disappointment, to say the least. Here's a rundown of what happened:
The couple opted for a promotional package that included an overseas photoshoot in Hokkaido, actual photography and videography as well as a local golden hour shoot. After discussing the terms, they signed the contract in late 2017. The first thing to go wrong was that prior to the Hokkaido shoot, the company insisted that the price previously agreed on was insufficient to cover the photographer and makeup artist's flight and accommodation, despite having already been notified of the destination before quoting a price. After some back and forth, the couple agreed to cover the additional cost as a gesture of goodwill.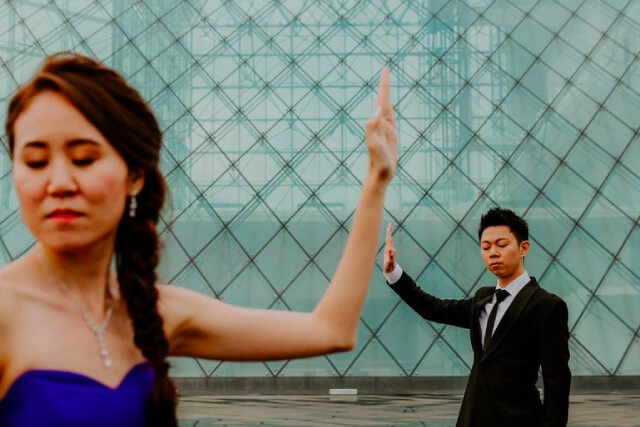 Source: frenchttoast
The next issue was that when the overseas photoshoot prints were ready, the company abruptly reduced the deliverables from 50 pieces to 30 with no prior consultation with the couple. After stating that they would prefer that they stick to the contract, French Toast Productions agreed to give 50 prints as agreed. Following that, having done their shoot at Coney Island, French Toast Productions informed the couple that they had lost all video footage (although they still had photos). In compensation, they returned the additional money the couple had paid for the overseas shoot as well as offered a reshoot which the couple declined in favour of a free ROM video.
The final straw was regarding the actual day photography and videography, which the couple had emphasised was crucial, considering they were flying in various guests and wanted all who had come to have photographs to remember the occasion by. Six weeks after their wedding, the couple was informed that French Toast Productions had lost 80% of their photos due to a virus and that they could not be recovered. Although they offered a baby shoot in compensation, the couple (obviously) declined and the productions company later posted an apology on their Facebook page.
To their credit, the couple stayed relatively even-tempered and cool despite all the curveballs thrown. Other than keeping calm, here are a few more things you can take away from this so that you are more prepared should (touch wood) something like this happen to you.
Do Your Research
The couple did admit that they were unsure of the market prices when they signed the overseas shoot contract, which allowed for the later confusion over insufficient quoted pricing. Be aware of the market prices so that you can ascertain if the price being offered is reasonable and prevent any changes after the contract is signed.
Conduct Immediate Back Up
While this may seem a little kiasu, if you are anxious enough about losing your photos and videos, you can always bring your own hard drive/laptop and back up the footage on the night of your wedding. Wave your guests goodbye and then save all raw data into your hard drive so that at the very worst, you have a copy of the photos.
Activate Your Wedding Party
Your bridesmaids and groomsmen can also be insurance photographers! Ask them nicely if they would be so kind as to snap a few photos at the key moments such as exchanging rings, signing the certificate and so on. Even if they aren't professional shots, at least you have some tangible memories of the more significant moments in your day. You can also look for photos tagged with your wedding hashtag (if you had one) on social media and see what your friends managed to take.
Keep the Receipts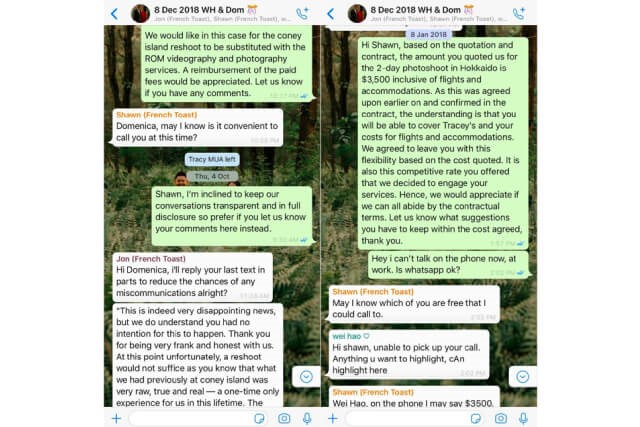 Source: Domenica Tan
As Kim Kardashian might say, get your receipts. The couple were mostly very firm about writing everything down in WhatsApp instead of discussing things over the phone. This allows you to refer to what had previously been agreed on and pull out physical evidence, which can prove your statements should things go south.
The most important thing to remember is to face these challenges as a team with your partner and to remember that regardless of what goes wrong, your wedding, the memories you made and the wonderful journey of married life that lies ahead is still very much yours. It is what you choose to make of it and despite everything, you can choose to make it good.