Ethereal by Watabe Wedding & Jessica Cindy
2016-11-29

Magic in the Air
Ethereal by Watabe Wedding & Jessicacindy launches to fashion royalty from Singapore, Thailand, Indonesia and Japan
(November 2016, Singapore) It was a magical evening on 8 Nov 2016 as Chijmes Hall was transformed into a vision of elegance and floral galore for the launch of Singapore's latest wedding gown label – Ethereal by Watabe Wedding & Jessicacindy. More than 200 guests witnessed the launch as a total of 22 gowns floated down the runway, set against the magnificent heritage building.
Created by Singapore's renowned couture wedding designer, Ms Jessicacindy Hartono, in collaboration with Watabe Wedding, one of the world's leading wedding corporations, Ethereal by Watabe Wedding & Jessicacindy is inspired by the historical architecture of Chijmes Hall and nature's natural phenomena.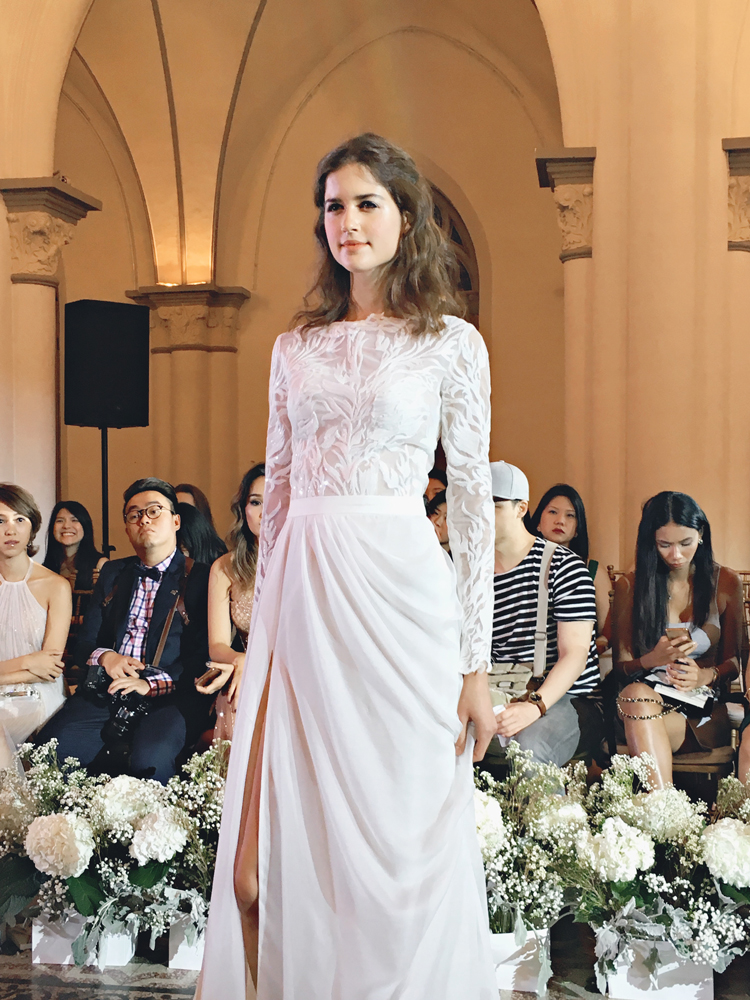 The 2017 collection is titled "Aurora" and Jessicacindy was inspired by settings of winter wonderland accompanied by the fabled northern lights dancing in the background. As such, Jessicacindy selected flowy fabrics such as chiffon to create sheer and light silhouettes that will be further enhanced by custom pleating effects; and embellished lace fabrics were specially sourced and selected to exude romanticism within the Aurora collection.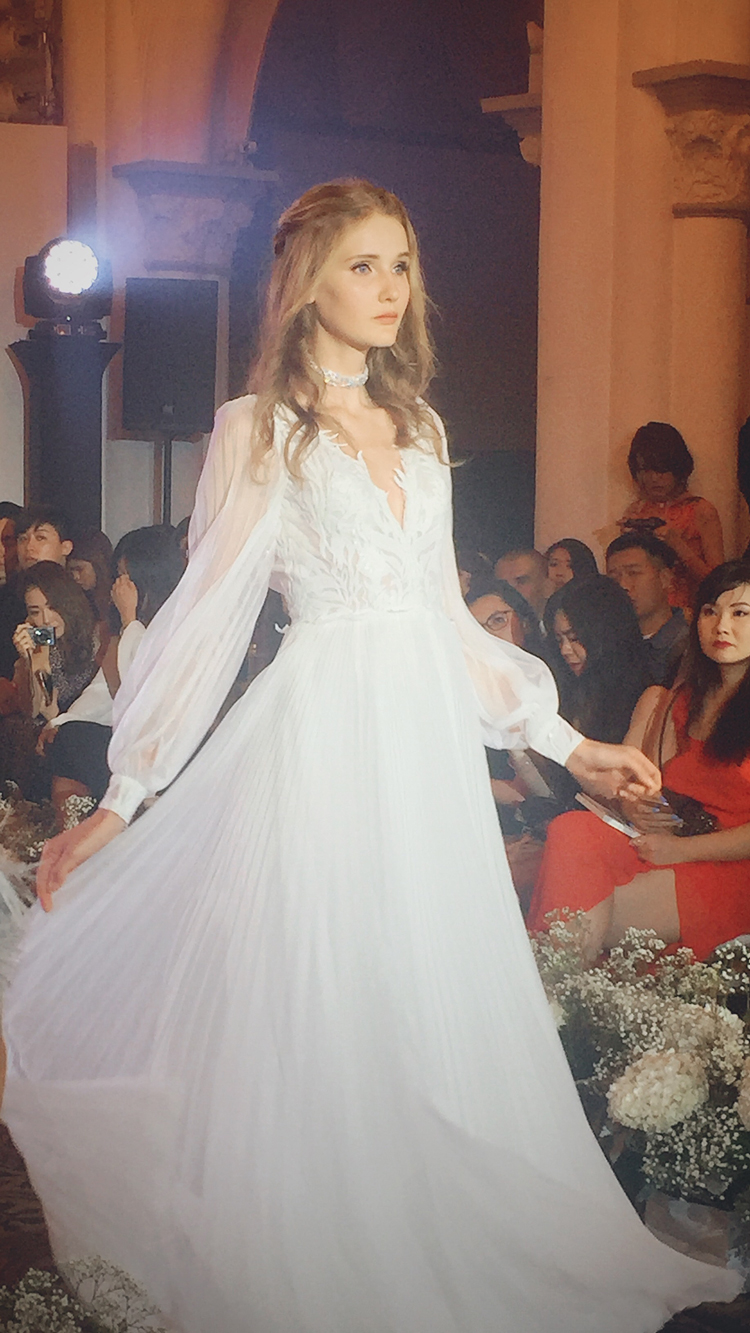 The results are gowns that range from bohemian silhouettes to classical elegant profiles, ensuring something for every bride. Simultaneously sensual and innocent, the essence of Ms Hartono's eponymous label, Jessicacindy, could also be seen in every gown coming down the runway, each subtly grand with romantic detailing that will leave a lasting impression on its admirer.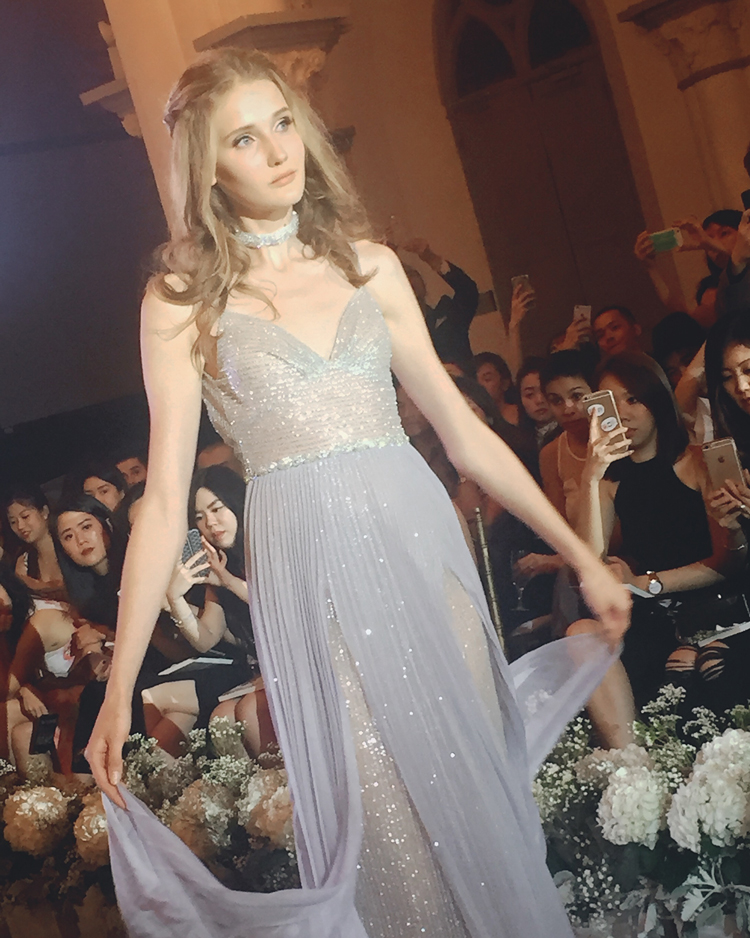 In addition to the wedding gowns, evening gowns of sumptuous jewel tones of gold, red, blue and pastel beige, were also on display. Exquisite beading showcased Jessicacindy's genius eye for details as guests present were treated to a visual feast of glitter as the evening gowns made their way down the runway.
The signature pieces from the Aurora collection were the Naomi and the Emi gowns, which were created with traditional kimono fabrics cut into a modern and sophisticated silhouette. Naomi's unique halter neck and peplum design were a firm favourite with the audience while Emi's cheongsam neckline was further complemented by its unique cut-out design.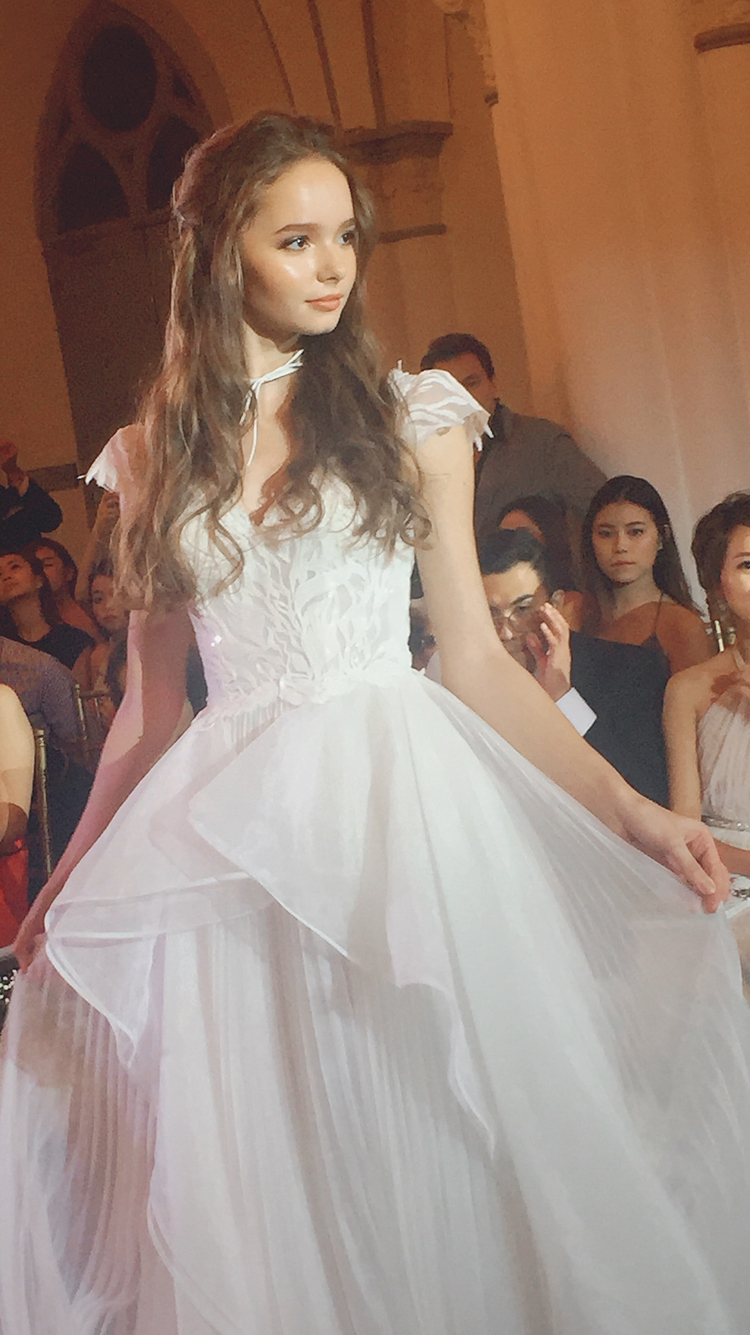 The evening closed off with a spectacular finale gown – the Candace. A full lace mermaid gown with dainty off-shoulder design leading to a dramatic lace embellished train, this dress had everyone sighing in delight as it subtly sparkled under the lights. The gown was further set off by an exquisite tiara and earring set from MIKIMOTO which uses fine cultured pearls, diamonds and pink sapphires. These gorgeous sets are available for rental alongside some other beautiful pieces from the brand.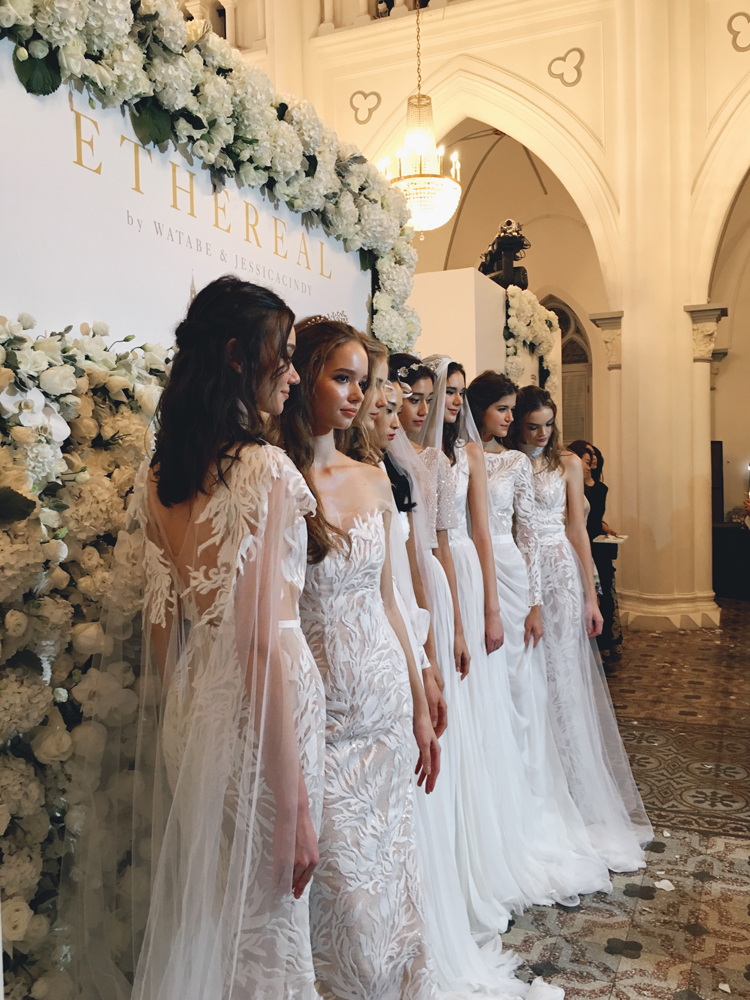 The audience of Singapore, regional fashion royalty and media, came out in full support of Jessicacindy as they oohed-and-aahed over every creation. Spotted amongst the crowd were radio DJ Simone Heng, fashion influencers Melissa Celestine Koh, Isabel Tan, Indonesia's Jessica Yamada and celebrity hair stylist Grit Jirakiertivadhana from Thailand. Also in attendance were several former Miss Universe Singapore beauty queens, who all congratulated Jessicacindy backstage after the Ethereal show and could be seen ending the evening with an excited flurry of photogenic photography embraces.
About Watabe Wedding
Watabe Wedding first started as a Kimono rental shop in 1953. It currently offers a wide range of both domestic and international wedding services and consultations in Japan, Guam, Hawaii, Bali, Hong Kong, Taiwan, Singapore and more. Watabe Wedding owns 46 wedding facilities chapels in total (at home and overseas) and have served more than 470,000 wedding couples to date, attending to an average of 30,000 Japanese couples a year.
About Alcove by Watabe Wedding
Alcove by Watabe Wedding is located on the second floor of Caldwell House. Designed for smaller, intimate occasions, the space fits 30-100 people looking to celebrate with their closest loved ones. Spanning 5,214 sq ft, the highlight of the room is the main dome, which features the original French inscription - Marche en ma presence et sois parfait translated as "Walk along with me and be perfect"
About Jessicacindy
Jessicacindy has been established as a luxury bridal and couture brand since its conception in 2010. Founded by Jessicacindy Hartono, the brand celebrates femininity, grace and understated grandeur.

The brand is synonymous with the designer; espousing her ideal of weaving customized couture dressmaking into an intimate and precious experience for the clients, Jessicacindy offers elegant designer pieces for the discerning modern lady with an appreciation for the finer things in life.