2021 & 2022 Red Packet Guide For Weddings In Singapore
2021-11-09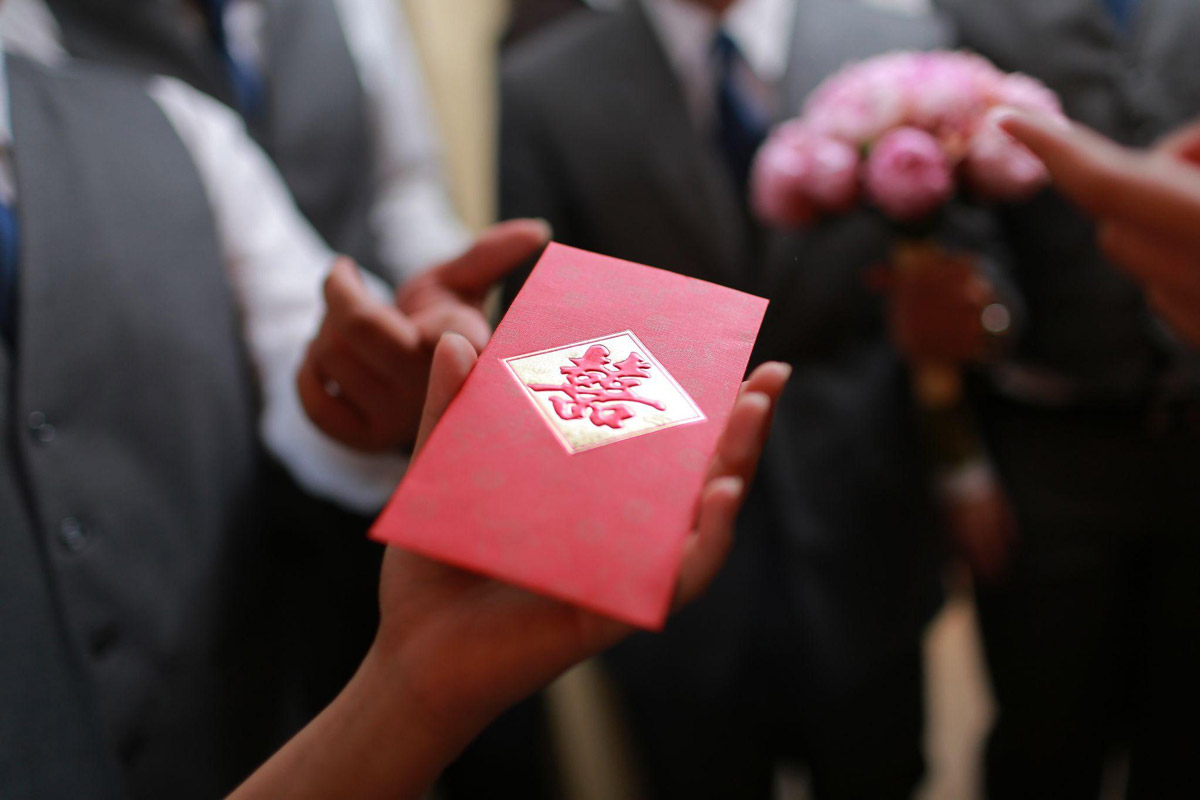 Giving red packets to the couple getting married is customary among Chinese families. This act is believed to offer them a symbol of gratitude and good luck. However, knowing how much to include in the red packet may be confusing to many.
Generally, the amount placed in the red packet depends on the wedding banquet expenses. Here's a quick guide: how much you pack should be able to cover your meal and seat at the table. Typically, the unspoken rule is to include at least 10% of the venue's banquet price.
Knowing this, it may not be polite to directly ask the couple how much their wedding expenses are. Instead, we've got you covered by calculating an estimated red packet rate to refer to when packing your wedding angbao. But, remember that these prices are just a guide – they are subject to changes by the hotels and restaurants without prior notice.
2022
Hotel/Restaurant
Lunch (Small - Large)
Dinner (Small - Large)
1-Atico

$270

$280

Ah Yat Seafood Restaurant

$70 - $120

$70 - $120

Amara Sanctuary Resort Sentosa

Mon - Thurs: $174 - $220
Fri - Sun: $209 - $233
Mon - Thurs: $174 - $220
Fri - Sun: $209 - $233
Amara Singapore

Mon - Thurs: $128 - $175
Fri - Sun: $145 - $175
Fri - Sun: $160 - $175

Andaz Singapore

$203

Mon - Thurs & Sun: $230
Fri & Sat: $230 - $245
Aura

$103 - $209

$174 - $209

Capella Singapore
$209 - $340

$256 - $340

Carlton Hotel Singapore

$134 - $172

$150 - $ 172

Changi Cove Hotel

$160

$160

CHIJMES Hall

Mon - Thurs: $190 - $200
Fri: $200 - $220
Sat & Sun: $220 - $230
Mon - Thurs: $190 - $200
Fri: $200 - $220
Sat & Sun: $220 - $230
Chui Huay Lim Teochew Cuisine

$73 - $150

Mon - Thurs: $73 - $150
Fri - Sun: $81 - $165
Concorde Hotel Singapore

$140

Mon - Thurs: $140
Fri & Sun: $160
Sat: $165
Conrad Centennial Singapore

$161 - $180

Mon - Thurs: $170 - $220
Fri & Sun: $180 - $220
Sat: $200 - $220
Copthorne King's Hotel

Mon - Thurs: $90 - $110
Fri - Sun: $100 - $130
Mon - Thurs: $90 - $110
Fri - Sun: $100 - $130
Crowne Plaza Changi Airport

$146 - $150

Mon - Thurs: $130 - $151
Fri - Sun: $151 - $164
Dusit Thani Laguna Singapore

$163 - $234

$163 - $234

Faber Peak

$140 - $151

$162 - $174

Fairmont Singapore and Swissôtel The Stamford
$161 - $175

$185 - $200

Four Points by Sheraton Singapore, Riverview

$151 - $165

Mon - Thurs: $140 - $175
Fri - Sun: $151 - $175
Four Seasons Hotel

$173 - $233

Mon - Fri: $170 - $233
Sat: $196 - $233
Sun: $193 - $233
Furama City Centre

$110

Mon - Fri & Sun: $110
Sat: $130
Furama Riverfront

$120 - $160

Mon - Fri & Sun: $123 - $160
Sat: $126 - $170
Goodwood Park Hotel

$180

Mon - Thurs: $180
Fri & Sun: $190
Sat: $196
Grand Copthorne Waterfront Hotel

$151 - $161

Mon - Thurs: $163 - $173
Fri & Sun: $187 - $193
Sat: $187 - $196
Grand Hyatt Singapore

$170

Mon - Thurs: $180
Fri & Sun: $200
Sat: $210
Grand Mercure Singapore Roxy

$115 - $151

$127 - $165

Grand Park City Hall

$151 - $163

$151 - $163

Grand Park Orchard

Mon - Thurs: $127 - $140
Fri - Sun: $140
Mon - Thurs: $140 - $163
Fri - Sun: $151 - $163
Grand Shanghai Restaurant

Mon - Thurs: $123 - $223
Fri - Sun: $129 - $229
Mon - Thurs: $129 - $229
Fri - Sun: $134 - $234
Hilton Singapore

$140

Mon - Fri & Sun: $150
Sat: $170
Holiday Inn Singapore Atrium

$120

Mon - Fri: $120
Sat & Sun: $130
Holiday Inn Singapore Orchard City Centre

$163

Mon - Fri: $163
Sat & Sun: $170
Hotel Fort Canning

$143 - $180

Mon - Fri: $140 - $180
Sat & Sun: $175 - $180
Hotel Jen Tanglin Singapore

$130 - $170

Mon - Thurs: $130 - $170
Fri - Sun: $153 - $170
Intercontinental Singapore

Sat & Sun: $200 - $405

Mon - Thurs: $151 - $405
Fri & Sun: $200 - $405
Sat: $233 - $405
JW Marriott Singapore South Beach

$220 - $270

Mon - Fri: $230 - $270
Sat & Sun: $250 - $270
M Hotel Singapore

Mon - Thurs: $110 - $153
Fri - Sun: $130 - $153
Mon - Thurs: $110 - $153
Fri & Sun: $120 - $160
Sat: $125 - $162
Mandarin Oriental Singapore

$183

Mon - Fri: $186
Sat: $210
Sun: $190
Marina Bay Sands

$200 - $222

$200 - $222

Mercure Singapore Bugis

Mon - Thurs: $105
Fri - Sun: $116
Mon - Thurs: $105
Fri - Sun: $116
Novotel Singapore Clarke Quay

$140

Mon - Thurs: $40
Fri - Sun: $160
Novotel Singapore on Stevens

$140

Mon - Fri: $140
Sat & Sun: $180
Oasia Hotel Novena, Singapore

$148

$168

Oasia Resort Sentosa

$190

$200

One Farrer Hotel and Spa

Sat: $152
Sun: $143
Sat: $185
Sun: $163
ONE 15 Marina Sentosa Cove

$150

$150

Orchard Hotel Singapore

$150 - $160

Mon - Thurs: $142 - $154
Fri & Sun: $180 - $190
Sat: $190 - $200
Orchid Country Club

$110 - $120

$126 - $133

Pan Pacific Singapore

Sat & Sun: $153 - $162

Mon - Thurs: $130 - $140
Fri: $140 - $150
Sat: $200
Sun: $180
Park Hotel Alexandra

Fri - Sun: $120

Mon - Thurs: $120
Fri - Sun: $130
PARKROYAL COLLECTION Marina Bay

Mon - Fri: $163
Sat & Sun: $175
Mon - Fri: $150 - $163
Sat & Sun: $210
PARKROYAL COLLECTION Pickering

$170 - $240

Mon - Fri: $140 - $240
Sat & Sun: $200 - $240
PARKROYAL on Beach Road

$160 - $200

Mon - Fri: $160 - $222
Sat: $182 - $222
Sun: $168 - $222
PARKROYAL on Kitchener Road

$130

$140

Peach Garden at Hotel Miramar
$105 - $140

Mon - Thurs: $105 - $140
Fri - Sun: $120 - $140
Peach Garden at OCBC Centre
$110 - $150

$130 - $150

Peach Garden at The Metropolis
$100 - $130

$110 - $130

Peach Garden at Thomson Plaza

Mon - Fri: $90 - $120
Sat & Sun: $110 - $130
Mon - Fri: $90 - $120
Sat & Sun: $110 - $130
Peninsula Excelsior Hotel

Mon - Thurs: $100 - $130
Fri - Sun: $115 - $140
Mon - Thurs: $115 - $140
Fri - Sun: $130 - $150
Qian Xi Bliss Garden

$80 - $130

$80 - $130

Raffles Hotel

$250

Mon - Fri: $250
Sat & Sun: $290
Raffles Marina

$94 - $104

Mon - Thurs: $88 - $104
Fri - Sun: $94 - $104
Ramada Singapore at Zhongshan Park

$120
$150

Regent Singapore

$160
Mon - Fri: $160
Sat: $190 - $200
Sun: $180 - $190
Rendezvous Hotel Singapore
Sat & Sun: $150

Mon - Thurs: $140
Fri: $150
Sat & Sun: $170
Resorts World Sentosa

$175 - $210

$200 - $240

Resorts World Sentosa SEA Aquarium

-
$305

Royal Plaza on Scotts

$150

$150

Seletar Country Club

$105

$105

Sentosa Golf Club

$160

$160

Serangoon Gardens Country Club

Mon - Thurs: $65 - $101
Fri - Sun: $70 - $105
Mon - Thurs: $65 - $101
Fri - Sun: $70 - $105
Shangri-La Hotel Singapore

$200 - $270

$234 - $305

Shangri-La Rasa Sentosa Resort & Spa

$210 - $270

$210 - $270

Sheraton Towers Singapore
$170 - $210

Mon - Fri & Sun: $180 - $210
Sat: $195 - $210
Sinfonia Ristorante

$140 - $260

$180 - $320

Singapore Marriott Tang Plaza Hotel

$140 - $170

Mon - Thurs: $120 - $150
Fri - Sun: $140 - $190
Sofitel Singapore City Centre

Mon - Thurs: $160 - $175
Fri & Sun: $175
Sat: $200
Mon - Thurs: $175 - $190
Fri & Sun: $190
Sat: $210
Sofitel Singapore Sentosa Resort and Spa

$190 - $220

Mon - Thurs: $200 - $270
Fri & Sun: $210 - $270
Sat: $220 - $270
Swissôtel Merchant Court

$140

Mon - Thurs: $130
Fri & Sun: $160
Sat: $170
The Alkaff Mansion

$150

$180

The Barracks Hotel Sentosa

$220

Mon - Fri: $180 - $200
Sat & Sun: $210 - $250
The Capitol Kempinski Hotel Singapore

$230 - $250

$260 - $270

The Chevrons at Jurong East

$80 - $100

$80 - $100

The Clifford Pier at The Fullerton Bay Hotel

$320 - $350

$320 - $350

The Fullerton Hotel Singapore

$220

$230 - $250

The Joyden Hall

Mon - Thurs: $130
Fri - Sun: $150 - $170
Mon - Thurs: $130
Fri - Sun: $150 - $170
The Ritz-Carlton Millenia Singapore

$220 - $250

$270 - $340

The St. Regis Singapore

Mon - Fri: $220 - $270
Sat & Sun: $200 - $270
Mon - Fri: $200 - $270
Sat: $250 - $270
Sun: $230 - $270
The Villa at Singapore Botanic Gardens

$140 - $190

$140 - $190

The Westin Singapore

$180

$180

Tung Lok Heen

Mon - Thurs: $150 - $200
Fri - Sun: $175 - $220
Mon - Thurs: $150 - $200
Fri - Sun: $175 - $220
Tung Lok Seafood

$70 - $100

$70 - $100

Tung Lok Signatures

Mon - Fri: $95 - $110
Sat & Sun: $100 - $120
Mon - Fri: $95 - $110
Sat & Sun: $100 - $120




Village Hotel Albert Court

$70

$70

Village Hotel Bugis

$70 - $100

$80 - $110

Village Hotel Changi

$140

$160

Village Hotel Katong

$110 - $160

$120 - $180

Village Hotel Sentosa

Mon - Thurs: $120
Fri: $120 - $190
Sat & Sun: $190
Mon - Fri: $160
Sat & Sun: $180
W Singapore Sentosa Cove

$190 - $220

Mon - Thurs: $190 - $220
Fri & Sun: $206 - $233
Sat: $230
York Hotel

Mon - Thurs: $100 - $110
Fri - Sun: $110 - $120
Mon - Thurs: $100 - $110
Fri - Sun: $120 - $130
2021
Hotel/Restaurant
Lunch (Small - Large)
Dinner (Small - Large)
Ah Yat Seafood Restaurant

$70 - &120

$70 - &120

Amara Sanctuary Resort Sentosa

Mon - Thurs: $140 - $230
Fri - Sun: $180 - $230
Mon - Thurs: $140 - $230
Fri - Sun: $200 - 230
Amara Singapore

Mon - Thurs: $130 - $180
Fri - Sun: $150 - $180
Mon - Thurs: $130 - $180
Fri - Sun: $170 - $180
Andaz Singapore

Sat & Sun: $210

Fri & Sat: $240 - $250
Sun: $240
Aura

$103 - $209

$174 - $209

Capella Singapore

$200 - $340

$230 - $340

Carlton Hotel Singapore

$140 - $190

$150 - $ 190

Changi Cove Hotel

$110 - $160

$110 - $160

CHIJMES Hall

Mon - Thurs: $190 - $200
Fri: $200 - $220
Sat & Sun: $220 - $230
Mon - Thurs: $190 - $200
Fri: $200 - $220
Sat & Sun: $220 - $230
Chui Huay Lim Teochew Cuisine

$90 - $130

$90 - $130

Concorde Hotel Singapore

$120

Mon - Fri: $120
Sat: $150
Sun: $140
Conrad Centennial Singapore
$170 - $180

Mon - Thurs: $170 - $220
Fri & Sun: $180 - $220
Sat: $200 - $220
Copthorne King's Hotel

Mon - Thurs: $90 - $120
Fri - Sun: $100 - $130
Mon - Thurs: $90 - $120
Fri - Sun: $100 - $130
Crowne Plaza Changi Airport
$150

Mon - Thurs: $120
Fri: $140
Sat & Sun: $160
Dusit Thani Laguna Singapore

$170 - $200

$170 - $200

Faber Peak

$140 - $160

$180

Fairmont Singapore and Swissôtel The Stamford

$160 - $170

$170 - $180

Four Points by Sheraton Singapore, Riverview

Fri - Sun: $170 - $180

Mon - Thurs: $140 - $160
Fri - Sun: $150 - $170
Four Seasons Hotel

$170 - $180

Mon - Fri: $170 - $200
Sat: $200 - $240
Sun: $190 - $230
Furama City Centre

$110

Mon - Thurs: $120
Fri & Sun: $110
Sat: $130
Furama Riverfront

Mon - Fri & Sun: $120 - $130
Sat: $130
Mon - Thurs: $130 - $150
Fri: $110 - $130
Sat: $130 - $160
Sun: $120 - $160
Goodwood Park Hotel

$180

Mon - Thurs: $180
Fri - Sun: $200
Grand Copthorne Waterfront Hotel

$140 - $160

Mon - Thurs: $160 - $170
Fri - Sun: $160 - $190
Grand Hyatt Singapore

$170

Mon - Thurs: $180
Fri & Sun: $200
Sat: $210
Grand Mercure Singapore Roxy

$100

Mon - Fri: $110
Sat & Sun: $120
Grand Park City Hall

$120

Mon - Thurs: $130
Fri - Sun: $150
Grand Park Orchard

$140

$170

Grand Shanghai Restaurant

Mon - Thurs: $123 - $223
Fri - Sun: $129 - $229
Mon - Thurs: $129 - $229
Fri - Sun: $134 - $234
Hilton Singapore

$140

Mon - Fri & Sun: $150
Sat: $170
Weekend: $234 - $258
Holiday Inn Singapore Atrium

$120

Mon - Fri: $120
Sat & Sun: $130
Holiday Inn Singapore Orchard City Centre

Mon - Fri: $130 - $140
Sat & Sun: $140 - $160
Mon - Fri: $130 - $140
Sat & Sun: $150 - $170
Hotel Fort Canning

$140

Mon - Fri: $140
Sat: $180
Sun: $160
Hotel Jen Tanglin Singapore

$130 - $170

Mon - Thurs: $130 - $170
Fri - Sun: $160 - $170
Intercontinental Singapore

Sat & Sun: $180 - $200

Mon - Fri: $180 - $200
Sat & Sun: $230 - $250
JW Marriott Singapore South Beach

$220 - $270

Mon - Fri: $230 - $270
Sat & Sun: $250 - $270
M Hotel Singapore

Mon - Thurs: $110 - $150
Fri - Sun: $130 - $150
Mon - Thurs: $110 - $150
Fri - Sun: $130 - $160
Mandarin Oriental Singapore

$180

Mon - Fri & Sun: $190
Sat: $210
Marina Bay Sands

$160

$190

Mercure Singapore Bugis

$110

$110

Novotel Singapore Clarke Quay

$140

Mon - Thurs: $40
Fri - Sun: $160
Novotel Singapore on Stevens

$140

Mon - Fri: $140
Sat & Sun: $180
Sat: $175
Oasia Hotel Novena, Singapore

$140

Mon - Thurs: $140
Fri - Sun: $170
Oasia Resort Sentosa

$190

$200

One Farrer Hotel and Spa
Mon - Fri & Sun: $140
Sat: $150
Mon - Fri & Sun: $150 - $160
Sat: $160 - $180
ONE 15 Marina Sentosa Cove

$120

Mon - Thurs: $120 - $190
Fri & Sun: $140 - $190
Sat: $160 - $190
Orchard Hotel Singapore

$150 - $160

Mon - Thurs: $150 - $160
Fri & Sun: $180 - $190
Sat: $190 - $200
Orchid Country Club

$110

Mon - Thurs & Sun: $110
Fri & Sat: $120 - $140
Pan Pacific Singapore

Sat & Sun: $150 - $160

Mon - Thurs: $130 - $140
Fri: $140 - $150
Sat: $200
Sun: $180
Park Hotel Alexandra

Fri - Sun: $120

Mon - Thurs: $120
Fri - Sun: $130
PARKROYAL COLLECTION Marina Bay

$170

Mon - Fri: $150
Sat & Sun: $200
PARKROYAL COLLECTION Pickering

$170 - $240

Mon - Fri: $130 - $240
Sat & Sun: $200 - $240
PARKROYAL on Beach Road

$150 - $200

Mon - Thurs: $150 - $230
Fri & Sun: $170 - $230
Sat: $180 - $230
PARKROYAL on Kitchener Road

$110 - $130

$140

Peach Garden at Hotel Miramar

$100 - $140

Mon - Thurs: $100 - $140
Fri - Sun: $120 - $140
Peach Garden at OCBC Centre

Sat & Sun: $120 - $130

Mon - Thurs: $120 - $160
Fri - Sun: $130 - $160
Peach Garden at The Metropolis

$100 - $130

$110 - $130

Peach Garden at Thomson Plaza

Mon - Fri: $80 - $140
Sat & Sun: $120 - $140
Mon - Fri: $90 - $140
Sat & Sun: $120 - $140
Peninsula Excelsior Hotel

Mon - Thurs: $110 - $120
Fri - Sun: $110 - $140
Mon - Thurs: $110 - $130
Fri - Sun: $120 - $160
Qian Xi Bliss Garden

$80 - $130

$80 - $130

Raffles Hotel

$220

Mon - Thurs: $220
Fri: $240
Sat & Sun: $250
Raffles Marina

Mon - Thurs: $90
Fri - Sun: $100
Mon - Thurs: $90
Fri - Sun: $100
Ramada Singapore at Zhongshan Park

$110

$140

Regent Singapore

$150 - $170

Mon - Thurs: $120
Fri: $150 - $170
Sat: $170 - $200
Sun: $160 - $180
Rendezvous Hotel Singapore

Sat & Sun: $130

Mon - Thurs: $120
Fri: $130
Sat & Sun: $140
Resorts World Sentosa

$140 - $180

Mon - Thurs: $160 - $190
Fri - Sun: $170 - $200
Resorts World Sentosa SEA Aquarium

-
Mon - Thurs: $240
Fri - Sun: $250
Royal Plaza on Scotts

$130

$130

Seletar Country Club

Mon - Thurs & Sun: $80
Fri & Sat: $90
$90

Sentosa Golf Club

$120 - $130

$150 - $170

Serangoon Gardens Country Club

$70 - $130

$70 - $130

Shangri-La Hotel Singapore

$190 - $300

Mon - Thurs: $200 - $300
Fri - Sun: $230 - $300
Shangri-La Rasa Sentosa Resort & Spa

Mon - Thurs: $180 - $190
Fri - Sun: $190 - $200
Mon - Thurs & Sun: $180 - $190
Fri & Sat: $190 - $200
Sheraton Towers Singapore

$170 - $220

Mon - Fri & Sun: $180 - $220
Sat: $200 - $220
Sinfonia Ristorante

$180 - $260

$220 - $320

Singapore Marriott Tang Plaza Hotel

$130 - $170

Mon - Thurs: $120 - $140
Fri - Sun: $140 - $190
Sofitel Singapore City Centre

Mon - Fri & Sun: $180
Sat: $200
Mon - Fri & Sun: $190
Sat: $210
Sofitel Singapore Sentosa Resort and Spa

$200

Mon - Thurs: $200
Fri - Sun: $220
Swissôtel Merchant Court

$140

Mon - Thurs: $130
Fri & Sun: $170
Sat: $180
The Alkaff Mansion

$150

$180

The Barracks Hotel Sentosa

$190

Mon - Fri: $160 - $180
Sat & Sun: $180 - $220
The Capitol Kempinski Hotel Singapore

$220 - $250

$240 - $270

The Chevrons at Jurong East

$110 - $130

$110 - $130

The Clifford Pier at The Fullerton Bay Hotel

$310

$310

The Fullerton Hotel Singapore

$220 - $300

$220 - $300

The Joyden Hall

Mon - Thurs: $90 - $130
Fri - Sun: $100 - $130
Mon - Thurs: $90 - $130
Fri - Sun: $110 - $130
The Ritz-Carlton Millenia Singapore


$210

$250 - $290

The St. Regis Singapore

Sat & Sun: $230

$270

The Villa at Singapore Botanic Gardens

$140 - $190

$140 - $190

The Westin Singapore

$180

$180

Tung Lok Heen

Mon - Thurs: $160 - $200
Fri - Sun: $180 - $230
Mon - Thurs: $160 - $200
Fri - Sun: $180 - $230
Tung Lok Seafood

$70 - $100

$70 - $100

Tung Lok Signatures

$100 - $120

$100 - $120

Village Hotel Albert Court

$70

$70

Village Hotel Bugis

$70

$70

Village Hotel Changi

$120 - $140

$140 - $160

Village Hotel Katong

$120

$140

Village Hotel Sentosa

$190

Mon - Fri: $160 - $180


Sat & Sun: $180 - $220

W Singapore Sentosa Cove

$200 - $230

Mon - Thurs: $200 - $230
Fri & Sun: $210 - $240
Sat: $230 - $240
York Hotel

$110 - $120

Mon - Thurs: $110 - $120
Fri - Sun: $120 - $130