5 Reasons to Host Your Dream Wedding at Dusit Thani Laguna Singapore
2023-02-21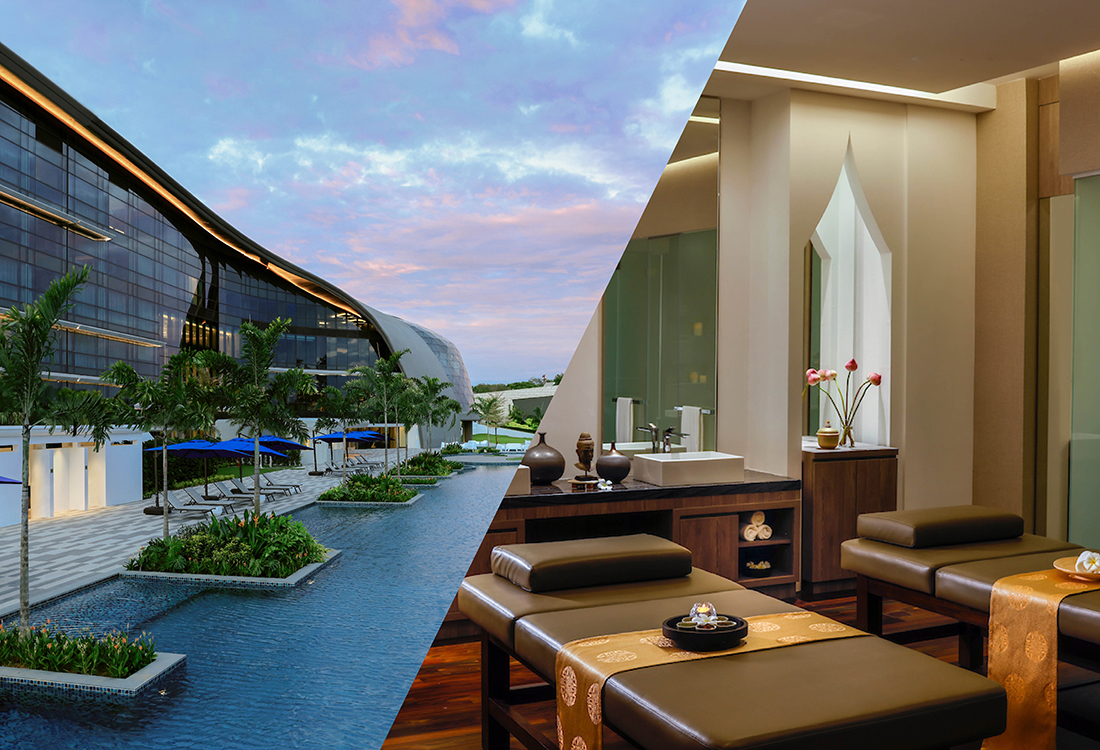 Dusit Thani Laguna Singapore opened its doors to the public in December 2020, during the peak of the dreaded pandemic. Now that the events scene in Singapore has picked up once more, why not host your dream wedding at the luxurious, Dusit Thani Laguna Singapore! Set within the lush greenery of Laguna National Golf Resort Club, Dusit Thani Laguna offers so much more than one can imagine.
Breath-taking Outdoor Landscape
Whether it is an outdoor wedding or one that transitions from outdoors to indoors, Dusit Thani Laguna's picturesque landscape is perfect for capturing panoramic and stunning images of your special night. With lush greenery that meets the ocean-blue skies midway, this urban twist to Thailand's luxury resort that is close to home will have your friends wondering where you held your wedding!
Pre-Function Area with A Stunning View
The pre-function area is where all your guests will gather before the commencement of the main event. Here, guests are greeted with welcome drinks as they mingle. This ethereal open space boasts a total of 2,200 square feet (210 square meters). The exquisiteness of the area is further enhanced by a panoramic viewing gallery affixed with floor-to-ceiling windows. Albeit grand, the pre-function area is also a place for intimate catchups before the main event. Watch as your guests immerse in timeless moments with the glow of the setting sun as the backdrop. Your Instagram feed will be flooded with beautiful images of Dusit Thani Laguna the following day.
Extravagant Ballroom with Adjoining Bridal Gallery
Ballrooms are where most wedding ceremonies take place, which is why the ambiance, size, and amenities are crucial aspects to be considered.
At Dusit Thani Laguna, the resort houses the Laguna Ballroom; A 8,073-square foot (750 square meters) space that holds up to 480 guests. The ballroom also boasts the absence of pillars, which in turn offers unblocked views of the event ceremony.
Preparing to have an outfit change? Or perhaps a little break from the crowd? Retreat to the Bridal Gallery to catch a breather or for an outfit change before your next appearance of the night! With all the hustle and bustle that is ongoing on your special day, the resort wants to ensure that you do not miss a single moment of your big day. With a cable television that provides a live feed of the Ballroom, tune in to the precious moments in the ballroom form the comforts of the Bridal Gallery!
A Suite of Wedding Packages
At Dusit Thani Laguna Singapore, you can look forward to a variety of wedding packages that cater to your needs. Whether it is a grand and whimsical wedding, or a hush and intimate reception, Dusit Thani Laguna has your back. From Chinese or Western Set Menus to International buffet and their signature Royal Thai package, the possibilities are endless. At the end of the day, rest assured that you and your guests are in for a hospitable and gastronomical experience for your special day.
Bonus: Devarana Wellness Spa
Devarana Wellness specializes in luxury wellness and providing guests with the ultimate relaxation spa experience. If you lovebirds decide to spend a day at the resort, why not pamper yourselves with a spa and afternoon tea session? The Devarana Spa-Tea Time package includes a 60-minute Devarana Signature Body Massage, a Complimentary 30-minute Rose Petal Scrub, and a 3-Tiered Afternoon Tea Set at Legends Bar. Not your cup of tea? Fret not, Devarana Wellness offers other packages to cater to your tastes.
Whether it is a lavish wedding or a cozy solemnization, Dusit Thani Laguna has it all. Ready to take the next step to fulfill your dream wedding? Enquire today!
Contact details:
Address: 11 Laguna Golf Green, Singapore 488047
Telephone Number: 6841 8888
Email Address: weddingsdtls@dusit.com
Website: https://www.dusitthanilagunasingapore.com/weddings
Social Media Platforms
FB: https://www.facebook.com/dusitthanilagunasingapore
IG: https://www.instagram.com/dusitthanilagunasingapore/