A Cut Above the Rest: A Priceless Wedding & Honeymoon at JEN Singapore Tanglin by Shangri-La
2021-08-12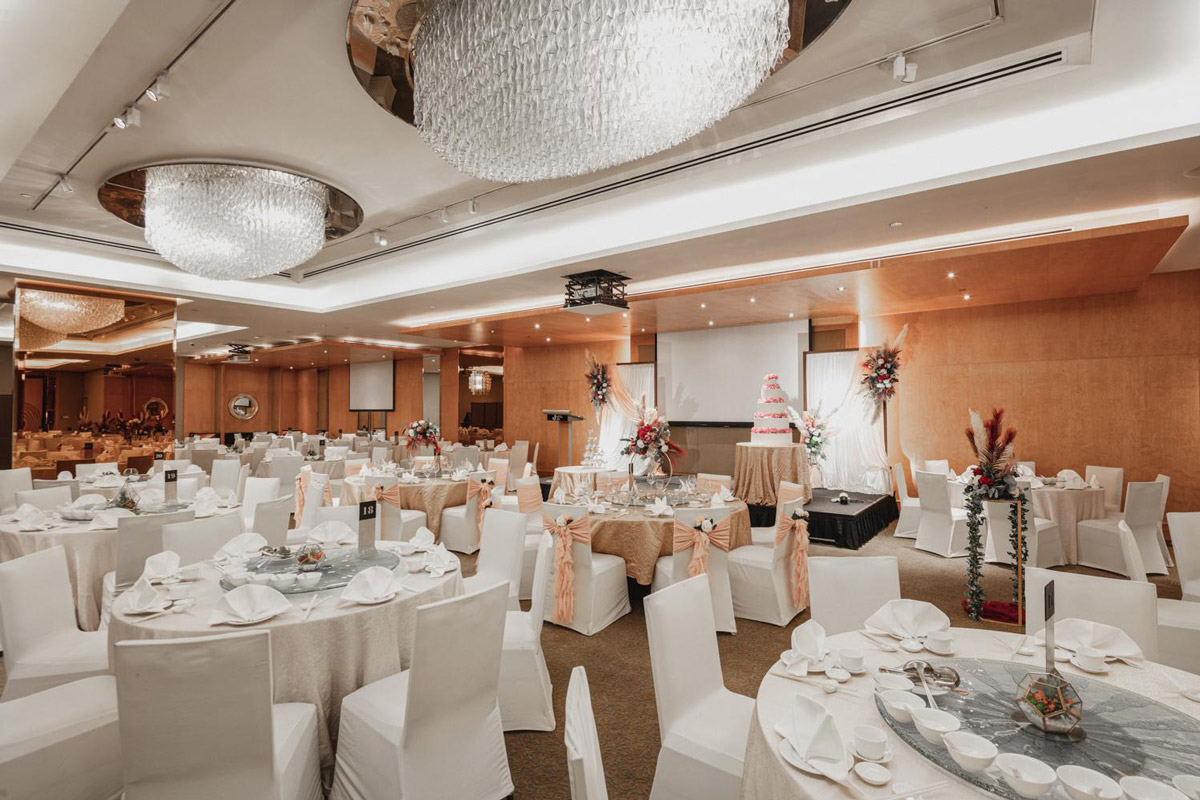 Just like how you can't put a price on love, your wedding should be a priceless experience too.
A hop, skip and a jump away from many of Singapore's tourist attractions, JEN Singapore Tanglin by Shangri-La is a peaceful sanctuary amidst the bustling epicentre; Orchard Road (of course), Dempsey Hill, Emerald Hill, Botanic Gardens to name a few. By day, you can enrich yourself in the culture and liveliness that these sights and attractions afford and by night, you can immerse in luxurious comfort and relaxation back at the hotel.
Part of the distinguished Shangri-La chain of hotels, their reputation in luxury and opulence also extends to their prowess in the wedding industry. From top-notch wedding coordination to magnificent venues to luxurious accommodation and Club Lounge perks, the wedding service provided is impeccable and fastidious in all senses.
With the bar set at perfection, you're guaranteed a personal retinue of professional wedding advisors attending to your every need from the start to the main event — all in a day's work to deliver you an unforgettable wedding.
Grand and Resplendent Venues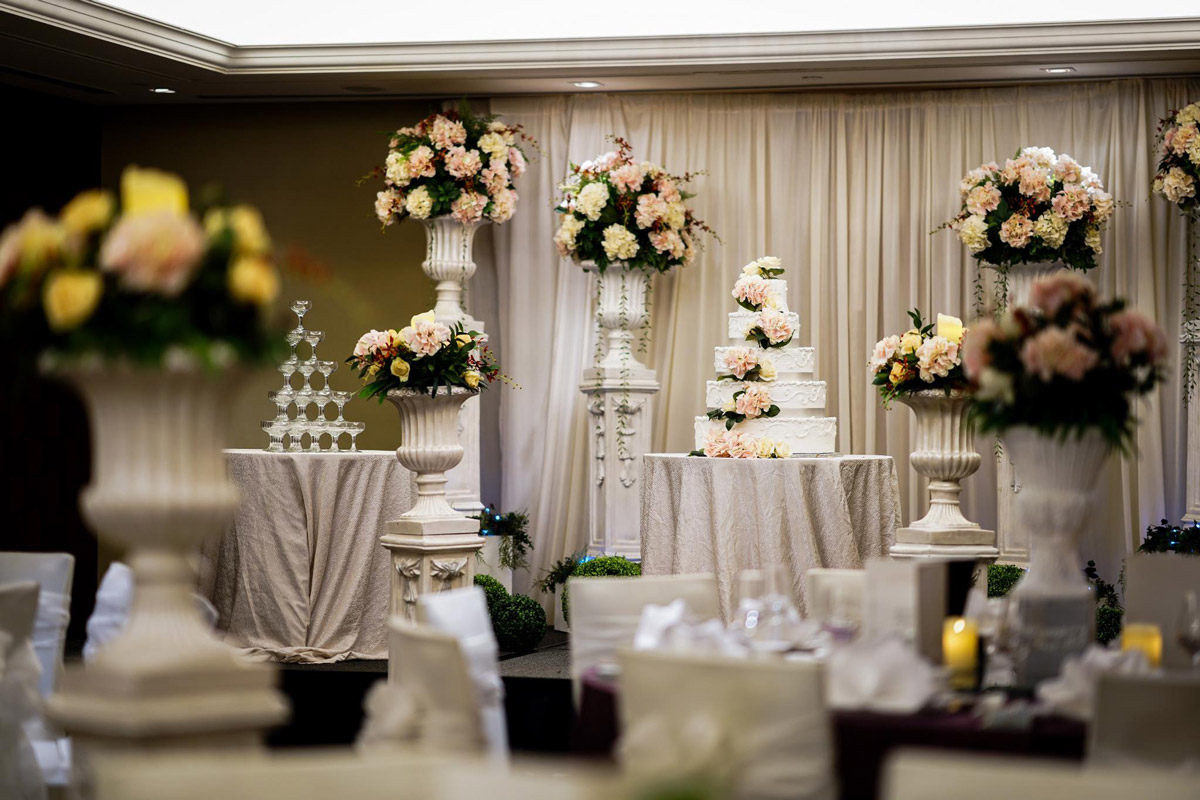 Source: JEN Singapore Tanglin by Shangri-La
No matter the scale of your wedding affair, the ballrooms at JEN Singapore Tanglin by Shangri-La are versatile and well-equipped to entertain your most extravagant requests. Whether it's an understated, traditional wedding banquet or contemporary rendition to the meaning of a 'grand old ball', no interpretation of romance is unattainable. Customisations in menu curation, theme decorations, floral and table arrangements are endless.
The Gallery Ballroom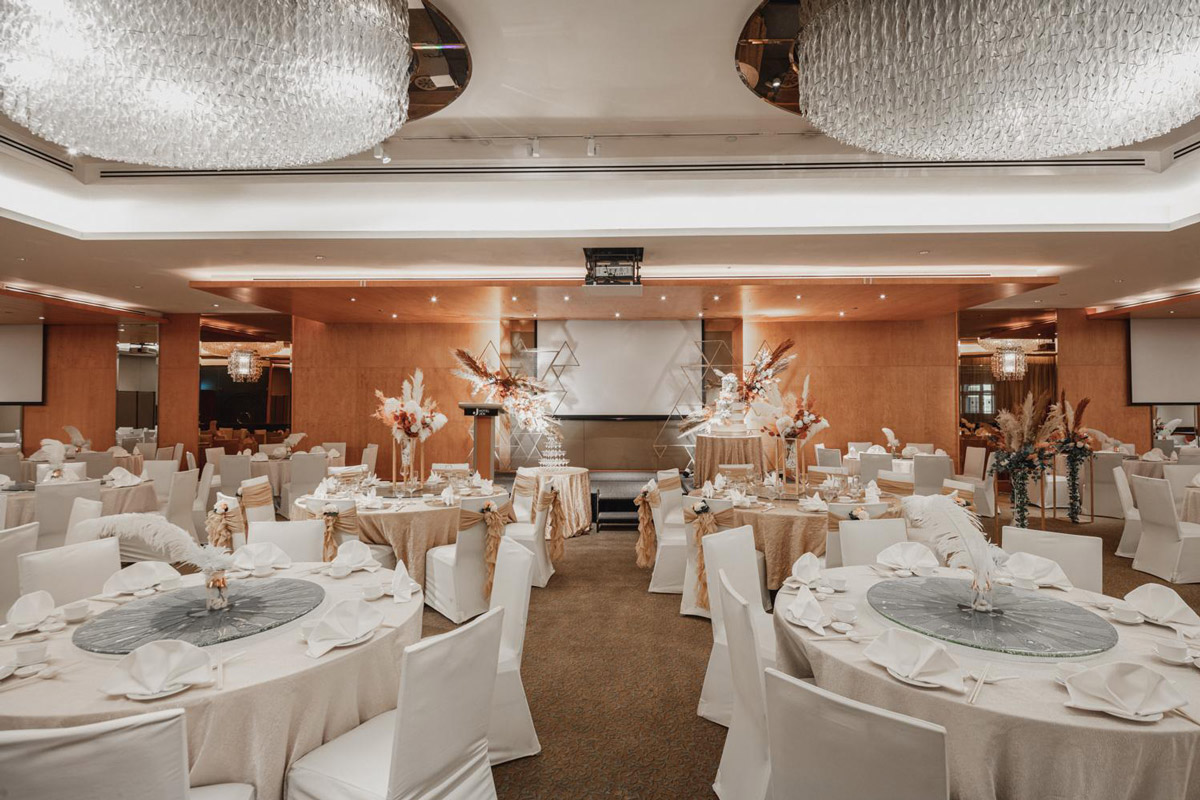 The Gallery Ballroom
Holding the bragging rights of being the largest banquet venue, The Gallery Ballroom is a spectacle in itself. Its seating capacity of 115 to 280 guests spread over 22 to 28 tables is proof to that claim, ergo ideal for couples inclined towards lavish and extravagant weddings and banquets of momentous proportions.
With a stunning array of preset themes, each theme showcases the features of the ballroom beautifully. For instance, for those familiar with the popular 2002 Romance/Drama Chick Flick "A Walk to Remember", The Gallery Ballroom offers a wedding theme under the same name. Whether that's a coincidence or not, we leave it up to you.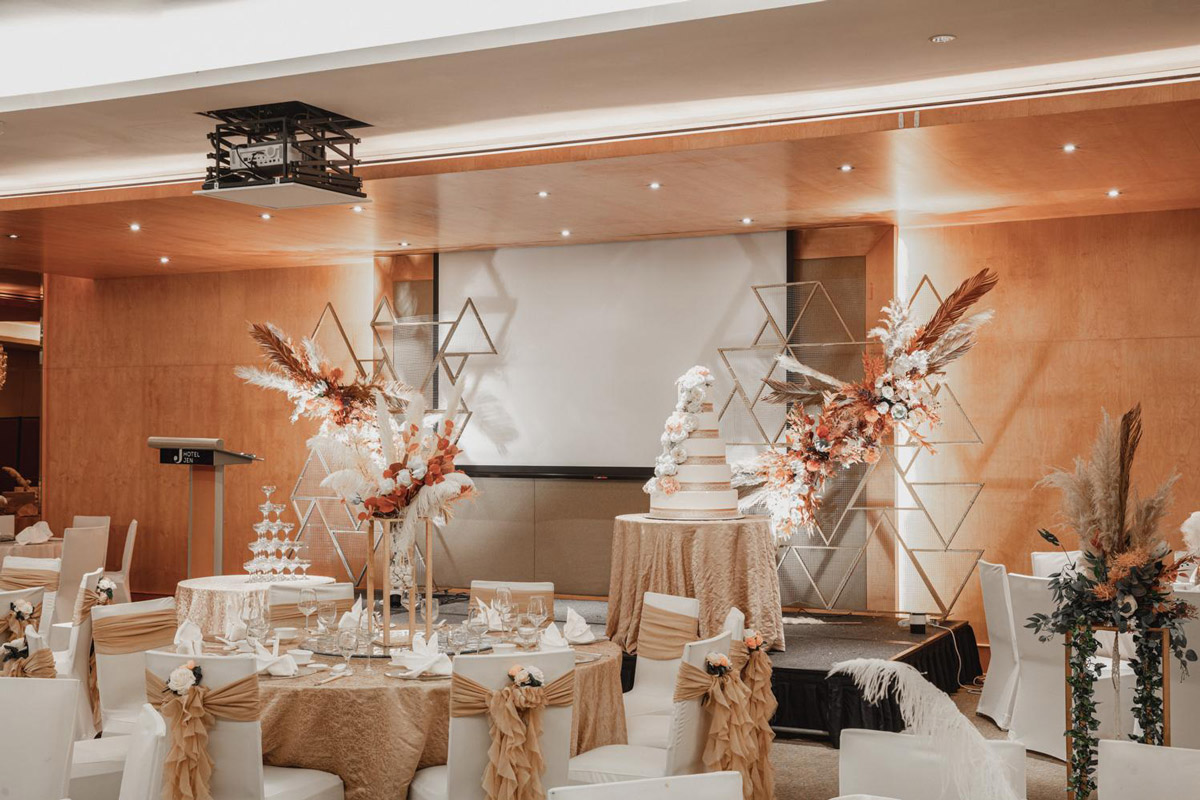 "A Walk to Remember" theme in The Gallery Ballroom
This gorgeous theme comprises striking amber and bronze motifs and florals, evoking a sense of warmth within the room. However, regardless of the colour palette of choice, the highlight of this theme is definitely the eye-catching street lamp props lining the path up to the main stage.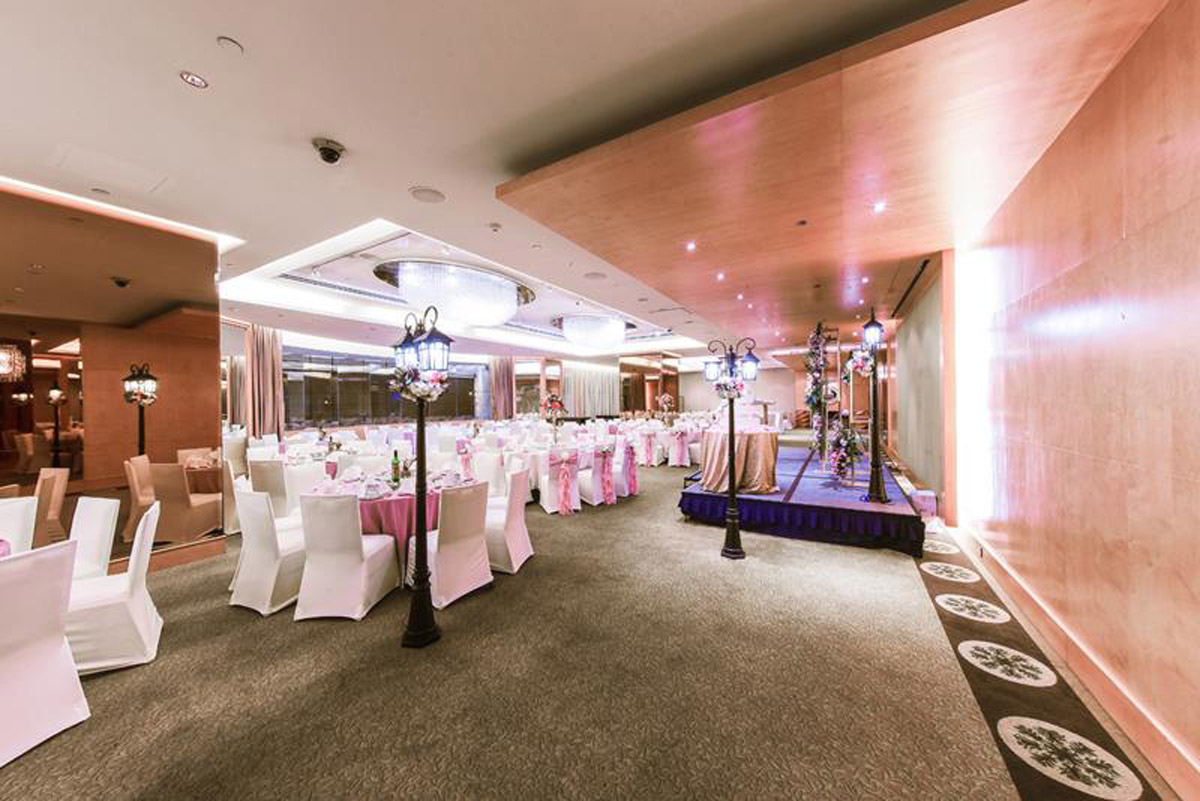 Elegant street lamp props in "A Walk to Remember" theme
The street lamp props are truly the finishing touches in creating a tender atmosphere of sentimentality and nostalgia — eliciting the bride and groom to recall their love story's greatest memories together.
Of course, if neither of these elements is up your alley, you're more than welcome to change or substitute the decor for others more suited to your preferences. Just make your request known to your personal entourage of wedding planners and your wish is their command!
Temasek Ballroom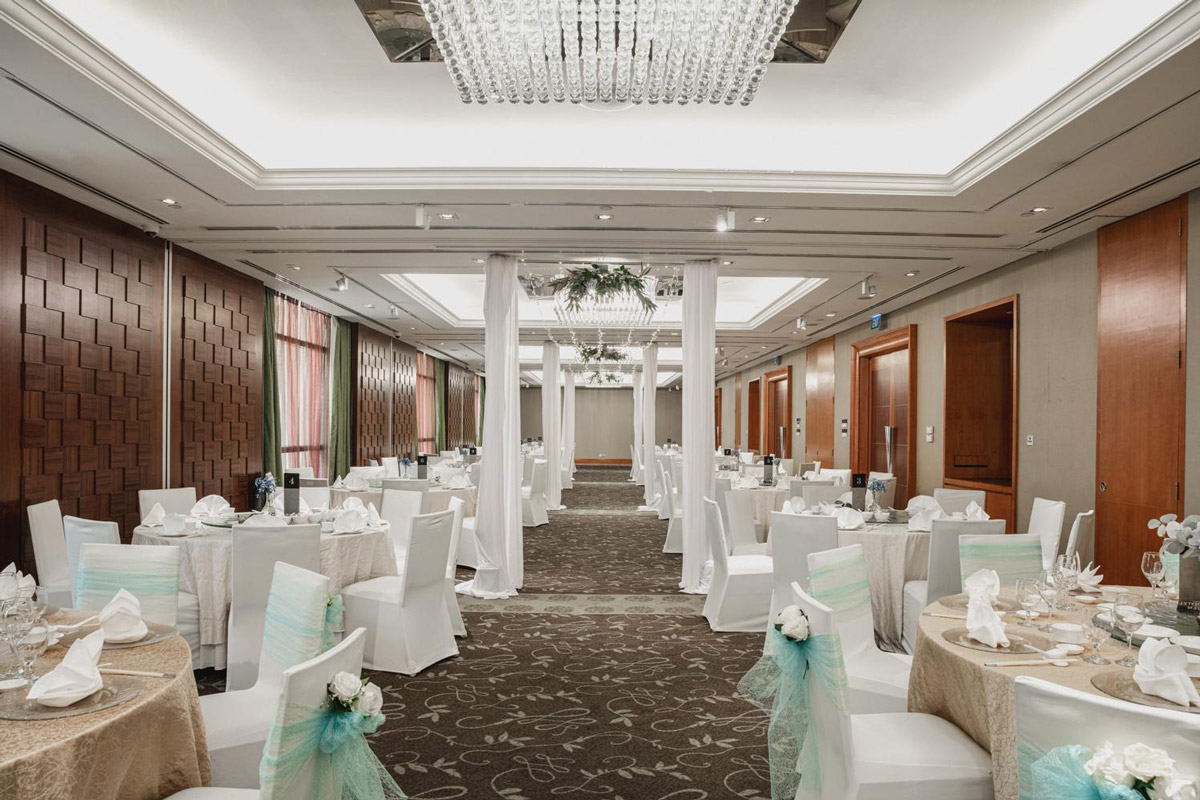 Temasek Ballroom
Long and elegant, Temasek Ballroom is the preferred choice for couples wishing to organise more intimate and private wedding affairs. The most unique characteristic of the ballroom is its layout.
Possessing a narrower width, its layout is reminiscent of an elaborate aisle. All newlywed couples are sure to feel like royalty as they sashay gracefully to the platform stage during their march-ins. Despite the unorthodox layout, don't be fooled.
Temasek Ballroom is still incredibly spacious — given its pillarless interior accompanied by multiple floor-to-ceiling windows that line up the entire length of the room on one side, allowing natural sunlight to seep in. The combined effect opens up the room tremendously, seamlessly transforming it into an unobstructed, elongated ballroom like no other.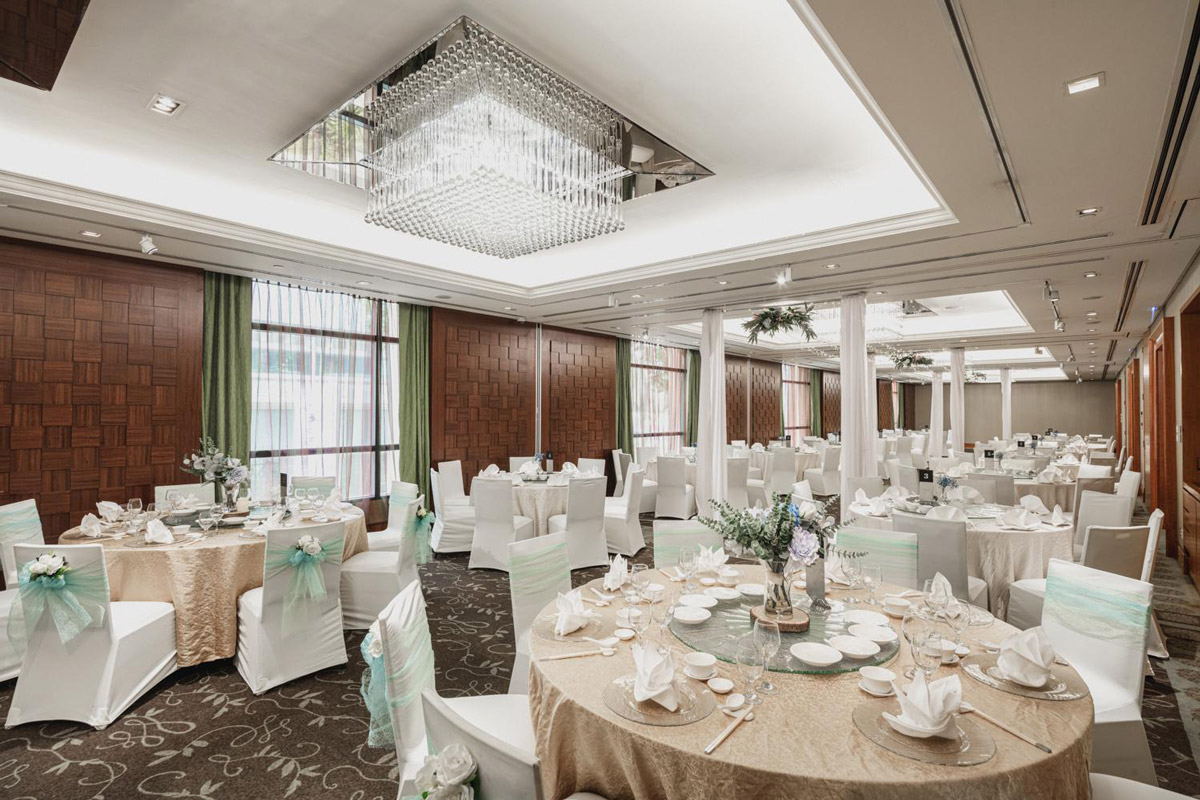 Accommodation of up to 190 pax; also showcasing "Celestial Garden" theme
Pertinently, its accommodation size of 90 to 190 guests across a total of 15 to 19 tables is further testament to its spaciousness. This charming ballroom space is more than ideal for hosting exclusive solemnisations and wedding banquets.
During event intermissions, guests also have the option of heading out to the adjacent foyer for some mingling amongst one another over some delectable bite-sized appetisers or refreshments.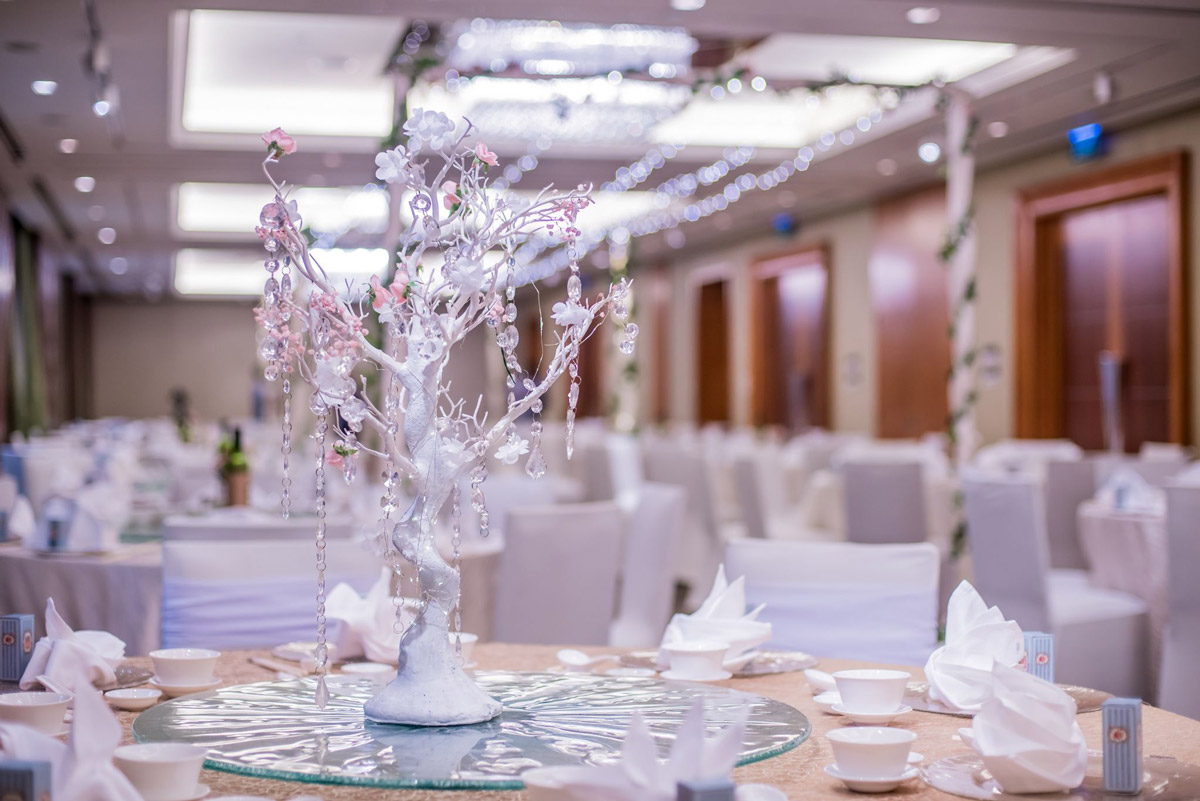 Details of "Celestial Garden" theme up-close
Once again, couples have the freedom of opting for whichever theme they desire. But past iterations of Temasek Ballroom's decor include the "Celestial Forest" and "The Orient". For brides who are fans of mystifying and enchanted woods in fairytales, we highly recommend the former.
Malacca Penang Ballroom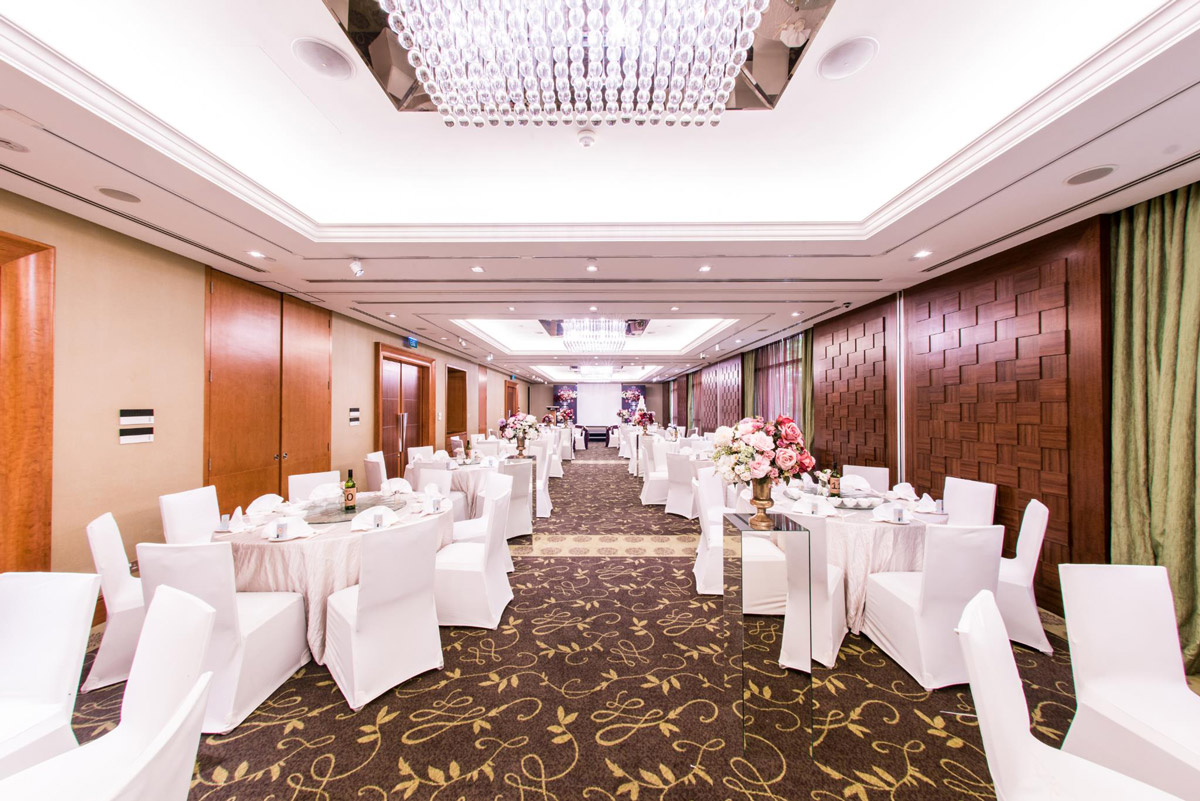 Malacca and Penang Ballroom
Along the same vein, Malacca and Penang Ballroom is also another sophisticated ballroom with a similar layout to Temasek Ballroom. Once again furnished with grand chandeliers, a series of floor-to-ceiling windows and pillarless, this ballroom possesses a capacity size of 90 to 200 guests over 15 to 20 tables.
Located on an exclusive floor of the hotel, Malacca and Penang Ballroom offers privacy to the highest level (pun intended). Because nothing demonstrates VIP access like being located on a private floor. Therefore, this ballroom is the epitome of intimate solemnisations, receptions and banquets for couples truly seeking the deluxe experience for themselves and their guests.
Extensive Bespoke Wedding Packages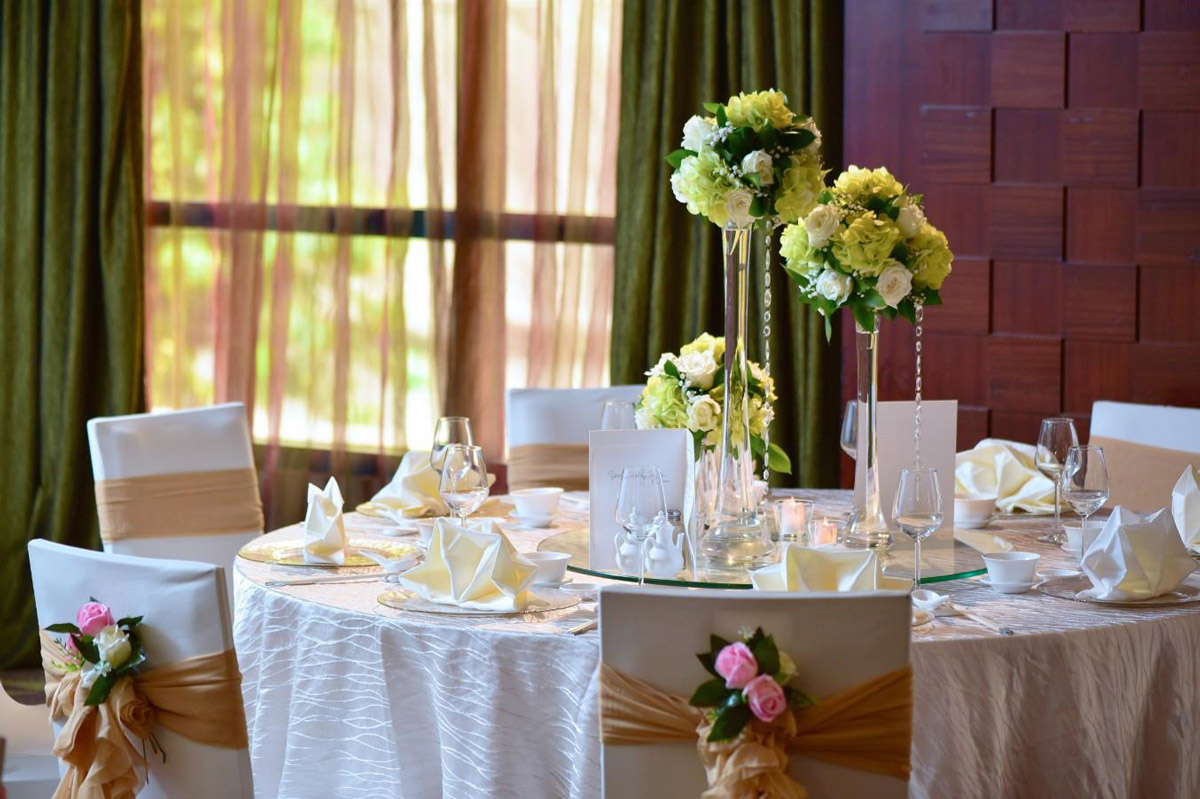 Source: JEN Singapore Tanglin by Shangri-La
Overall, all of these popular function venues are available under JEN Singapore Tanglin by Shangri-La's extensive selection of wedding packages. Depending on whether you opt for Classic Collections or Jen's Signature, each package is specially curated and customised for every couple's tastes and preferences.


Traditional Chinese dishes in offered in menu
Apart from the venues, the packages boast a curated selection of award-winning epicurean delights prepared by a team of highly professional chefs with years of culinary experience under their belt.
Each dish served is guaranteed to be a mouthwatering, gastronomical love affair. The substantial spread is definitely befitting for momentous occasions like celebrating the enduring union between two lovers.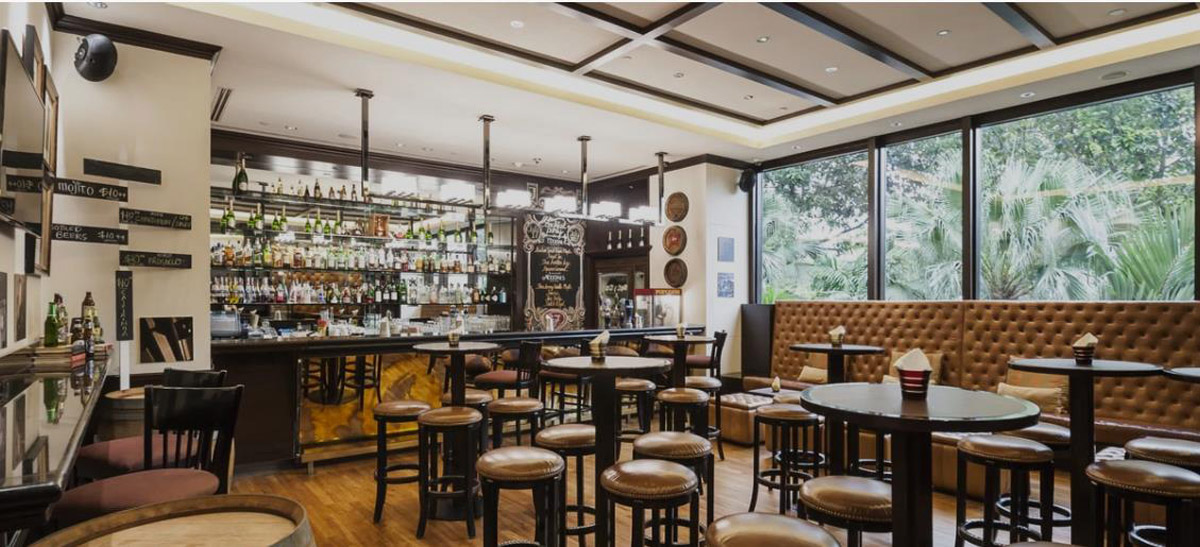 Rumpoles Bar
To further elevate the joyous occasion (and to cleanse the palate with some alcohol, wink), there's a designated themed cocktail area at Rumpoles Bar for all your pre- and post-wedding receptions.
Decked out with dark wood, leather upholstery and industrial-inspired touches, the classy interior of Rumpoles Bar makes for the cosiest setting for you and your guests to intermingle and engage in meaningful conversations before or after the main events.
Regardless of your choice, both dining and cocktail experiences will be guaranteed to be simply divine — a memorable night for the books with tummies filled and hearts full.
The Start of a Beautiful Honeymoon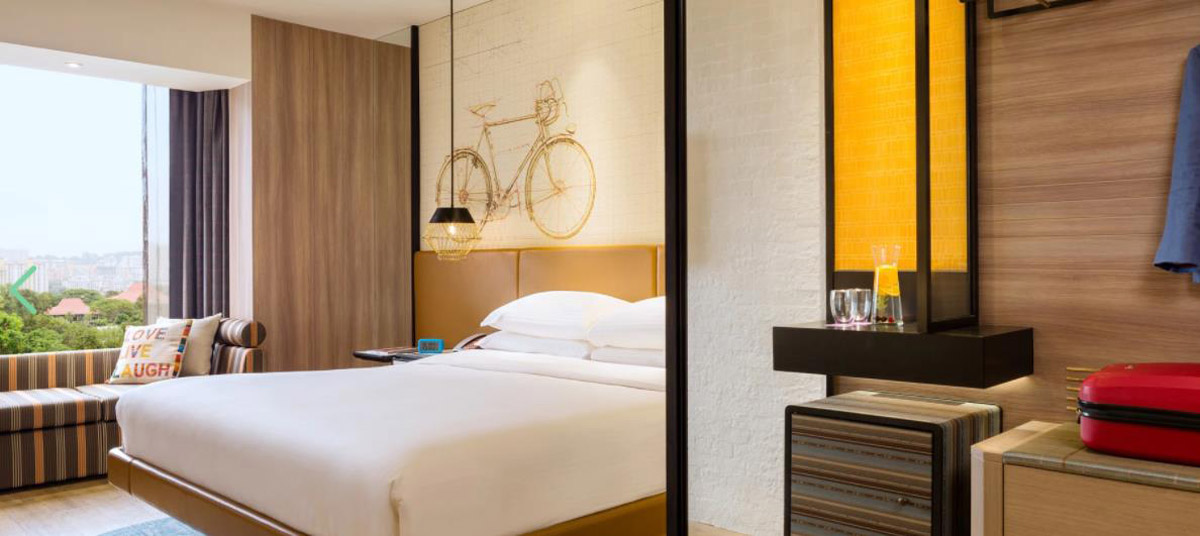 Club Room
And finally, after a long day of celebrating and partying, retreat to the quiet quarters of your luxurious bridal suite in the hotel's Club Room for the perfect cosy start to your 'local honeymoon'.
Offering breathtaking, panoramic views of Singapore's expansive skyline, you and your newlywed partner can soak in the serene ambience and marvelous scenery of the idyllic vicinity around the hotel. This can either be done by relaxing on the room's bay window sofa or exploring the hidden gems that are just a stone's throw away on foot.
In addition, the room is fully equipped with essential amenities along with a smart en-suite bathroom (and a high-pressure shower) for a soothing bath time. Staying in the Club Room also provides complimentary benefits like breakfast service, all-day snacks and exclusive Club Lounge access.
So without further ado, it's time to begin crafting a wedding that does your love story justice.
Kindly refer to the images below for JEN Singapore Tanglin by Shangri-La's latest 2021/2022 wedding packages.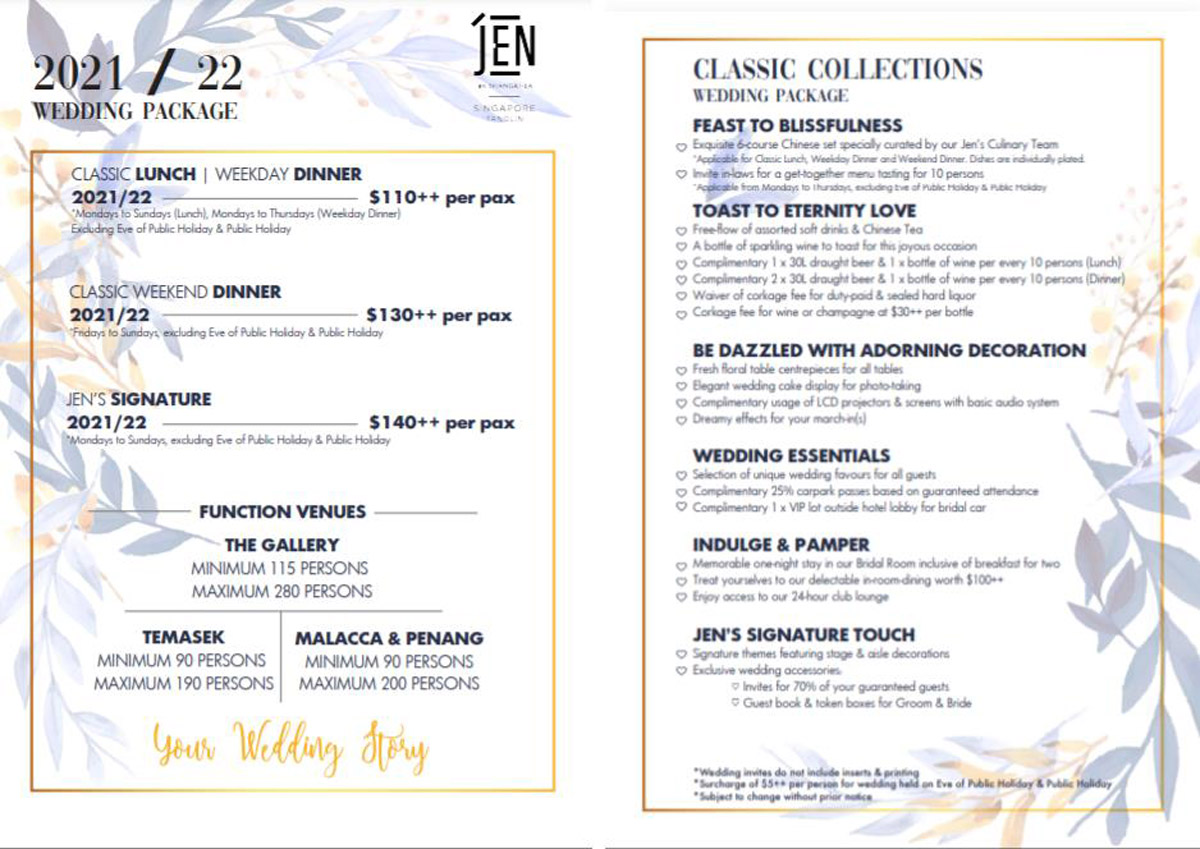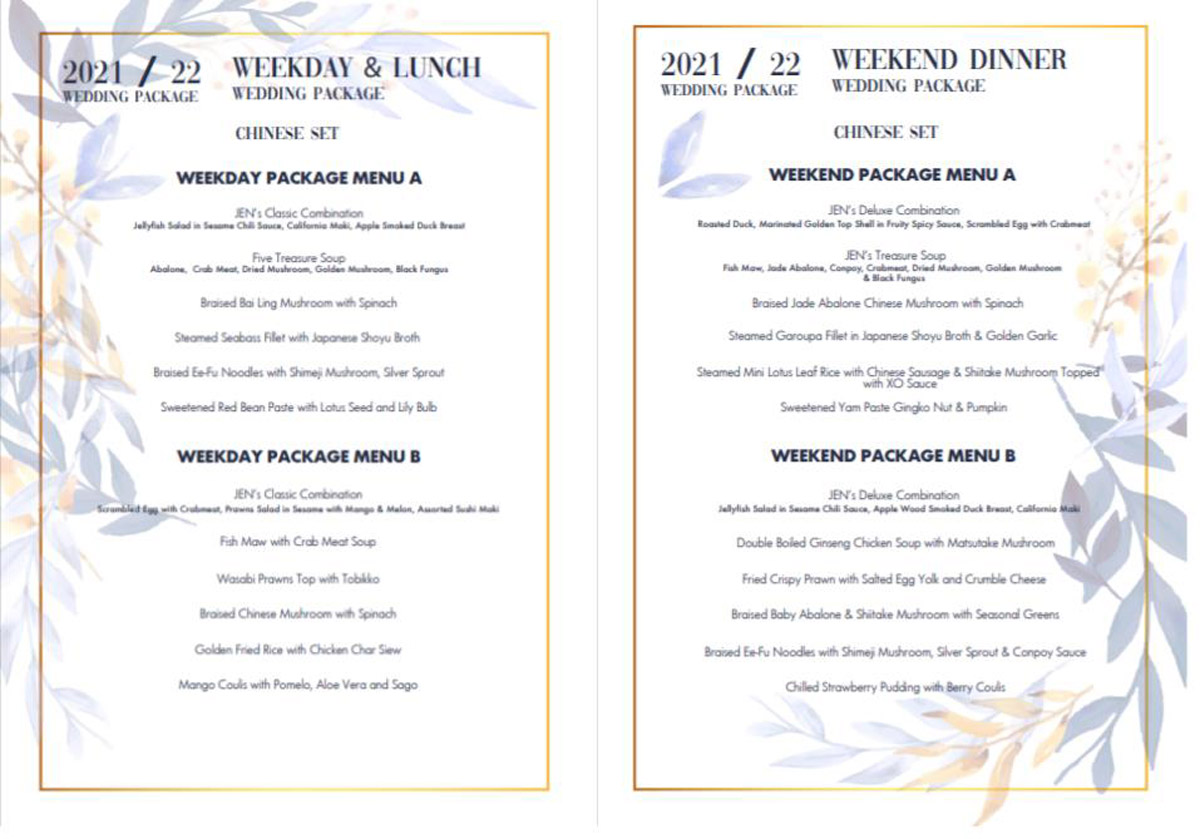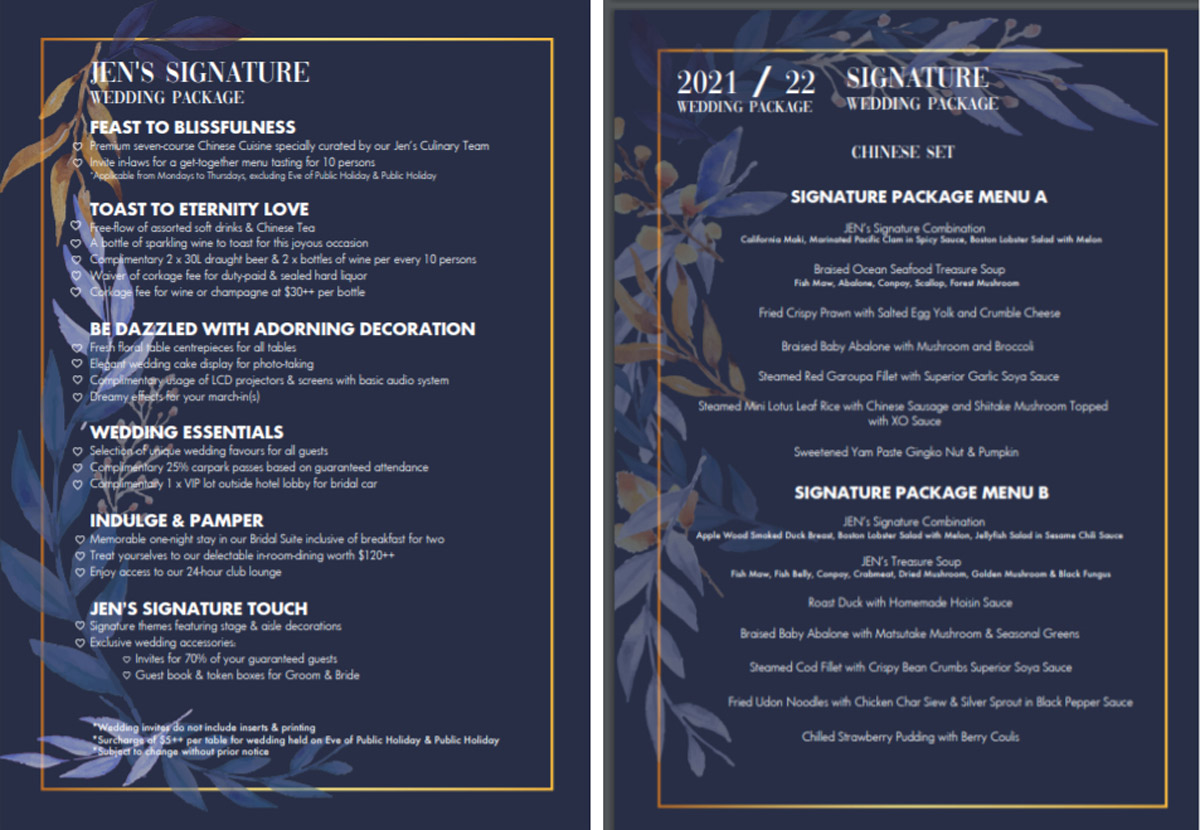 *Be sure to redeem your Golden Circle Award Points on your honeymoon within 12 months of your wedding to enjoy Diamond benefits on that stay.
Contact Details
Address: 1A Cuscaden Road, Singapore 249716
Tel: +65 6738 2222
Email: singaporetanglin@hoteljen.com
Website: www.shangri-la.com/en/hotels/jen/singapore/tanglin
Social Media
FB: @HotelJenTanglinSingaporebyShangriLa
IG: @hoteljentanglin
JEN Singapore Tanglin by Shangri-La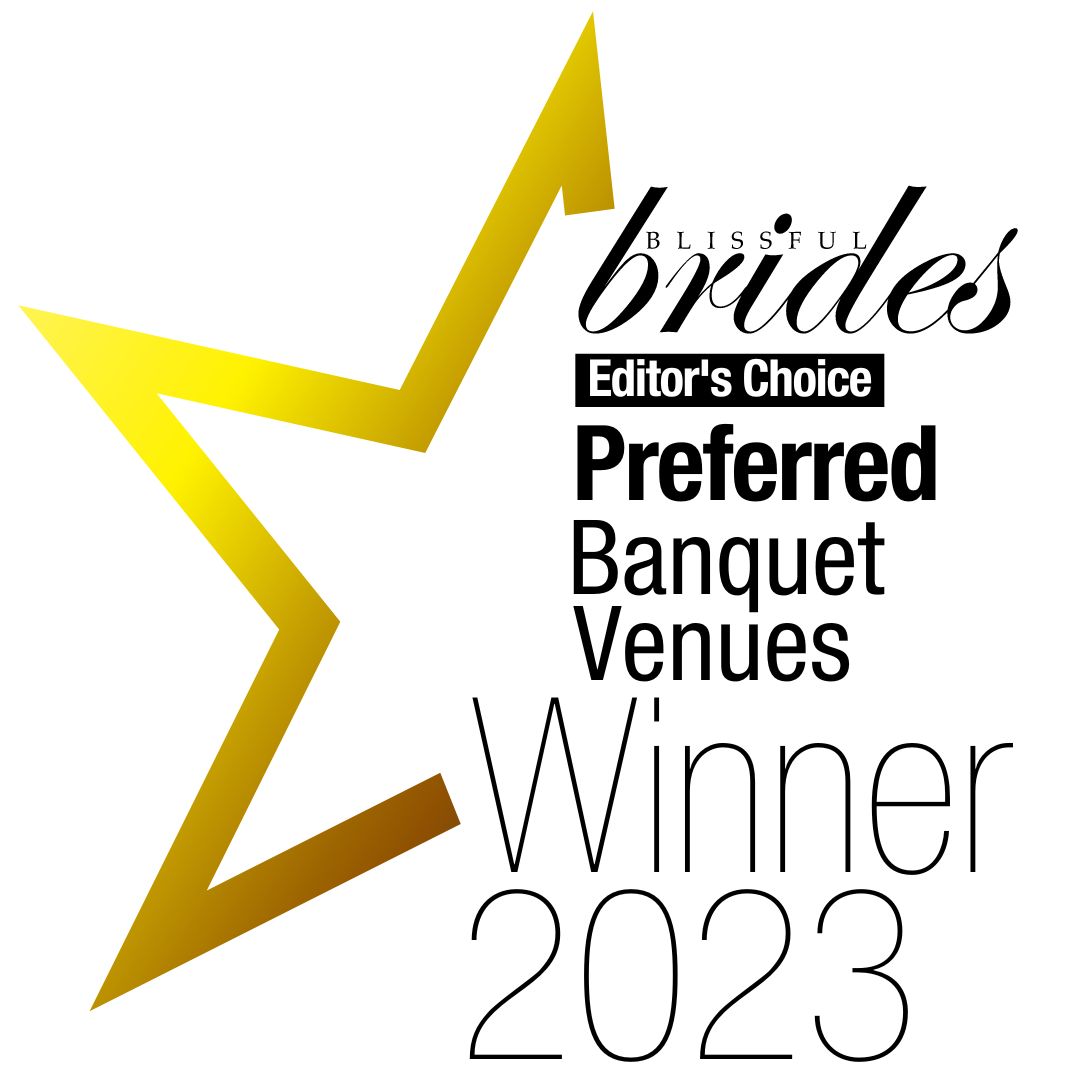 Rating:

Address:

1A Cuscaden Road, 249716, Singapore

Phone:

6831 4315