Impress & Indulge with a Regal Wedding at Singapore Marriott Tang Plaza Hotel
2021-02-16

Unrivalled accessibility, unparalleled versatility, and impeccable hospitality — that's Singapore Marriott Tang Plaza Hotel for you, one of the most stately and established wedding venue in Singapore for a fuss-free yet impressive celebration of a lifetime.
From an absolutely convenient location — the hotel is literally at the doorstep of Orchard MRT Station — to a diversity of wedding spaces, 6 enchanting wedding themes, bespoke service from a dedicated Wedding Planner and exquisite Cantonese delicacies from the award-winning Wan Hao Chinese Restaurant, here's why Singapore Marriott Tang Plaza Hotel will please both you and your distinguished guests:
Elegant venues for all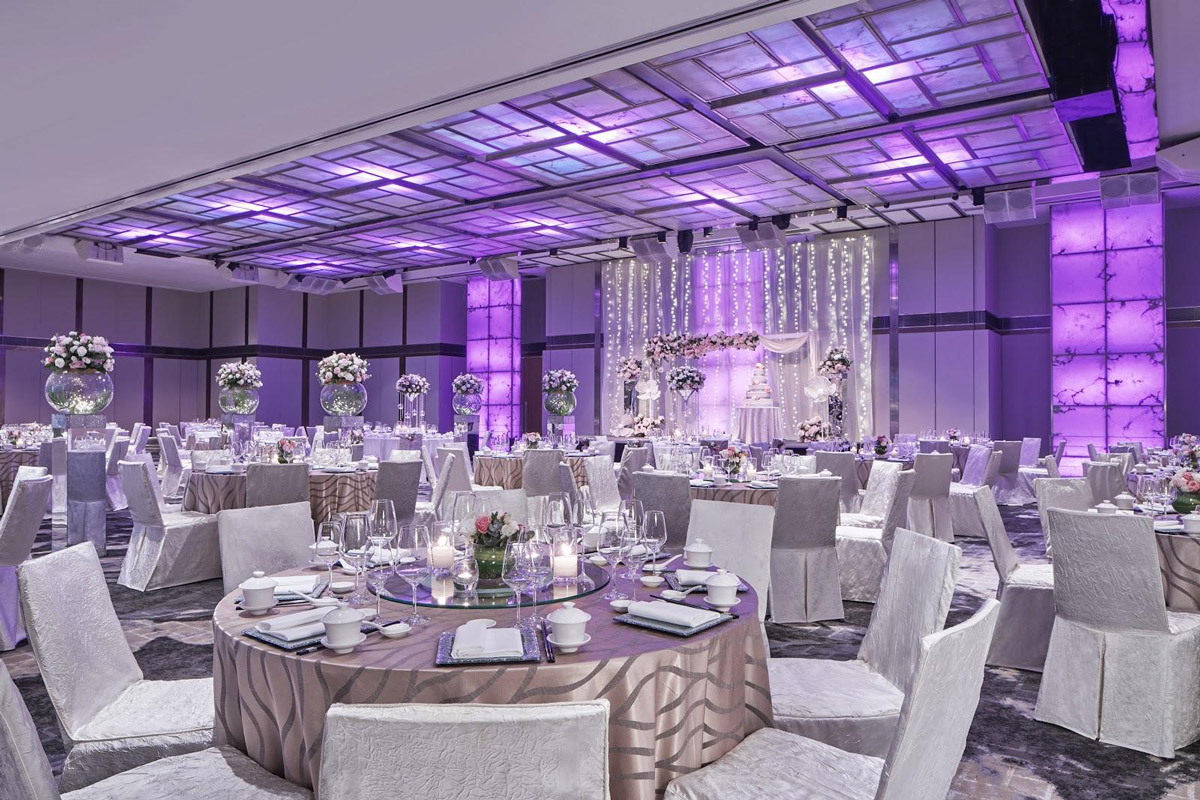 The newly-refurbished Grand Ballroom
Whether you wish to hold a grand wedding or an intimate affair, Singapore Marriott Tang Plaza Hotel will have the right venue tailored to your needs.
The Grand Ballroom, with its exclusive foyer, is an exquisite and elegant venue fit for large-scale wedding celebrations. Newly refurbished just in 2019, the pillarless ballroom boasts a sleek and luxurious look that exudes elegance and style.
Complemented by the spectacular alabaster lighting that comprises the seven colours of a rainbow, you can create a mesmerising ambience to captivate your guests further during key moments (think march-in, cake cutting, and the likes) simply by playing around with the lights!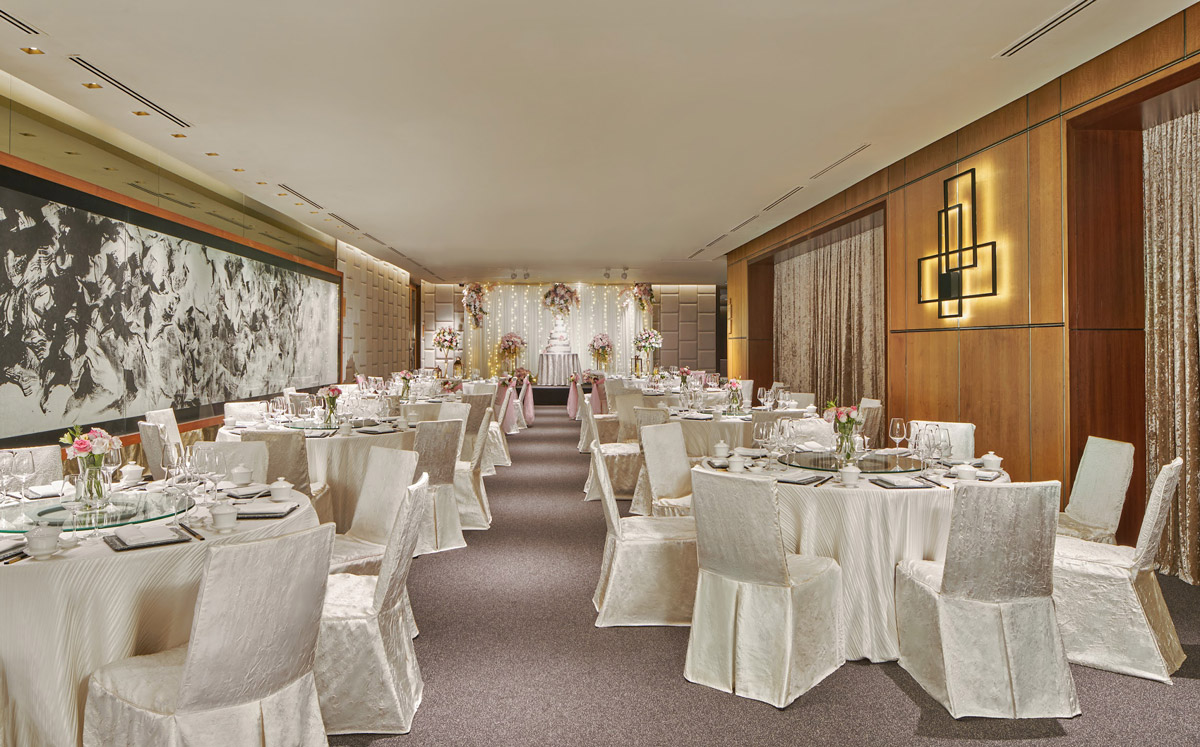 The Gallery
If you are looking for a smaller space to host a cosy wedding celebration with a few kindred loved ones, the hotel also offers an exclusive space known as The Gallery. Its room layout allows you to have a long aisle, perfect for a slow, romantic march-in.
Enchanting wedding themes
With a grand total of 6 different customisable themes to choose from, it's safe to say that in terms of decor, there's definitely something for everyone at Singapore Marriott Tang Plaza Hotel.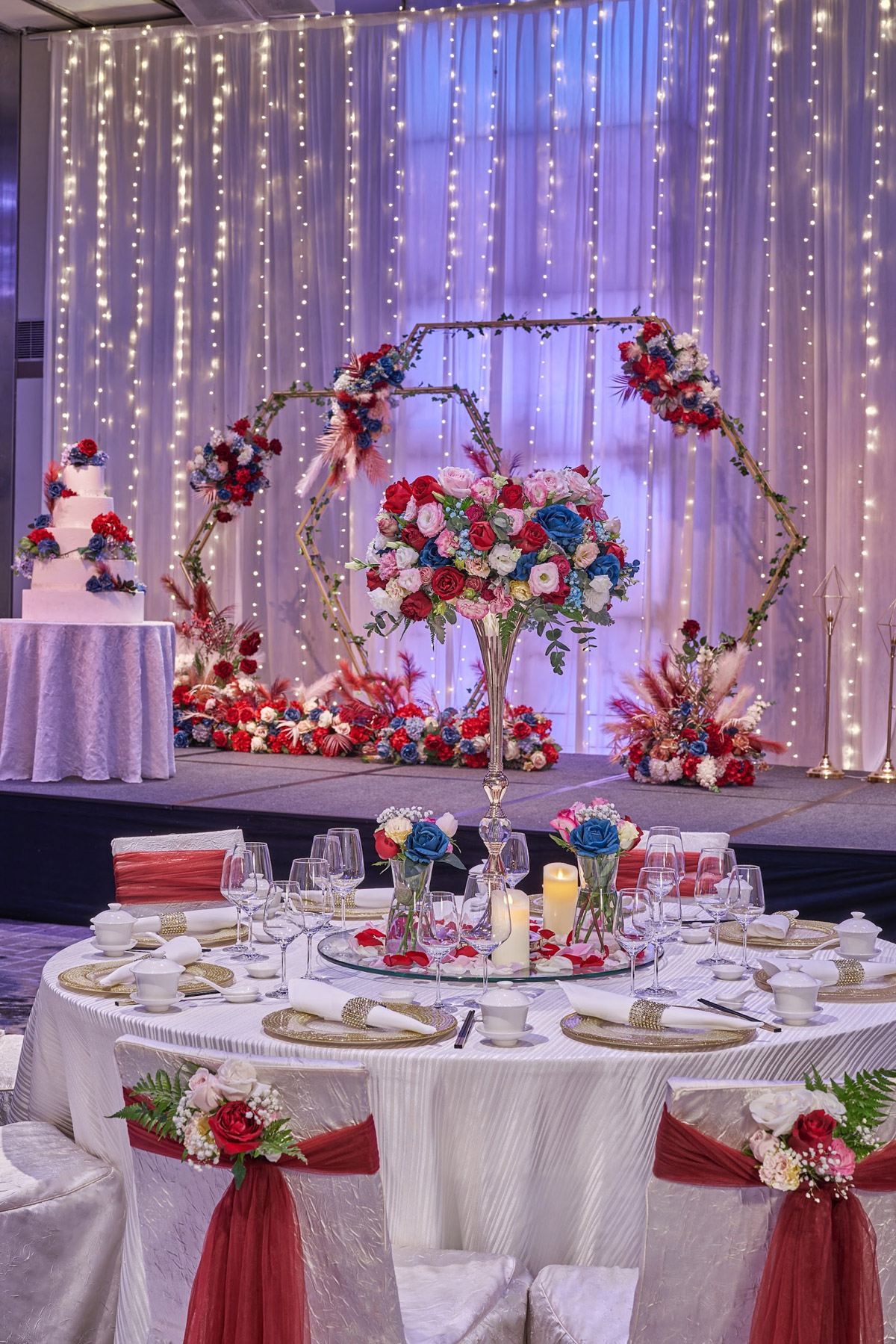 Blissful Romance
Each of them breathtaking enough to help you to make a lasting impression, make a statement with Blissful Romance, a bold and contemporary theme that is adventurous, enigmatic, and uses blue roses, which symbolise rarity and true love.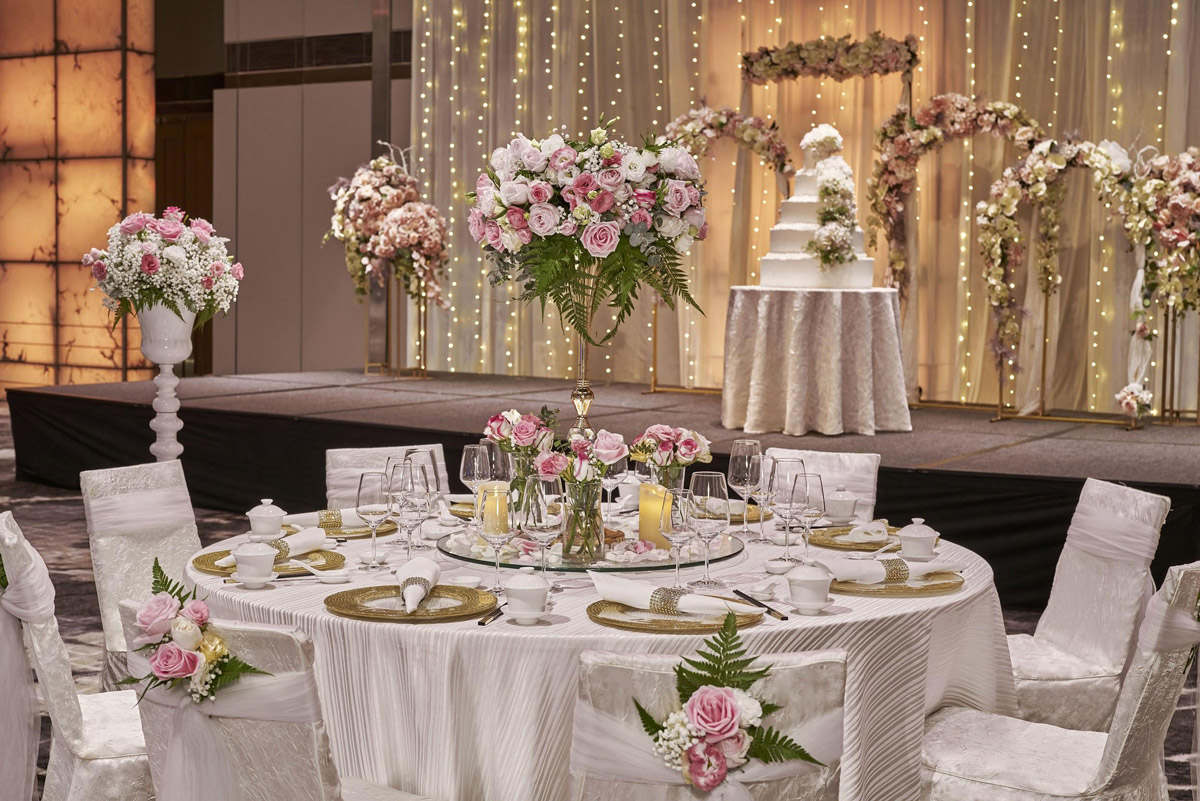 Blooms
You can also transform the ballroom into an enchanting garden with Blooms, which is brimming with delicate bouquets of roses and baby's breath alongside floral arches and fairy lights!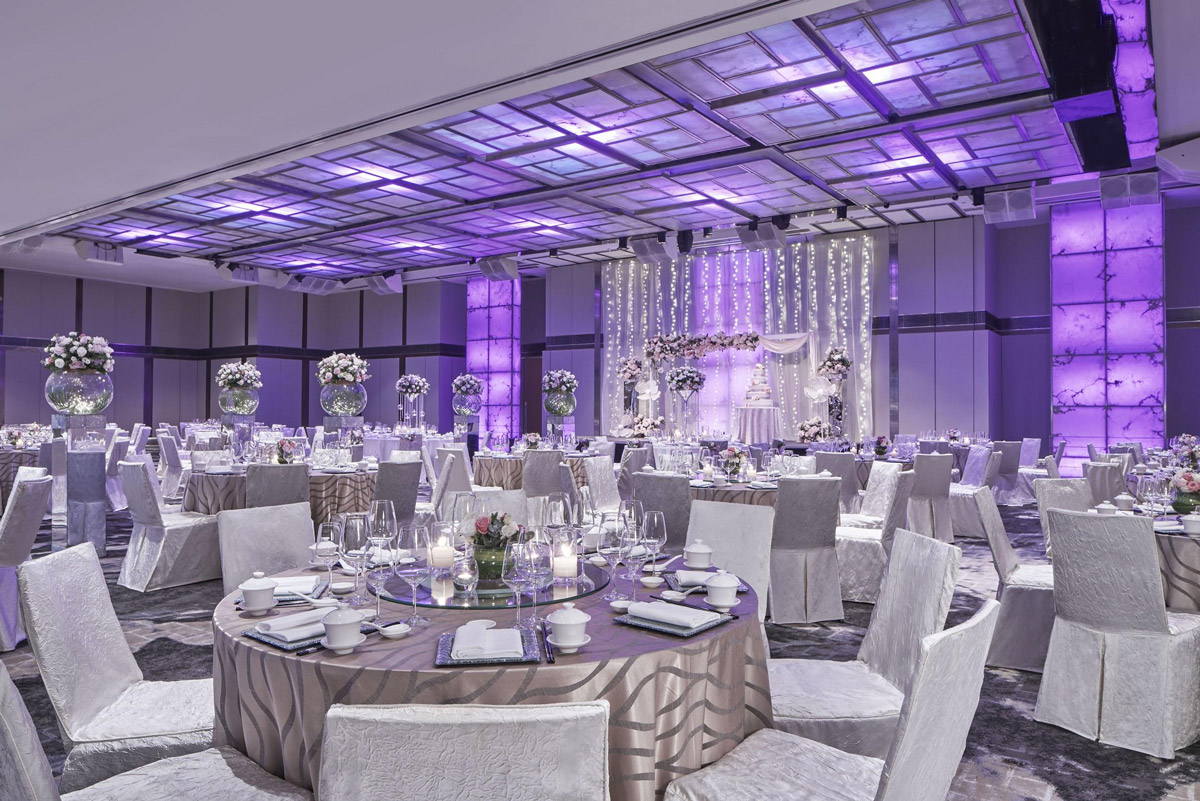 Enchanting Eden
Alternatively, a popular theme amongst many wedding couples is Enchanting Eden, which also uses strings of sparkling fairy lights, crystal embellishments, and romantic candlelights to create a magical oasis.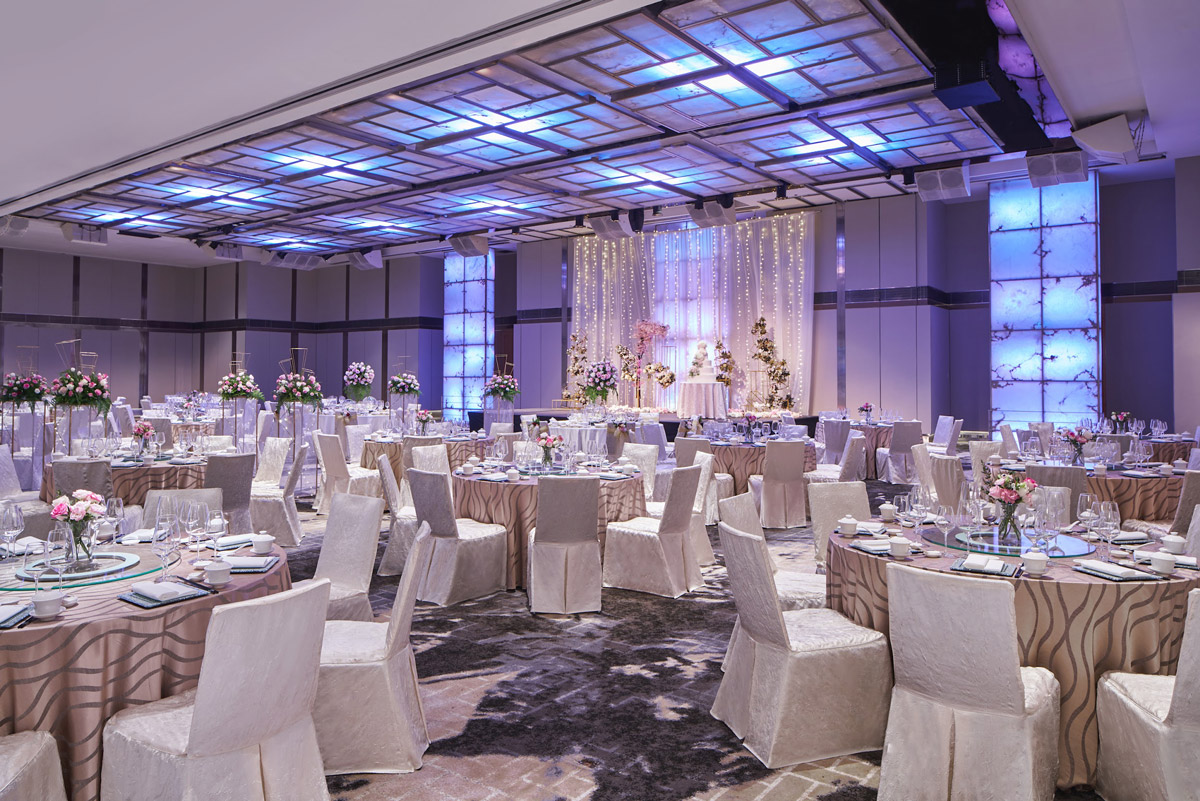 Golden Moments
Reminiscent of a beautiful warm sky, Golden Moments bring to life the wonders and serenity of the sunset using vibrant flowers and soft warm lighting, while Love Entwined pays homage to a vineyard of trees that represent the unity of two lovers with white and green florals.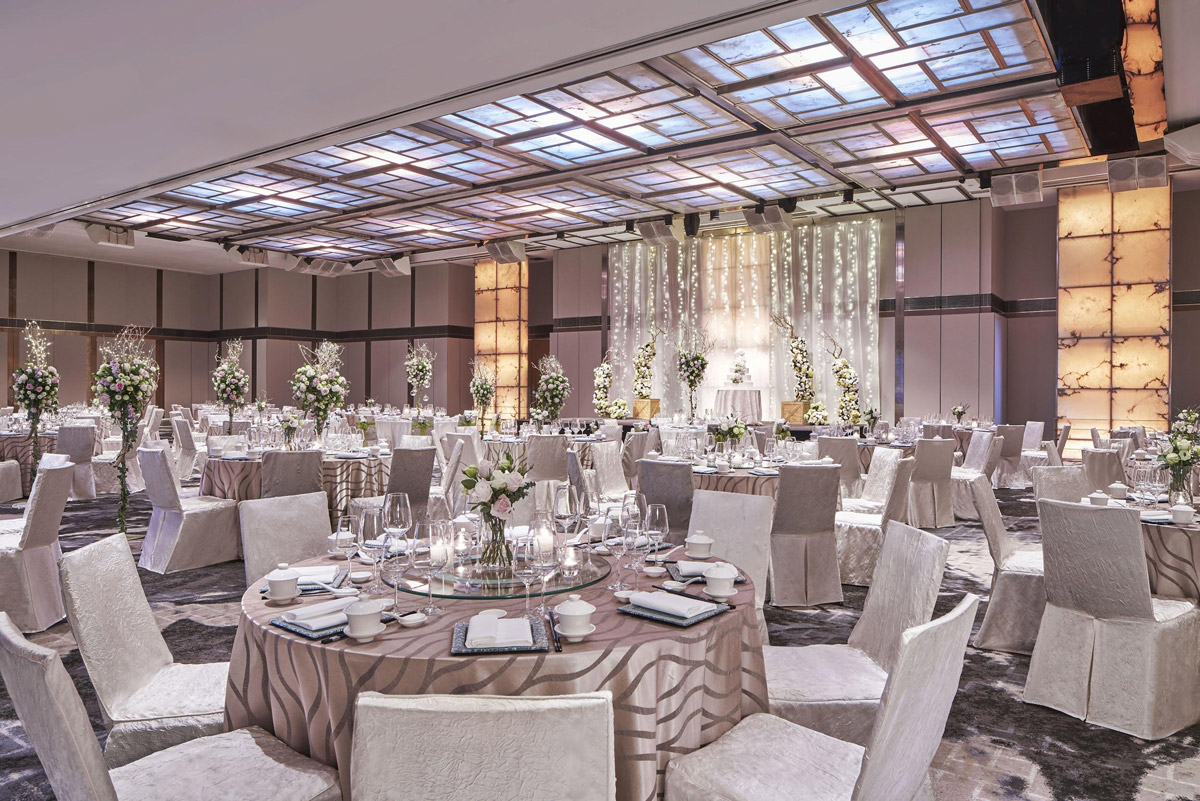 Love Entwined
Bored of the usual pinks? Dazzling Diamonds features a sweet and unique palette of pastel pink, ivory, and dusty blue. As its name suggests, the theme also decks out your venue of choice with dangling spirals of diamond-shaped crystals, which resemble shimmering waterfalls.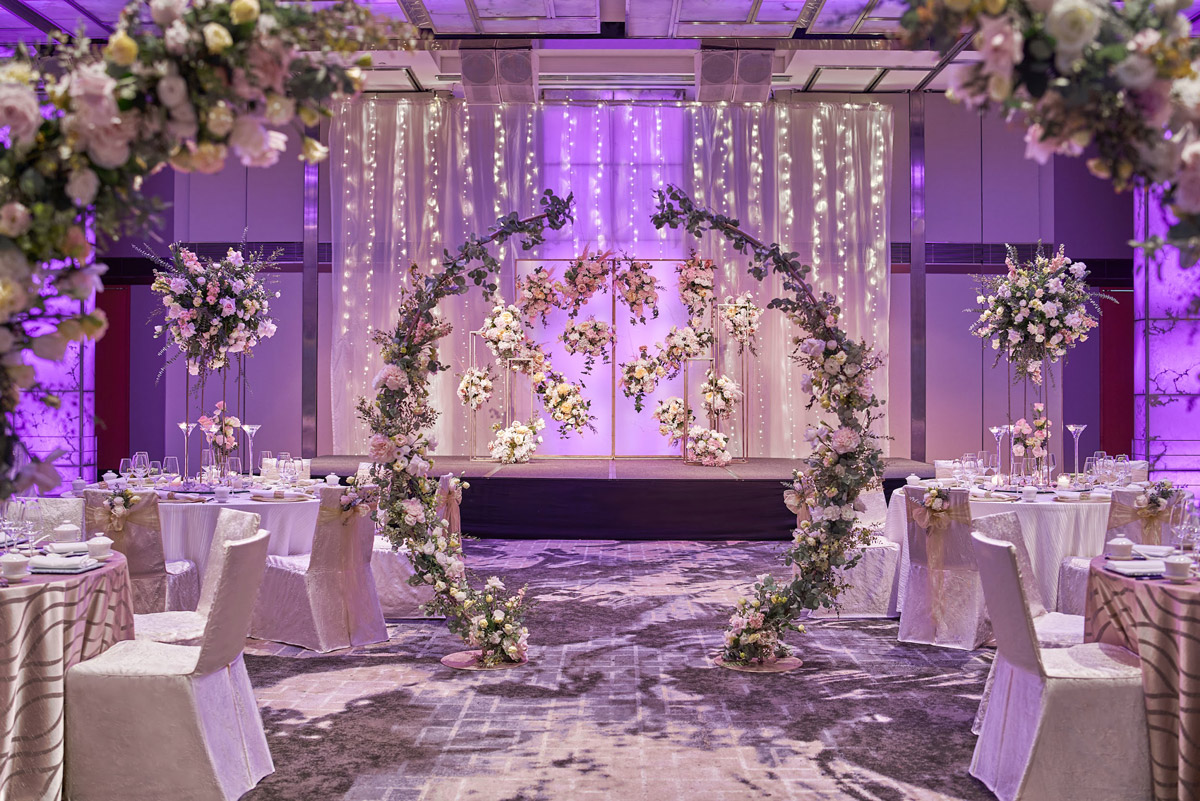 Secret Garden
A gastronomic journey on the side


Besides being enthralled by the exquisite decor, your guests can also indulge in a gastronomic adventure with the gourmet creations from the hotel!
For a traditional Chinese sit-down banquet, their award-winning Wan Hao Chinese Restaurant specialises in classic Cantonese delicacies that uses the finest ingredients. Look forward to specialities such as Braised Lobster, Assorted Seafood Broth, Diced Vegetable, Egg White, Conpoy; Steamed Red Garoupa, Fermented Soybean Crumb, Superior Soya Sauce; Braised Sliced Abalone, Chinese Mushroom, Abalone Sauce, Seasonal Greens and many more.

If you prefer Western or Halal delicacies, these are also available with a wide selection for you to choose from. To further reflect your personal taste and preferences, you may even work with their team of culinary masters to create customised menus!
Fuss-free & worry-free



Planning a wedding is never without its difficulties, but Singapore Marriott Tang Plaza Hotel makes it that much easier to breathe, relax, and just enjoy your special moments with their dedicated team of wedding planners.
Trained to coordinate weddings of all types, including ethnic and military ones, their wedding planners will be with you every step of the way. From planning your wedding favours to curating your menus, they'll provide bespoke services so that you can have a smooth-sailing wedding of your dreams.
The hotel also offers exclusive wedding perks such as a complimentary stay in their refurbished Executive Suite, complimentary tables, day-use of rooms for family members, or dining vouchers, depending on your signed package.
Of course, it is also certified SGClean by local authorities with social distancing and safety management measures in place, so you and your guests can have peace of mind!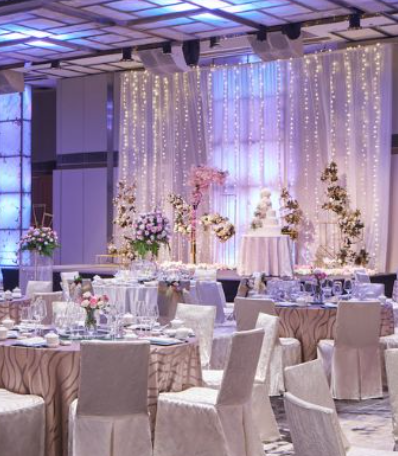 Singapore Marriott Tang Plaza Hotel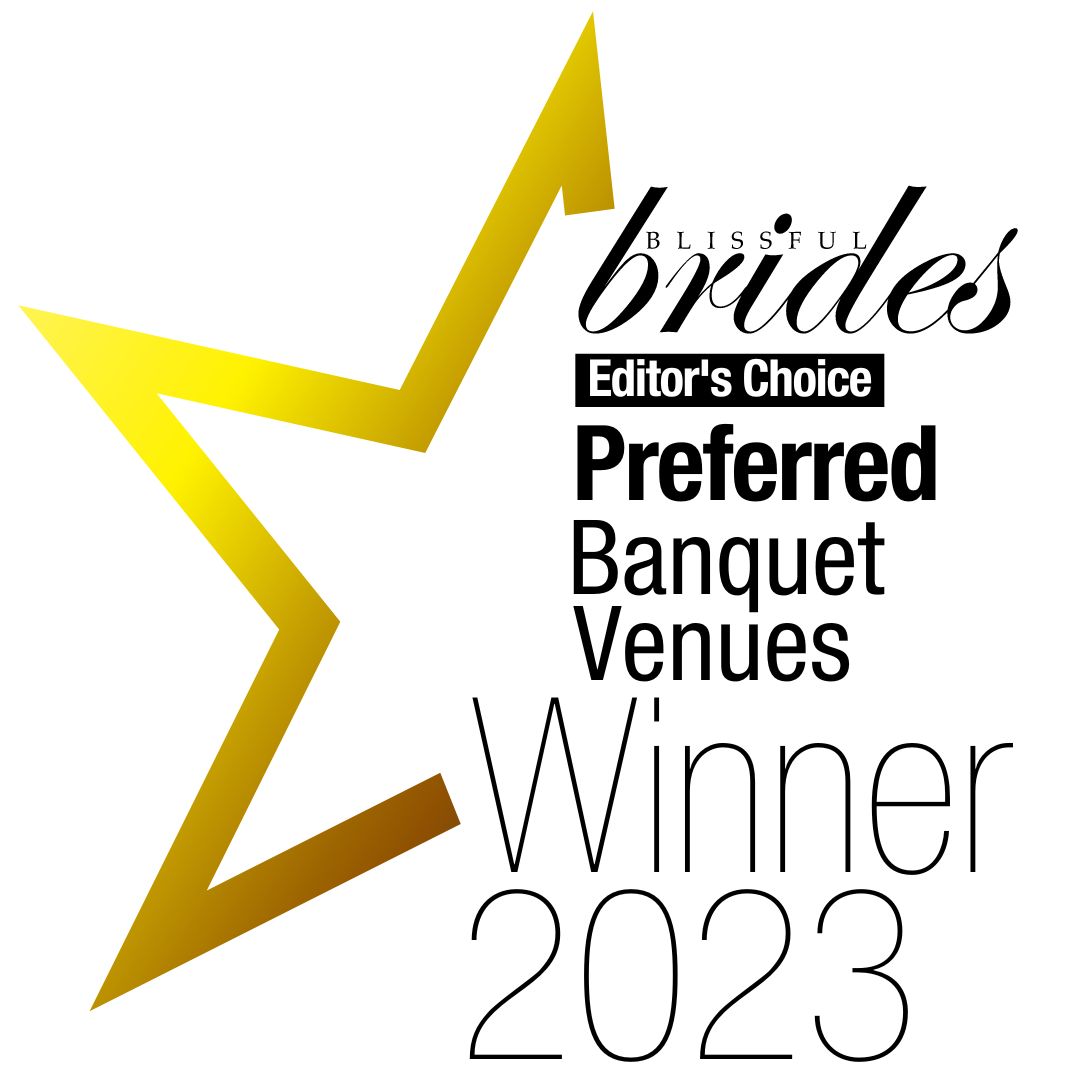 Rating:

Address:

320 Orchard Road, Singapore 238865

Phone:

68314768

Fax:

6831 4774