It's a Love Story: Just Say Yes to This Bridal Boutique
2021-06-25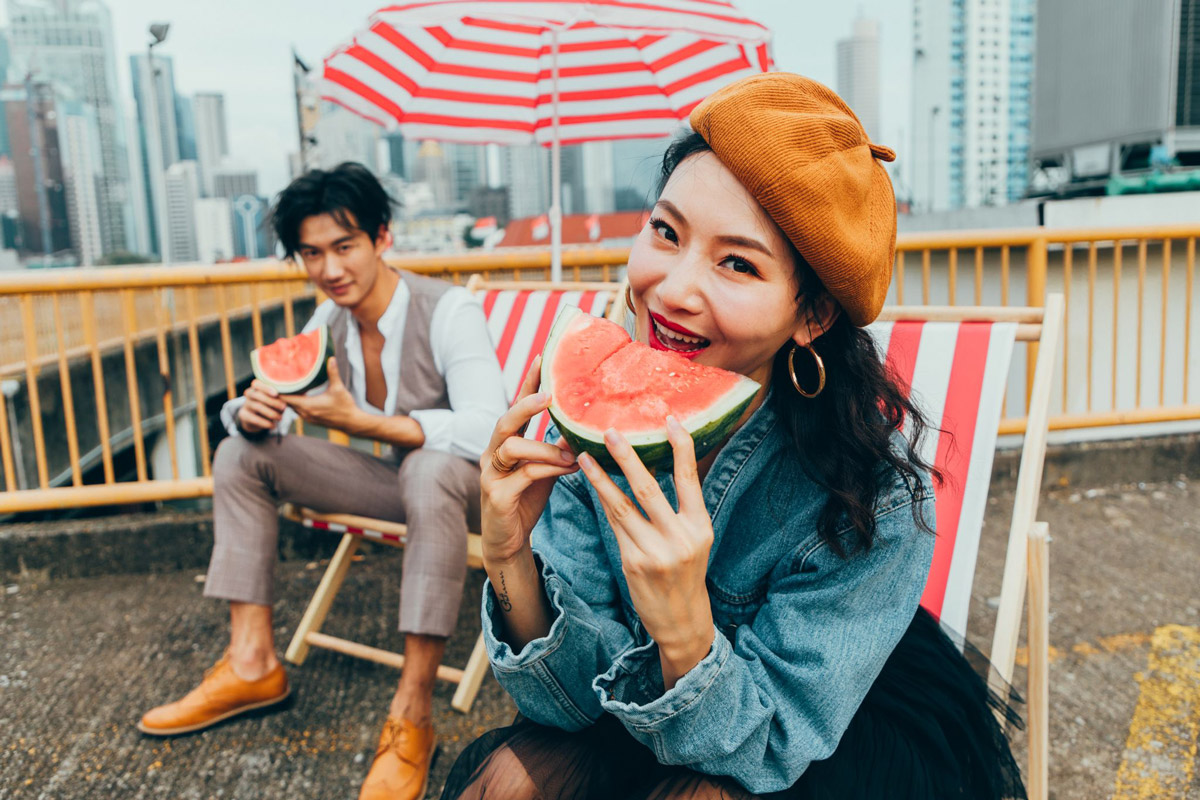 Dedicated to nurturing the fullest potential of every love story, Love Story Wedding Boutique is an easy consideration for all your bridal affairs. Ever since they opened their doors in 2016, they have quickly risen the ranks to become a critically acclaimed bridal consultancy in the wedding industry.
Whether it's gown rental, hair and makeup, pre-wedding to actual day photoshoots, Love Story will cover all bases to deliver an unforgettable wedding experience. With their team of experienced industry professionals ranging from in-house stylists to photographers and videographers, their keen attention to detail and critical eye for all things aesthetic will take you on a rewarding wedding journey overall.
Couture on a Budget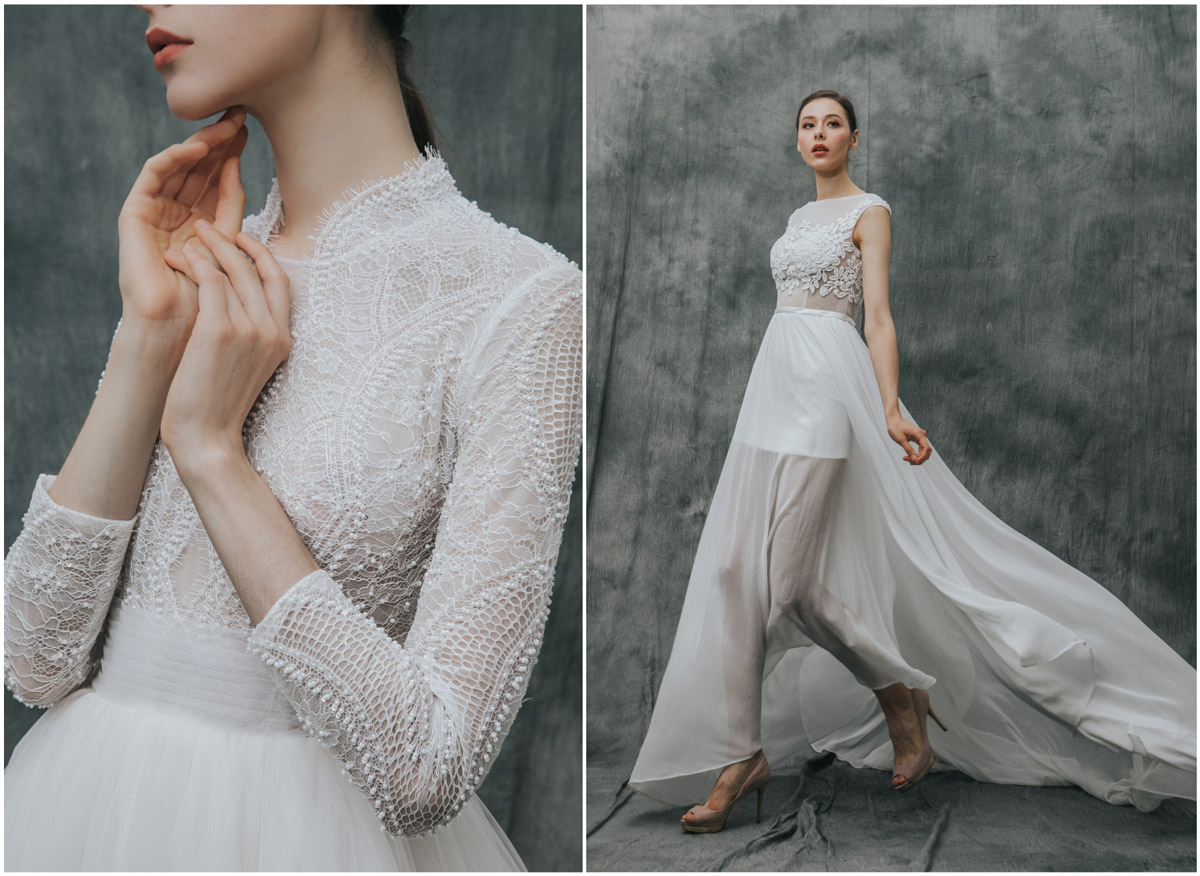 Who said you can't be fancy while saving? With the popularity of gown rentals growing over the years, more brides-to-be have been making the switch over rather than purchasing a gown wholesale.
This is because typically, a wedding gown is only worn once (during the wedding, of course) and requires subsequent, regular maintenance to upkeep its quality. It's a lot of wasted expenditure that could've otherwise funded other areas of a wedding.
At Love Story, their boutique focuses on an affordable luxe — a standard that other bridal boutiques struggle to meet. Their expansive collections of wedding gowns, evening gowns and tea ceremony dresses range from simple to intricate, subtle to bold, classically white to vibrantly hued. All this and more coveted bridal couture are available for only a fraction of the price.
Reception Dresses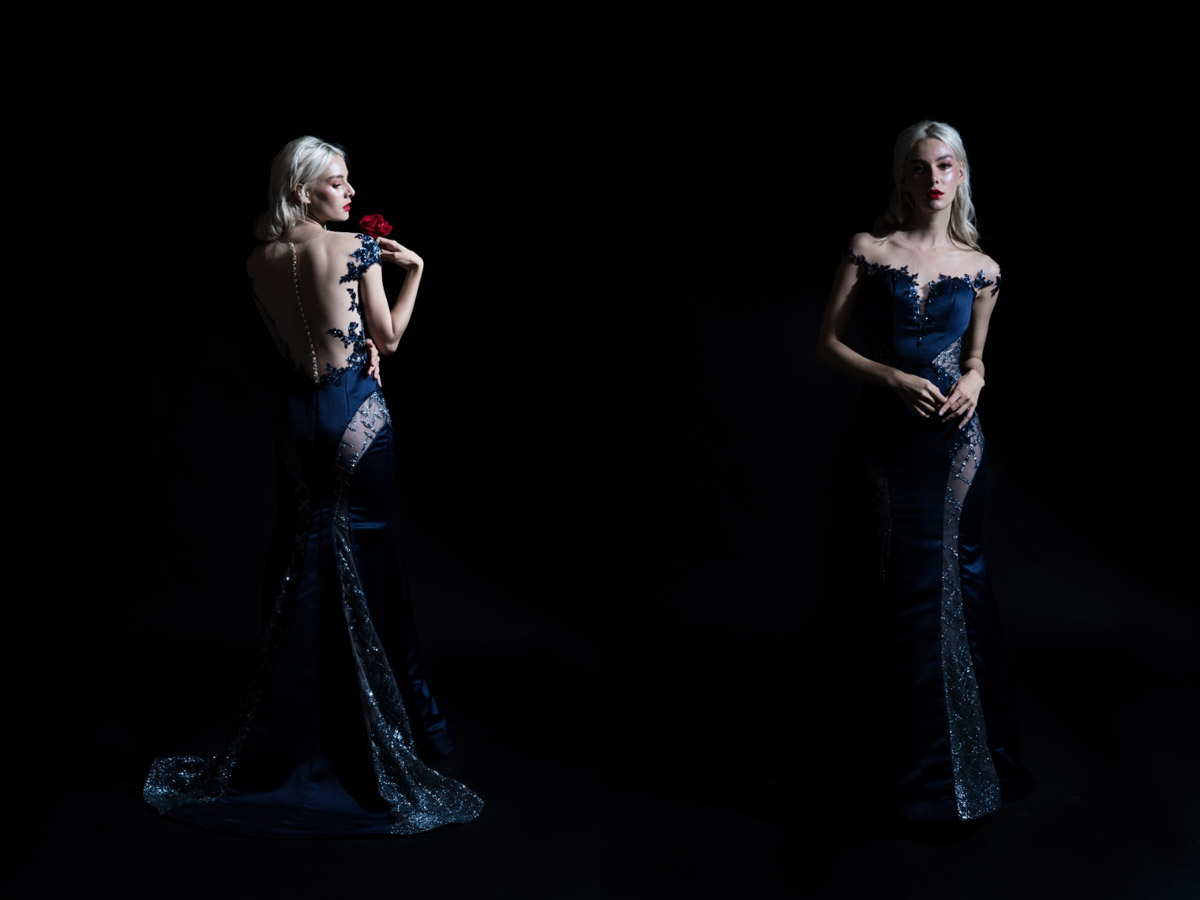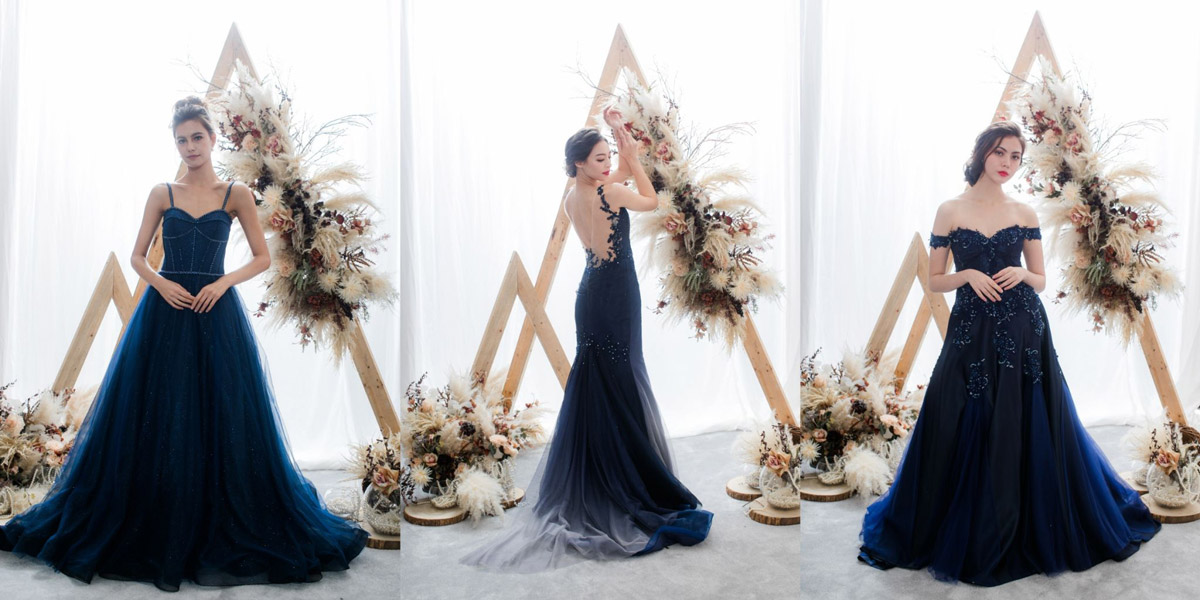 Deep Sea Collection
For your reception, indulge in luxurious fabrics and exquisite designs from the Deep Sea Collection, emulating the elusive and mysterious nature of the ocean's midnight zone.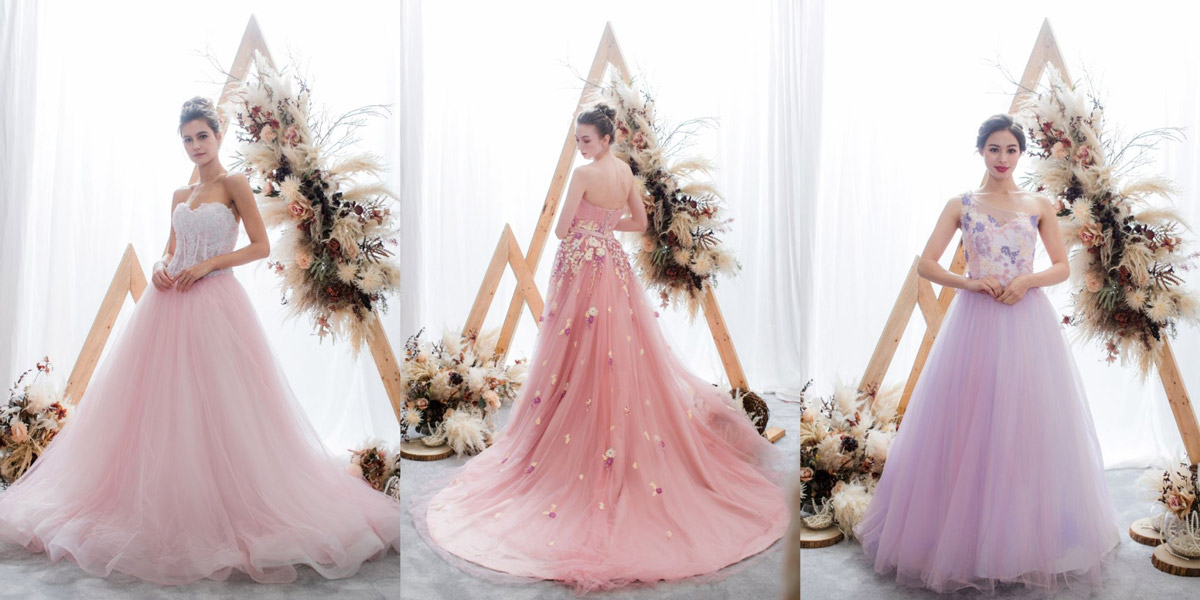 Spring Collection
Or perhaps flutter around the ballroom in tulle, rosy pink hues and floral motifs with the Spring Collection.
Wedding Dresses
As a contrast, opt for the angelic grace of traditional wedding gowns with signature silhouettes for your solemnisation. You can never go wrong with these timeless yet stylish classics.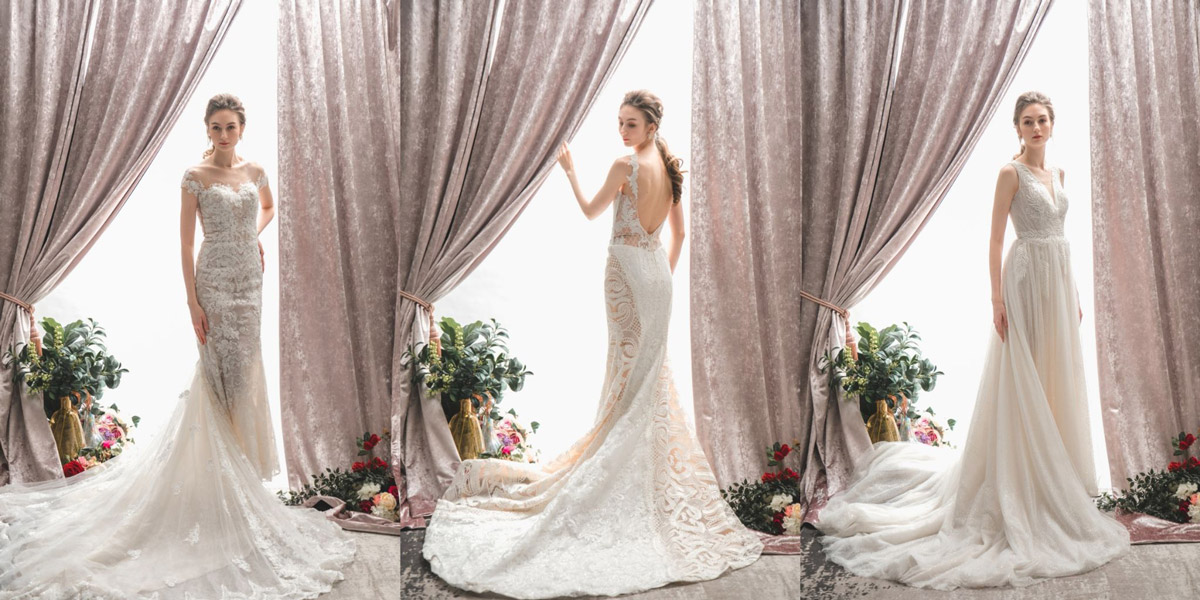 Blooming Paradise Collection
The Blooming Paradise Collection is a gorgeous homage to the soft yet sensual bride. Bold yet unassuming, these dresses will hug your curves ever so softly to highlight the illusion of a shapely figure in the most tasteful manner — emboldening the bride to strut down the aisle with elegance and poise.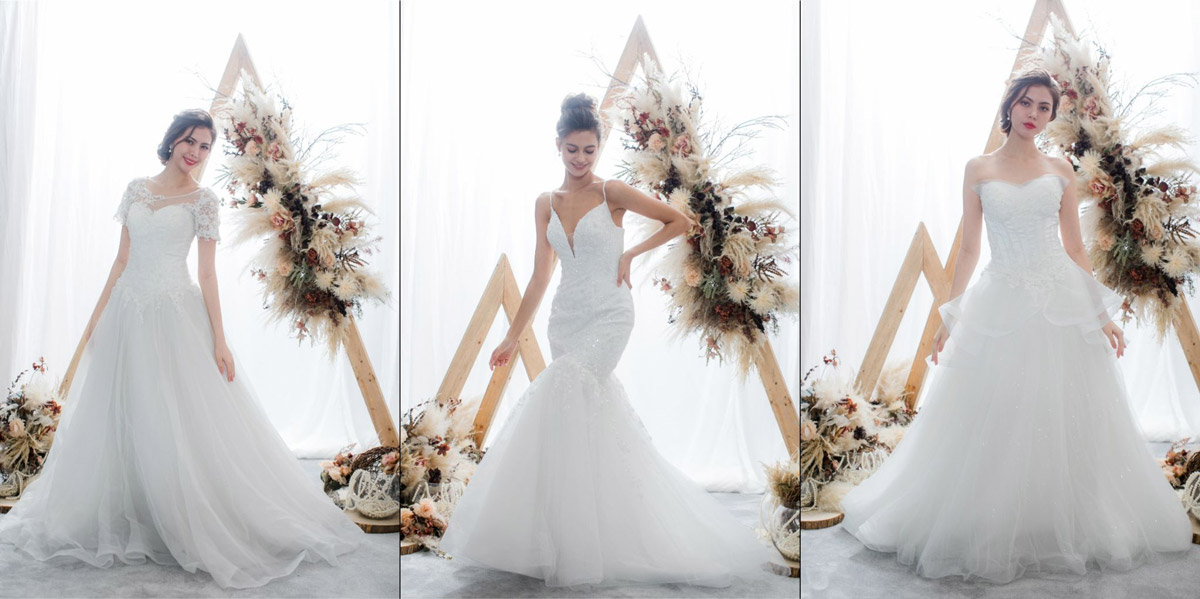 Sea Wind Collection
The Sea Wind Collection is lavish and bold. Reminiscent of a cool summer's breeze, the designs of these dresses are effortlessly chic, highlighting the bride's radiant glow from within.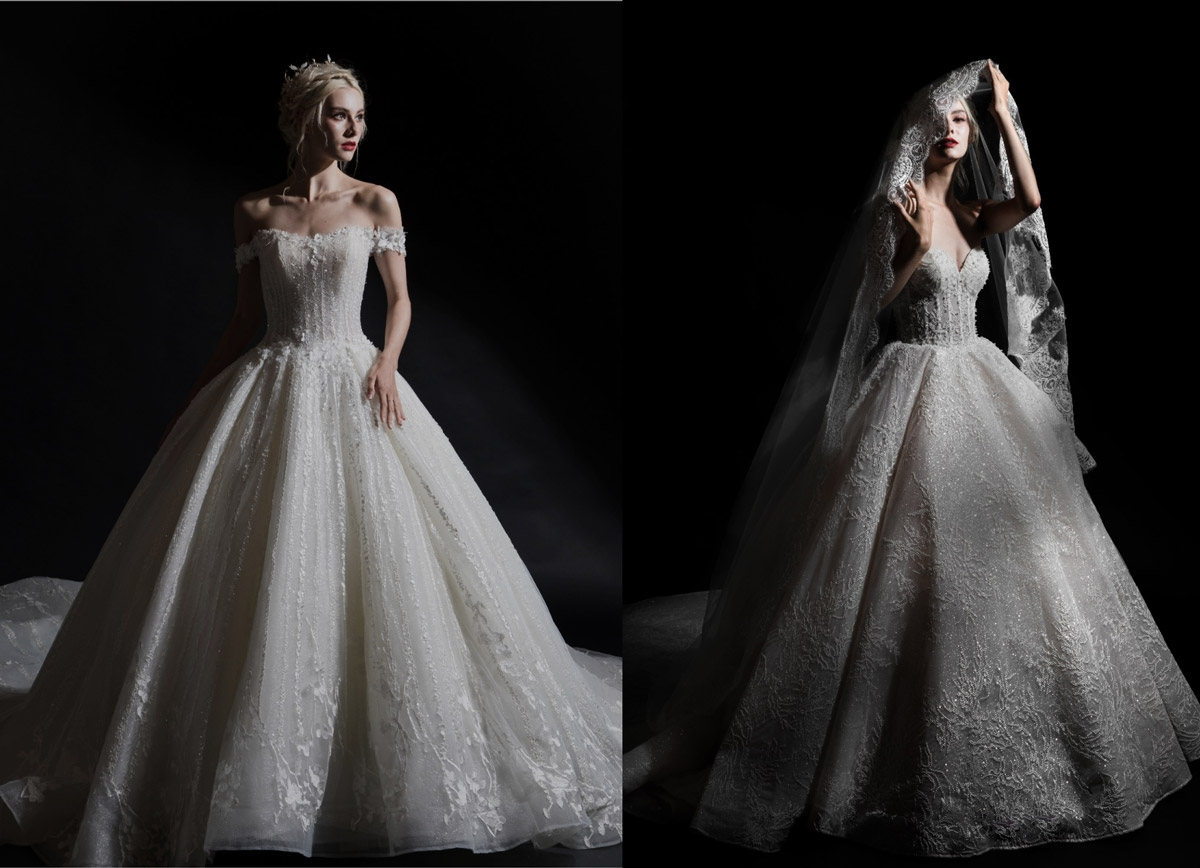 Early Sun Collection
As a personal favourite, the Early Sun Collection is the epitome of royal and regalness. The dramatic flair of the ballroom gown silhouette is breathtaking, exuding an air of sophistication and refinement evocative of princesses and queens of ages past. If you ever want the royal experience, these dresses are right up your alley.
Kua Dresses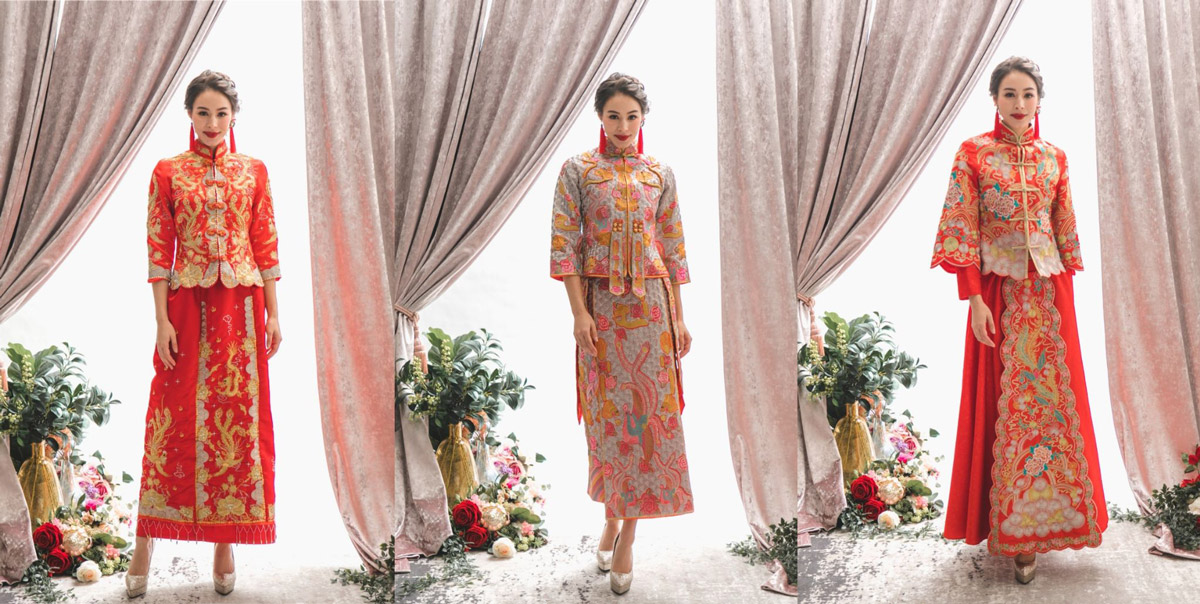 Traditional Kua Dresses with modern twists
But that's not all: Love Story also carries a remarkable selection of contemporary Kua dresses for brides who wish to honour age-old Chinese wedding traditions. In modern times, traditional apparel such as the Kua dresses have, unfortunately — but understandably — fallen out of style and favour given the declining interest in Chinese culture.
Thus, as a way to re-invigorate and preserve these precious traditions, Love Story does the ceremonies justice by putting a spin on the customary dresses. Rooted in heritage but modified for the modern palate, these renditions of the Kua dresses are certified traditional but fashionable for Chinese brides wanting the best of both worlds.
A Lifetime of Memories: Bespoke Pre-Wedding Photoshoots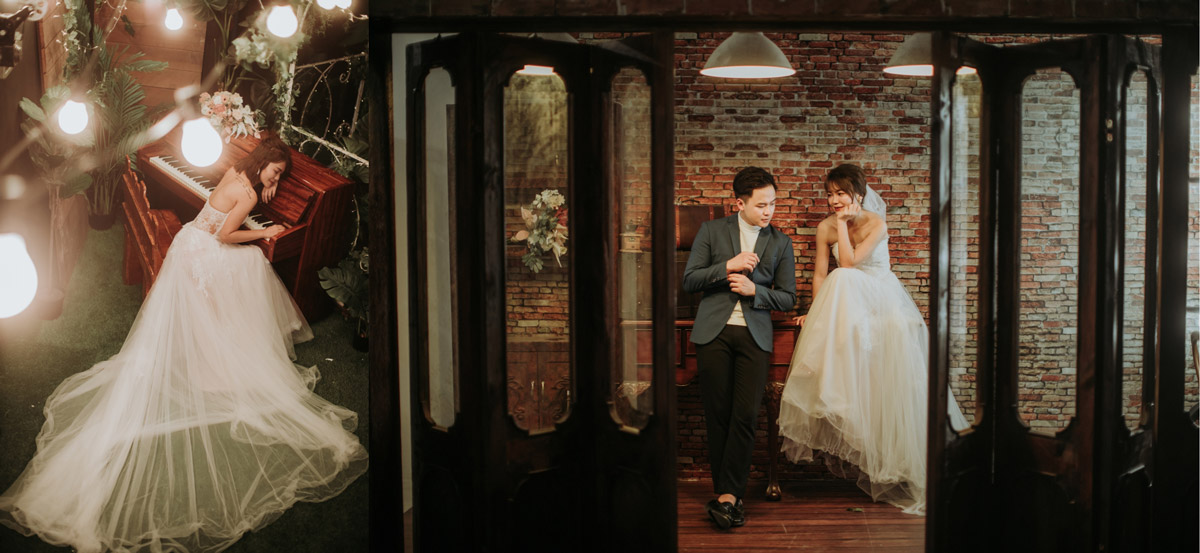 Apart from their extensive gown collections, Love Story is also a cut above the rest when it comes to their personalised pre-wedding shoot services. Their team of experienced and professional photographers are highly skilled and resourceful, evident through their work itself.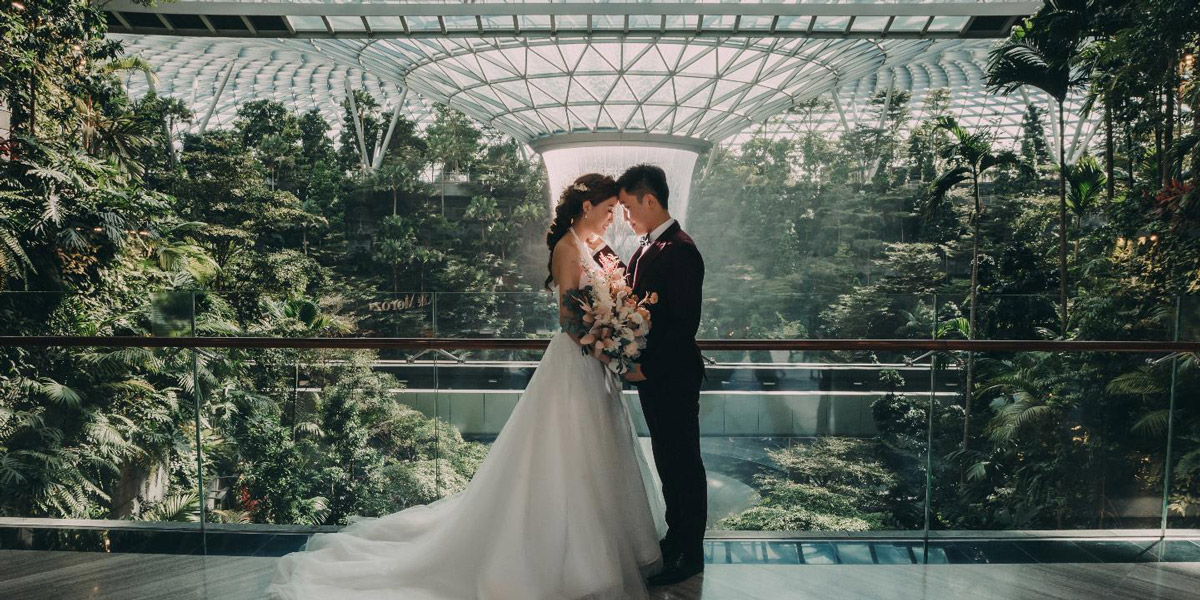 Moreover, when it comes to the heart of every photoshoot, their priority is you. They'll customise the entire photoshoot experience to suit your wants and preferences. Whether it's an outdoor shoot, in-house studio shoot or an overseas destination shoot, nothing is impossible for this talented crew. Not to mention, their props and decorations are provided free-of-charge with no hidden costs in sight. What's not to love?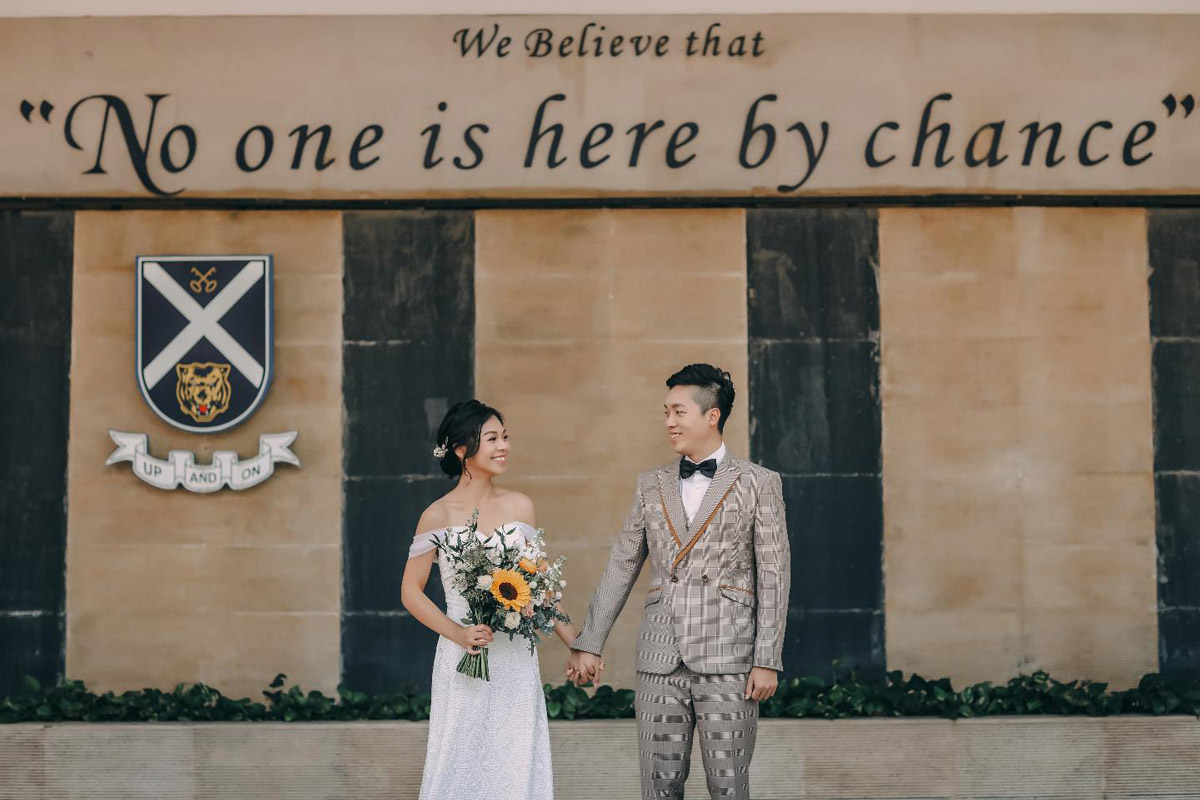 And most importantly, their storytelling ability is unparalleled when it comes to illustrating your love story in the final product. Be it in photos or videos, you'll be able to look back at this phase of your life fondly. Each frame will feel like a moment lost in time yet so vividly alive in the present at the same time; surely, a nostalgic period to relive.
An All-Rounded Wedding Concierge
Last but certainly not least, Love Story is a commendable bridal boutique in going above and beyond the bare minimum. Their line of service extends to provide quality concierge services to arrange other aspects of bridal preparations.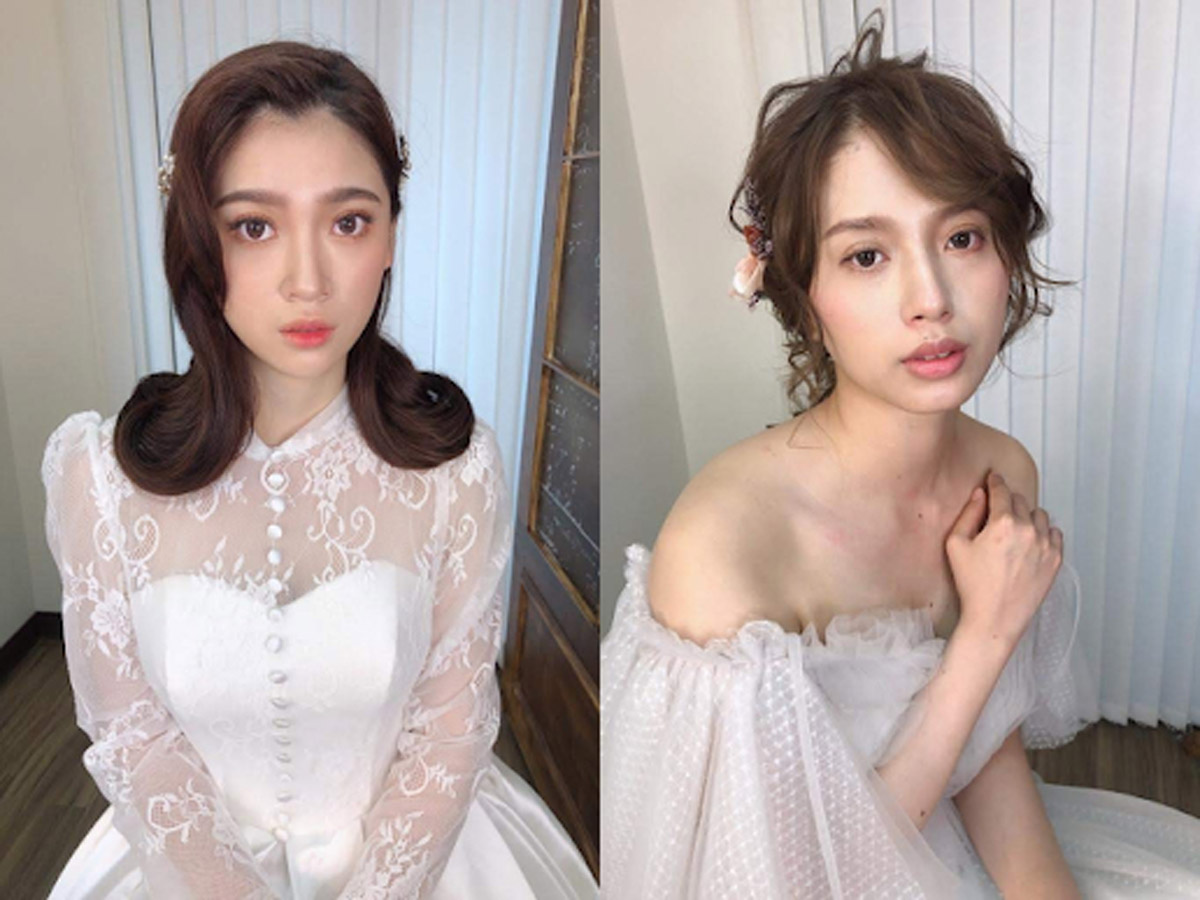 Other than wedding dresses and photoshoots, they also have a team of in-house makeup artists and hairstylists at your service to truly complete the entire bridal look. From the soft romantic style to the chic Korean style, these are but a few of the hairdos and makeup looks attainable with the help of the team.
Alternatively, if you have a specific look in mind you want to imitate, don't hesitate to provide them with a reference picture. The capable team will help you adapt the look seamlessly without overshadowing the beauty of your natural facial features.
So if you're a contemporary bride looking for a contemporary bridal boutique, you know who to look for. Nailing bridal elegance, class and glamour are all part of Love Story's prerogative.
Contact Details

City Gate

North View Bizhub

Address

City Gate, 371 Beach Road, #02-16, Singapore 199597

North View Bizhub, #03-07, Singapore 768090

Tel

+65 6455 2291

+65 6455 2297

+65 6352 2775

Email

Website

Social Media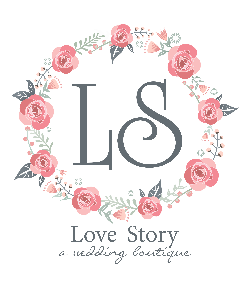 Love Story Wedding Boutique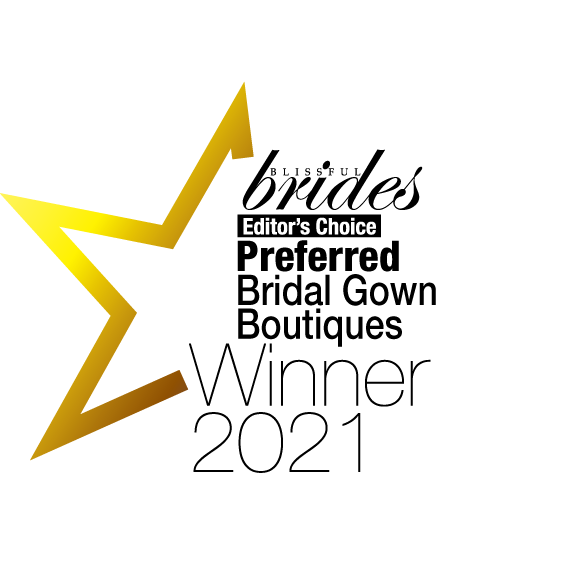 Rating:

Address:

City Gate, 371 Beach Road, #02-16, Singapore 199597

Phone:

6455 2291, 6455 2297