Mount Faber Peak: A Unique Hilltop Destination to Begin Your Lifetime of Happiness
2021-06-16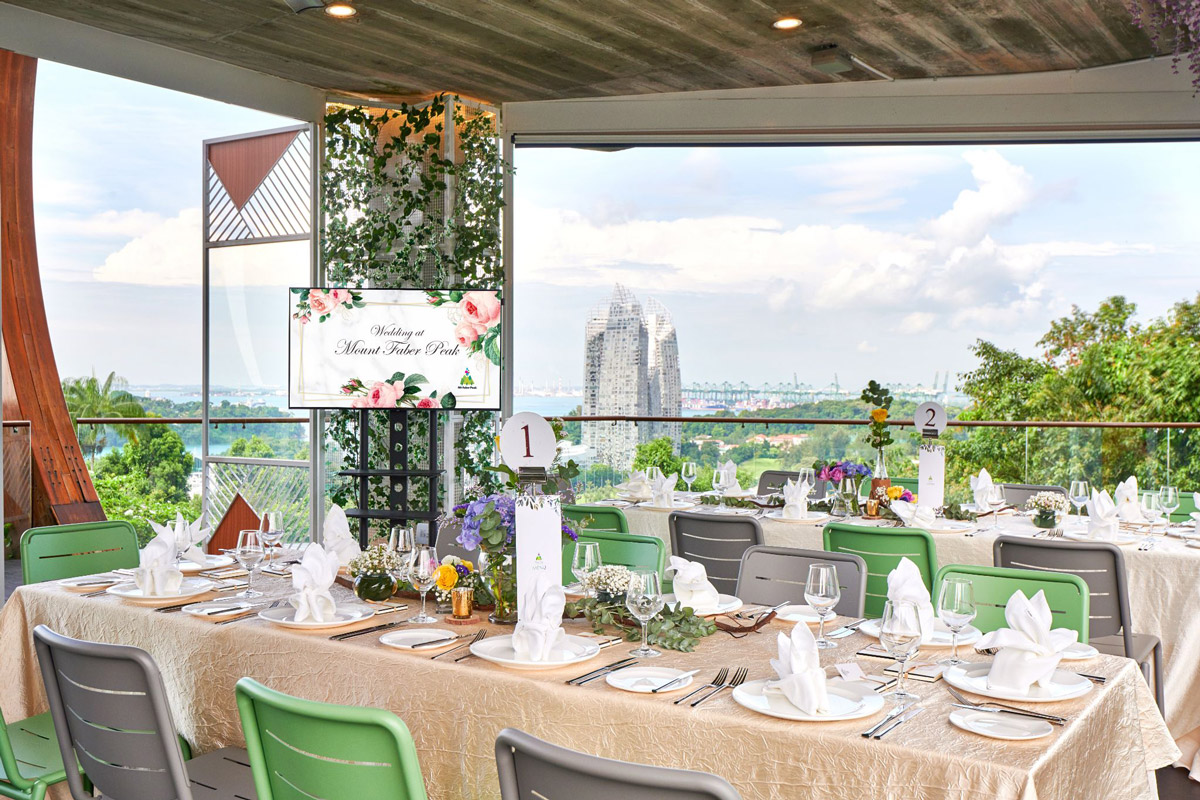 As an island-state, natural elevations and heights are far and few between — with Mount Faber Peak being one of them. Boasting epic panoramic views of the glistening southern coastline, the urban jungle and a touch of tropical rainforest, the juxtaposition between metropolitan and nature is breathtaking.
With an assortment of three stunning yet intimate hilltop locations, The Ballroom, Private Dining Room and Arbora at Mount Faber Peak are nothing short of impressive venues for an unforgettable wedding — reception, banquet and all.
Once upon a Royal Wedding
The Ballroom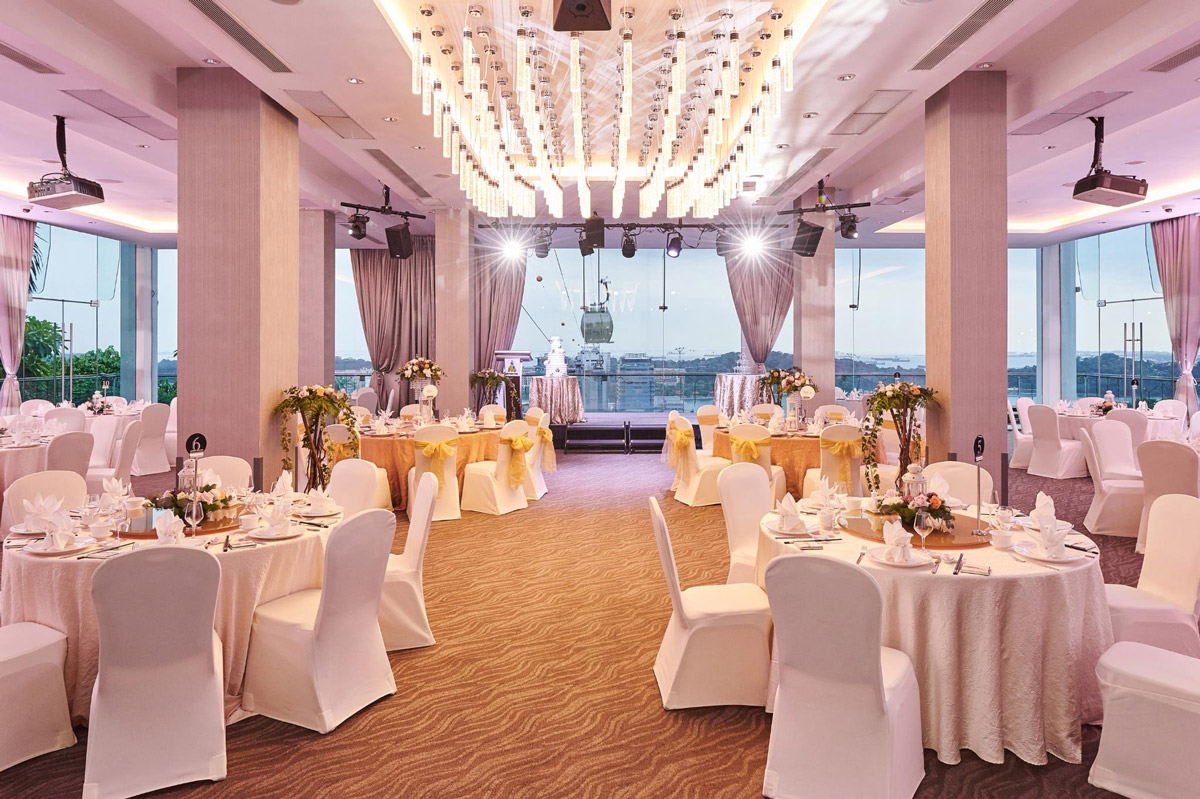 The Ballroom
Every blushing bride deserves to be treated like royalty on her special day — and The Ballroom is the perfect setting for that. The generous floor-to-ceiling glass windows filter the natural sunlight into the room to open up the entire space beautifully, evoking a cosy yet spacious feel. On top of that, there's nothing quite like a wedding banquet set 100m above sea level, presenting a majestic bird's eye view of the southern coastline. Indubitably, it's hard to find other ballrooms out there that can match unparalleled views like this.
In addition, The Ballroom comes attached with a private outdoor veranda for all your viewing pleasure. Best of all, the iconic Mount Faber Cable Car Line runs impressively over this hilltop ballroom. It goes without saying that the combination of the cerulean harbour, expansive sky, lush foliage and passing cable cars makes for a one-of-a-kind scenery that'll leave anyone awestruck.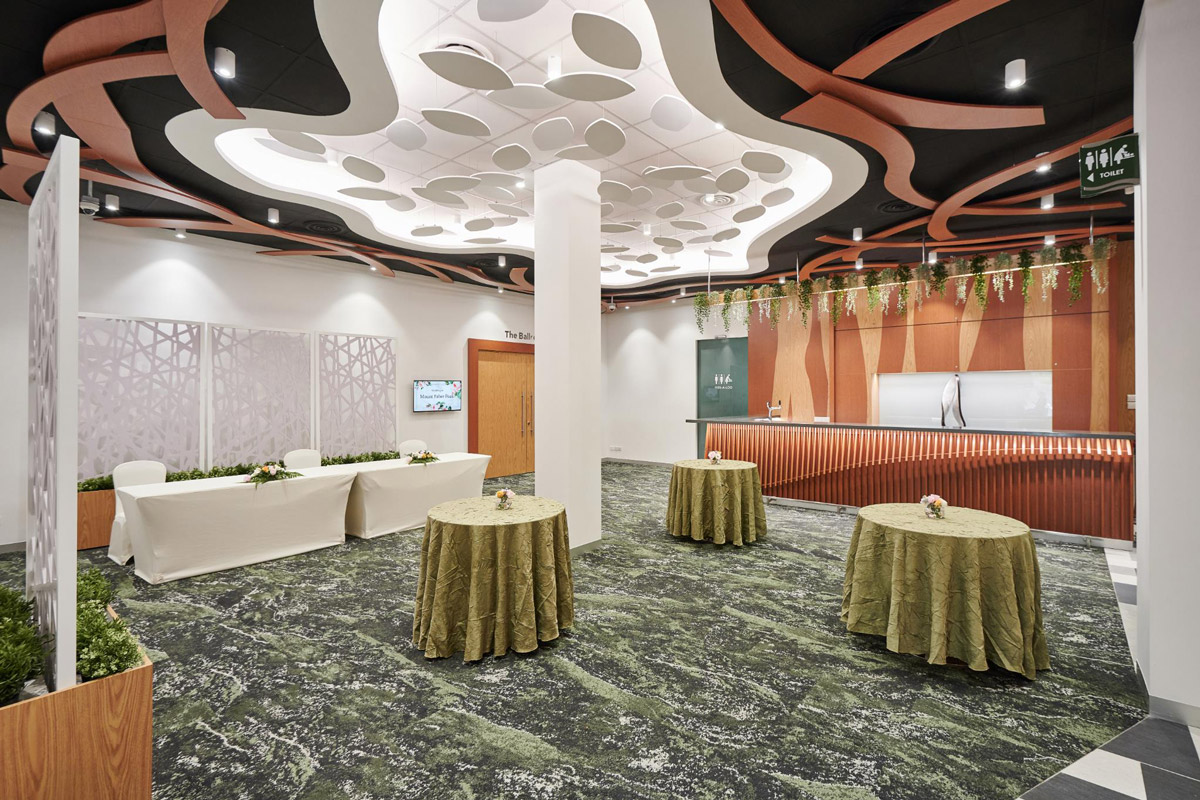 Ballroom Lobby
Furthermore, with a seating capacity of up to 200 pax, this 18.3m x 18m ballroom was designed with practicality in mind. The adjacent Ballroom Lobby functions as an excellent reception space for both pre- and post-banquet. Lastly, the Ballroom also prides itself on its versatile and splendid array of themes and arrangements available depending on the newlyweds' desired wedding package.
As a beautiful blend of contemporary aesthetics and strategic functionality, this venue was voted Best Ballroom at the Blissful Online Wedding Show (BOWS) for a reason. So we hope you're ready for some grand feasting and celebration because your regal banquet at the Ballroom awaits!
Dining Among the Clouds
Private Dining Room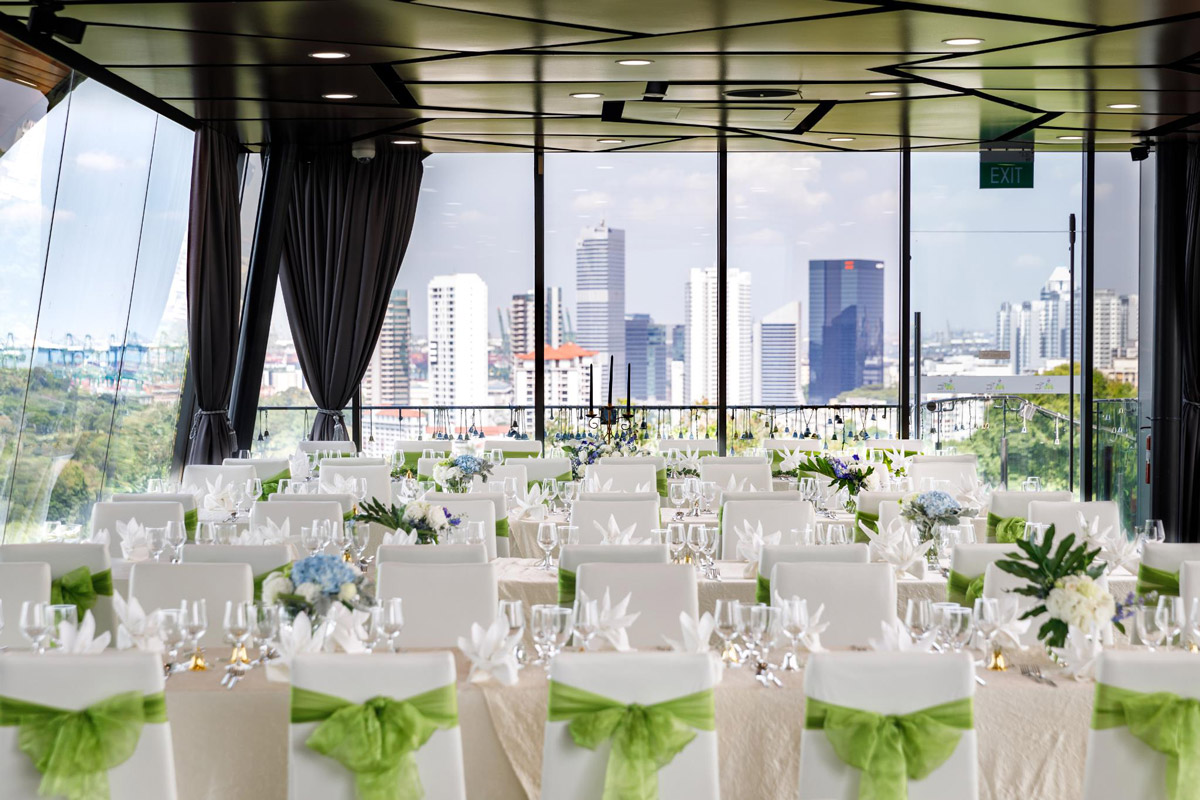 Private Dining Room
For couples preferring an even more intimate setting of 70 pax, the Private Dining Room has got you covered. Located on the highest point of Mount Faber Peak, here's why this modestly sized air-conditioned dining room is another excellent contender for all your wedding banquet needs!
The genius union of the floor-to-ceiling glass walls coupled with the bespoke gold-dimpled ceiling reflects and refracts natural sunlight into the room respectively, giving this pseudo-observatory a radiant glow. Indeed, with this crystalline alcove situated high above the edge of the garden city, every moment captured is guaranteed picture-perfect.
Bonus: Deck Solemnisation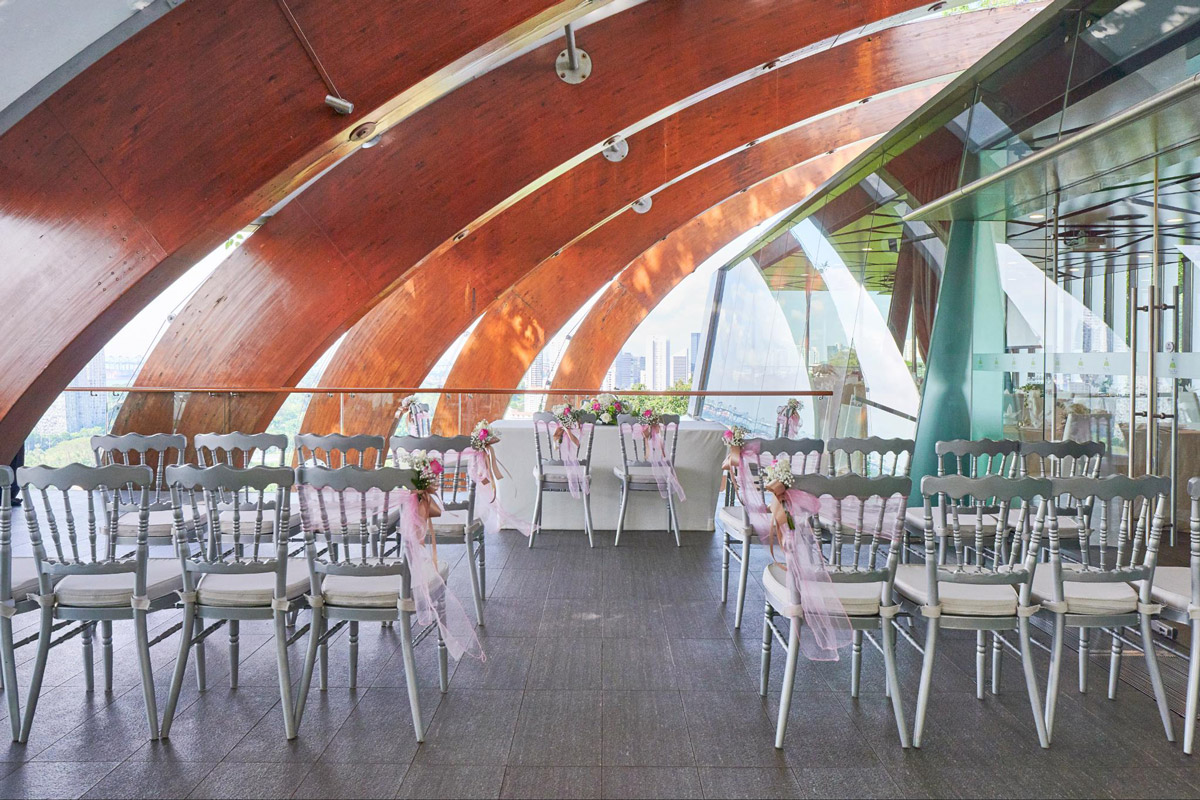 Deck Solemnisation
Additionally, the Private Dining Room comes with its exclusive alfresco terrace sheltered by spectacular, curved wooden fixtures. Complemented by the surrounding greenery, this private deck doesn't get more rustic than this. Thus, this outdoor terrace presents itself as the prime location to solemnise your most intimate vows.
Hilltop Allure
Arbora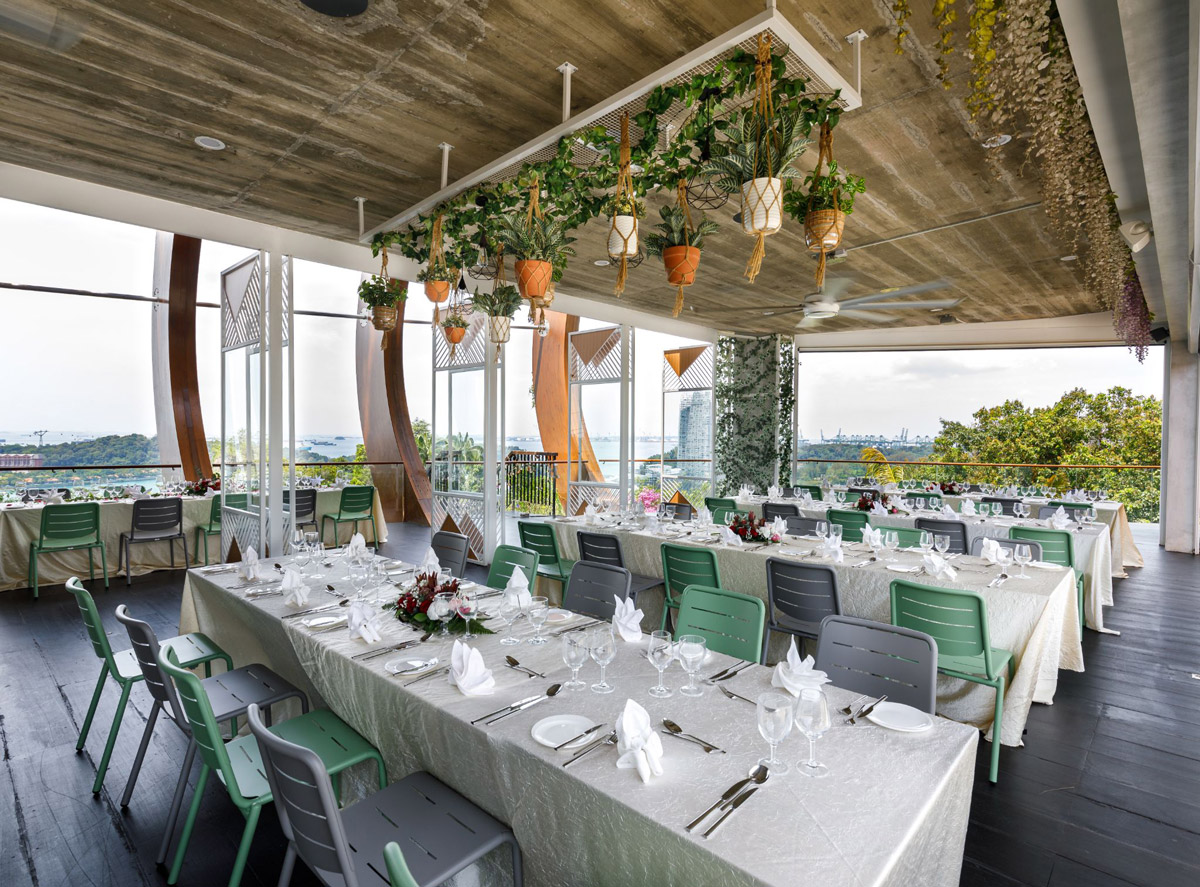 Arbora
A botanical-chic alfresco wedding space, Arbora restaurant certainly aims to please all our nature-loving couples out there. It offers all the invigoration of being immersed in the outdoors while still providing the comforts of essential shelter protecting from the rain and sun. This means that this banquet venue can host 120 pax under covers with a maximum accommodation of up to 250 pax.
In essence, this sheltered restaurant provides the soothing ambience of the cityscape, harbour and greenery far removed from the hustle and bustle down below. Therefore, soak in the warmth and savour the cooling breeze with the sun setting on the horizon behind your wedding reception.
Garden City, Garden Romance
Hilltop Garden Solemnisation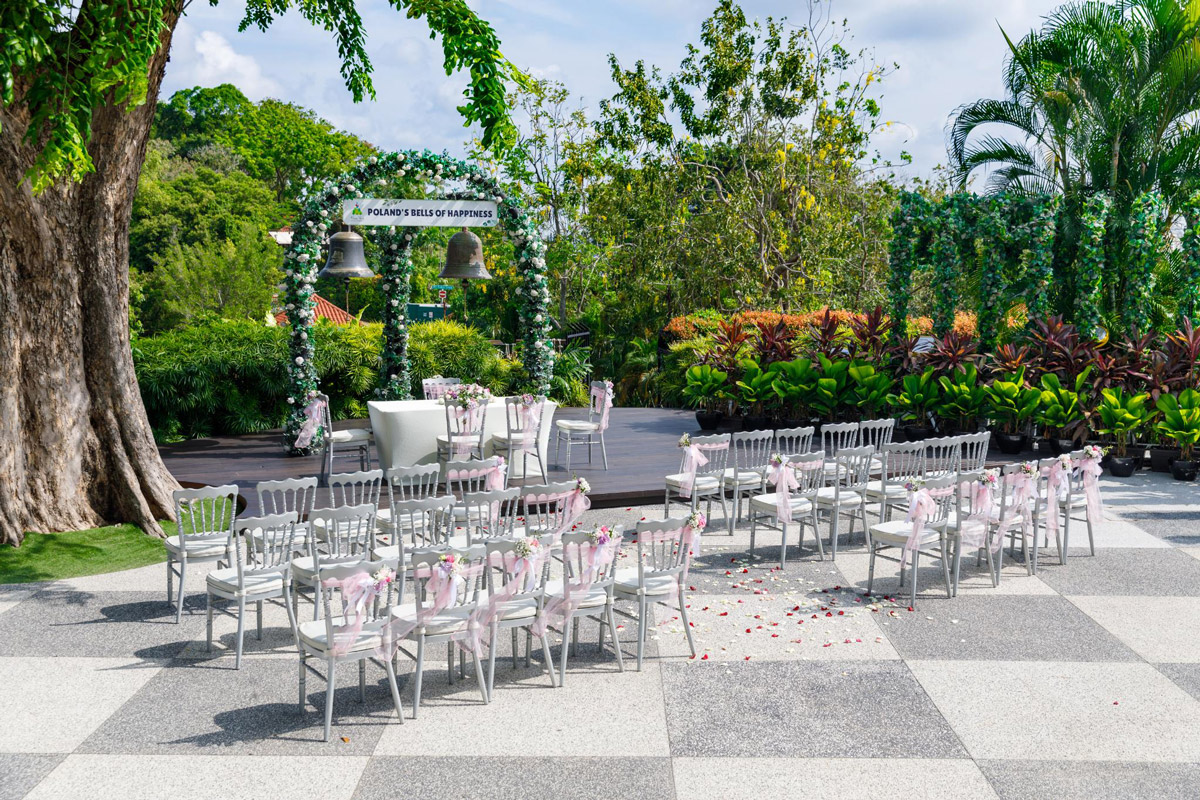 Garden Solemnisation
Last but not least, Mount Faber Peak also offers the choice of a Garden Solemnisation as an add-on option for any of the aforementioned venues. This idyllic garden likewise offers a gorgeous vantage point — providing all the freshness of lush garden flora and foliage coupled with a cloud-speckled skyline and a cooling hilltop breeze.
Twirl down a resplendent spiral stairway into a whimsical garden where romance is blossoming all around. As you stare deeply into your partner's eyes and profess your love for each other under the grand old Angsana trees, the ever-so-quaint Poland's Bells of Happiness will be there in the background to ring your way into a time of everlasting married bliss and fortune. All in all, this unique solemnisation add-on accommodates up to 30 pax, perfect for all your closest friends and family to witness the tender union between you and your beau.
If any of these venues spark your fancy, don't hesitate to contact Mount Faber Peak for more inquiries at the following details:
Address: 109 Mount Faber Rd, Mount Faber Peak, Singapore 099203
Telephone No: +65 6377 9688
Email: events@mflg.com.sg
Website: https://www.mountfaberleisure.com/wedding-event/solemnisation-wedding/
FB: www.facebook.com/mountfaberleisure
IG: https://www.instagram.com/mountfaberleisure/
LinkedIn: www.linkedin.com/company/mountfaberleisuregroup
Mount Faber Peak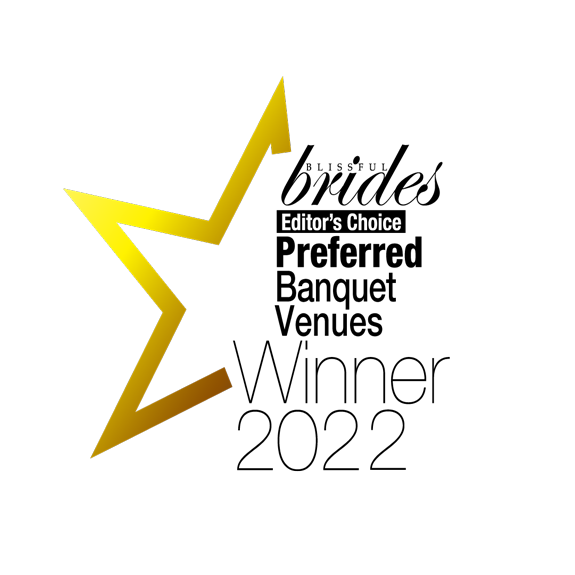 Rating:

Address:

109 Mount Faber Road, Faber Peak, Singapore 099203

Phone:

63779688, 67715067, 67715066