White House: A Whimsical and Ethereal Wedding Affair
2021-07-14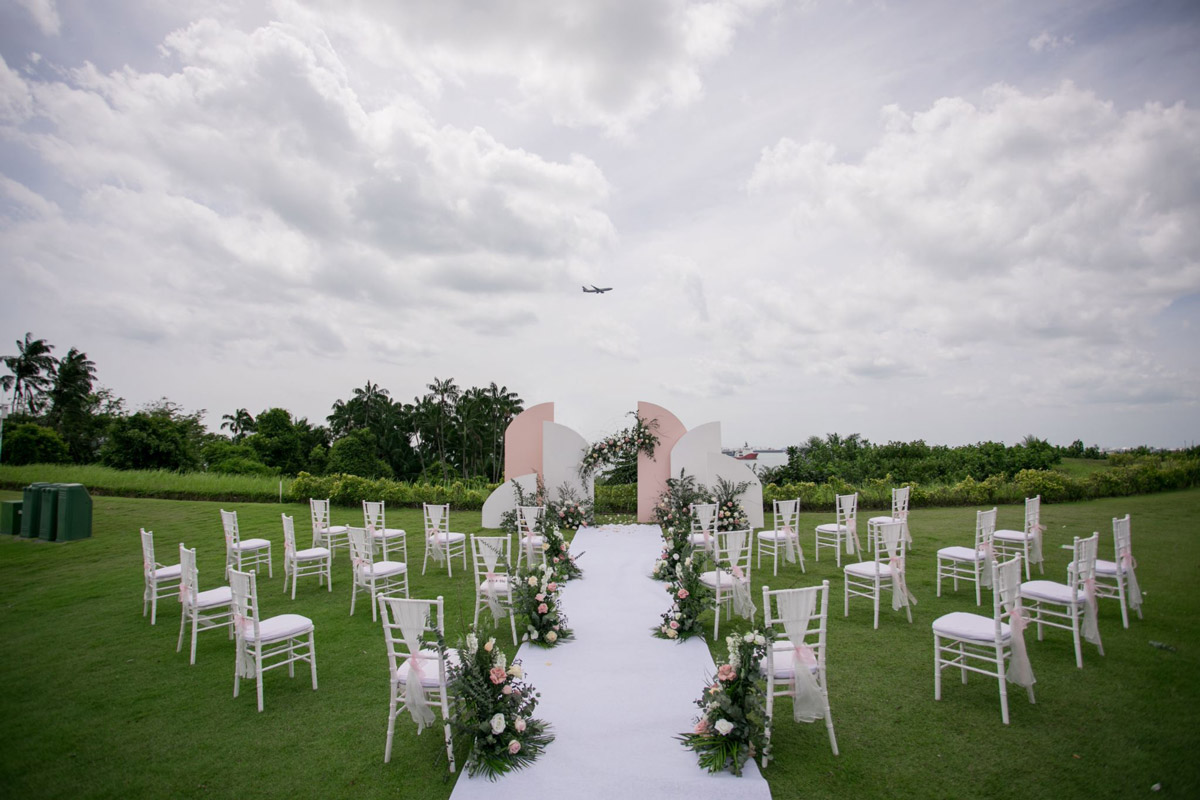 Nestled far away from the city's commotion is the pristine and serene haven of White House's wedding venues. Despite that, the spectacular backdrop of Singapore's skyline manages to peek through ever so slightly. In fact, you'll be in for a real treat as you and your significant other admire the ship-speckled coastline on the horizon while the dazzling sunrays scatter off the cascading waves.
Truly, this secret getaway is dichotomous to Singapore's hustle and bustle — presenting to many as the much-appreciated reprieve from the stresses of modernity. It's no wonder that many couples end up choosing White House as their top venue planner to orchestrate their wedding.
Promising to demonstrate A-class hospitality, award-winning epicurean delights, and unbeatable wedding packages, you can't go wrong with White House. At their core, they believe in the sentimentality of each special event, especially your wedding day; and will do all in their power to deliver the best-curated wedding experience for you.
A Fairytale Outdoor Solemnisation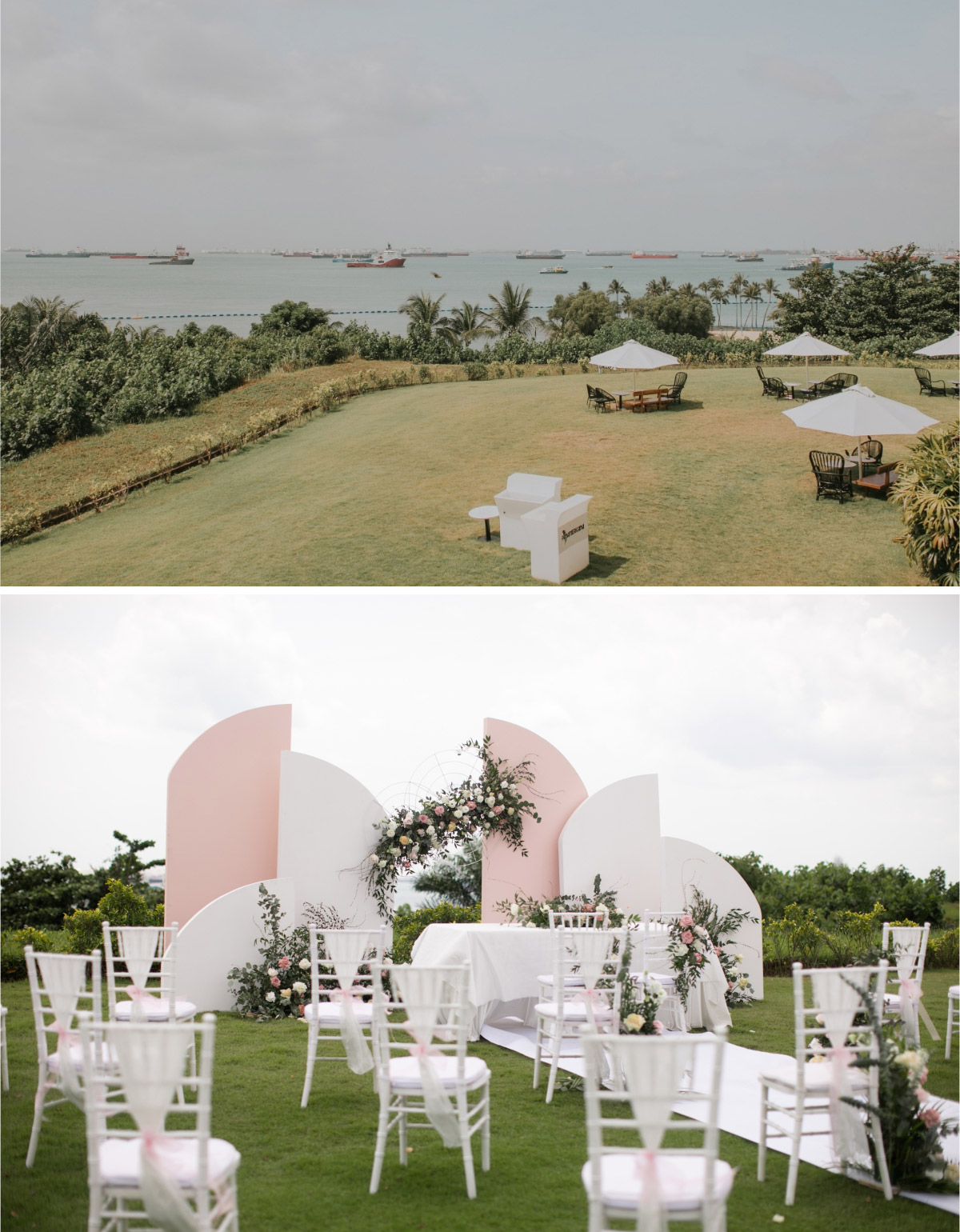 Outdoor solemnisation at White House @ SGC
Seal your wedding vows by the coast, amidst the cool sea breeze and dotted blue skies. White House @ SGC offers couples the option of an outdoor solemnisation against Sentosa's iconic shoreline in the periphery. The combination of the manicured Sentosa golf course together with the idyllic background certainly makes for a unique backdrop, ensuring every moment is picturesque nevertheless.
A venue more suitable for intimate solemnisation, White House @ SGC is capable of hosting 20 to 60 guests, with each table costing approximately $3688.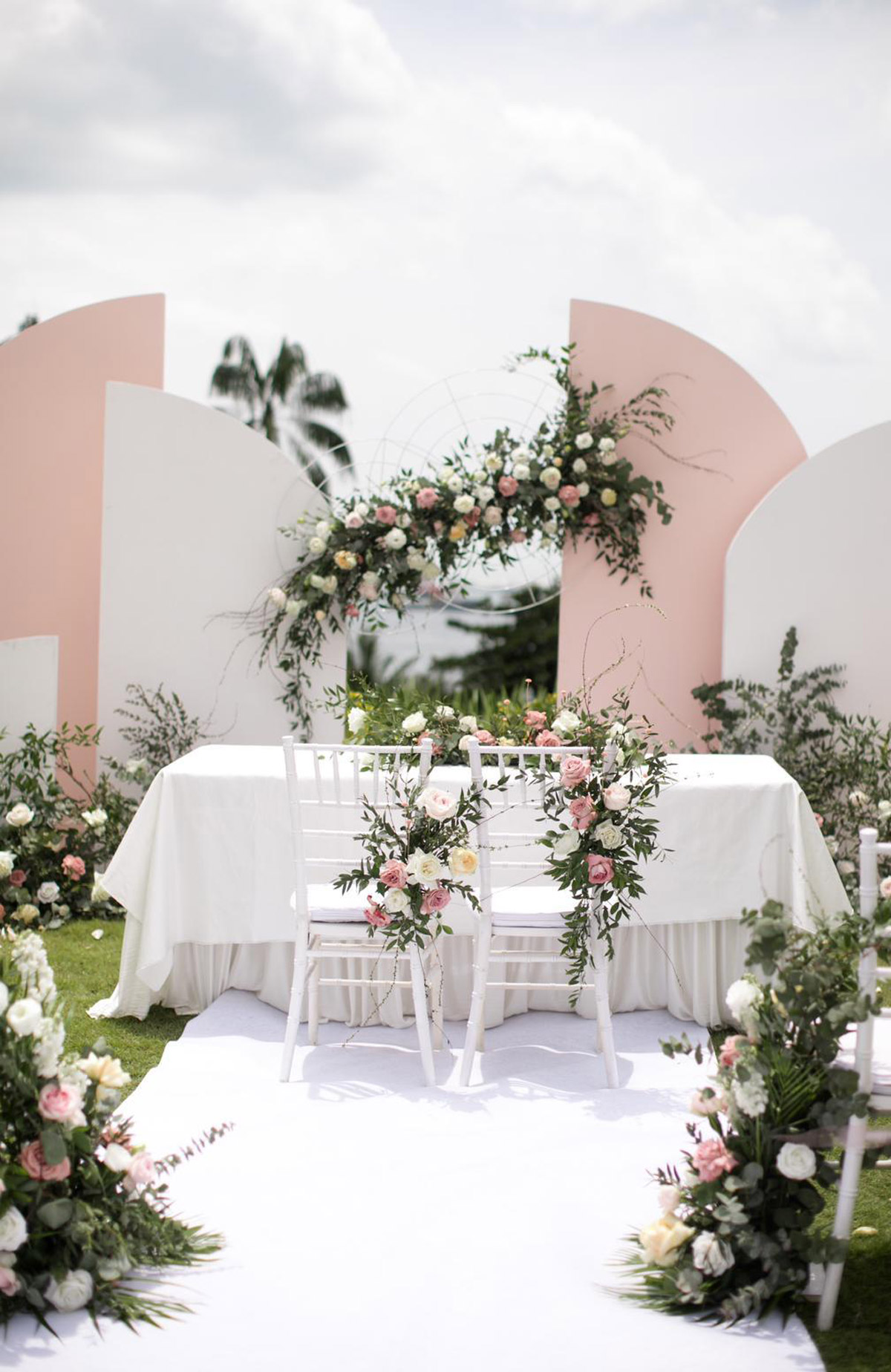 Pink and white roses for a romantic touch!
Decorative pastel back panels, delicate pink and white rose garnishings and romantic diaphanous drapes, this venue will feel like a scene straight out of a fairytale. Relish in this fantastical moment as you trace down the aisle toward your happy-forever-after.
The collective work of Mother Nature and the soft, tasteful decor emphasises the natural beauty of every blushing bride. Needless to say, the exchange of vows between you and your partner will be an endearing and heartfelt moment to remember. It's said that the happiest memories are those shared, especially with your closest friends and loved ones.
Magnificent Banquets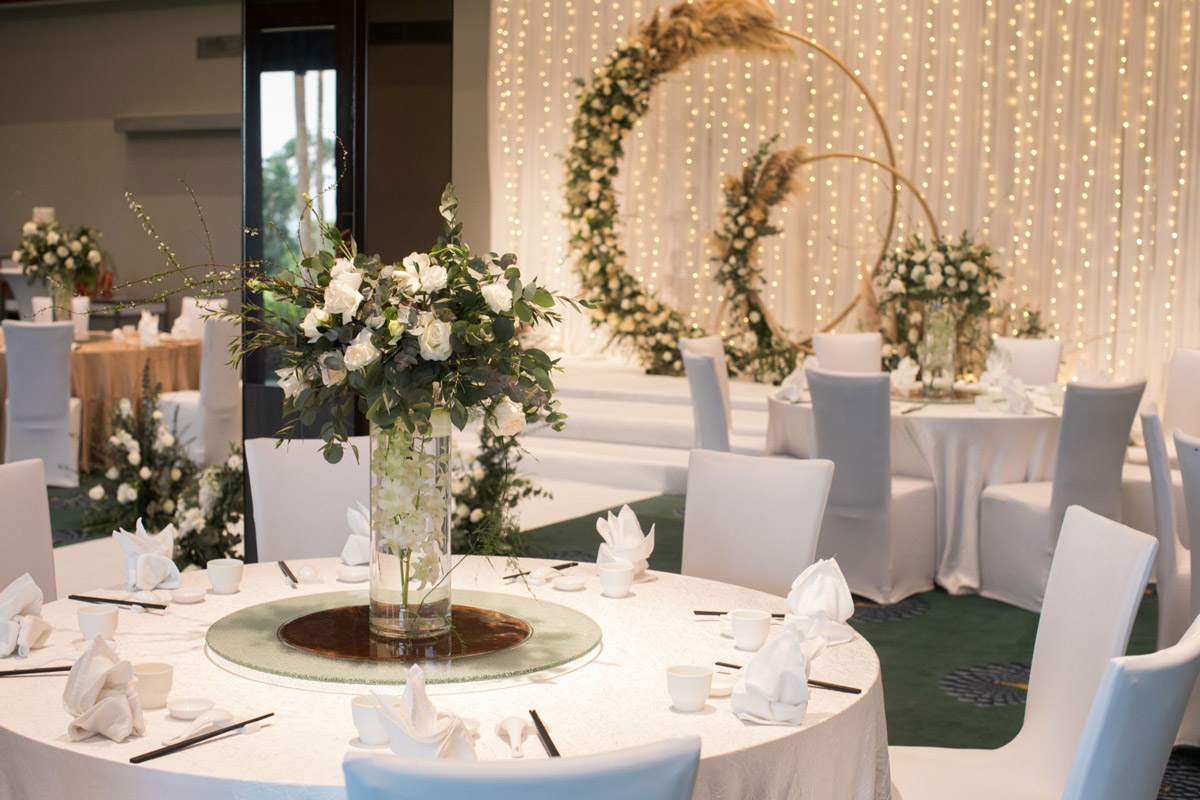 White House x The Grand Salon
After the official solemnisation ceremony is done, it's time for some highly-anticipated celebrations at White House x The Grand Salon. A stylish and classy space, this venue is suitable for couples who don't mind the spotlight or two while enjoying a more high-profile celebration.
However, with that said, high-profile doesn't mean boisterous. Rather, The Grand Salon ballroom gives off an atmosphere of exclusivity and privacy for only the true VIP guests to partake in this joyous occasion.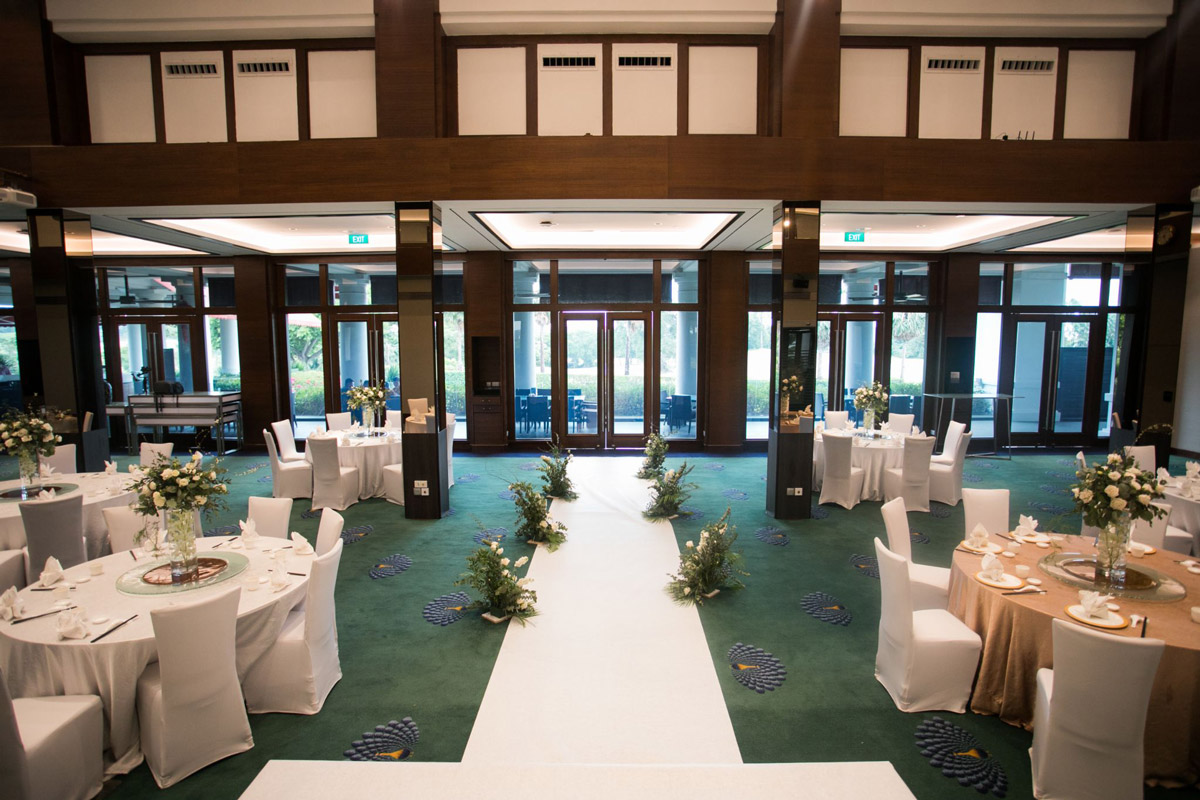 Ample space for banquets and more
With a capacity of over 100 – 250 guests, the ballroom is the ideal venue for mid-sized banquets. Moreover, couples won't have to worry about blowing their budget with each table averaging at a respectable cost of $135.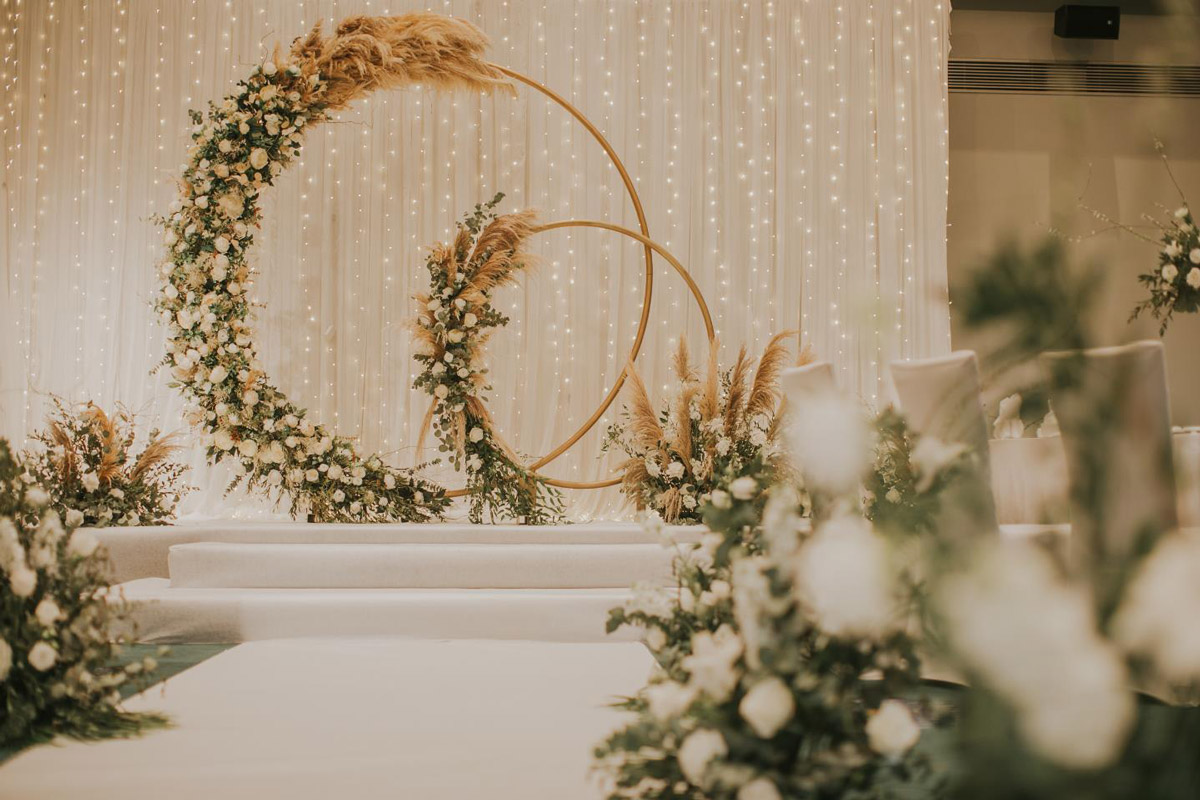 A bronze-accented and rustic floral theme
Furnished with rustic elements, white floral arrangements with bronze accents act as the general motif for this setting. Two regal and refined circular props pose as the main centrepiece at the ballroom's main stage. And as finishing touches, numerous fairy lights are daintily draped behind as the backdrop, tying The Grand Salon ballroom's bohemian vibe cohesively together.
Of course, however, the ballroom's decor is not limited to the charmingly rustic bohemian style. Just tell the experienced wedding coordinators at White House, and they'll be able to transform The Grand Salon — as if it were a blank canvas — into your preferred theme. After all, you're the star of the ball and you deserve to have your dream solemnisation-cum-banquet setting.
The Best of Both Worlds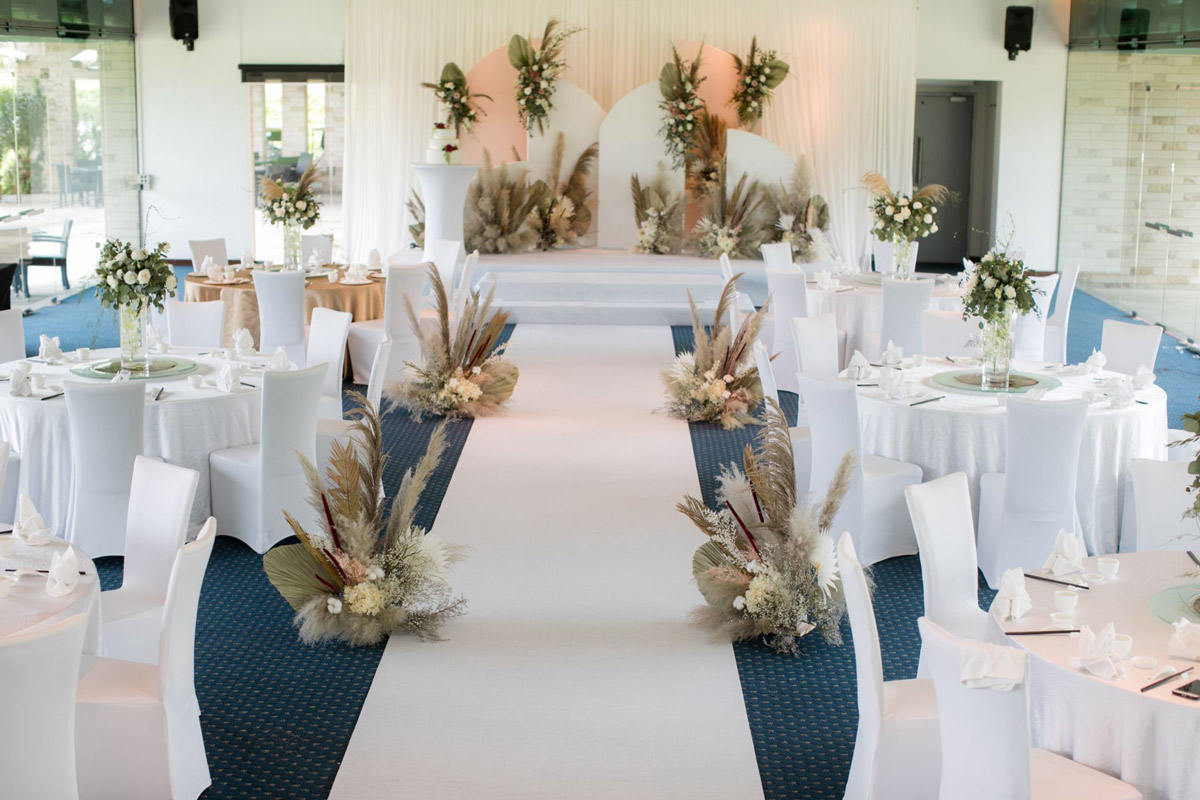 White House x Sentosa Pavilion
If you've ever dreamt of throwing decadent and luxurious reception parties reminiscent of the roaring 20s, White House x Sentosa Pavilion is the venue for you. Featuring glass partitions at its highlight, the natural light that filters in brightens and opens up the ballroom space tremendously for any celebratory soiree.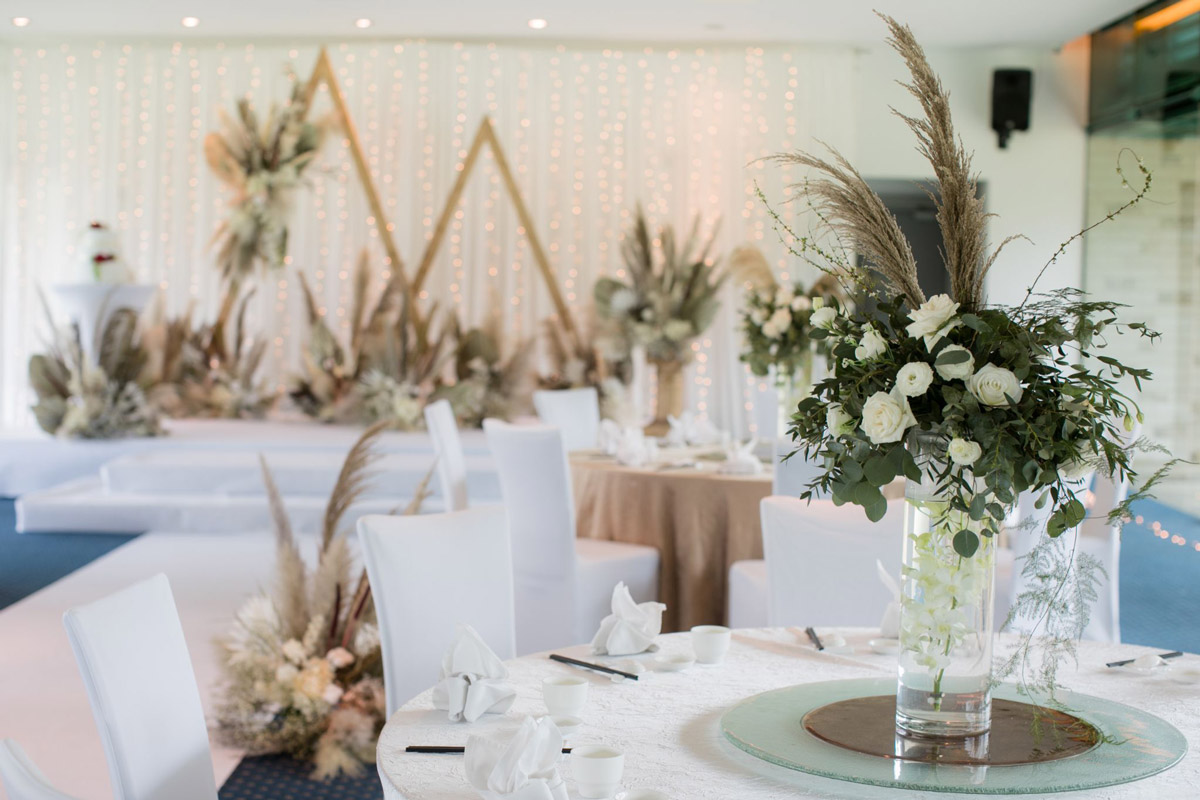 Moreover, if we're talking about exclusivity, White House x Sentosa Pavilion is no exception. Offering a seating capacity between 100 to 300 guests at one time, this stunning ballroom is another amazing venue option for both intimate and large-scale affairs, depending on the couple's preference. Furthermore, each table goes at a reasonable price of $95.
Perhaps what makes this ballroom stand out the most is its rooftop, perfect for sunset solemnisation, receptions or cocktail parties! So after indulging in an extravagant feast in the banquet area indoors, the rooftop's where the party's at after hours. This truly makes White House x Sentosa Pavilion a versatile all-in-one location to accommodate all your wedding needs down to a T.
*As of time of writing, Phase 3 (HA) is still in effect. Please adhere to wedding capacity limitations with and without PET (pre-event testing).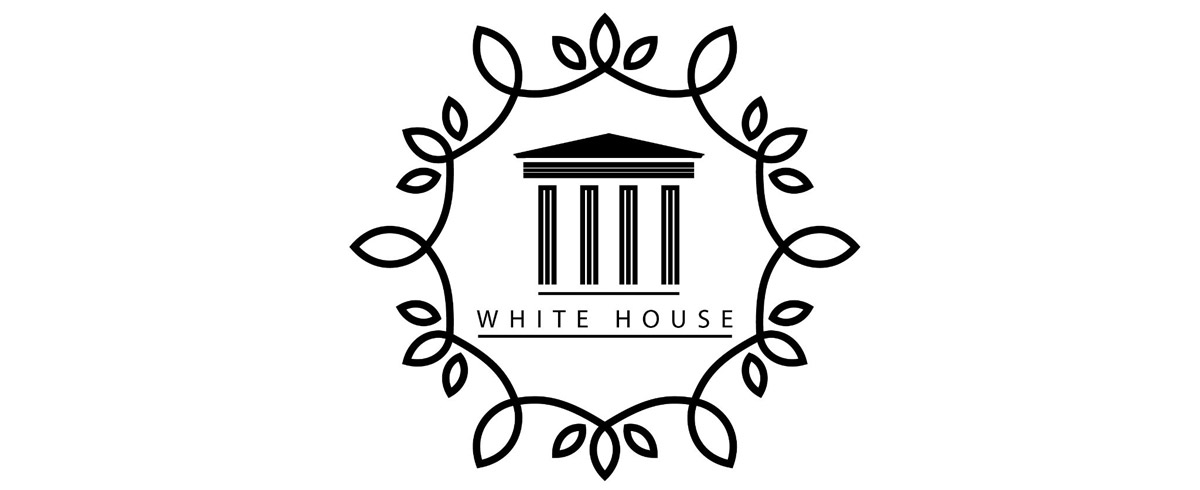 When you choose to collaborate with White House as your wedding venue planner, top-notch quality is but the bare minimum. Boasting a wealth of experience in the industry, their skilled expertise and professionalism in wedding coordination are second to none. Since you won't settle for anything less than perfection, neither will they.
Contact Details
Address: 47 Serapong Course Rd, 099024
Tel: +65 6694 6477
Website: https://www.lovenest.com.sg/merchants/venue/30
Social Media
Facebook: @sentosaweddingvenue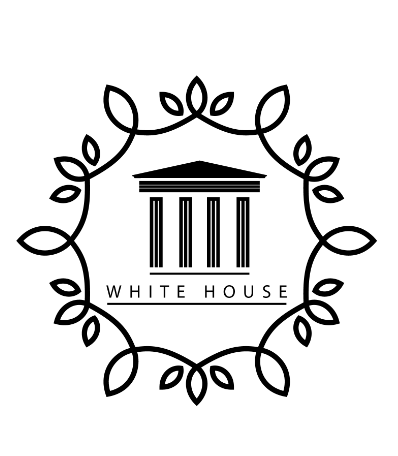 White House
Rating:

Address:

47 Serapong Course Rd, 099024

Phone:

6694 6477