Fujifilm's New Voice-Recording instax mini LiPlay: The Ultimate Instant Camera for Weddings & Honeymoons!
2019-08-26

Relive the good times through your photographs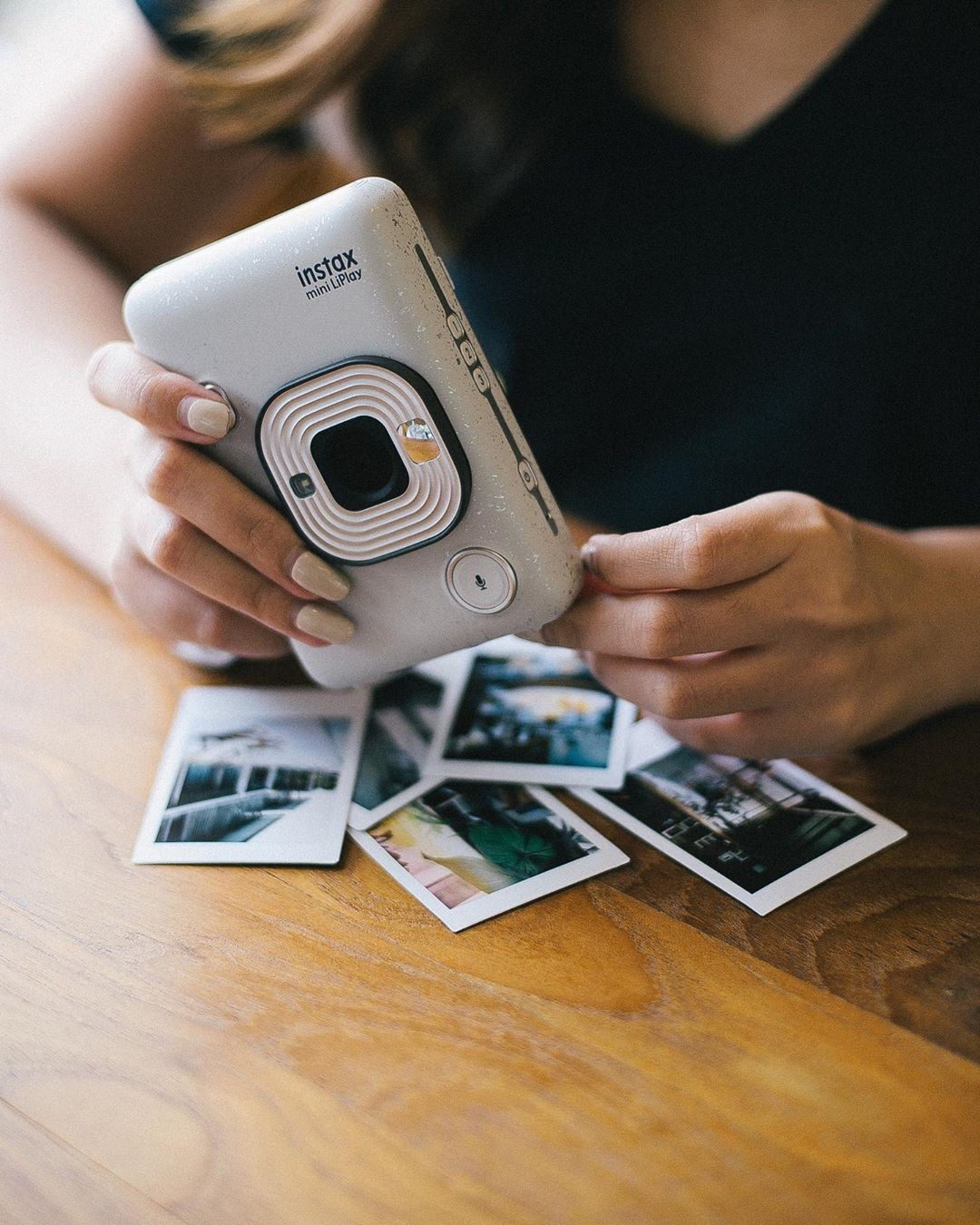 Source: @delray12
They say that a picture is worth a thousand words, but an ordinary photograph doesn't hold a candle to one that can contain sounds and voice messages. From the crashing waves of the beautiful beach that you're heading to for your honeymoon to the adorable promises that you'll make to your newly-minted life partner, Fujifilm's groundbreaking hybrid instant camera instax mini LiPlay immortalises it all.
Your travel-sized photographer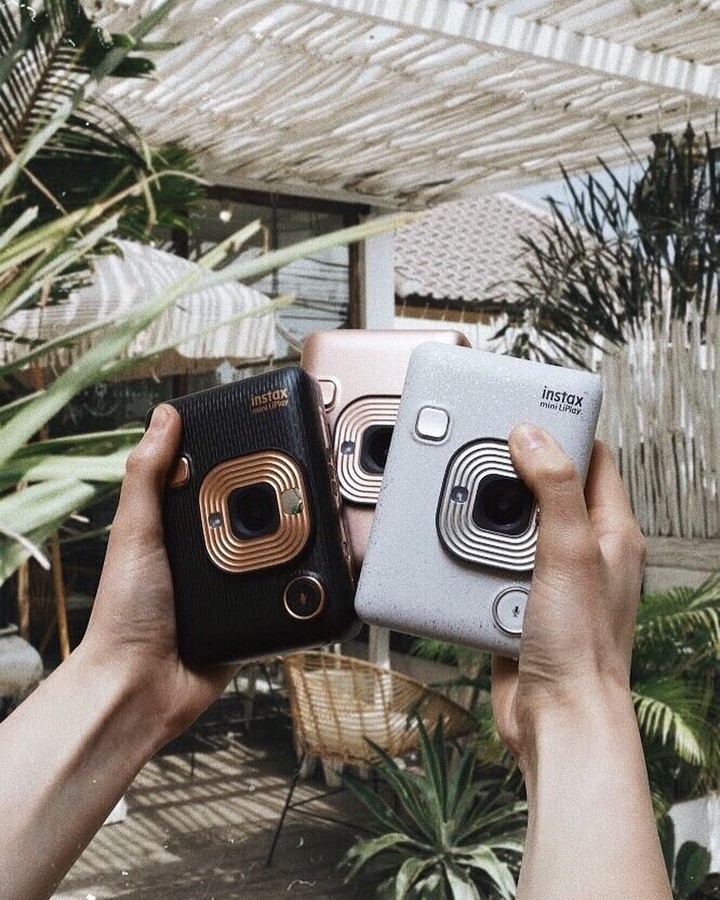 Source: @instaxhq
Compact, sleek, and lightweight, the instax mini LiPlay is Fujifilm's smallest and lightest hybrid instant camera to date. At just 255 grams, with a size no bigger than a smartphone, it's impressive that the instax mini LiPlay comes with a 2.7-inch LCD monitor at the rear as well for you to ensure that every photo is perfectly taken.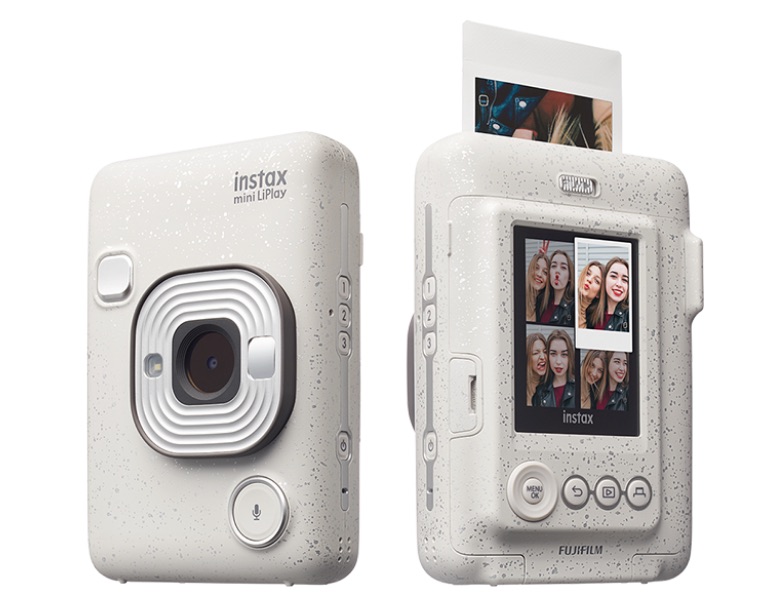 You can choose which photo to print via the screen, and with a Micro SD slot for memory cards available, you can take as many photos as you want before deciding on which is the best to have as a keepsake!
Plus, we all know how hard it is to find perfect natural lighting, but with the instax mini LiPlay brightness adjustment capability, you won't have to worry about overexposed or too-dark photographs any more.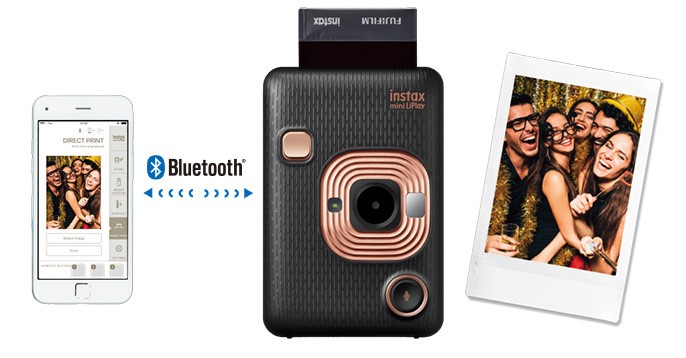 As if that's not all, the instax mini LiPlay boasts a Remote Shooting function that allows you to take flattering group photos too. If you only managed to capture a special moment with your phone, the instax mini LiPlay also has a Direct Print function on its free mobile app (available on both App Store and Google Play) that allows you to connect your phone to the camera to print out the photograph regardless!
Record up to 10 seconds of sound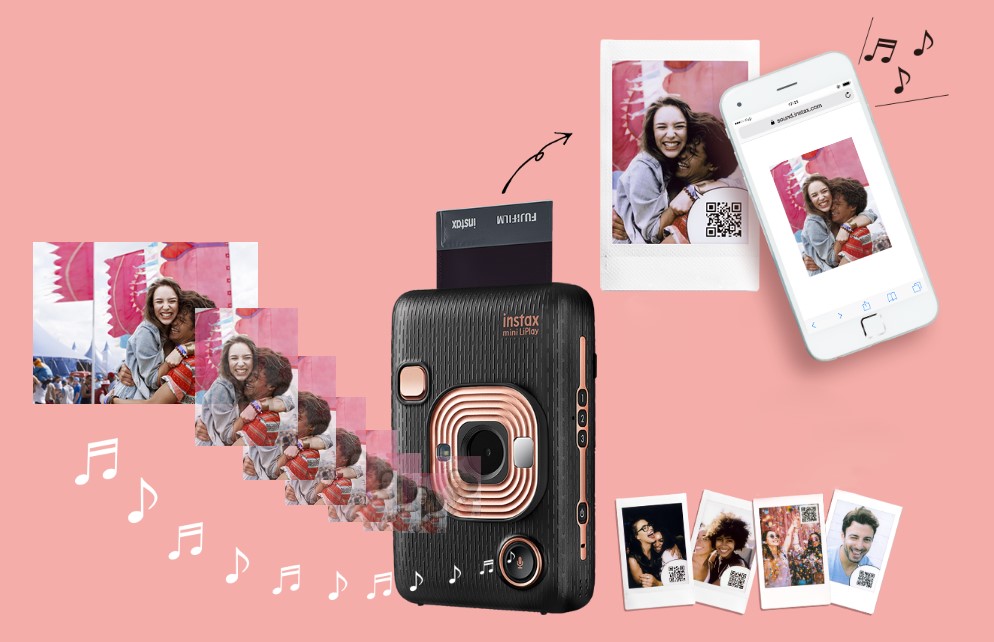 More than just a snapshot of your life, each instax film can now bring your memories to life with instax mini LiPlay's Audio Recording function! Whether it's the calming sound of the waves, the lively bustle of a market, or a heartfelt message dedicated to the person you wish to gift the photograph to, the hybrid instant camera is able to record up to 10 seconds worth of sound, which is then converted into a QR code and printed on the film.
You can choose to either record the sound while you're shooting the photograph or when you're playing back the image via the instax mini LiPlay mobile app. To listen to the audio recording, simply scan the QR code with your smartphone's QR code reader!
Note: The audio data will be stored for one year in the mobile app from the time it is uploaded to the server together with its respective photograph.
Sleek designs to look fabulous while snapping away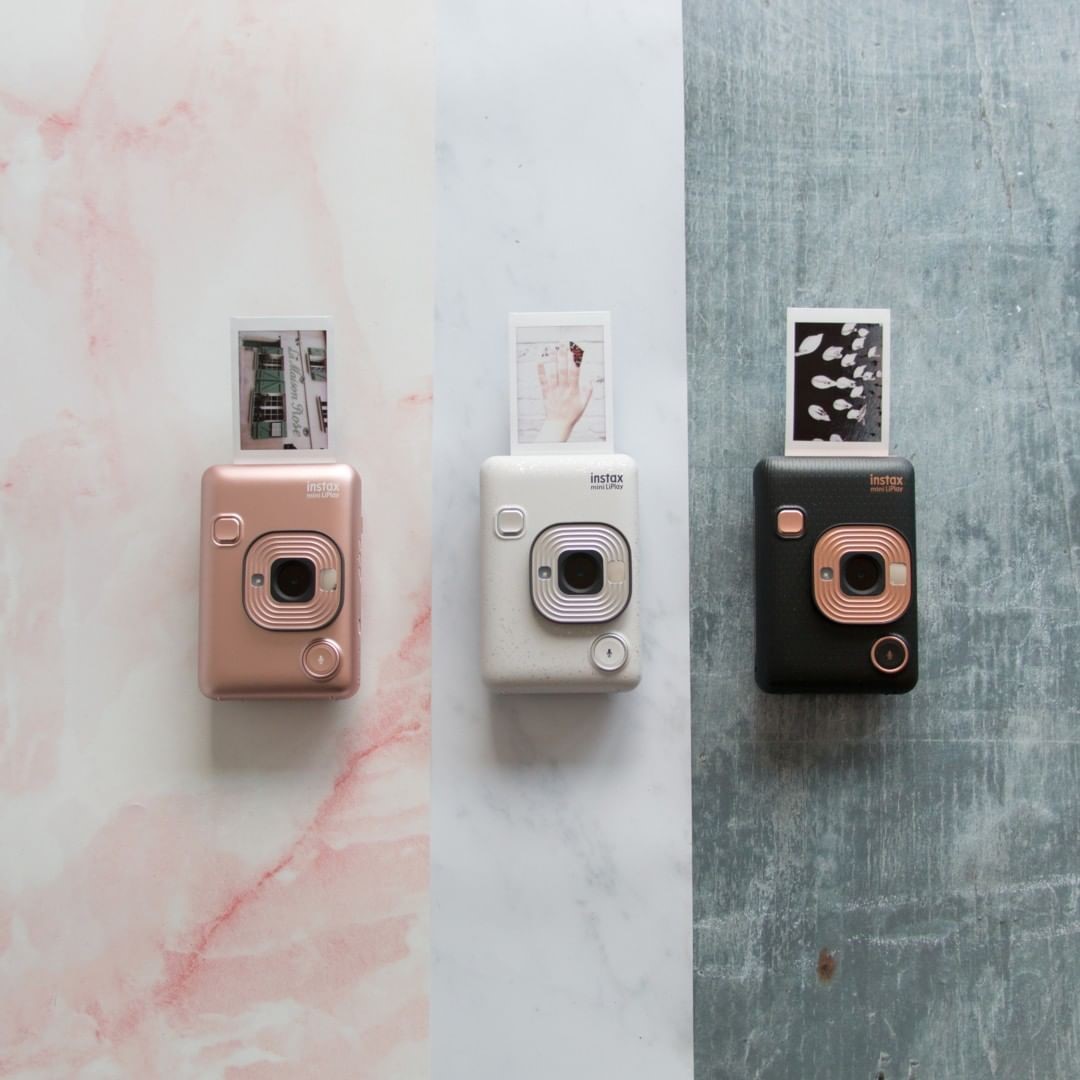 Source: @instaxhq
To match your breathtaking gown or your photo-worthy outfit when you're on-the-go on your honeymoon, extra attention has also been paid to the exterior of the instax mini LiPlay. Available in three different colours, each comes with its own unique surface texture – the Stone White feels unique rough and stone-like, the Elegant Black boasts a luxurious embossed finish, while the Blush Gold is dazzling and smooth.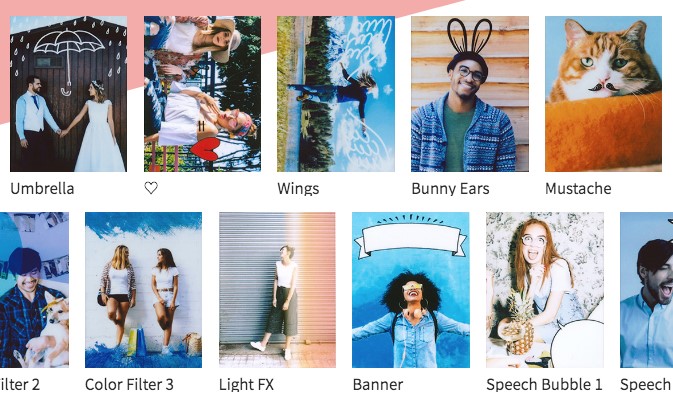 A sneak peek at some of the filters available
Artsy couples can also customise their photographs, with 10 quirky and stylish frame designs pre-installed into the camera, and another 20 frames free to use on the instax mini LiPlay smartphone app. Photo filters for every aesthetic vibe are also available – think nostalgic sepia, minimalist monochrome, and more!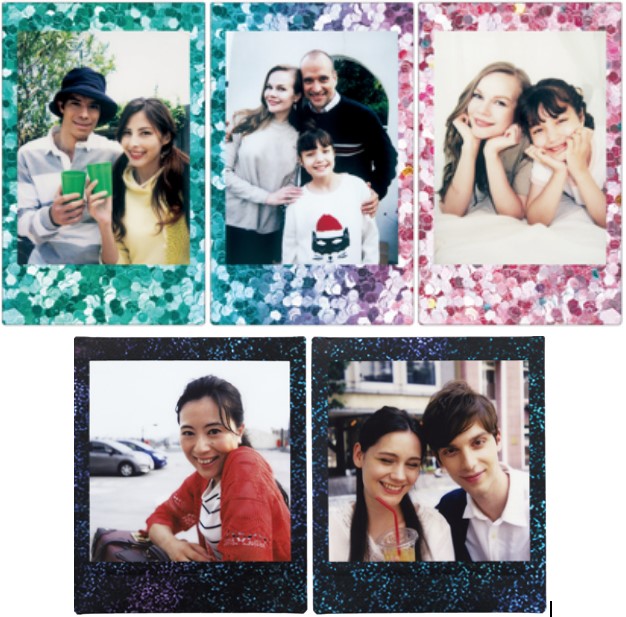 Above: CONFETTI, Below: Star Illumination
Both films contain 10 prints per pack
On top of that, Fujifilm has two new instax films that can be used with the instax mini LiPlay to add even more pizzazz to your memories. Great for beautifying the house – a photo wall is always great as a decor – there is the colourful and metallic mini-format "CONFETTI" and the elegant square-format "Star Illumination", which boasts the night sky and dazzling stars.
Capture the fleeting moments like never before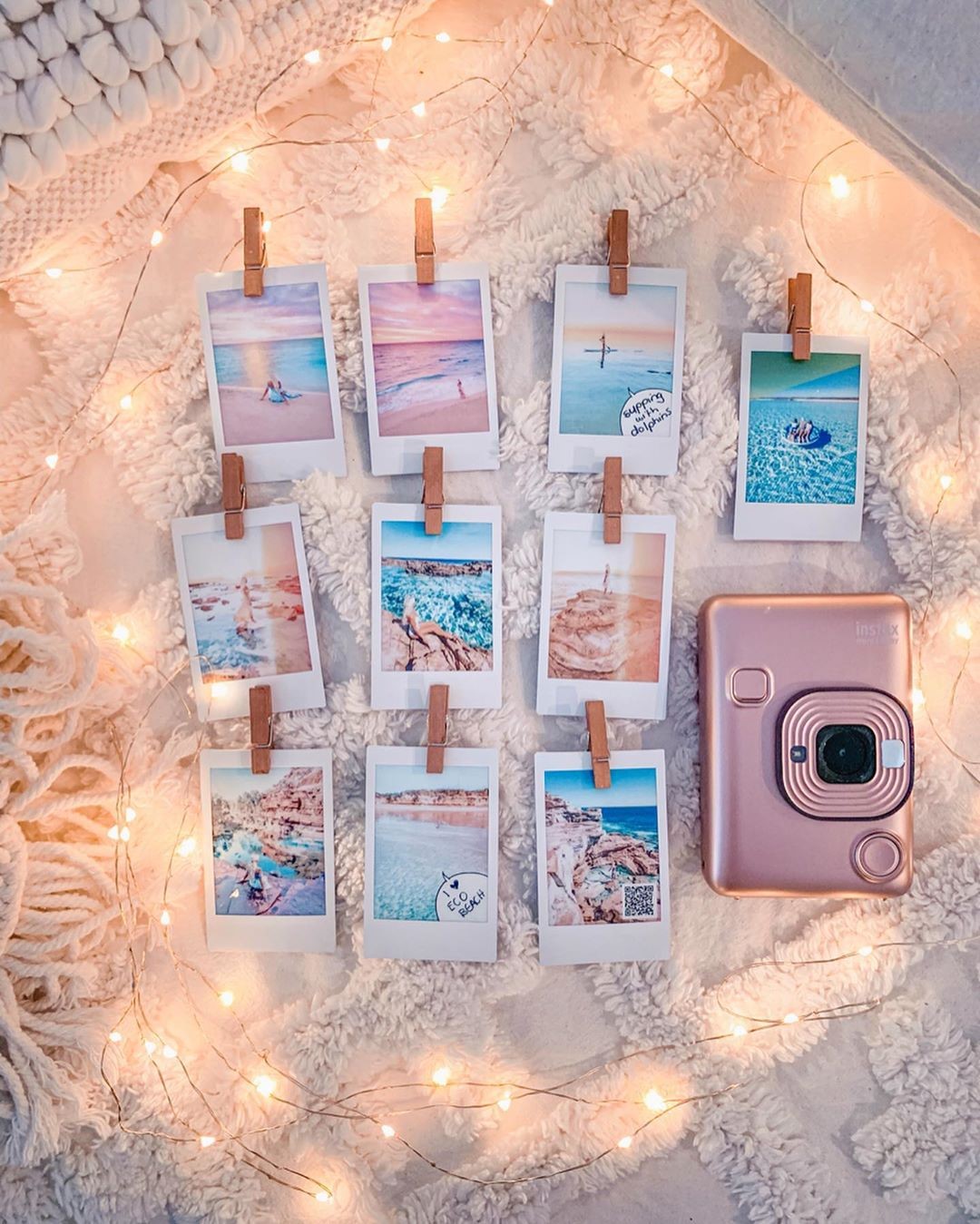 Source: @gypsylovinlight
With the brand new revolutionary instax mini LiPlay, instax films will never be the same again – say goodbye to failed group shots, misaligned photo angles, and most importantly, wasted prints! A nifty tool to have by your side to remember not just the best of your wedding and honeymoon but also your heartfelt thoughts of that moment, it can be yours for free if you head over to our Instagram to participate in our giveaway.
We have 3 sets of instax mini LiPlay (each worth $249) for you to win, and all you have to do is to:
1. Comment on our Instagram post your colour of choice and tag a friend
2. Share our post on your Instagram Story and tag @blissfulbridesmag and @fujifilmsg
The contest will run from 26th August - 9th September and the selected winners will be notified accordingly. For more information on the Fujifilm instax mini LiPlay, head here!
---
This article was written in collaboration with FUJIFILM Corporation.
All non-credited images are from FUJIFILM Corporation.