7 Jewellery Brands That Offers A Modern Twist to Si Dian Jin
2021-05-19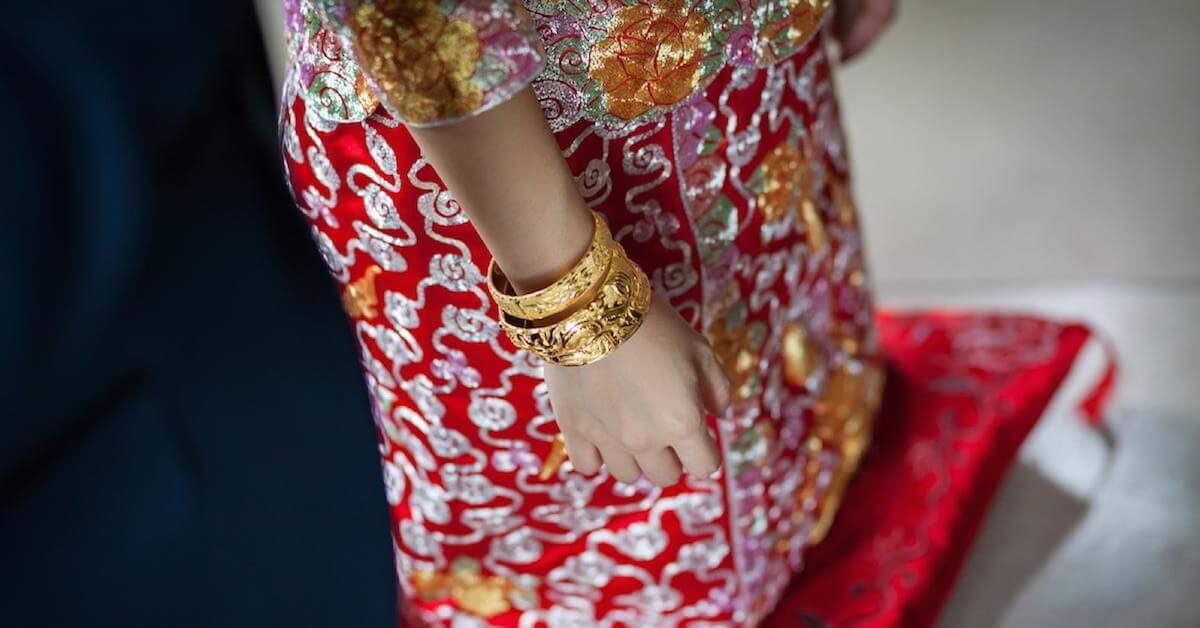 Proposal rings are not the only significant piece of wedding jewellery. Every culture has its own set of wedding traditions and for the Chinese, one of it is the Si Dian Jin.
A betrothal gift from the groom's mother to the bride that consists of a necklace, a ring, a bangle, and a pair of earrings, all made from gold and all as chunky as possible, Si Dian Jin is a sign of acceptance and blessings for a prosperous marriage. While it is a time-honoured wedding tradition that is well-loved for its symbolism, couples today are moving towards more modern Si Dian Jin designs to match with the times and fashion trends (not everybody can rock chunky gold jewellery on a daily basis!)
If you're one such couple scouring for your own set of modern Si Dian Jin, here are 6 jewellery ateliers in Singapore that offer Si Dian Jin for the fashion-forward women of today!
1. Carrie K.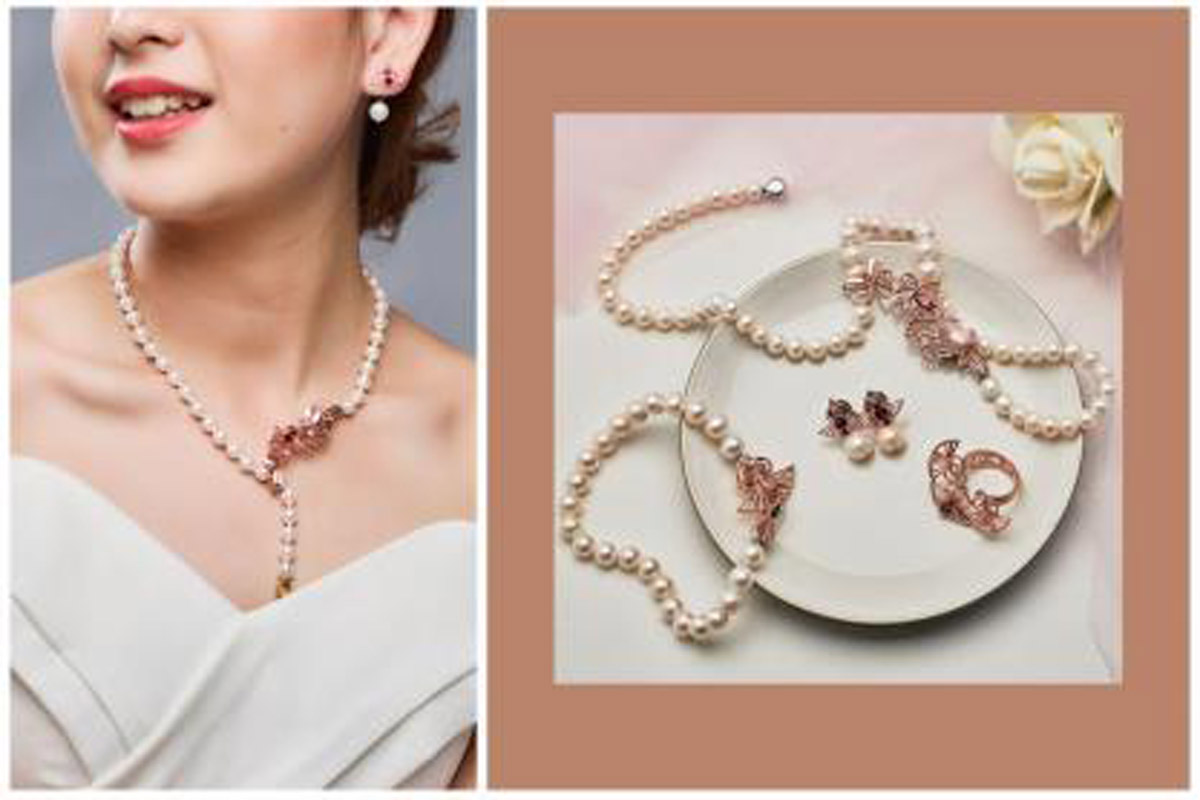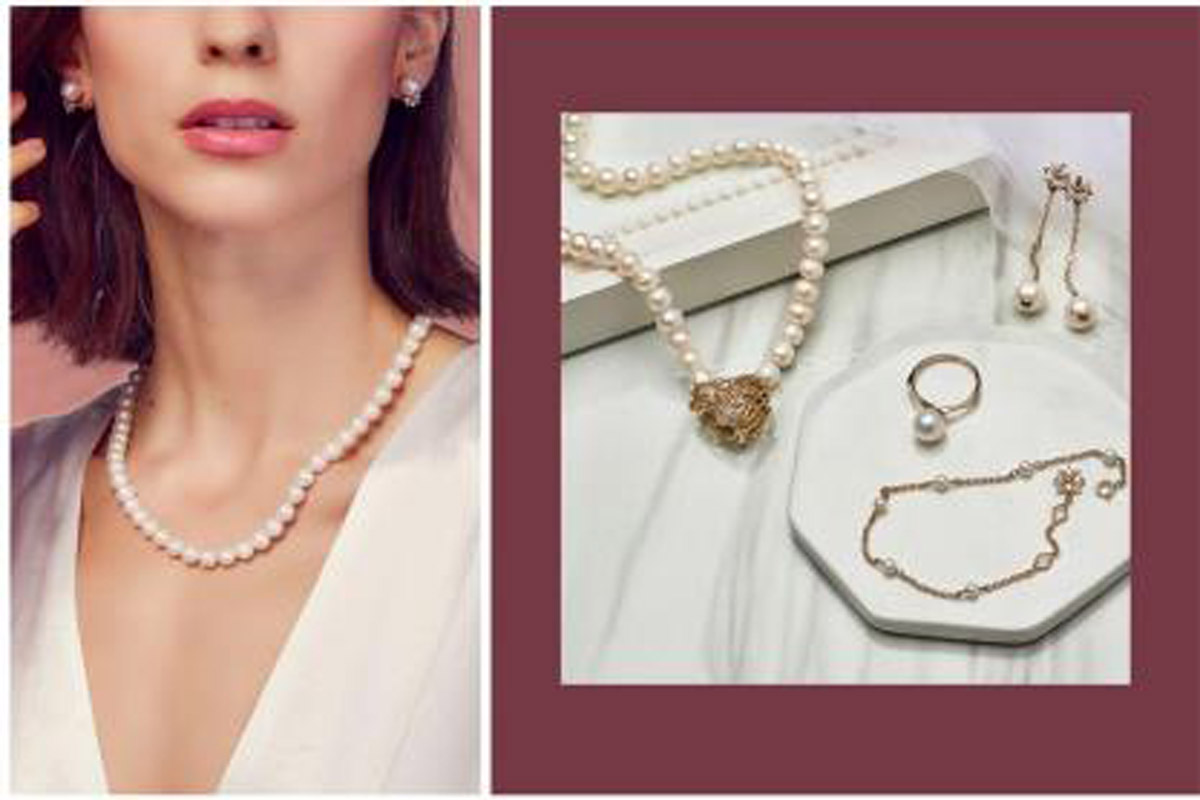 Source: Carrie K.
Modern and versatile, Carrie K.'s gorgeous Si Dian Jin sets capture the essence of bridal elegance perfectly for your wedding day and even for the married days after. In particular, modern brides would appreciate the modern twist that Carrie K. has done through their many assortments of the classic pearl sets. As far as wedding jewellery is concerned, pearls are severely underrated. Gone are the days when pearls are merely associated with matriarchal authority or seen as outdated, traditional accessories. No, it symbolises more than that. Once described by a Chinese Emperor as "A touch above gold", pearls represent purity and innocence, perfect for a blushing bride to adorn while uniting with her spouse in holy matrimony.
Carrie K. has reinvented the classic jewellery into one of modernity and versatility using their special duo mechanism which involves a clip-and-toggle function. This allows you to interchange and attach different accessories and even chains to the pearl necklace — creating endless styling possibilities to reflect your personality and preferences with just one necklace.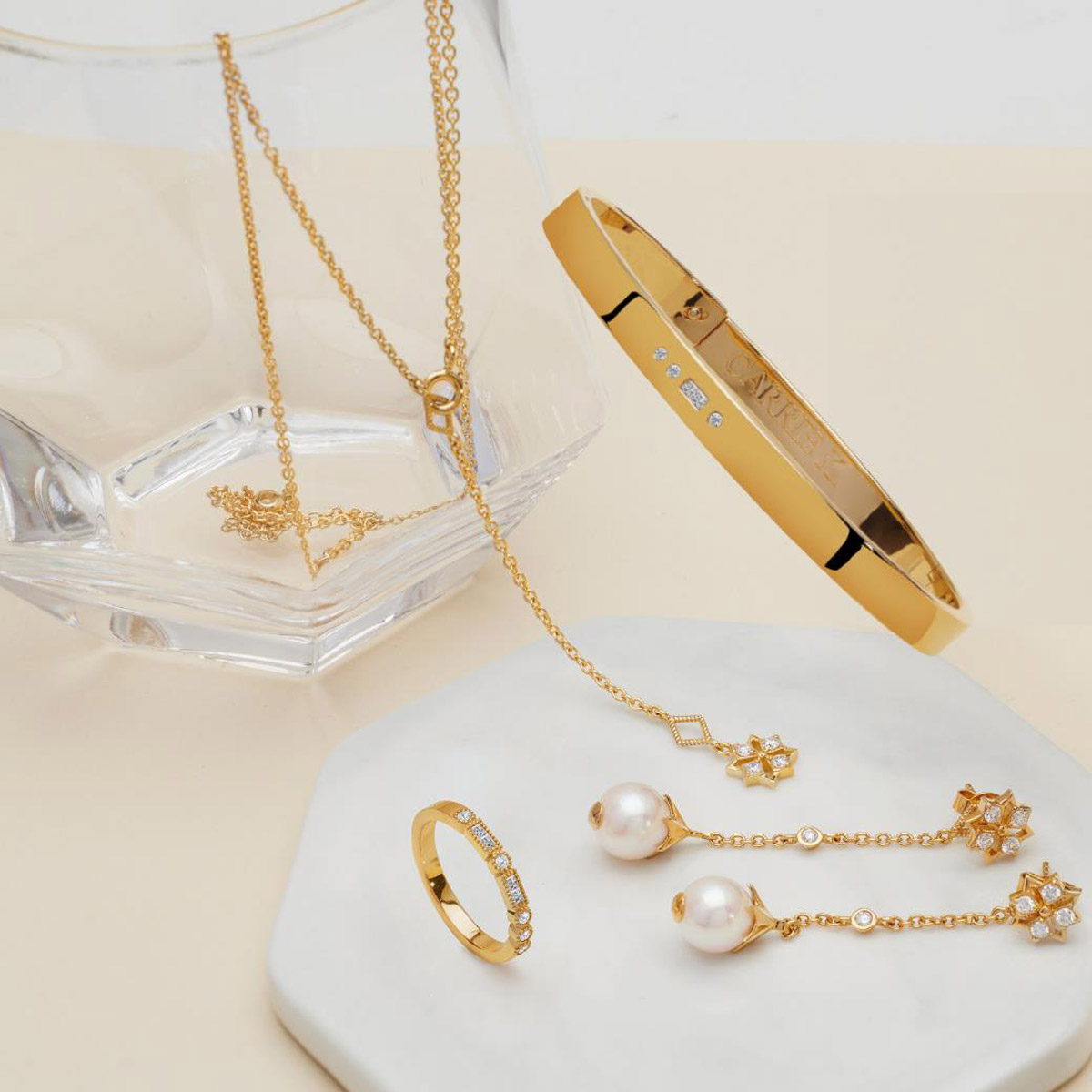 Source: Carrie K.

Other than pearls, they also have a range of morse code inspired jewellery which allows you to wear you and your loved ones' initials on the jewellery in diamonds dots and dashes. Available in 14K and 18K gold options, modern brides love this range for its customisation and unique design.
Thus, shop at Carrie K. today for all your accessory needs; their vision in jewellery craftsmanship and attention to customisable details are truly unparalleled. They're the ideal wedding essential to cater to any bridal style out there.
Address: 111 Middle Rd, #02-02 National Design Centre, Singapore 188969
Tel: +65 9299 8244
Website
2. Goldheart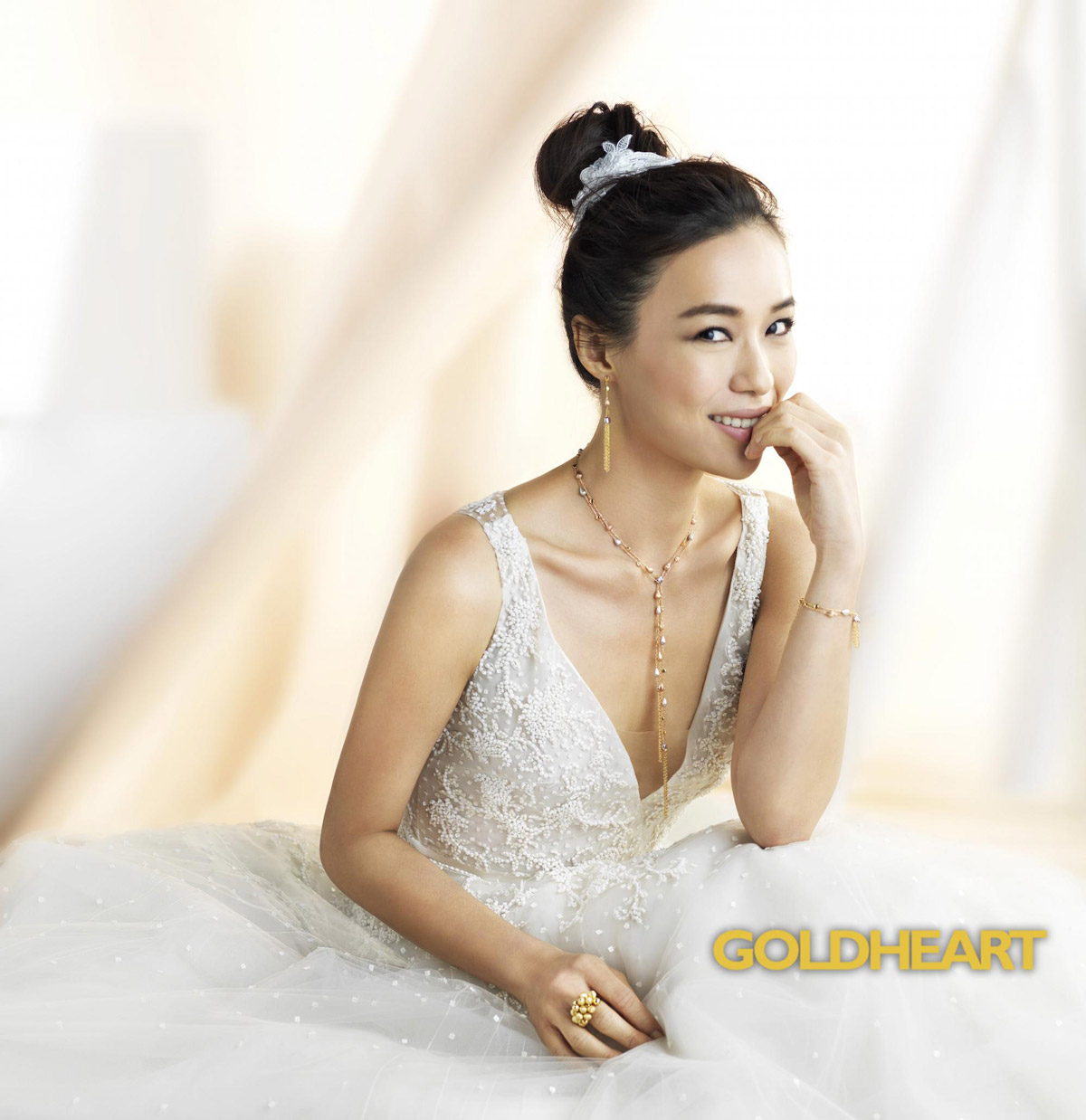 Goldheart's Brand Ambassador Rebecca Lim is wearing their Dewdrop Tassel Collection, a playful, minimalist set to add some cheer to your look!
Source: Goldheart
As the pioneer bridal jewellery atelier in Singapore, Goldheart is a well-renowned jewellery brand that offers only the finest jewellery. With an aim to create jewellery that not only enriches the romance between couples but also celebrates the love and marital union as a whole, Goldheart's Si Dian Jin jewellery are stylish alternatives for modern brides.
With versatile designs synonymous with timeless elegance, ladies can rest assured that their Si Dian Jin pieces can be worn "à la carte" on a day-to-day basis, so that you're always carrying around a heartfelt reminder of your wedding day and marital union!
List of boutiques
Customer Service Hotline: 1800 380 2800
Website
3. Michael Trio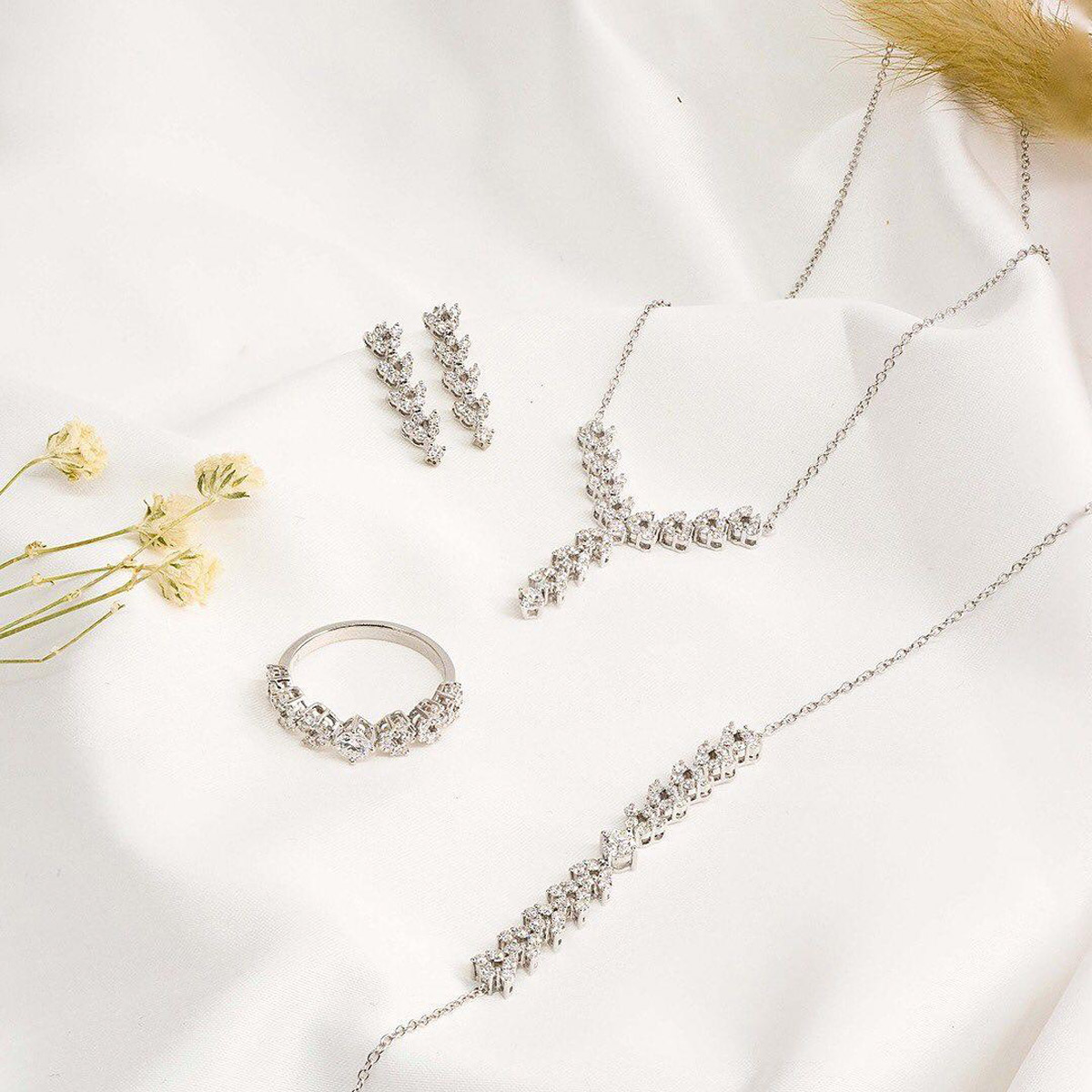 Source: Michael Trio
Having amassed 40 years of experience in the jewellery industry, Michael Trio is definitely a jewellery brand that you can trust. Every piece of jewellery is designed and created with care, made to withstand the test of time. As such, Michael Trio dedicates special attention to every single piece of jewellery without engaging any third-party producers, and their Si Dian Jin sets incorporate a mix of the traditional and the contemporary so that they remain unaffected by fleeting trends.
Each of their 4-piece set comes mainly in full white gold or rose gold, and include dazzling diamonds for a dainty, elegant look. Sparkle as you glide down the aisle on your wedding day, and then carry on shining bright when you wear these pieces out after your wedding!
Here's a bonus point to note — Michael Trio's diamonds are competitively priced at 20% to 40% less than others on the market, because they're able to keep costs low by making their own jewellery and getting rid of unnecessary middlemen!
Address: 91 Tanjong Pagar Road, Singapore 088512
Tel: +65 6299 0110
Website
4. Carat 55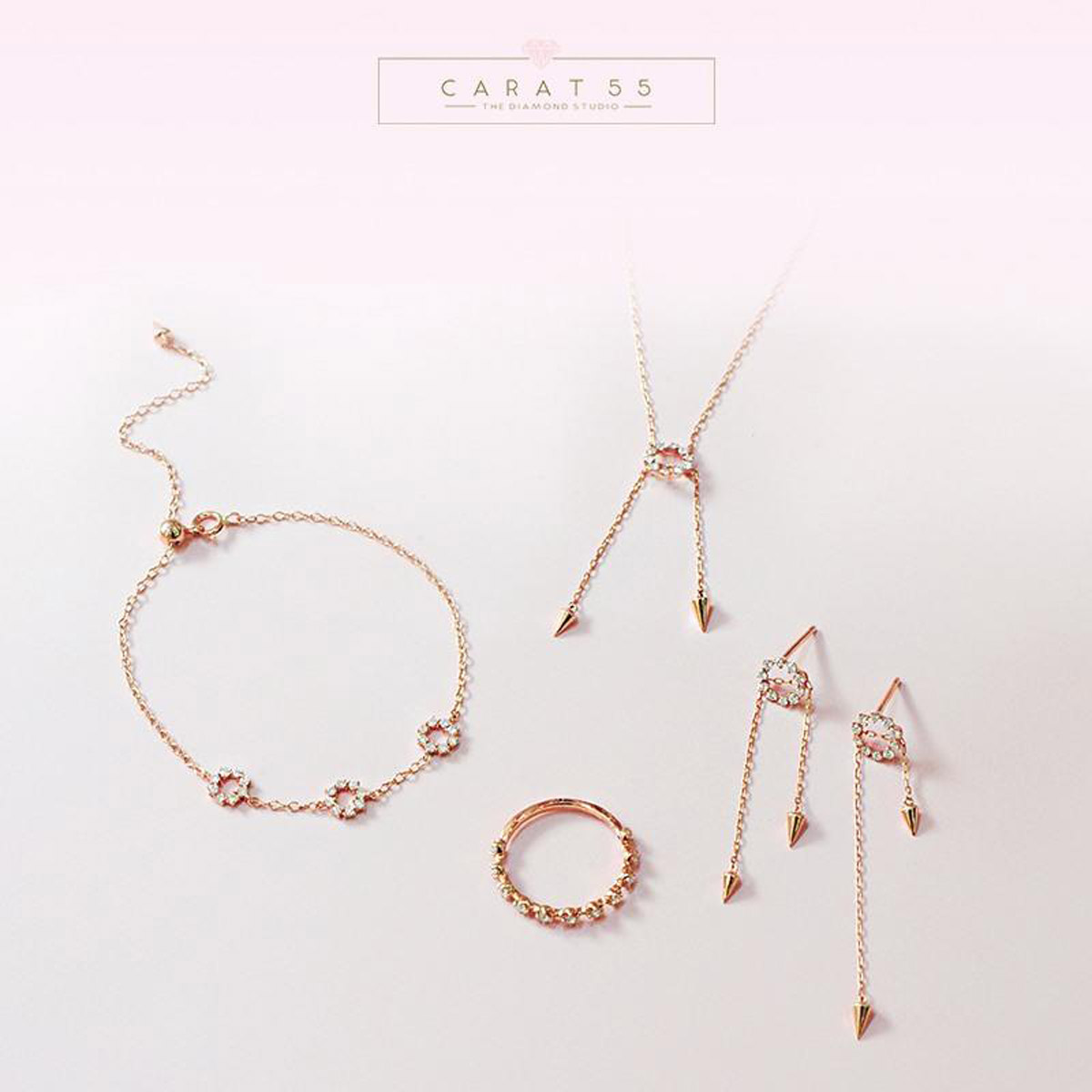 Source: Carat 55
Carat 55 was established with the desire to make elegant, minimal, and finely-crafted jewellery available to all couples today. Known for their chic designs, myriad of styles, and exclusive and personal design process for bespoke jewellery to celebrate the individual wearing it, it goes without saying that Carat 55 also has a wide variety of Si Dian Jin sets for brides-to-be to choose from.
Whether you prefer diamonds, pearls, delicate roses, or jade, you'll definitely find something to your fancy. Alternatively, you can even mix and match pieces across designs to curate a set that is distinctively and uniquely you!
Address: 5 Tank Road, Nagarathar Building #01-03, Singapore 238061
Tel: +65 6235 1155, +65 8223 5855
5. GIOIA Fine Jewellery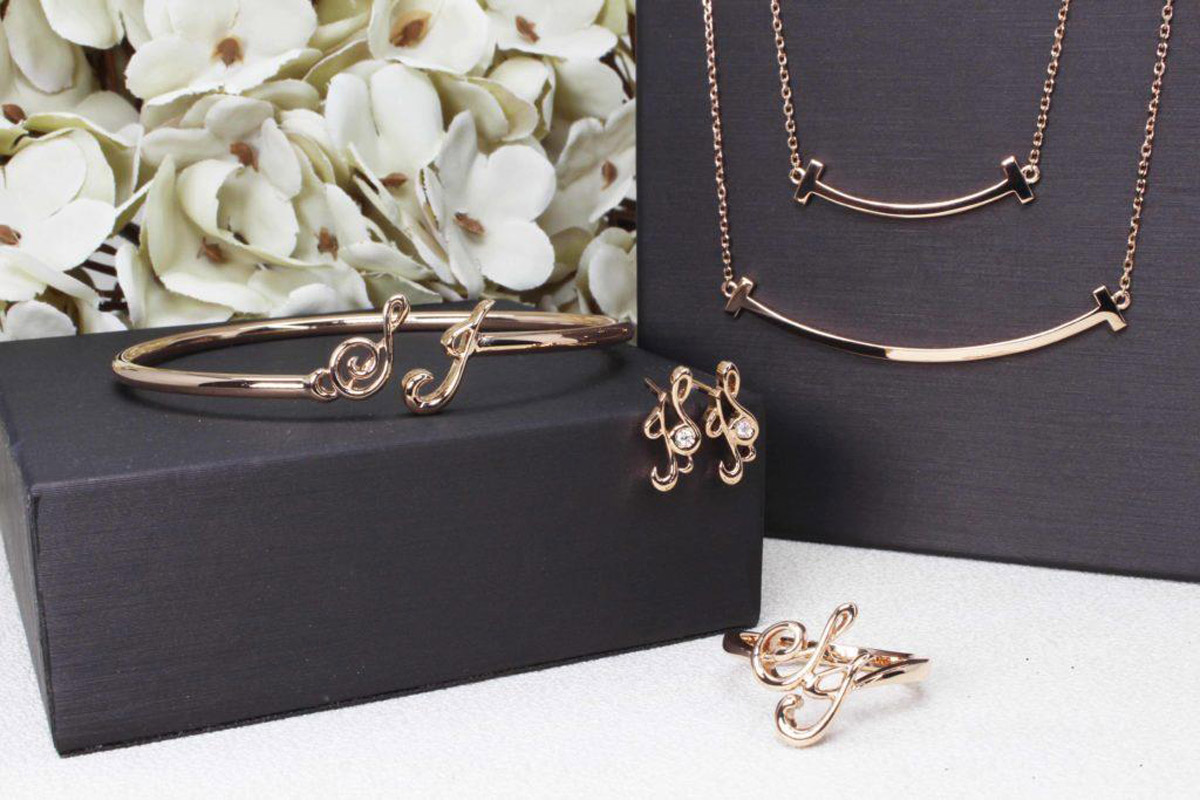 Source: GIOIA Fine Jewellery
Borrowed from the Italian vernacular, GIOIA represents not only joy, but is also used to describe precious gemstone jewellery. In line with that definition, GIOIA Fine Jewellery hopes to create one-of-a-kind jewellery that honour and commemorate individuals and special occasions, as well as bring joy for many years to come.
At GIOIA, they offer customised, bespoke Si Dian Jin sets that truly speaks volume to couples. Whether it's a set of initials or a motif that holds a special meaning to you and your partner, GIOIA will craft it in such a way that it fits seamlessly with your bridal look and everyday wardrobe, yet still respects the age-old traditions, making it a timeless jewellery set.
Address: 10 Anson Road, International Plaza #02-97A Singapore 079903
Tel: +65 6100 2238
Website
6. SK Jewellery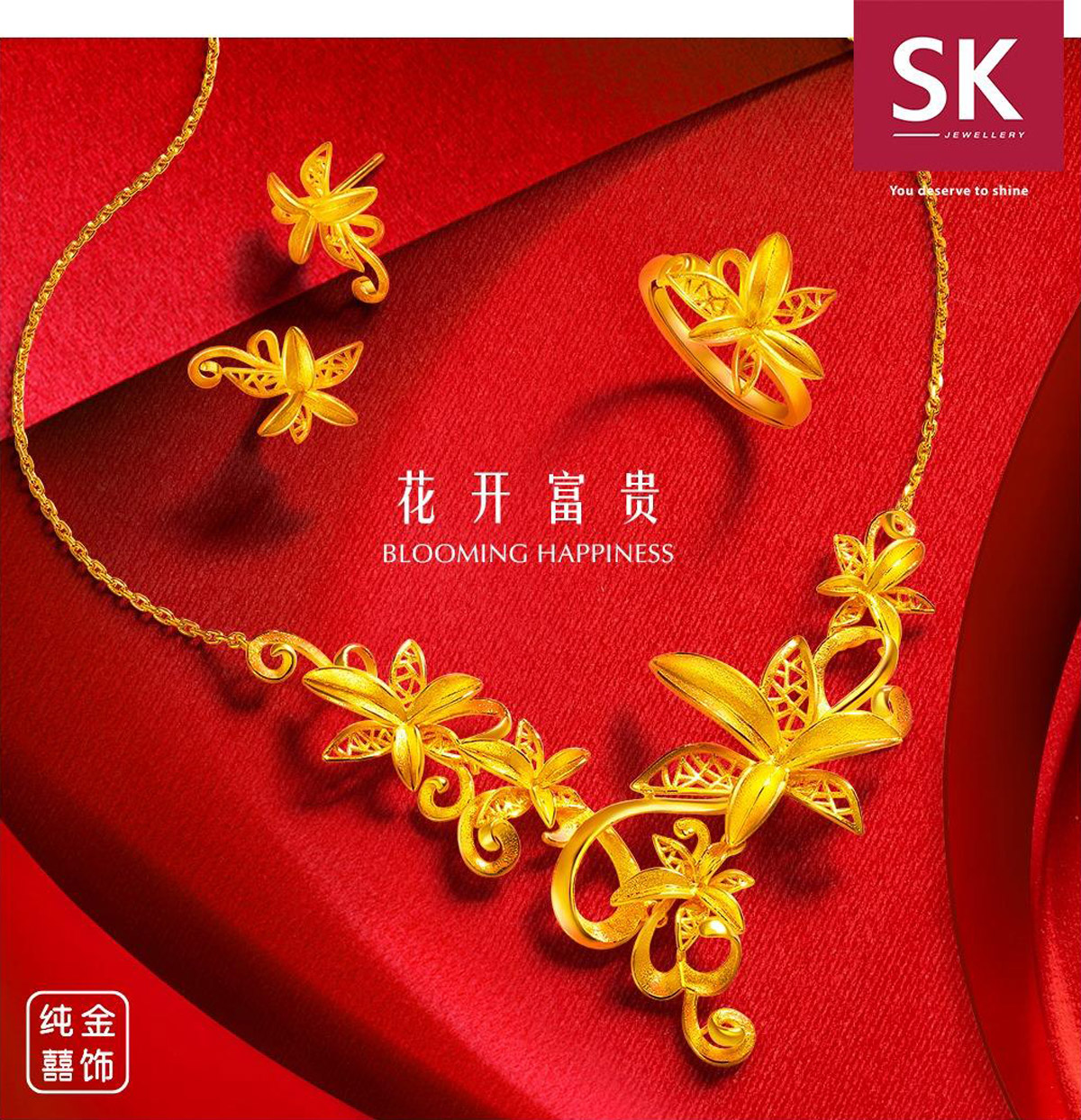 Source: SK Jewellery
Since 2003, SK Jewellery has steadfastly cemented a reputation for crafting jewellery that encompasses beauty, luxury, and allure, making them perfect for women of all time and age. With great emphasis on both innovation and design excellence, SK Jewellery is one of the most prolific jewellery ateliers in Singapore today, and they've upheld Chinese traditions with Si Dian Jin sets crafted entirely with the purest gold — 99.9%.
Perfect for ladies who suit yellow gold jewellery more than silver or white gold, they've also managed to retain the beautiful traditional motifs such as the Perennial Lily and Peonies, incorporating them in modern, dainty designs to create sleek gold jewellery that would look amazing even when paired with a more everyday outfit!
7. Gen.K Jewelry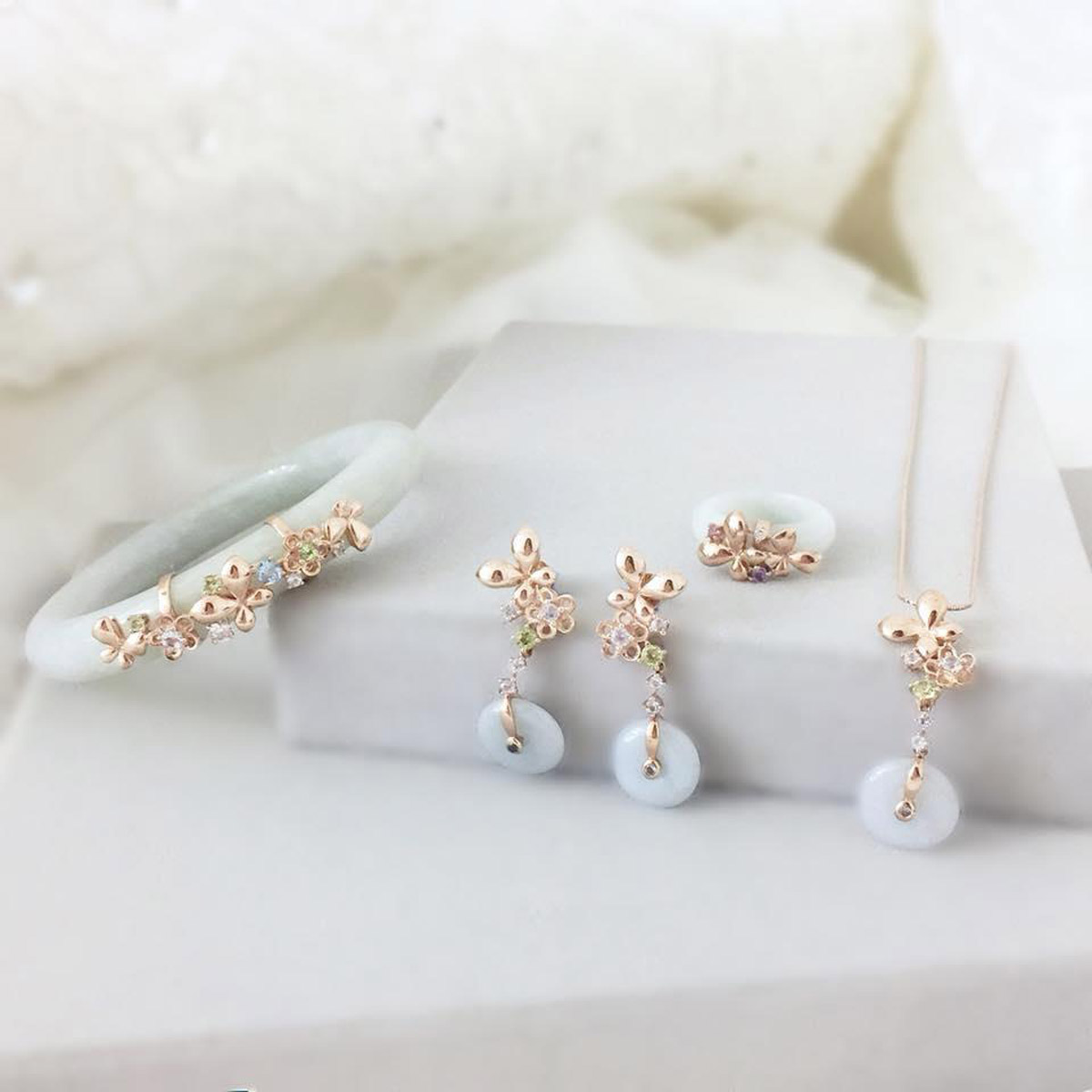 Source: Gen.K Jewelry
Modern jade jewellery is all the rage now, and with jade being such a staple statement among the Chinese since ancient times, it seems befitting that our Si Dian Jin consists of elegant jade pieces. Specialising in putting a beautiful, contemporary spin on quality Type A Burmese jade with brilliant, semi-precious gemstones, and gold plating, the jade Si Dian Jin sets are grand enough for a wedding fanfare yet delicate and understated enough for everyday wear. You can even choose to further customise your Si Dian Jin with preferred gemstones of your choice!