Bridal Style Guide: Inspirations for Pairing Your Si Dian Jin Jewellery & Wedding Dress
2020-09-11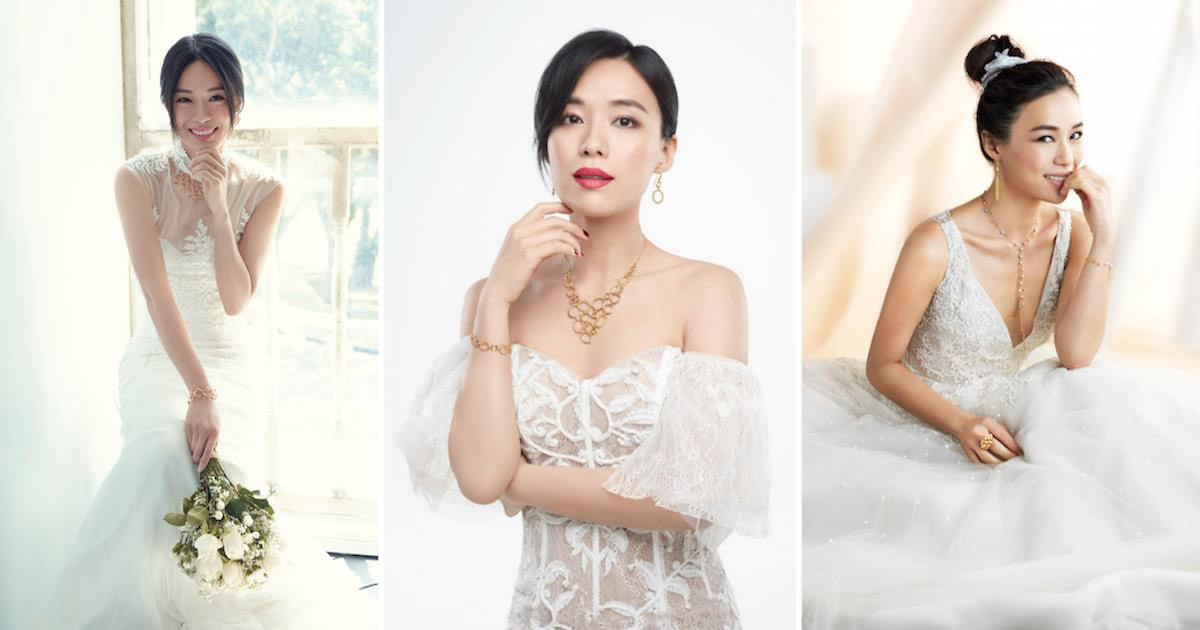 A 4-piece jewellery set presented to the bride as a betrothal gift from the groom's mother, Si Dian Jin (四点金) typically consisted of chunky gold pieces — something that not many modern brides prefer. Synonymous with timeless elegance, Goldheart's Si Dian Jin jewellery are stylish alternatives for today's fashion-forward ladies, and they are back this season in Love and Romance 2020!
Offering reiterations of their bridal signatures in gold and diamond with more refined and bold transformations that any bride will love, you'll find both classy traditional designs and versatile modern styles suitable for "à la carte" wear on a day-to-day basis. Here's how you can style them on your wedding day:
916 Gold Si Dian Jin Sets: Reinventing Traditions
Eternal Bliss Collection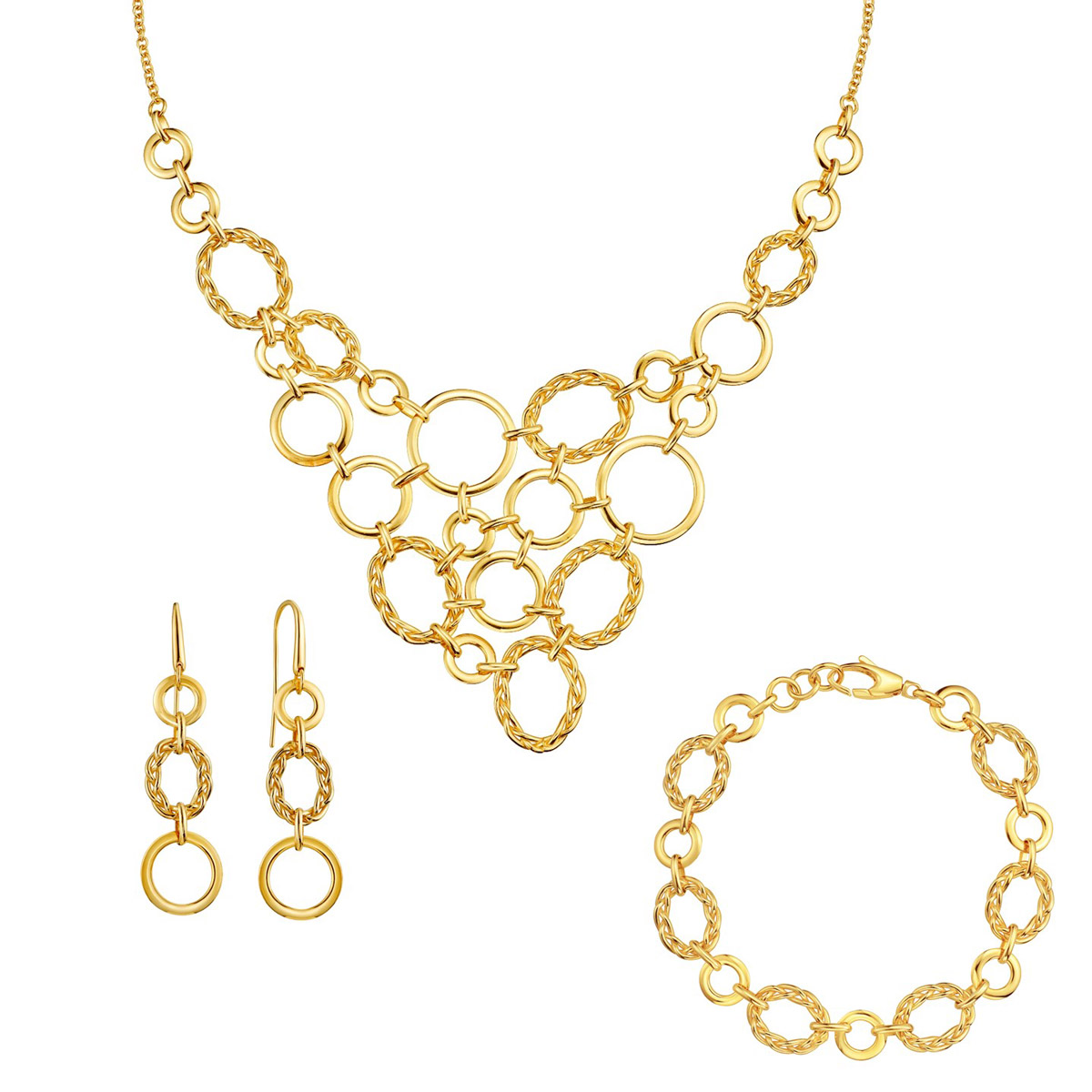 Sure to please both the bride and her future mother-in-law, the Eternal Bliss Collection features interlocking loops in weaved and polished textures — circles have been known to represent harmony and unity in Chinese culture, and chunky gold chains have been featured as one of 2020's hottest trends.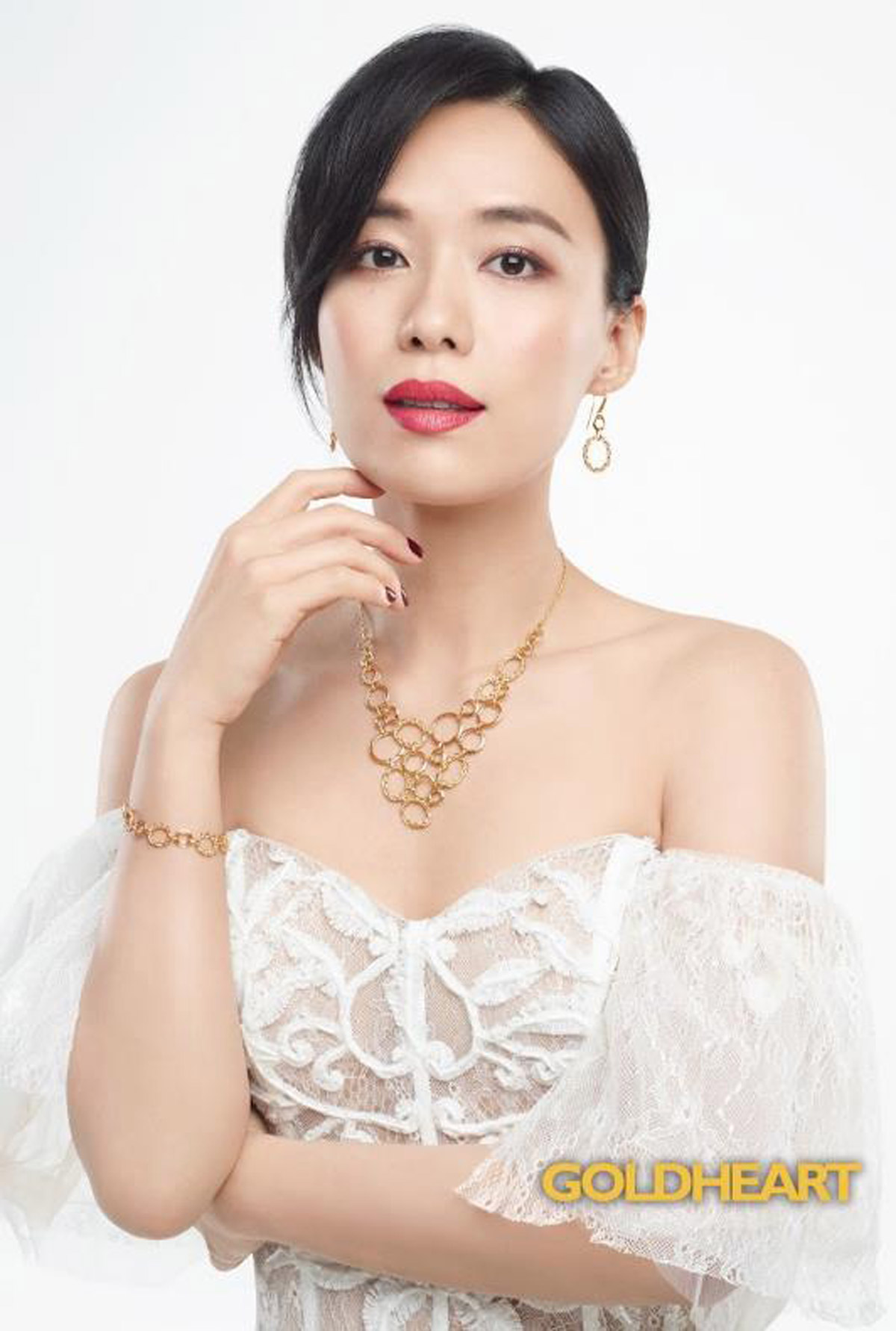 The key to styling these chunky gold chain links is to contrast the size with something more delicate and subtle. An off-shoulder lace-embroidered gown as shown on Goldheart's Brand Ambassador Rebecca Lim is perfect for highlighting the Si Dian Jin while adding some understated class to your look! If you wish to draw slight attention to your gown as well, you can opt for a dress that has added embellishments such as puffy sleeves, or even a graceful cape. Additionally, the Eternal Bliss Collection makes for an easy style hack to dress up your wardrobe staples with a bold touch.
Gold Weave Collection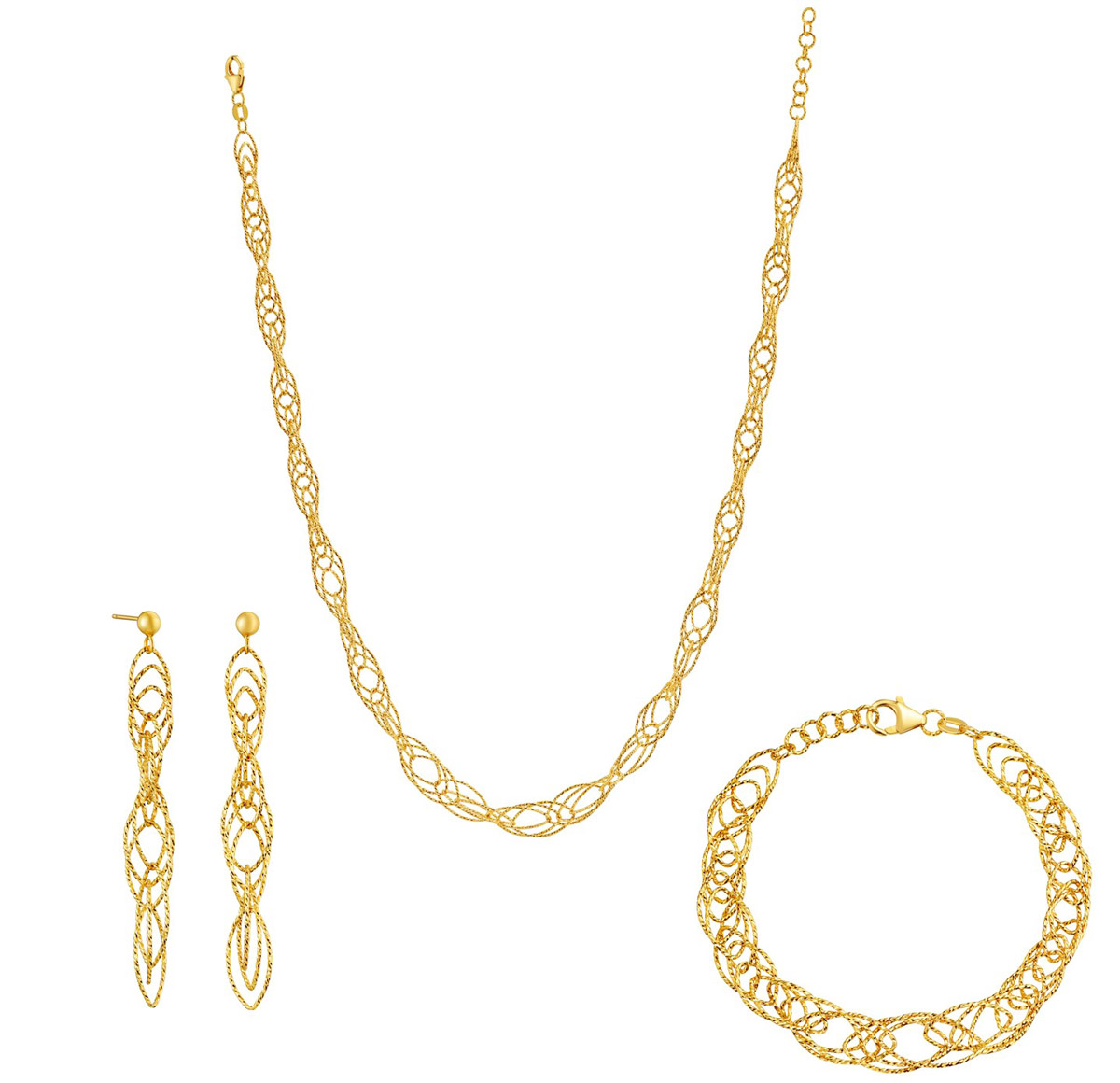 If bold designs are not your cup of tea, the Gold Weave Collection is a dainty 3-piece set that instantly refines any outfit without being overly-dramatic. The hallmark of fine, Italian craftsmanship, the inter-woven links creates a fluid motion that resembles liquid gold. Match this with a classy off-shoulder wedding gown for a contemporary-chic vibe, or transform your favourite summer outfits for a show-stopping look!
Abstract Dreams Collection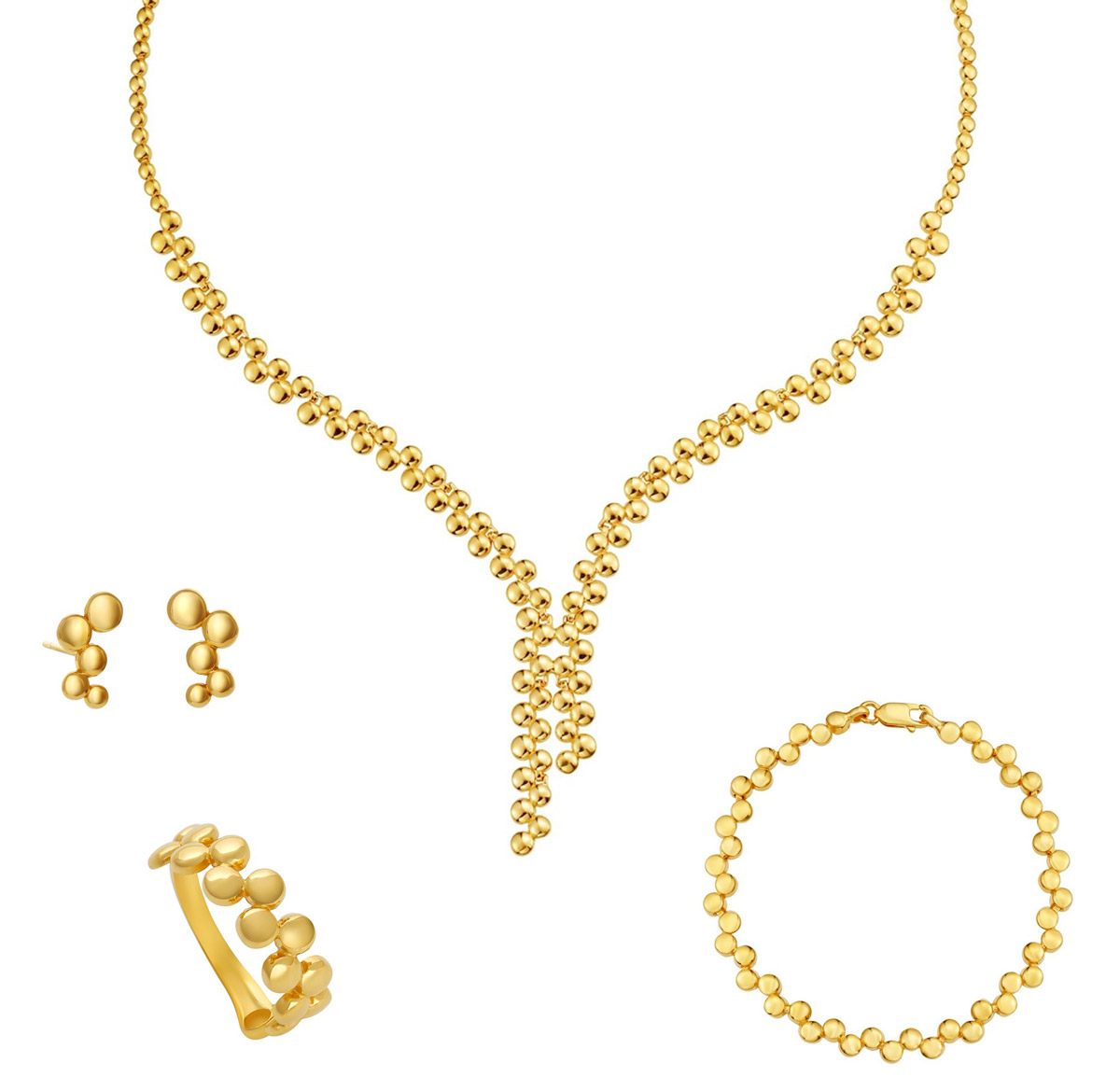 The fun and asymmetrical design of the Abstract Dreams Collection is one for the artistic and unconventional brides! An elegant way to showcase your eclectic style, the simplicity of the earrings allows it to be paired with elaborate high-collars, the waterfall necklace works beautifully with V-neck gowns and sweetheart necklines, and when worn as a full set, the pieces are eye-catching enough to hold its own, yet modest enough to not clash with intricate, attention-grabbing wedding dresses.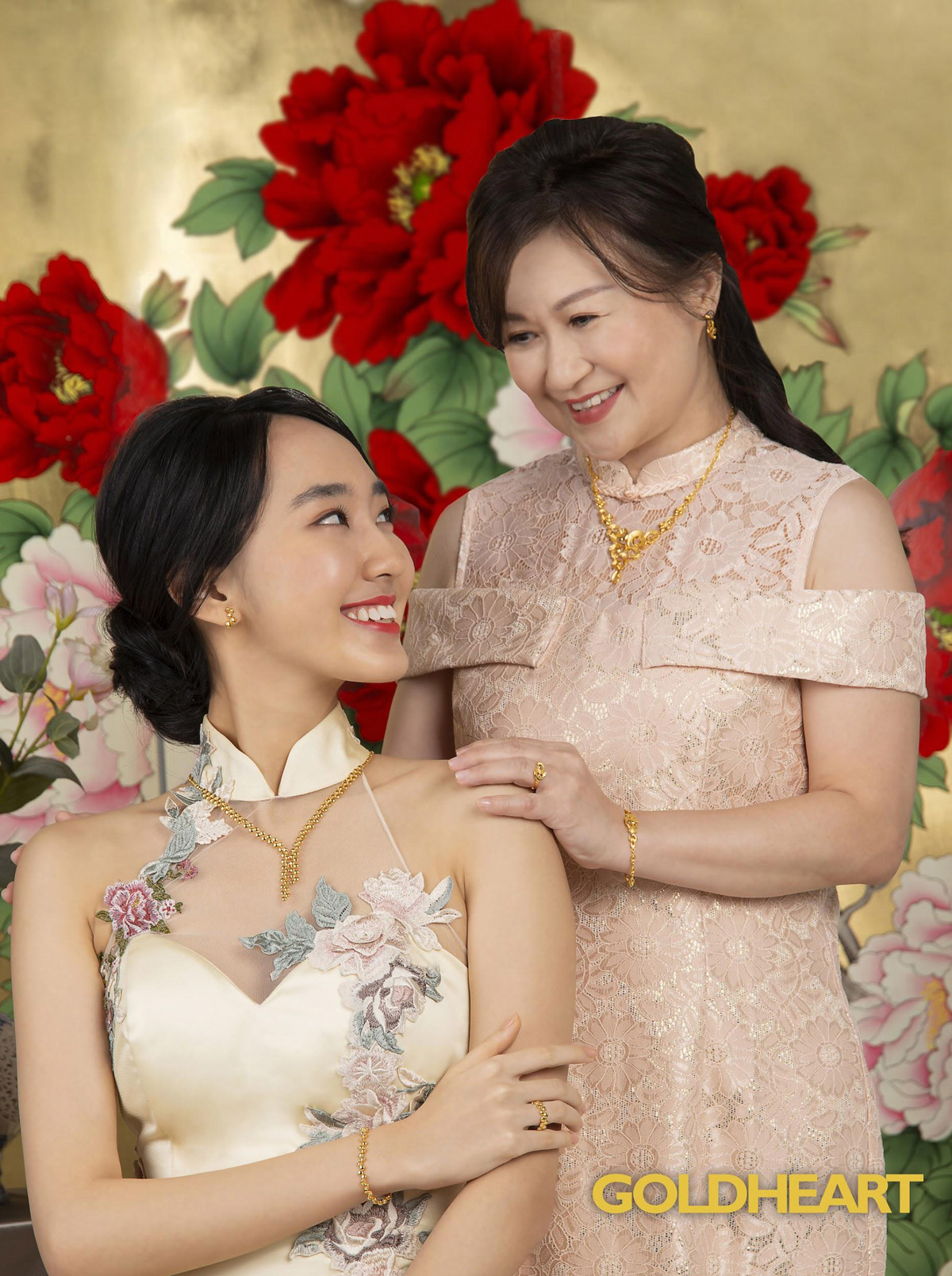 As seen here, the Abstract Dreams Collection goes well with a wide variety of gowns and necklines, including this high-collared cheongsam that has an illusion sweetheart neckline.
Lattice of Love Collection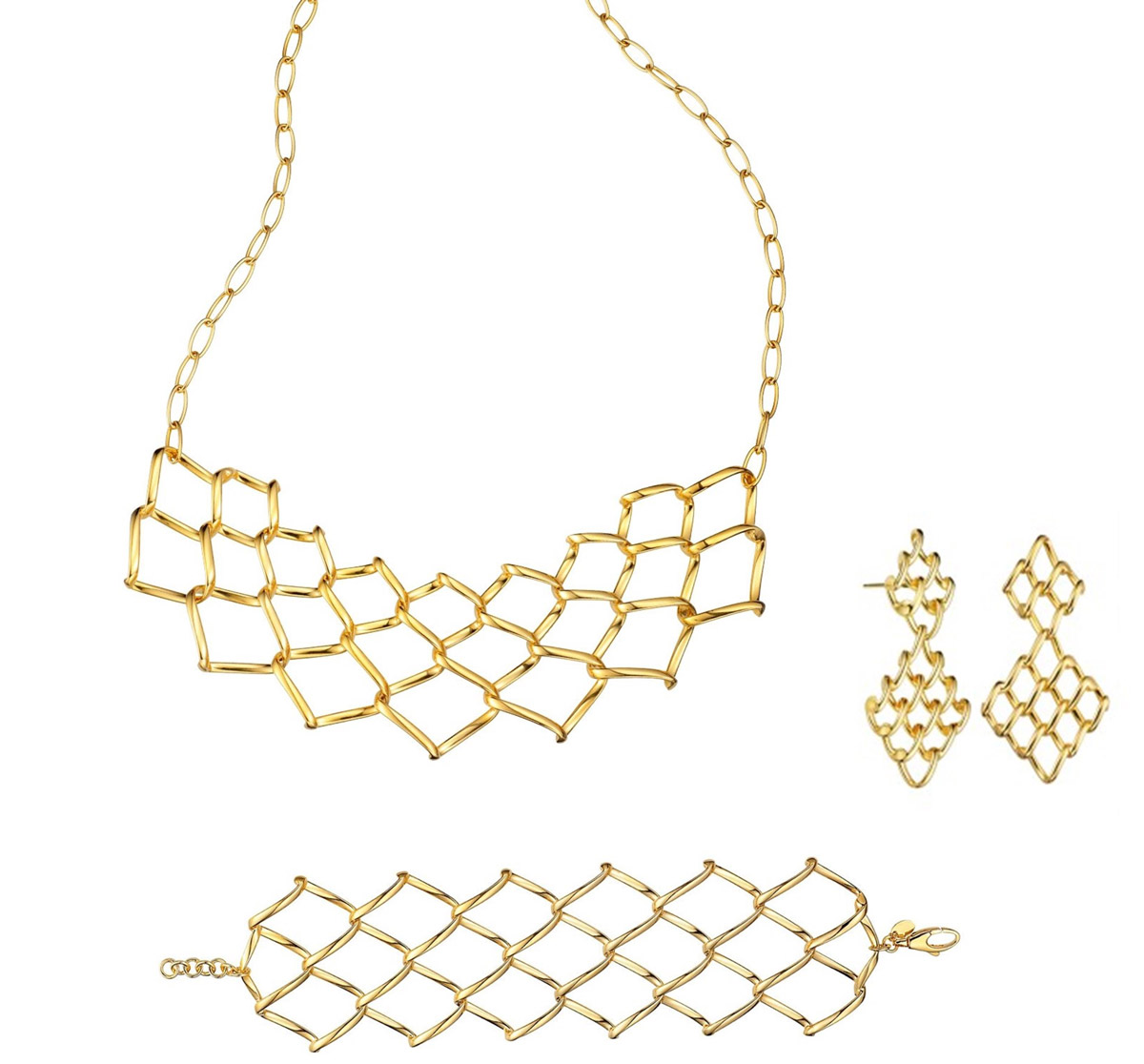 Equal part bold and sophisticated, the Lattice of Love Collection is another elegant set made up of statement pieces. With its unique lattice design, the jewellery is not only an absolute showstopper but also a conversation starter as it defies the conventional impressions of what a Si Dian Jin should look like!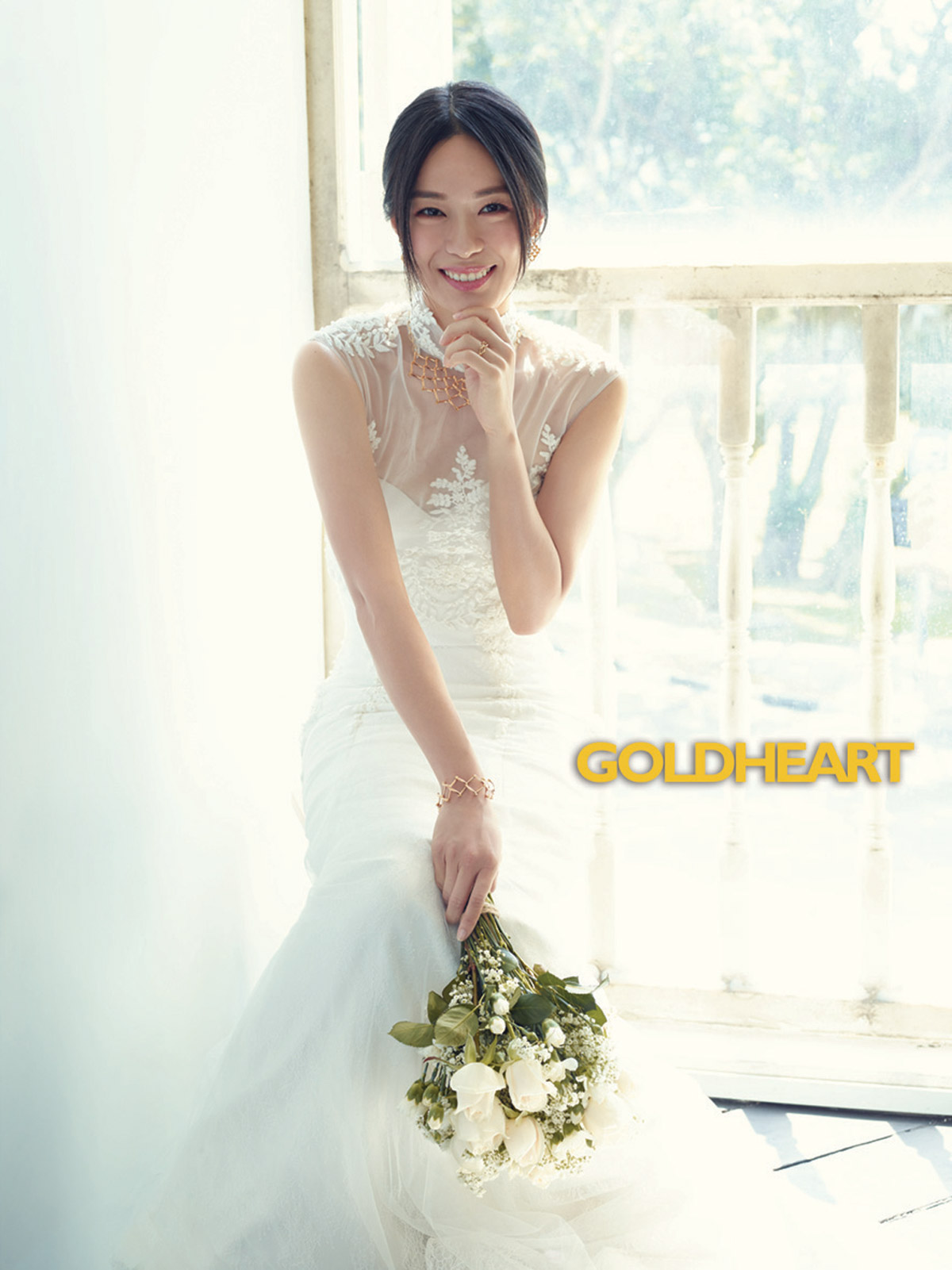 To bring out the best of this design and your wedding dress, pair this collection with an elegant, mermaid or trumpet cut gown. The sleek silhouette of the dress will go perfectly with the chunky style of the lattice design.
Dewdrop Tassel Collection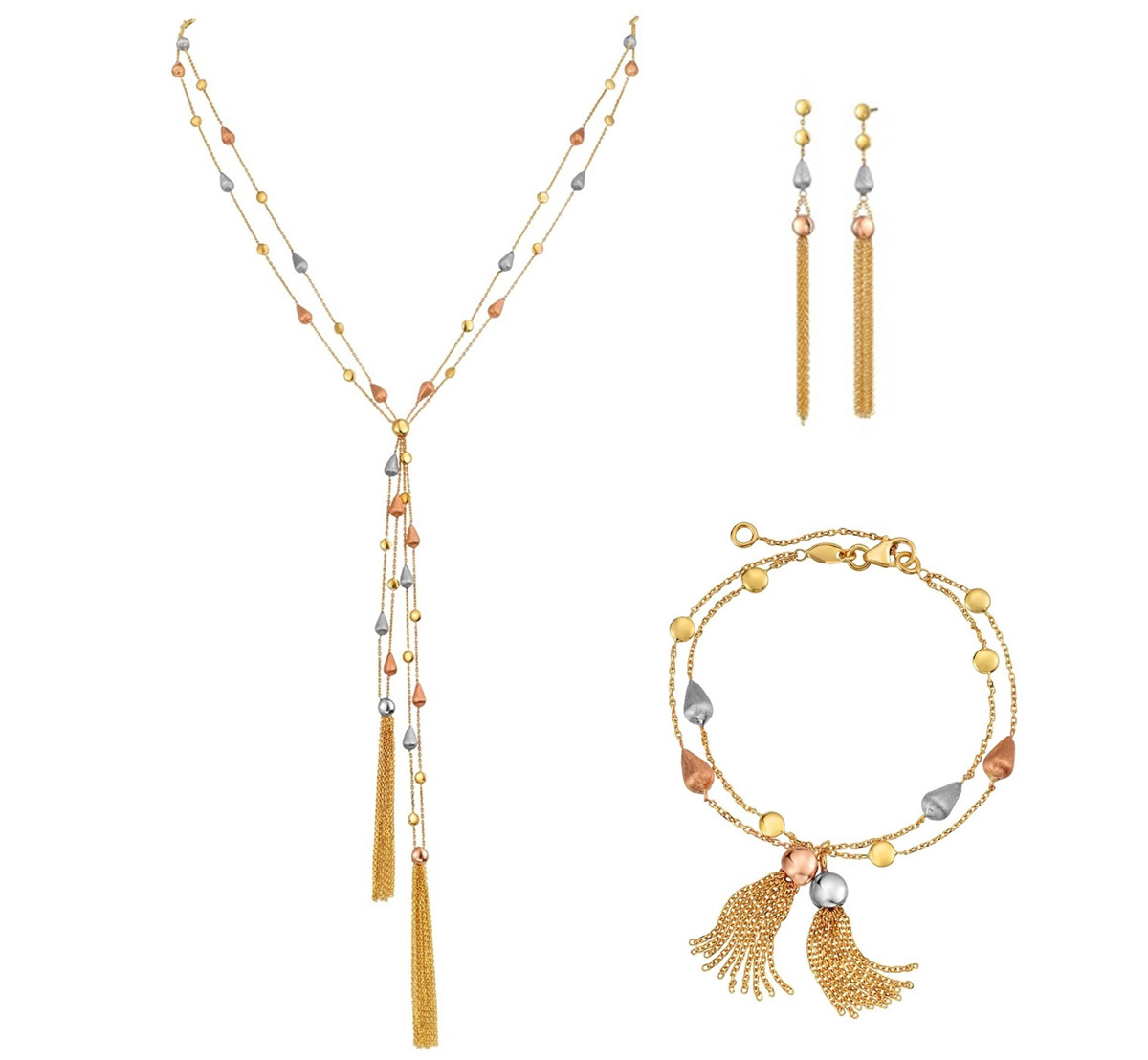 Another jewellery trend in 2020 is colours — the abundance of colours! Showcasing tri-coloured hues (white gold, yellow gold, and rose gold) of 916 Gold matched with the ever-popular tassels, the Dewdrop Tassel Collection is a playful, minimalist set to add some cheer to your look without running the risk of appearing gaudy.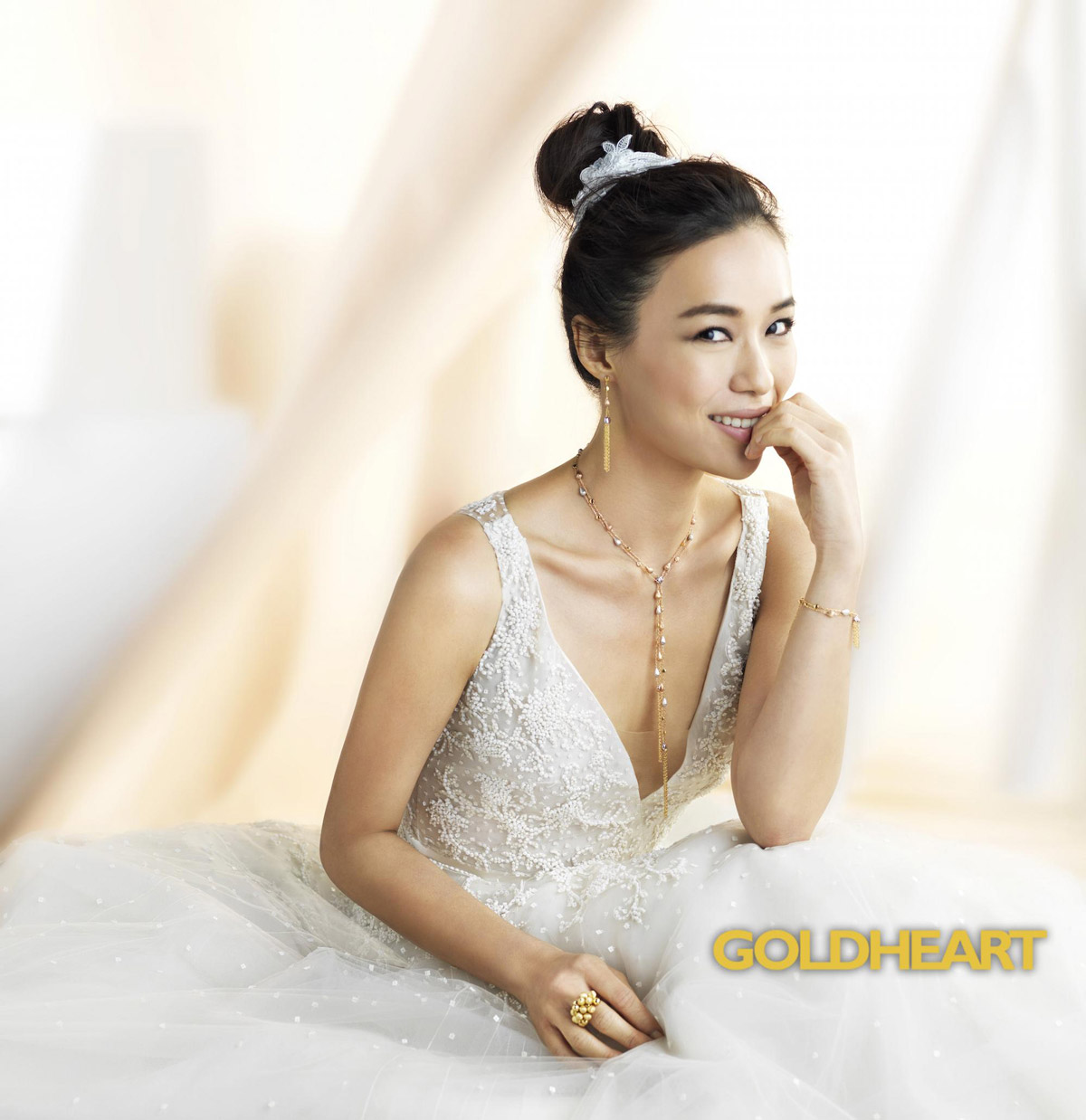 Depending on your choice of wedding gown or outfit, you can either rock a girly, whimsical look or pull off a bohemian chic vibe. Make sure to opt for a plunging neckline to showcase the long, linear necklace design, and experiment with up-dos to showcase the movement of the tassel earrings with your every step!
916 Gold Tassel Collection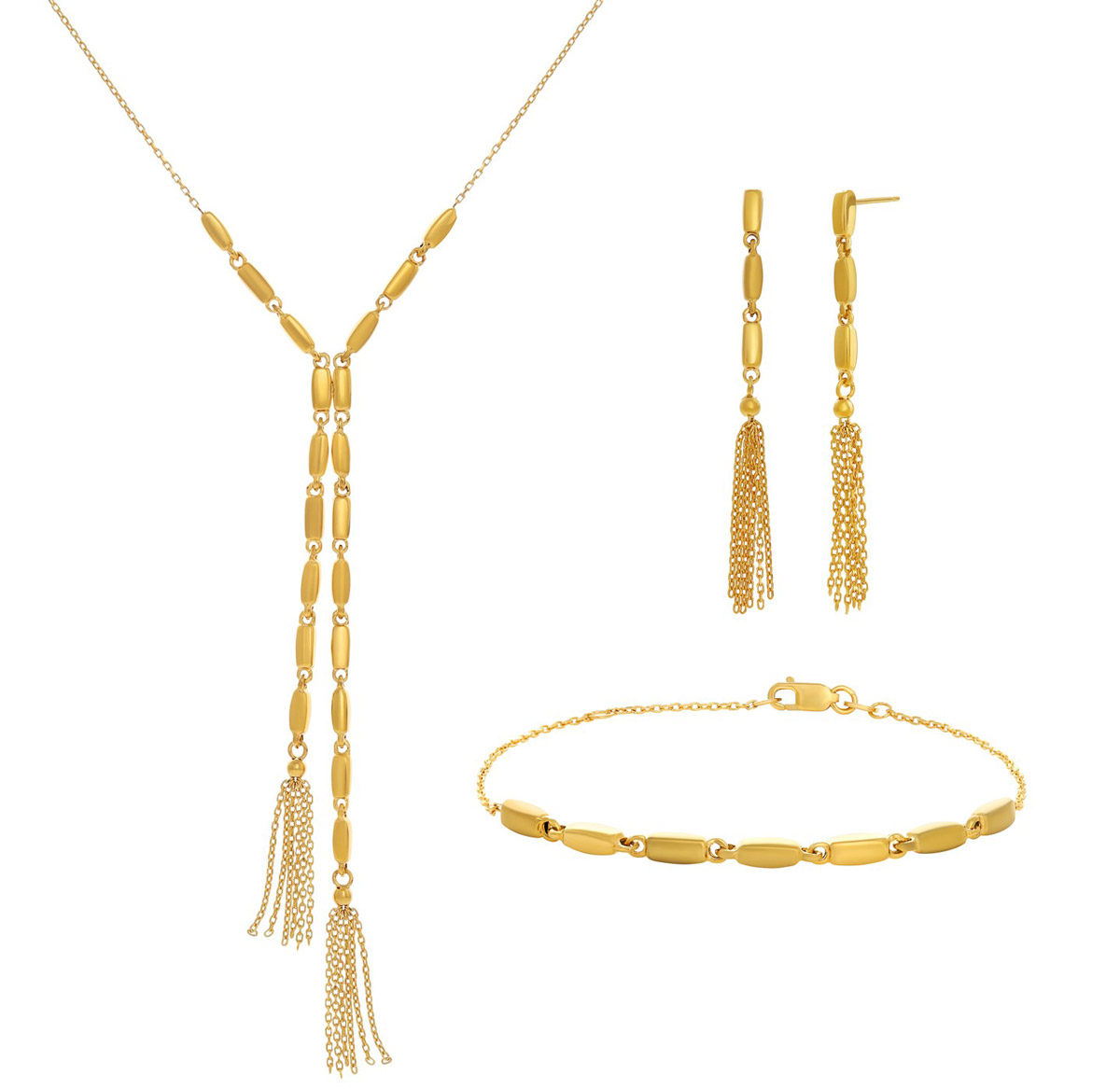 Minimalist and evergreen, the 916 Gold Tassel Collection is "the one" for those who wish to enjoy the most mileage from their purchase. The simple bar design provides a touch of elegance and sophistication suitable for date nights and the workplace, and tassels are always a welcomed bit of fun to spice up your outfits.
For a classy and timeless bridal look, match this set with a gown that boasts a plunging V-neck and flowy cut, like an A-line or sheath dress.
999 Gold Si Dian Jin Sets: Timeless Classics
999 Phoenix Collection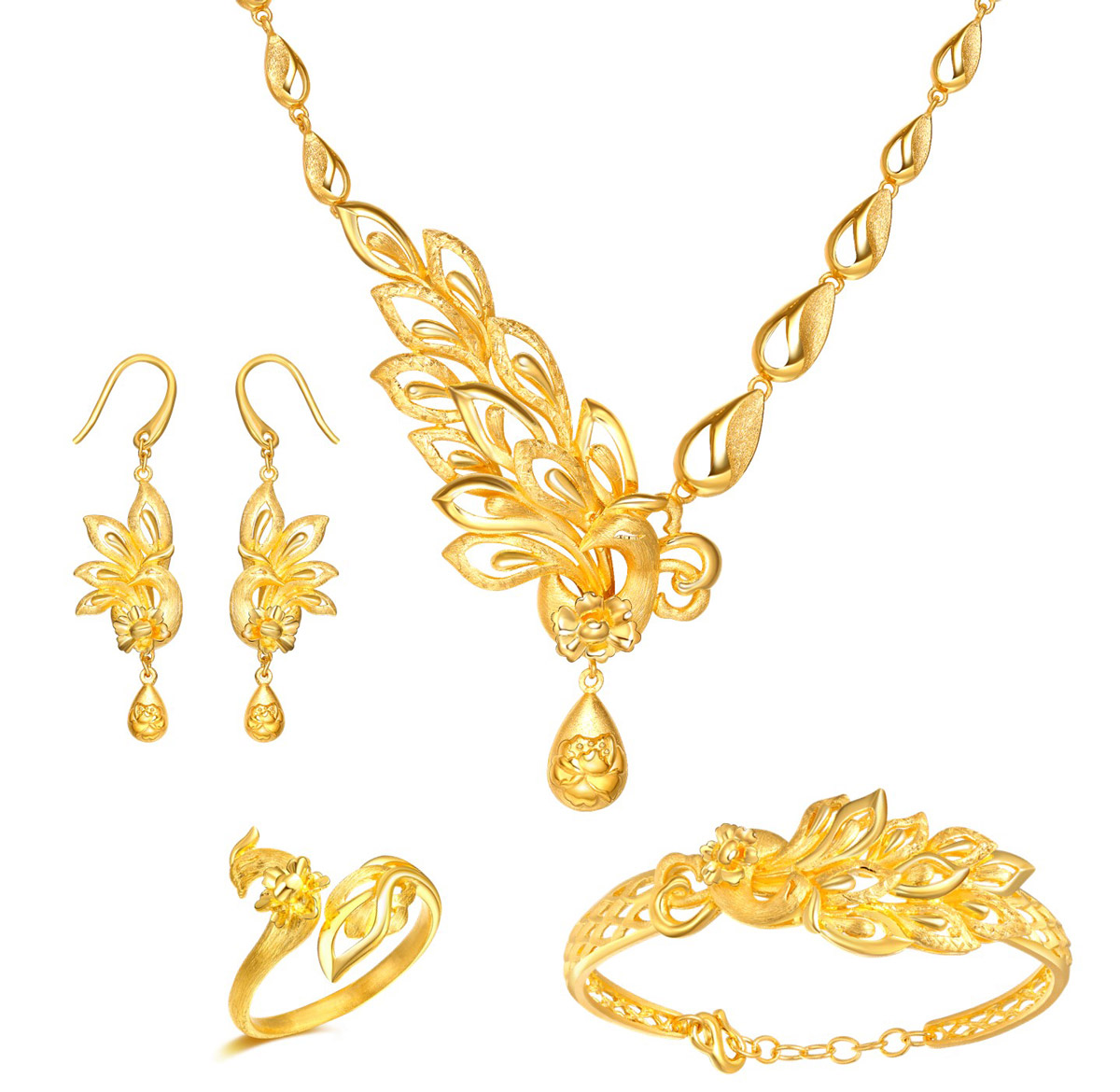 Goldheart's 999 Gold Si Dian Jin are the industry standard for pure, statement gold jewellery. A showstopping 4-piece set, their latest 999 Phoenix Collection is just as majestic as the mystical creature itself, which is also known as the king of all birds and a symbol of high virtue, grace, and matrimonial harmony.
Steeped in cultural significance, this collection is best matched with an exquisite kua to be worn during the tea ceremony. The regal hue of the warm gold jewellery will lend a touch of class and nobility to the bride, and since gold appreciates in value with time, this set can be passed down from generation to generation as a treasured heirloom and cherished investment!
999 Hearts in Bloom Collection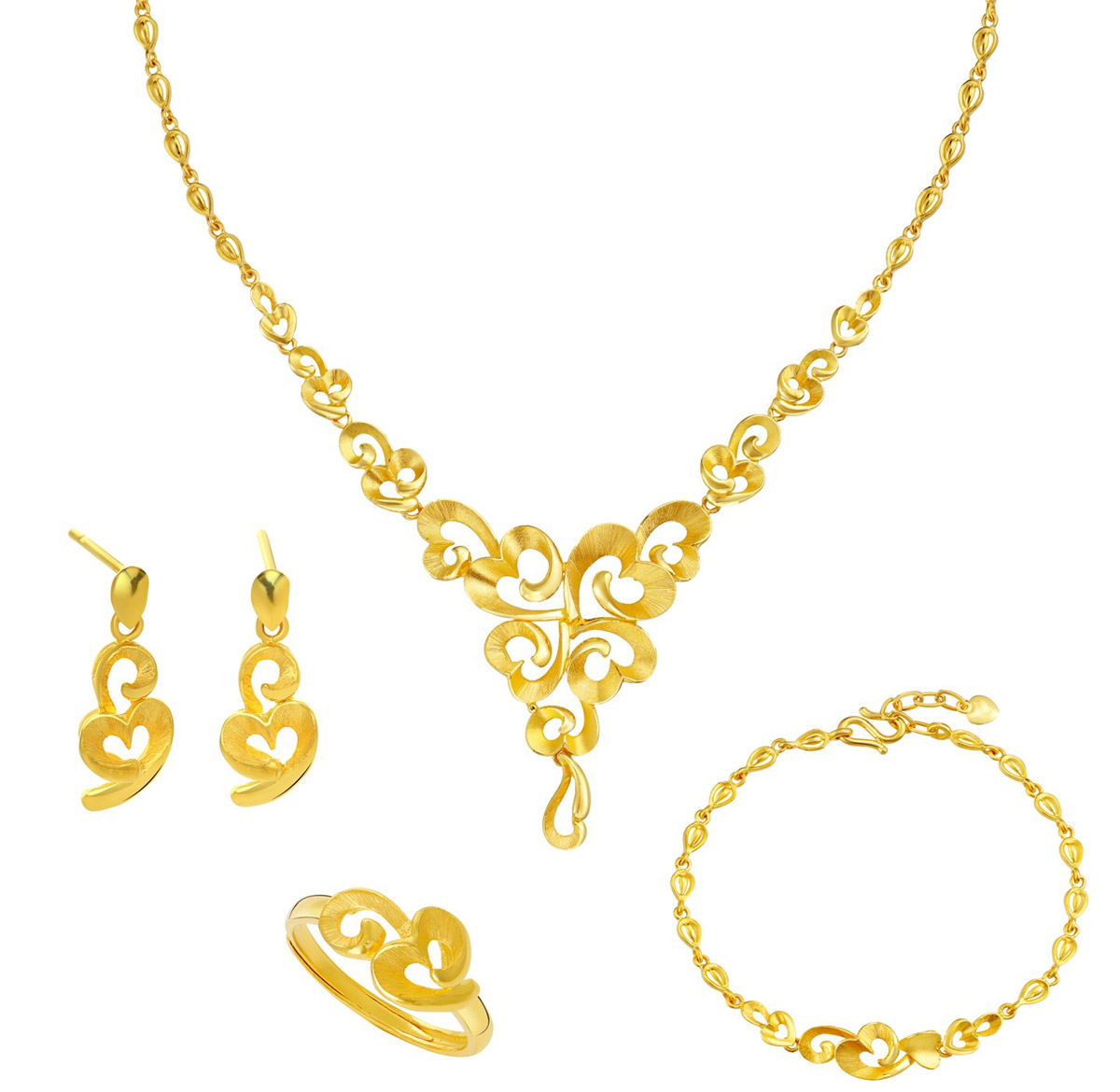 The 999 Hearts in Bloom Collection celebrates the romance of marriage with its passionate aura and the irresistible allure of hearts! Its distinctive heart-shaped design adds the perfect mix of glamour and class that will elevate any cheongsam gown.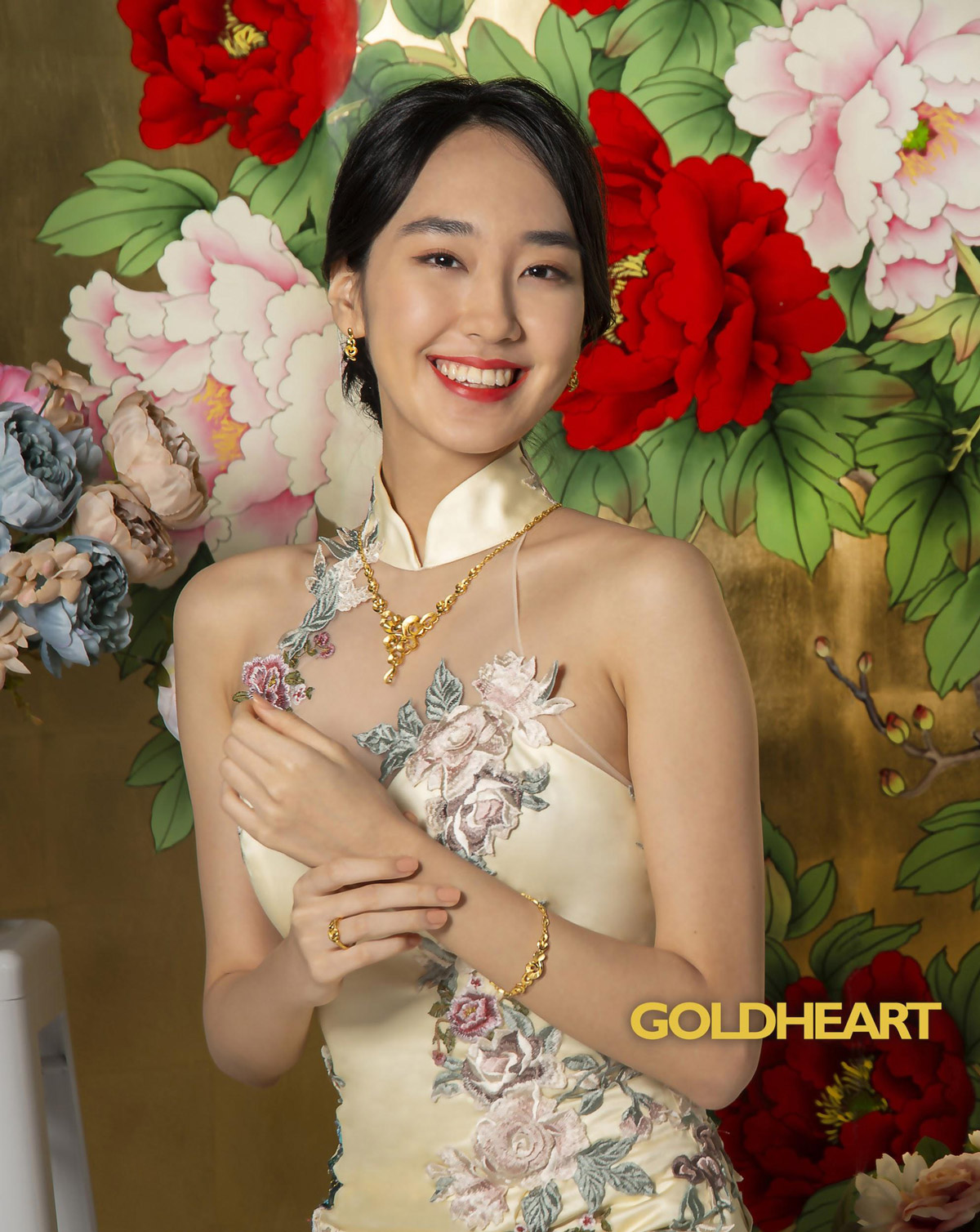 Diamond Si Dian Jin Sets: Trendy Sophistication
K-Style Sky Full of Stars Occasion Set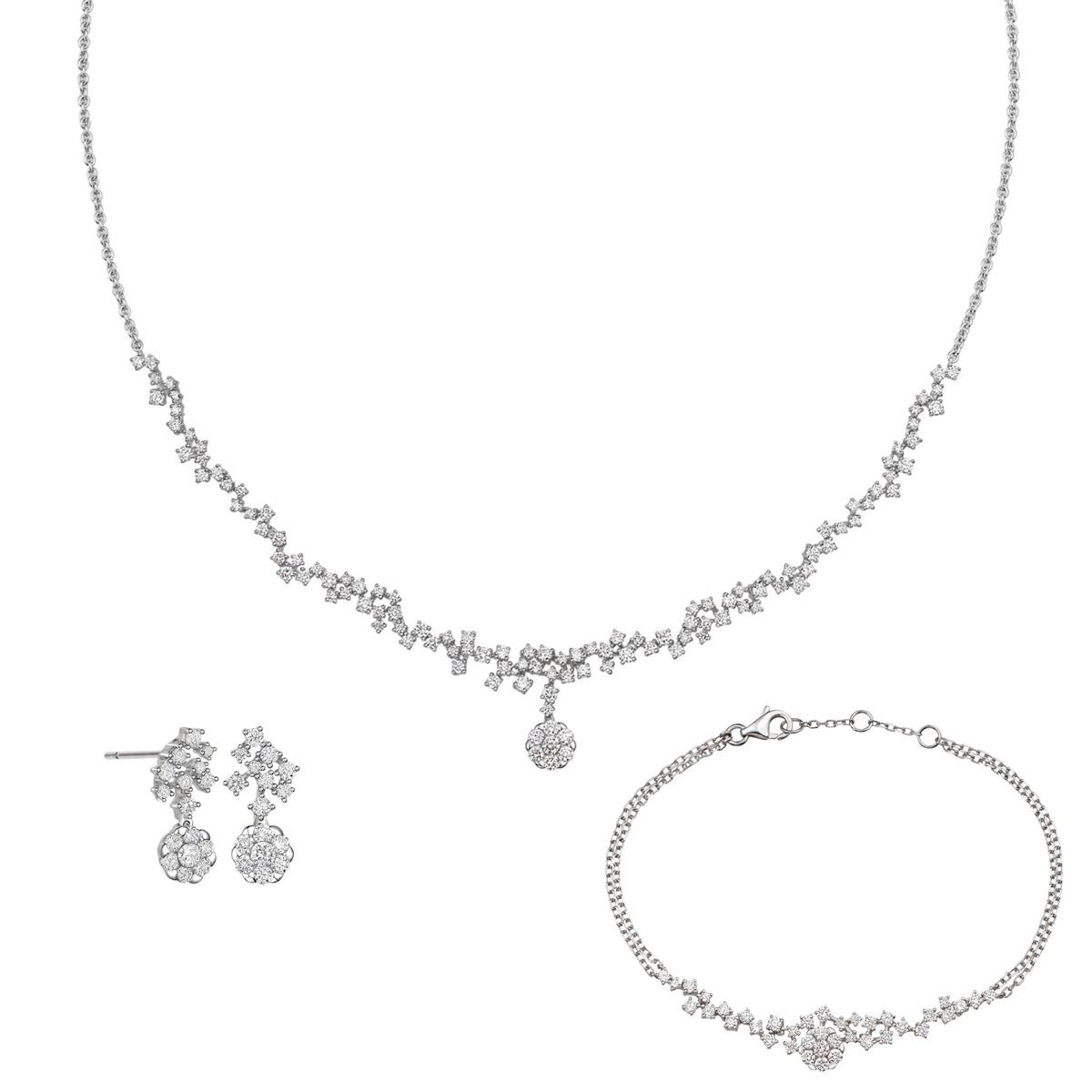 Studded with clusters of brilliant diamonds, the K-Style set is designed to illustrate the luminous night sky full of twinkling stars. To achieve the signature soft, sweet Korean bridal style, you can opt for a long veil, a long-sleeved gown, and muted pastel colours.
K-Style Enchanted Flight Occasion Set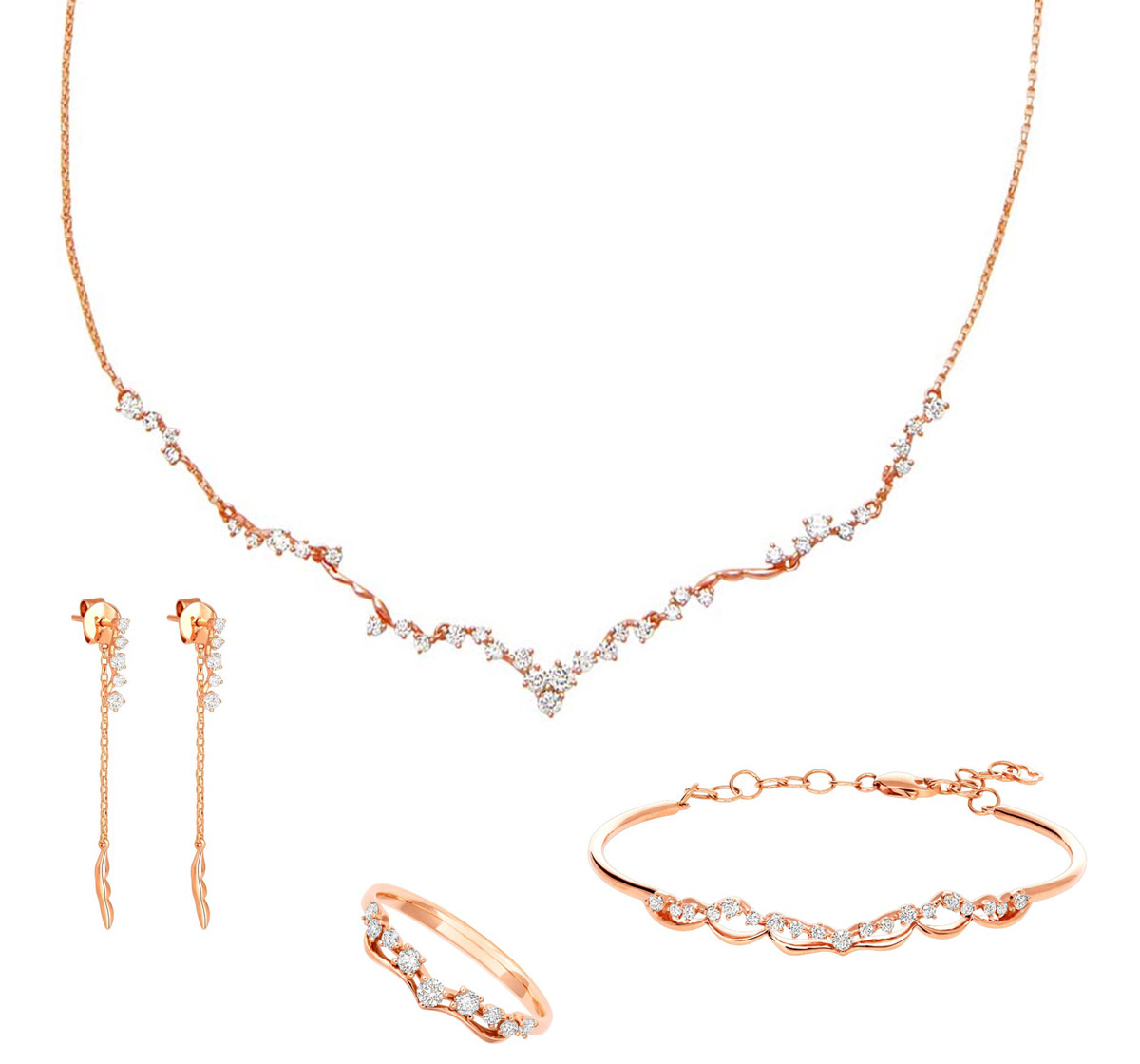 You can't deny that there's something inherently romantic about rose gold. Perhaps it is its sweet, feminine shade, but when coupled with a Goldheart-exclusive K-Style Enchanted Flight Occasion Set that boasts a clean and whimsical design, it exudes an unparalleled aura of youth, elegance, and radiance suitable for both day-to-day looks and special occasions like your wedding.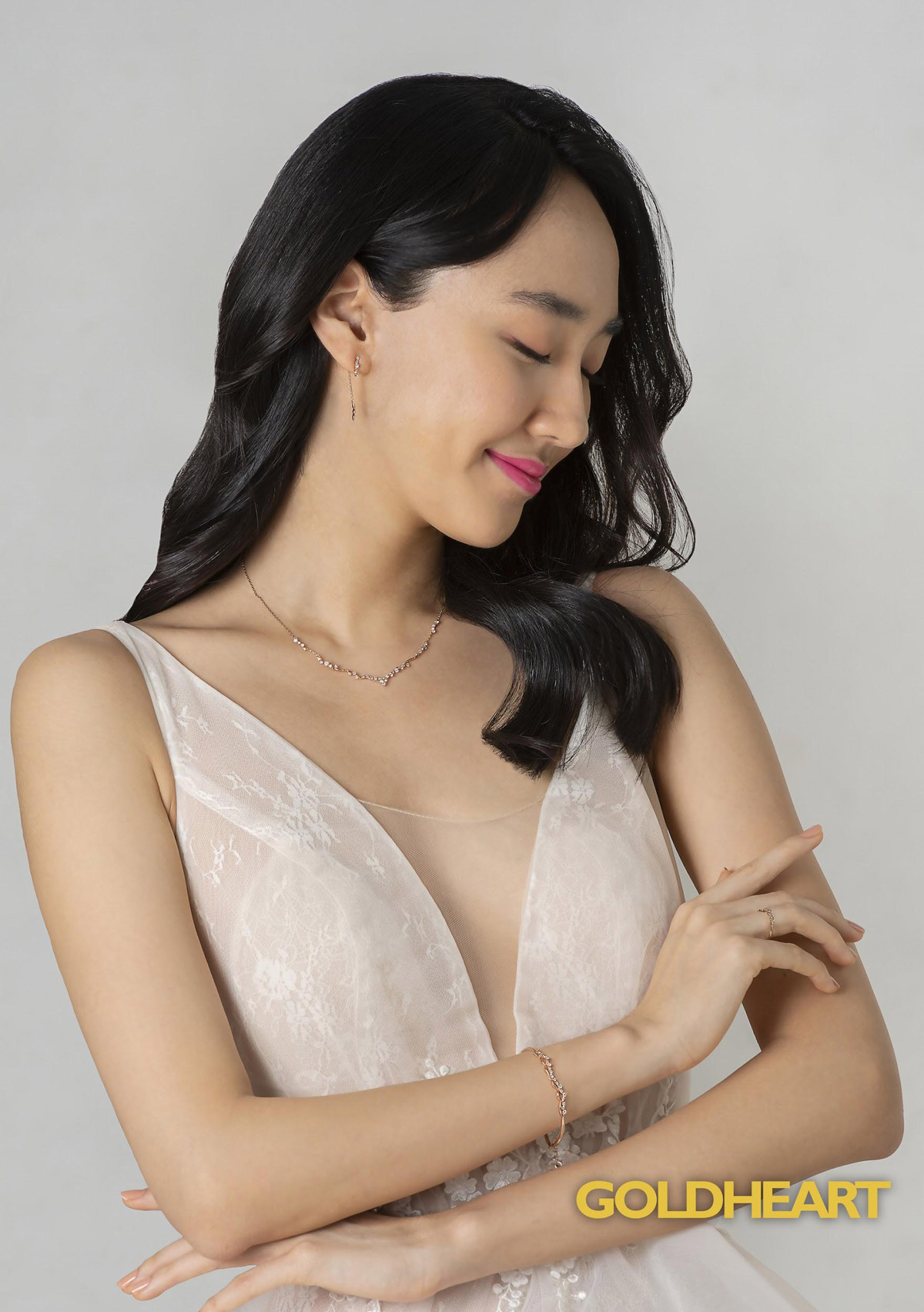 Great for brides who prefer a quiet sense of beauty, we recommend pairing this set with an off-white or nude pink gown that has delicate floral motifs. Sheer materials such as tulle or chiffon will also help to create a dreamy, ethereal look!
Goldheart: The Purveyor of Love and Romance
Since its inception, bridal jewellery has always been the pride and stronghold of Goldheart's offerings. Taking inspiration from the delicate beauty and the promise of eternal love, their expansive collection is primed for couples who love their jewellery contemporary, bold, and sophisticated, suitable for both grand occasions and daily styling.
Along with the release of their latest bridal collection, Love and Romance 2020, Goldheart is offering in-store private bridal consultations this season! Expect full privacy in an intimate setting, exclusive perks for couples, and a tailored curation of the season's bridal jewellery pieces that will suit the couple's personality and budget.
Consultation details:
● 19th September @ ION Orchard, 2 - 8pm
● 26th September @ JEM, 2 - 8pm
● 3rd October @ Bugis junction, 2 - 8pm
Couples who RSVP for a consultation will also be entitled to a one-day exclusive promotion, making your wedding experience even sweeter and enjoyable:
● $5 off Gold/Gm
● 10% off Gold workmanship
● 1-For-1 selected wedding bands
● 20% + 10% off Celestial Diamond Collection
● 15% + 10% off K-Style Collection
● 50% off Ascente Diamond Collection
● A door gift worth $150, including a Parker Pen with live engraving personalisation!
To RSVP, simply head here: http://bit.ly/GHBridalConsultations
Goldheart Jewelry
Customer Service Hotline: 1800 380 2800
Website: www.shop.goldheart.com
| | | |
| --- | --- | --- |
| BOUTiQUES | ADDRESS | TEL |
| AMK HUB | 53 Ang Mo Kio Ave 3 #01-03 AMK Hub S(569933) | 6752 0329 |
| BEDOK MALL | 311 New Upper Changi Road #01-32/33 Bedok Mall S(467360) | 6844 9261 |
| BUGIS JUNCTION | 200 Victoria Street #01-23 Parco Bugis Junction S(188021) | 6339 2236 |
| CAUSEWAY POINT | 1 Woodlands Square #01-07/08 Causeway Point S(738099) | 6894 1471 |
| COMPASS ONE | 1 Seng Kang Square, #01-43 Compass One S(545078) | 6385 7835 |
| GREAT WORLD CITY | 1 Kim Seng Promenade #01-55/56 Great World City S(237994) | 6734 2768 |
| ION ORCHARD | 2 Orchard Turn ION Orchard #B2-65 S(238801) | 6509 8832 |
| JEM | 50 Jurong Gateway Road #01-23 JEM S(608549) | 6694 0045 |
| JURONG POINT | 1 Jurong West Central 2 #01-26H Jurong Point Shopping Centre S(648886) | 6792 2051 |
| LOT 1 SHOPPERS' MALL | 21 Choa Chu Kang Ave 4, #01-18 Lot 1 Shoppers' mall S(689812) | 6765 1728 |
| NEX | 23 Serangoon Central #01-38 NEX S(556083) | 6634 4018 |
| NOVENA SQUARE | 238 Thomson Road , #01-25 Novena Square S(307683) | 6356 4135 |
| PLAZA SINGAPURA | 68 Orchard Road #01-30 Plaza Singapura S(238839) | 6884 9498 |
| TAMPINES MALL | 4 Tampines Central 5 #01-23/24 Tampines Mall S(529510) | 6260 3574 |
| VIVOCITY | 1 HarbourFront Walk #01-79 VivoCity S(098585) | 6376 9962 |
| WATERWAY POINT | 83 Punggol Central #01-06 Waterway Point S(828761) | 6385 9190 |
________________________________________
This article was written for Goldheart Jewelry.
All images were provided by Goldheart Jewelry.
Goldheart Jewelry
Rating:

Address:

55 Ubi Ave 3, Aspial One Lvl 4, Singapore 408864

Phone:

6281 4218

Fax:

6841 1589