The Gentlemen's Bling Guide: Bespoke Engagement Rings to Accentuate Your Partner's Personality
2019-09-24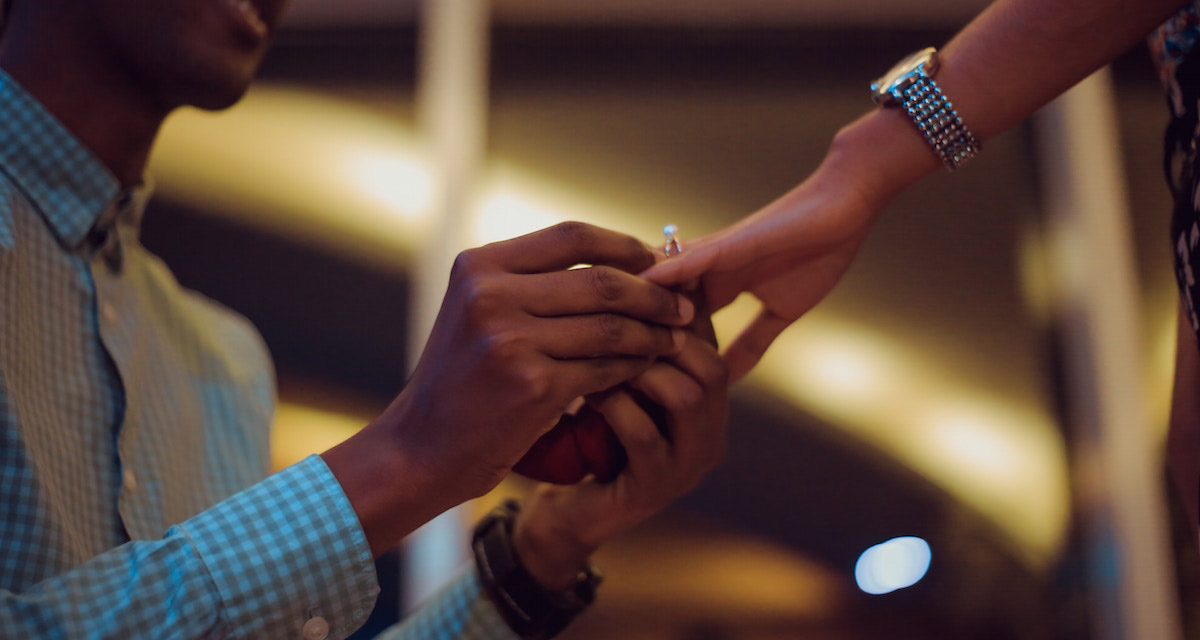 One-of-a-kind gemstones for a one-in-a-million lover
Behind every engagement ring is a love story, and since every story is unique, so should the ring one proposes with. But if you're clueless about what kind of ring to get for The Proposal, fret not as Les Precieux has got your back. With 1-to-1 private consultations and a myriad of unique gemstones at hand, this bespoke jeweller will help you in your quest to create the perfect engagement ring that will definitely impress your fiancé-to-be.
Precious Gemstones
1. Sapphires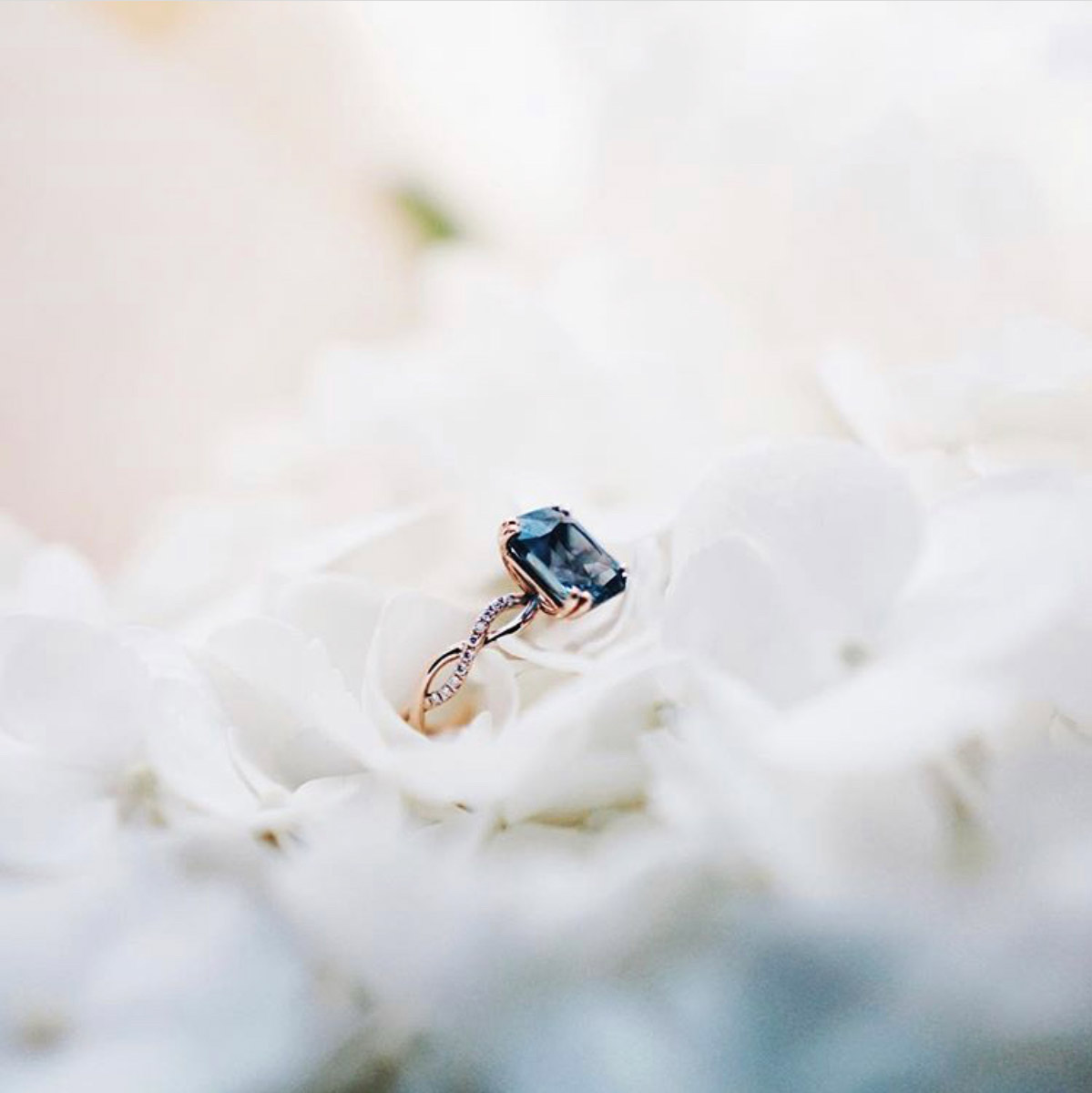 Source: @alfianazman
If the colour blue holds significant memories for you and your partner – whether it was your first date by the beach or an unforgettable picnic under a blue sky – this brilliant blue Sapphire gemstone will make an elegant and meaningful ring.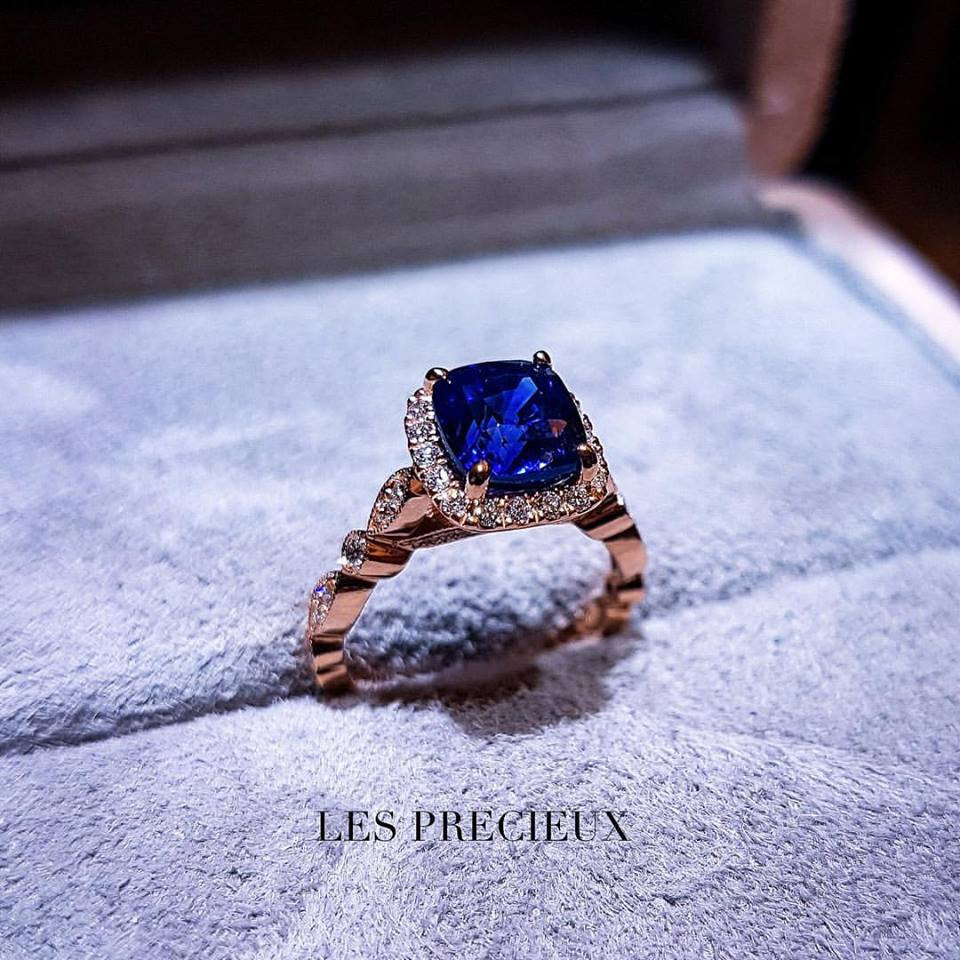 A regal-looking 2.03 carats royal blue cushion sapphire, set in 18k rose gold leaves with bezel and diamonds
Source: Les Precieux
The royal blue sapphire ring has also been a popular choice as it was also Princess Diana's – and now Kate Middleton's – engagement ring!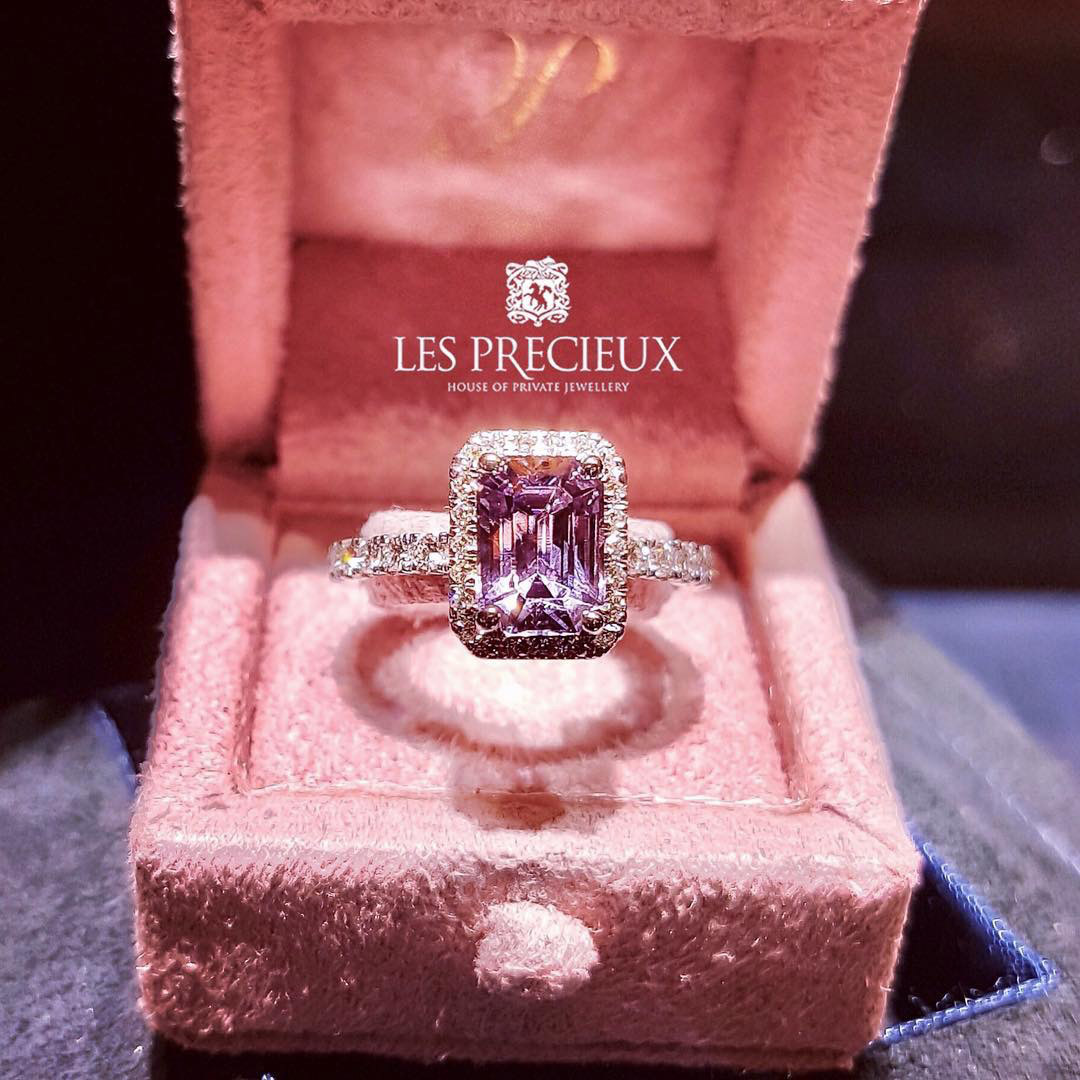 Source: Les Precieux
Besides the royal blue Sapphire, Les Precieux also has a gorgeous Lavender Light Purple Sapphire for the girlier sweethearts!
2. Padparadschas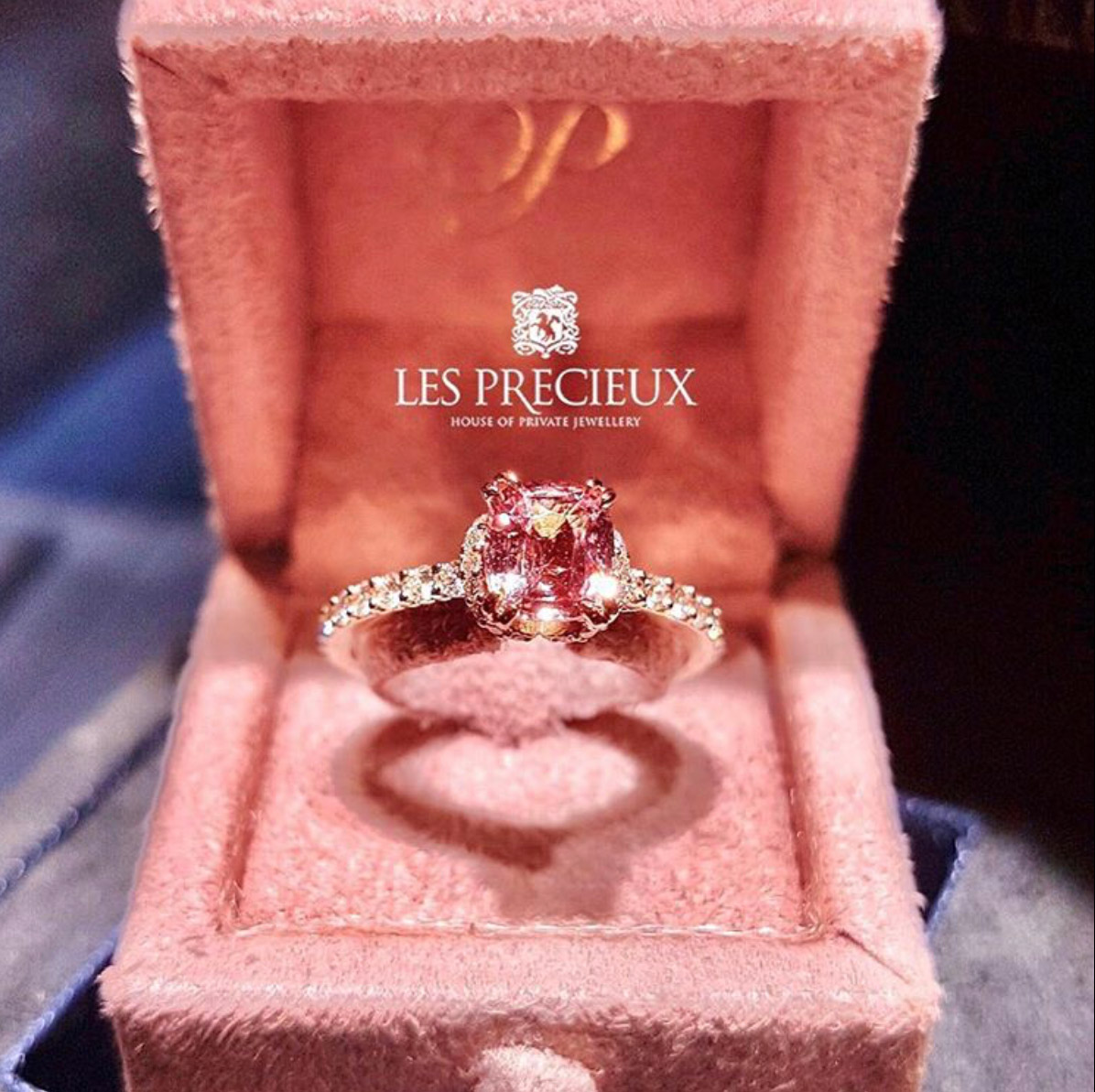 Source: @lesprecieux
Hailing from Sri Lanka is one of the world's rarest sapphires: the Padparadscha sapphire. These precious gemstones come in a gorgeous spectrum of pink salmon to orange hues, making them perfect for a girl who loves sunrises or sunsets!
Here's a pro-tip: A proposal with this rosy sapphire against a red and orange sunset sky will really take the cake. What's more, every time she looks at her finger, she'll see one of the world's rarest gems and be reminded that that's how you feel about her too.
3. Rubies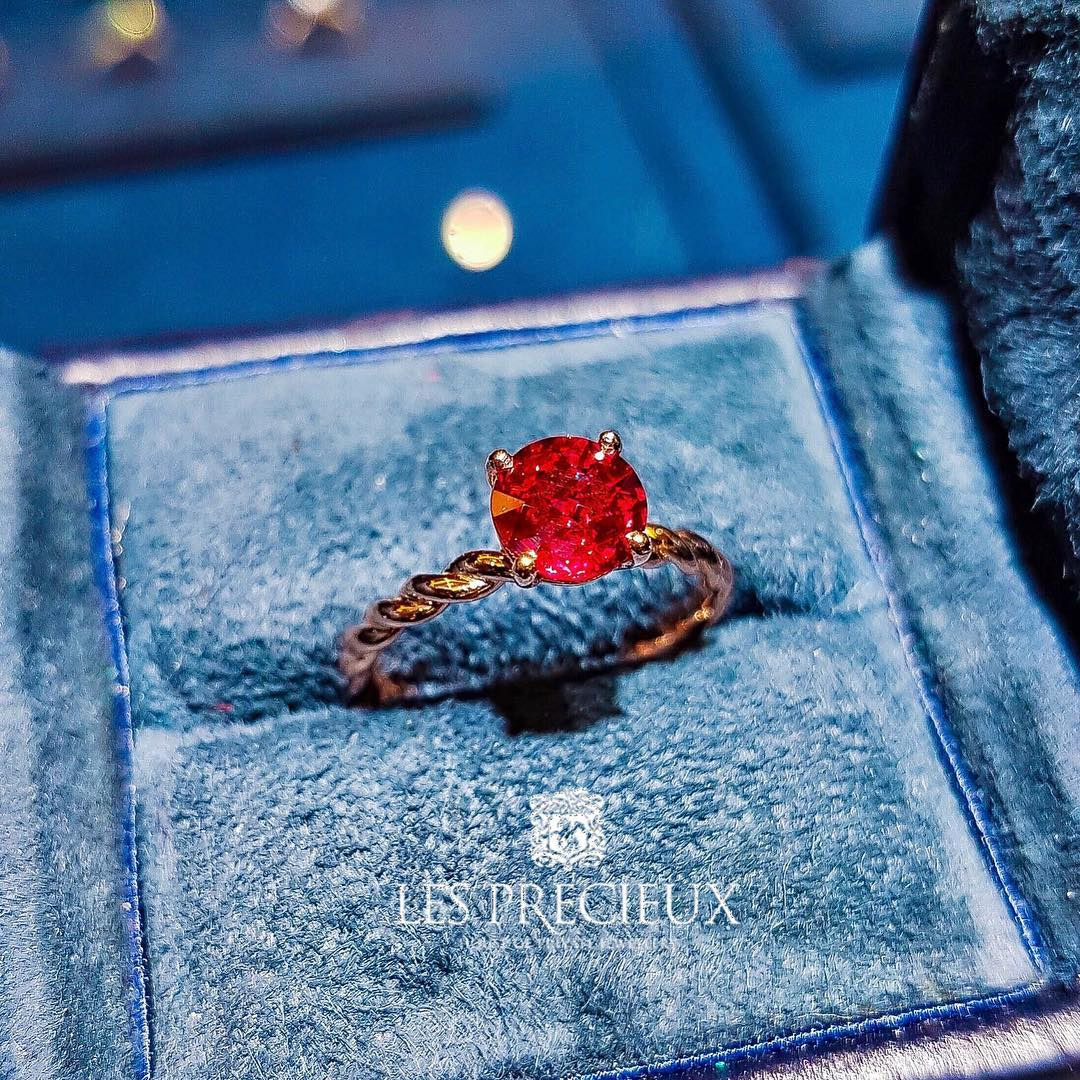 Source: @lesprecieux
For the girl who appreciates her feminine side and embraces a fiery passion for life, this bold Ruby gemstone perfectly encapsulates that larger-than-life personality. A simple twisted rose-gold band like this gives this ring its minimalist elegance, making it a versatile statement piece that will go with any outfit.
4. Emeralds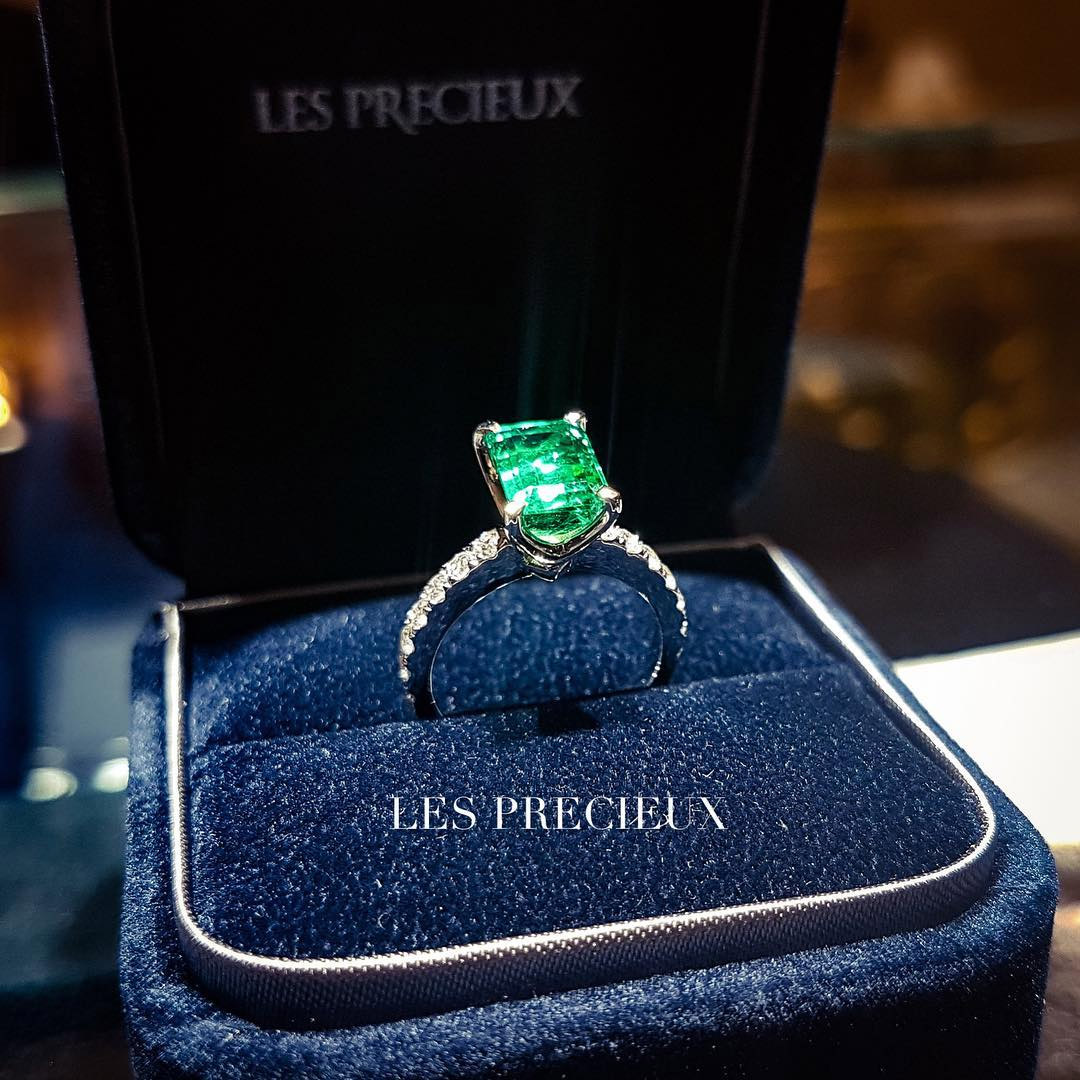 Source: @lesprecieux
Also known as Queen Cleopatra's favourite gemstone, the stunning Emerald has proven to be a timeless precious gem since the times of Ancient Egypt. If your partner likes something a bit more over-the-top, a vivid green Emerald engagement ring on her finger will definitely be a head-turner.
5. Diamonds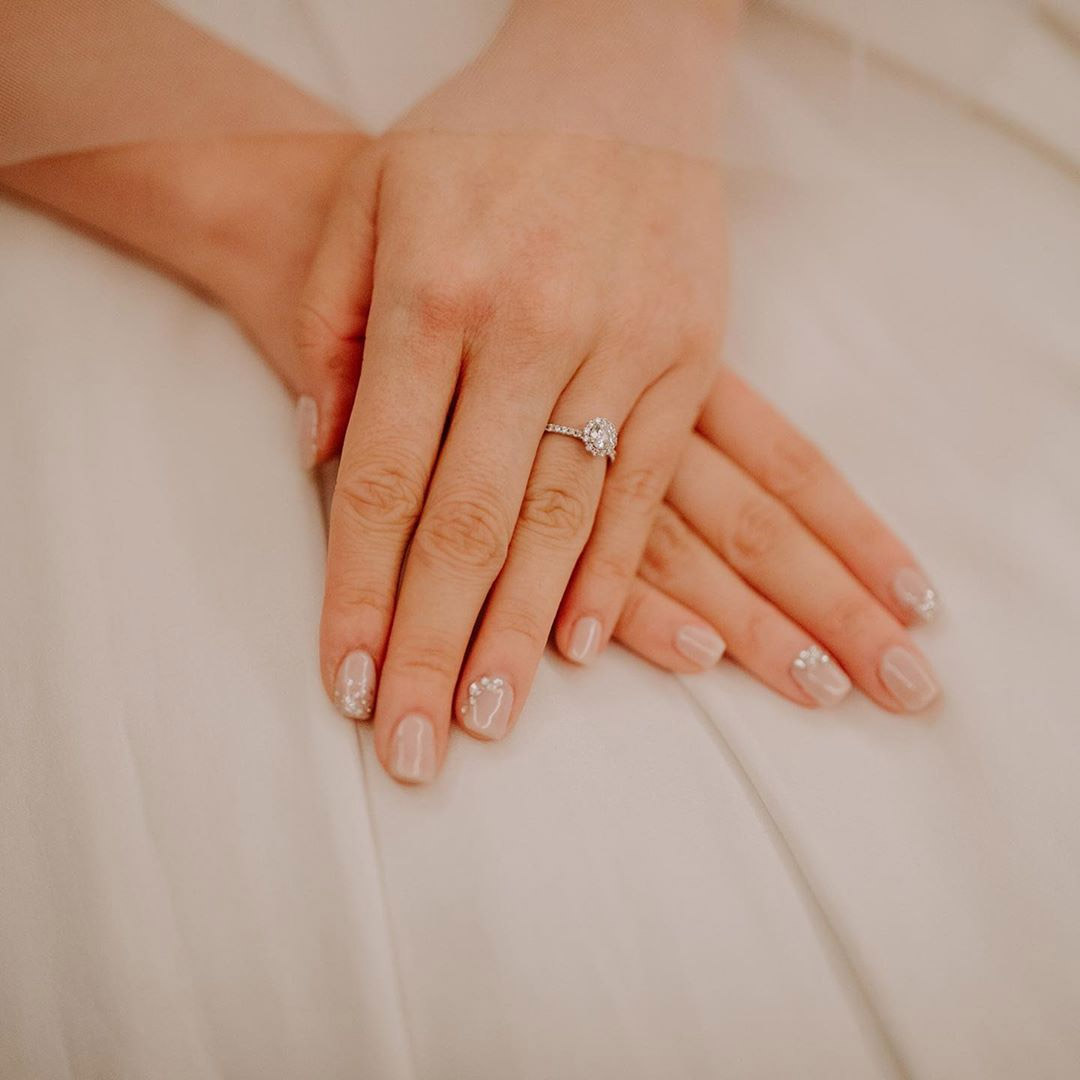 Source: @lisa_emmjay
As the saying goes, "diamonds are a girl's best friend", so it will serve her man well to bestow upon her a unique diamond that she will have on her finger for the rest of her life.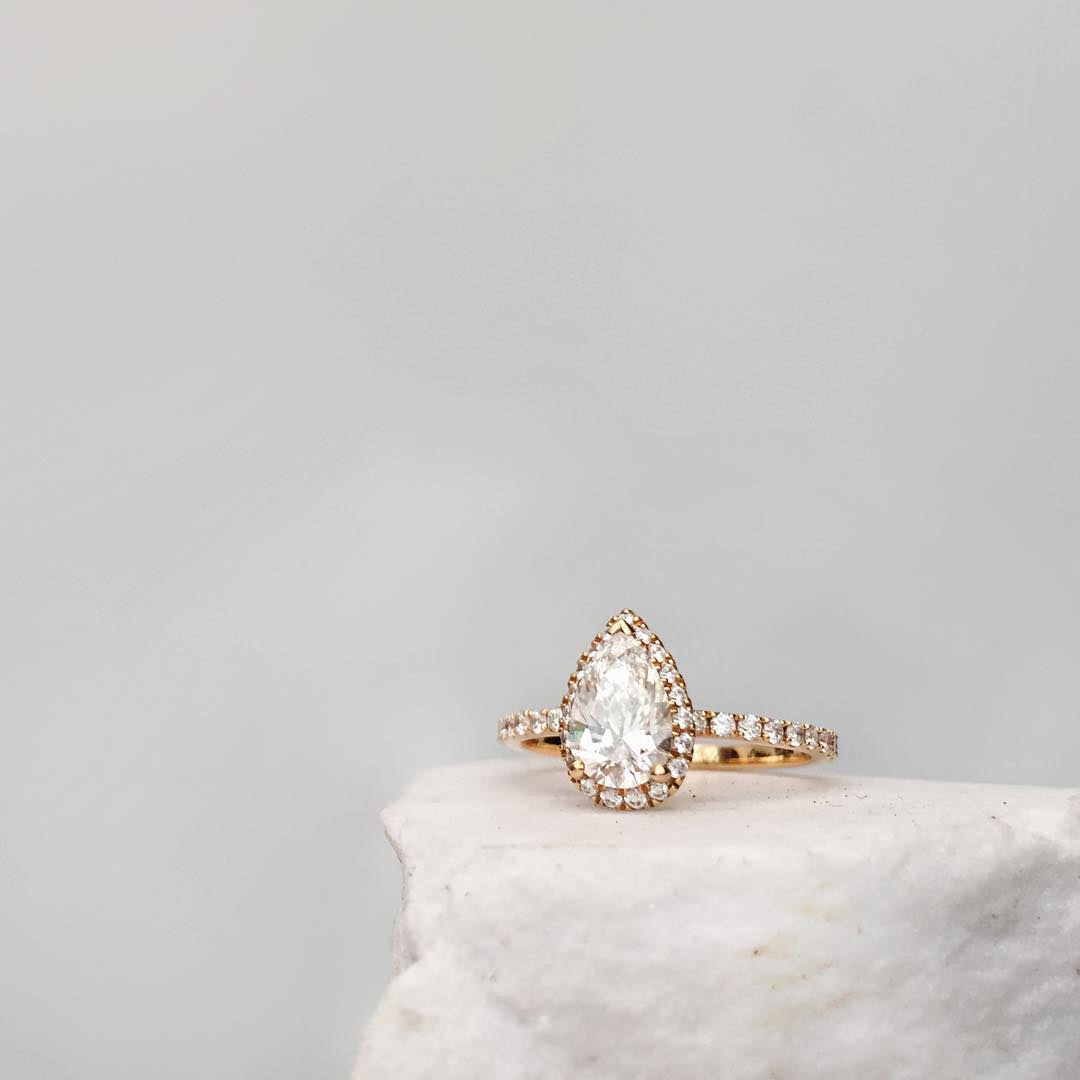 Source: @elvinafarkas
Besides the classic round diamond, Les Precieux also carries fancy-shaped ones such as the Oval, Marquise, Pear, Cushion and Asscher cuts, as well as some of the rarest natural-coloured diamonds that come in hues of pink, blue, green, and more.
However you choose to customise your ring, Les Precieux's Signature Diamonds are top-of-the-range and among the best 1% of diamonds in the market in terms of the 4C's, brilliance, and fire, and scintillation.
Semi-precious gemstones
For those who are searching for an unusual engagement ring, Les Precieux also carries a range of semi-precious gemstones that will help you craft a unique yet affordable ring for your other half.
6. Morganite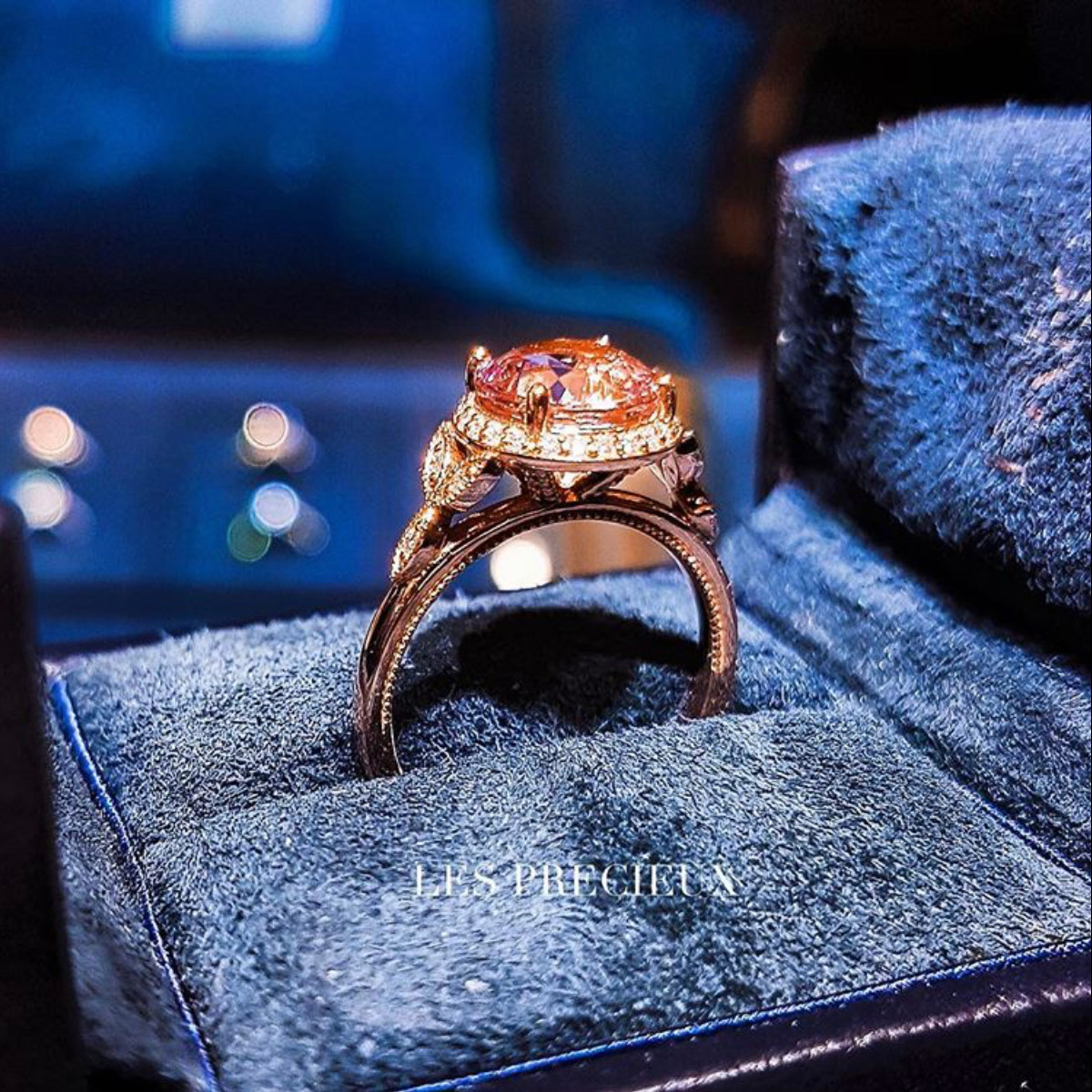 Source: @lesprecieux
This peach pink Morganite gemstone set atop a vintage rose gold ring is a dream piece for the free-spirited girl who loves everything rustic and charming. Known for being the gemstone of "Divine Love", a Morganite makes an unconventional yet extremely apt gemstone for an engagement ring.
7. Aquamarine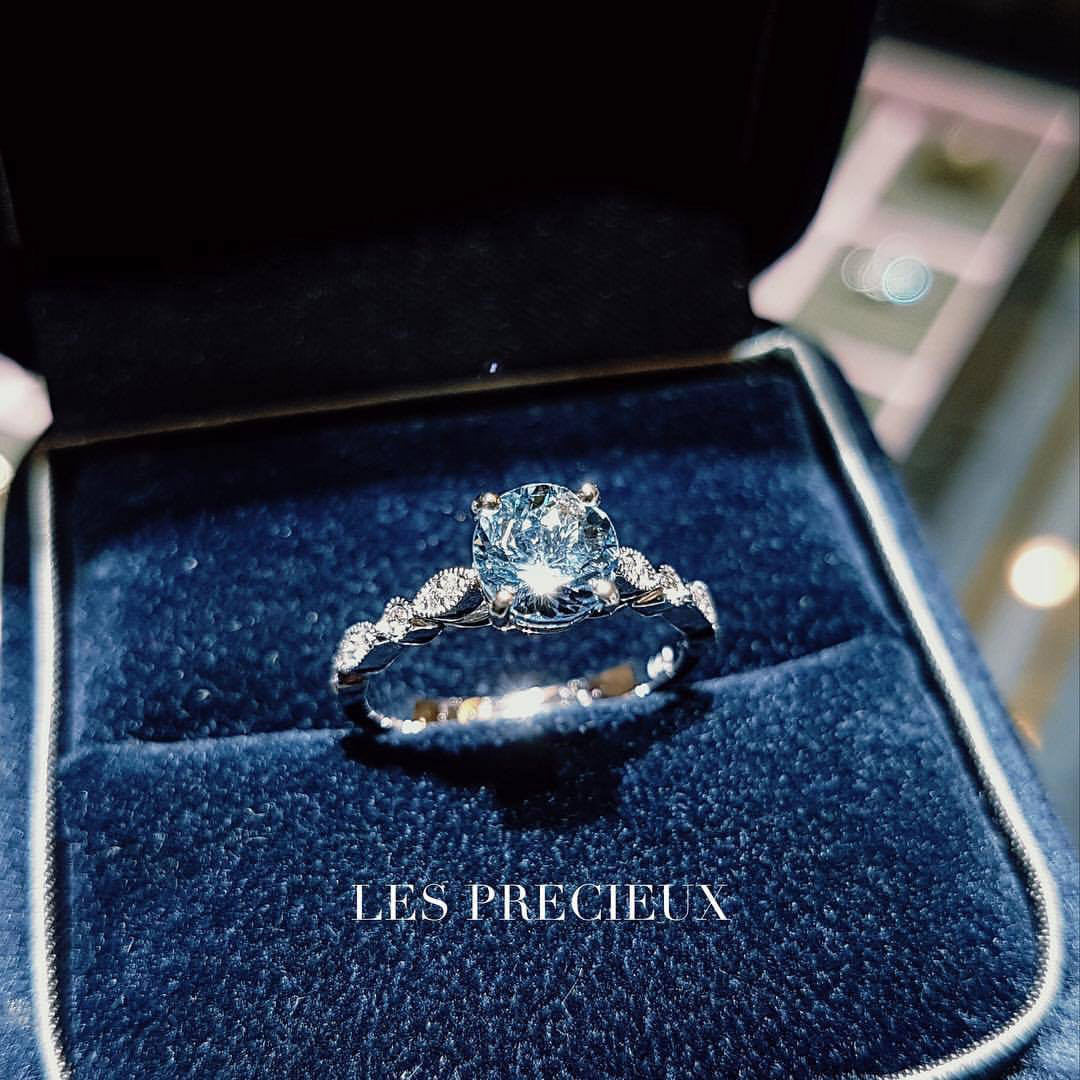 Source: Les Precieux
Believed to be the "treasure of mermaids", the alluring Aquamarine gemstone evokes calmness and is said to be the stone of eternal youth and happiness. This will make a particularly meaningful engagement ring if you and your partner have known each other since your school days. Otherwise, you can also follow in the footsteps of Prince Harry and gift her a ring fit for a princess!
8. Spinels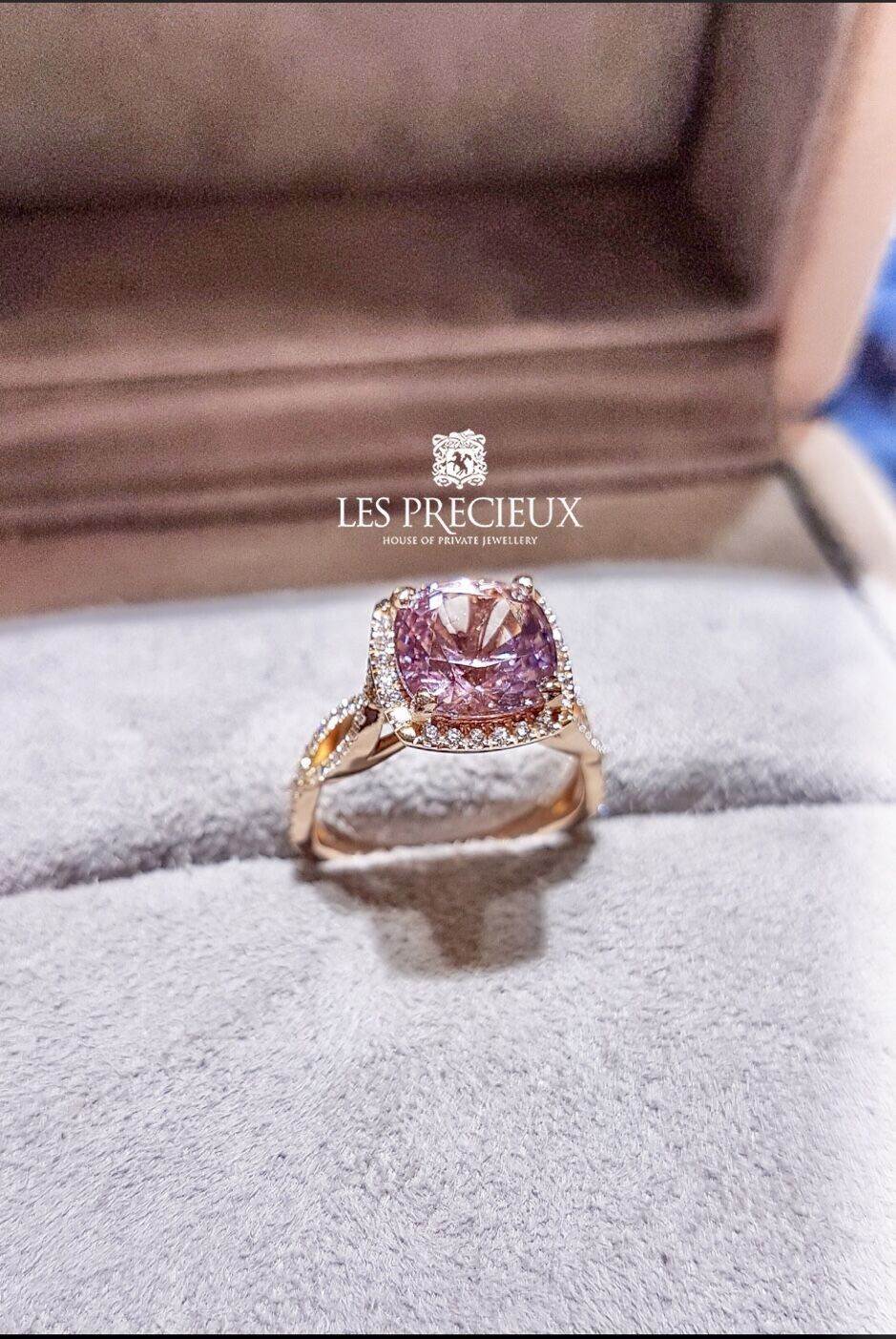 Often mistaken for rubies by kings and emperors in the past, this alluring gemstone comes in a myriad of shades – from intense red to delicate pink – depending on the level of chromium content in each stone. Ladies who prefer a pretty pink stone like this will love a super sparkling cushion or oval-cut Spinel. Otherwise, spinels also come in other brilliantly fluorescent colours such as orange, blue, and green!
9. Alexandrite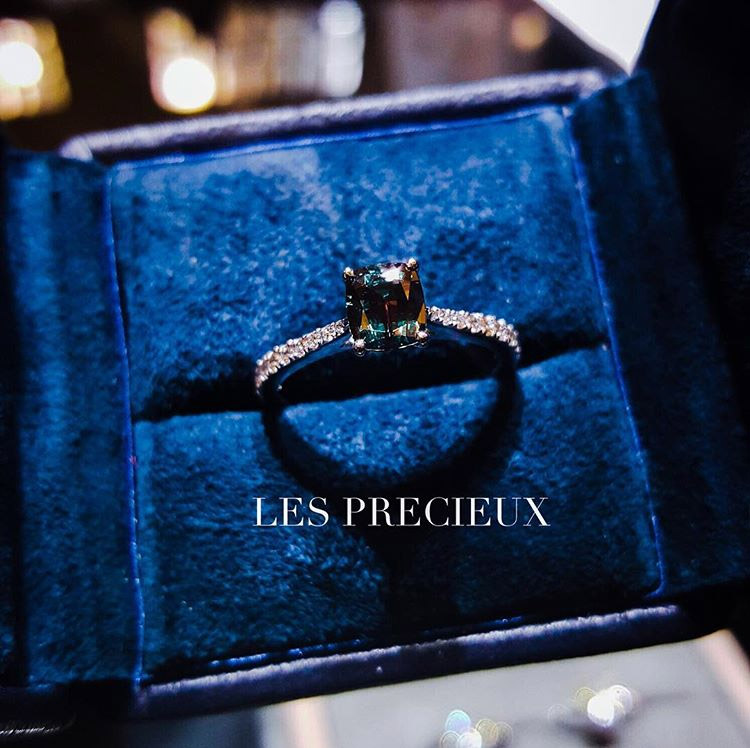 The exquisite Brazilian 0.82-carat Alexandrite is to die for; not only does it come in shades of intense bluish green, it even exhibits rare colour-changing properties throughout the day to become an enchanting reddish purple. This cushion-cut Alexandrite gemstone set atop a classy diamond-encrusted band is the epitome of versatile elegance.
10. Tourmalines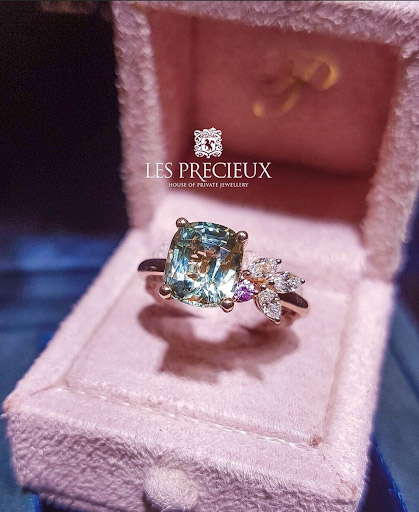 Tourmalines are known for its astounding variety of hues – from hot pinks to purplish reds, and dark violetish blue to bright yellows. These colourful gemstones are known to inspire creativity, which makes it the perfect stone if your other half is a creative spirit! Opt for a striking bluish-green gemstone fashioned with unique tourmaline-set petals for a touch of exquisiteness.
11. Tanzanites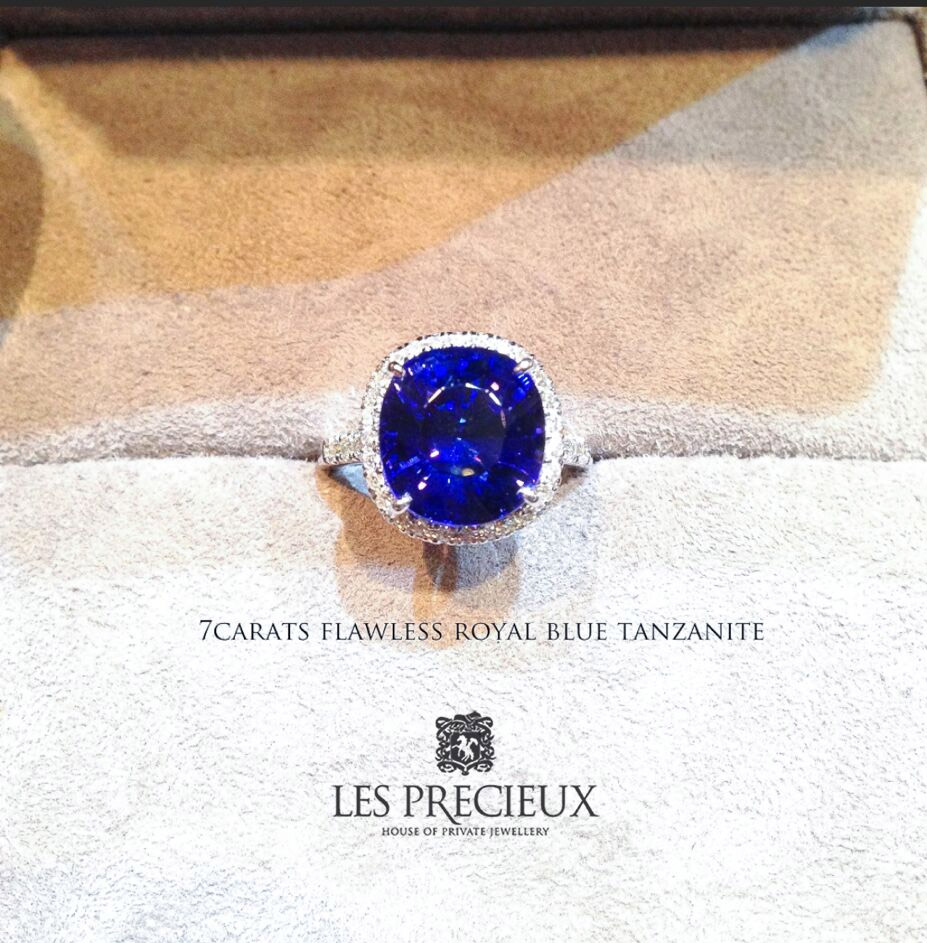 These striking royal blue gemstones can only be found in one place on earth: the Merelani hills of Tanzania. It's no wonder these semi precious stones are said to be rarer than diamonds! Besides its rich blue hues, Tanzanites are also pleochroic – they reflect different colours when viewed in different directions. An engagement ring like this will be a daily reminder of just how special and beautiful your other half is to you from any angle.
About Les Precieux, Singapore's leading private bespoke jeweller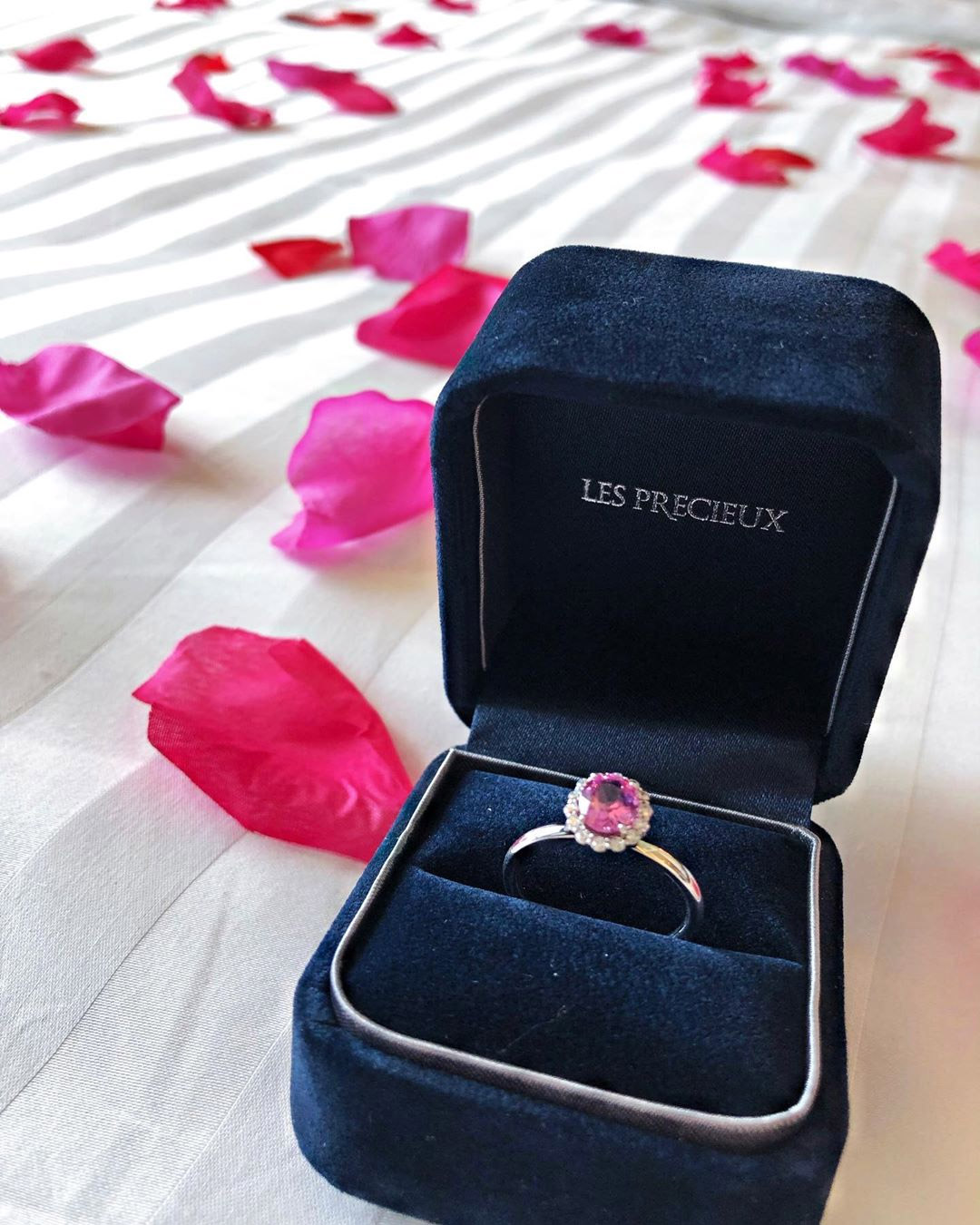 Source: @siminx_
Specialising in exceptional sapphire, gemstone, and diamond engagement rings, Les Precieux is the leading private bespoke jeweller in Singapore and has been featured frequently on various bridal and luxury publications such as Singapore Tatler, L'Officiel Singapore, Prestige Singapore, and more.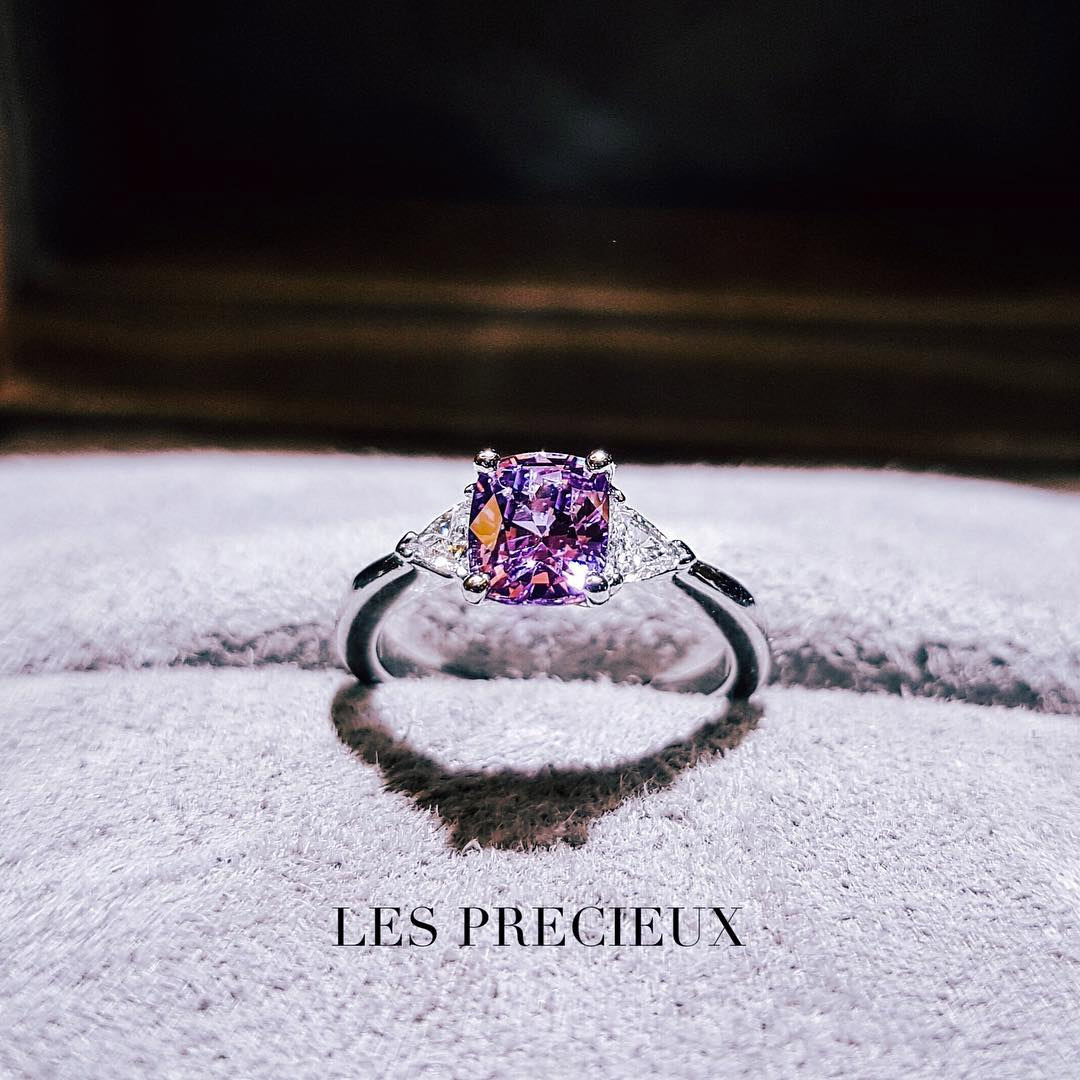 A natural unheated purplish-pink cushion sapphire flanked with a pair of lovely trillion cut diamonds in 18k white gold
Source: @lesprecieux

This is because instead of simply providing dazzling, breathtaking rings, Les Precieux's sapphires and gemstones are a cut higher than the rest – most of them are unheated and completely treatment-free. On the other hand, about 99% of these sapphires and gemstones in the market have undergone heated treatment to improve their appearances.
Handpicked by gemological experts and crafted by master cutters to maximise their colour, clarity, and brilliance, Les Precieux's naturally-gorgeous stones are 100% eye clean and set in their signature old-meets-new modern vintage designs.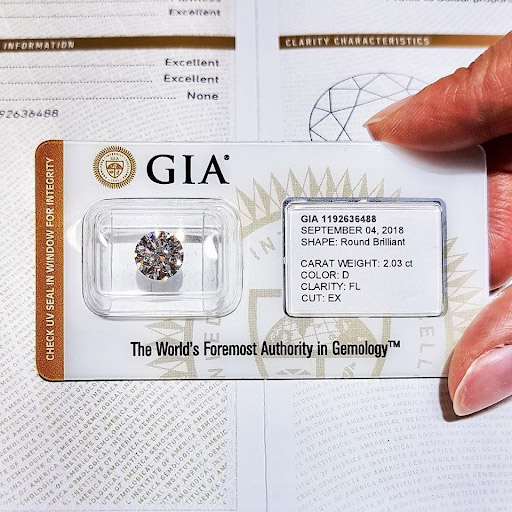 All their sapphires, gemstones, and diamonds belong exclusively to their inventory and are always accompanied by a third-party gemological certification from a reputable local or international gemological laboratory!
Source: Les Precieux

Crafted to be a timeless classic that can be passed down from generations to generations, every Les Precieux ring is one-of-a-kind with personalisation and customisation consultations available too, so book an appointment to craft a ring worthy of your irreplaceable partner now!
Note: You can drop them a text on WhatsApp to discuss your upcoming projects.
This article was sponsored by Les Precieux.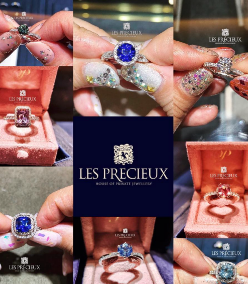 Les Precieux
Rating:

Address:

360 Orchard Road International Building #11-04 S238869

Phone:

96472673