Top 5 Most Popular Wedding Rings from Love & Co. that You Might Love
2020-09-09


More than just a piece of jewellery, wedding bands are a symbolic token of the union and promises between two lovers. A keepsake that is to be kept dearly for the rest of your life, it is important to search for the right pair that embodies your love story.
Specialising in wedding bands, engagement rings as well as other forms of jewellery, Love & Co. is one of the leading jewellery companies in Singapore with designs that are well-loved by many. If you're still on the hunt for the perfect design that suits both your aesthetic style and practical needs, read on for the 5 most popular wedding bands at Love & Co.!
From contemporary designs to elegant classics, one of these designs might just be able to accurately capture the essence of your love and commitment for each other.
1. LVC Promise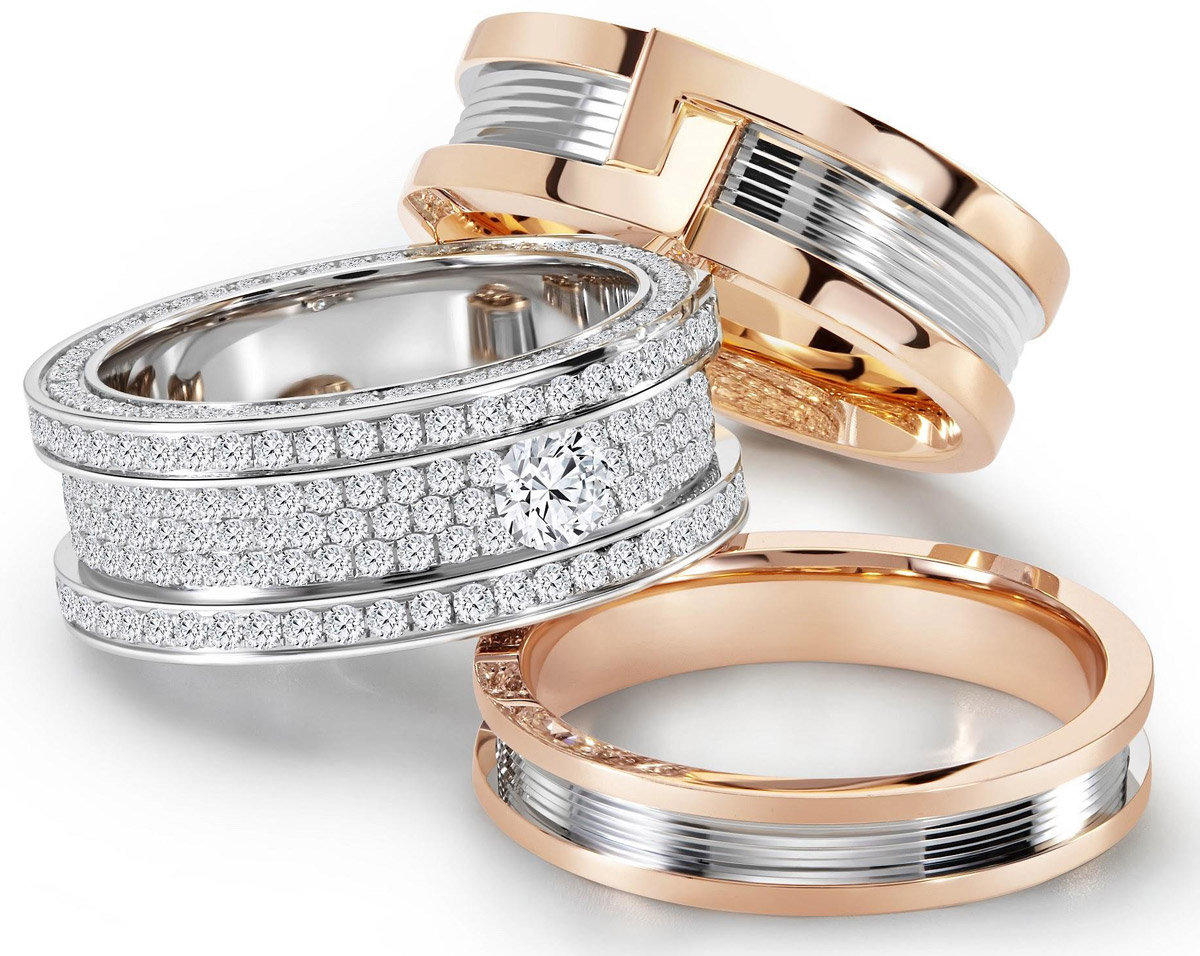 The LVC Promise collection cleverly reveals significant traits of a marriage between two lovebirds. Inspired by the strength and unity of a bolt and nut when joined together, these designs reflect the complementary nature of the bride and groom and represent the formation of a solid foundation which is marriage.
The 5 grooves on the band signify the core elements supporting an everlasting relationship — Love, Devotion, Commitment, Bond, and Happiness. There are also a few designs to choose from, which includes:
Interlocking Promise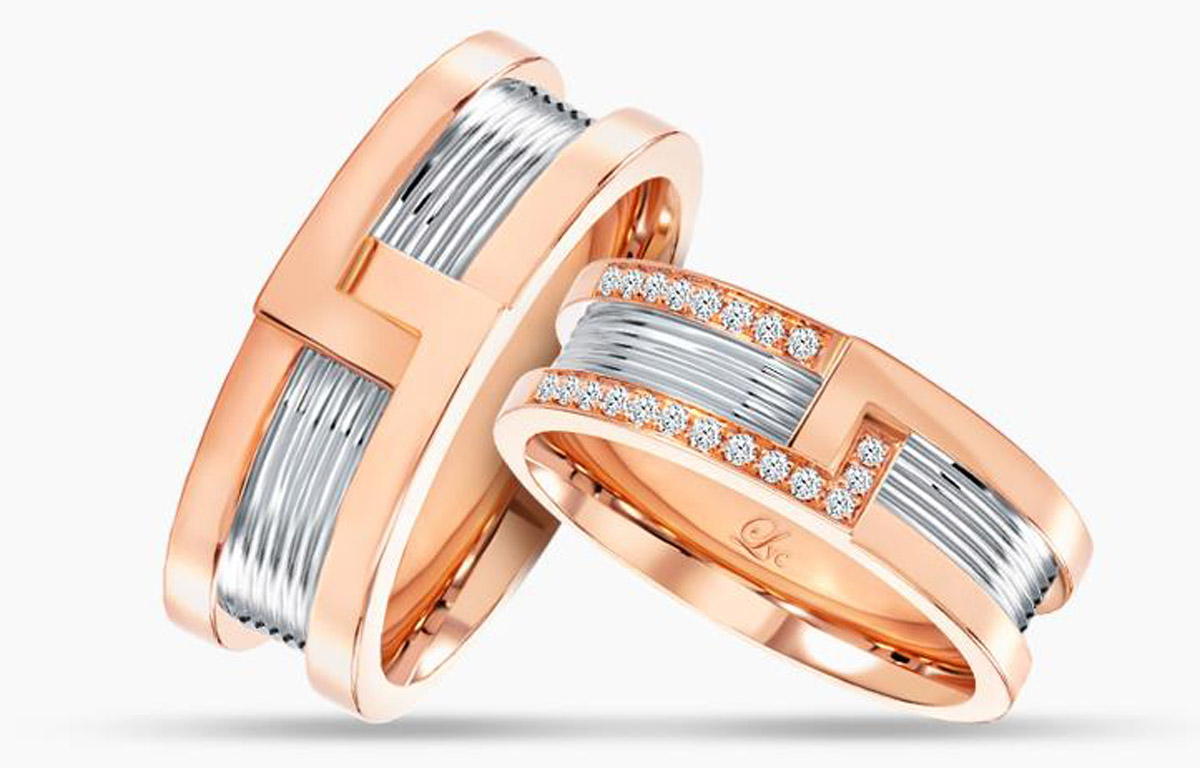 One of the popular designs in the LVC Promise collection is the Interlocking Promise rings, which exude contemporary elegance with the luxurious pairing of rose gold and white gold. For the ladies, the ring is channel-set with glittering diamonds to add a bit of sparkle, and for the men, the interlocking polished 'L's is likened to a lover's embrace, representing the eternal love between the bride and groom.
Baby Promise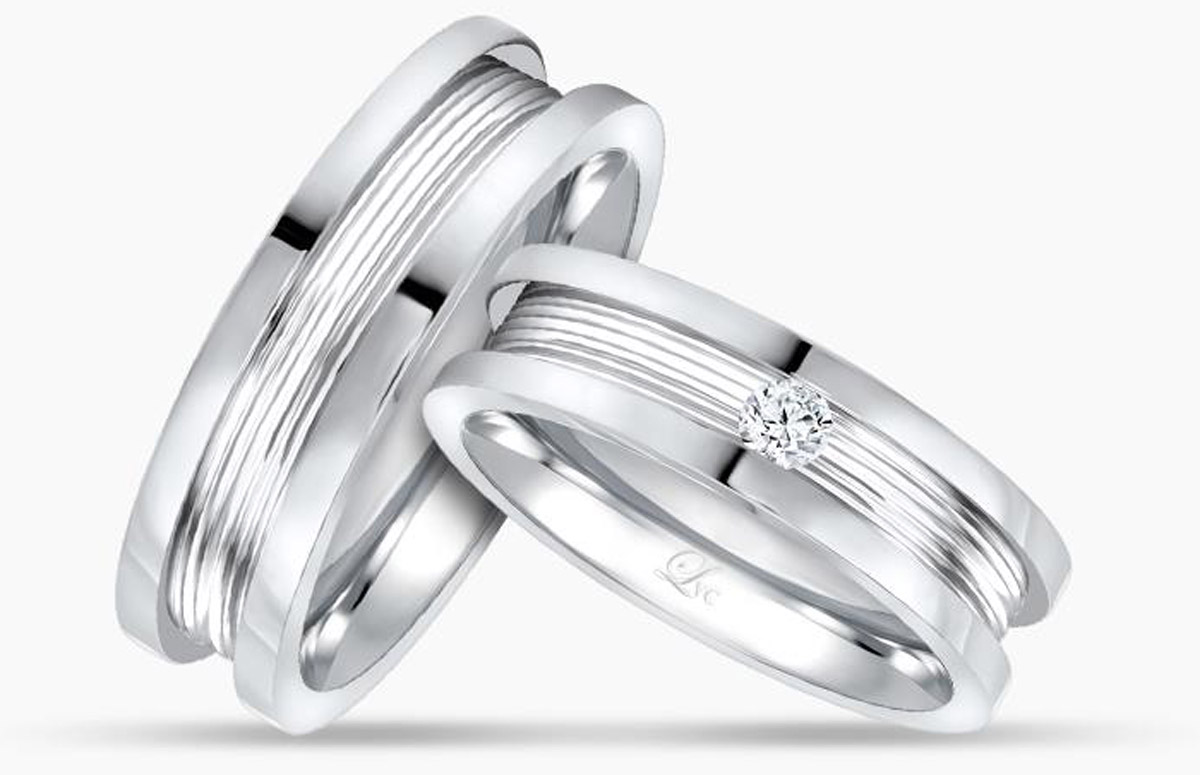 For those who prefer a slimmer ring and less eye-catching design, the Baby Promise wedding bands are modern and sleek and come in different 18K gold colours. For the brides, the ring is topped with a perfectly cut diamond that boasts 8 hearts and arrows, and will definitely flatter all skin tones.
2. LVC Noeud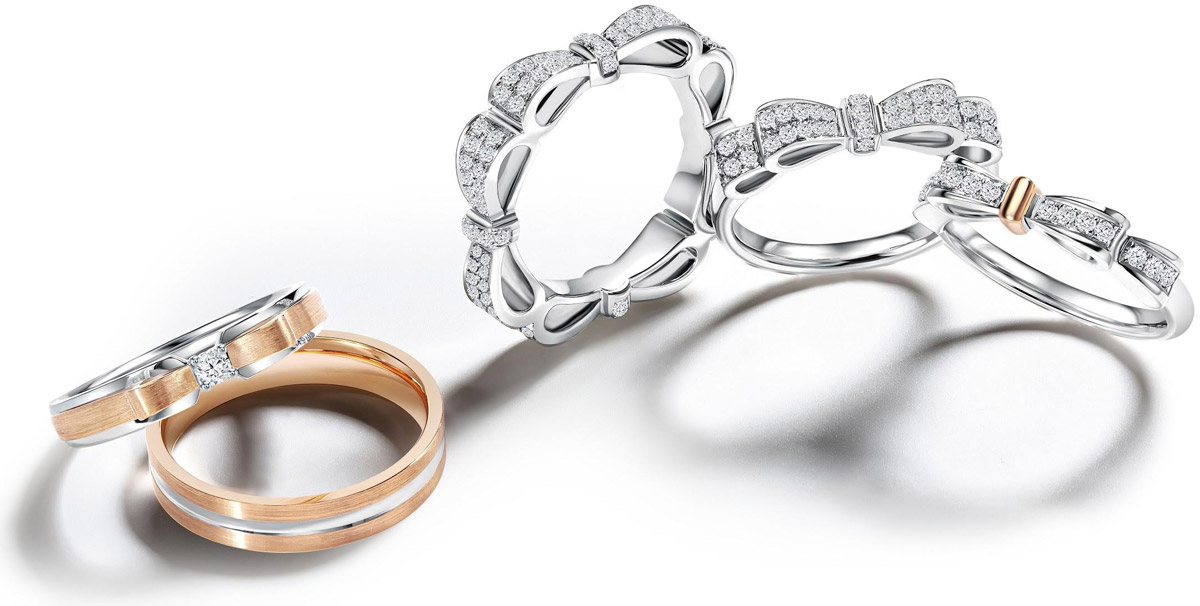 Inspired by the ancient symbolism of "tying the knot", where the newlyweds' hands were literally tied together using ribbons or strips of cloth at their wedding, the LVC Noeud Collection features a modern and luxurious take on this unique expression of marriage. Couples can look forward to choosing from elegant designs in rose gold or white gold, or a combination of both.
3. LVC Eterno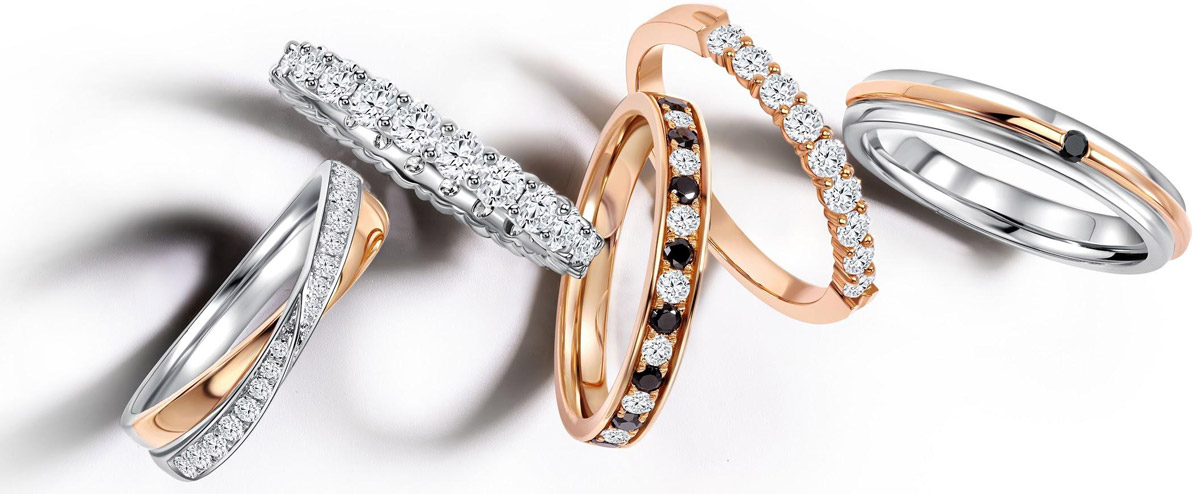 A timeless classic that remains a popular choice among many, the LVC Eterno collection features diamond-studded rings which are set in a row, symbolising eternity and everlasting love. This collection has many options for brides-to-be to choose from, with options of half or full eternity bands in pave, claw, or channel settings, bands that are rose gold, gold, or silver in colour, and a myriad of coloured gems that can be added to the ring to add a pop of colour.
4. LVC Perfection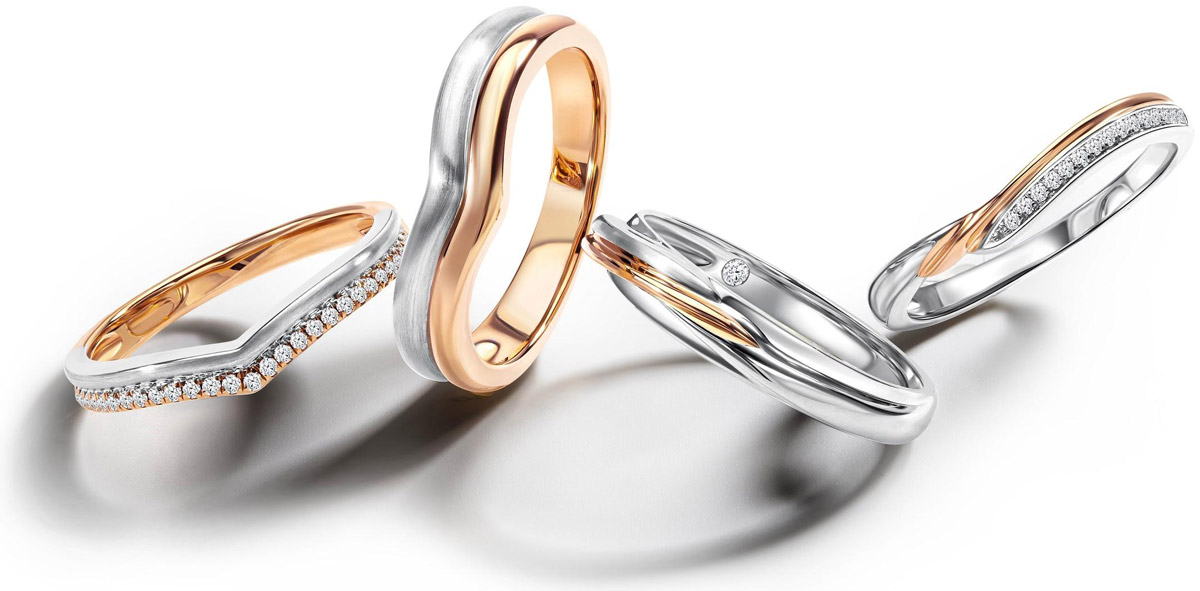 The LVC Perfection collection features a unique curve design that allows your engagement ring to sit nicely in the middle of your wedding band, as long as its prongs are set in the compass direction. This clever yet chic design makes it a great complement to your engagement ring, representing everlasting love and a sacred promise altogether.
5. LVC Purete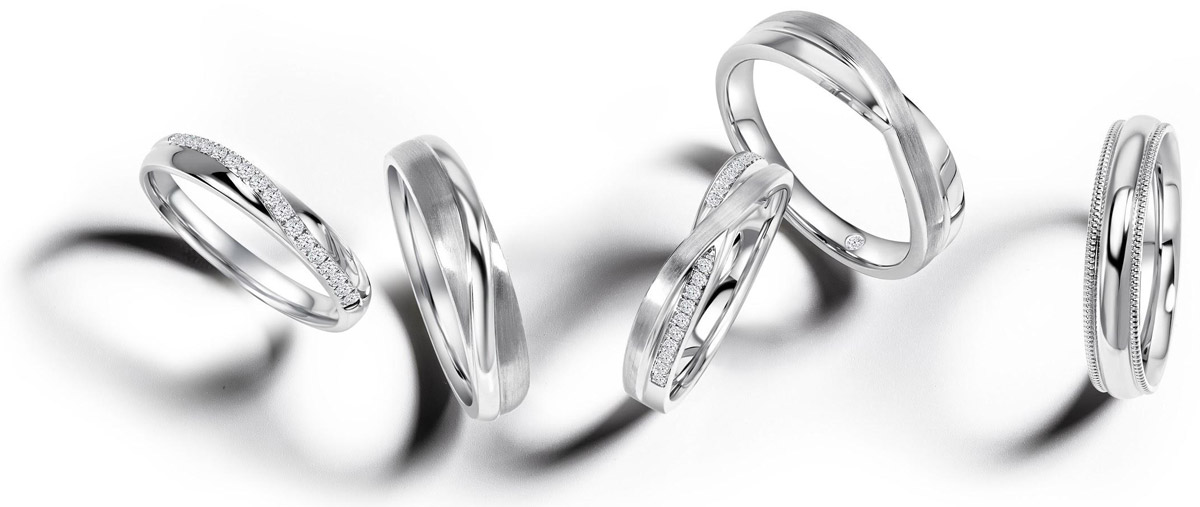 The LVC Purete collection stands out from the rest of the collections as it features wedding bands made out of Platinum 950, which are known to be the rarest and most precious metal in the world. Great for couples who require a sturdier ring due to the nature of their jobs, the LVC Purete was inspired by the solid strength needed for any marriage, and the intricate skills required to craft the world's densest precious metal into these elegant wedding bands embody this wonderfully.
Find your best fit at Love & Co.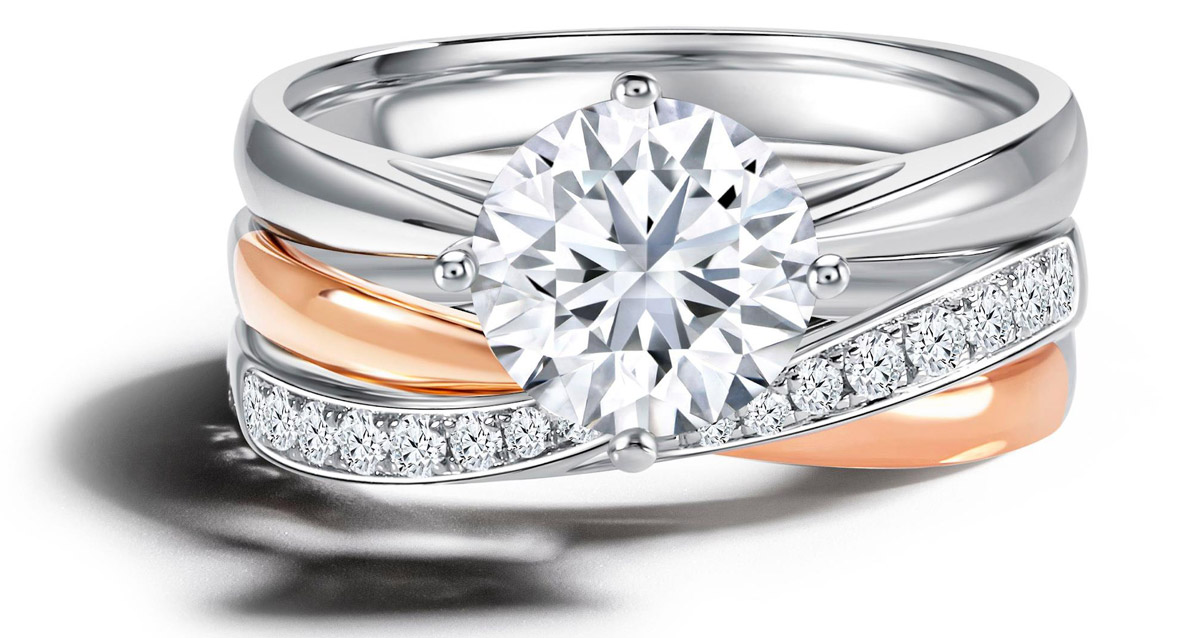 LVC Precieux and LVC Eterno
Wedding bands serve to celebrate and commemorate your love story, which is why Love & Co. strongly advocates providing a wide variety of ring designs and customisable options for couples. Find a ring that is befitting of your personality, needs, and relationship, just like how you and your sweetheart complement each other and make it all that more meaningful by engraving your signatures, anniversary dates, or even snapshots and thumbprints!
To find out more about their wedding bands and bridal jewellery, simply arrange an appointment with them by reaching out to them here. Alternatively, you may drop an email to contact@love-and-co.com.
Love & Co.
Stores & Tel:
Ion Orchard #B2-64, Singapore 238801 | 6509 8633
JEM #01-47, Singapore 608549 | 6734 8033
Jewel Airport #01-258, Singapore 819666 | 6970 4233
Plaza Singapura #01-07, Singapore 2388939 | 6835 7533
E-mail: contact@love-and-co.com
Website
Facebook
Instagram
________________________________________
This article was written for Love & Co.
All photos were provided by Love & Co.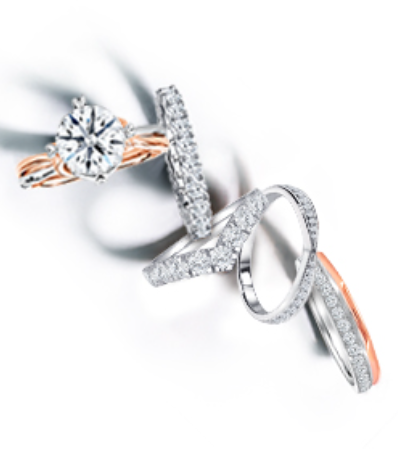 Love & Co Pte Ltd
Rating:

Address:

7 Changi Business Park Vista #01-01, Singapore 486042

Phone:

6812 2800