5 Unique CNY Gift Ideas For Your In-Laws
2015-02-17

With the Lunar New Year just around the corner, you might be hard pressed to find perfect gifts for the in-laws (or in-laws-to-be). For a celebration to remember, opt for traditional presents with a unique and modern edge. From exquisite gold bars to bespoke tea kits, our list features one-of-a-kind creations that will surely impress at your gatherings.
1. Blessings of Fortune from Goodwood Park Hotel ($88 for 1kg)
Available at deli from 29 February to 5 March.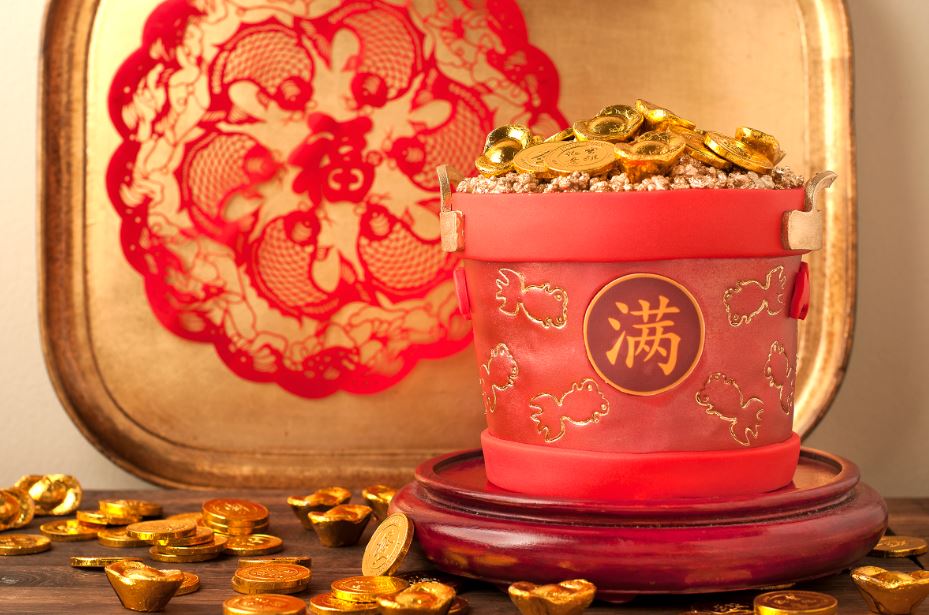 There's no better way to spend the Lunar New Year than indulging in goodies. From the simple and wholesome to the luxuriously decadent, Goodwood Park Hotel offers a charming range that will appeal to every taste. Our choice pick is this beautiful creation by Pastry Chef Joe Tan, comprising a dark chocolate fudge cake that is coated in crimson and gold icing, and topped with chocolate gold coins, ingots and rice crispies.
2. Golden Leaf Orange Pineapple Tarts from Bakerzin ($23.80 for 1 box of 23 pieces)
Available for order from 19 January to 2 March.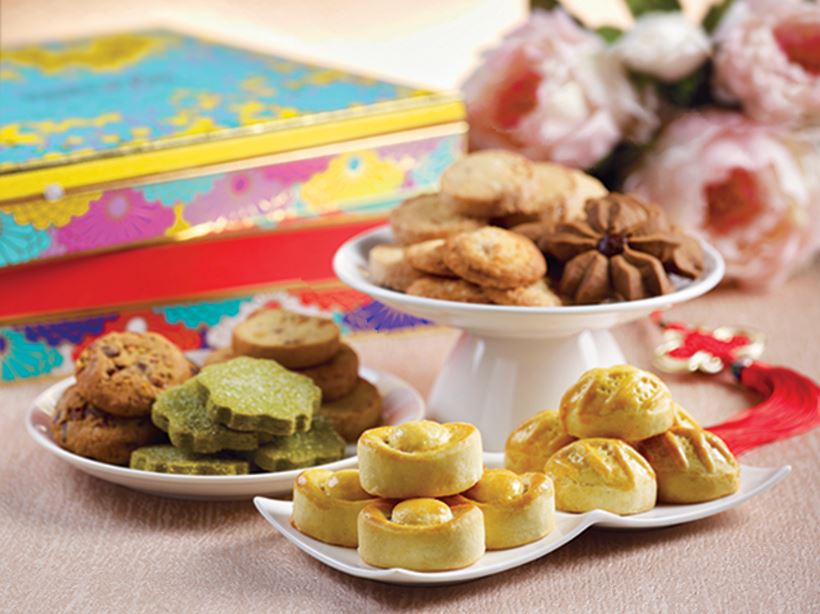 For this year's house visits, bring along a set of treats from Bakerzin's Chinese New Year Sweets Collection 2015 and let your friends and family enjoy an array of delicious festive goodies. If you are getting a bit bored of the usual tarts and cookies, why not surprise them with Bakerzin's refreshing take on a classic recipe? Their new Golden Leaf Orange Pineapple Tarts are stamped with a 3D leaf design, and boast generous fillings of orange zest-pineapple.
3. Golden Goat 999 Pure Gold Bars from SK Jewellery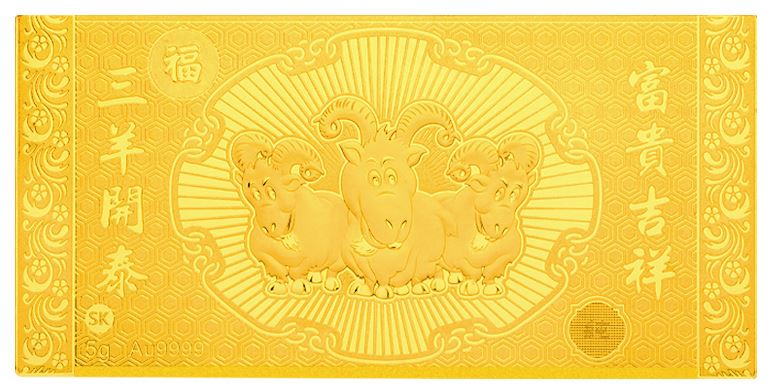 Consider a gift or two of gold to pave the way for good fortune during this season of happiness and prosperity – SK Jewellery's ornate goat-inspired memorabilia are a great way to celebrate the golden sheep year. Our favourite item from the range is the five-gram Triple Fortune Golden Goat 999 Pure Gold Bar, which showcases intricate designs, replete with carvings of Chinese phrases that convey blessings of wealth and success.
4. Tea Hampers from Si Chuan Dou Hua Restaurant ($218 nett)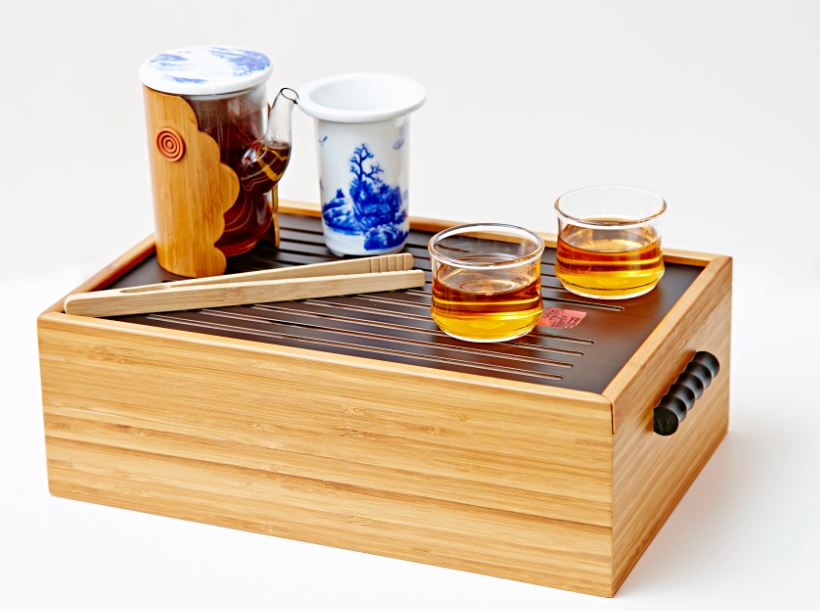 This Lunar New Year, gift a loved one with a bespoke Xia Guan Speciality Tea Hamper, which comprises a limited edition Kai Men Hong tea nest packaged in a vibrant crimson red box, Chinese tea accessories such as tea canisters and infusers, and a travel tea set. With its elegant design and health benefits, this carefully curated hamper will make a splendid present for any lover of the traditional Chinese drink.
www.sichuandouhua.com/tianfu
5. Rainbow Nian Gao from Four Seasons Hotel Singapore ($32 for two)
In boxes of two or as part of both Prosperity Hampers and Festive Takeaways.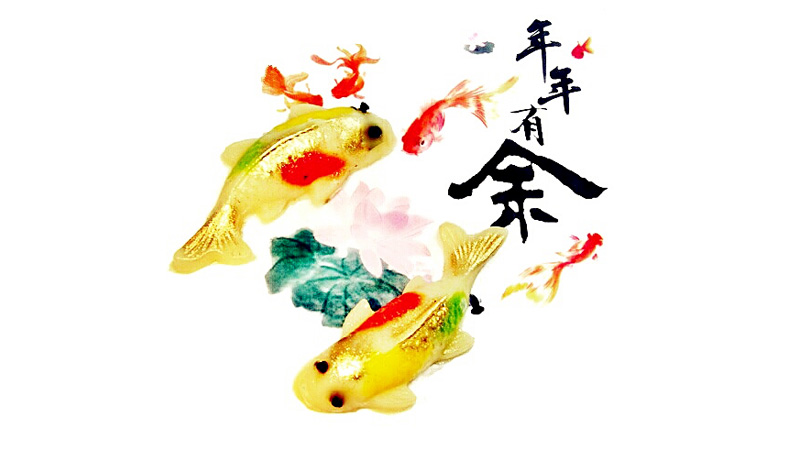 This homely delicacy of sticky cake gets an exquisite makeover befitting of its symbolism. Four Seasons Hotel Singapore's multi-coloured varieties infused with Asian flavours make for a delicious treat, but for a truly memorable gift, we recommend the gold-flaked rainbow nian gao fishes. Representing abundance for the New Year, they come in exclusively-designed gift boxes featuring calligraphy and goldfish motifs.