6 Interior Design Inspirations for HDBs and Condos
2020-01-20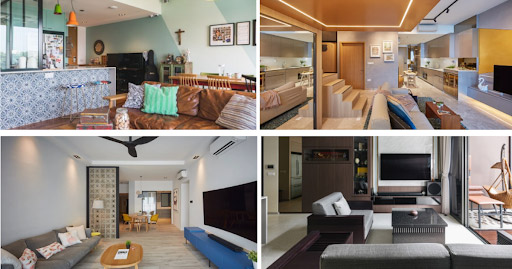 Renovating your first HDB can be very exciting. We all have a dream home in mind, and some of us even spend hours searching for interior design inspirations on Pinterest. However, which of these "saved pins" can actually be translated into the perfect living space here in Singapore?
Based on very real and local HDBs and condominiums, here are 6 interior design inspirations to help you envision your dream home better!
1. Luxe Elegance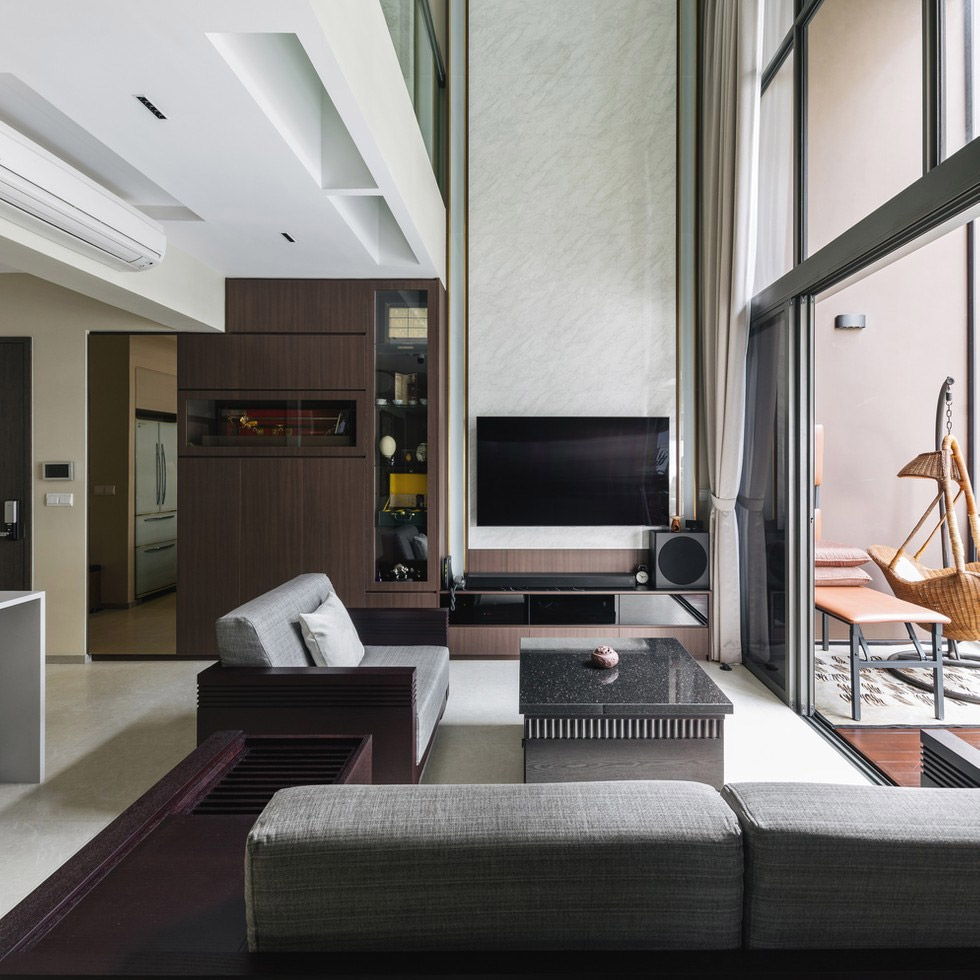 Source: LS2 Design & Construction
Eye-catching and welcoming at the same time, this classic design exudes an air of posh indulgence with its warm hues of gold, brown, and grey, smooth marble tiles, luxurious lights, and high ceilings!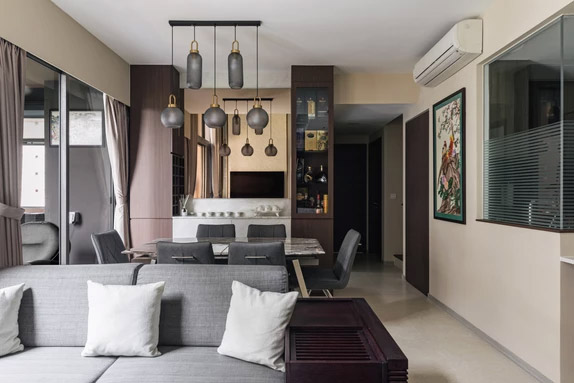 Source: LS2 Design & Construction
It doesn't stop there – your bedroom will be equally gorgeous with a sleek wall panel, dark wooden wardrobe, and you can get metallic bronze bedsheets like the ones pictured below to match with the gold accents peppered about in the room. The result? A cosy and self-indulgent room to retreat to after a long day at work.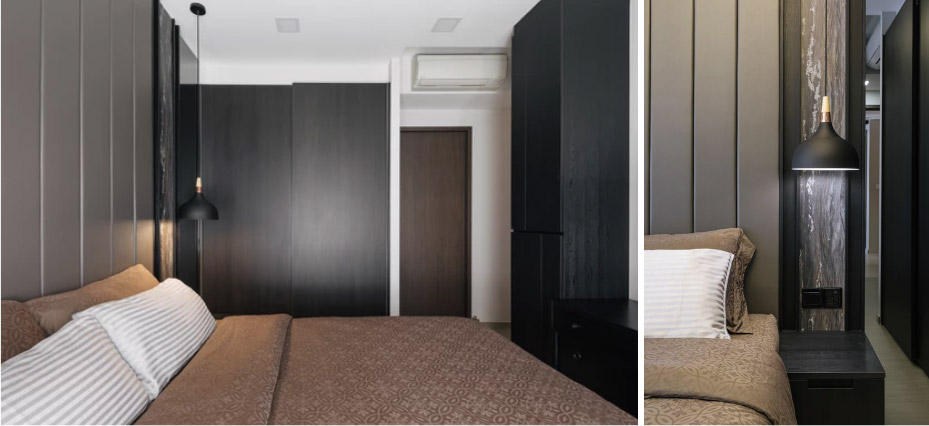 Source: LS2 Design & Construction
2. Eclectic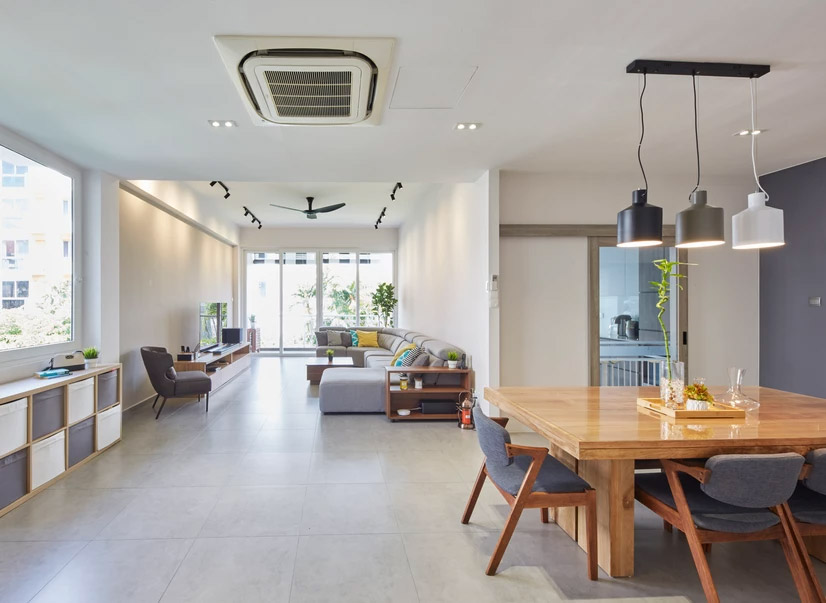 Source: LS2 Design & Construction
If you like a cleaner, urban look, this one is for you. The eclectic style can be described briefly as an amalgamation of styles, textures, and colours, and this makes your home fun, stylish, and uniquely yours. Here's a tip – add statement furniture to heighten the contrast against clean white walls for that edgy, modern vibe!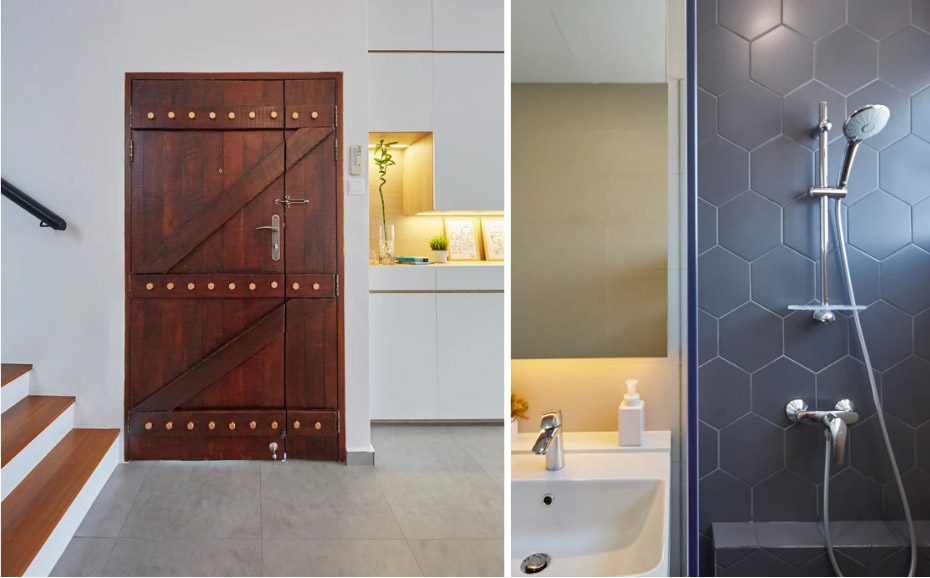 Source: LS2 Design & Construction
You can also use chunky and flashy feature walls or doors to add another layer of visual dynamics to your living space. Don't be afraid to throw in a bold design like this barn-inspired door or honeycomb-tiled wall to make the design of your home true to its multifaceted and diverse nature.
3. Transitional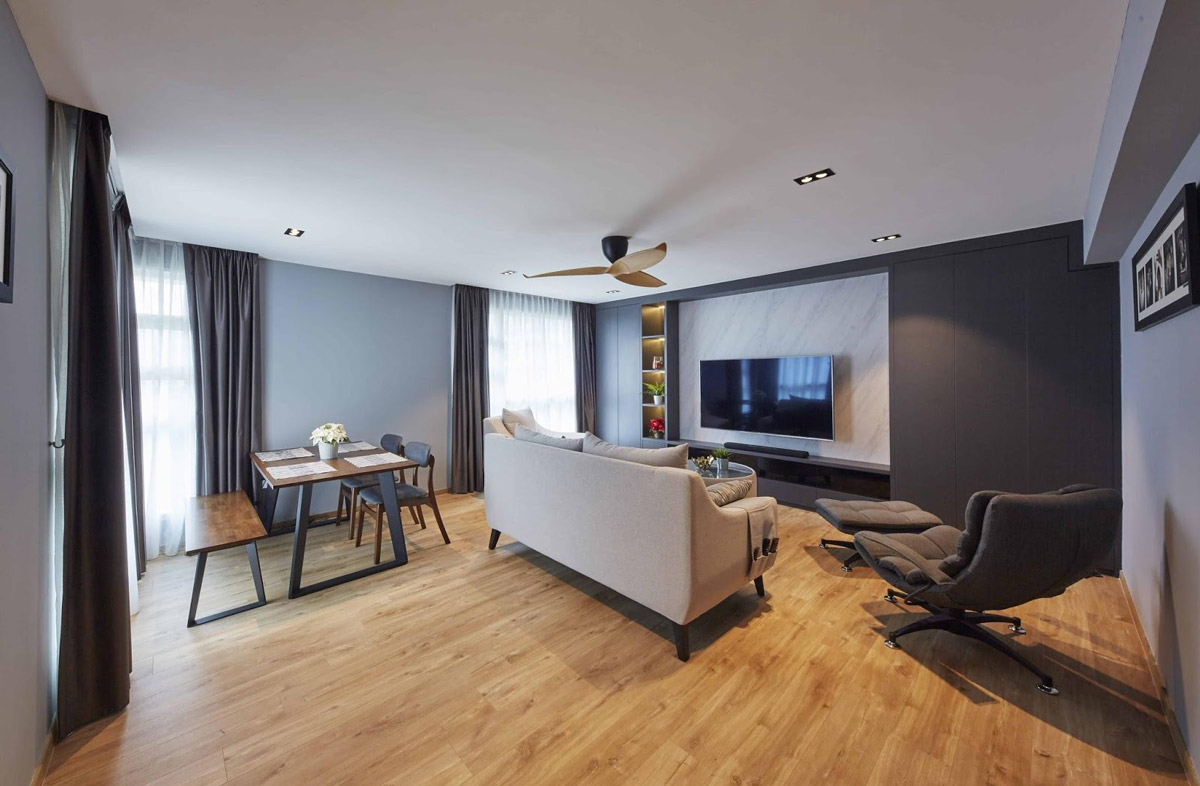 Source: LS2 Design & Construction
Otherwise known as the "new classic" look, the transitional style is a seamless combination of modern elements with traditional templates. By keeping to neutral colours and intermixing different textures such as simple wooden floors and tables with steel frames, a clean and sleek look is achieved, perfect for the modern family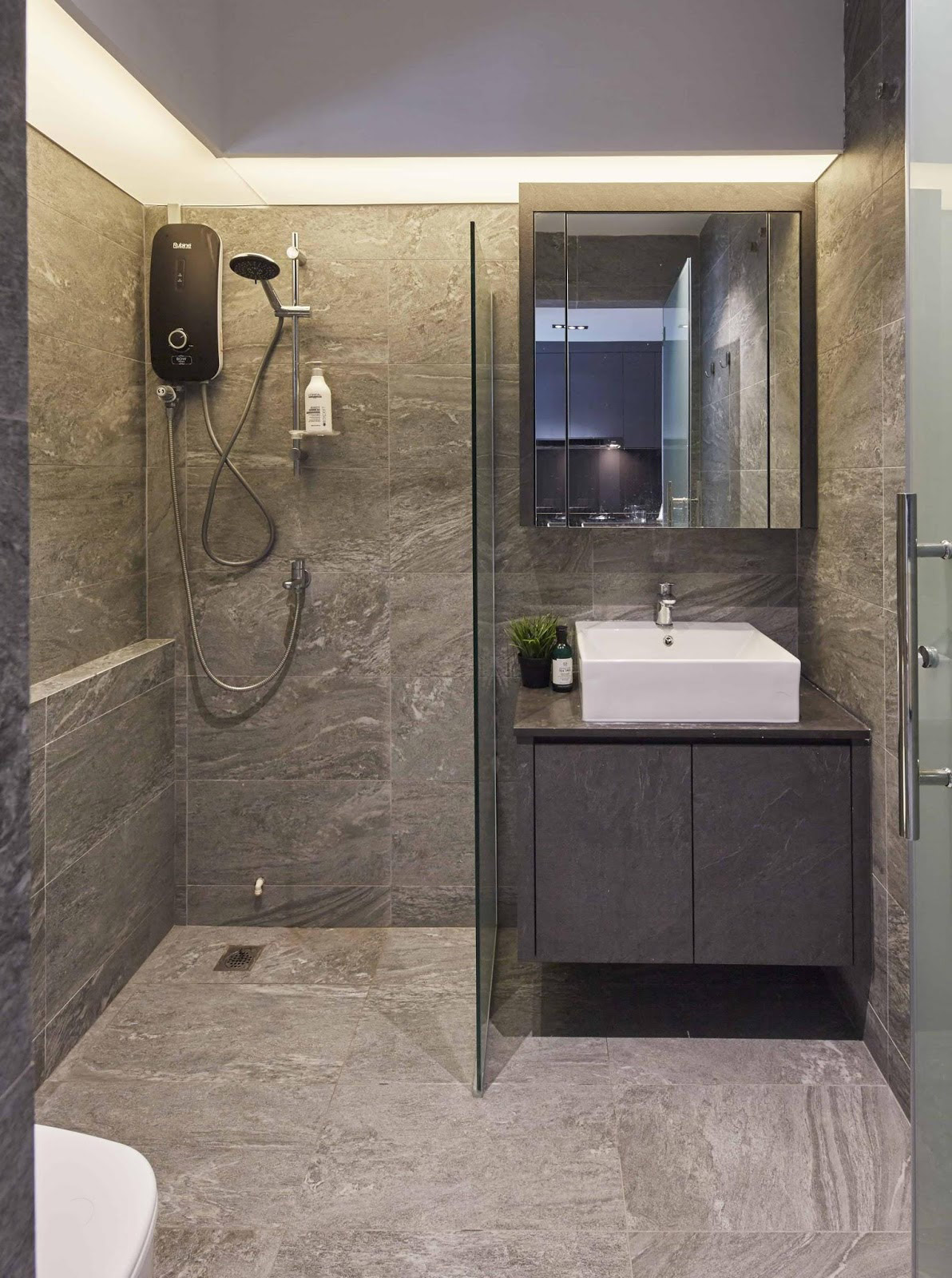 Source: LS2 Design & Construction
This particular flat's bathroom is also decorated in different shades of grey, and we love its beautiful marbled walls. The strong symmetric lines from the mirror, sink and cabinet are extremely eye-pleasing as well!
4. Soft Industrial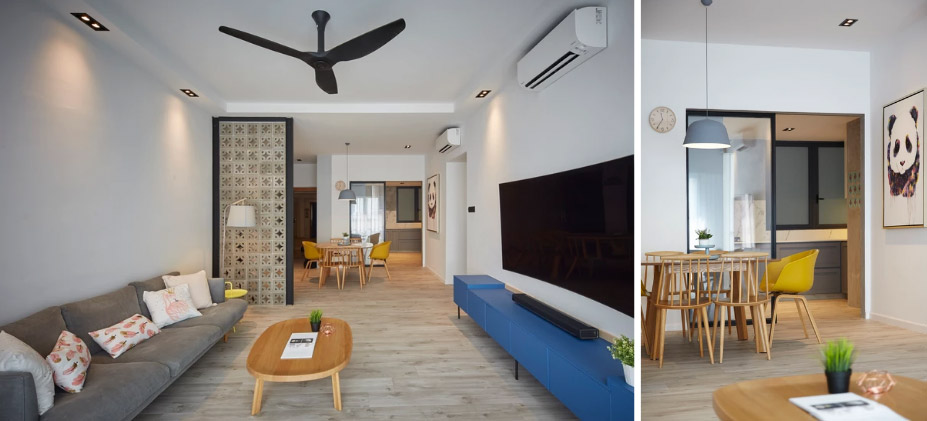 Source: LS2 Design & Construction
If bold and simple fashion statements are your cup of tea, this Soft Industrial theme could be up your alley too. A style that makes use of stark contrasts and open spaces, it has black accents peppered around the flat that is then softened by muted colours to create a striking aesthetic that is pleasing to the eyes at the same time. If you like, you can add a few splashes of colour to the mix to brighten up the room as well!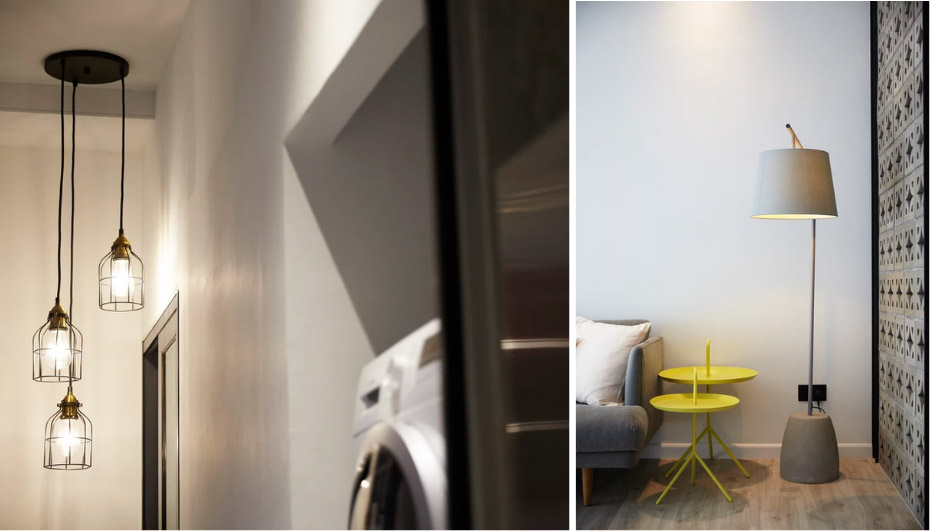 Source: LS2 Design & Construction
Spotlights, exposed light bulbs, and warm lighting will help to soften the overall look of the house as well without completely overpowering its industrial edge, giving your apartment a stylish yet homey atmosphere.
5. Kitsch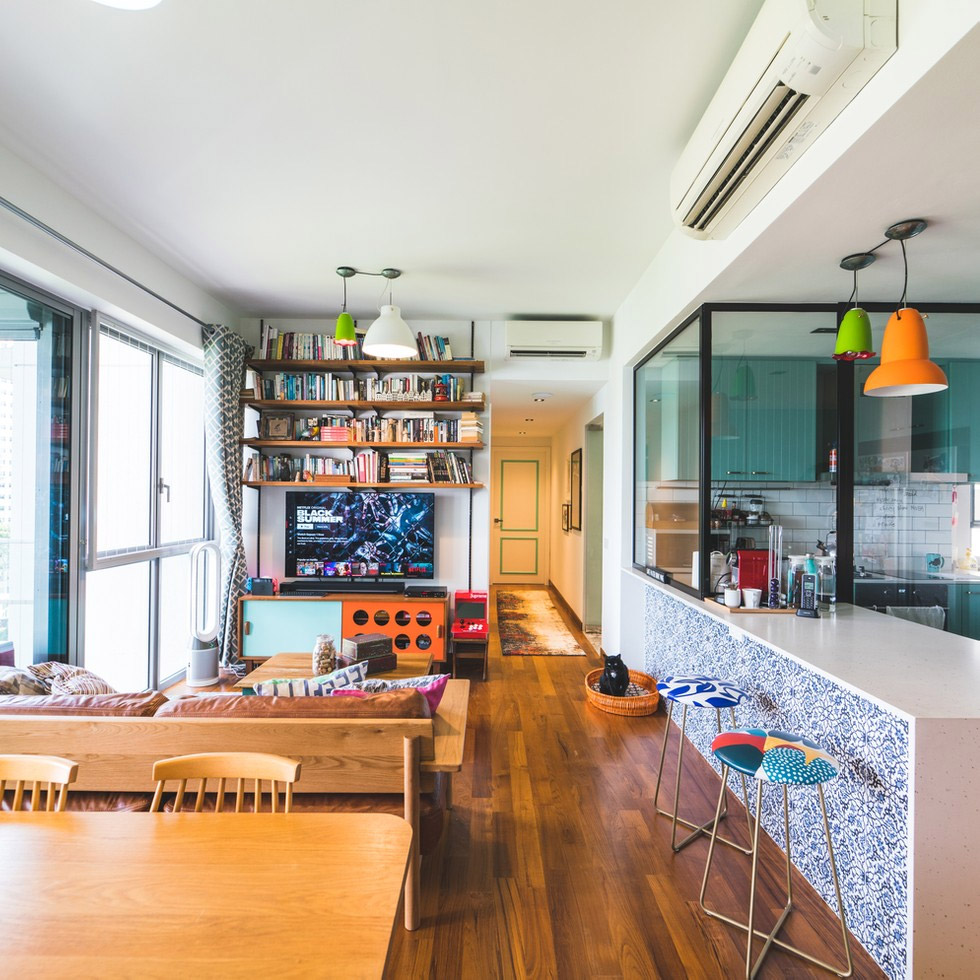 Source: LS2 Design & Construction
So you're different and you're proud of it! Show off your quirky, unique charms in your home with a Kitsch theme that is loud, wacky, and absolutely endearing. While seemingly erratic, there's a method to the madness – you have to skillfully combine a ton of garish and gaudy accessories with traditional patterns, rustic details, and modern essentials to produce a fun and creative dynamic.
Here, the colours from the books and ceiling lights stand out against the timber shelves, sofa, and floor, and the bright blue walls in the kitchen contrast with the sleek white tabletop.

Source: LS2 Design & Construction
Patterned cushions also stand out against the leather sofa, and while the dainty, blue floral tiles look out of place at first glance, you can't deny that they do add a nice touch to the flat overall!
View more photos here.
6. Warm Nordic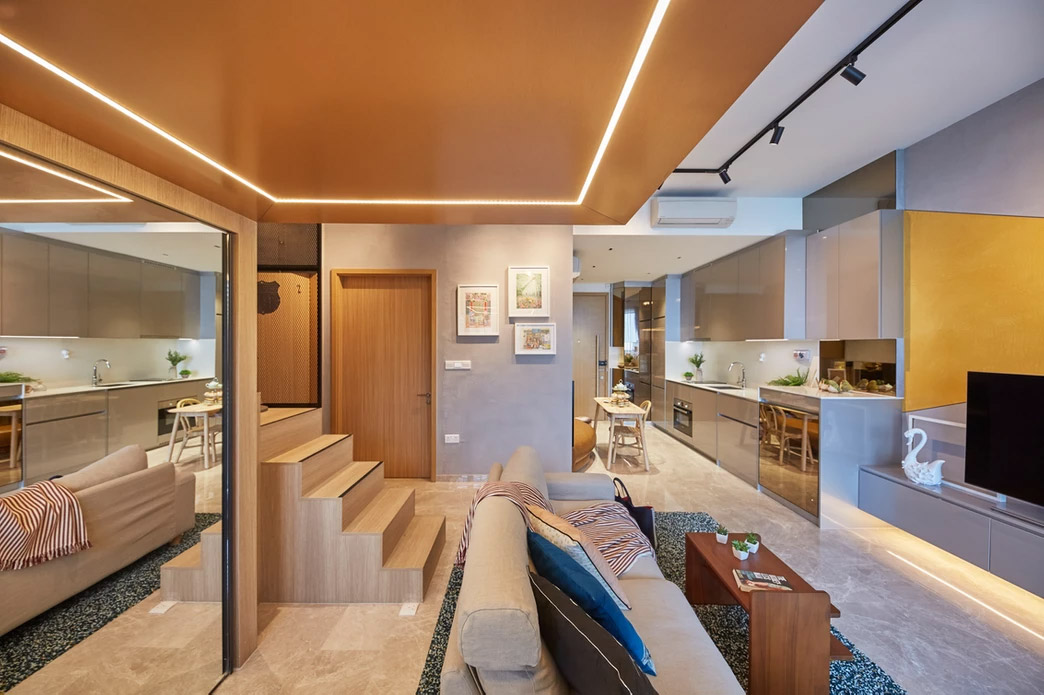 Source: LS2 Design & Construction
Restful and welcoming are just a few ways to describe this theme. The light colour palette provides a sense of clarity and calmness, making your home the best place to return to and relax in. The natural grain wood is then paired with various textures like the industrial-inspired walls and marble floors to create a Scandinavian-like aesthetic, but with more warmth and character.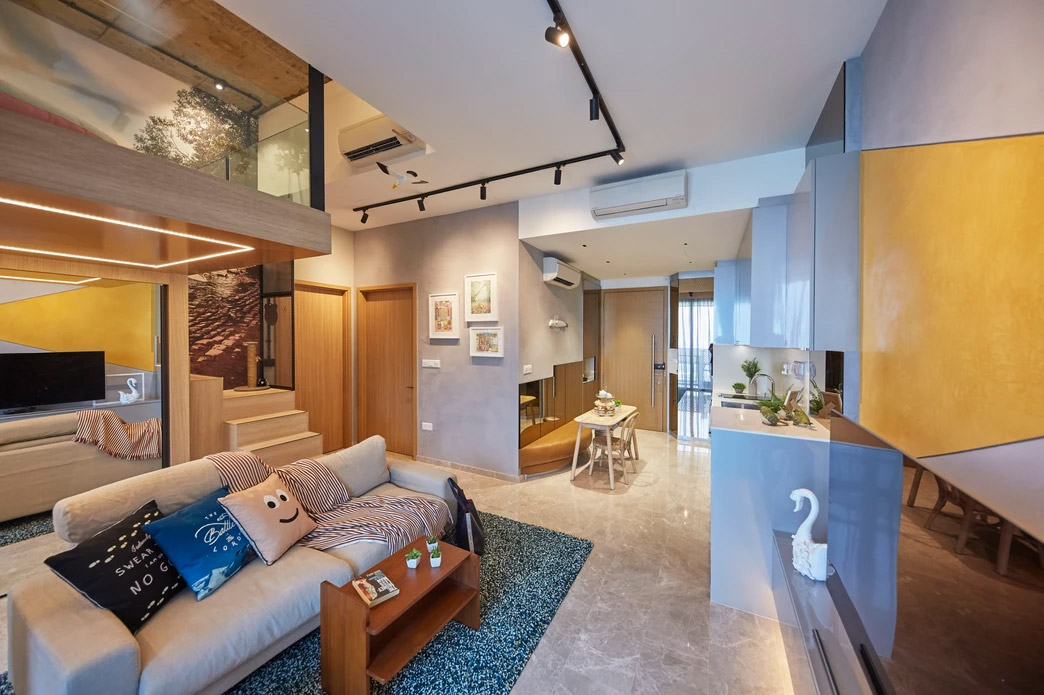 Source: LS2 Design & Construction
The numerous cushions, blanket, and rug also give the space a more lived-in look, as linens ups the cosiness factor of any room. Here's another tip very useful for flats in Singapore – mirrors can help to add depth to your home and create the illusion of a bigger space, just like that large mirror behind the sofa!
Build your dream home with LS2 Design & Construction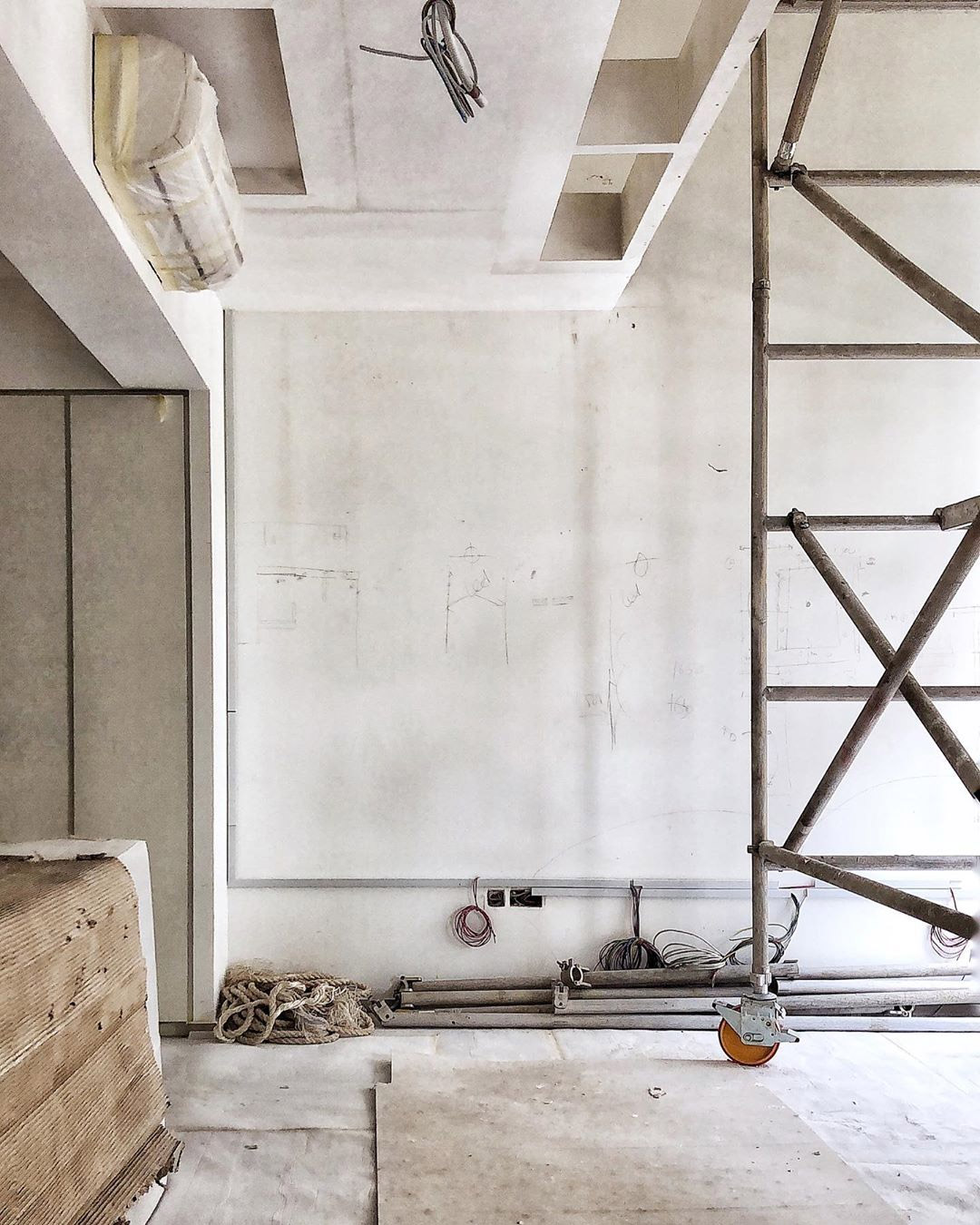 Source: @ls2design
Now that you've got a sense of what you want your dream home to be, you'll need a creative and reliable design firm to make it all a reality. LS2 Design & Construction is a great choice with over 16 years of experience in interior design under their belt, and these 6 HDB and condo flat inspirations were all past projects that belonged to their professional and dedicated team.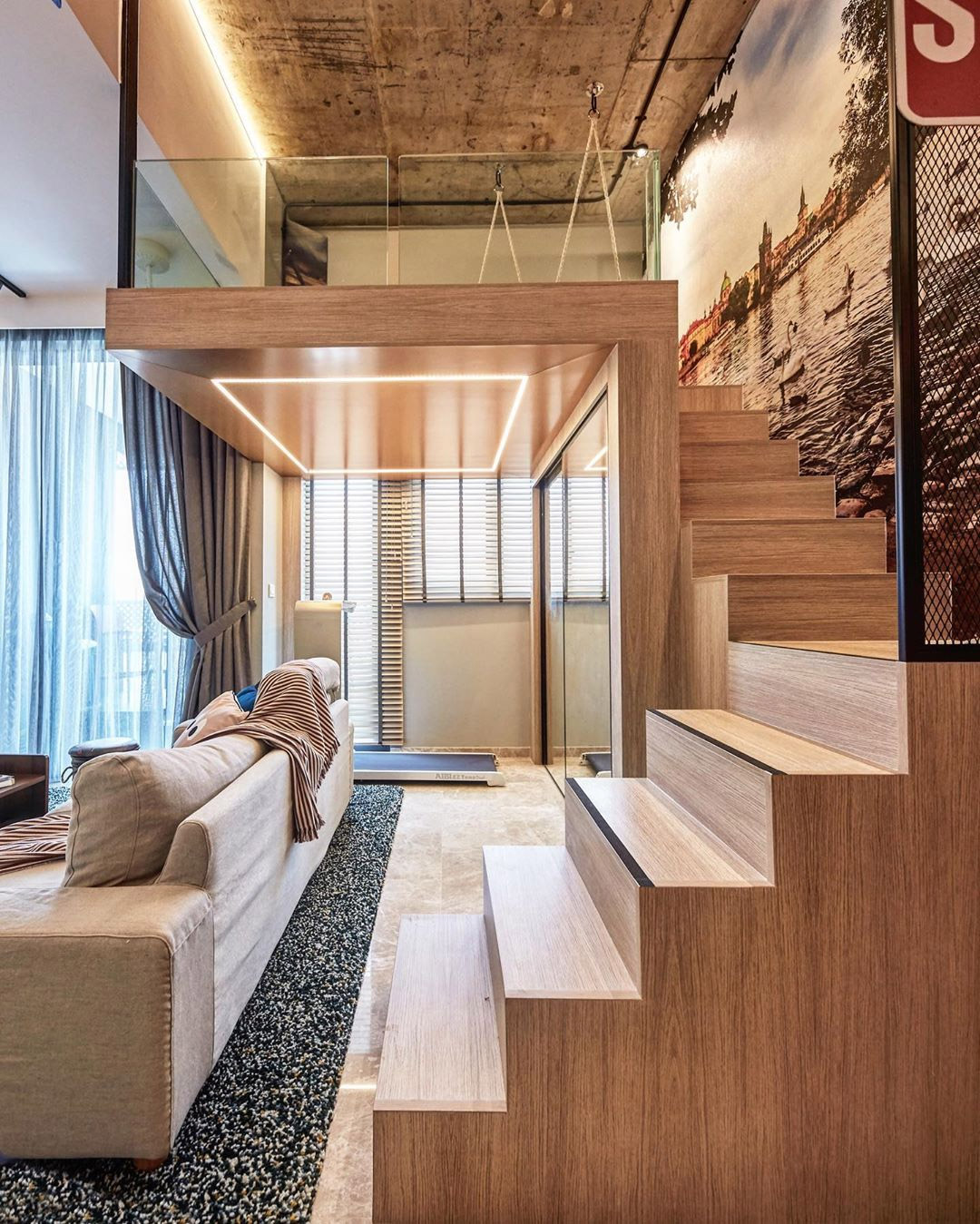 Source: @ls2design
Specialising in both residential and commercial designs, they believe that great spaces are carefully explored, planned, and curated by professionals. In line with that company belief, their highly-experienced designers are also dedicated to providing you with a delicate balance of art and science!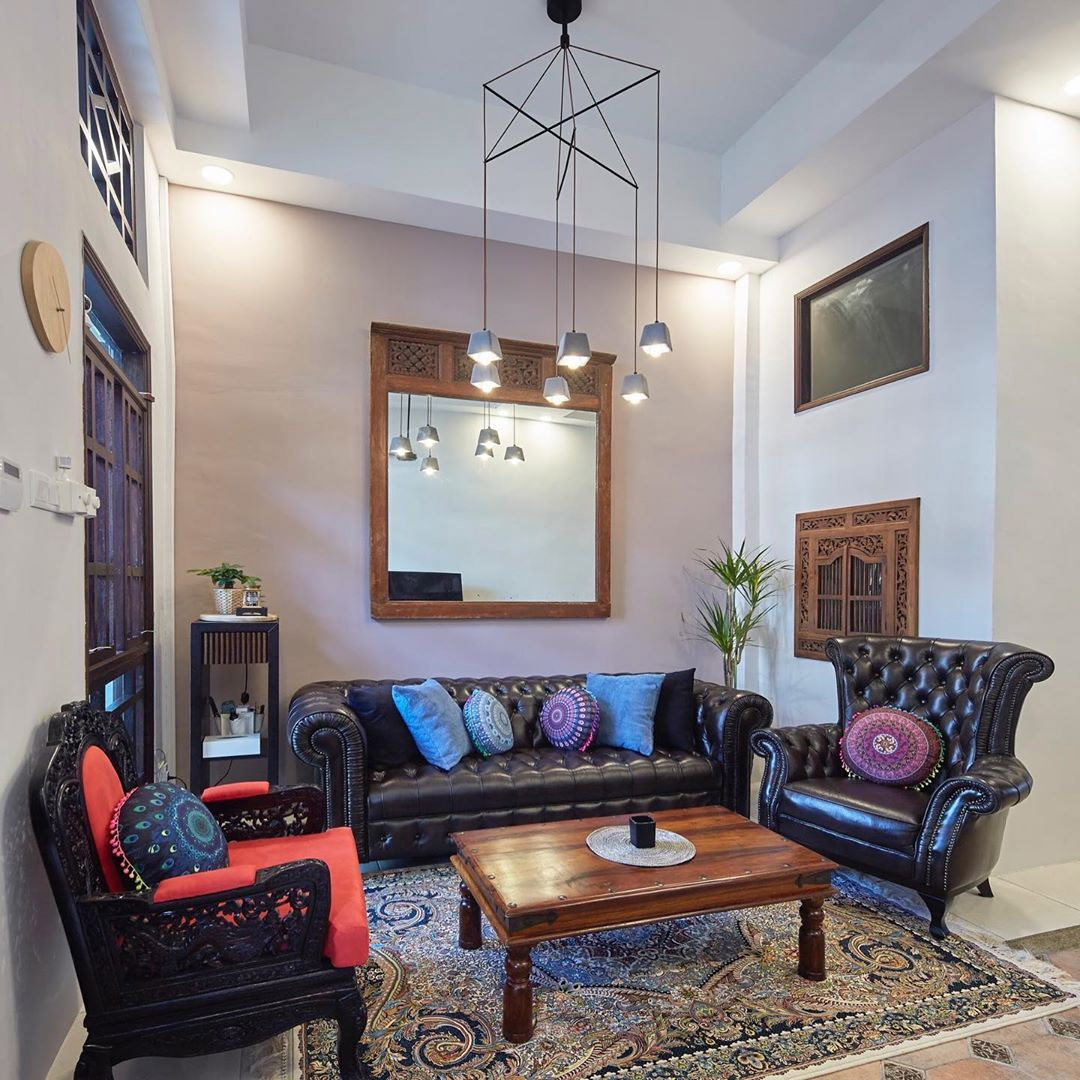 Source: @ls2design
Plus, besides amazing workmanship, you can also expect prompt after-sale services. Just name it, and LS2 Design & Construction will get it delivered for you and your new family – simply head here to get started!
This article was written for LS2 Design & Construction.
https://www.ls2.com.sg/jalan-datoh
https://www.ls2.com.sg/city-gate-371-beach-road
https://www.ls2.com.sg/haig-court-158-haig-road
https://www.ls2.com.sg/katong-garden
https://www.ls2.com.sg/copy-of-katong-garden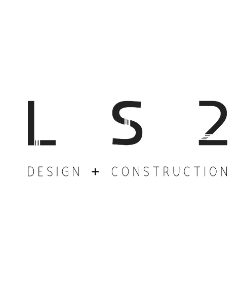 LS2 Design & Construction Pte Ltd
Rating:

Address:

2 Mayo Street Singapore 208302

Phone:

9771 0081