10 Wow-Worthy Wedding Venues at Resorts World Sentosa
2019-07-26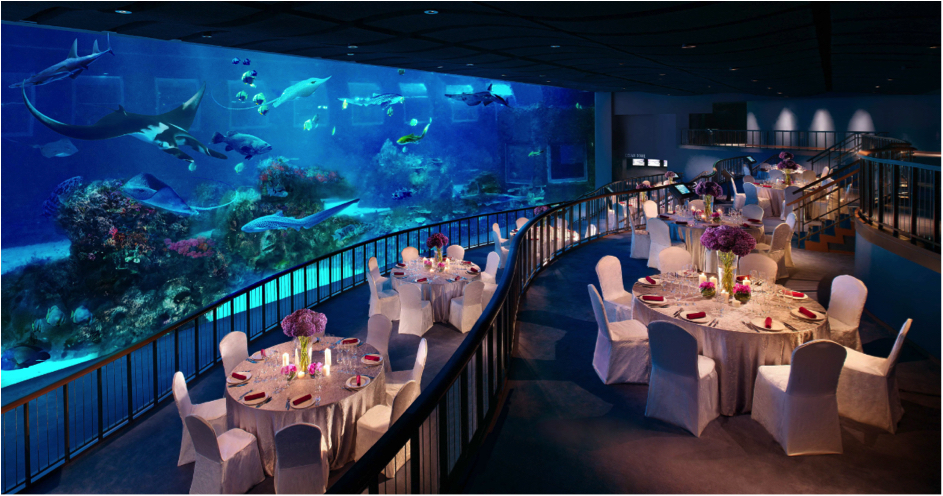 While wedding venues in Singapore are aplenty, choosing one that's unique and catered to your wedding needs is where the challenge lies. Well, have no fear, because we've sussed out not one, but ten one-of-a-kind locations in Resorts World Sentosa that are ideal for both solemnisation ceremonies and wedding receptions. That's right, from whimsical garden celebrations to ethereal underwater weddings, we got you covered.
Under the S.E.A
Whether you're a fan of The Little Mermaid or a lover of marine life, surround yourself with the wonders of the ocean as you exchange your vows at the S.E.A Aquarium. Housing over 800 species of marine life, the Ocean Gallery offers majestic views of the deep blue.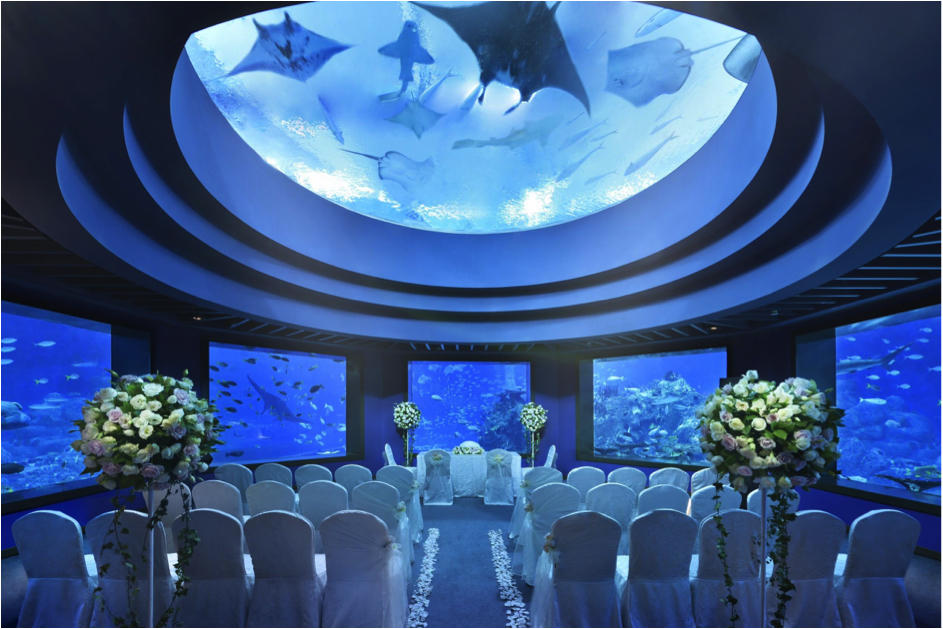 Solemnisation set up at the Ocean Dome
On the other hand, if you're looking for an intimate celebration with a view that's just as breathtaking, the Ocean Dome and Ocean Restaurant are ideal. Inspiring wonders while maintaining a celebratory ambience for your big day, the Ocean Dome's nearly 360-degree view of the seascape will make your guests feel like fearless adventurers exploring the depths of the unknown.
Meanwhile, the Ocean Restaurant offers your guests and you the once-in-a-lifetime opportunity to dine underwater as you celebrate your big day. Treat your guests - and yourselves - to a meticulously curated eight-course menu while taking in the impressive view.
The Beauty of Ballrooms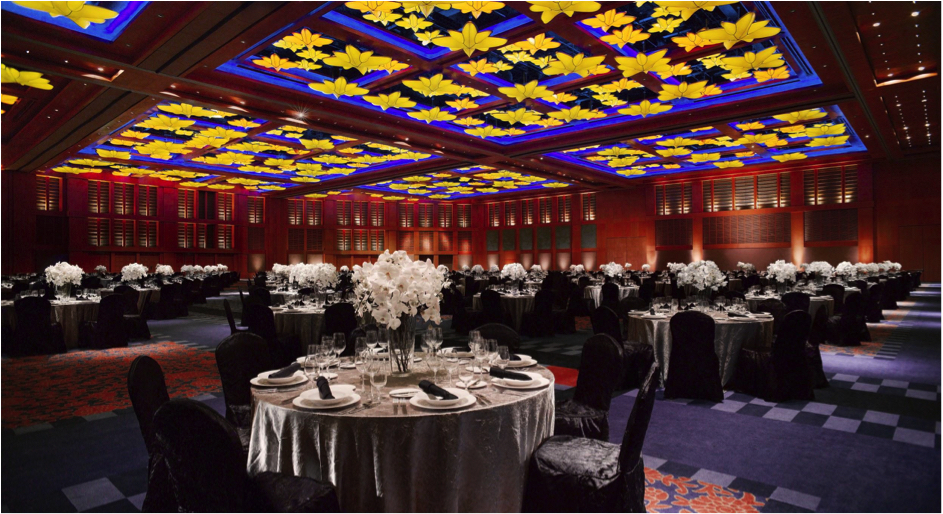 Wedding Banquet at Resorts World Ballroom
If you're thinking of hosting a grand celebration, there's no place like the ballrooms at Resorts World Sentosa - the grandiose of the Resorts World Ballroom and Equarius Hotel's ballrooms are unrivalled.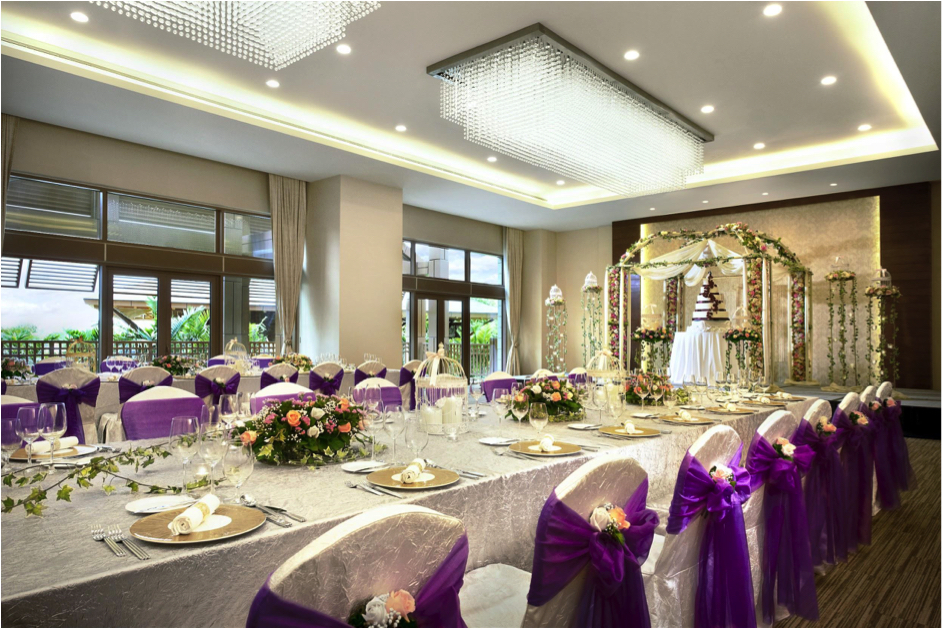 Wedding Banquet at Equarius Hotel's Saffron Room
Housing the region's largest pillarless ballroom, couples looking for a resplendent wedding reception will be impressed by the grandeur of the Resorts World Ballroom. Take the celebrations up a notch and make full use of the ballroom's space with wedding games and/or entertainment. As for the Equarius Hotel, couples can experience the best of both indoors and outdoors. Treat your guests and yourselves to the natural beauty and light that encompasses the hotel while feasting on an eight-course delight in the comfort of the ballroom!
Restaurant Romance
Looking to embrace both your romantic and foodie self on your big day? Resorts World Sentosa is one step ahead. With a selection of lavish restaurants to pick from, celebrate the day with luxurious menus from Forest森, Tangerine or CURATE. Each restaurant serves a cuisine unique to their celebrity chef's speciality and exudes an atmosphere exclusive to its location.
The nature-loving couple will find Forest森 to be a perfect fit. As with its name, the restaurant features a forest-themed décor while retaining cultural roots with its mod-Chinese wedding menu that features dishes such as the New Zealand Duck Leg and Seafood La Mian Soup.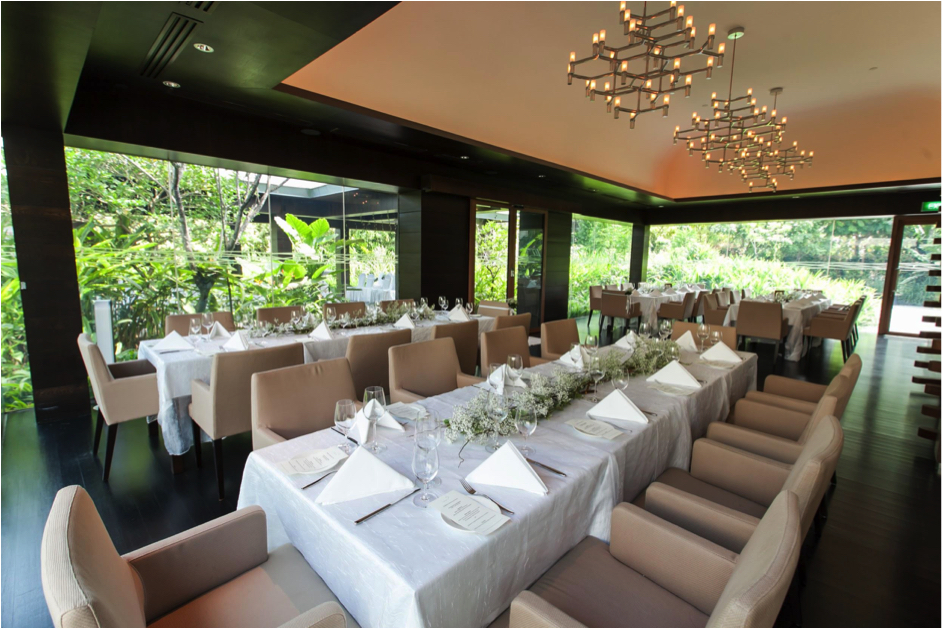 Wedding reception at Tangerine, Resorts World Sentosa
Tangerine encompasses a farm-to-table concept, featuring wholesome Thai cuisine with dishes such as Pan-roasted Farm Sea Bass and Bamboo Clam and Angel Hair pasta. The restaurant's zen vibes make it perfect for couples looking for a cosier space.
CURATE offers couples a gastronomic adventure with its modern and artistic take on European dishes, offering couples a one-of-a-kind wedding menu. In line with its creative direction, CURATE comes decked in modern minimalist with marbled interior and imaginative chandeliers, ideal for the artsy couples.
Destination Dreams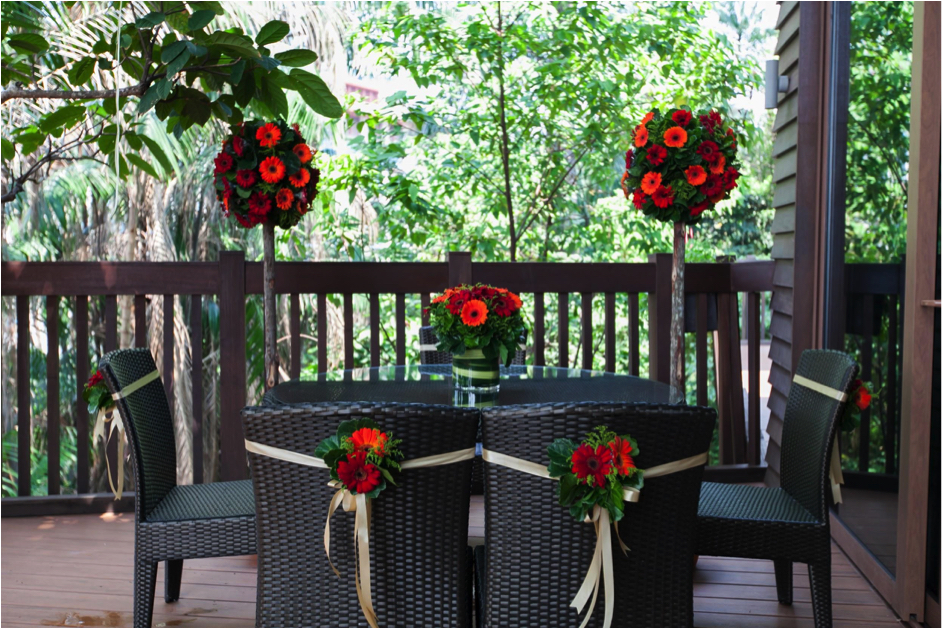 Intimate solemnisation setup at Treetop Loft
Always wanted a destination wedding without the hefty price tag? Live your destination wedding dreams at Resorts World Sentosa's Treetop Loft or Beach Villas. Ideal for nature enthusiasts and/or beach lovers, these wedding-worthy locations promise to uphold the vision of your dream destination with the added perk of convenience.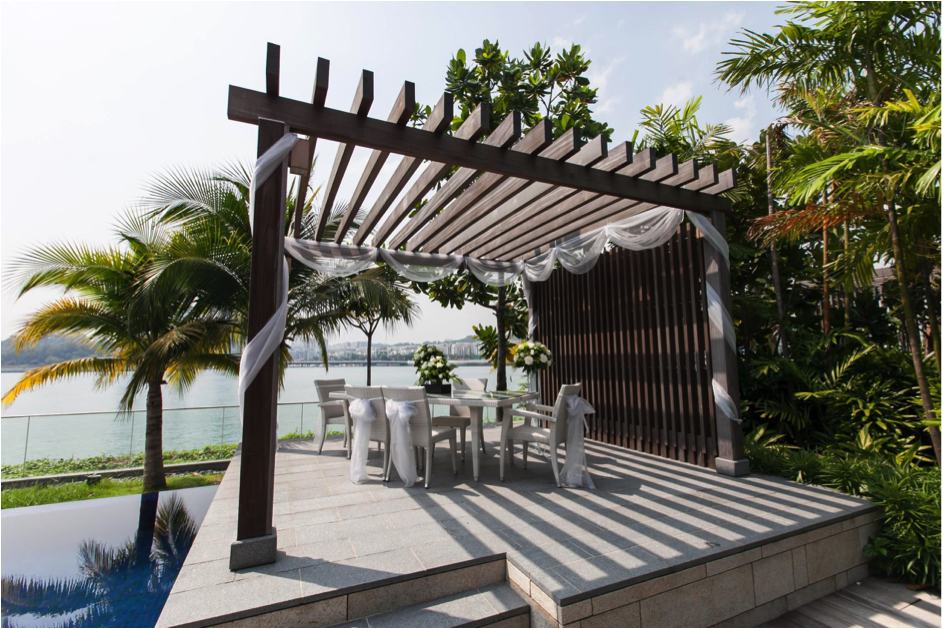 Intimate solemnisation setup on Beach Villa's sundeck
Say "I do" in the loft's private outdoor terrace or spacious living room. Or, choose from the different Beach Villas on-site for a sunny celebration. Host your union on the villa's sundeck or mini garden, and then kick the festivities up a notch with an after-party at the pool.
In addition to its top-notch amenities and services, couples tying the knot at Resorts World Sentosa may also get to enjoy discounts of up to $100++ per table and an opportunity to enjoy the resort's unique rooms with a complimentary second-night stay in the bridal suite.
Whether intimate or grand, with Resorts World Sentosa, your wedding celebration promises to be unlike any other. For more information about hosting your one-of-a-kind weddings at Resort World Sentosa, reach out for a quote or contact the team at weddings@rwsentosa.com.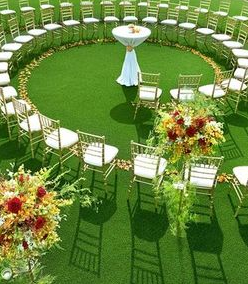 Resorts World Sentosa

Rating:

Address:

Resorts World Sentosa, 8 Sentosa Gateway, Singapore 098269

Phone:

6577 6868