4 Amazing Ways to Have a Pre-Wedding Shoot That is Distinctively You
2019-09-05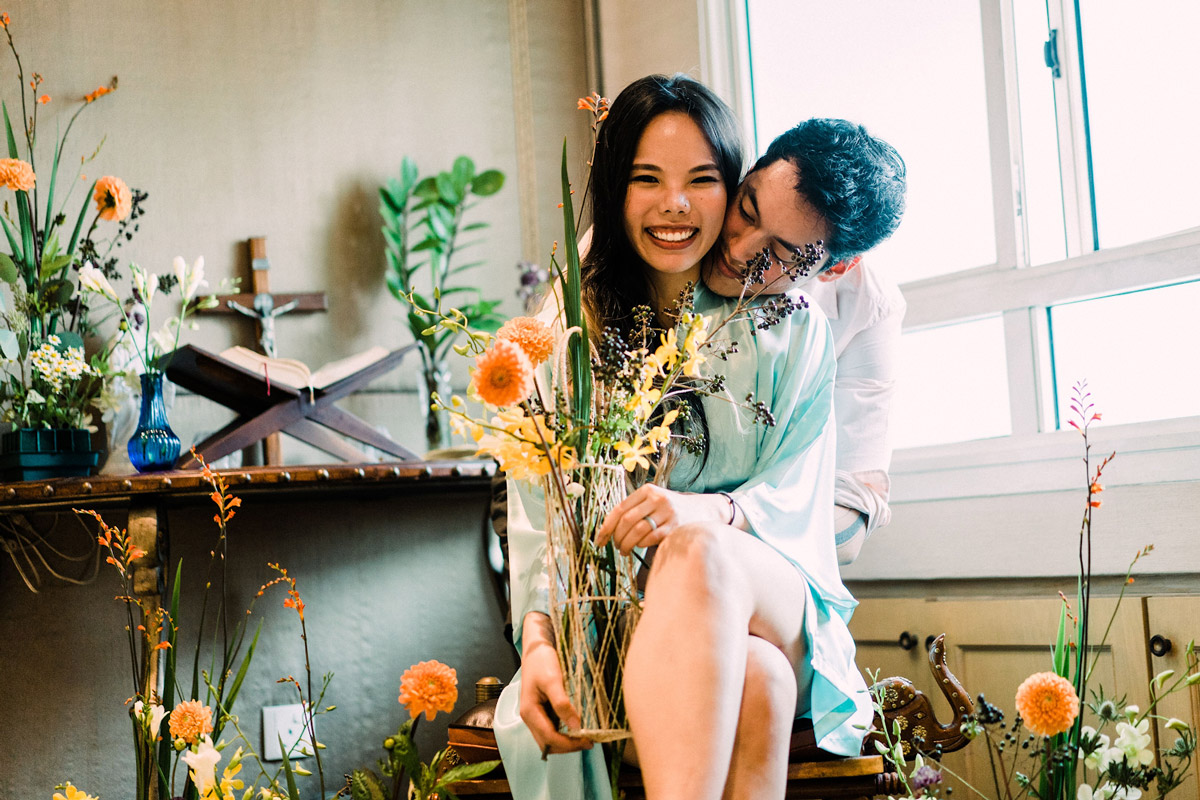 Planning a wedding requires many months of grit and hard work, and while the big day is definitely going to make it feel all worth it, the process can feel daunting at times. But alas! Who says that you can't have a little fun while you're at it?
Give yourself a mid-planning pick-me-up by having a curated pre-wedding shoot that will not only feel like a fun and much-needed day out, but will also put a smile on your face as you look back on your big day.
Here are four fun ways to work that camera in a way that is uniquely you!
1. Recreate the magic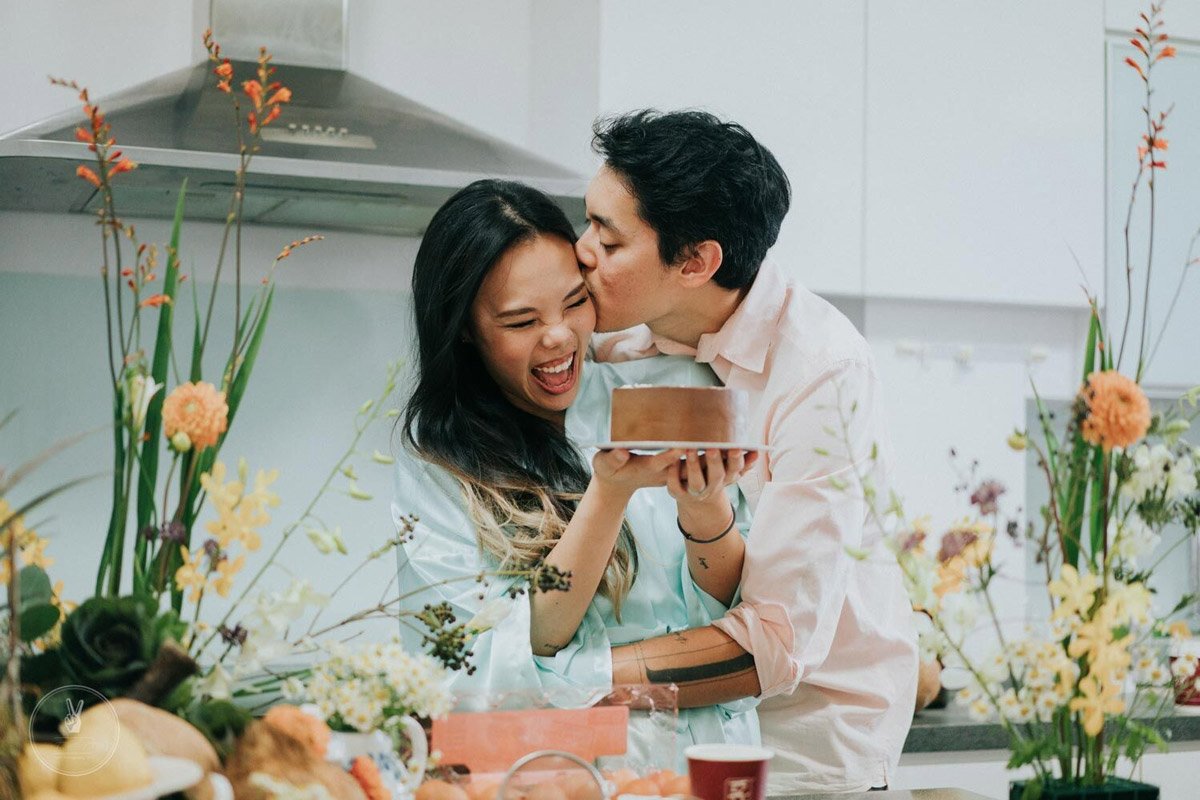 Stylist: Madkarlek, Jiamin's Robe: Bells and Bird
Sometimes, being in your natural element will create the best photos. For the founders of In the Brickyard bakery Darren and Jiamin pictured above, capturing the magic in the comforts of their very own kitchen was significant and important to both of them because of their unique love story!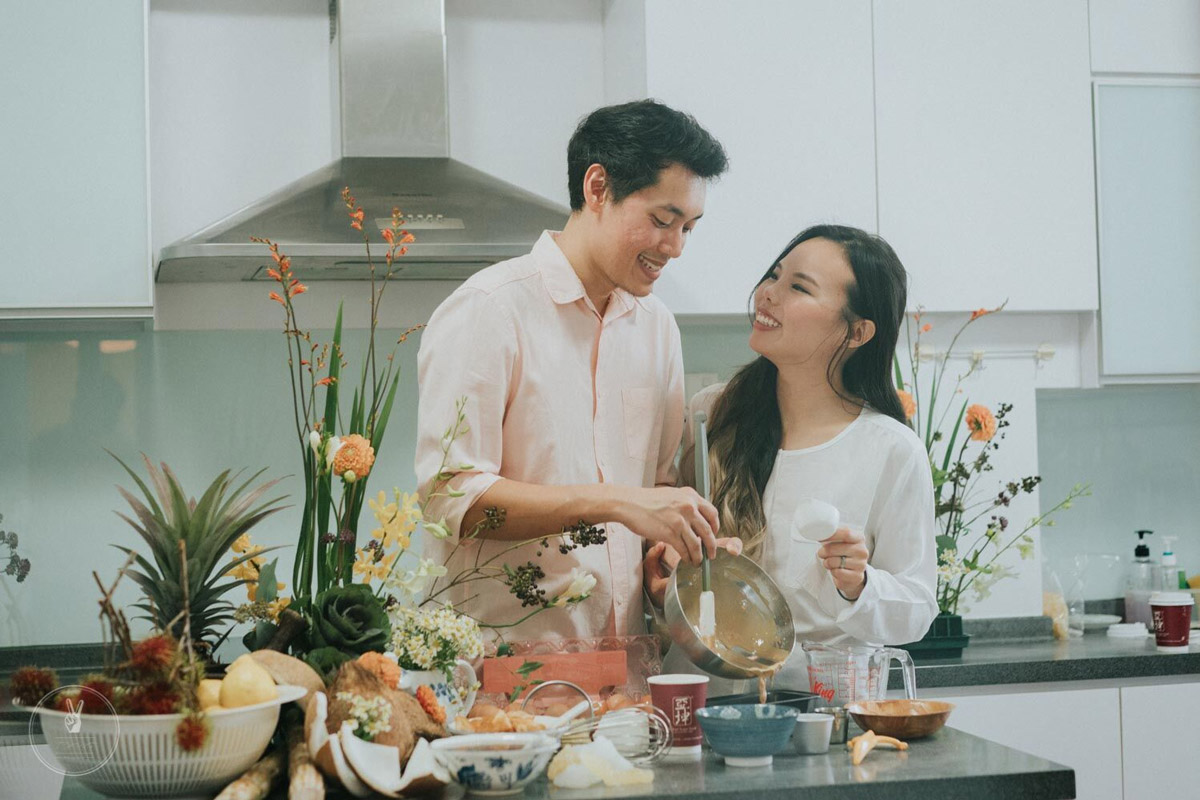 Charmed by Darren's persistent attitude and creativity in baking, Jiamin fell in love with him and what started out as a close friendship in their university days blossomed into something more in the kitchen and bakery, where they spent most of their time together.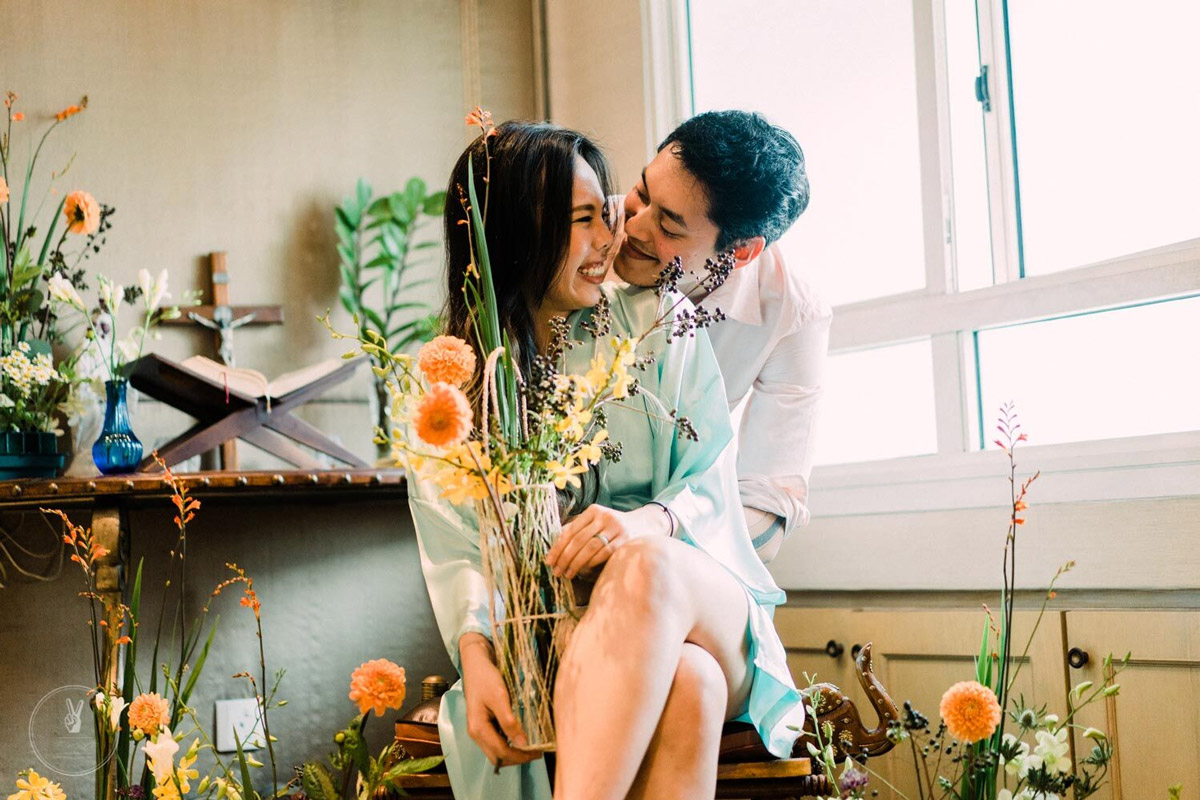 Great for those who met their beau at work, feel free to take a leaf out of their book and be inspired by the moments that are special to you. Write your own story into your pre-wedding shoot and bring it to a whole new level of individuality that no other couple has experienced.
2. Think out of the box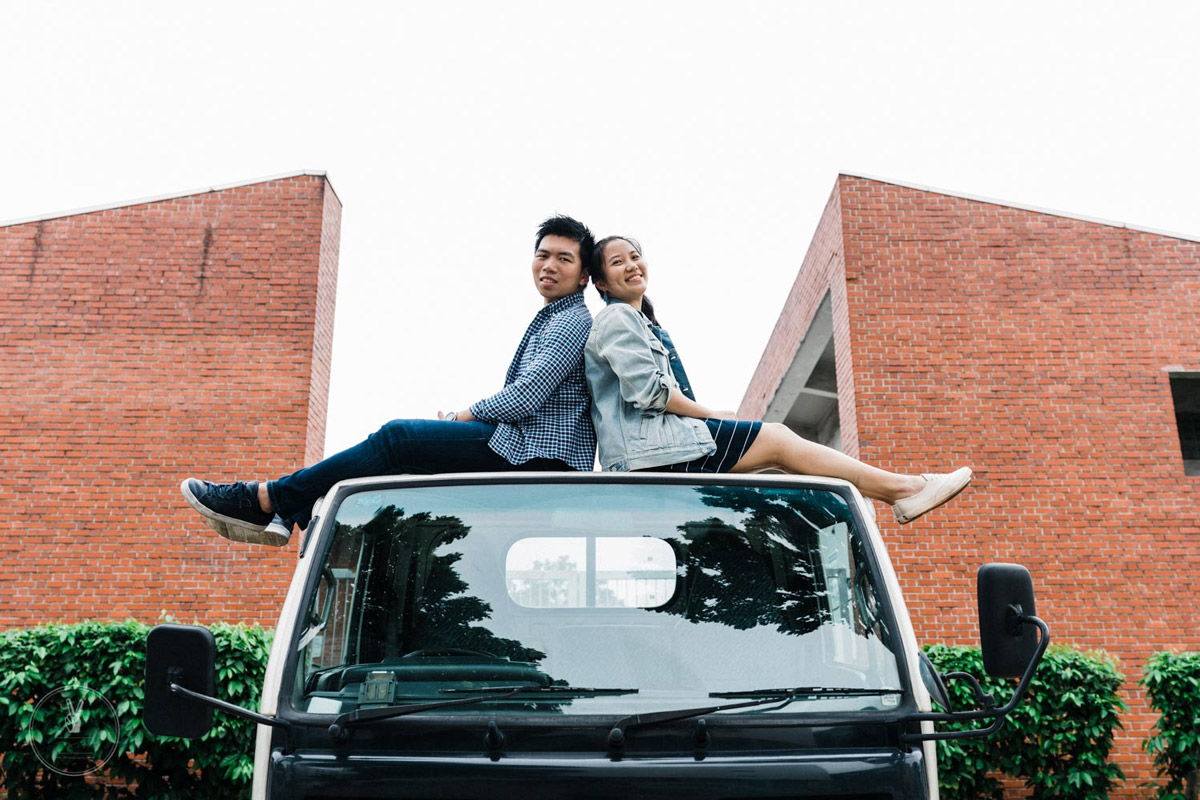 Your pre-wedding shoot will definitely be oozing with your personality when you think out of the box. Not interested in beach sunsets or flower gardens? Not to worry, your shoot will still be plenty romantic as long as you have your significant other by your side, doing things you both love, or being at venues that are important to both of you.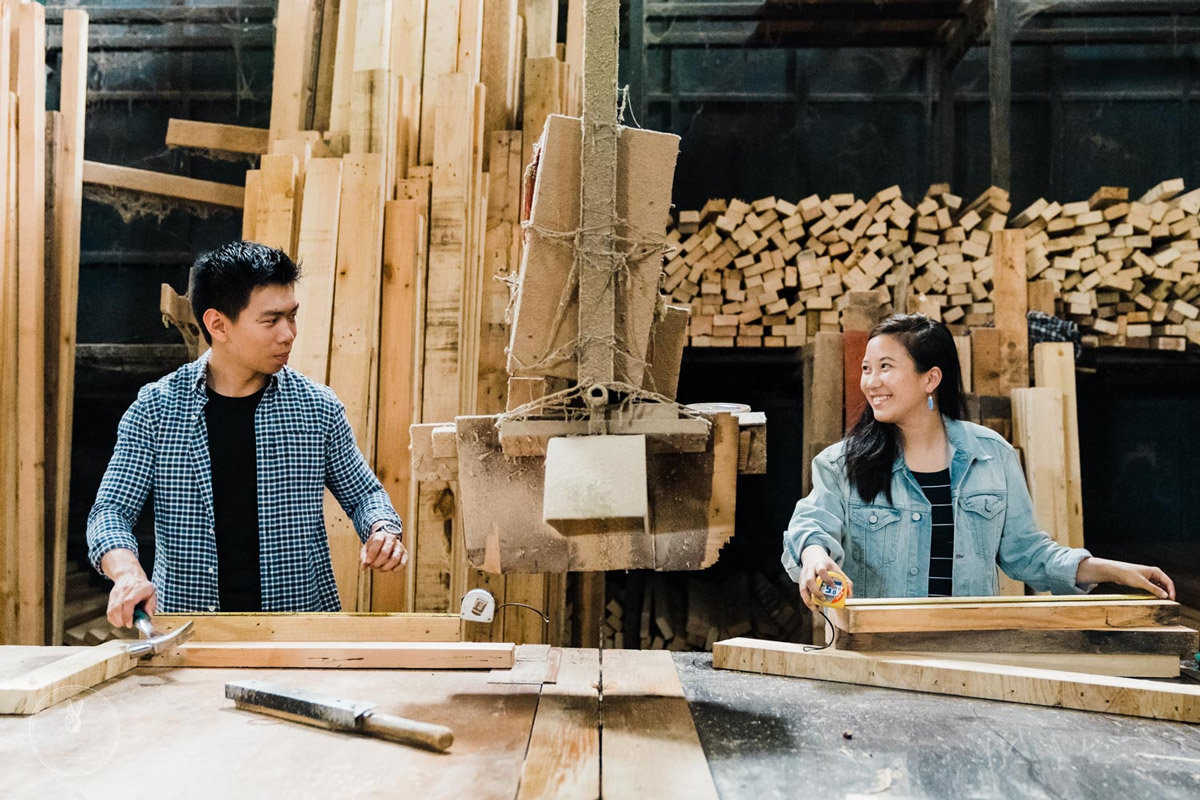 Capture unforgettable moments at places you love to frequent, or simply take on quirky locations like Lester and Eewei, pictured on a lorry and in a wood factory above! The possibilities are endless.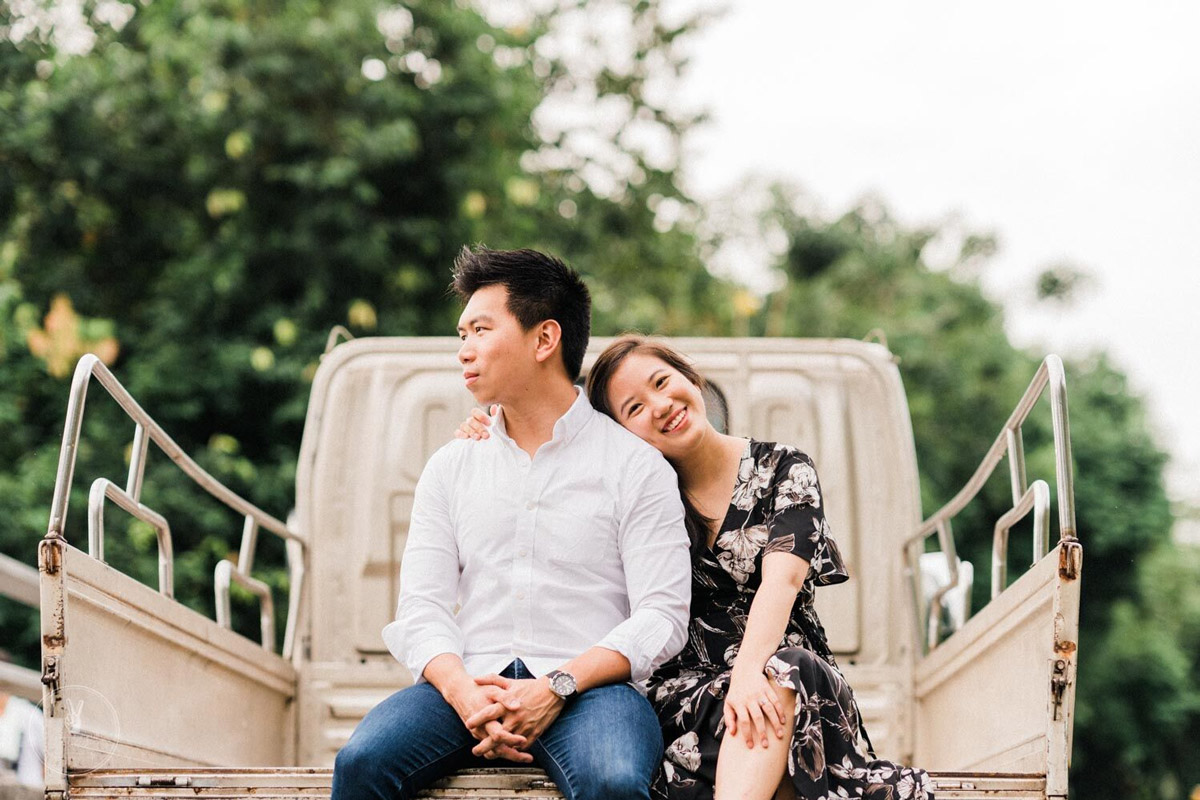 3. Class is in session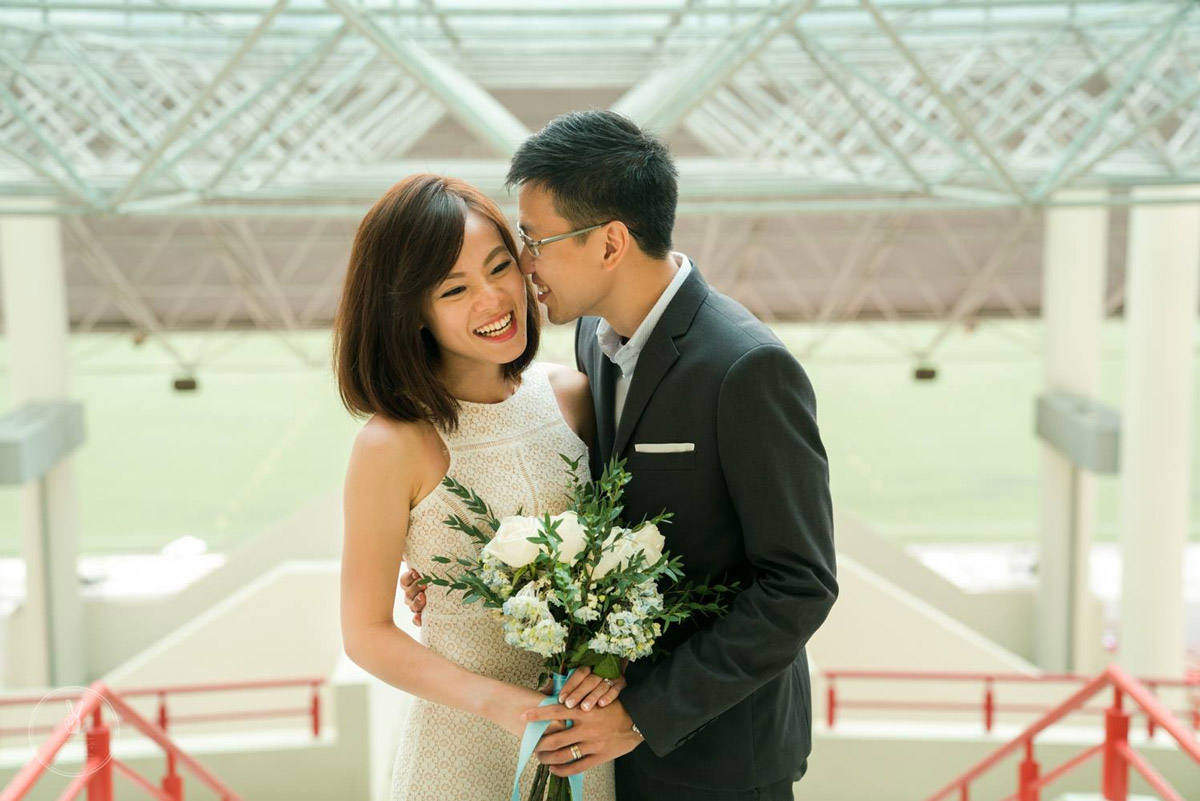 This was taken at National Junior College!
For those of you lovebirds who first met in school, relive your memories as a campus couple and reenact how and when you first got together! We're pretty sure you'll have plenty of stories to tell, from the different lecture halls and classrooms to the common study areas.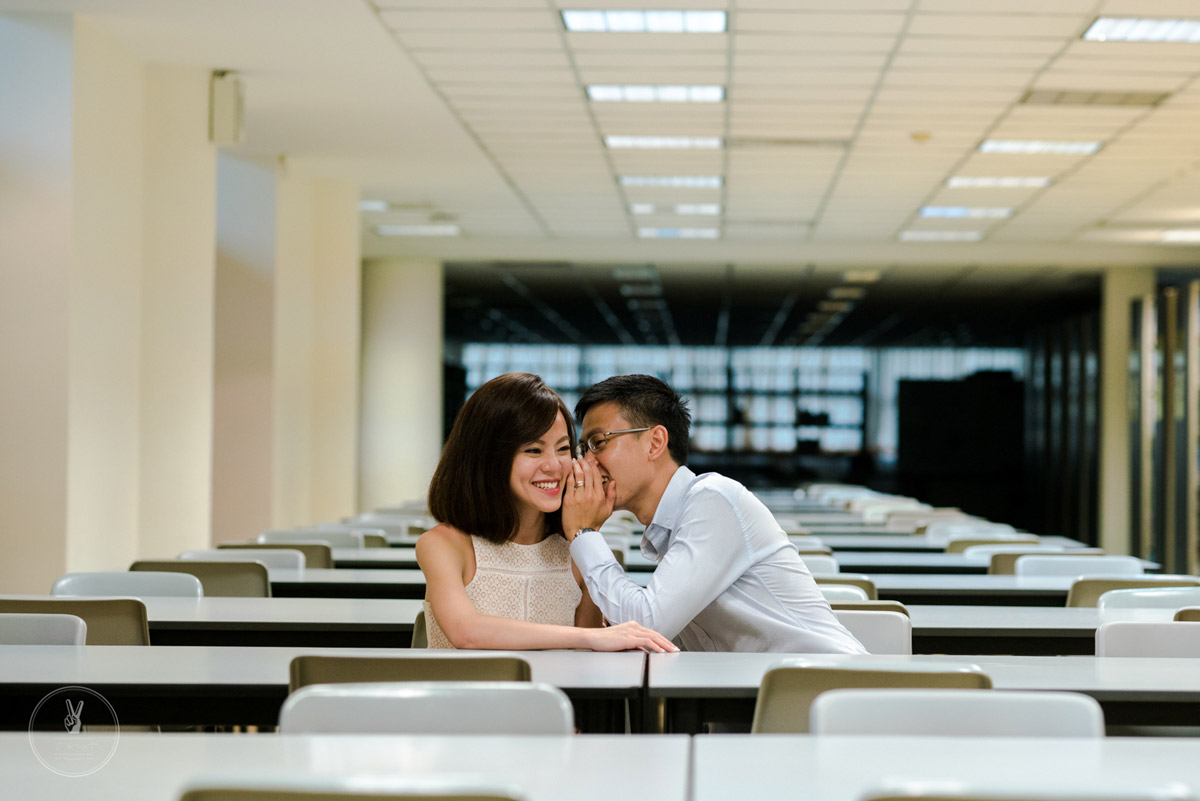 Not only will a pre-wedding shoot at your alma mater tell your love story, but it will also serve as a nostalgic reminder of the great times and shenanigans you and your mutual friends got up to many years ago.
4. Include your pet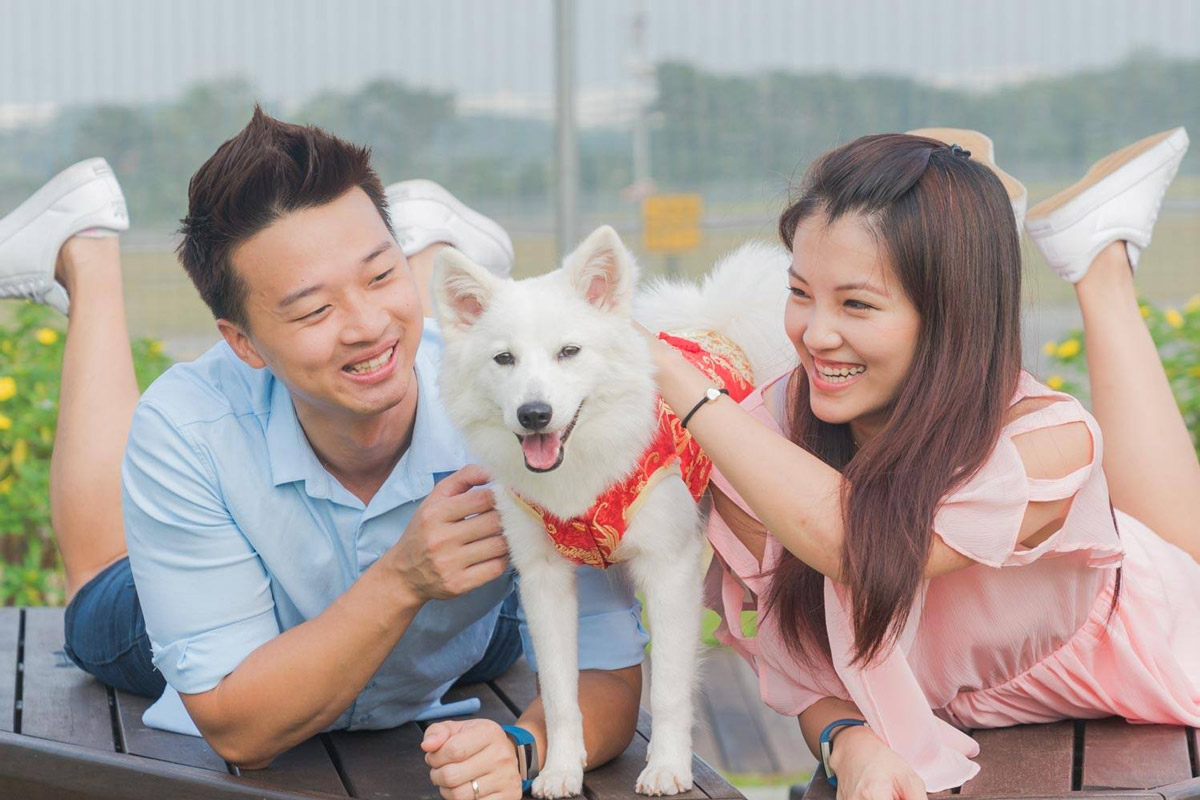 Bring your furkid along! To many of us, our pets are a huge part of our lives, and since we already treat them akin to our own children, we might as well share our most special moments with them – especially if the both of you often take care of your pup together!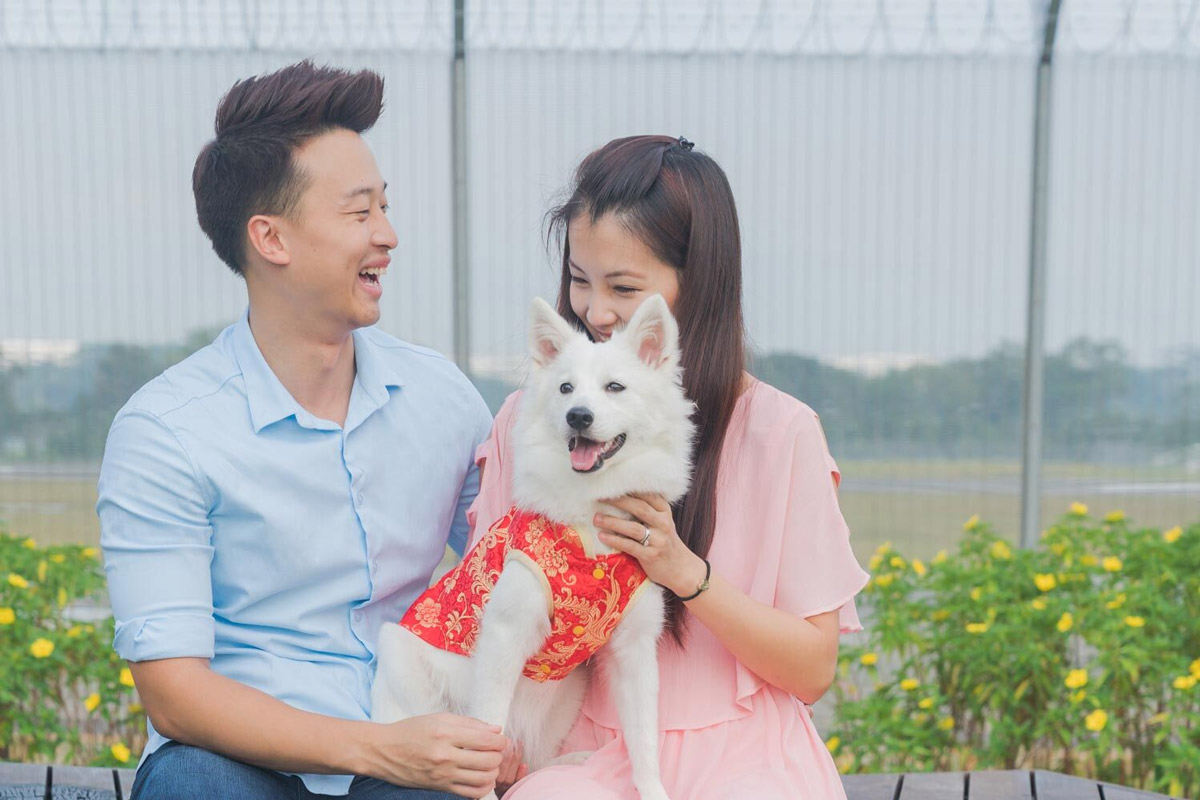 Dress them up in their cutest clothes, or leave them as perfect as they already are. Strike different individual poses or settle your pet in between you and your significant other - your loving smiles and tender gazes can't get more genuine than this!
Be the author of your own love story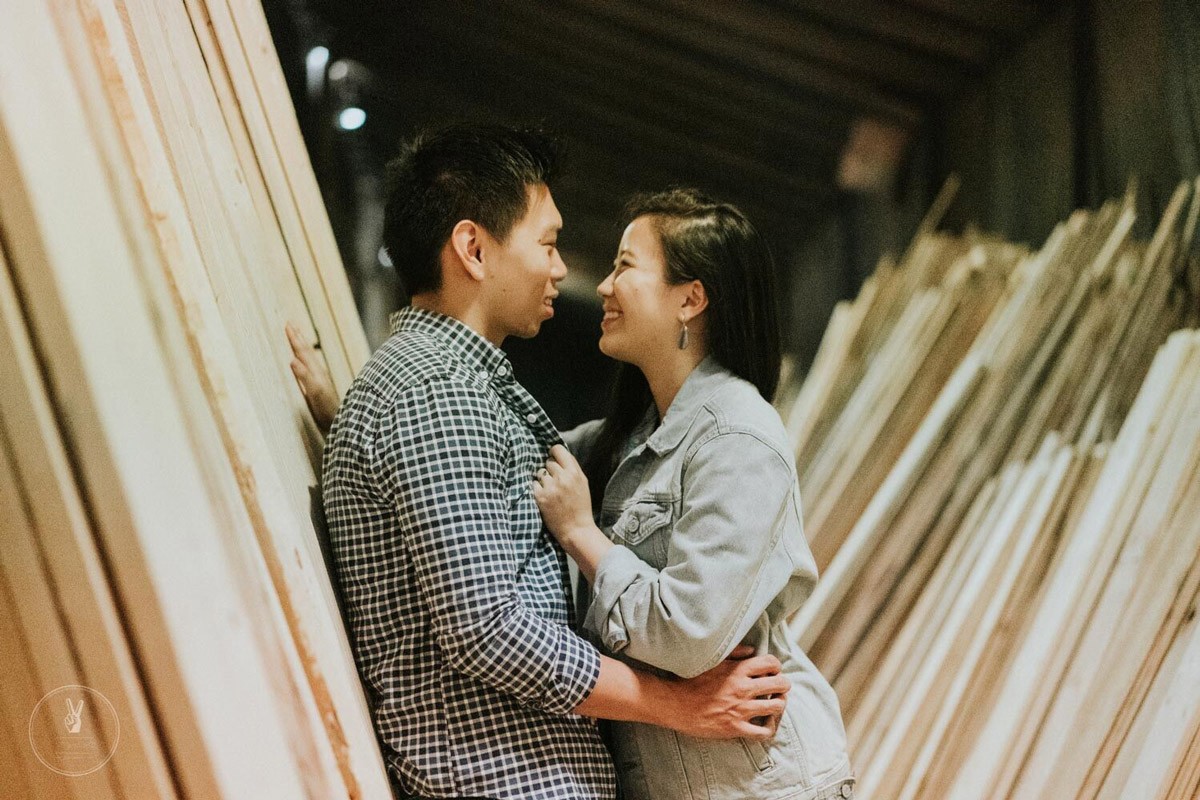 For the folks at Twist Photography, a pre-wedding shoot only has one requirement – to be relatable to the couple in love. A team of wedding photographers with a passion to create long-lasting memories and provide a memorable experience to kickstart the marriage journey, Twist Photography always makes sure to have a casual sharing session with every couple to get to know them and their love story better.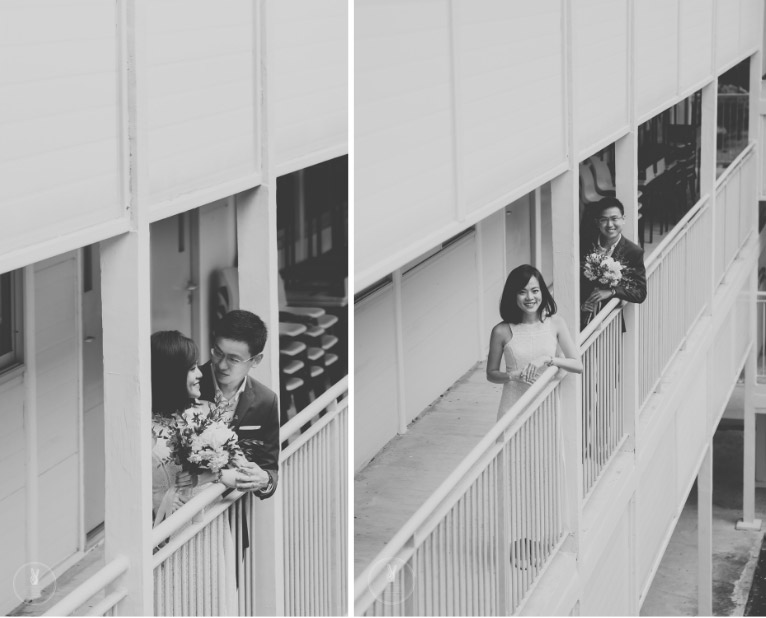 This is so that they can assist you in creating a visual storybook of your love for each other, rather than a cookie-cutter, gown-and-suit shoot just because it's the traditional norm. Don't worry if your ideas seem impossible to realise either – they are more than prepared to go the extra mile for you!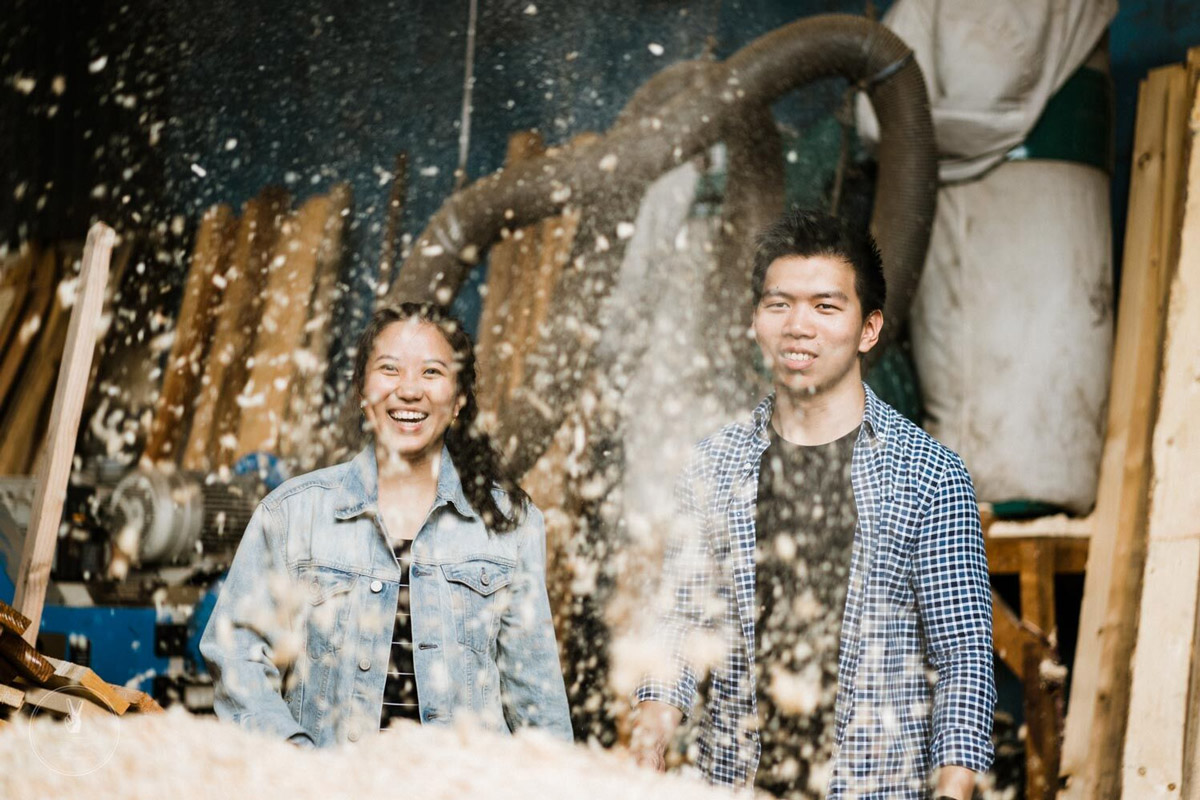 Lester and Eewei's extraordinary pre-wedding shoot
For couple Lester and Eewei, who wished to shoot in a wood factory, one of Twist Photography's photographers went around Singapore and scoured various industrial areas before stumbling upon this faithful timber factory at Defu Ave that gave them permission to use the premises.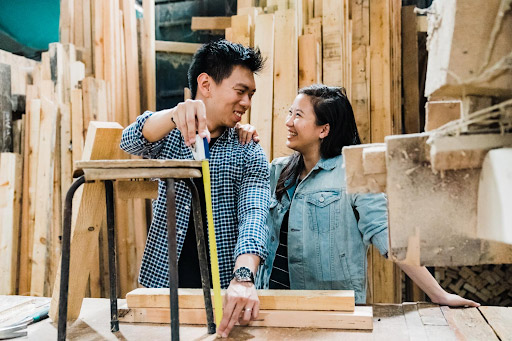 Even if you're camera-shy and not confident about posing naturally in front of a camera, Twist Photography's sole advice to you is to leave it all up to them and simply just have fun. You'll be surprised how candid expressions and genuine reactions can look so photogenic and flattering with a skilled and professional photographer!
To quote them, "There are no hard and fast rules on how a wedding should be done." Just let your hair down and your creative juices flow with Twist Photography here!
This post was sponsored by Twist Photography.
All photos were by Twist Photography.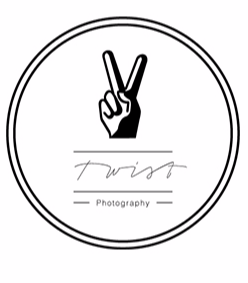 Twist Photography

Rating:

Address:

313 Bukit Batok Street 32 #04-55

Phone:

9128 4233