4 Reasons Why Novotel Singapore on Stevens is the Dream Hotel for Fairy-Tale Weddings
2019-11-26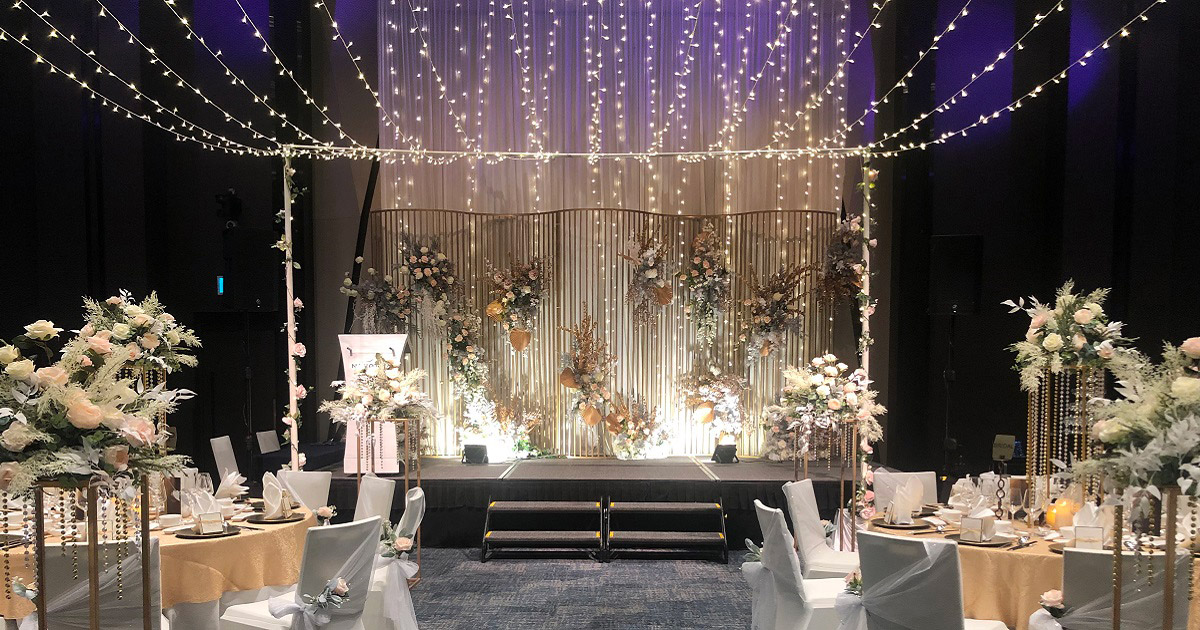 Fairy-tale weddings are most little girls' dream, and if you were one of those girls, congratulations – there's now a place that can make your fantasy come true! Novotel Singapore on Stevens is one of the newest hotels in Orchard, and it is definitely the one place that has all you need for an ethereal, fairy tale of your own.
From a wide driveway that caters to grand VIP entrances like a wedding limousine, to a whimsical garden-themed solemnisation or reception at the La Terrasse, Winner of the Best Garden Wedding Solemnisation; indulge yourself in a dreamy and romantic day of love at Novotel!
1. You can make a grand entrance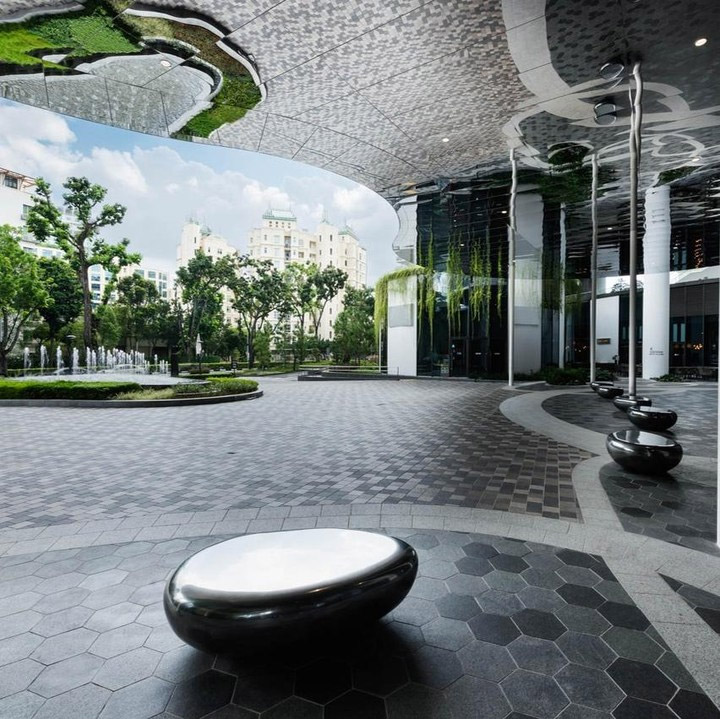 Source: @novotelstevens
Cinderella pulled up to the ball in her artisanal glass carriage, and you can pull off a modern-day grand entrance of the same calibre with Novotel Singapore on Stevens' spacious driveway. Adorned with luscious green trees and a mini water fountain, the driveway is large enough to accommodate even a limousine so that you can arrive in unequivocal style and glamour!
2. Have your solemnisation in an award-winning garden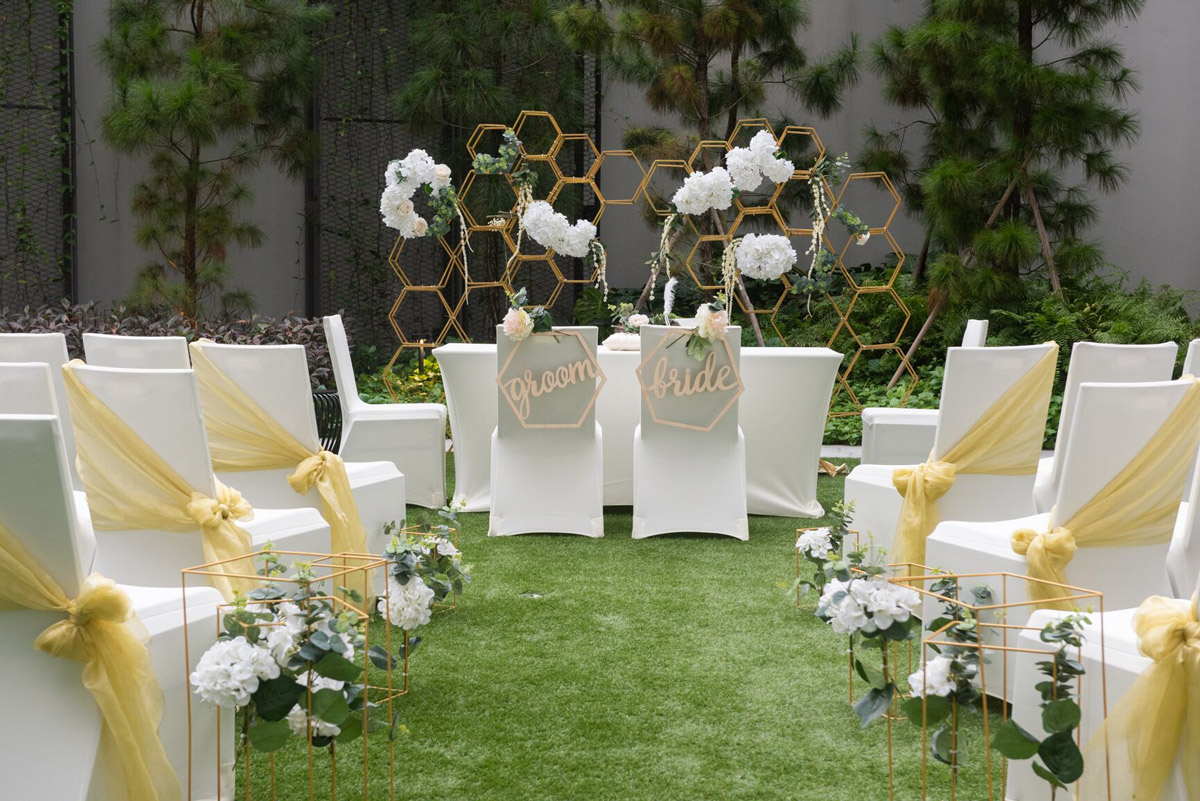 If you're planning for a sweet, botanical style solemnisation, La Terrasse is an award-winning outdoor courtyard perfect for an intimate celebration of you and your partner's love. Bordered by tall walls and set aglow with plenty of natural sunlight, sit under the honeycomb-inspired arch with your honey or an idyllic flower arch of gorgeous spring bloom as you take your sacred vows in front of your friends and family!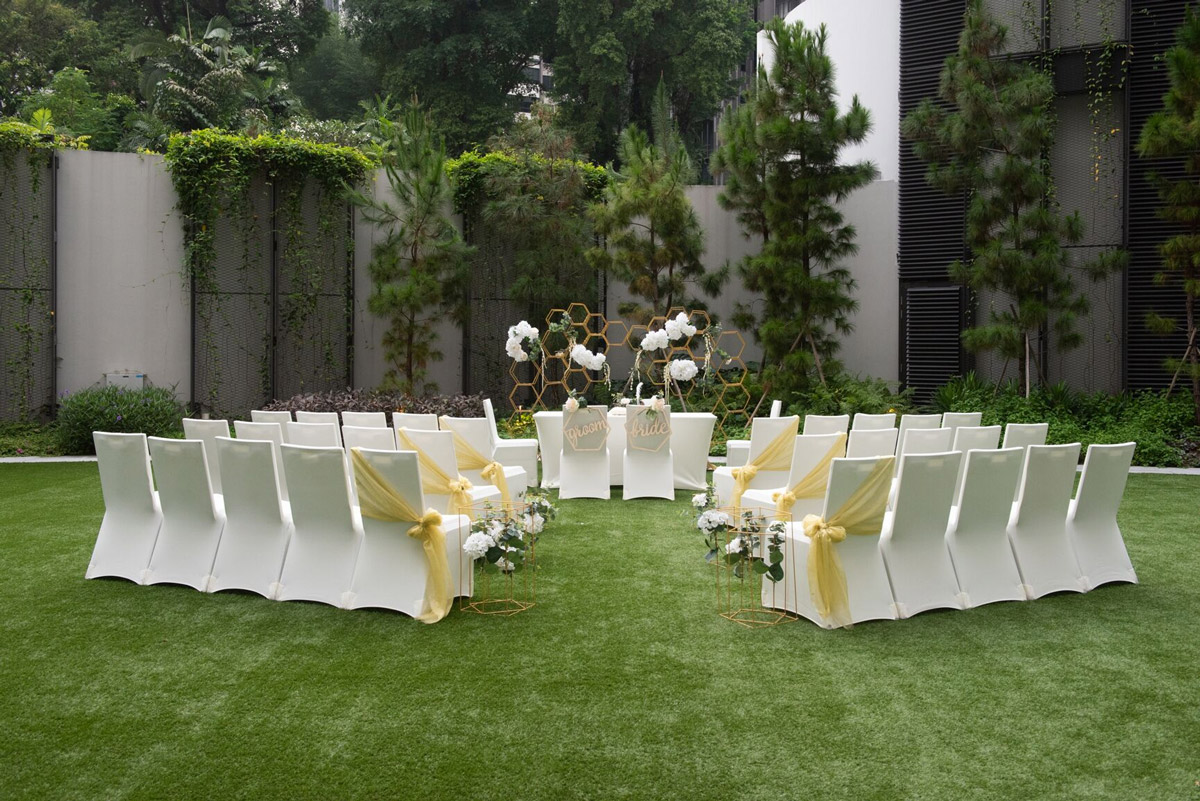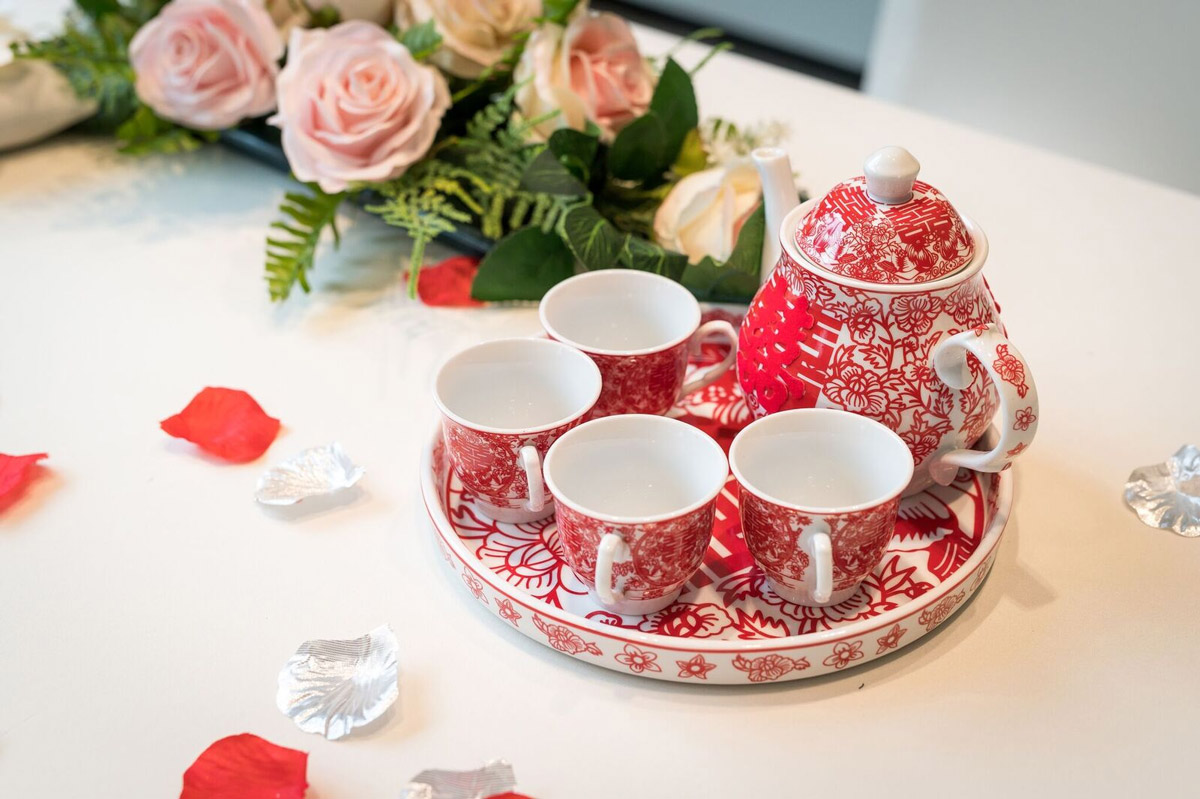 3. Waltz into the limelight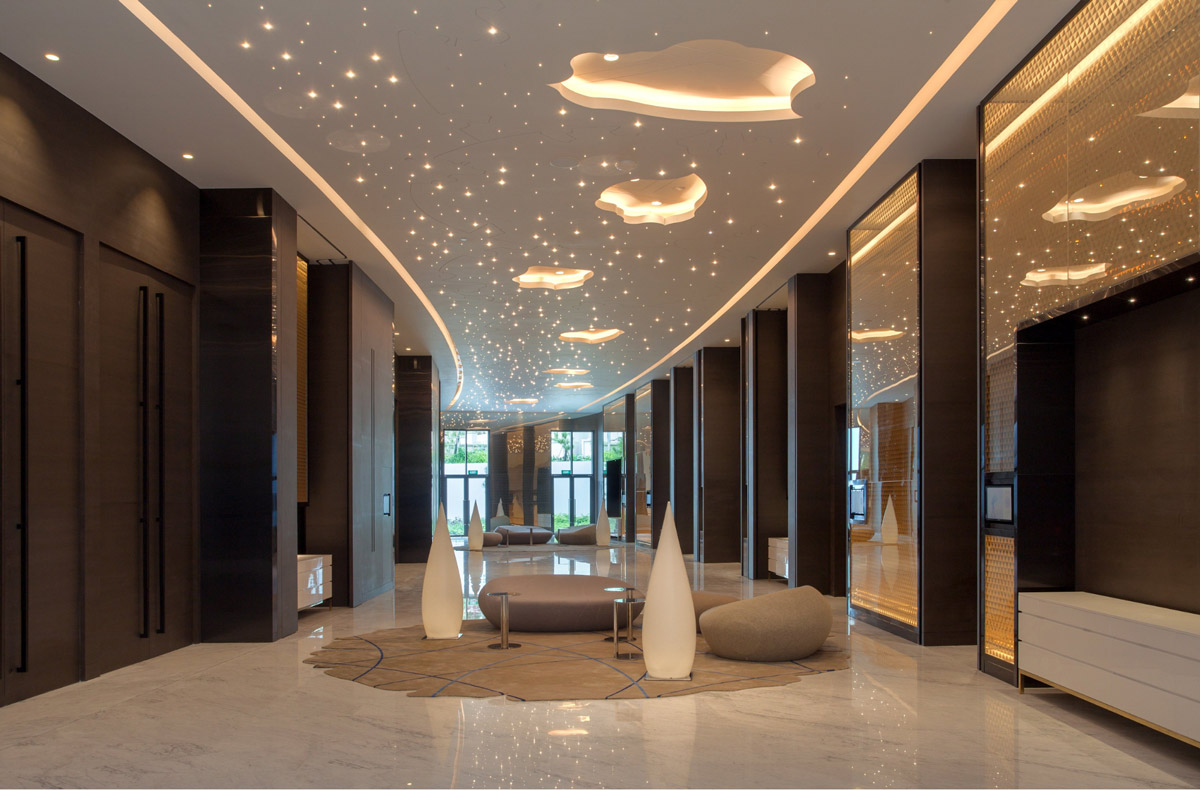 Before you adjourn to the hotel's Grand Ballroom for the wedding banquet, treat your guests to canapés and cocktails under the glistening stars by the spacious Milkyway foyer.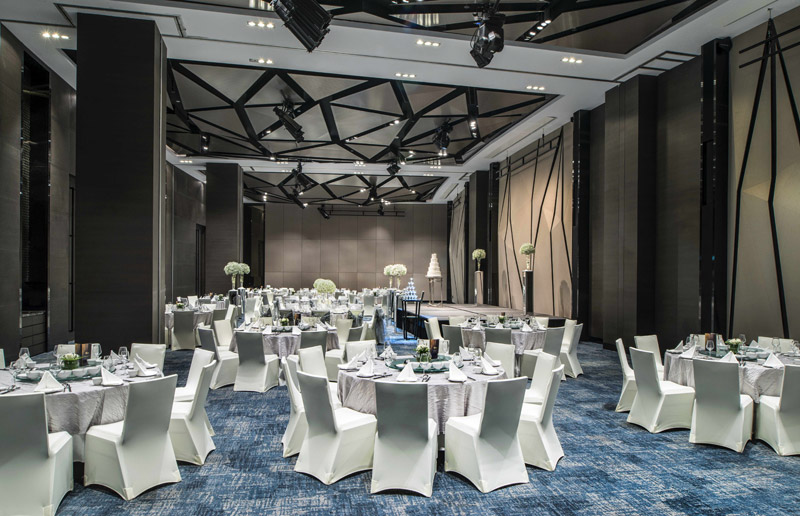 In line with the theme of mesmerising stars, the Grand Ballroom, aptly named The Polaris, boasts glittering lights on its 6-feet high ceiling that resemble twinkling stars. Able to accommodate up to 320 wedding guests, you can be sure that you'll take everyone's breath away during your march-in as the lights dim and the "stars" above start to shine on you.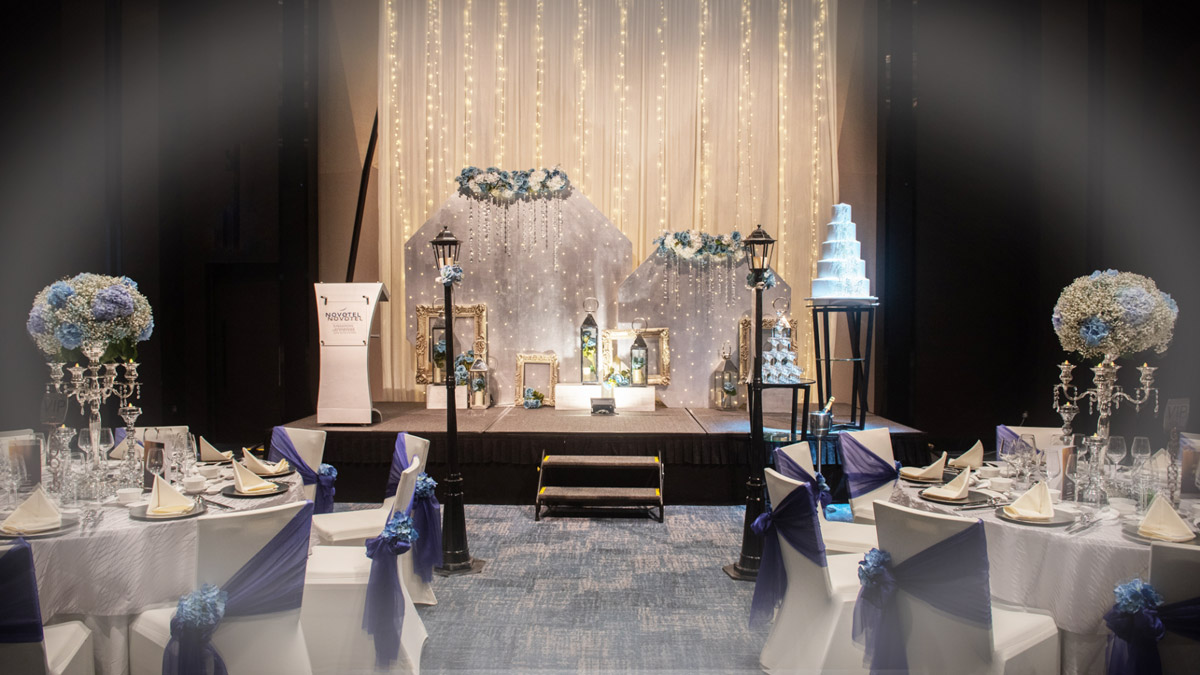 Glittering Bliss Theme
There are three specially-curated ballroom themes that couples can choose from – Glittering Bliss, Sweet Serenity, and their latest addition, Eternal Elegance. The first, Glittering Bliss, is a whimsical blue and white theme that evokes magic in the air, and is accompanied by baby's breath, silver candlesticks, a curtain of fairy lights, and even has vintage lamp posts as props!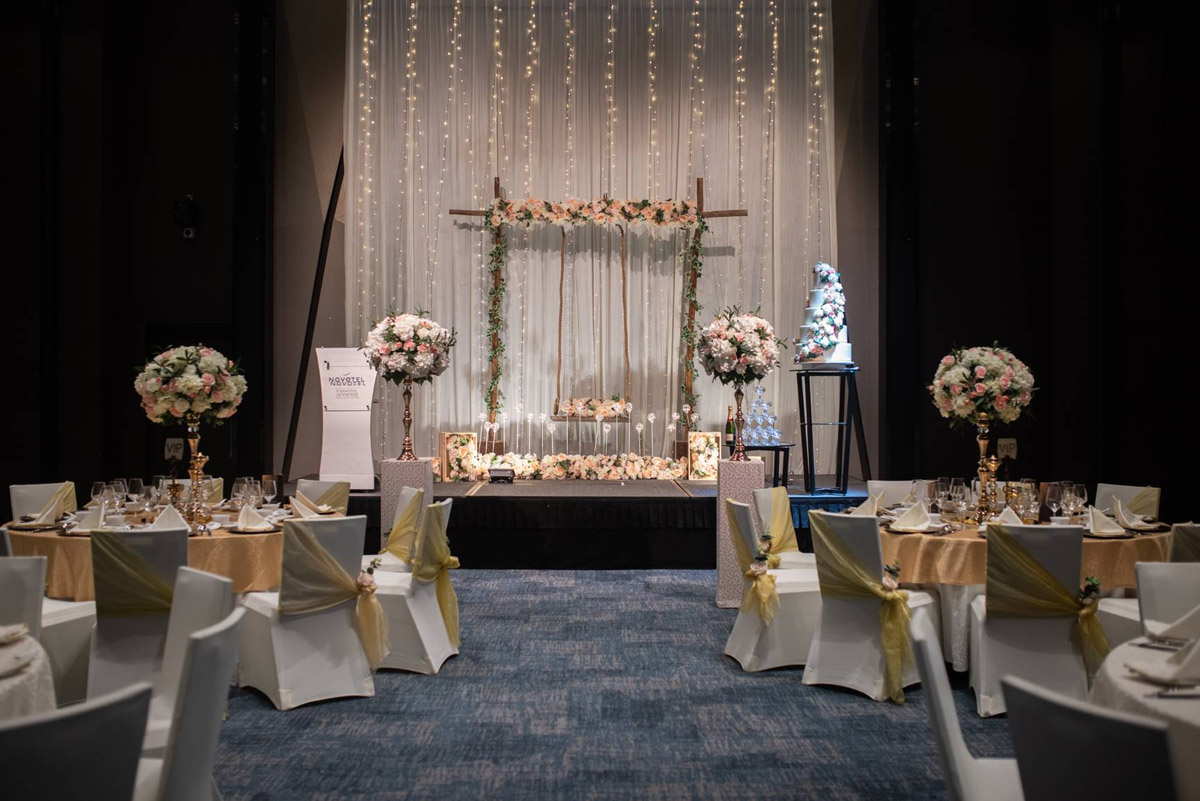 Sweet Serenity Theme
Perfect for childhood sweethearts, Sweet Serenity reminds us of innocence and pure bliss in all its sincerity. Filled with dainty pinks and whites, this theme even has a twine swing as its centrepiece.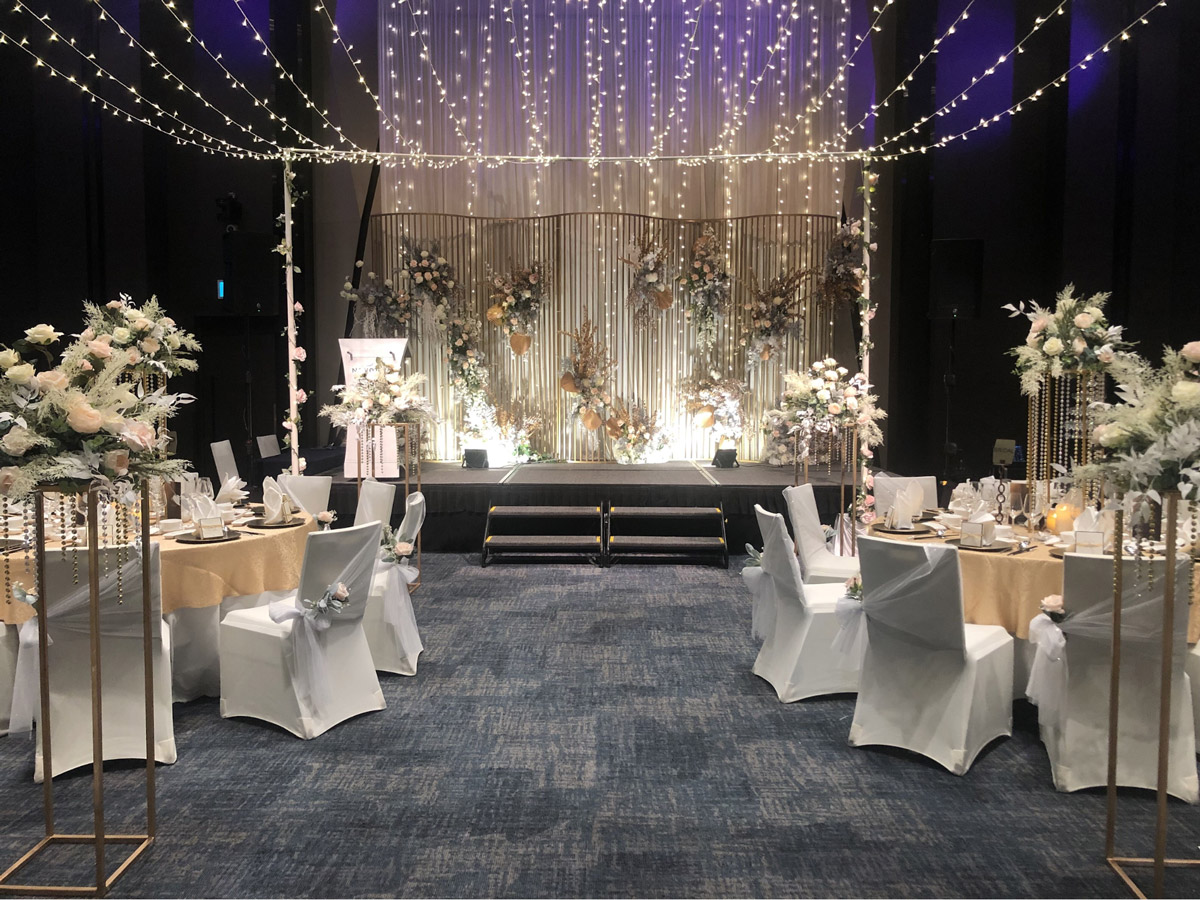 Eternal Elegance Theme
For couples who wish to take things up a notch higher, fill your guests with awe with Eternal Elegance's delightful combination of charming, star-like string lights and rustic bouquets. Reminiscent of a romantic night under the stars, this theme very conveniently provides all the beauty and allure of an outdoor wedding and the lush comforts of an indoor venue.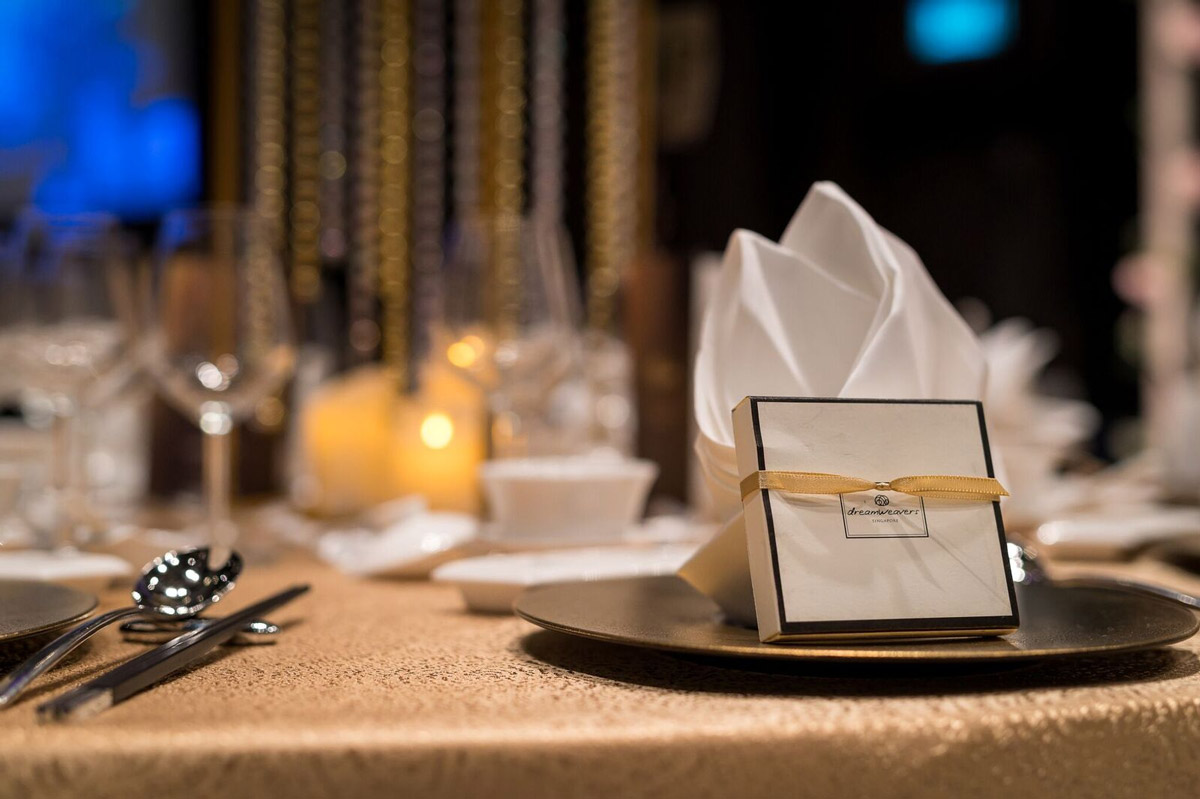 4. Enjoy treatment fit for royalty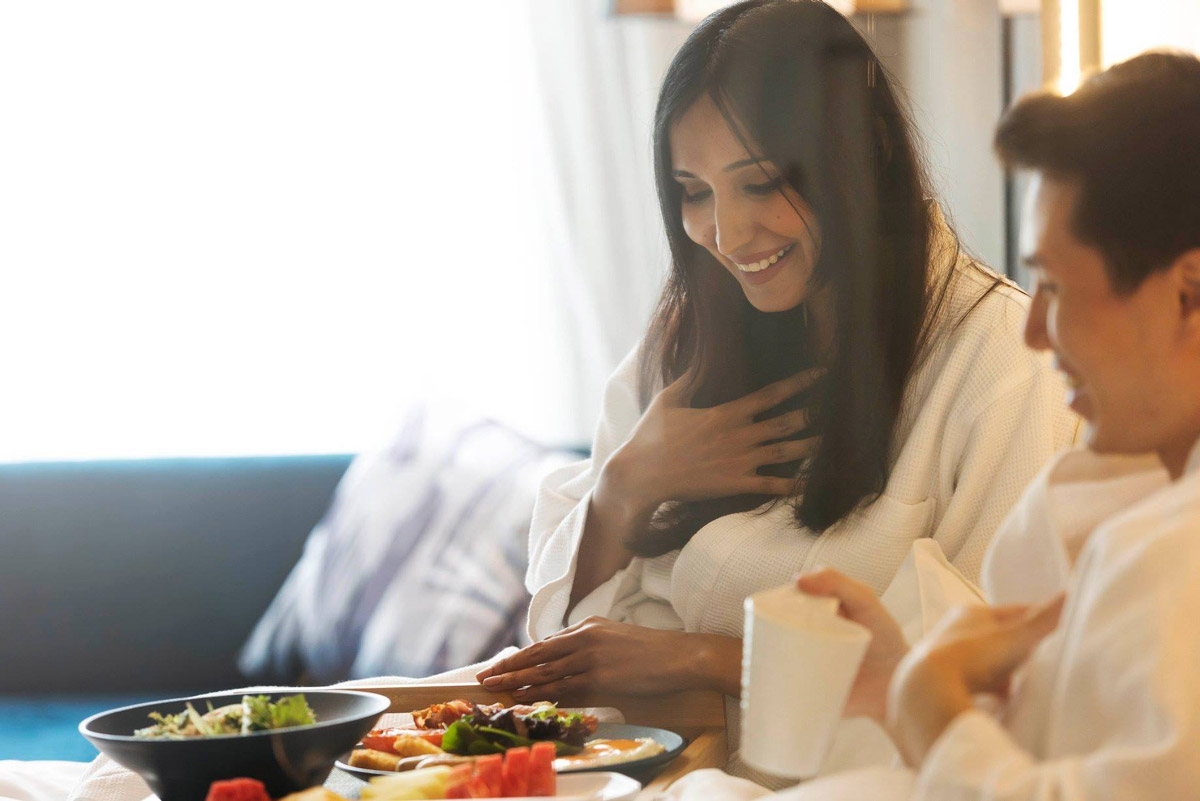 Source: Novotel Singapore on Stevens
Novotel Singapore on Stevens also promises that every wedding held with them is celebrated and delivered with pride, passion, and perfection, so that you, as the star of the show, will not have to fret about anything.
From important elements such as ensuring that your guests are treated to gastronomical delights to tinier details like mood lighting, table settings, music, and even your wedding cake, the dedicated team at Novotel Singapore on Stevens will take care of it all.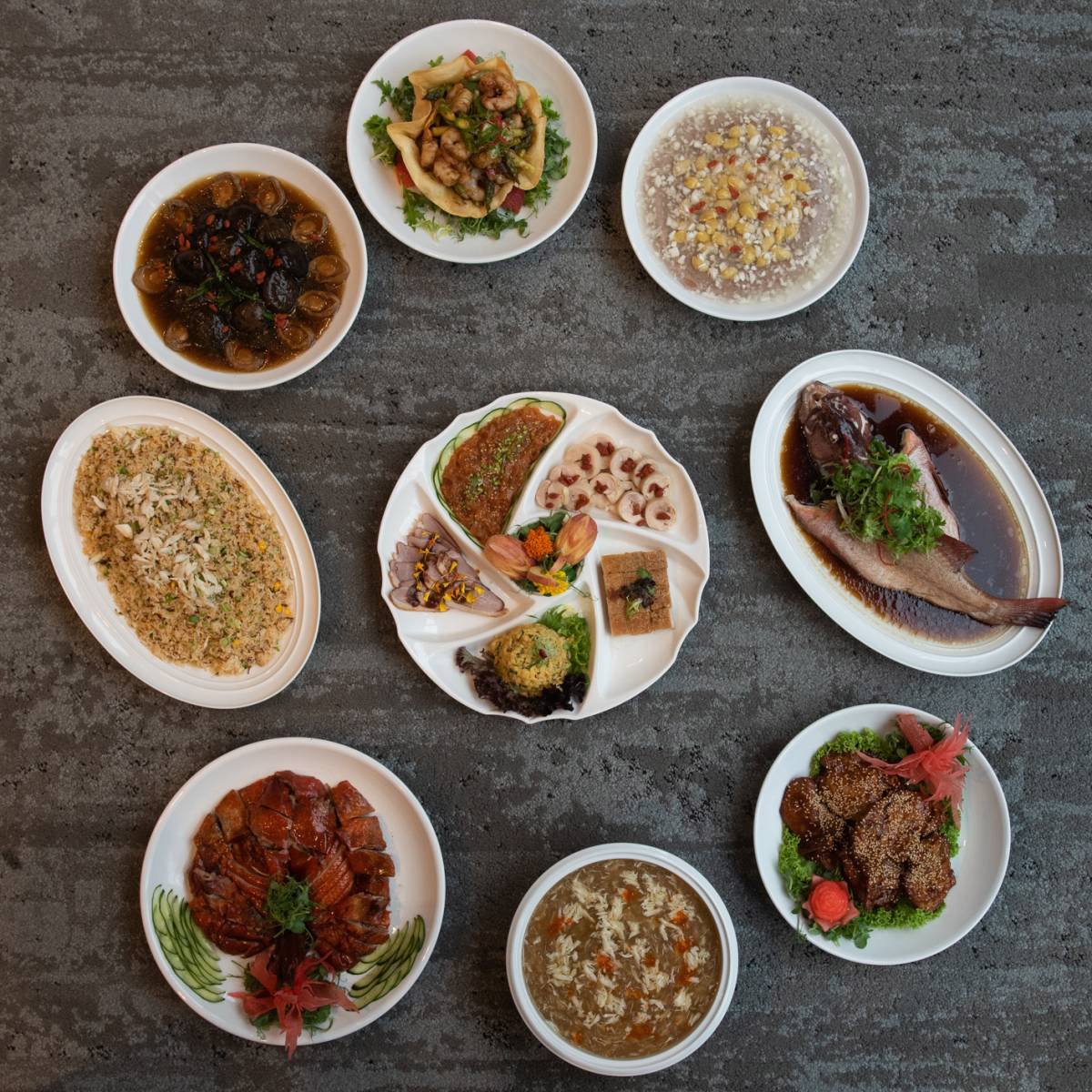 Impress your guests with authentic Chinese cuisine prepared by award-winning chefs!
Whether you require Halal menus, an additional function room for your tea ceremony, or wish to further add on to your wedding with dessert bars, canapés, and an afterparty session, all you have to do is ask and Novotel's talented team will strive to make your personalised dream wedding happen. If you're unsure about the planning process, their seasoned planners will clue you in with the latest wedding trends and provide professional advice too!
For more information on how you can hold the most timeless and magical wedding possible at Novotel Singapore on Stevens, click here or contact them at +65 6491 6114 or h9543-sc6@accor.com.
This article was written for Novotel Singapore on Stevens.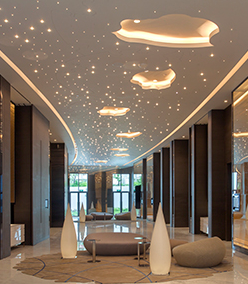 Novotel Singapore on Stevens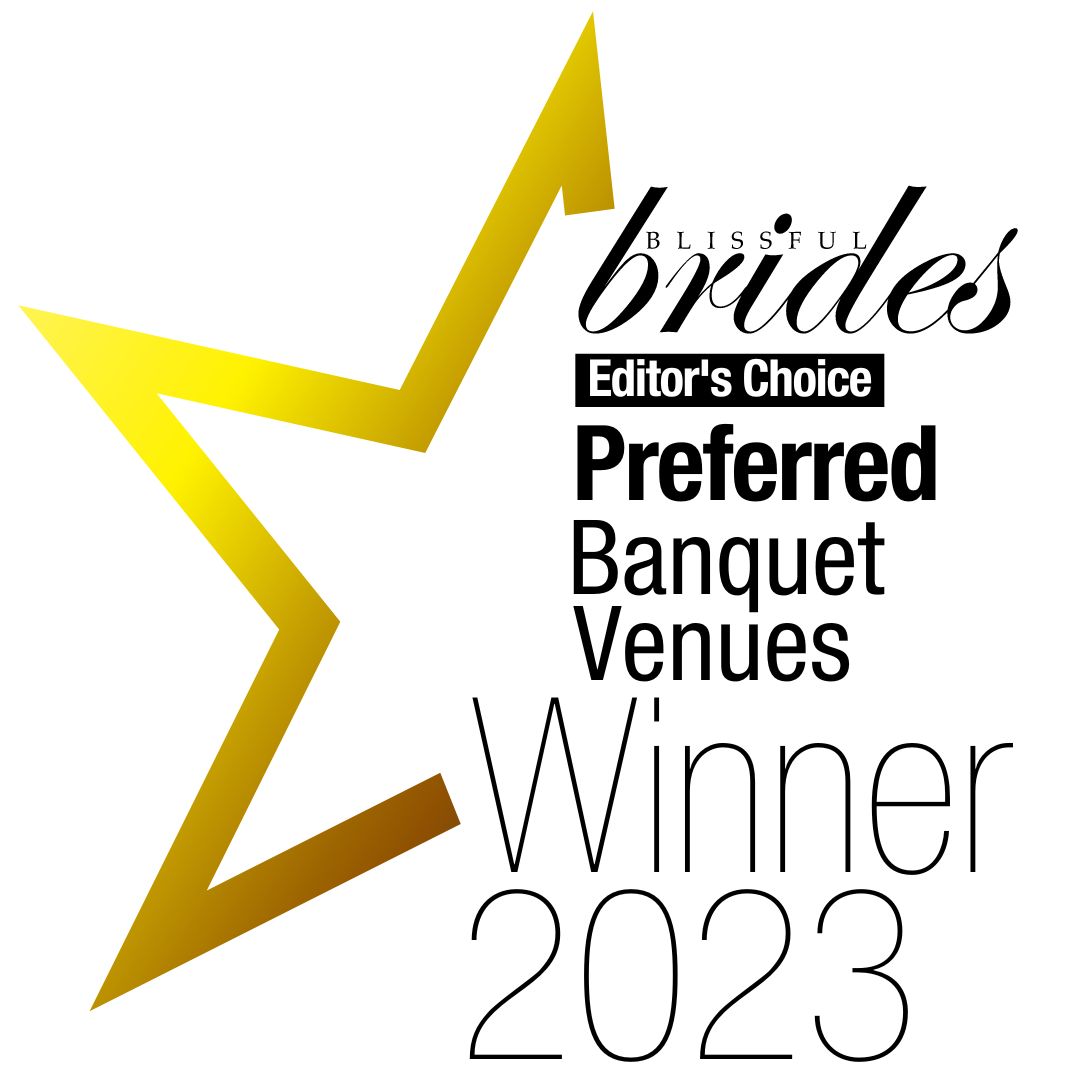 Rating:

Address:

Novotel Singapore on Stevens, 28 Stevens Road, Singapore 257878

Phone:

6491 6100, 6491 6106

Fax:

64916085