7 Green Wedding Venues in Singapore for the Eco-Friendly Couple
2019-08-15

Go with a green wedding to help save Mother Earth
While a wedding calls for lots of resources, there is always an environmentally friendly way to go about it. Should you be dealing with green guilt, the following are some green venues to make your wedding a sustainable event as much as possible. The show must go on, after all!
1. Concorde Hotel Singapore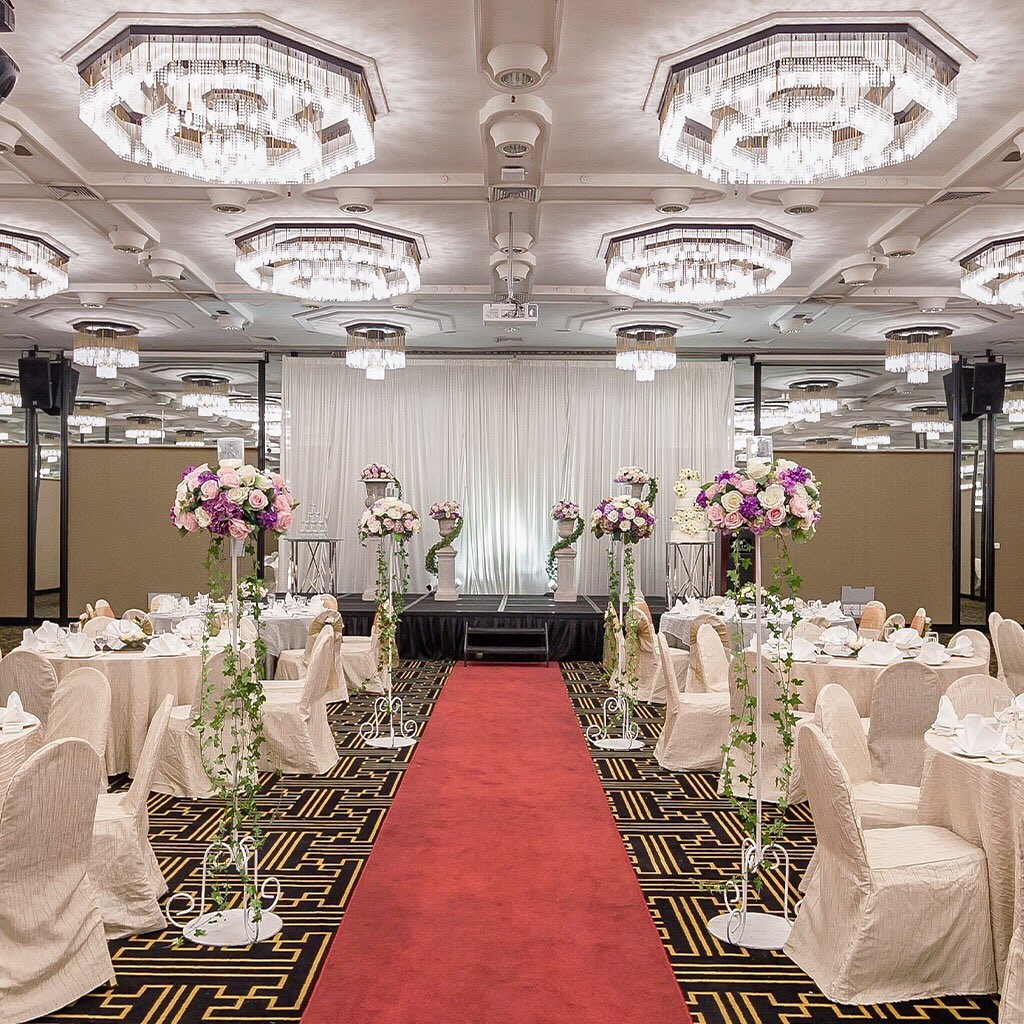 Source: @concordehotelsg
For a seamless wedding experience, book with Concorde Hotel Singapore. They provide support via LCD projectors, cordless and clip-on microphones, as well as Wi-Fi internet access amongst others for all your wedding entertainment needs.
As part of its efforts to go green, Concorde Hotel Singapore brings it back to the basics with the 3Rs – Reduce, Reuse, and Recycle. Besides, energy-saving light bulbs are used approximately 60% throughout its premises, and your wedding ballroom might just be one of them!
2. Grand Hyatt Singapore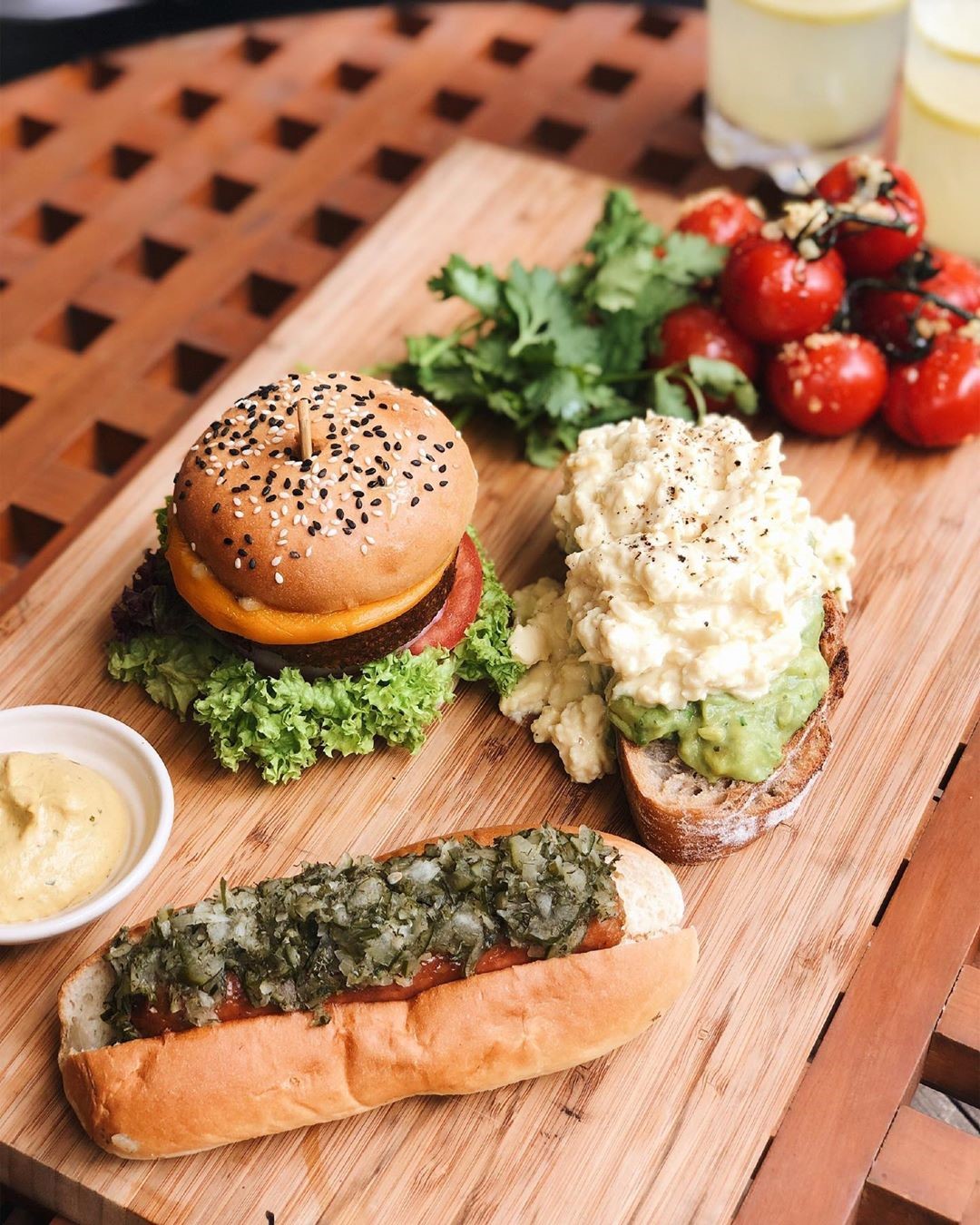 Plant-based foods made with ingredients from Beyond Meat and JUST Egg
Source: @grandhyattsg

From a gazebo to a grand ballroom, Grand Hyatt Singapore has a site suitable for any wedding size. With a colour-changing lattice wall in its Grand Residence, you can even customise the colour and pattern to create the ideal ambience for your dream wedding.
The 5-star hotel is a spectacular wedding venue and a leader in corporate environmental responsibility too. Besides offering plant-based meals for your wedding – think morish burgers, sausages, and eggs without the harmful environmental effects of livestock production – the hotel also serves sustainable seafood if your guests are not up for a vegetarian or vegan meal.
3. JW Marriott Singapore South Beach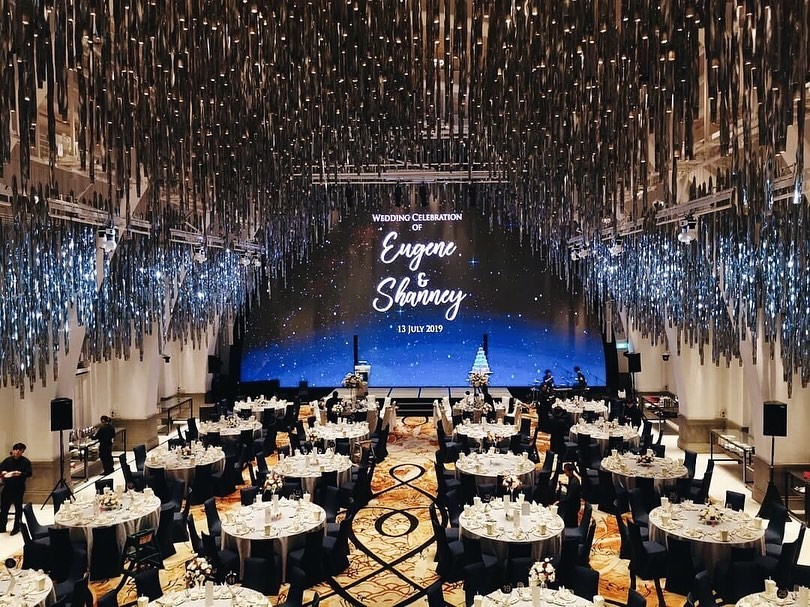 Source: @shanneyseoh
The appeal of JW Marriott Singapore South Beach undoubtedly lies in its Grand Ballroom's Forest of Lights, which features a state-of-the-art 11,520-light art installation customisable to your wedding theme!
At JW Marriott Singapore South Beach, the main energy saver is the canopy, which combines style and function – it is made to reduce heat penetration so as to reduce indoor temperatures. Additionally, you can kill two birds with one stone with the canopy's wide windows. During your daytime wedding, the sunlight not only reduces the need for artificial lighting but also lets you bask in the natural light for a dreamy glow.
Aside from its energy-saving properties, the canopy's design can also convert solar energy to electricity – a form of renewable energy to power your wedding!
4. Marina Bay Sands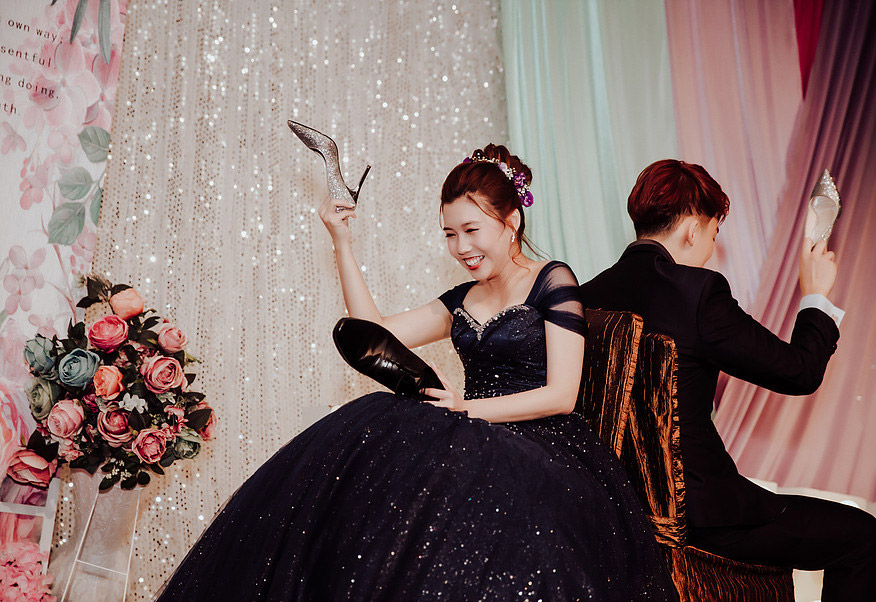 Source: Story Wedding (Sin)
With its Sands SkyPark, Garden Bay Bridge, and Garden Walk, Marina Bay Sands surely makes for a dream wedding venue! As you wed at this stunning destination, why not do your part to help the environment while you're at it?
Marina Bay Sands, with its Sands Eco360 Global Sustainability Programme, offers an entire package perfect for the green couple! The Harmony Wedding Package lets you do so in a variety of ways, from the usage of silk flowers for decoration to a sustainable menu that serves responsibly sourced food and organic and biodynamic wines, so that you can do your part for the environment.
5. Novotel Singapore Clarke Quay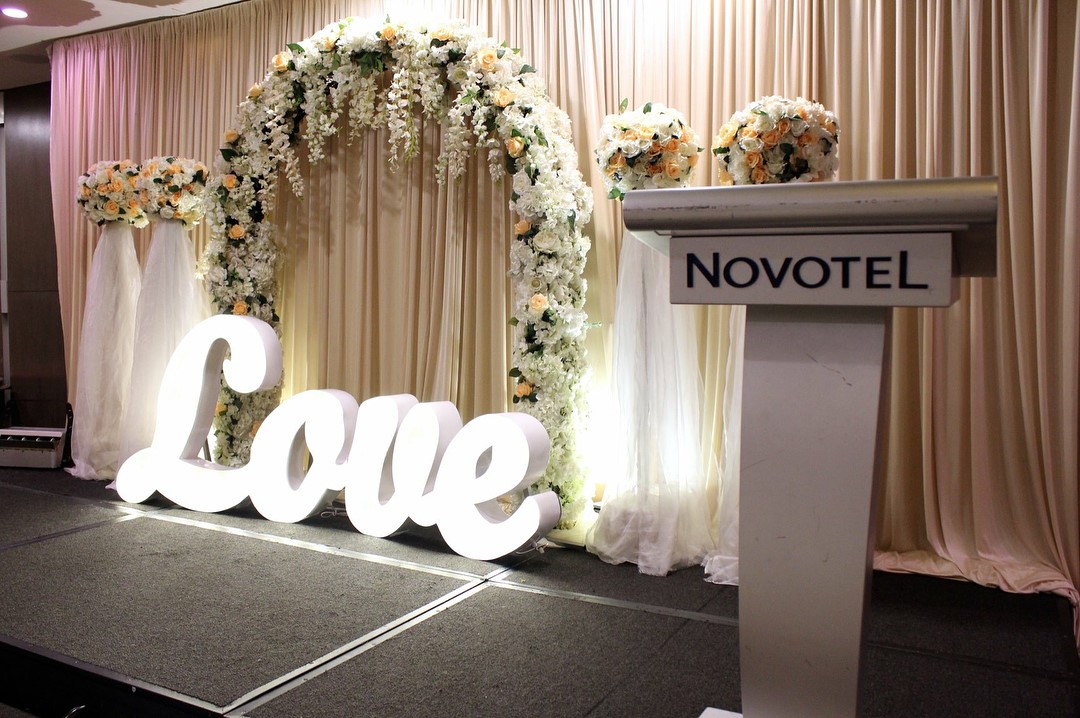 Source: @pedestalworks
Good for solemnisations and weddings, Novotel Singapore Clarke Quay caters to both large and small crowds. The hotel is driven by sustainability, so it comes as no surprise that it is part of Accor's Planet 21 programme for sustainable hospitality.
An eco-friendly wedding with Novotel Singapore Clarke Quay lets you engage its 7 pillars of sustainability, which includes health, carbon, and nature. From balanced food options to reforestation, the hotel helps you to have a hand in contributing to environmental causes too!
6. Open Farm Community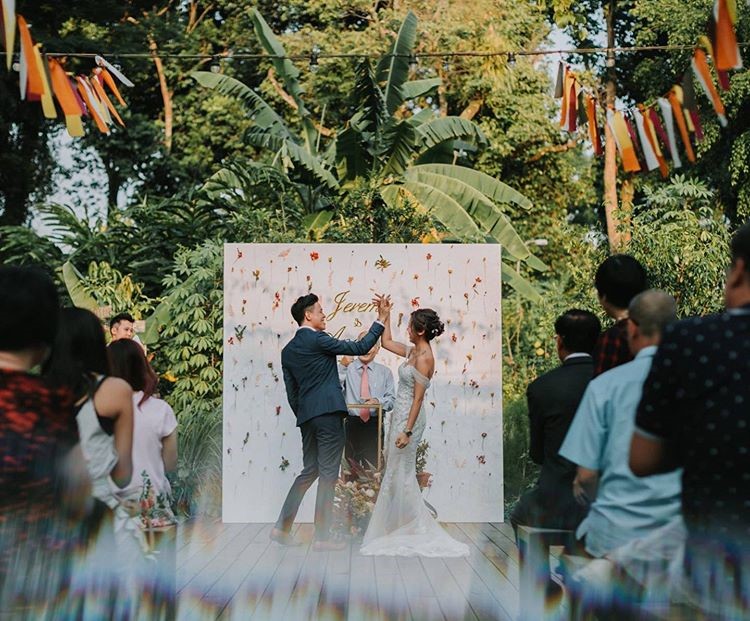 Source: @wulalaaa
Nothing screams green more than an urban garden! A cosy private space, Open Farm Community is ideal for an intimate celebration with your closest loved ones.
Aside from its support of local farmers and the use of locally sourced ingredients, it is committed to limit both single-use plastics and water and electricity usage. Yet, the Open Farm Community's philosophy goes beyond its practices – led by a strong belief to save our planet, the team seeks to, as its name suggests, build a community that respects the food they eat.
7. Tangerine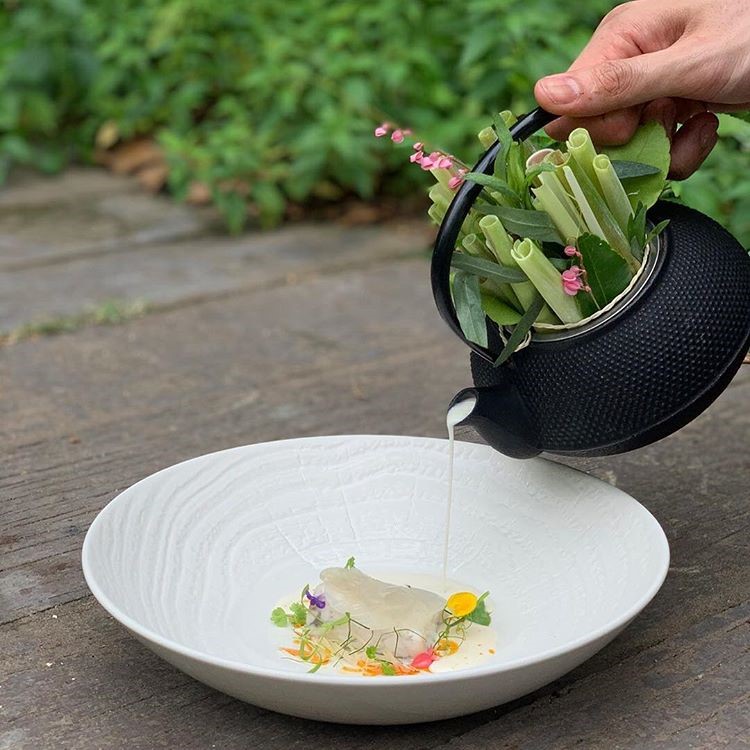 Barramundi soup
Source: @iankittichai

Yet another farm-to-table dining concept, this time Thai-inspired. Thai celebrity chef Ian Kittichai is at the helm of Tangerine, where quality ingredients such as free-range poultry and grass-fed beef are used to create the perfect balance of flavours in contemporary cuisine.
Besides, Tangerine obtains its spices from its very own herb garden, so you and your guests get to take one step further to reduce your carbon footprint!
Concorde Hotel Singapore

Rating:

Address:

100 Orchard Road, Singapore 238840

Phone:

6739 8356

Fax:

6732 7886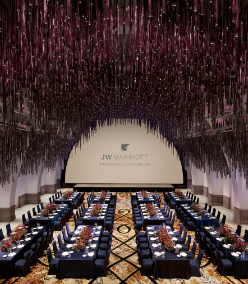 JW Marriott Singapore South Beach
Rating:

Address:

30 Beach Road, Singapore 189763

Phone:

6818 1900