A 'Destination' Beach Wedding in SG: Shangri-La Rasa Sentosa, Singapore Idyllic Getaway!
2020-11-03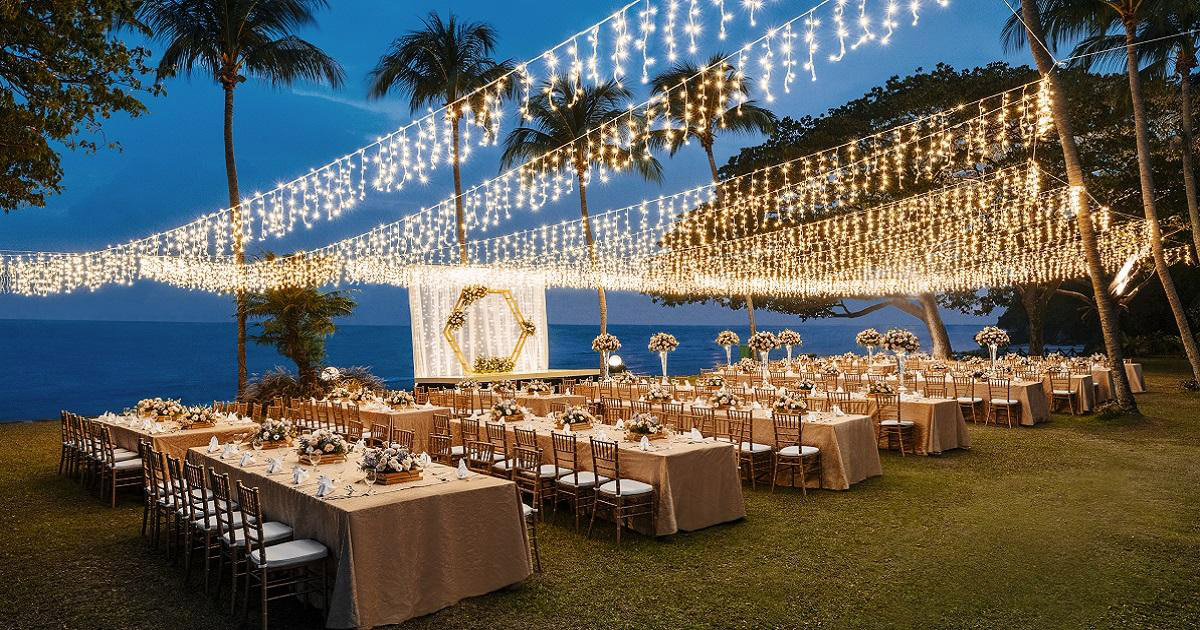 Dreaming of a quaint, intimate wedding by the sea on a breezy, tropical island but not sure if it's worth the logistical hassle? Fret not, because your dreams are closer within your reach than you think — at Shangri-La Rasa Sentosa, Singapore, you can easily turn the fairytale seafront matrimony you have always envisioned into a reality without travelling to a faraway place.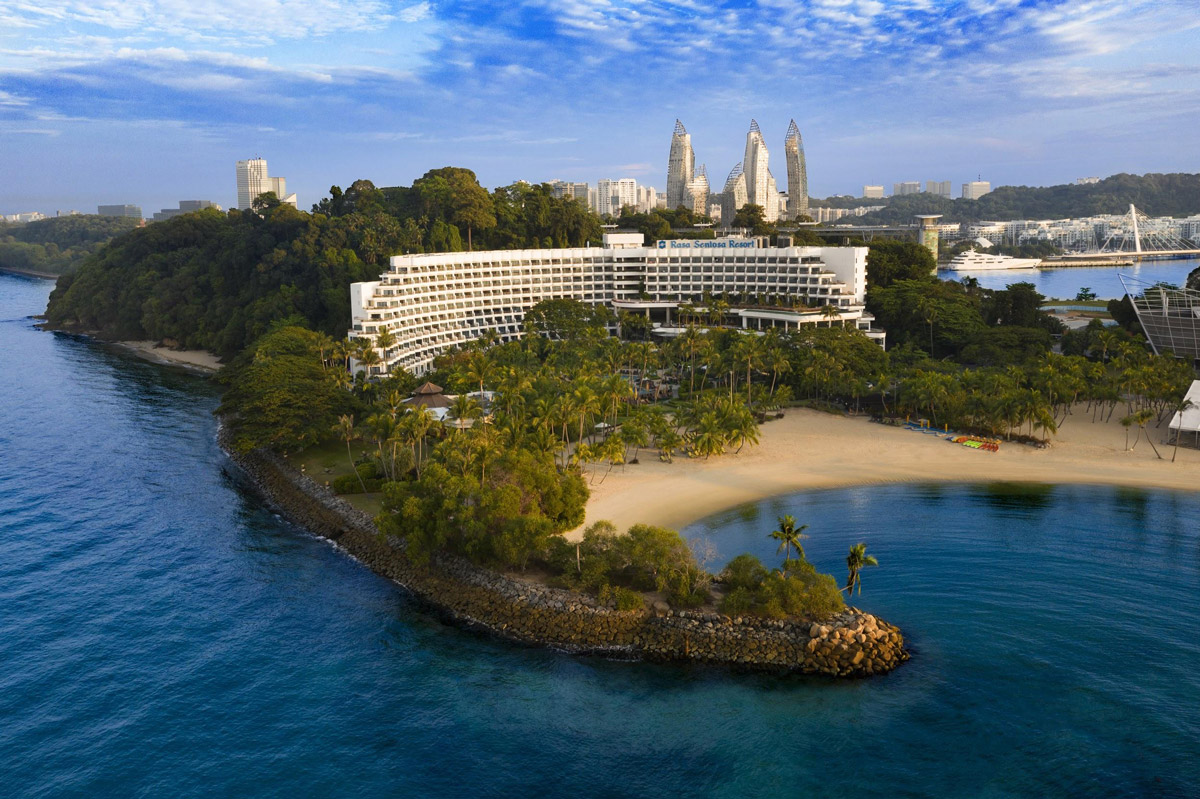 Shangri-La Rasa Sentosa, Singapore
The only beachfront resort in Singapore, Shangri-La Rasa Sentosa, Singapore feels exactly like a destination getaway with powdery white sand, azure waters, and clear blue skies right at its doorstep. Within easy reach of the city for utmost convenience for you and your wedding guests, it's also equipped with all you need for the perfect, unique, seaside wedding, from venues and delectable menus to unrivalled hospitality!
Venues for every celebration
Whether you're looking for an outdoor space, an indoor location, or a venue that has the best of both worlds, Shangri-La Rasa Sentosa, Singapore has got it all:
Outdoors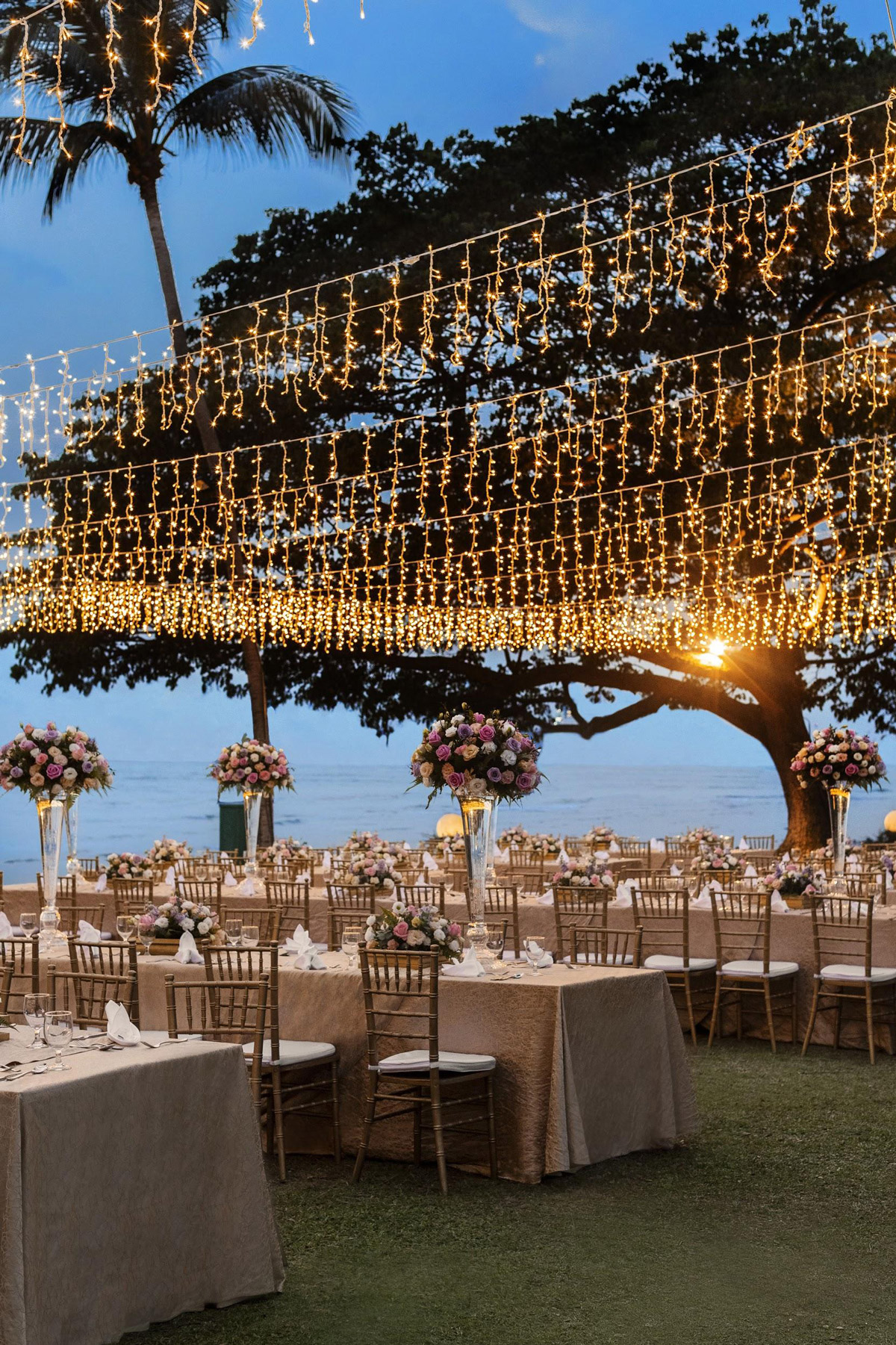 Rasa Lawn
Perfect for couples who prefer a natural outdoor setting for your solemnisation, Rasa Lawn is a rare gem in Singapore that boasts a picturesque view of the South China Sea with the sun setting in the horizon. Besides acting as a mesmerising backdrop for wedding photographs, you can be sure that the memory of a stunning, vermillion sunset wedding will be forever etched in everyone's minds.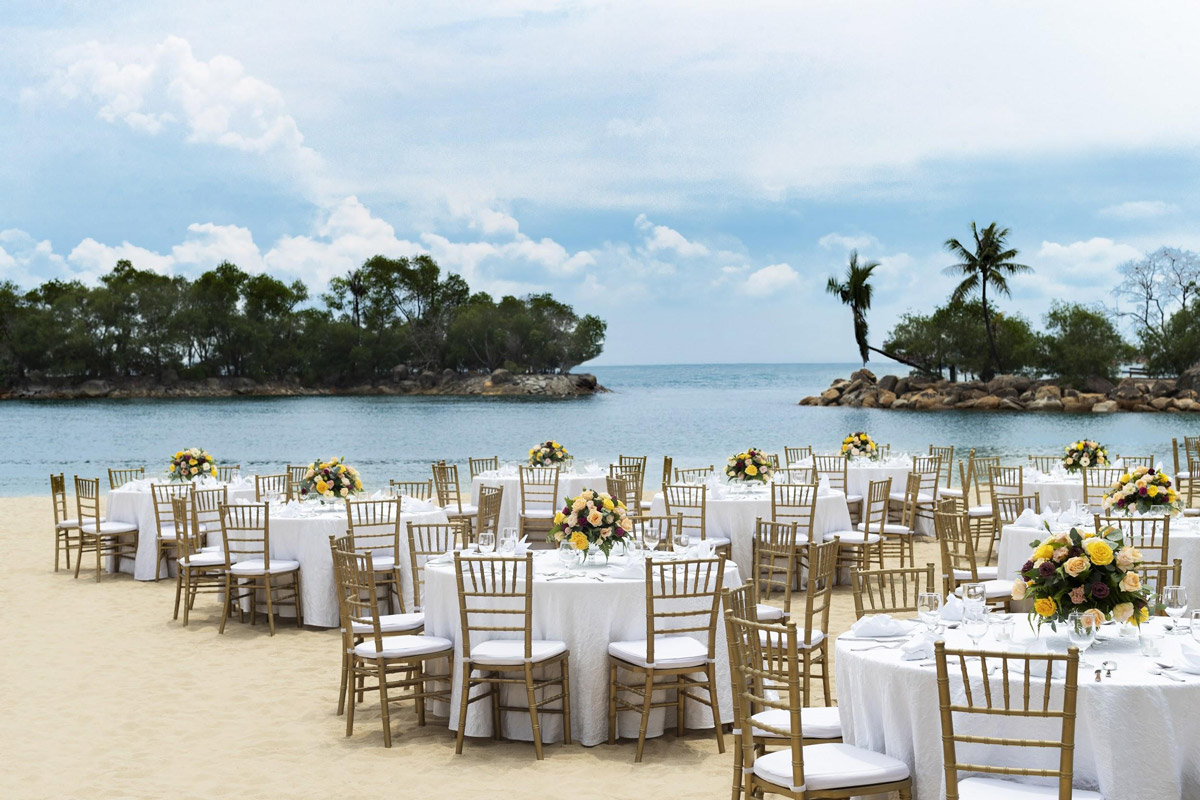 Rasa Shore
Alternatively, located on the pristine white shores of Siloso Beach are the Rasa Grove and Rasa Shore, which are natural seaside settings for an authentic beach wedding experience. Choose between a cosy celebration at the Rasa Grove or opt for an elaborate set-up at the Rasa Shore, then enjoy an alfresco dinner by the beachfront under the rustling palms and calming sea breeze.
Indoors
If you prefer a more traditional banquet setting, Shangri-La Rasa Sentosa, Singapore is also equipped with two ballrooms perfect for a luxuriously grand affair — the Horizon Pavilion and the Siloso Ballroom.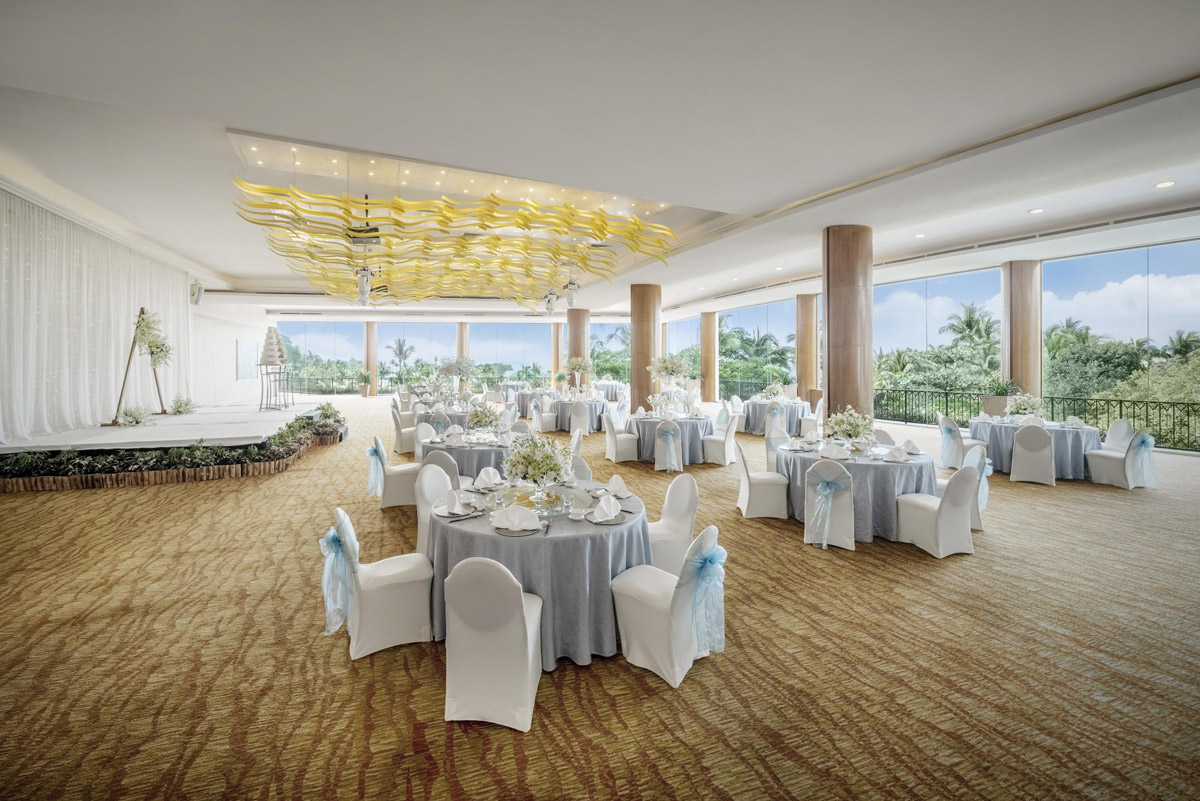 Horizon Pavilion
Located on the 5th floor of the resort, the Horizon Pavilion is one of the few ballrooms in Singapore that features floor-to-ceiling glass windows, providing a panoramic vista of the South China Sea and its surrounding lush greenery.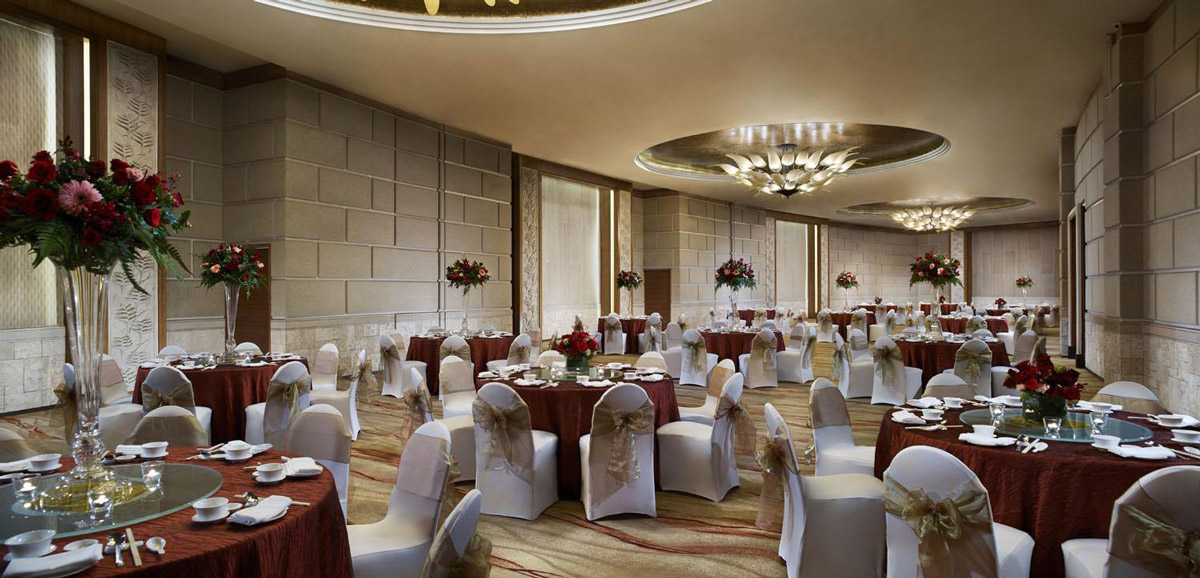 Siloso Ballroom
As for the Siloso Ballroom, which is strategically located on the ground level for easy access to the resort's tropical landscaped gardens, car park, and the nearby Siloso Beach, its opulent interior of warm maroon hues and exquisite chandeliers lends a regal touch that elevates the elegance of any celebration, big or small.
The best of both worlds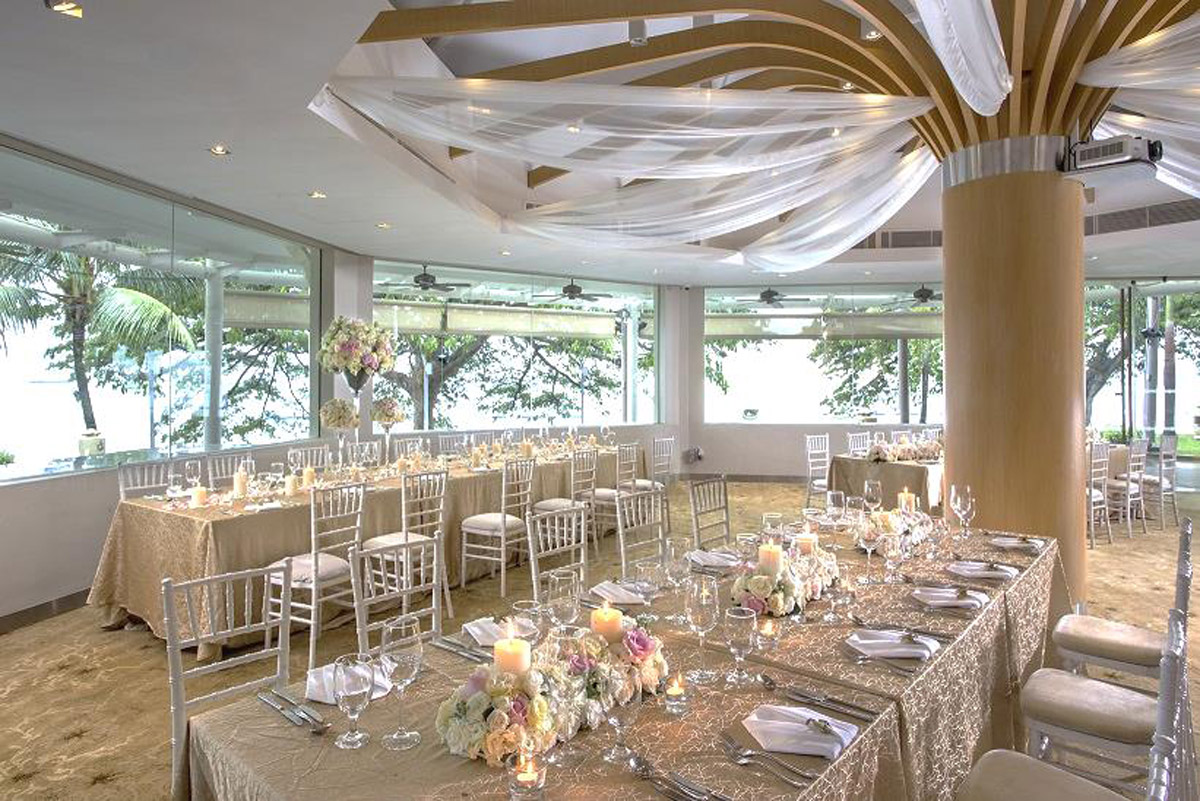 Barnacles by the Sea
Finally, perched on the waterfront overlooking the captivating beauty of the South China Sea is Barnacles by the Sea, a one-of-a-kind venue nestled amid verdant greenery and towering raintrees that has both an air-conditioned interior and al fresco seating.
Offering creature comforts so that you do not have to worry about wet weather emergency plans, its predominant use of glass windows showcases its surrounding seascape fully while its minimalist contemporary design makes it a stylish wedding venue as well.
Utmost safety for peace of mind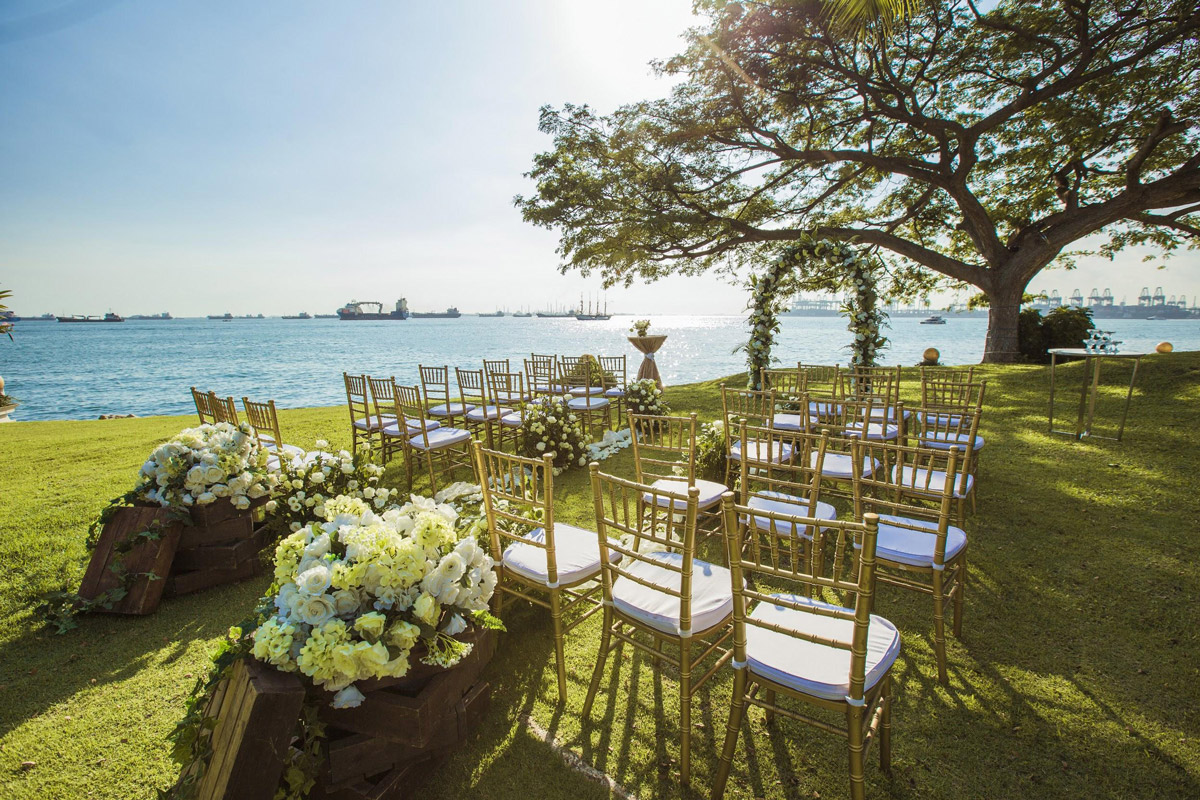 Fuelled by a dedicated promise to ensure their guests' well-being and comfort, Shangri-La Rasa Sentosa, Singapore understands that impeccable hygiene and safety standards are a must, especially in current times.
To give couples and their loved ones peace of mind, they've created a dependable and trusted environment with the following safety and precautionary measures that include and are not limited to:
● Guest temperatures will be recorded upon arrival.
● Hygiene amenities including hand sanitising gels will be available at reception and other convenient locations in the hotel.
● Reinforcement of food safety standards and practice of new buffet and table service protocols to include individually-plated and packed meals where applicable.
● All AV equipment will be sanitised after every use. Microphones will be specifically sanitised between uses.
● Event rooms floor plans and seating capacities are compliant with safe distancing guidelines.
● Increased frequency of sanitisation with a focus on frequent-touch and high-traffic areas.
● Shared snacks and food offerings are discontinued and replaced by single portions.
● Signage and queue ropes at all high-traffic areas serve as gentle reminders for our guests to maintain a safe distance.
For more about the resort's safety and health commitment, you may refer here: https://www.shangri-la.com/group/shangrila-cares
Hospitality from the heart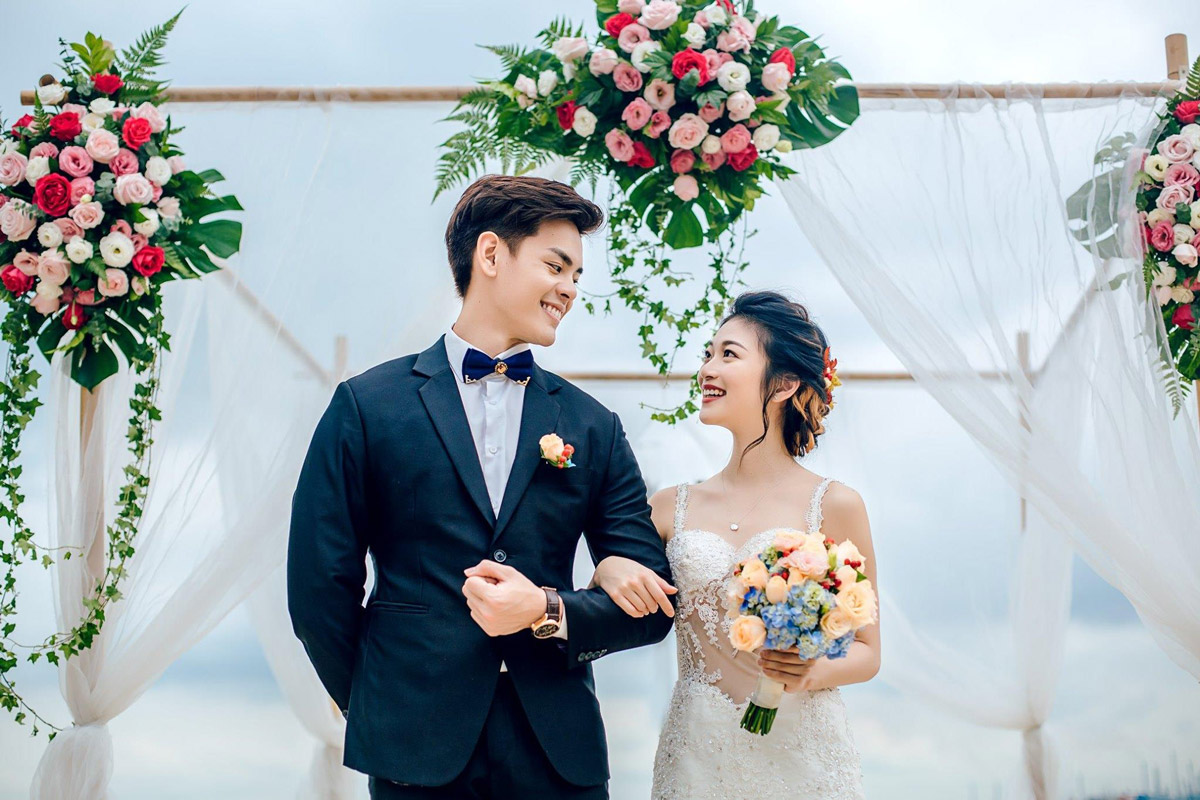 Source: Shangri-La Rasa Sentosa, Singapore
To ensure that your wedding is one of the most enjoyable, memorable days of your life, Shangri-La Rasa Sentosa, Singapore doesn't hesitate to pull out all the stops. Wedding menus are specially curated by the Shangri-La culinary team for an epicurean feast, and they can be customised to your needs and preferences. Think themed dinners such as an outdoor barbeque by the sea, a personalised East-meets-West fusion menu, and individually-plated arrangements!
The resort also has a committed team of professional and experienced wedding planners on hand to help you create your dream wedding from start to finish. This allows you to simply concentrate on enjoying yourselves and creating lifelong memories with your other half without having to worry about potential wedding emergencies and logistical arrangements.
If you wish, you may also arrange for your wedding photoshoot to be held at the resort's gorgeous landscaped gardens, scenic beachfront, or by the tranquil waterfront under iconic raintrees.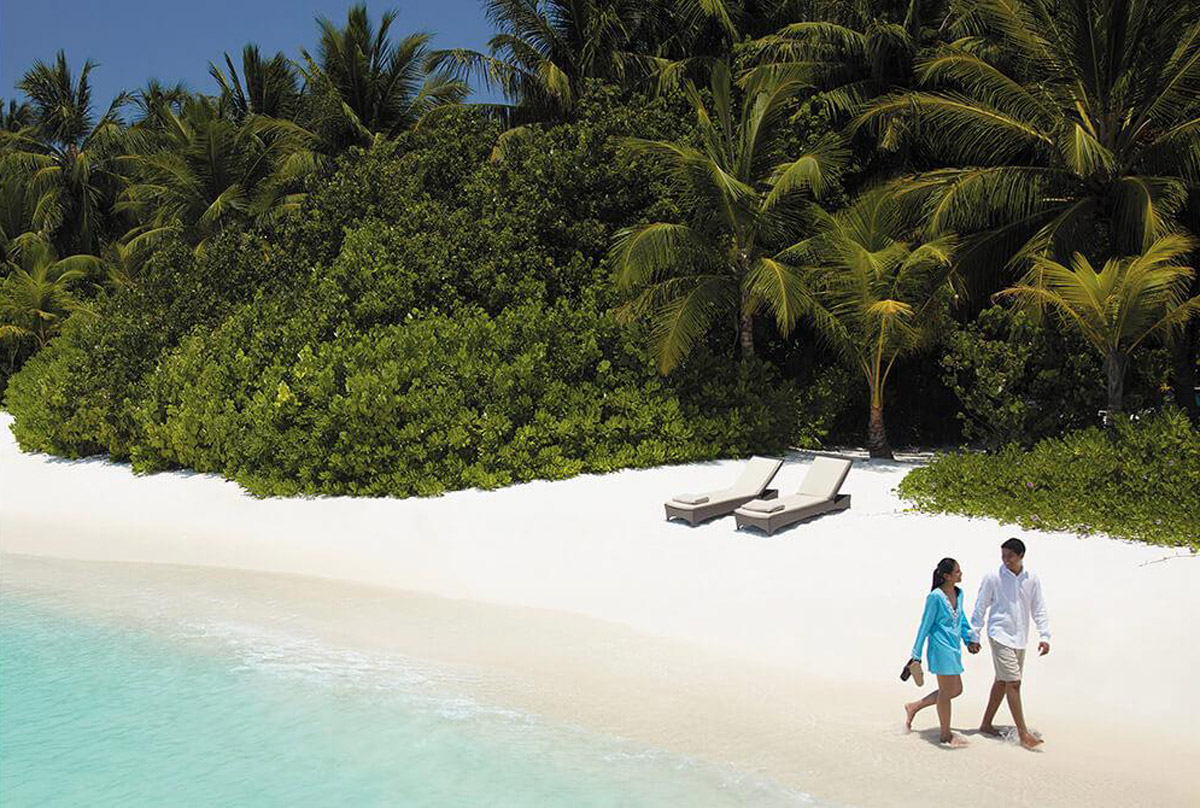 Source: Shangri-La International Hotel Management Ltd
Of course, to complete the wedding experience with a sweet finish, Shangri-La Rasa Sentosa, Singapore also has a special honeymoon treat for all couples! All you have to do is to book and host your wedding at the resort to earn triple Golden Circle Awards Points, which can then be redeemed on your honeymoon at any Shangri-La resort within 12 months of the wedding to enjoy attractive Diamond benefits (more details here!).
Couples can also enjoy a complimentary anniversary stay at the resort — just imagine soaking up the relaxing island vibes and getting reinvigorated with their five-star amenities as you relive the memories of your nuptials!
To find out more about Shangri-La Rasa Sentosa, Singapore's wedding packages, perks, and tailored wedding experience, simply reach out to weddings.sen@shangri-la.com, or call 6371 2985. It's time to make your beach wedding dream come true!
Shangri-La Rasa Sentosa, Singapore
101 Siloso Road, Sentosa, Singapore 098970
Tel: 6371 2985
E-mail: weddings.sen@shangri-la.com
Website: www.shangri-la.com/singapore/rasasentosaresort/
Facebook: www.facebook.com/rasasentosa/
Instagram: www.instagram.com/rasasentosa/?hl=en
_______________________________________
This article was written for Shangri-La Rasa Sentosa, Singapore
All images were provided by Shangri-La Rasa Sentosa, Singapore, Singapore unless otherwise stated.