A Guide to Having a Bay-utiful Wedding at ONE°15 Marina Sentosa Cove, Singapore!
2019-06-07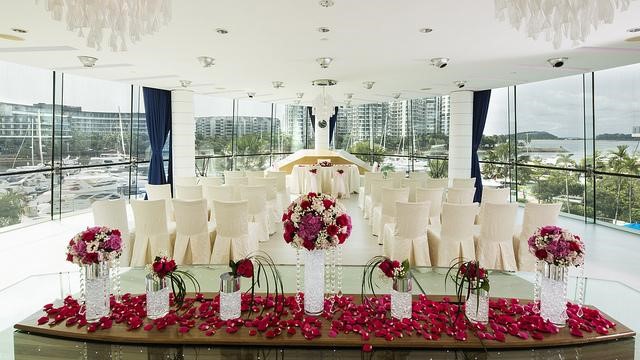 Solemnisation at NOVA Room
Hosting an alternative celebration is a great way to stand out from the wedding crowd, with a unique venue as one of the attributing factors. But apart from a non-ballroom celebration, what makes a wedding venue special?
Featuring a wide range of facilities including extensive dining options and yacht chartering services, ONE°15 Marina Sentosa Cove, Singapore is an idyllic location that is situated at Sentosa Cove. Offering stunning views of the marina, ONE°15 Marina is an underrated but brilliant venue option for weddings.
Size Matters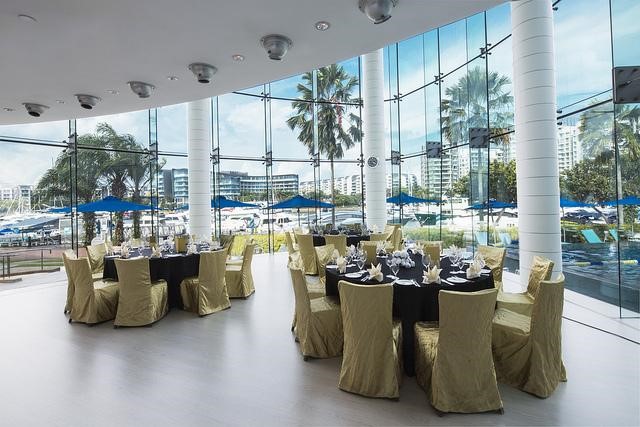 Bar Nebula
Before deciding on a wedding location, having a rough estimate of the number of guests you intend to invite is recommended. Choosing a venue with the right capacity will help portray the kind of intimacy or grandeur for your special day. Regardless of the number of guests you choose to invite, ONE°15 Marina has an array of venues that are perfect for the occasion. If you're looking at an intimate ceremony, the Bar Nebula and NOVA Room are capable of seating approximately 50 guests.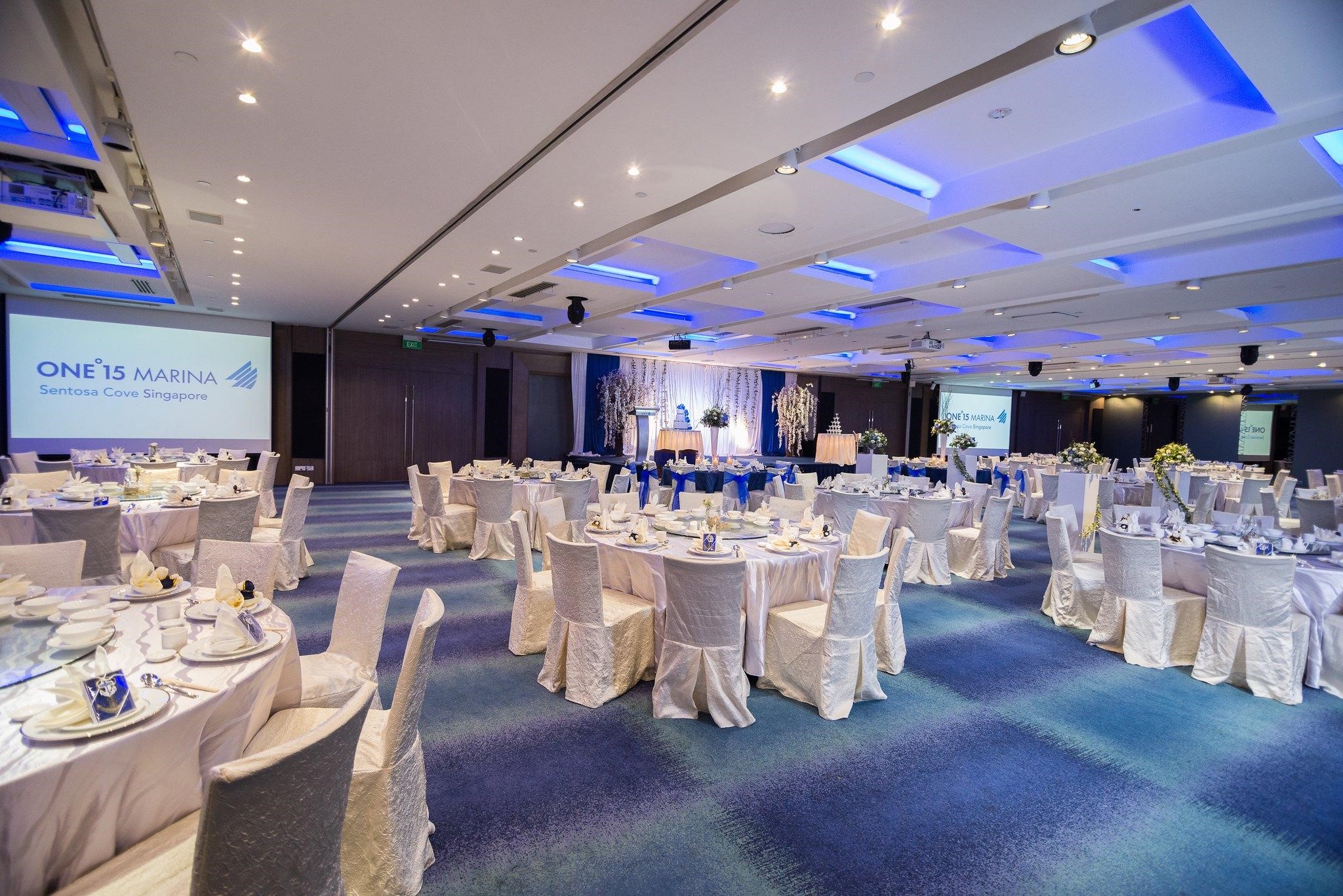 Constellation Ballroom
On the other hand, those throwing a large-scale celebration can opt for The Constellation Ballrooms, which can accommodate up to 360 guests. The Rooftop Terrace or Boater's Bar on the other hand, comfortably accommodates 80 people.
All in One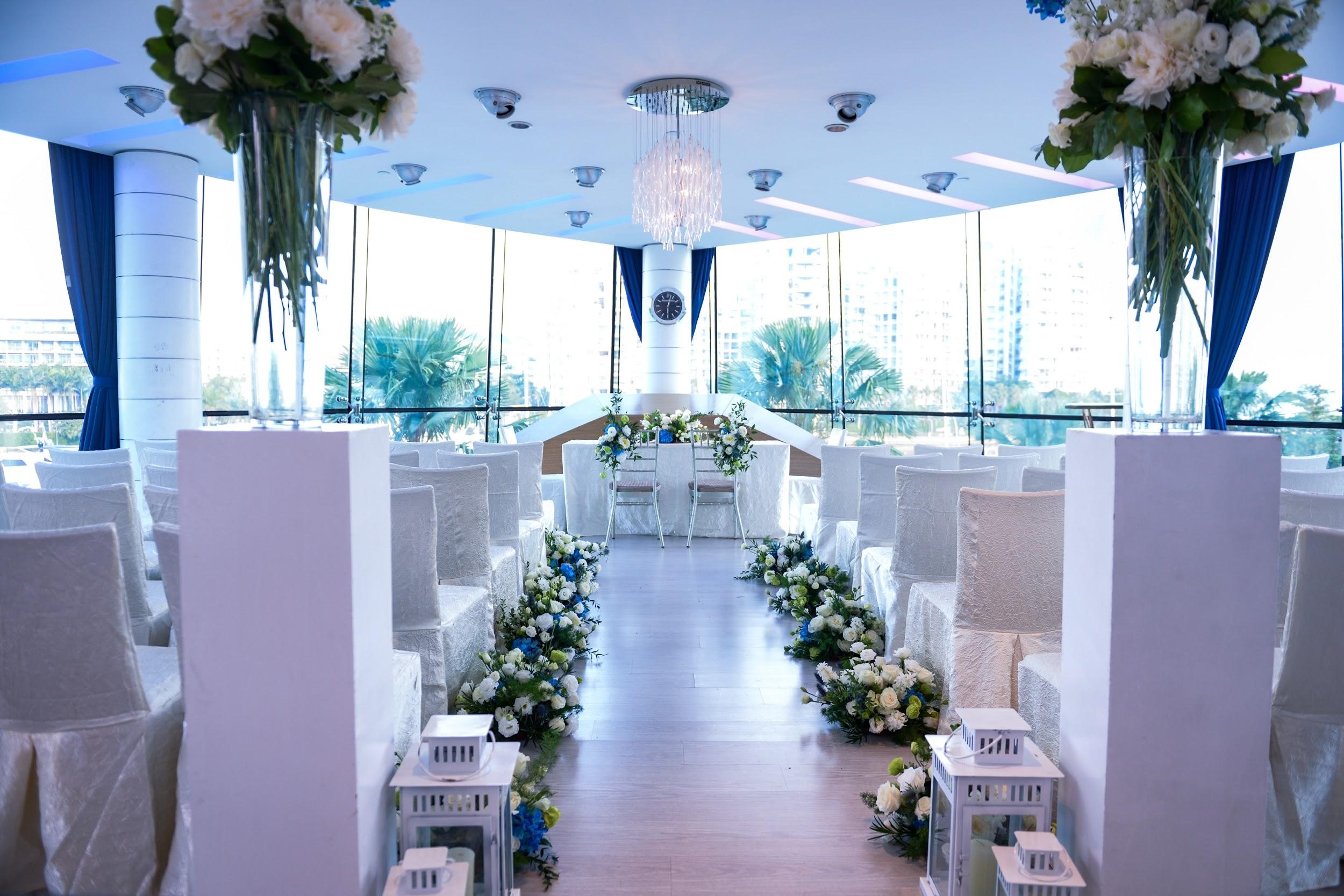 Whether you're having a big or intimate wedding, ONE°15 Marina offers wedding packages that suit both the location and your party size. Medium to smaller venues have the option of a Solemnisation Package, which includes an international buffet and personalised cupcakes for dessert. Additionally, ONE°15 Marina also provides floral-themed decorations, promising a beautiful setting for your wedding.
On the other hand, larger venues offer wedding lunch and dinner packages that feature Chinese or Western set menus, or an international buffet. These packages also cover wedding decorations suited to the theme, and a night's stay for the newlyweds, even offering the Club's premises as a location for the wedding photoshoot!
Say I Do to the View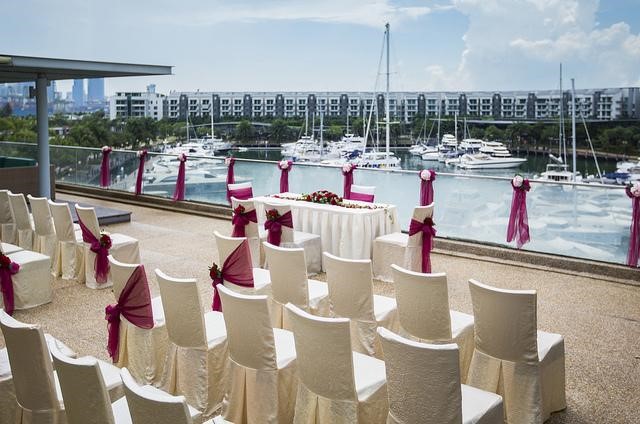 Rooftop Terrace overlooking the marina
In Singapore's urban jungle, hosting waterfront weddings can be tricky. At ONE°15 Marina, the Rooftop Terrace is an alfresco location that overlooks the marina while bathed in the sun's natural glow at dusk – perfect for photo opportunities.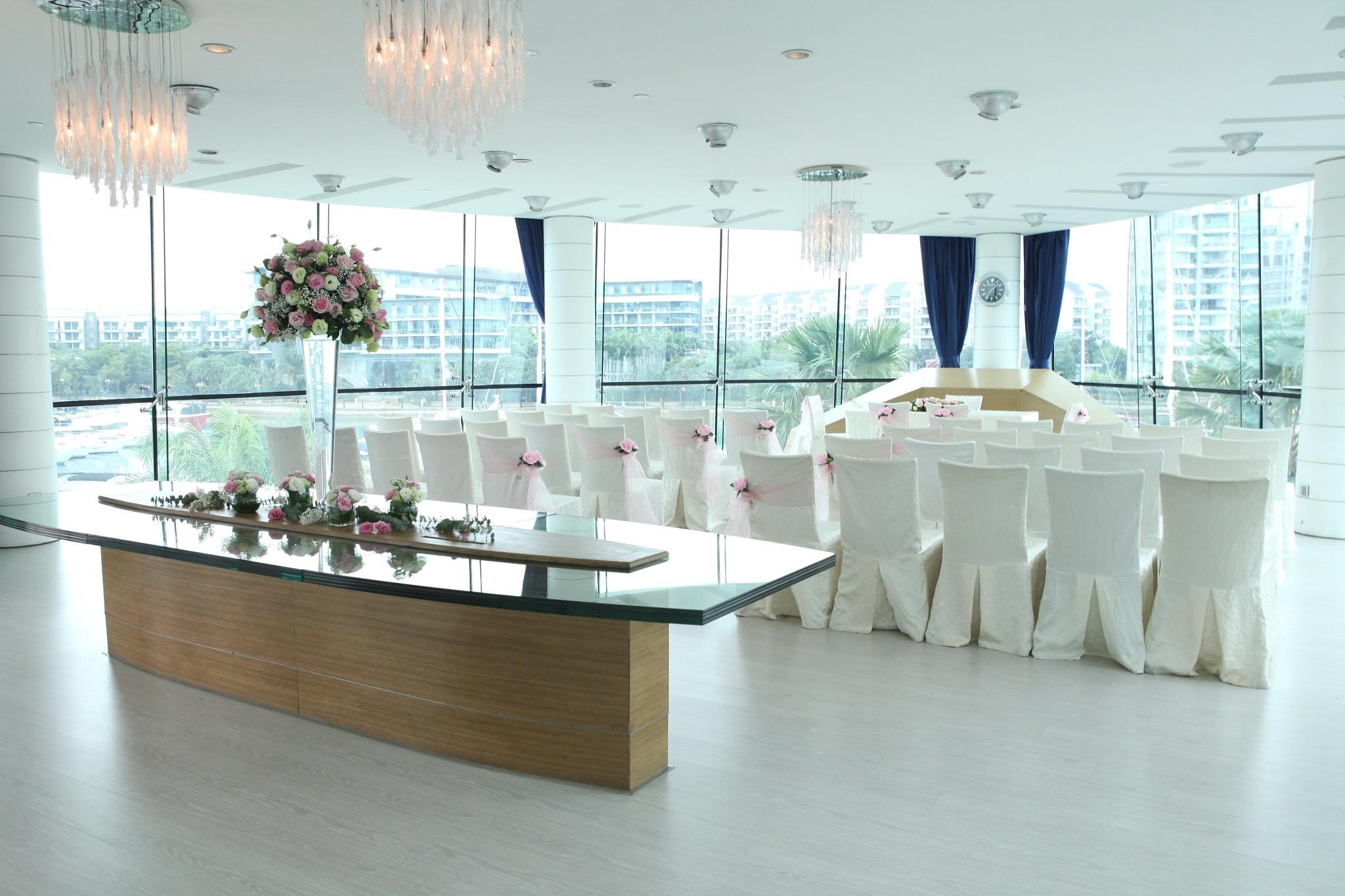 For a space with just as stunning a view but in air-conditioned comfort, the NOVA Room is inspired by a ship's hull and perched on top of the glass tower. With full-length glass windows, the location affords splendid views of the marina, allowing your guests to feel on top of the world. Alternatively, Bar Nebula provides a snazzy indoor area that exudes chill vibes and gives your guests a great view of the marina.
Special Place for a Special Day
For those looking to escape the hustle and bustle of the city, ONE°15 Marina offers venues with the setting of destination weddings – minus the hefty price tag. Set your wedding apart from the usual hotel banquet do with the classy and elegant fair that is made possible by ONE°15 Marina.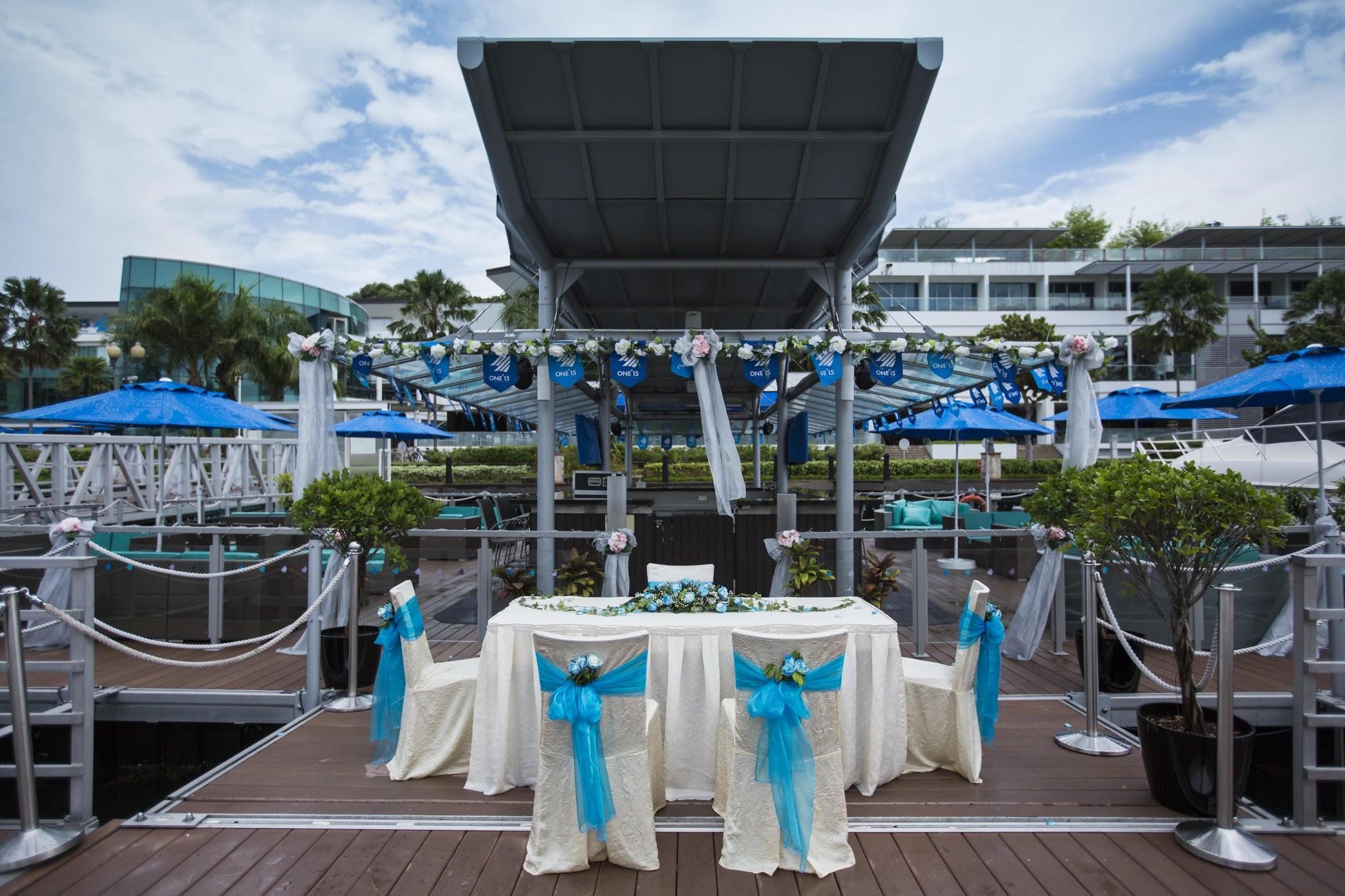 The Boater's Bar
If you're considering the ultimate chill wedding, then Boater's Bar is a venue to consider. Idyllically situated on a floating platform, create the sense of a resort getaway for your wedding and let loose with your closest friends and family!
Scouting for a wedding location isn't as stressful as you would expect, especially with the variety of venues that ONE°15 Marina Sentosa Cove, Singapore offers. The versatility, amazing views and lovely venues as well as multiple perks bundled with their packages. So if you're planning a wedding, ONE°15 Marina Sentosa Cove, Singapore might just be your best choice!
For more wedding enquiries, reach out to ONE°15 Marina Sentosa Cove, Singapore here.
All photographs are courtesy of ONE°15 Marina.