A Hilltop Extravaganza with an Ethereal View: Mount Faber Peak
2022-06-08

Many couples want the best of both worlds when it comes to the perfect wedding venue. The shelter of an indoor air-conditioned private setting brings much-needed comfort in the humidity of tropical Singapore. At the same time, many desire lovely views that ensure breathtaking photo opportunities and beautiful memories for guests. Set against a lush picturesque backdrop of dense foliage, sea and sky, Mount Faber Peak provides award-winning venues that marry both indoor and outdoor choices.
This storybook-perfect destination blessed by Mother Nature is perfect for a bucket-list worthy wedding, winning awards such as Editor's Choice Preferred Banquet Venue Winner 2022 & 2021, Most Voted Ballroom Blissful Online Wedding Show March 2021 and Best Restaurant Event Venue Nominee Venuerific Choice Awards 2021.
Best Of Both Worlds
At Mount Faber Peak, you can have everything you want! With customisable decor options for both indoor and outdoor venues, your imagination is unlimited. Choose among cozy and intimate settings, or the grandeur of a classic ballroom.
A Resplendent Gala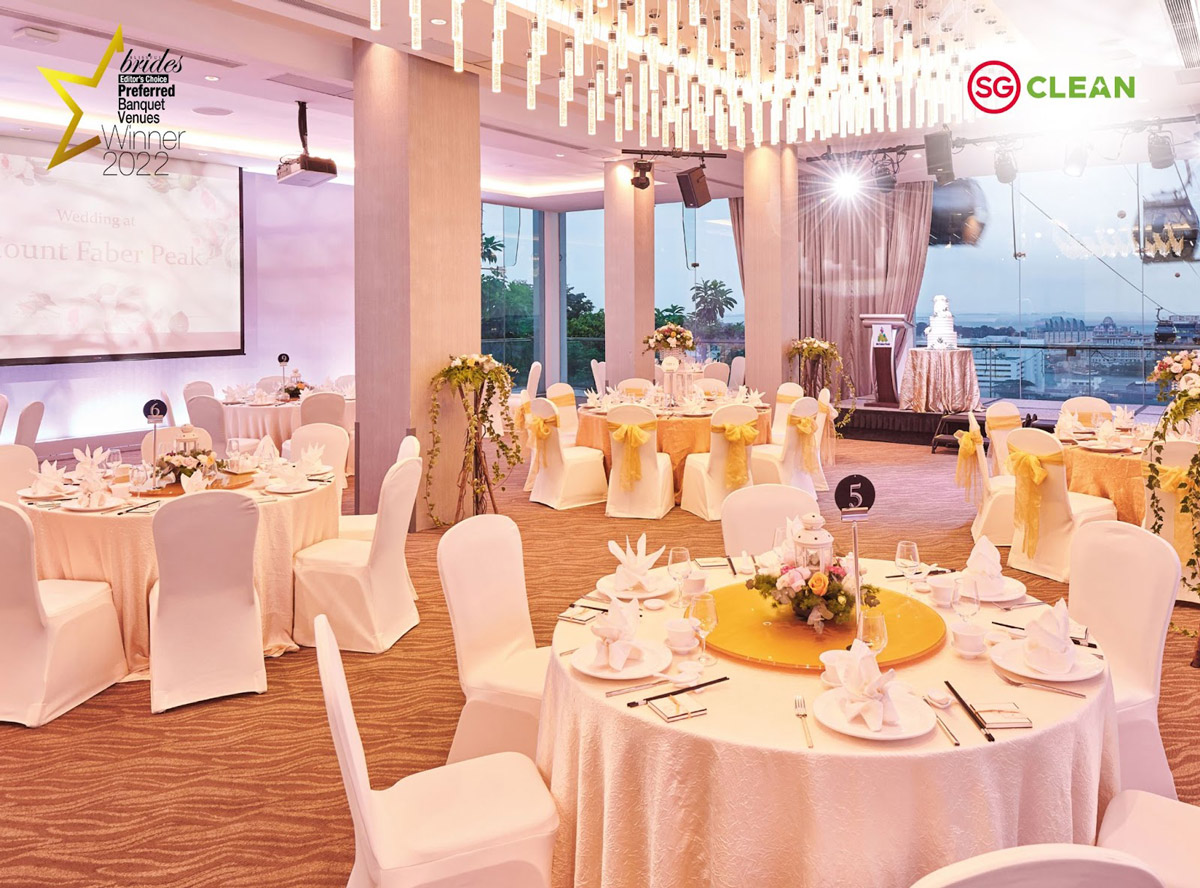 The sophisticated and trendy Ballroom at Mount Faber Peak is the preferred choice for discerning guests who want a unique experience at an iconic landmark on Mount Faber. Guests experience the best of both worlds, enjoying luxurious indoor comfort with panoramic views overlooking the harbour and the running Singapore Cable Car line. This distinguishes it from the typical ballroom in the hotel which is completely enclosed. Step out to the private balcony where the scenic hilltop views can provide endless hours of creative photo opportunities. Choose from an array of lovely colour choices for linen, sash and florals. Pick out fresh floral centrepieces which have been carefully curated to complete colour palettes. With an exquisite selection of Chinese, Asian Fusion, Modern European and International cuisine to choose from, guests can enjoy an unparalleled gastronomic journey.
A Swanky and Intimate Memory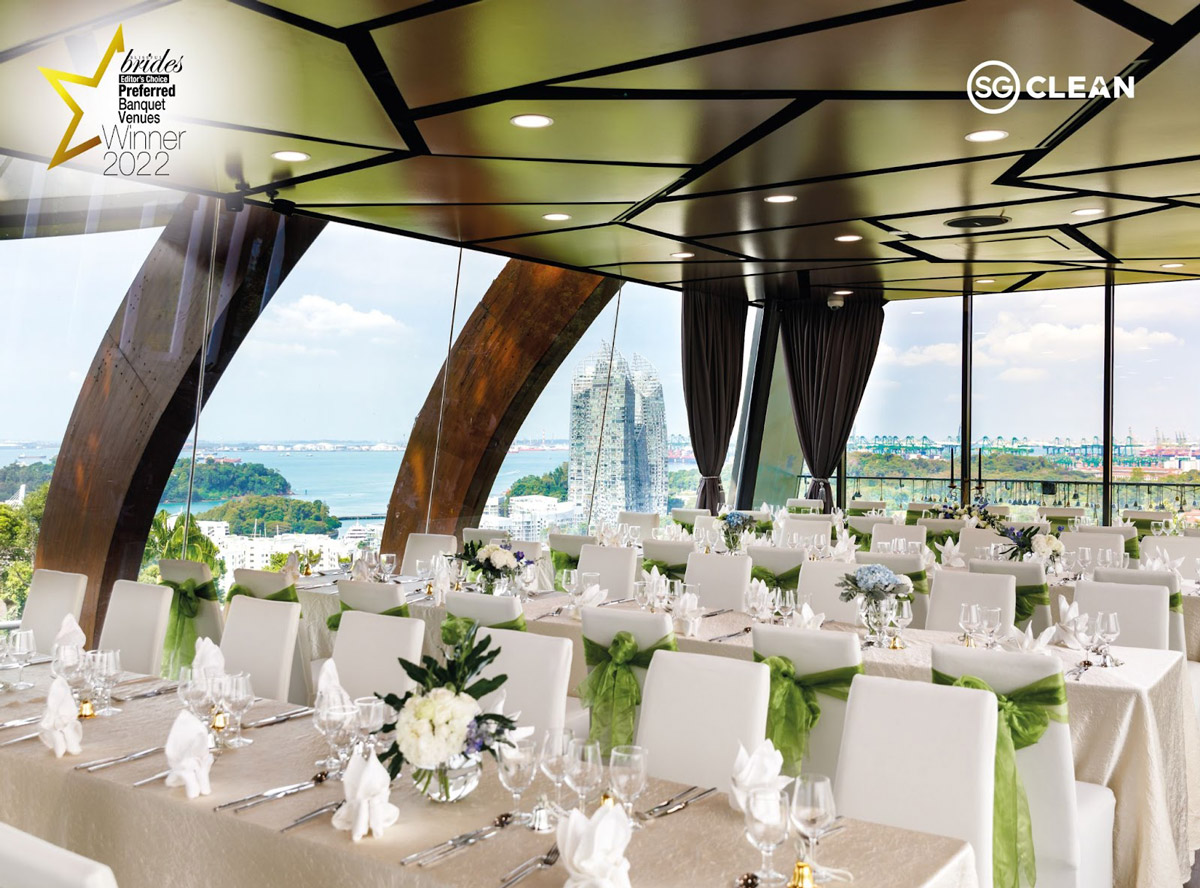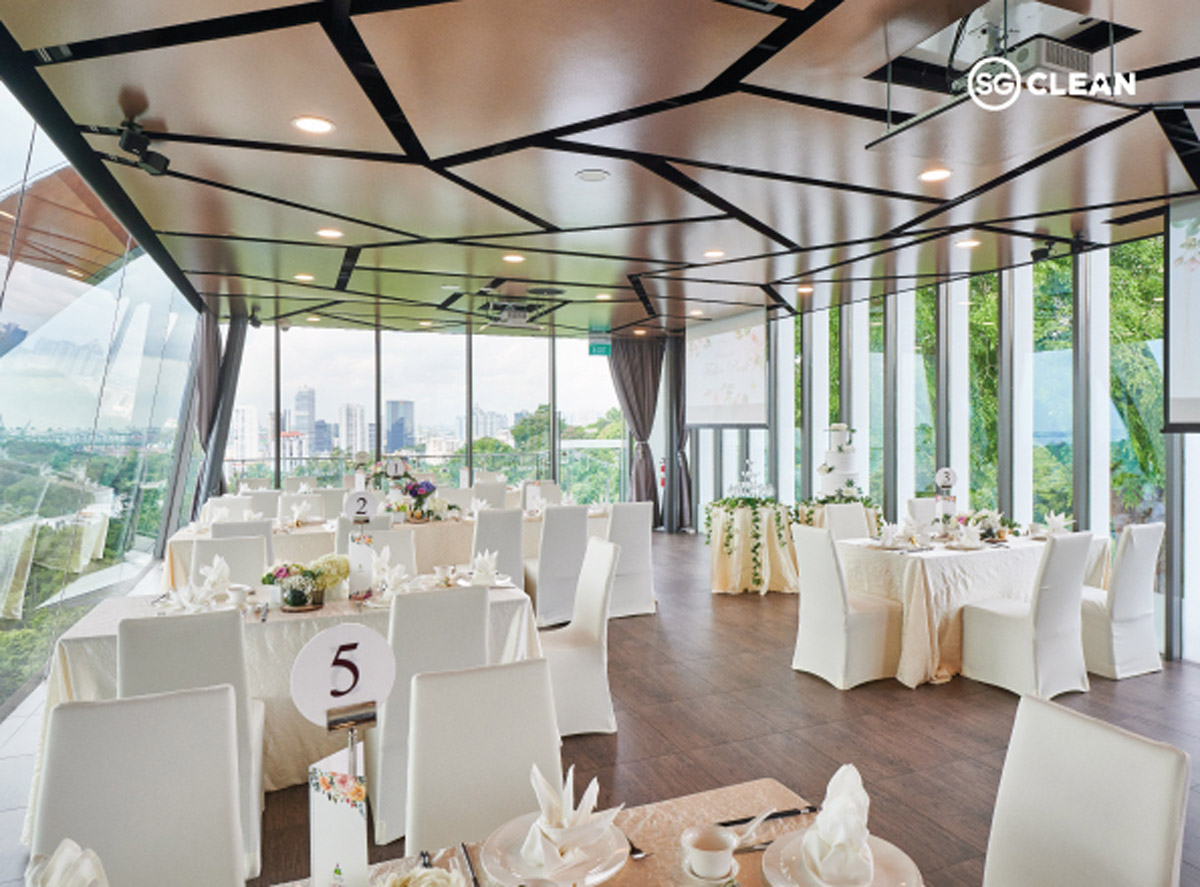 Located at the highest spot of Mount Faber Peak at 100 metres above sea level, the Private Dining Room unveils a stunning 360 degrees, unblocked and simply captivating view of HarbourFront and Sentosa Island, all in a cosy and intimate setting for smaller to mid-sized gatherings. Lovely views from floor-to-ceiling glass windows on all sides and a gold dimpled ceiling complete the finishing touches. Ensconce yourself in a crystalline alcove and experience exclusivity at the top of the world. Exuding charm and rustic beauty, the accompanying deck outside the Private Dining Room is an enchanting alfresco terrace set against the backdrop of graceful hiba wood arcs. Wood elements and majestic trees enhance the natural lush foliage, with natural light streaming in and adding love and light to the occasion. Celebrate a cherished moment in time over a champagne pyramid, surrounded by the aura of prestige.
Whimsical Bells of Happiness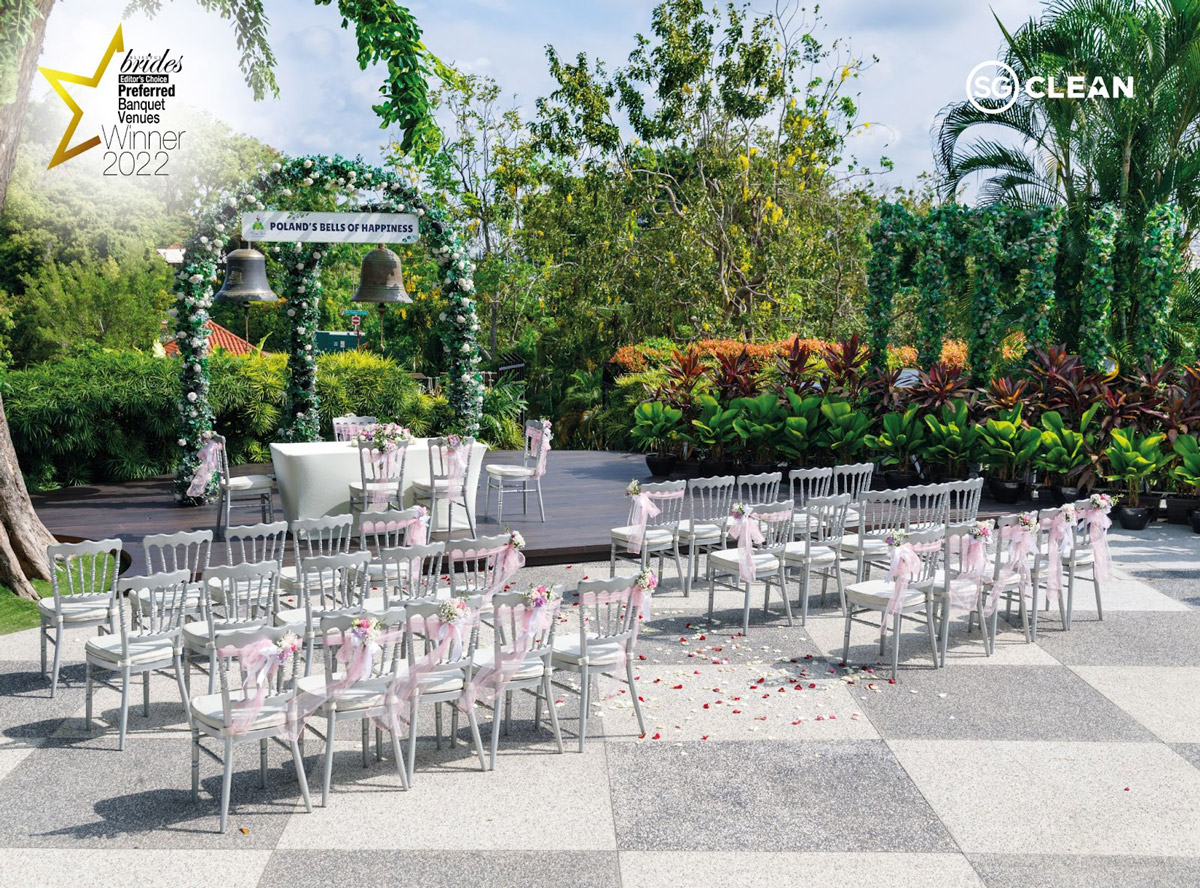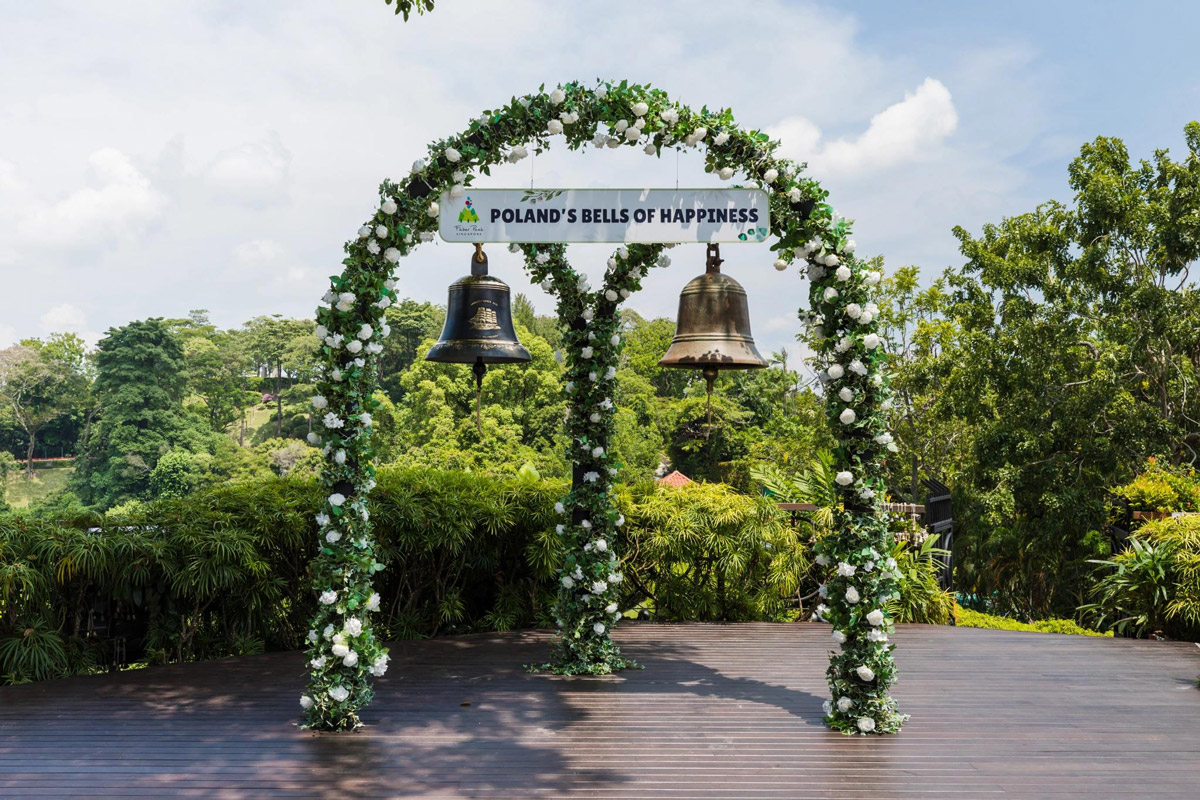 Ever dreamt of swapping vows with a meadow as your backdrop? You may be perfectly suited for an outdoor wedding. Natural landscapes and lighting make beautiful settings for wedding ceremonies. The Garden Solemnization is available to couples as a whimsical add-on option to ring the Bells of Happiness, signifying a new life, happiness and good fortune to newlyweds. With an elegant solemnization table framed by a timeless floral centrepiece, fresh floral posies and country style chairs, it's the perfect setting for a couple's union. With scenic views from the whimsical garden and ancient Angsana trees, the tranquility surrounding the Arbora Garden is the perfect setting for your garden solemnization.
Contact Details
Address: 109 Mount Faber Rd, Mount Faber Peak, Singapore 099203
Telephone No: +65 6377 9688
Email: events@mflg.com.sg
Website: https://www.mountfaberleisure.com/wedding-event/solemnisation-wedding/
FB: www.facebook.com/mountfaberleisure
IG: https://www.instagram.com/mountfaberleisure/
Mount Faber Peak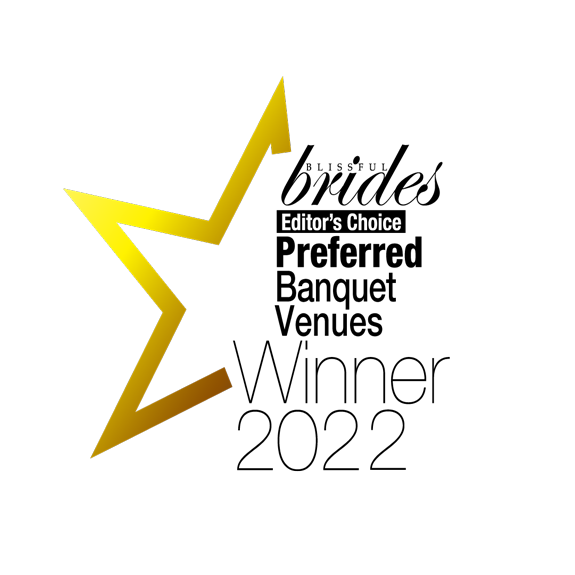 Rating:

Address:

109 Mount Faber Road, Faber Peak, Singapore 099203

Phone:

63779688, 67715067, 67715066