A Sparkling Oasis: Experience Oceanfront Luxury with ONE°15 Marina Sentosa Cove
2021-09-15

A show-stopping wedding on the ONE°15 Marina Sentosa Cove, Rooftop Terrace
With its crystalline waters, beautiful architecture and impressive yacht fleet, ONE°15 Marina Sentosa Cove takes the crown as one of Asia's most prestigious, integrated oceanfront marinas. An oasis tucked away from the hustle and bustle of the city, ONE°15 Marina boasts an array of luxurious, bespoke venues for you to curate your dream wedding.
A Picturesque Solemnisation
Perched atop the Iconic Glass Tower, the NOVA room will astound your guests with its bright, refreshing feel. Floor-to-ceiling windows offer panoramic views of the sparkling marina and its majestic yachts floating while natural light streams in to illuminate the room. The tower is designed to resemble a ship's hull, which transforms the space into a crystalline prism of beauty and grandeur.
The room is perfect for intimate ceremonies as it can accommodate up to 50 of your loved ones. Have your solemnisation in the NOVA room for a peaceful ceremony to rejuvenate the mind.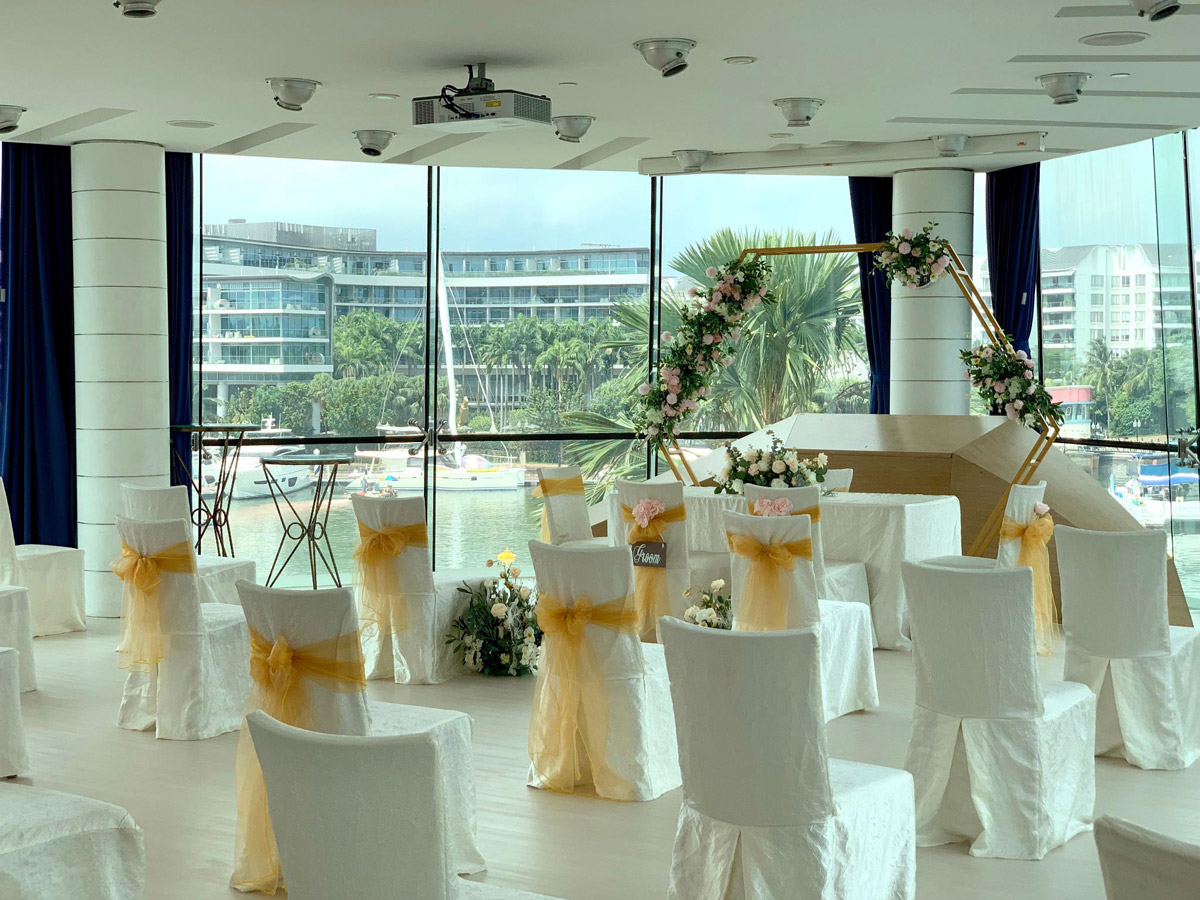 NOVA Room Solemnisation
Iridescent Celebrations
Just below the NOVA room lies Bar Nebula: a dual-deck establishment promising a memorable celebration. Bar Nebula steps up the fun with its sleek open-seating area, upper deck and vast double-volume ceilings. Able to accommodate a larger party of 80, be rewarded by its gorgeous views, sophisticated decor and luxurious ambience.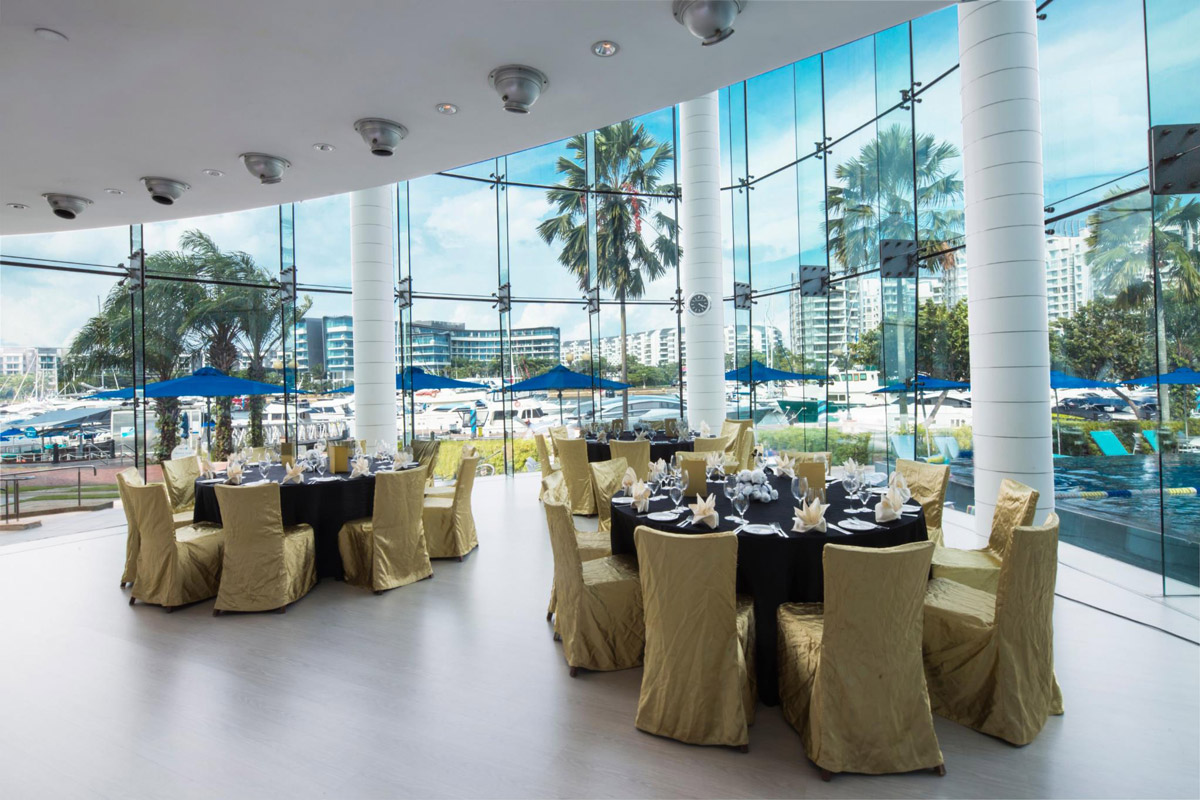 Bar Nebula Wedding
Feel On Top of the World
Oozing exclusivity, beauty and romance on ONE°15 Marina's Rooftop Terrace, this luxe and exuberant venue will be sure to captivate your guests as the spectacular views of the marina take them in.
Marvel at the panorama of sparkling waters and lush greenery, along with the brilliant sun as it rises from the horizon. This charming alfresco venue has a 562 square metre area and can host up to 100 of your guests for both solemnisation and weddings.
If you desire an elevated sense of luxury on your special day, the venue can be filled with stunning floral arrangements and decorations to take your guests' breath away. Enthral your guests' senses with the majesty of the Rooftop Terrace!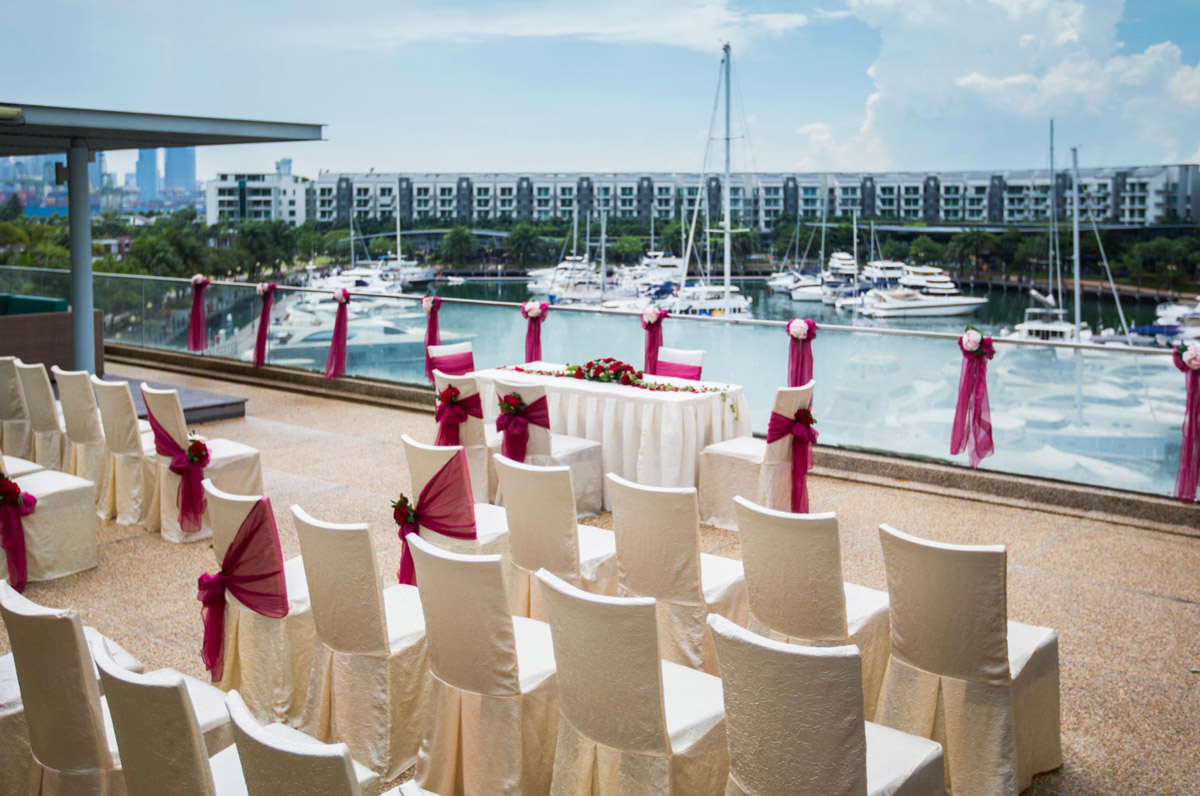 Rooftop Terrace Solemnisation
A Signature Experience
A series of gorgeous, opulent halls, the three Constellation Ballrooms can accommodate a total of 360 esteemed guests across the 571 square metres of their pillar-less expanse combined. Step out of the grand ballroom to the foyer, which overlooks an idyllic view of the marina. If you are looking for a smaller celebration, Constellation Ballroom I, II or III alone will offer a luxurious experience like no other.
Each awe-inspiring room perfectly encapsulates the exquisite charm of ONE°15 Marina, making them the go-to choice for any wedding ceremony.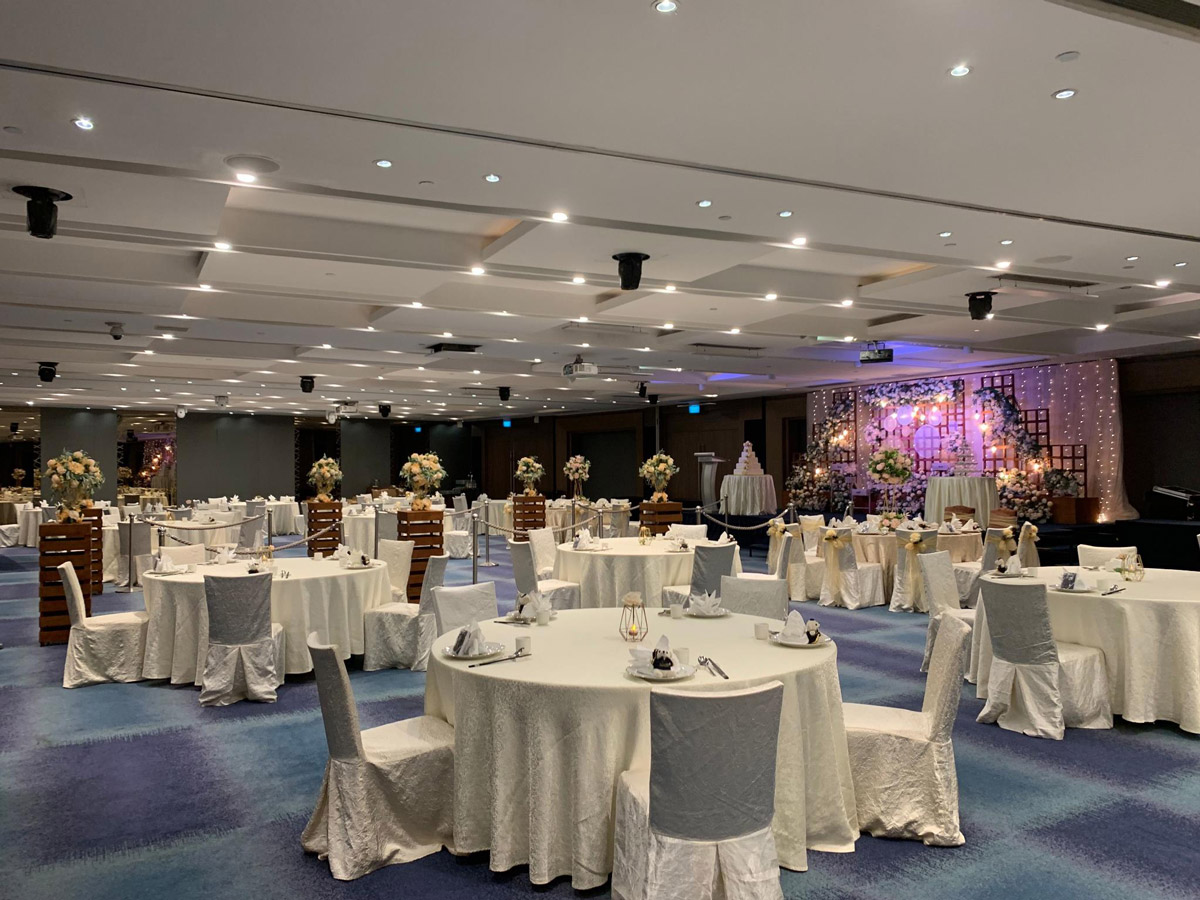 Constellation Ballroom Wedding
Luxury on the High Seas
It wouldn't be ONE°15 Marina without its exquisite fleet of
luxury yachts
. Nothing screams unique and unforgettable than having a romantic yacht wedding. Climb aboard one of the impressive boats for an exuberant ceremony on the high seas. Up to 80 of your guests may join you on your special voyage across the marina. Seal your marital promises as the sun rises from the horizon. Bask under the beautiful skies and enjoy the fresh sea air as you create lifelong memories with your loved ones, leaving all to leave with revitalised spirits.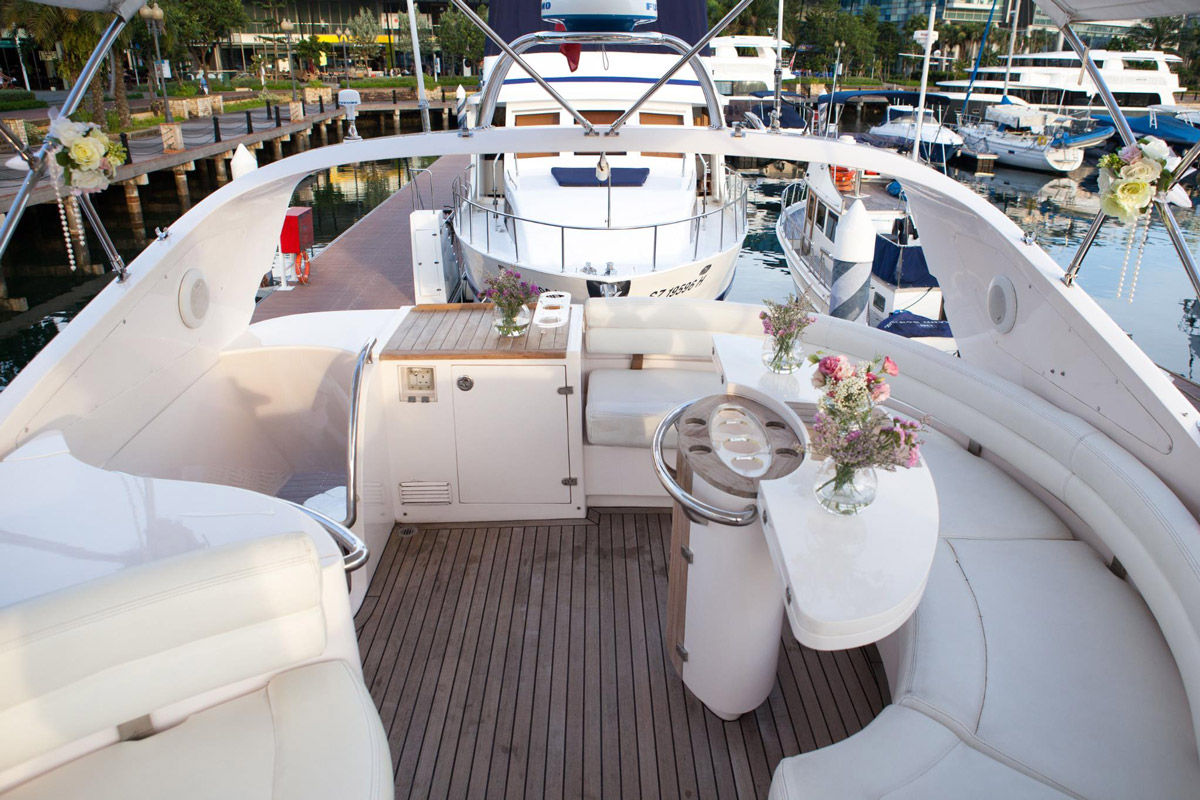 Luxury Yacht Wedding
A Gold Standard
ONE°15 Marina's excellence prevails beyond its stunning venues with its stellar wedding services and decadent cuisines. For weddings with a minimum booking of 100 guests held before the end of 2022, ONE°15 Marina is offering a complimentary food tasting session for 8 with a minimum booking of 100 guests. You may choose between the packages priced at $128+ per person for the 4-course Western set menu and $1288+ for every ten guests under the 8-course Chinese set menu.
Find out more by emailing them at weddings.sc@one15marina.com!
With ONE°15 Marina Sentosa Cove, you may rest assured your every expectation will be fulfilled and exceeded, with an oceanfront wedding experience to treasure for years to come.
ONE°15 Marina Sentosa Cove
Address: #01-01, 11 Cove Drive, Sentosa Cove, Singapore (S)098497
Tel: +65 6305 6988
Email: weddings.sc@one15marina.com
Website