Dress Your Best! The Right Wedding Dress For Your Body Type
2017-07-13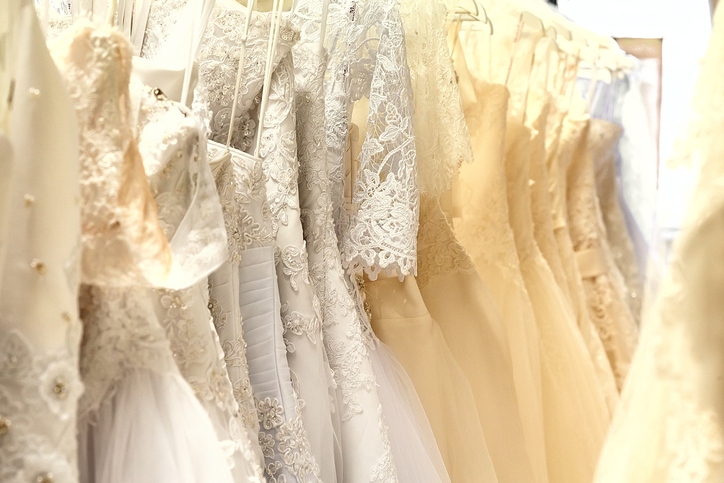 Every bride-to-be wants to look and feel her best on her special day, and what better way to wow your wedding party than to walk down the aisle in a wedding dress that fits and flatters the figure you truly have?
Whether you're hoping to show off your best asset or hide a problem area — or both — here are some tips for the best dress to flatter your body type.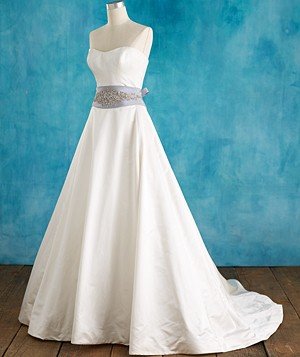 Photo Credit: Tara Donne
Pear
Highlighting the narrowness of your midsection while disguising your fuller hips, an A-line silhouette is perfect for pear-shaped girls who want to keep their curves under wraps. Conversely, a spaghetti strap bodice or V-neckline will emphasise your delicate upper body.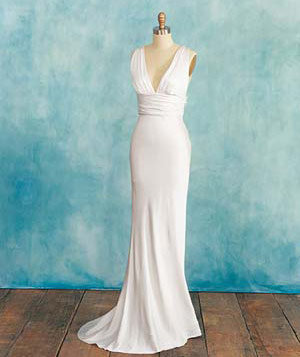 Photo Credit: Debra McClinton
Tall
If you're blessed with height, dress in tiptop fashion by opting for a simple silhouette that emphasises your natural shape and echoes your longer proportions. Go for a lower waistline and a floor-sweeping hem. Keep in mind to steer clear from too many embellishments — you wouldn't want to look too cutesy!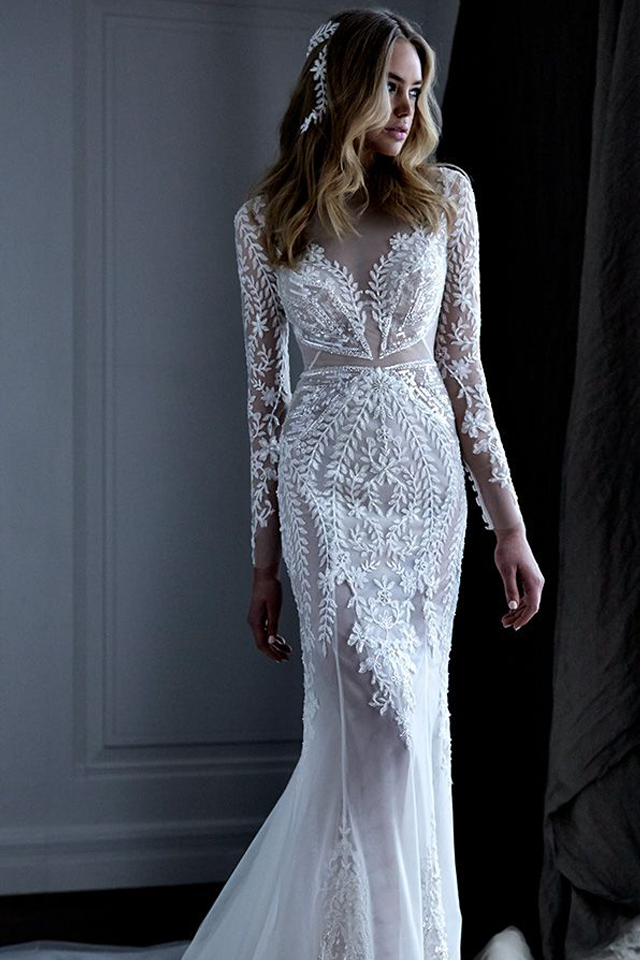 Photo Credit: Source
Rectangle
Play up your proportions with some added volume and details to both the chest and hips to create the illusion of an hourglass silhouette. A ballgown that cinches at your natural waist and descends into a full, flowing skirt will accentuate your slender frame and camouflage your lack of hips. Additionally, if you have a small bust, look for a bodice with some ruching to create volume.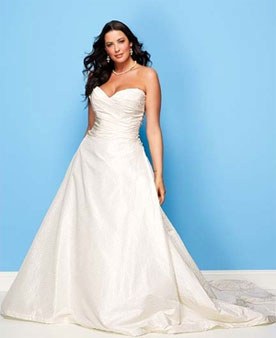 Photo Credit: Source
Busty
Those with a more generous bust line can charm their wedding party with an off-the-shoulder or scooped neckline. It will lead eyes upward to your face and display your décolletage in a classy way as it doesn't emphasise your cleavage too much. A well-defined waistline is a must for your shape, paired with a bodice that has a sheen (such as organza, satin or silk) to add volume and call attention to your chest.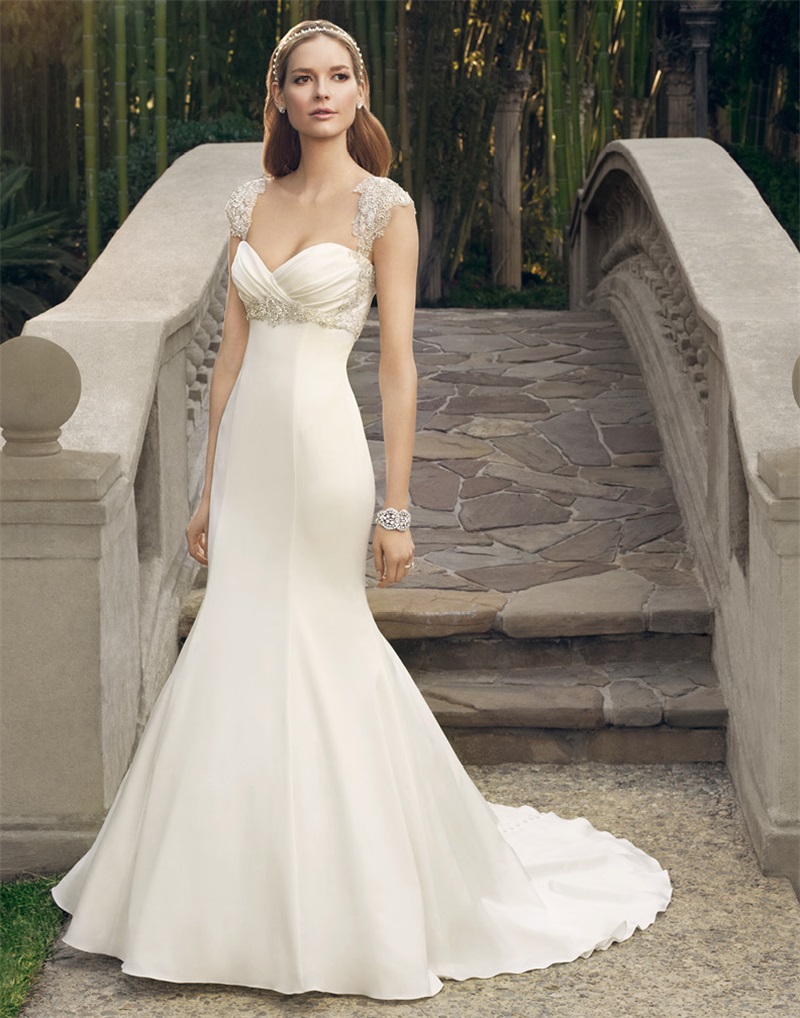 Photo Credit: Source
Petite
A petite bride will stand tall in an elongated look with a slender sheath. Go for gowns with a waistline above your natural waist, making the lower half (and yourself) appear longer. Be wary of voluminous dresses that might consume your small frame and make sure your dress' details are small and limited to the bodice – this will draw attention upwards and make you appear taller.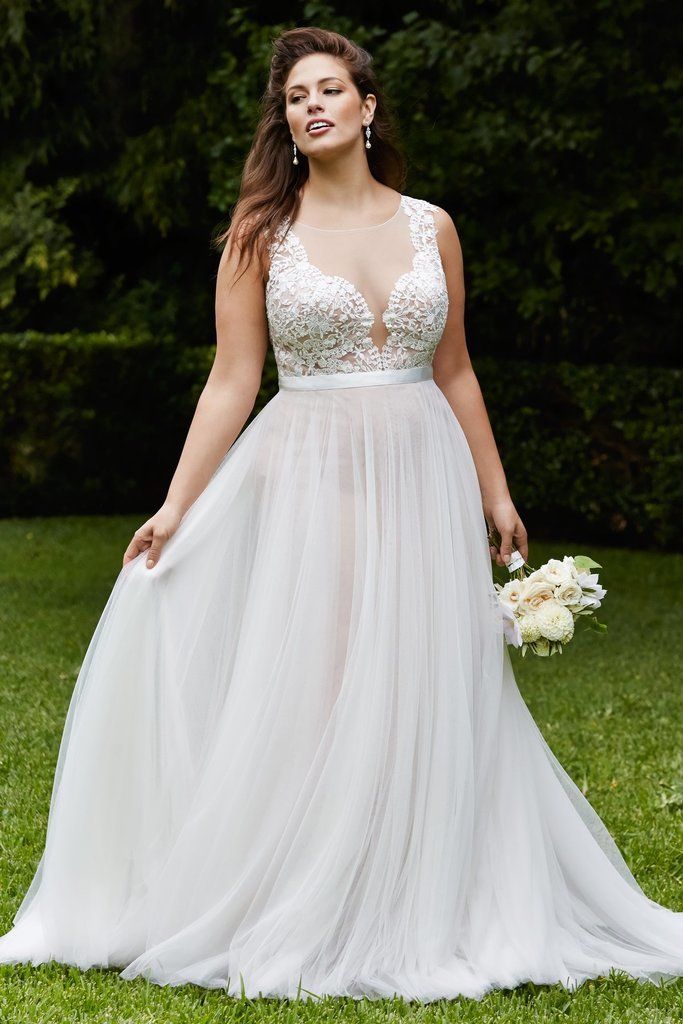 Photo Credit: Source
Plus-Sized
A well-rounded woman should opt for a corseted bodice that redefines her shape. Show some cleavage with an Empire dress with a skirt that begins just under the bust, thus boasting a noticeably narrower midsection before flowing into a slimming floor-length skirt. Alternatively, you can opt for a modest scoop neck that takes the focus off your cleavage and draws the eyes to your collarbone.