Embrace Limitless Possibilities on the Idyllic Sentosa Island
2023-03-02

Set within the heart of Sentosa Island, The Barracks Hotel Sentosa, Oasia Resort Sentosa, The Outpost Hotel Sentosa, Village Hotel Sentosa - by Far East Hospitality - offers a myriad of venues, from colonial charm to upscale contemporary. Each beautiful venue has its own unique hallmark that are sure to surpass every expectation. Whether you would prefer a lavish wedding or an intimate solemnisation, the wedding specialists allows one to curate their dream wedding experience.
The Gorgeous Revelry Hall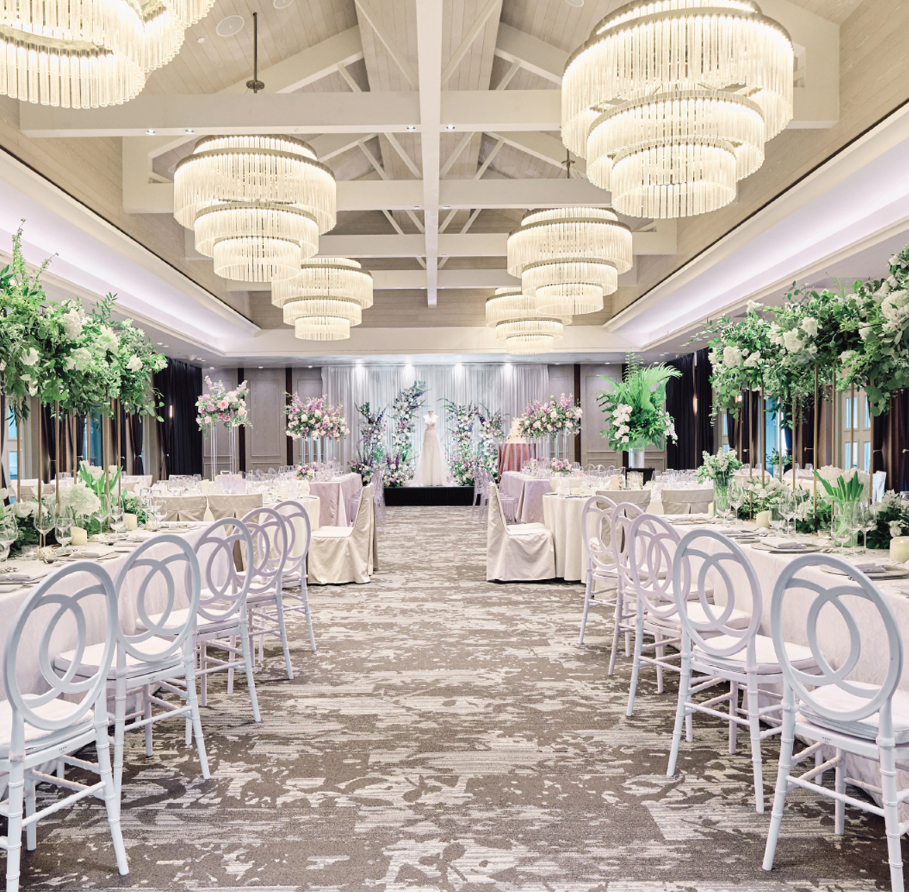 Nestled on the second floor of a meticulously and lovingly restored colonial building of the Events Centre, the Revelry Hall is specially designed for large-scale wedding celebrations.
The venue accommodates up to 160 guests in its huge pillar-less space, complete with high ceilings and beautiful chandeliers. An ensuite bridal changing room is also available for one's convenience.
With its timeless elegance and sophistication, the Revelry Hall is ideal for a wedding celebration of grandeur.
Lavish Wedding at The Aloes
Located on the first level of Oasia Resort Sentosa, The Aloes is a lavish ballroom for a vogue event of sophistication.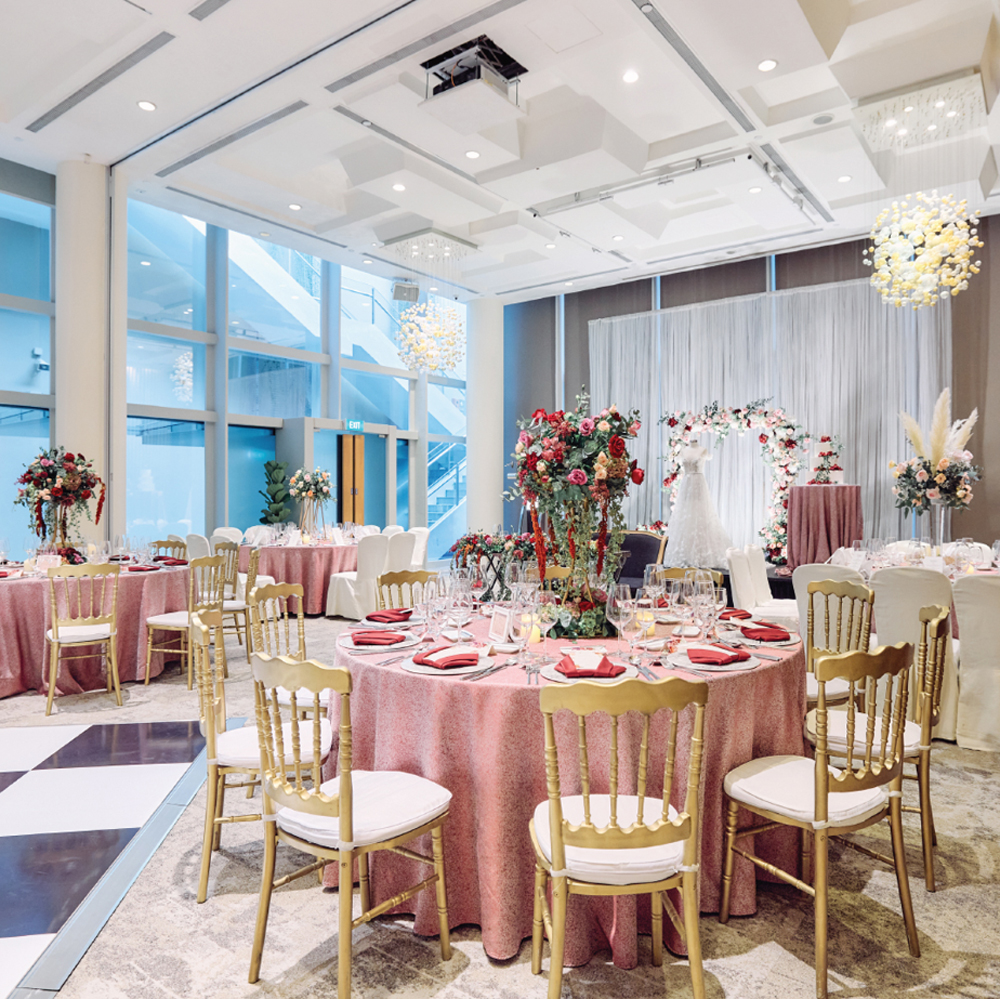 The pillar-less venue and floor-to-ceiling glass panels give the ballroom a beautiful blend of elegance and modern luxe that can accommodate up to 140 guests.
Garden Solemnisation at the Outdoor Pavilion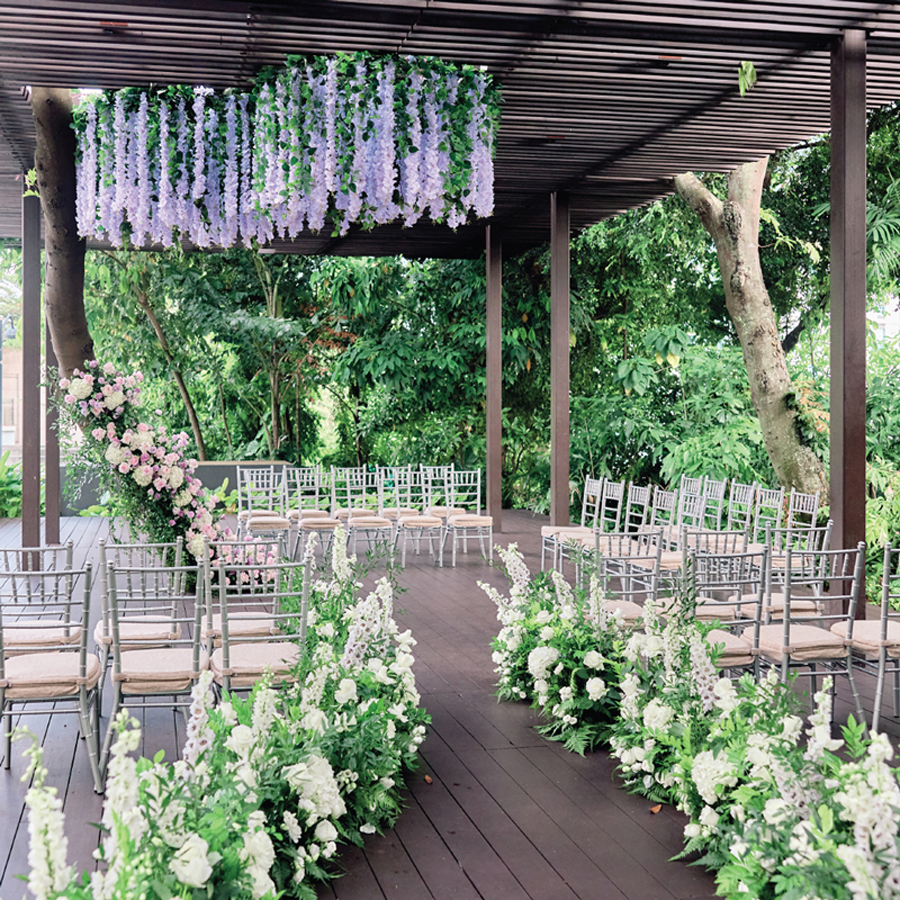 Located in the colonial building of Events Centre, the Outdoor Pavilion is a space of lush vibrant foliage. A beautiful niche is created in a world canopied by a wood-latticed ceiling for sunlight to filter through. Its garden-like setting is perfect for a solemnisation or cocktail wedding party of up to 40 guests.
The Outdoor Barracks Lawn
Set against a picturesque backdrop of conserved heritage buildings, the Barracks Lawn, adjacent to The Barracks Hotel Sentosa, is an ideal venue for grand luxury celebrations. The sprawling green outdoor space spans over 750 square metres, making it of stellar suitability for a dream romantic garden wedding.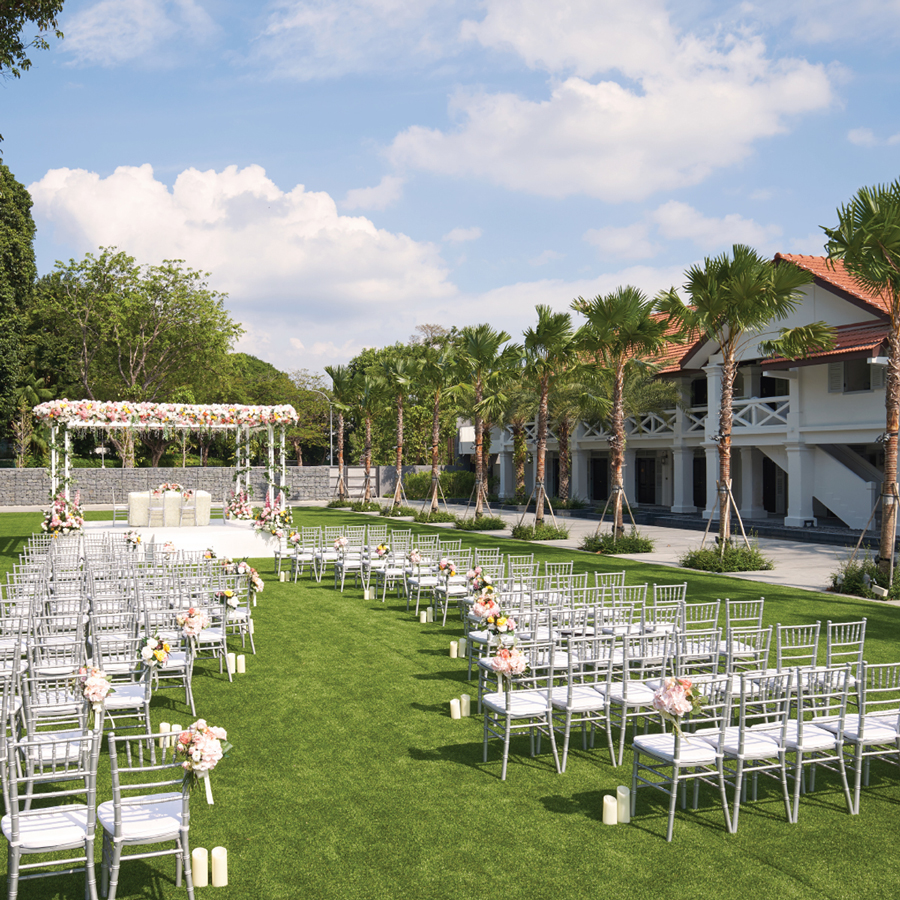 The Wedding Escapade
With four uniquely designed hotel's offerings, embrace the endless possibilities of a once-in-a-lifetime experience.
Register your interest for The Wedding Escapade, presented by The Barracks Hotel Sentosa, Oasia Resort Sentosa, The Outpost Hotel Sentosa, Village Hotel Sentosa - by Far East Hospitality - to preview the latest trending bridal themes and promotions on 12 March 2023.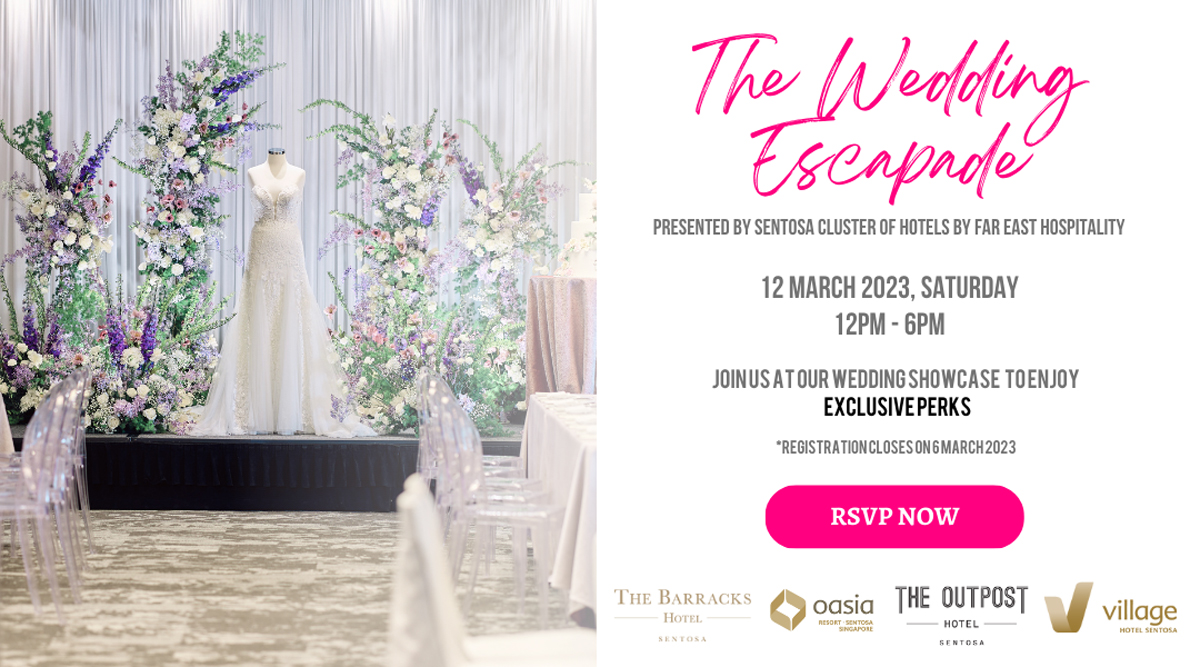 Enjoy exclusive perks including:
Corkage waiver for unlimited bottles of 75cl duty-paid & sealed alcohol
Customised printed menu or place cards
Additional 1 x barrel of beer
Additional 1 x bottle of house wine per guaranteed 10 persons
Additional 10% carpark coupons
Complimentary 1-night stay in a Premier Room at Oasia Resort Sentosa with breakfast on the wedding day
Applicable for new wedding bookings held by 31 December 2023 at Revelry Hall and The Aloes.
Other terms & conditions apply.
Pre-register for the showcase
here
, or RSVP on the
Blissful Brides
website.
The Barracks Hotel Sentosa
Oasia Resort Sentosa
The Outpost Hotel Sentosa
Village Hotel Sentosa

Email: events.sentosa@fareast.com.sg
Tel: 6512 2202
Instagram: @theoutposthotel
Facebook @theoutposthotel
Website https://www.fareasthospitality.com/en/Sentosa/Weddings