Fairmont Singapore & Swissôtel The Stamford: Spectacular Skyline Views at One of SEA's Tallest Hotels
2020-08-14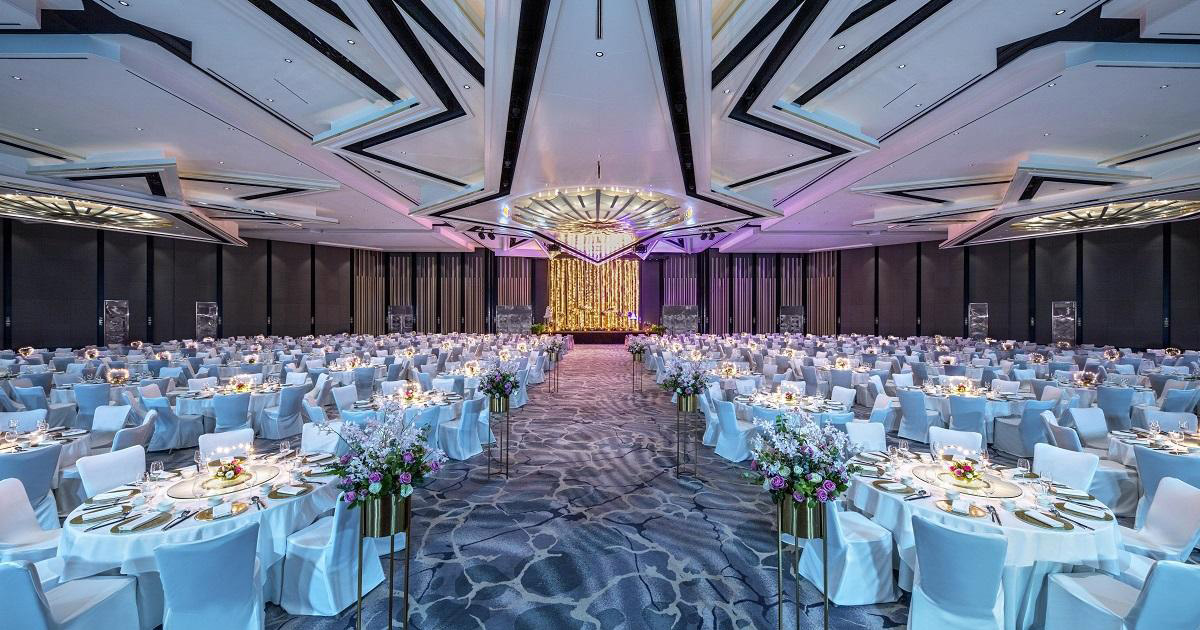 With a plethora of hotel wedding venues to choose from, picking the perfect one may seem like finding a needle in a haystack. However, fret not — if you are looking for a sophisticated and elegant wedding venue to pull off a truly impressive wedding effortlessly, Fairmont Singapore & Swissôtel The Stamford could be just what you need.
A uniquely glamorous venue, the hotels boast a variety of wedding spaces, luxurious amenities, exemplary service, and culinary finesse — all the ingredients for the ultimate luxury wedding experience!
Plus, both hotels are among those most celebrated in Singapore, with Swissôtel The Stamford being one of the tallest in the whole of Southeast Asia. The fact that they are conveniently located in the heart of the city just mere minutes away from City Hall and Esplanade MRT stations makes them even more ideal for a dream wedding!
Luxurious venues and themes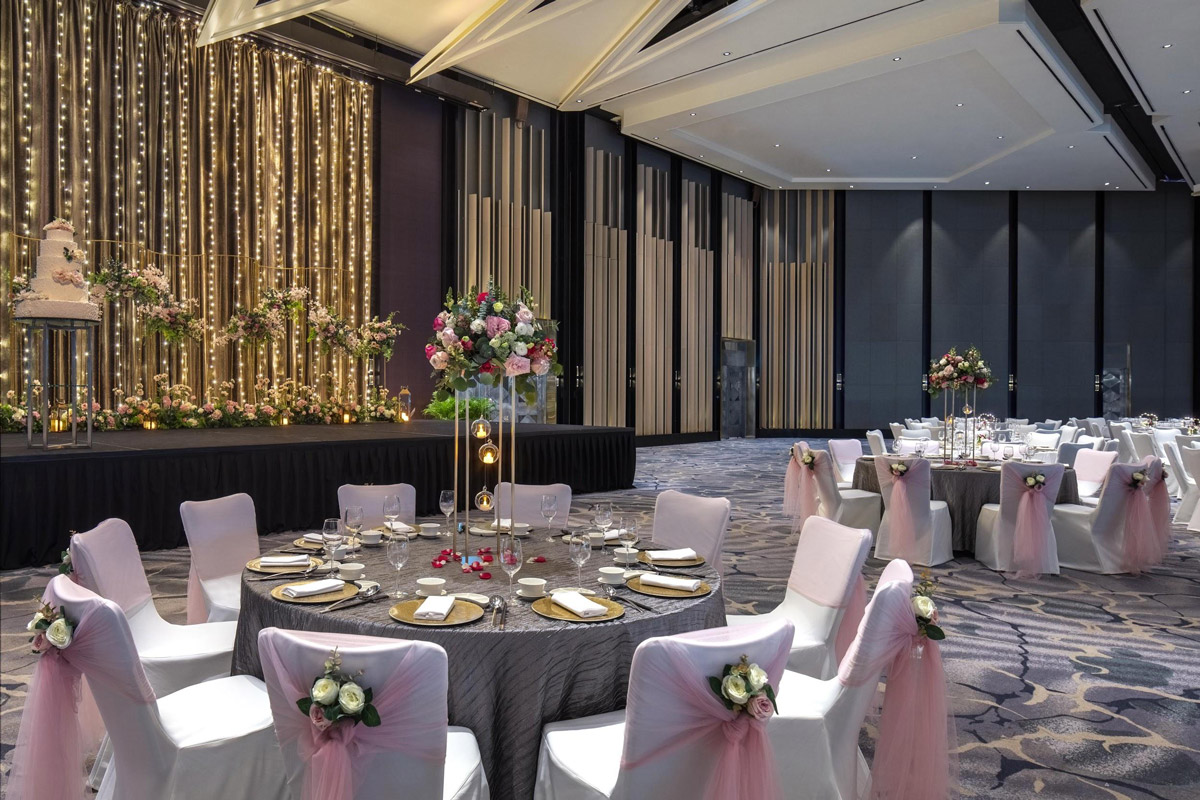 Fairmont Ballroom | Whimsical Bliss
Over at Fairmont Singapore & Swissôtel The Stamford, couples can choose from multiple ballrooms that can accommodate weddings of various sizes. Passionate about creating unforgettable wedding moments, the hotels also provide personalised wedding services to fulfil every bride- and groom-to-be's matrimonial wishes, as well as a wide selection of customisable trendy themes.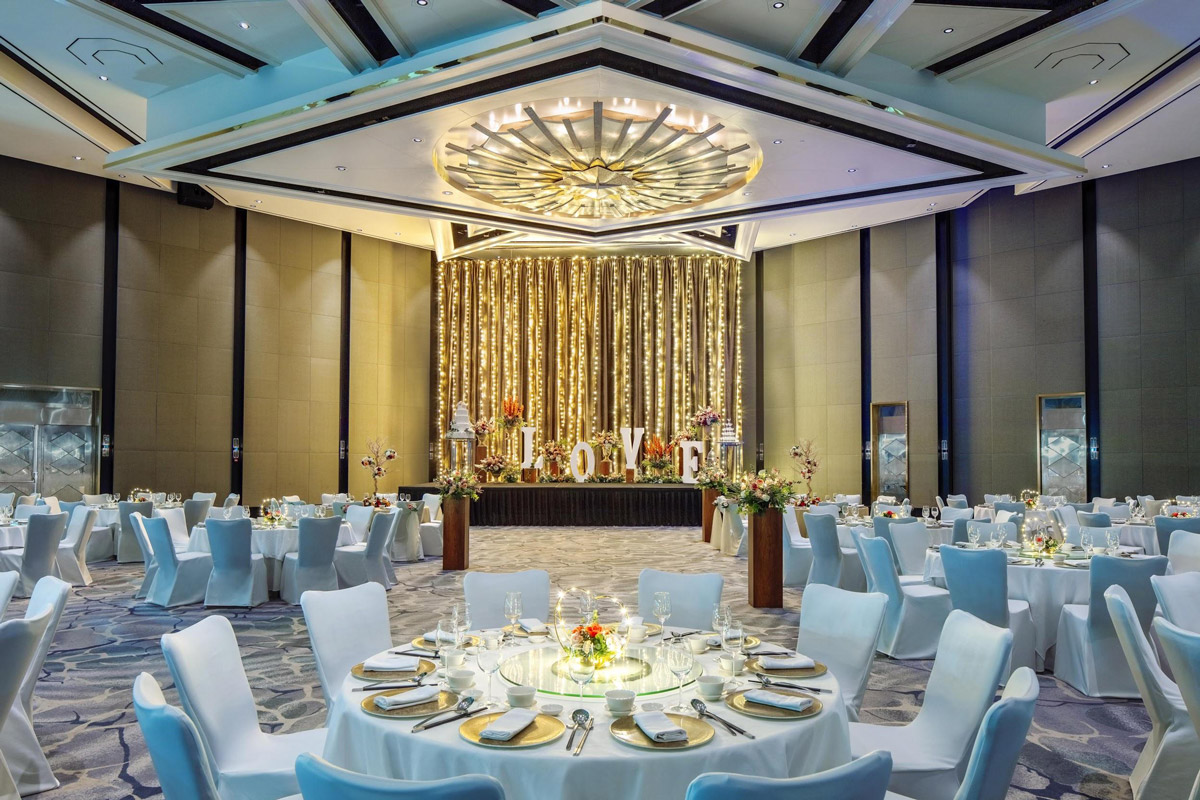 Fairmont Ballroom | Fairytale Garden
With an impressive ceiling height of 20ft, the Fairmont Ballroom is an opulent space for grand celebrations. Accommodating up to 150 tables, its pillarless features allow guest to have an unobstructed view of the ceremony, and its massive chandeliers add a touch of regality to the venue.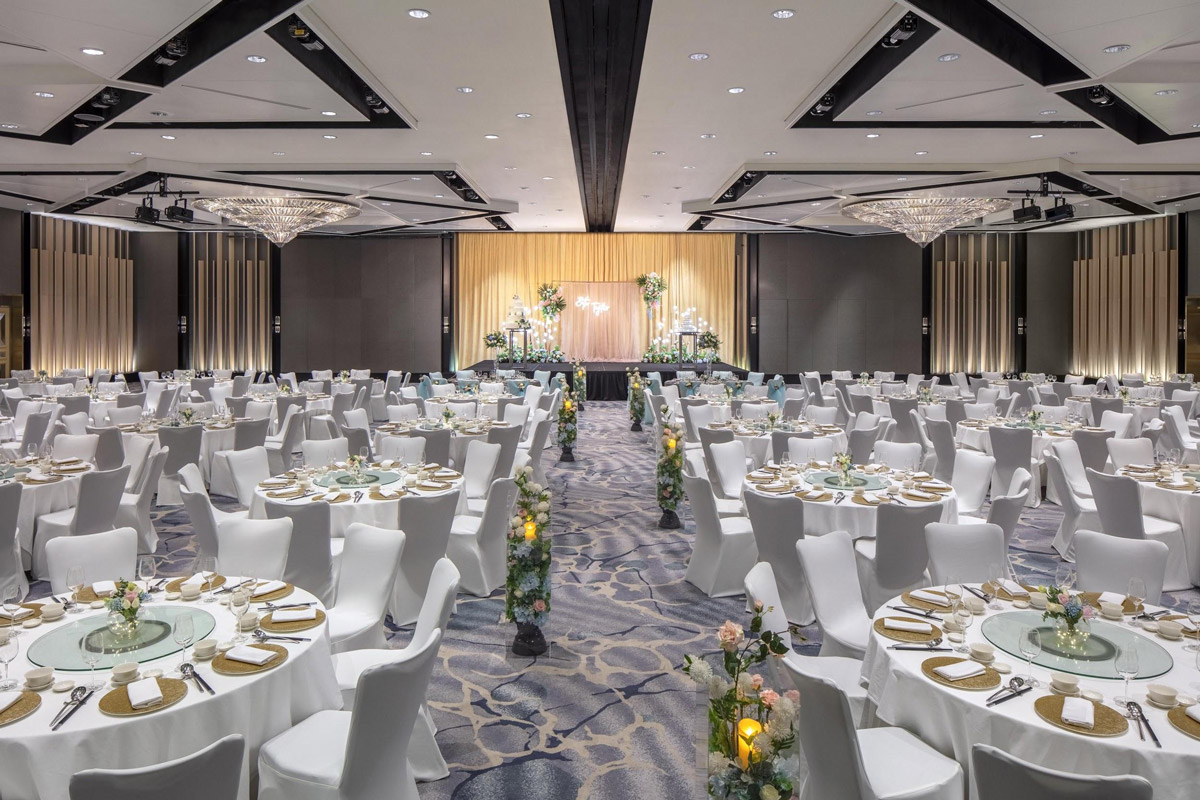 Stamford Ballroom | Bubbly Bliss
Similarly, the Stamford Ballroom also exudes grandeur and has pillarless features with a 13.2ft ceiling height, but its in-built furnishings would appeal more to couples who prefer a sleek, modern aesthetic.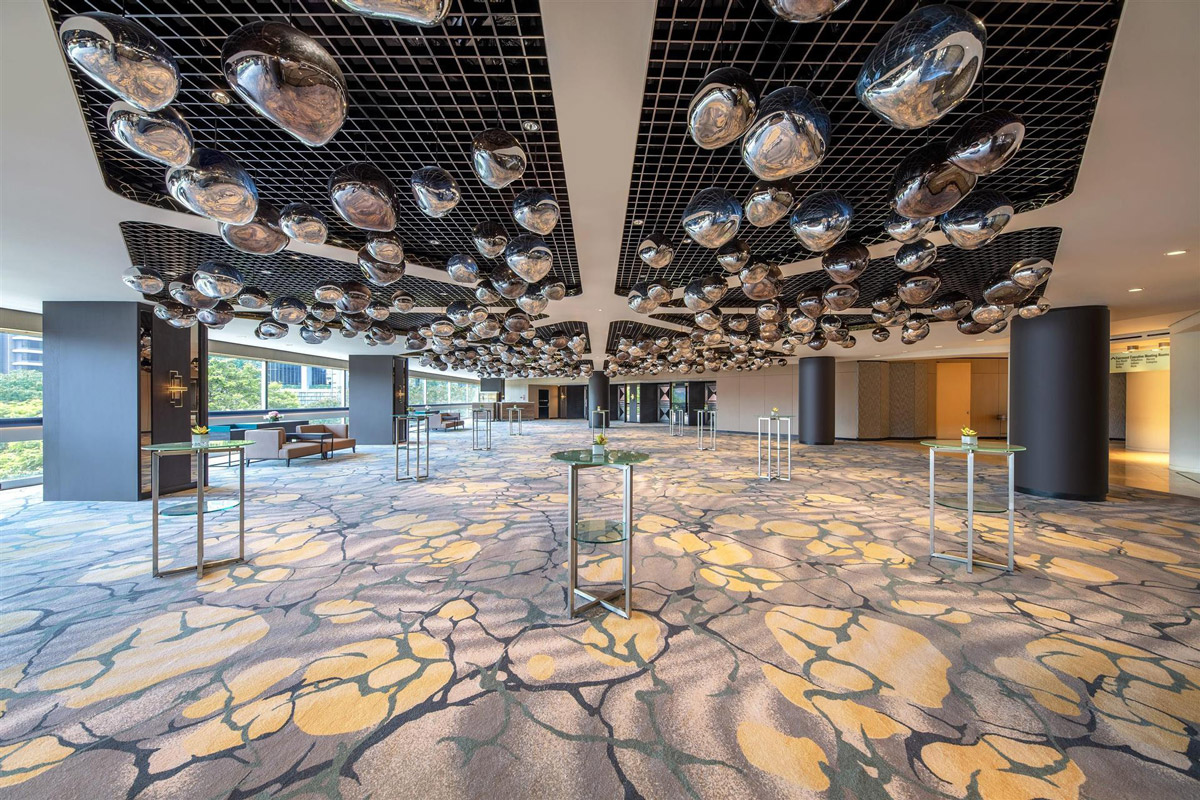 The Stamford Ballroom also comes with an exclusive foyer complete with cocktails and canapes, and most importantly, no disturbance from the hotel guests.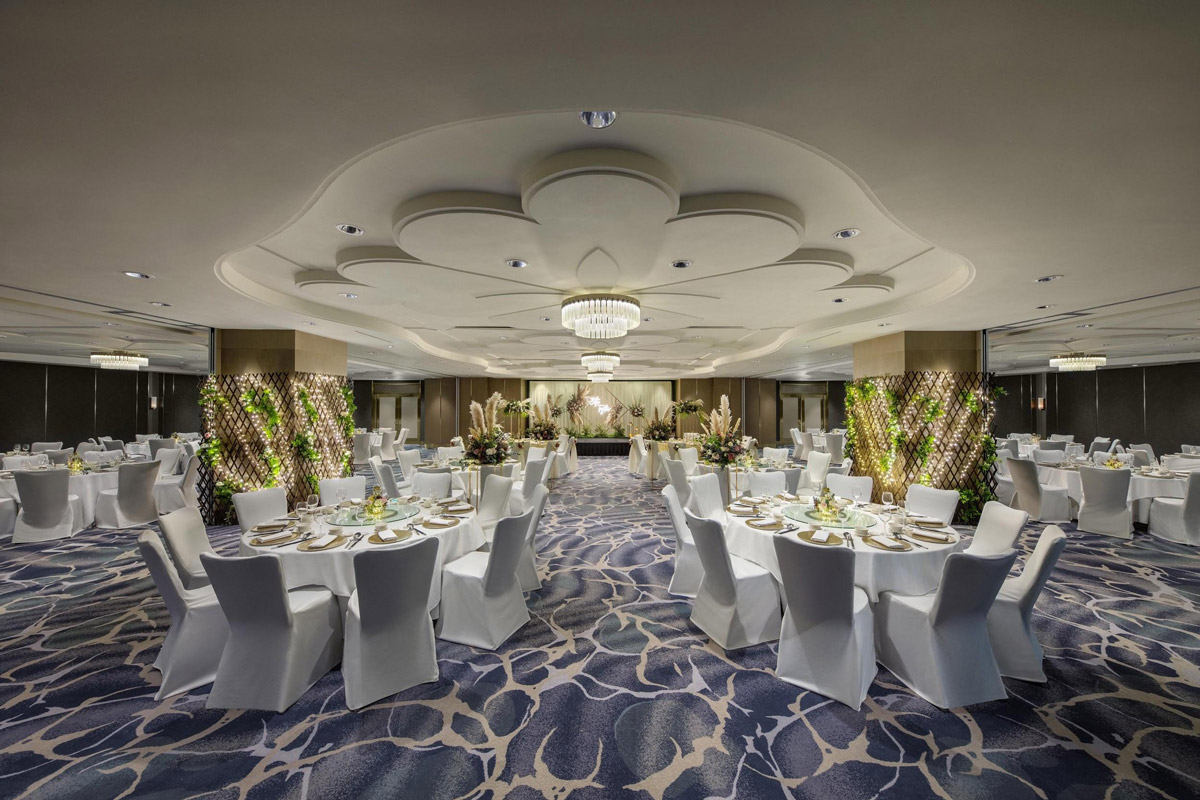 Atrium Ballroom—Rustic Romance
For those who prefer a more intimate set-up, the Atrium Ballroom offers the perfect venue to host a cosy wedding with those near and dear to you. Able to accommodate 20 to 30 tables, the ballroom also comes with a private foyer for maximum intimacy!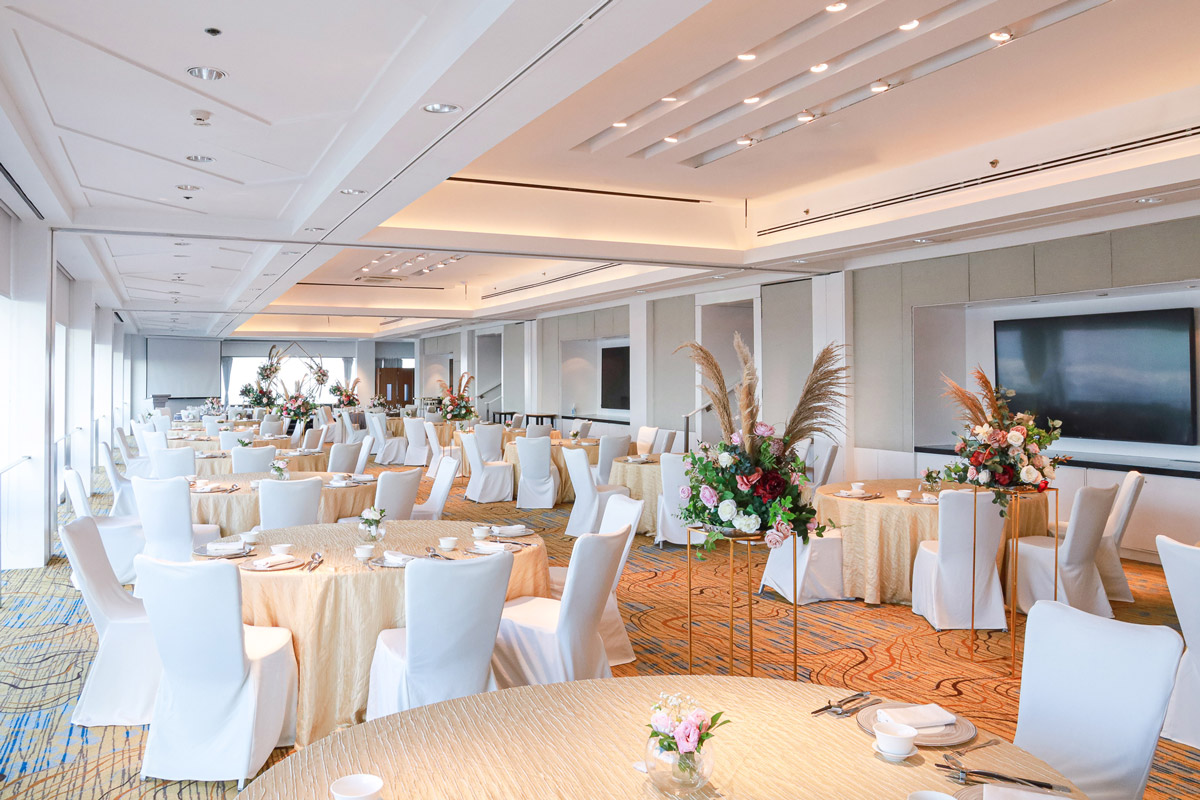 SKAI Suites | Elegant Romance
Alternatively, the SKAI Suite is perfect for a solemnisation or small wedding, as it is perched on the 69th floor of Swissôtel The Stamford and has floor-to-ceiling windows that allow you and your guests to soak in the spectacular view of Singapore's cityscape and harbour.
The long, narrow layout of the SKAI Suite also means that you can make a grand entrance with a long, dramatic march-in!
Unrivalled hospitality for a night to remember
With a total of 13 reputable F&B outlets including a Michelin-starred restaurant, JAAN by Kirk Westaway, nestled in Swissôtel The Stamford, couples can rest assured that the specially-curated wedding menus by the hotels' culinary team are of great quality and finesse, bar none.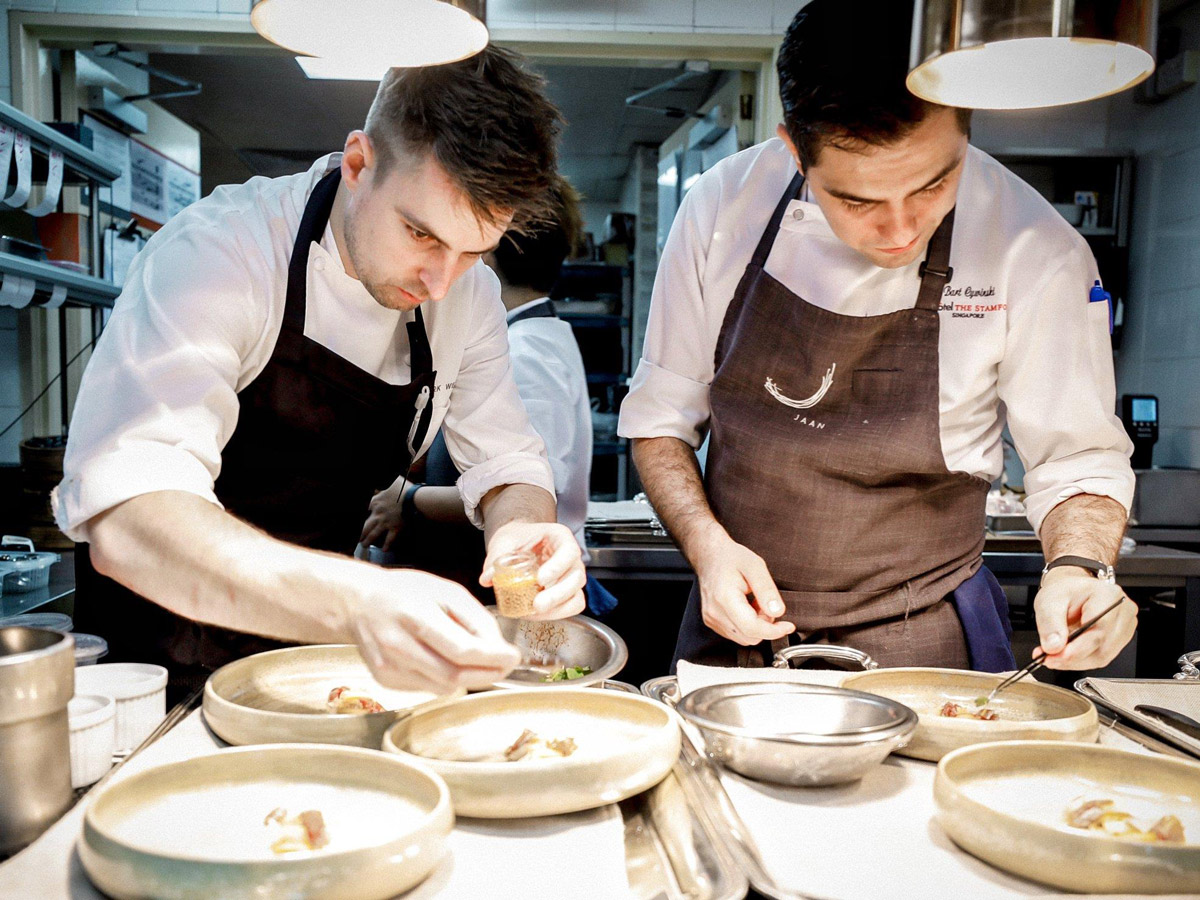 As highlighted before, Fairmont Singapore & Swissôtel The Stamford strives to turn every couple's dream wedding into reality, so couples are more than welcome to speak to the hotels for a personalised menu that caters to your dietary needs and preferences.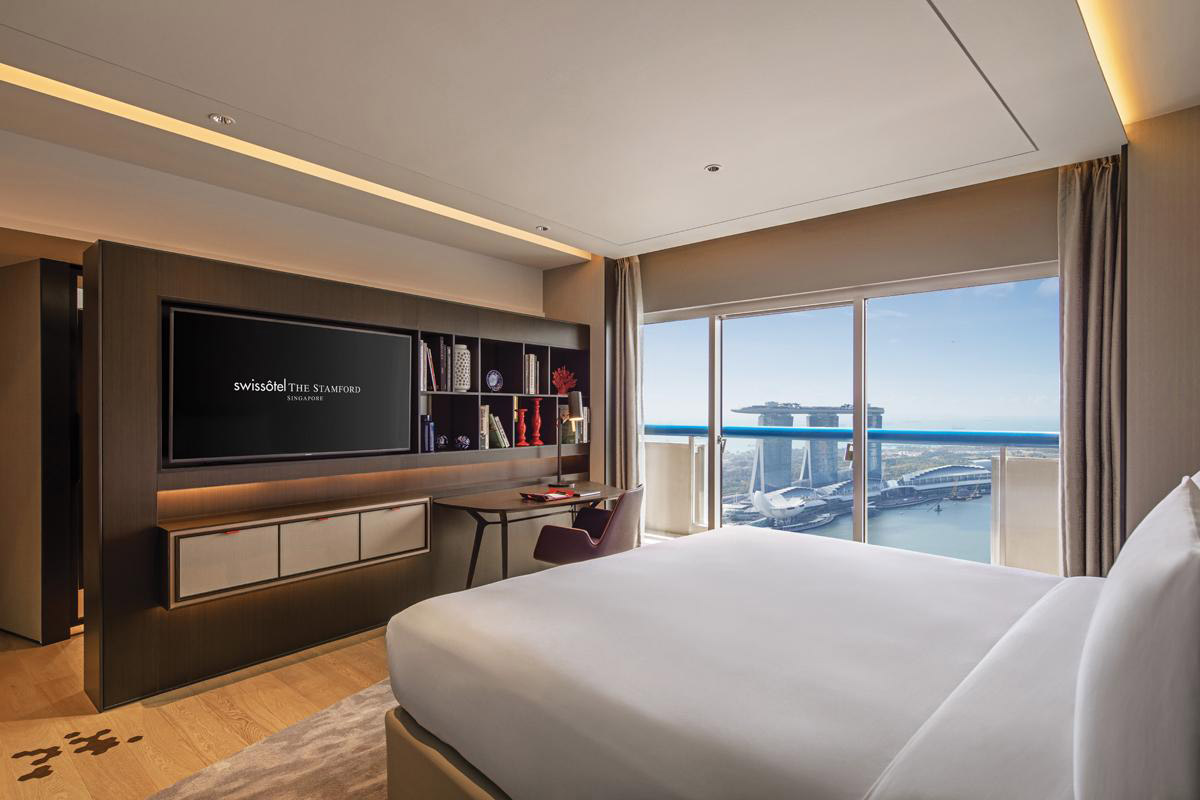 Bridal Suite at Swissôtel The Stamford
Wedding packages at Fairmont Singapore & Swissôtel The Stamford also feature sophisticated settings at affordable rates inclusive of a dedicated Wedding Concierge that gives you peace of mind on the most important day of your life, a day's usage of a preparation room for the bridal party, and a luxurious Bridal Room with a complimentary in-room dining meal, and panoramic views of the bay and night sky, making it the perfect place to spend your night as newlyweds.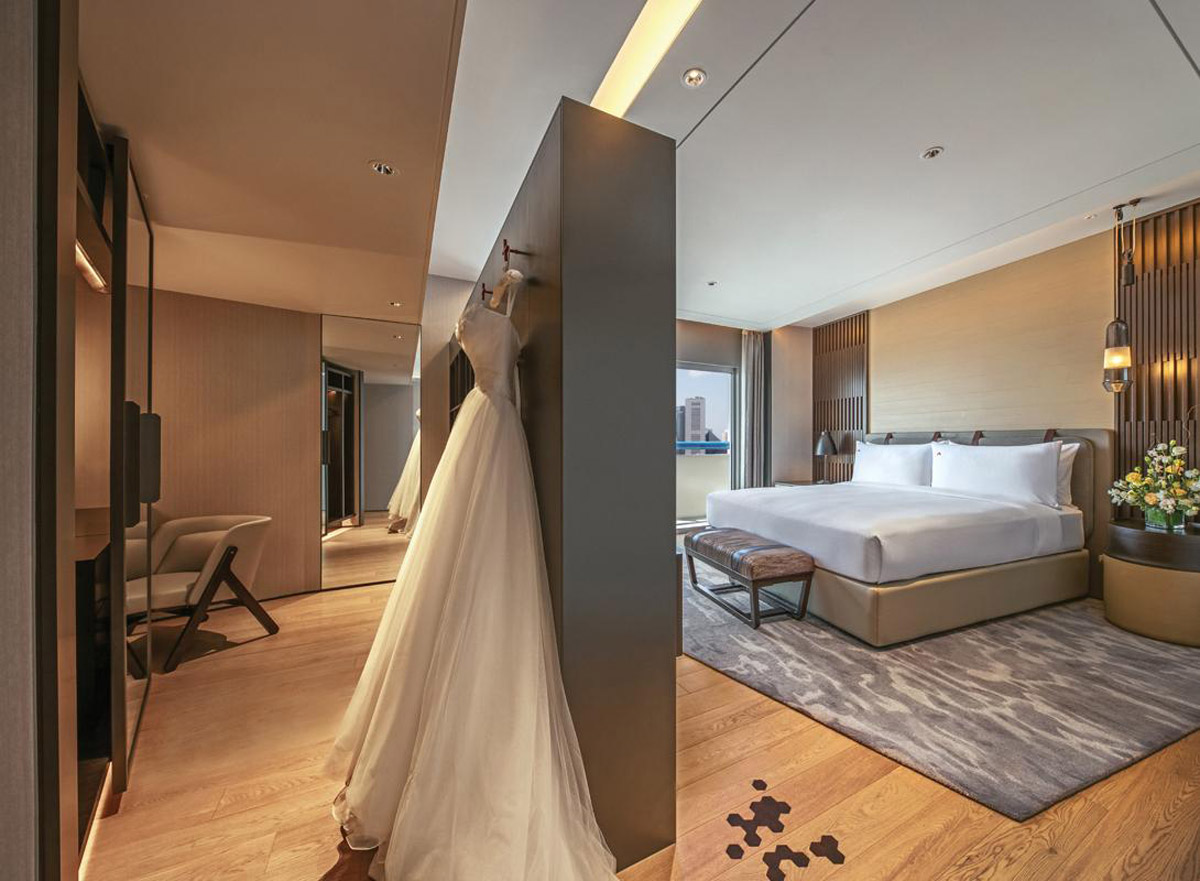 Bridal Suite at Swissôtel The Stamford
If you are interested to find out more about their exclusive wedding packages, simply reach out to Fairmont Singapore & Swissôtel The Stamford at +65 6431 5530 or drop an email to weddings.singapore@fairmont.com. Virtual tours are also available on their website here, allowing you to explore their venues freely in the comforts of your home!
Address: 2 Stamford Road, Singapore 178882
Telephone: +65 6431 5530
E-mail: weddings.singapore@fairmont.com
Website: Fairmont Singapore | Swissôtel The Stamford
Facebook: Fairmont Singapore | Swissôtel The Stamford
Instagram: Fairmont Singapore | Swissôtel The Stamford

________________________________________
This article was written for Fairmont Singapore & Swissôtel The Stamford.
All photos were sourced from Fairmont Singapore & Swissôtel The Stamford.
Fairmont Singapore & Swissôtel The Stamford

Rating:

Address:

2 Stamford Road, Singapore 178882

Phone:

65 6431 5138