Have a Jay Chou-Approved Singer Serenade Your Guests on Your Big Day!
2020-02-12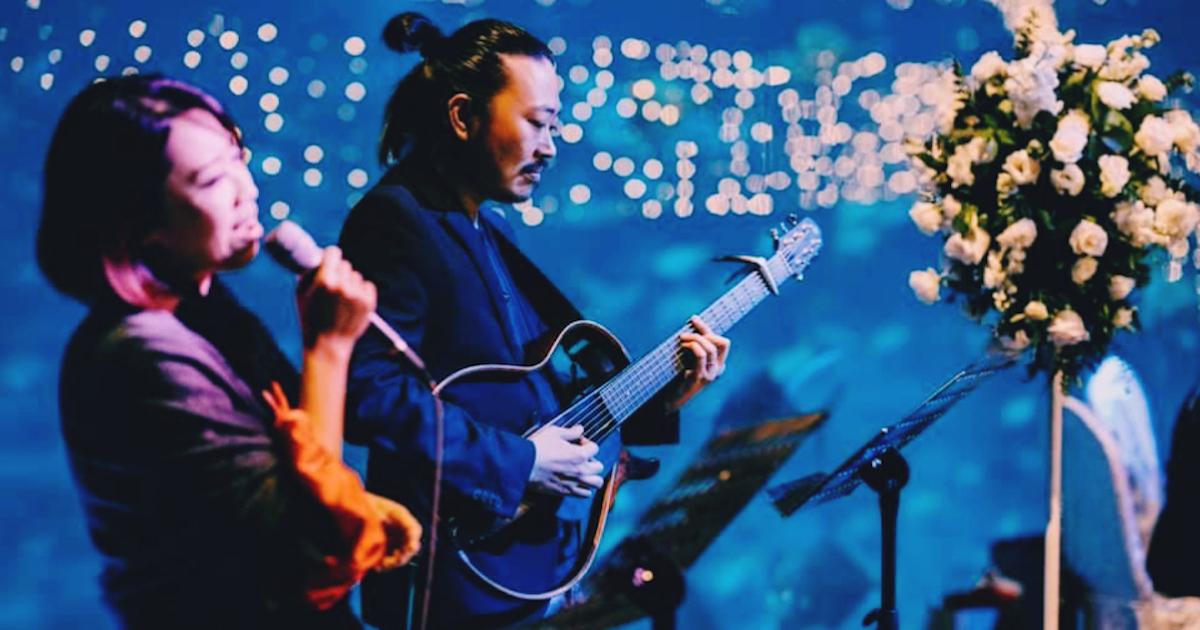 Yes, we aren't joking. Weddings are never complete without a wedding singer and it can be hard to pick the right one, but there's no better seal of approval for a wedding singer than Mandopop megastar Jay Chou's push-of-the-button on A Little Dream's Elizabeth Low. But wait —besides Elizabeth's husky crooning, this music talent company has more to offer:
Like Jay Chou, A Little Dream expects nothing but the best in a team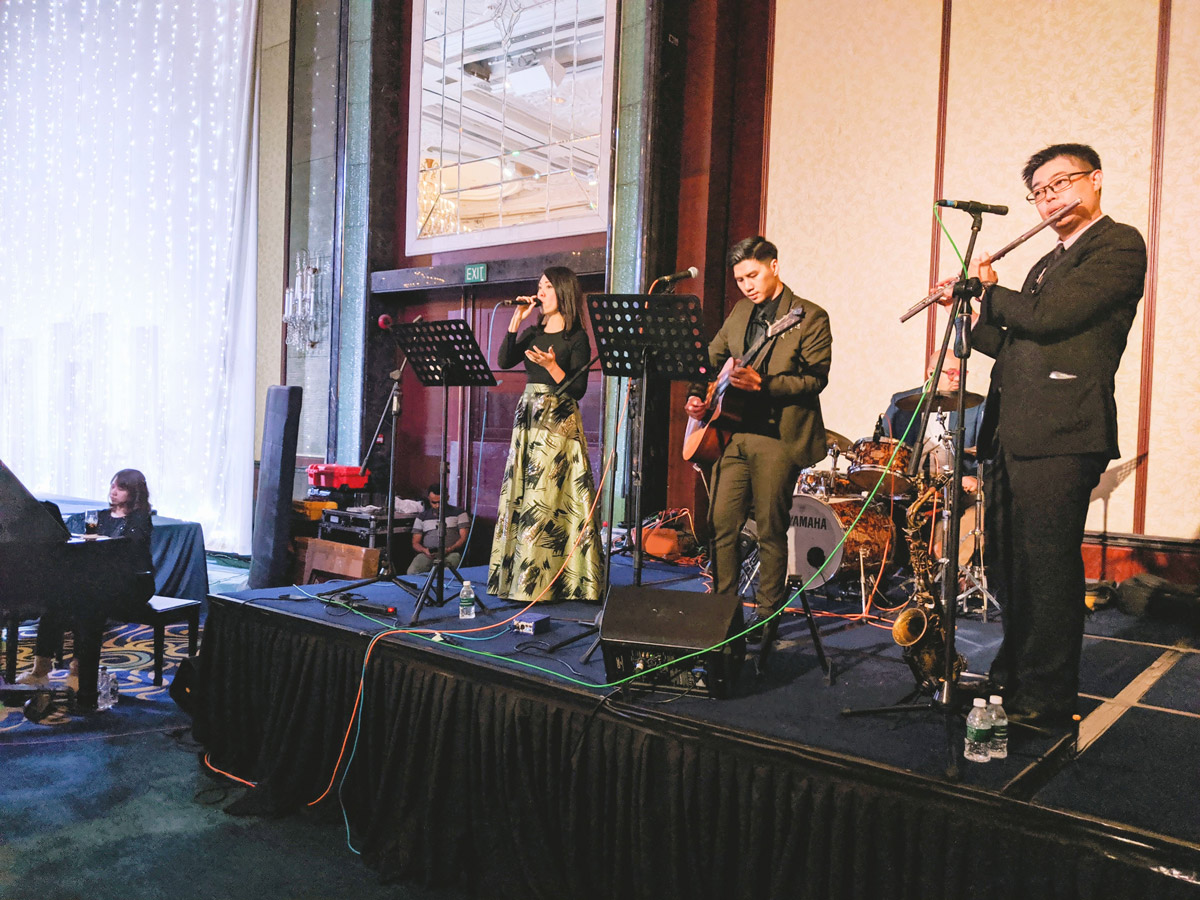 All of the singers and musicians that are featured in A Little Dream's catalogue have been specially curated by founder Bevlyn Khoo, who's an award-winning singer-songwriter. She also has four albums to her name and a dedicated following in the indie music scene, and this means that you can expect high standards and quality music for any wedding event.
To top that off, most of their entourage are accomplished artistes with albums released and competition titles under their belt, and some have even performed for major events such as National Day or recorded theme songs for Mediacorp's TV series. As mentioned earlier, the talented Elizabeth has participated in Sing! China 2018 under Jay Chou's team, Taiwan's 超级偶像, and The Voice 决战好声 (SG/MY), while powerhouse Khim had made her way to the finals of Campus Superstar and was picked to enter Team Eason in Sing! China before.
Well-seasoned with thousands of successful weddings under their belt, A Little Dream is also one of the pioneer live band companies in Singapore. Having been in the industry since 2002, they're able to adjust to any last-minute changes to the wedding programme and you can expect utmost professionalism along with their top-notch skills.
Versatility is their main game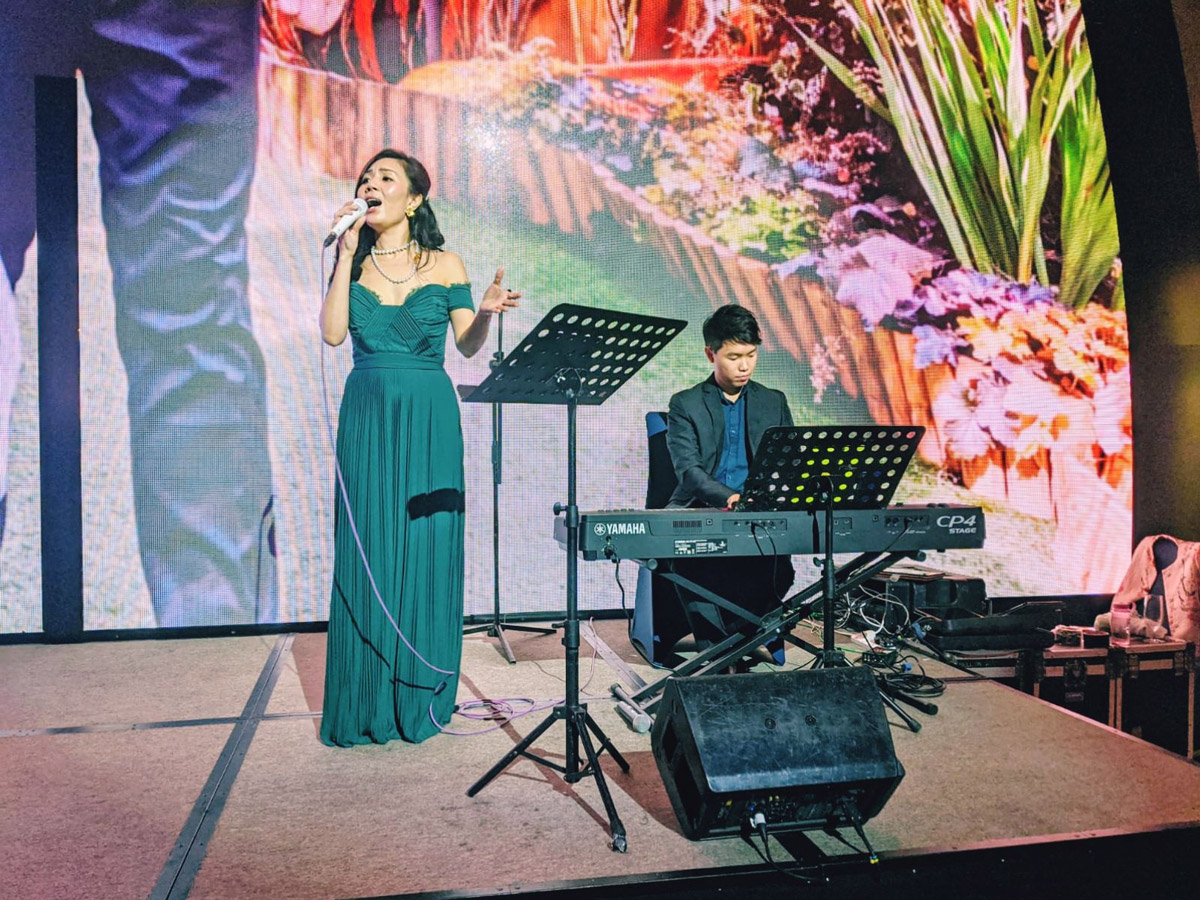 Always wanted to walk down the aisle with the flower girl scattering rose petals on the carpet while being all jazzed up with La Vie en Rose? Or do you wish to please the parents with perennial Hokkien classics? You can, because the language catalogue at A Little Dream is akin to the United Nations.
They have a strong team of singers and musicians who are adept in performing not only in English and Mandarin, but also in foreign languages (Korean, Japanese, French, Spanish, Bahasa Indonesian), and in dialects (Hokkien and Cantonese).
Depending on the ambience that you and your forever love would like to have, A Little Dream plays host to singers who can croon classy traditional jazz tunes, upbeat Top 40 hits, or simply a mixture of pop and classics to please the broad spectrum of your guests.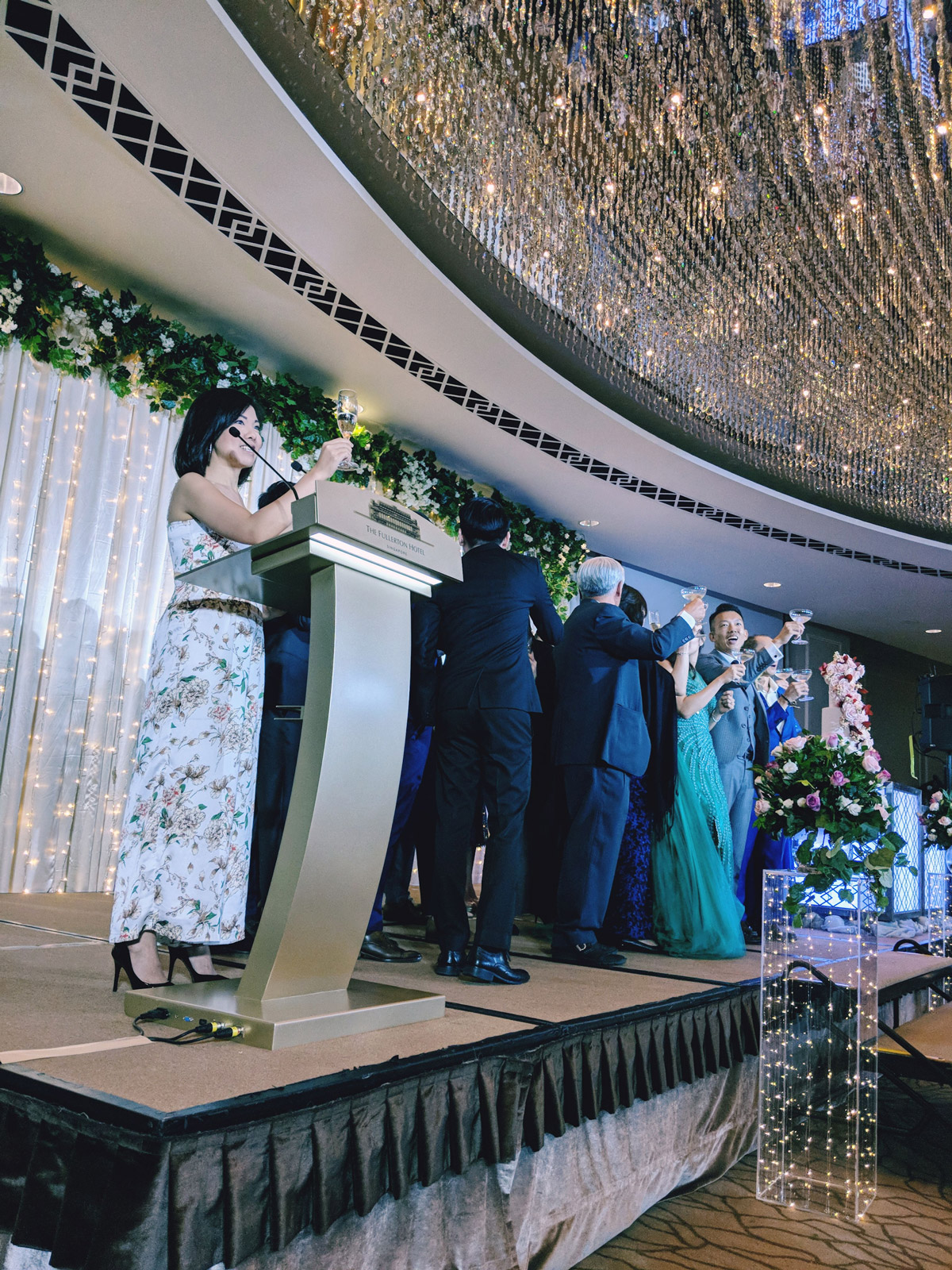 Emceeing in progress!
Another factor that sets the team apart is that their singers can double up as bilingual emcees, putting their star talent to the mic, to ensure the overall adhesiveness of the event. Not many can beat that type of personal touch.
Not keen on vocals? How about a string quartet or a DJ?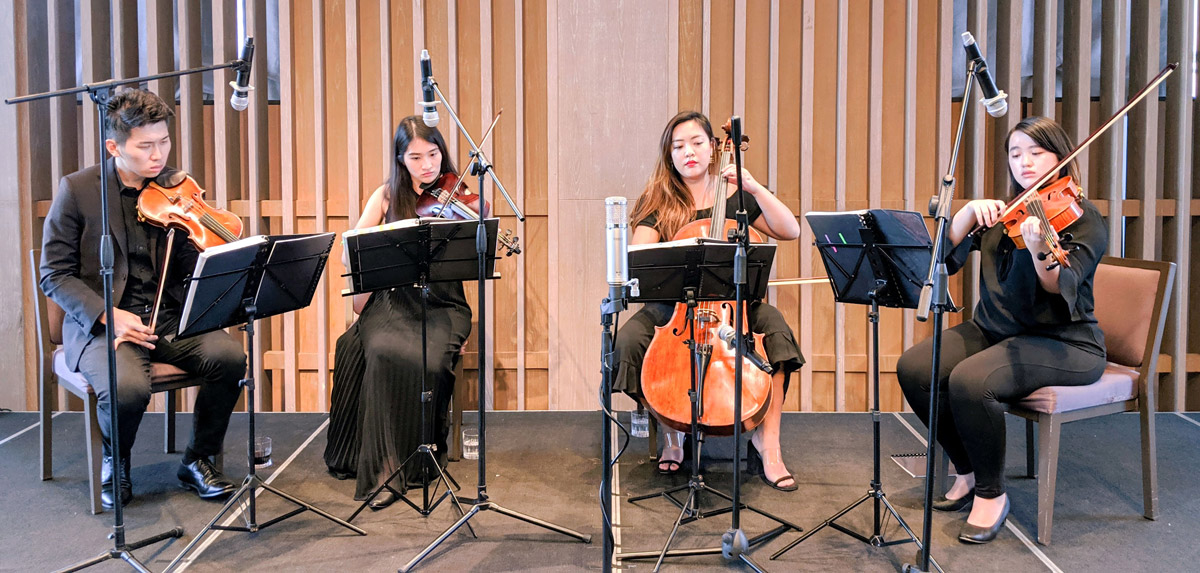 Don't want powerhouse vocals taking the shine away from the procession or if you simply prefer a more subdued, classical backdrop, A Little Dream also features a strong string quartet, DJs, and instrumental music packages that will please wedding couples who are not looking for vocalists for their live music.
Pick from a harpist, solo pianists, a fingerpicking solo guitarist, their one-man-band, and even a 5-piece Gatsby Theme Big Band, if you'd like. As with their singing colleagues, expect full versatility from the musicians as they're fully capable to deal with song requests and dedications, and even provide music accompaniment for wedding couples or guests who would like to sing a tune or two!
Turn your dreams into reality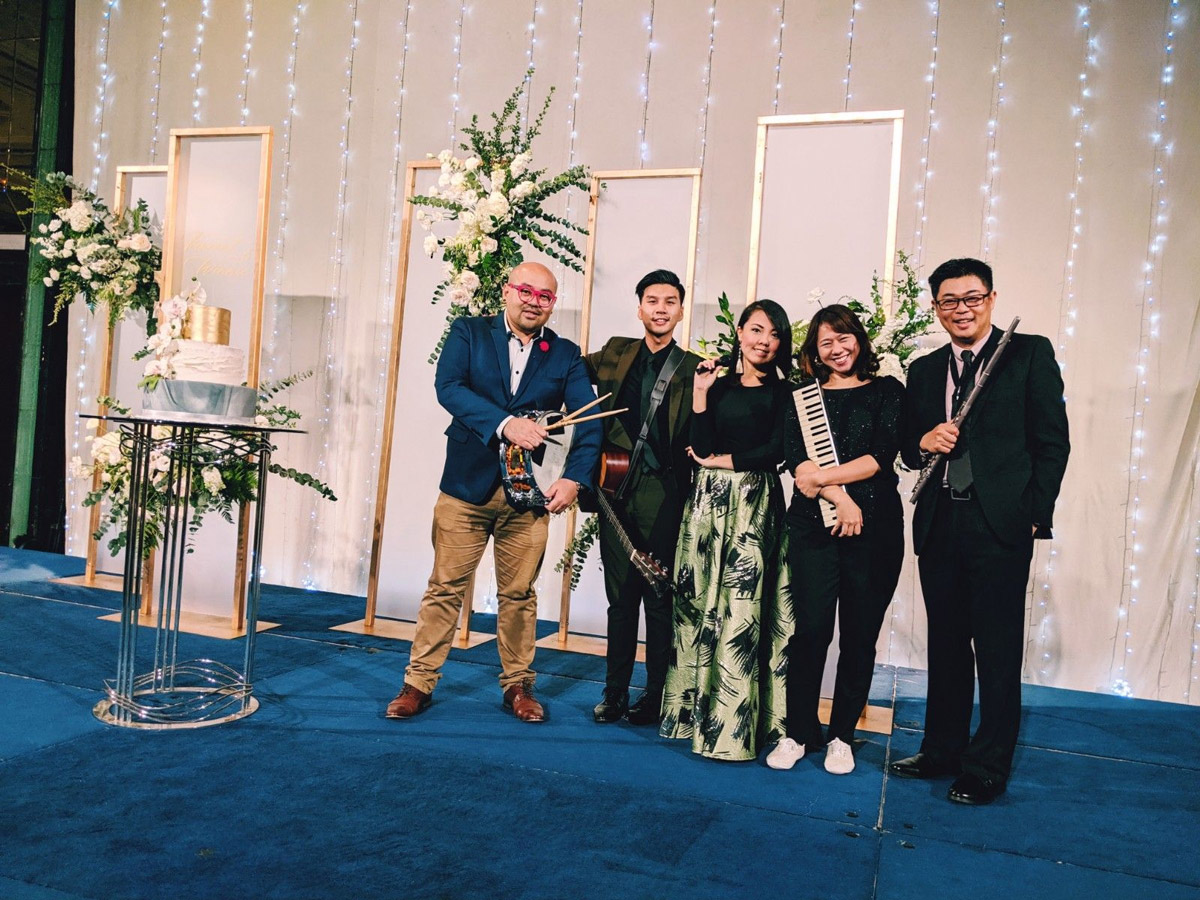 A Little Dream's line-up is experienced and well-versed in all genres of music, so feel free to come up with a list of songs that you would like the musicians or singers to perform to set the ambience for your once-in-a-lifetime celebration.
Their packages typically include:
● A singer doubling up as bilingual emcee (selected singers only)
● 2 x complimentary march-in songs
● Customised song list
● Song requests/dedications from your guests
● Synchronisation of 'live' music with photo/video montages (if required)
● Music accompaniment for wedding couples or guests who would like to sing
● 'Live' music for the first dance
What's great about A Little Dream is that they also have value-for-money packages for those on a tighter budget — you can opt to have musicians doubling up on vocals at a nominal fee, and they even have a musician who's able to play the guitar, foot drum, and produce piano sounds!
Head here to listen to their curated list of singers and musicians, or email them at info@alittledream.com.sg for the full catalogue of services!
A Little Dream
Tel: 8525 8277 (Chloe)
Email:
info@alittledream.com.sg
Facebook

Website
________________________________________
This article was written for A Little Dream.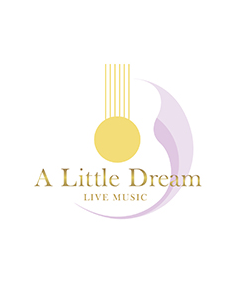 A Little Dream
Rating:

Address:

14 Robinson Road #08-01A Far East Finance Building Singapore 048545

Phone:

8525 8277