Hold a Solemnisation Ceremony in the Sky & Enjoy a Banquet Buffet at Peninsula Excelsior Hotel
2020-06-22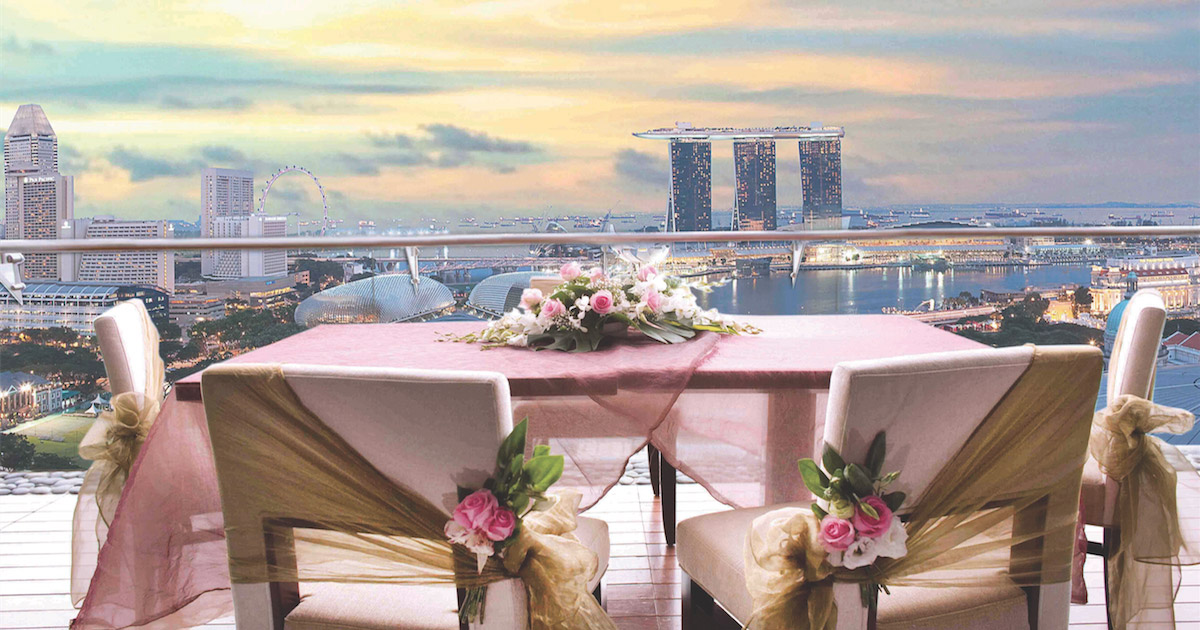 Classy, hassle-free, and cost-effective. If these describe what you want your wedding to be like, then you're in luck because the Peninsula Excelsior Hotel is a charming and extremely accessible 4-star hotel nestled in the heart of the city with the means to make that dream wedding of yours a reality.
From versatile wedding venues to accommodate all kinds of weddings to a refreshing take on the conventional Chinese wedding banquet and wallet-friendly prices, here's what Peninsula Excelsior Hotel has to offer:
Versatile venues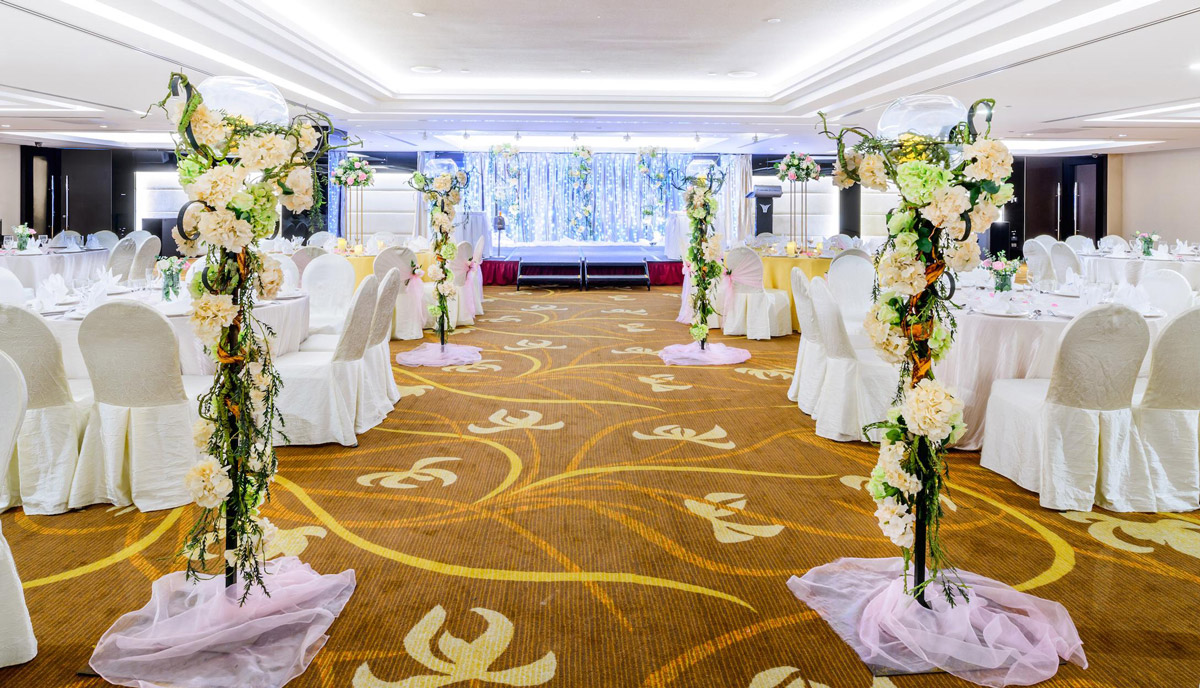 The Grand Ballroom
Offering an array of spaces well-suited for any type of wedding, couples in search of an opulent affair can use their luxurious Grand Ballroom, which can accommodate up to 36 tables. Decked in neutral colours so that couples of any ethnic group can plan their wedding décor with ease, the ballroom also has an adjacent foyer for a pre-wedding reception, where your guests can mingle over cocktails as they wait for the main event to start.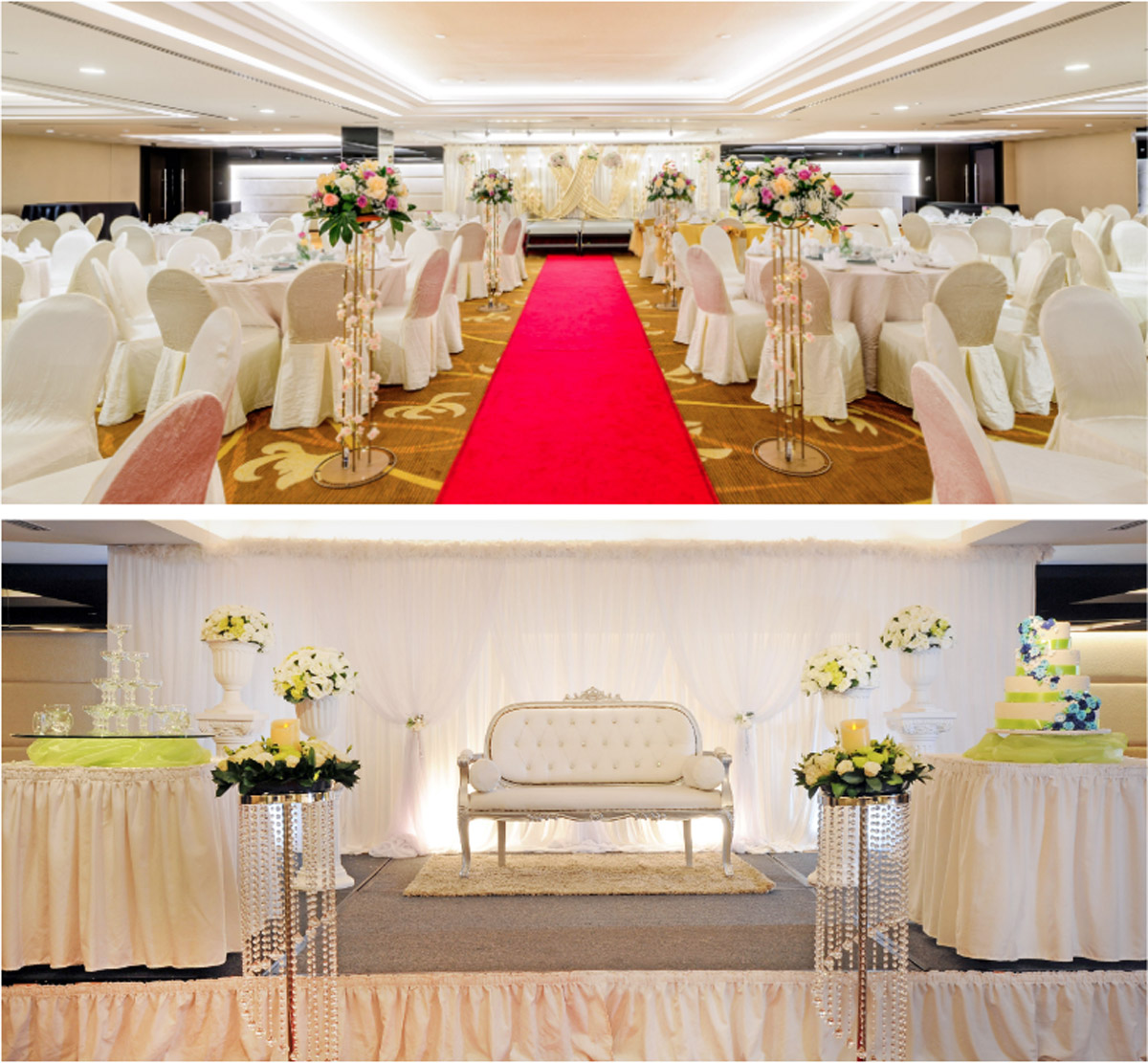 Various Grand Ballroom setups
If you're thinking of holding a smaller celebration with just a handful of loved ones, Peninsula Excelsior Hotel also has 3 smaller
function rooms
for you to choose from. Whether you prefer a venue that offers a stunning view of the city skyline or a private space that exudes a warm, cosy atmosphere, the hotel has it all.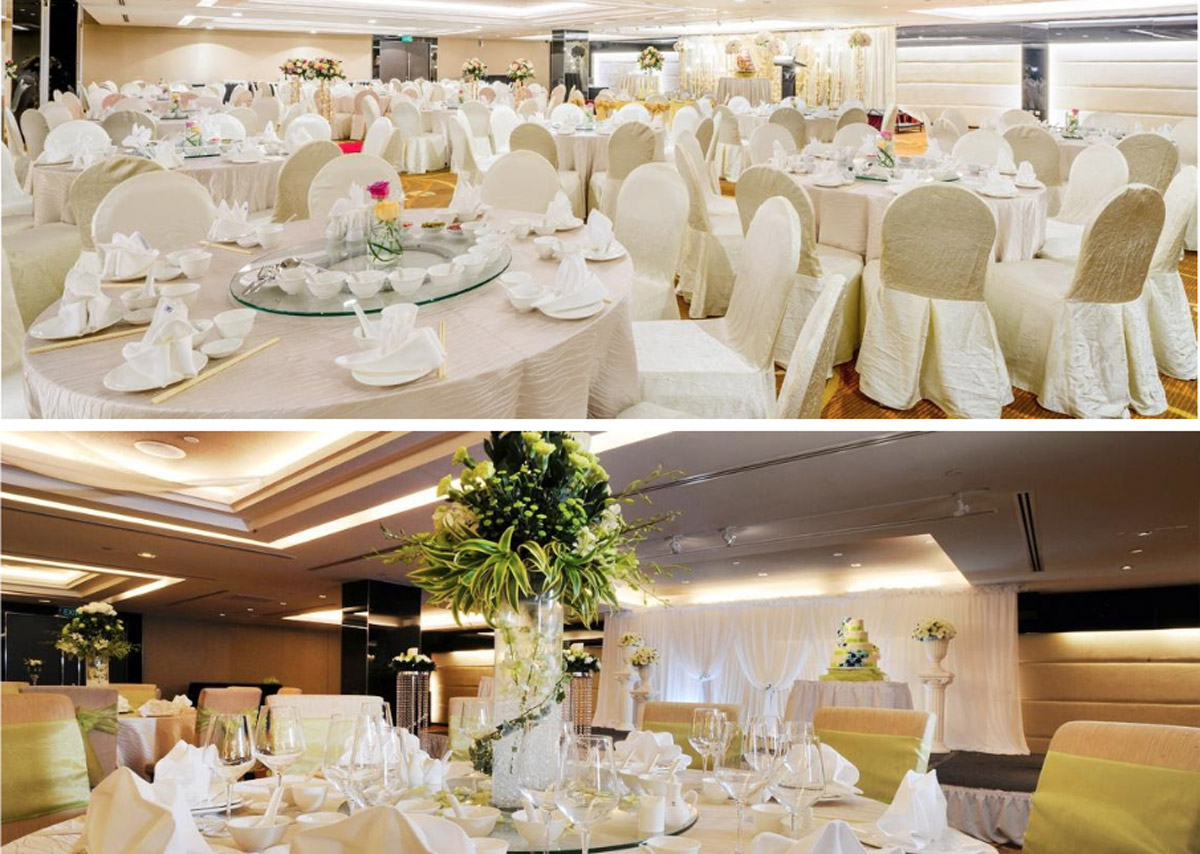 Various Grand Ballroom set-ups
Otherwise, you may exchange your vows on an outdoor veranda against a captivating view of Singapore's cityscape. Located on the 22nd floor, the Sky Lounge overlooks the Marina Bay waterfront and provides 3 picturesque outdoor balconies and a cosy indoor space that can accommodate up to 100 guest — perfect for an intimate celebration.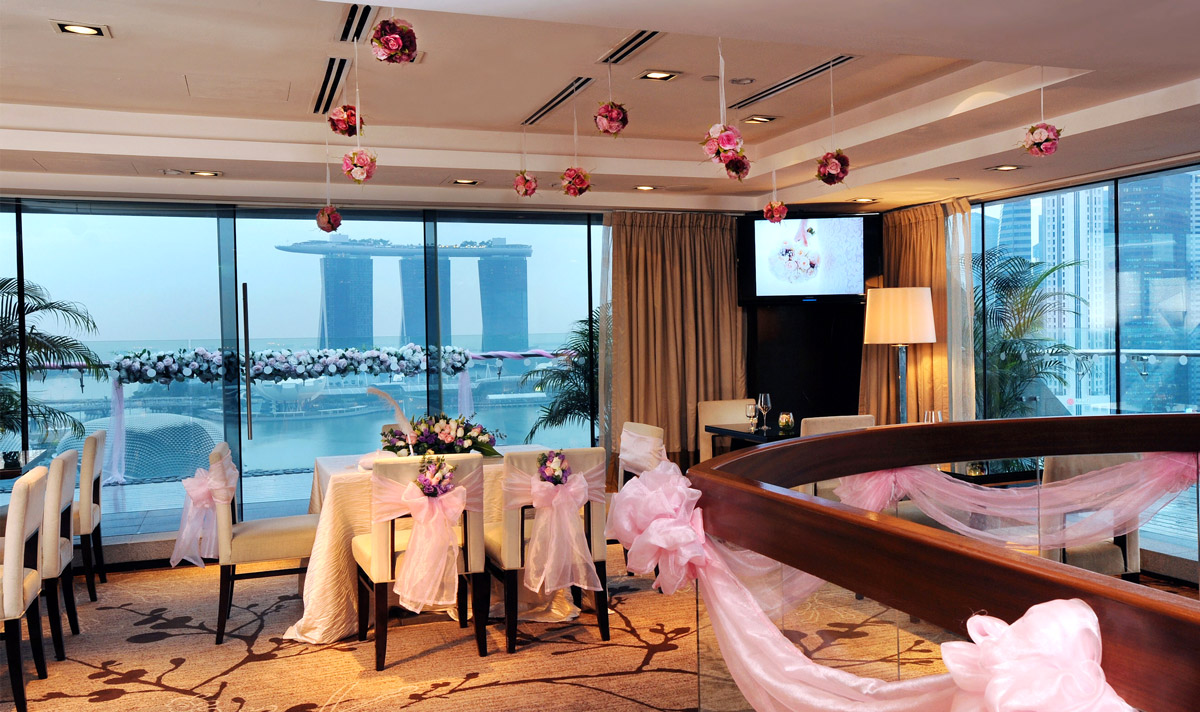 A solemnisation setup at the Sky Lounge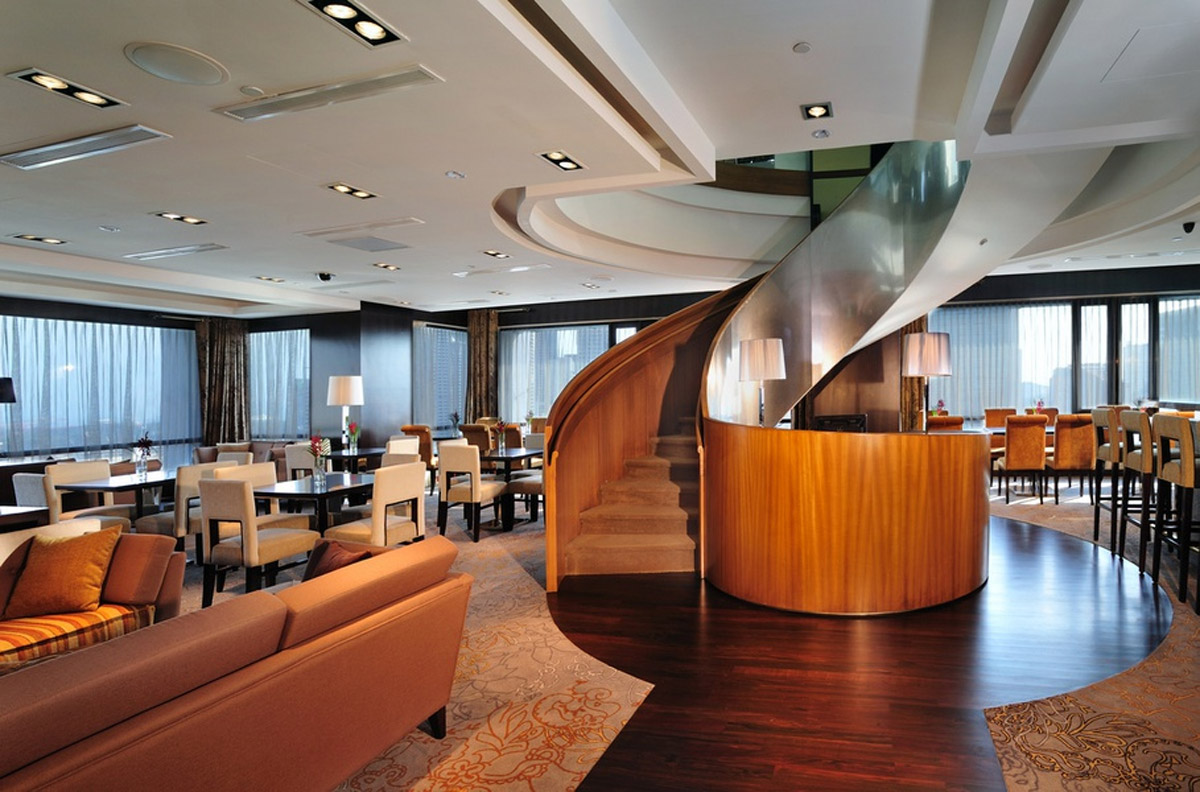 The Sky Lounge also boasts a magnificent spiral staircase for you to make your grand entrance!
Memorable memories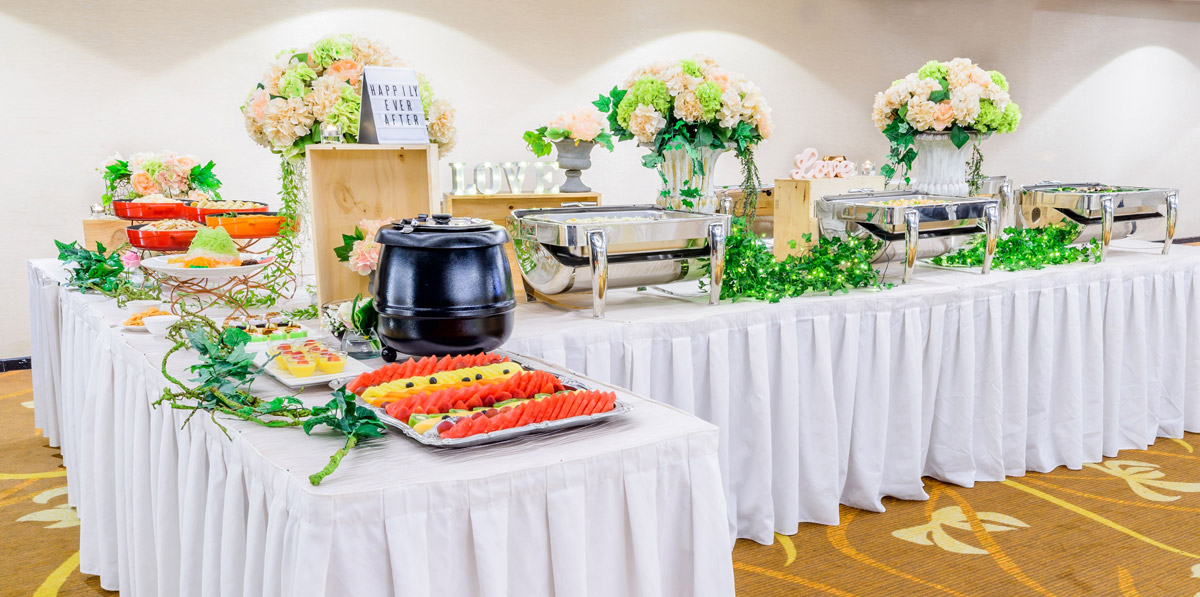 Most hotels offer gastronomical Chinese banquet course meals, and Peninsula Excelsior Hotel is no exception. However, couples are offered a less conventional and absolutely refreshing alternative at this hotel as well — the choice of having traditional Chinese delights, buffet-style.
This encourages your guests to move about and interact more with one another, which adds to the overall festive mood of the wedding and leads to a memorable experience for everyone. It also solves the problem of guests having to constantly wait for the next course to be served.
There is also less food wastage as the hotel allows couples to book the buffet packages based on a per-pax basis instead of a per-table basis, and best of all, the Wedding Buffet Menu only starts from $78.00++ per pax.
Tailored treatment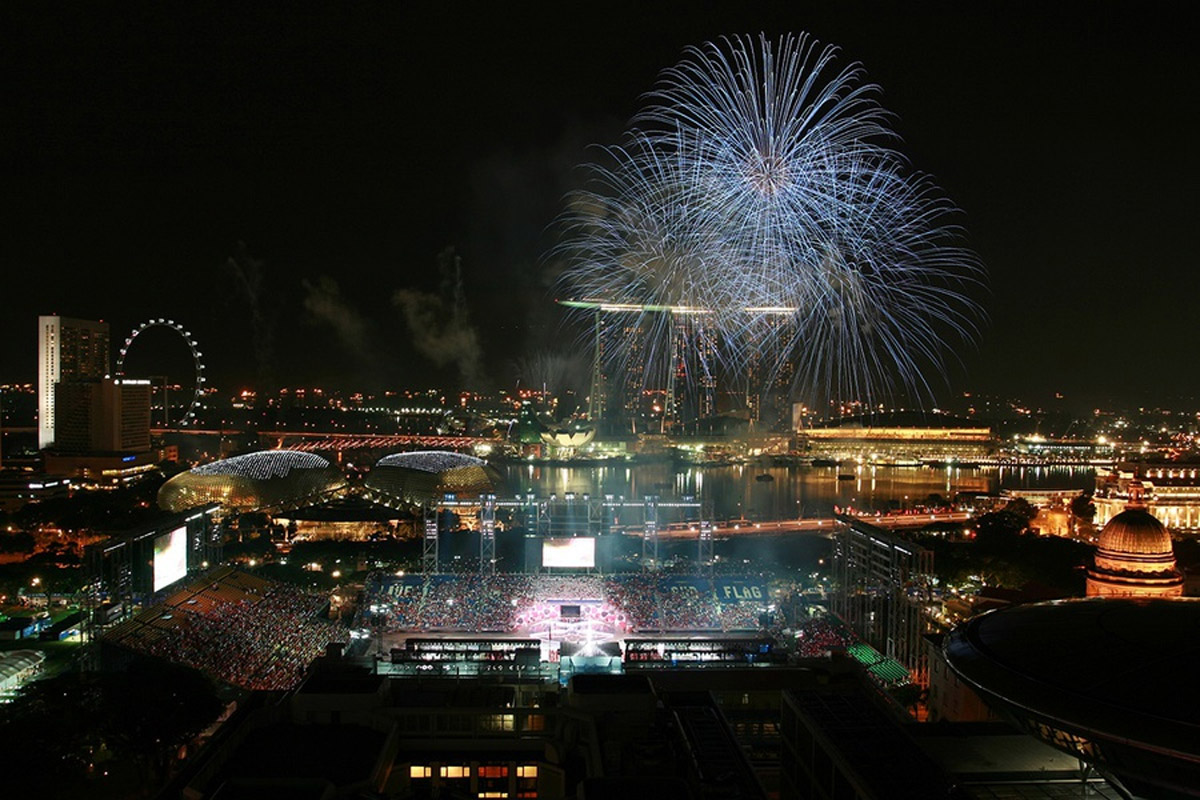 Imagine enjoying this view on your wedding day!
As Peninsula Excelsior Hotel strives to provide every couple with an unforgettable wedding experience worthy of a once-in-a-lifetime affair, the hotel takes pride in delivering tailored services that cater to your convenience and happiness, regardless of ethnicity.
Right off the bat, the hotel is strategically located right in the heart of the city, mere minutes away from Raffles City and Clarke Quay MRT stations. This makes it extremely convenient for invited guests to attend the wedding, and as mentioned before, it even offers a buffet-style Chinese banquet meal to maximise the experience for both guests and couples.
Naturally, the hotel also has Muslim and Vegetarian menus available, and it allows full customisation of the wedding packages available to suit your preferences and needs.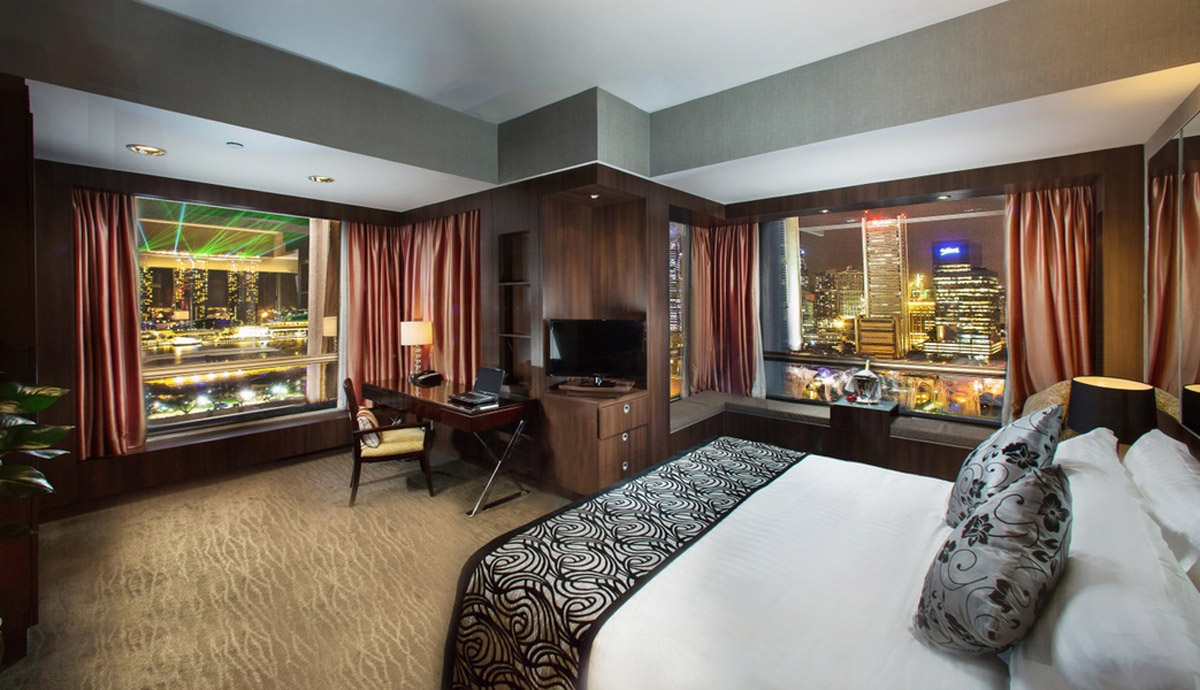 Premium Executive Suite
Couples can also expect to be treated like royalty, with the hotel's dedicated service staff willing to go the extra mile to accommodate your wishes. At the end of the day, relax and recharge in the exclusive bridal suite, which comes with a spectacular view of the Marina Bay and Singapore River.
For more information on Peninsula Excelsior Hotel's wedding packages and rates, feel free to contact them here, give them a call at 65 6337 2200 / 65 6416 1033 or drop an email to pe.banquet@ytchotels.com.sg.
Peninsula Excelsior Hotel
Address: 5 Coleman Street, Singapore 179805
Telephone: 65 6337 2200 / 65 6416 1033
Email:
pe.banquet@ytchotels.com.sg
Website
Facebook
---------------------------------------------------------------------------------------------------------------------------------------------------------
This article was written for Peninsula Excelsior Hotel.
All images are from Peninsula Excelsior Hotel.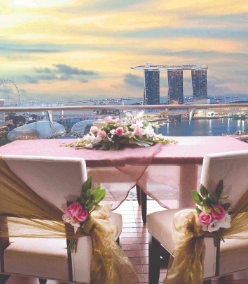 Peninsula Excelsior Hotel

Rating:

Address:

5 Coleman Street, Singapore 179805

Phone:

6416 1033

Fax:

(65) 6339 3847