Hotel Fort Canning: An Urban Oasis for Weddings
2019-11-19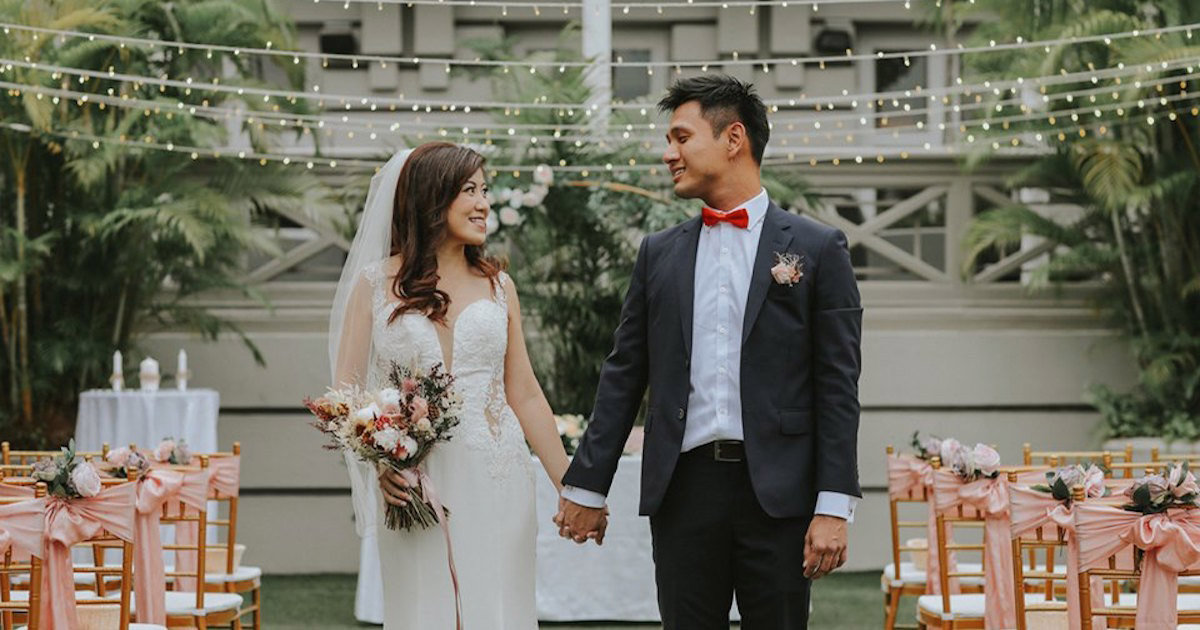 Source: @oneeyeclick
Hidden away within the lush 18 hectares of Fort Canning Park is the luxurious conservation hotel, Hotel Fort Canning. Once a British military administration building, today, this colonial gem is the premium location for any couple. Whether you and your partner are looking for a private function or something a little more festive, there's an abundance of options for you!
Banquet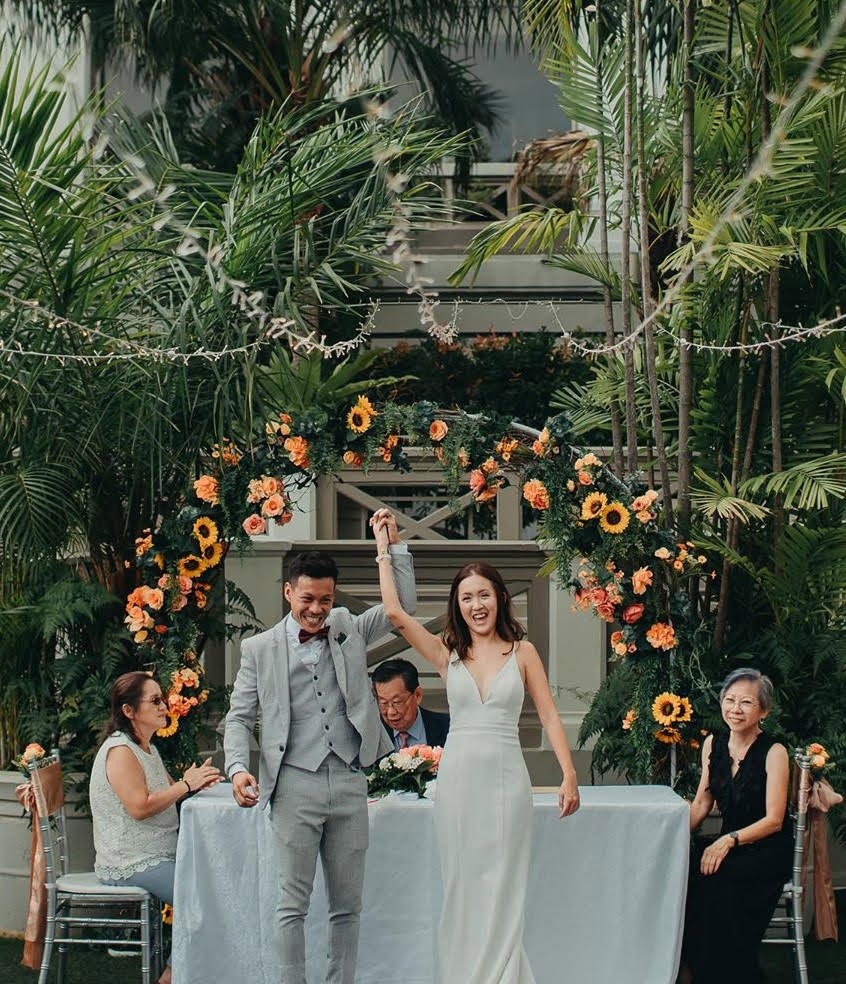 Source: @hongrayphotography
Wedding banquets have an important role in many traditional families, with plenty of meaning behind each dish that is served. Hotel Fort Canning has three splendid venues that can hold exquisite banquets at your disposal.
HFC Grand Marquee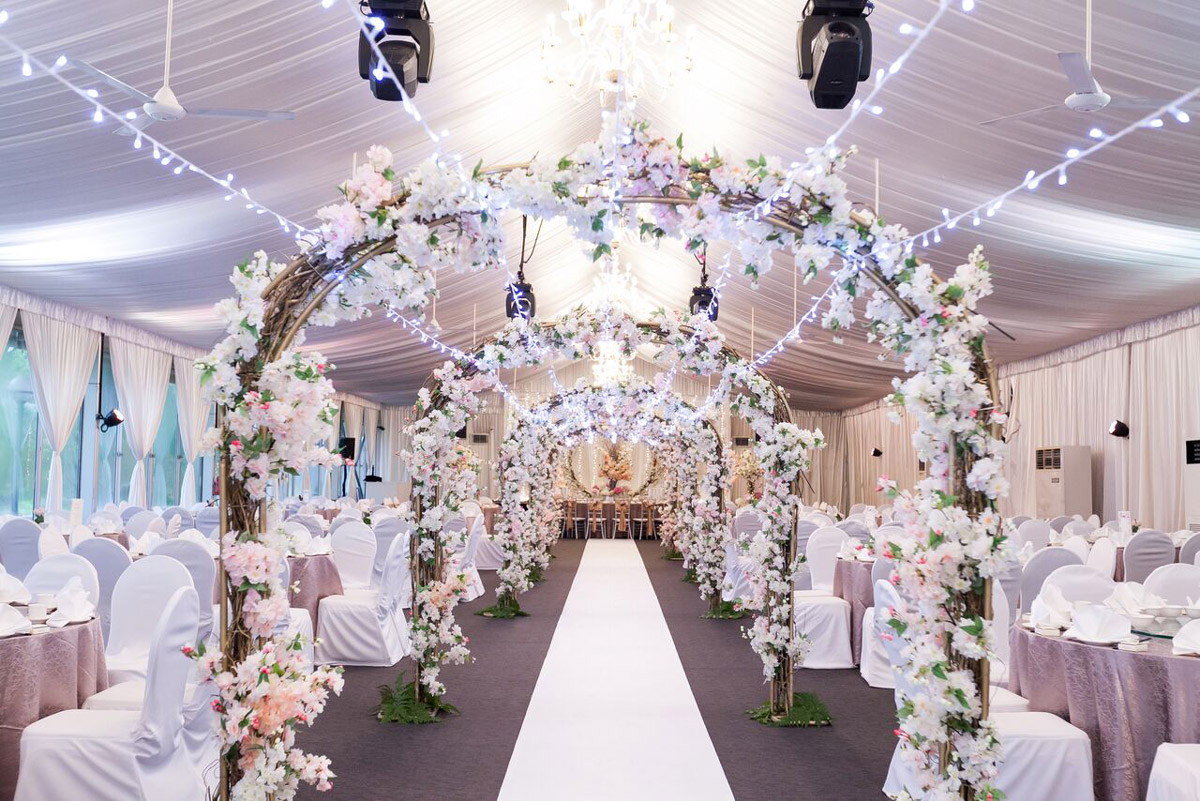 Equipped with chic chandeliers and a state-of-the-art lighting system, the HFC Grand Marquee is Singapore's largest air-conditioned marquee, and seats up to a whopping 500 guests. Perfect for those who wish to have a themed wedding, marquee weddings are also easy to personalise — you can evoke different ambiences just by making simple changes to linens and flooring.
Legends Ballroom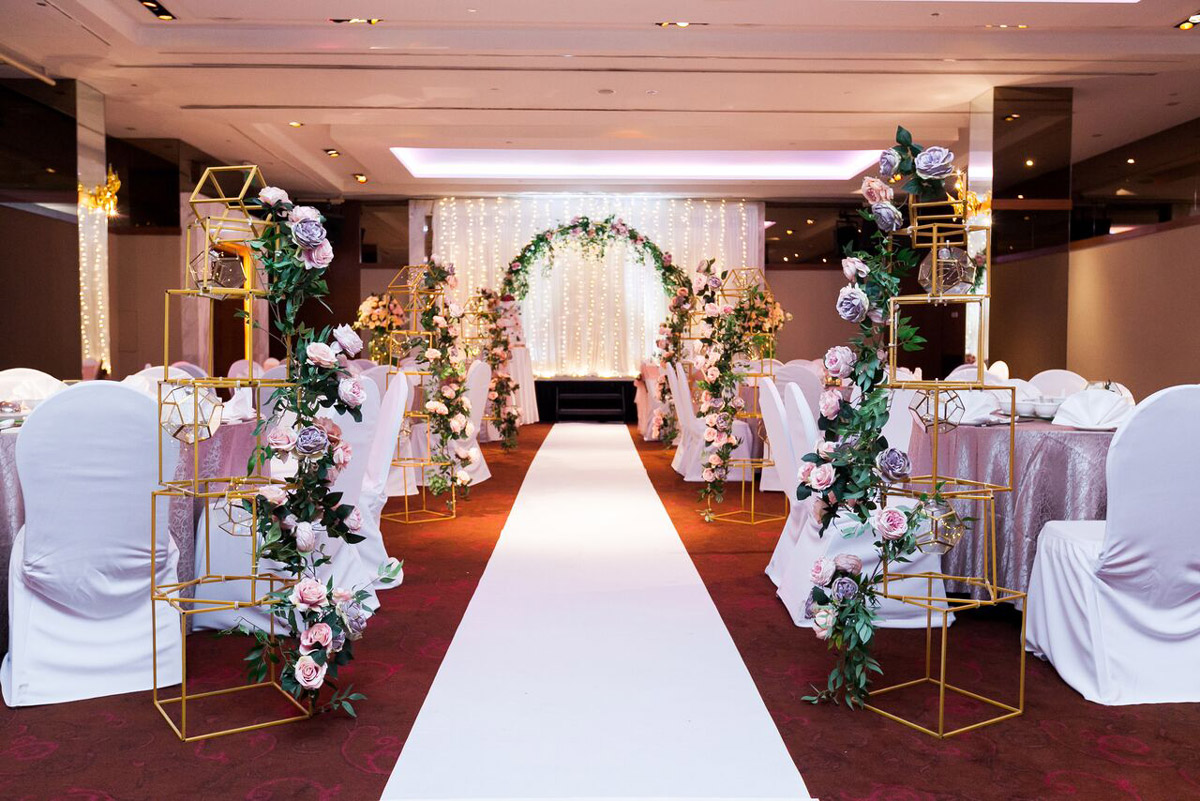 With a lengthy aisle, the Legends Ballroom is the venue for couples who want to make grand, sweeping, red-carpet-worthy entrances. With multiple projectors installed in this venue, you can ensure that your guests will not miss a single moment of the festivities. Able to seat a full capacity of up to 460 guests, it even comes with partitions that allow the ballroom to be converted into three separate, cosier spaces for more intimate affairs.
Lavender Ballroom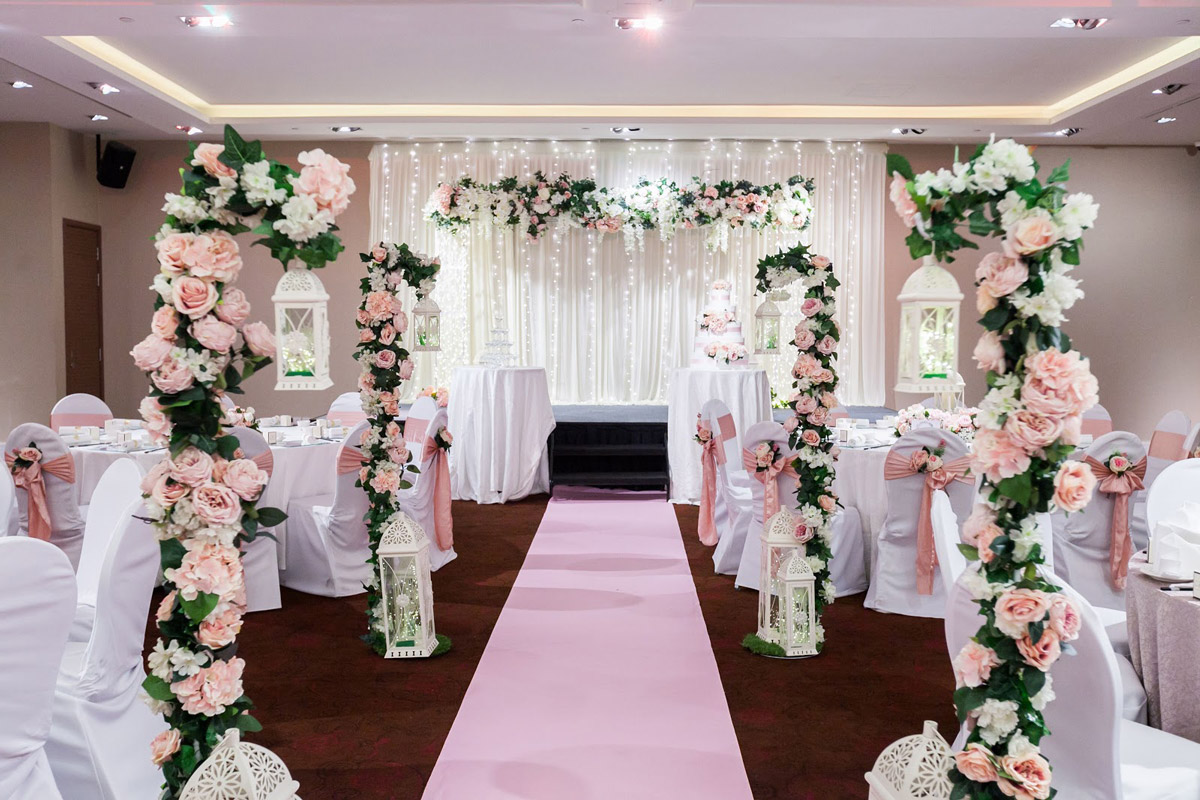 If you and your partner love nature, the Lavender Ballroom is a lavish venue adorned with plenty of coloured blooms and sweet lilac lighting, which exudes a whimsical and romantic garden vibe. Featuring wide windows that boast a spectacular view of the surrounding greenery, the venue accommodates up to 230 guests.
Intimate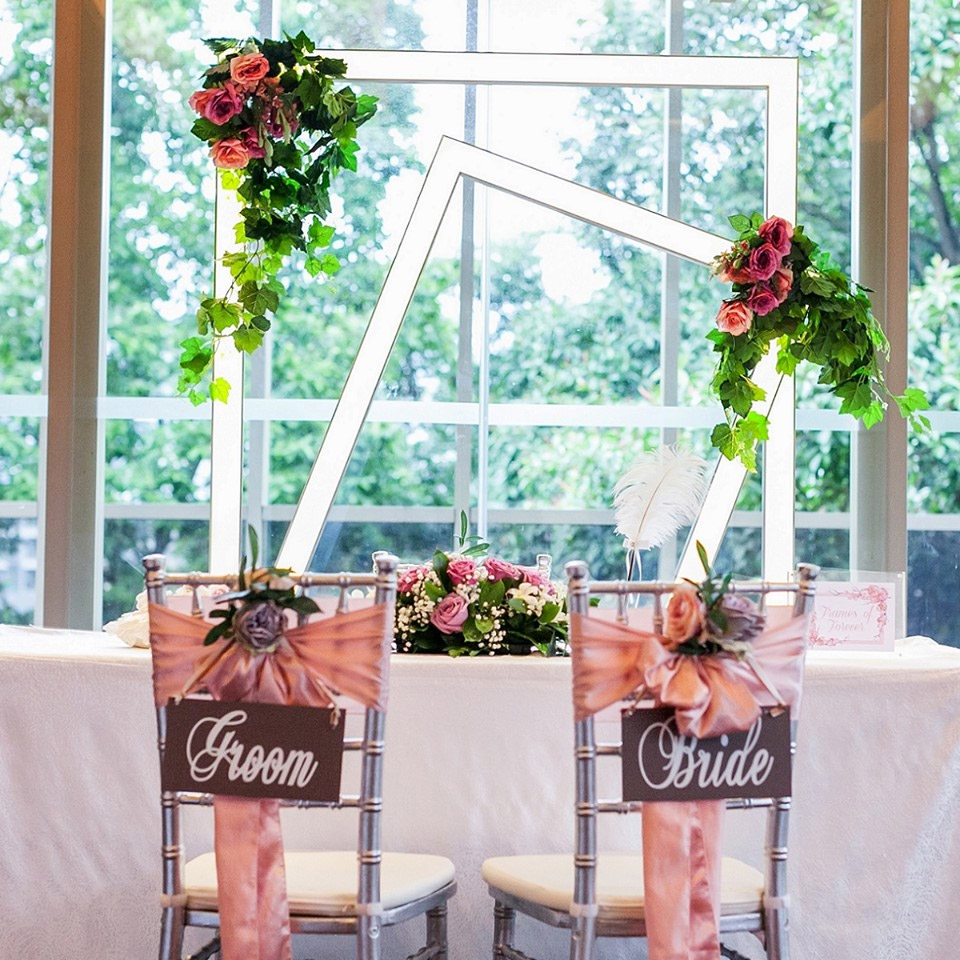 Source: Hotel Fort Canning
Modern wedding trends have seen couples shifting towards smaller, cosier settings. If you and your partner are one such couple looking for a venue that allows you to spend quality time with your friends, Hotel Fort Canning has many spaces where you can hold such intimate gatherings!
Jasmine Room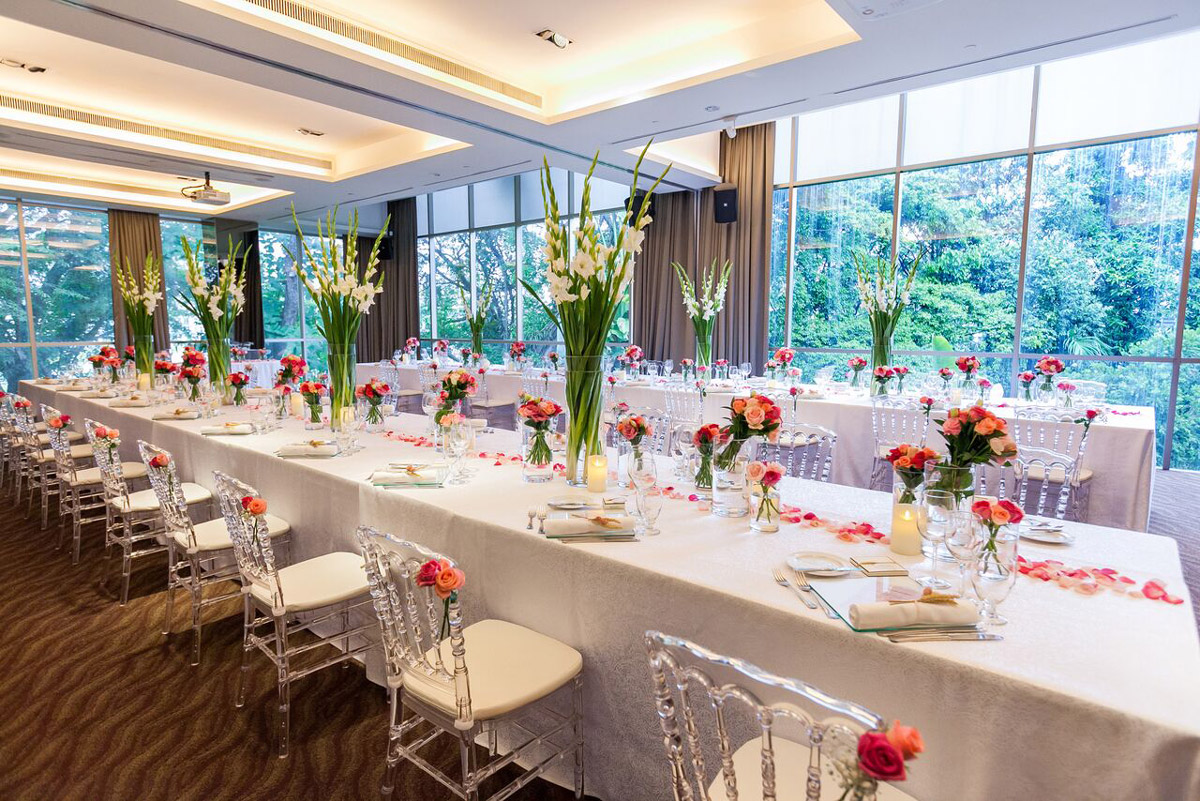 Newly-revamped with an unparalleled panoramic view of the tree-tops to boot, the Jasmine Room is a versatile space that can accommodate intimate weddings of various sizes. As a single venue, it can sit up to 140 guests, but it can also be partitioned into smaller spaces – Jasmine I & II – for close-knit celebrations.
Living Room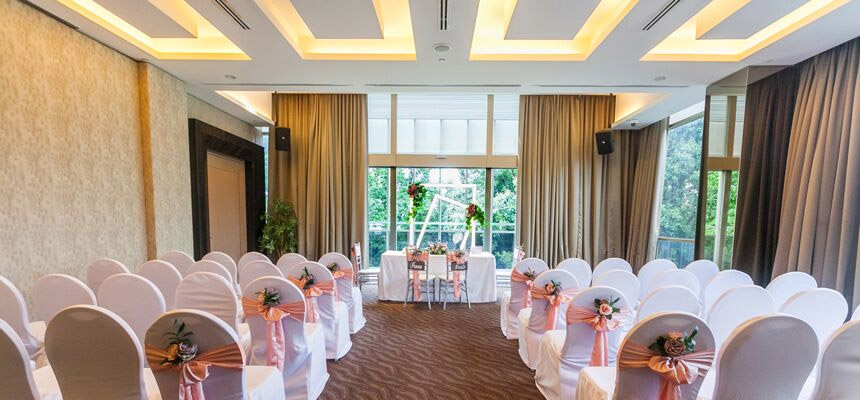 For couples who are looking for an elegant affair, the Living Room comes with an attached balcony where you and your beloved can host up to 40 people. Set against the gorgeous natural backdrop of the Fort Canning Park, your wedding is sure to be memorable and romantic!
Glass House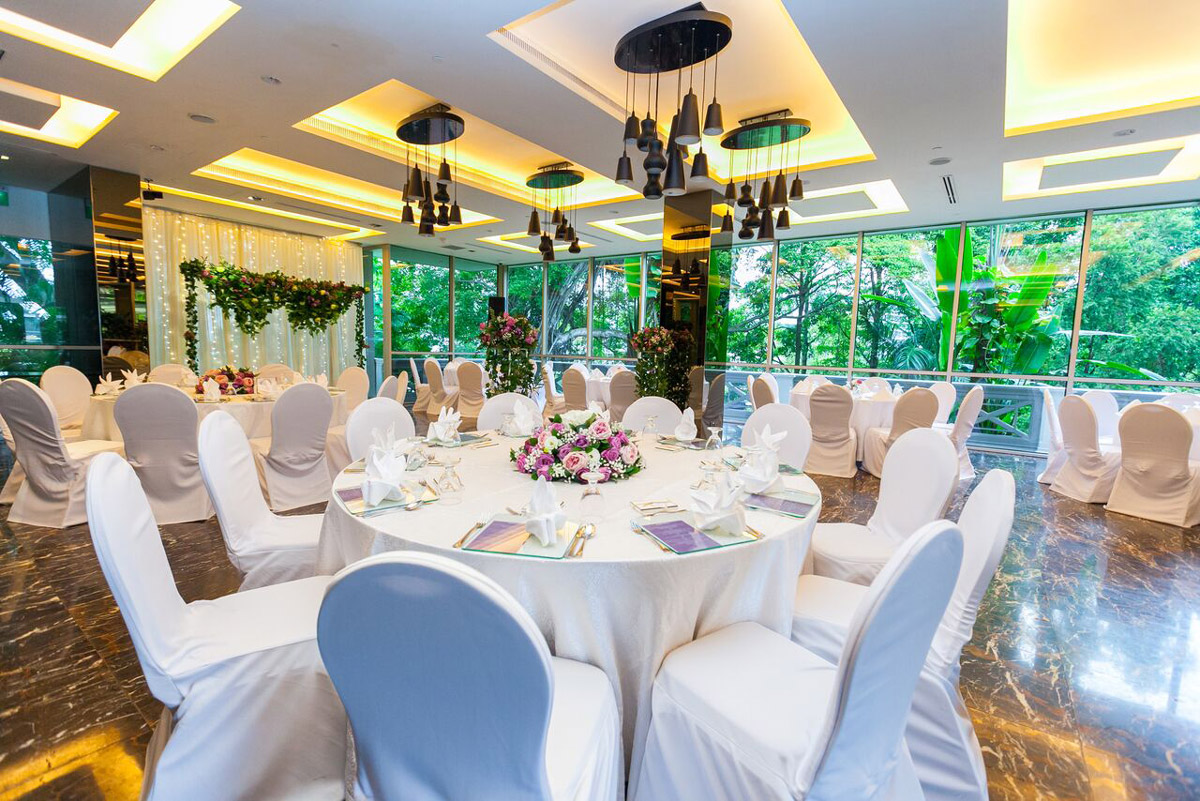 If you're having your wedding in the park, why not make full use of it? The Glass House is exactly what its name implies — a unique venue made almost entirely of glass, that allows you to take in the rich flora and fauna around you. Whether it's a warm, sunlit luncheon or a romantic evening under the stars, this iconic space and its adjoining bar will definitely keep the party going.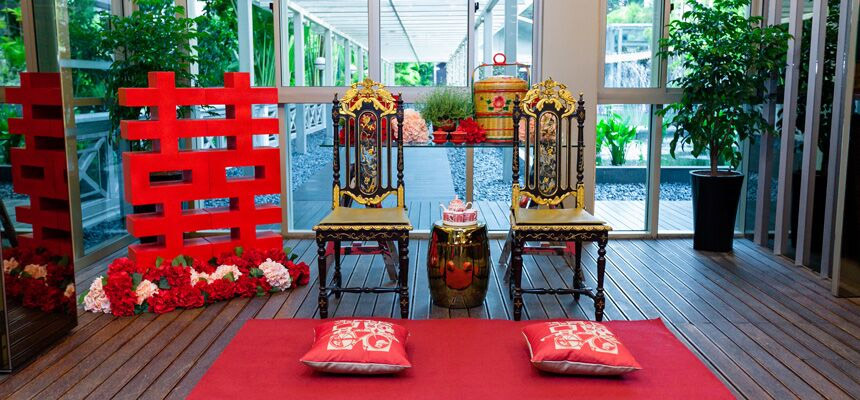 Couples can opt to hold their Chinese Tea Ceremony in The Glass House as well, and the hotel will be more than happy to provide a festive and ornate set-up to facilitate the ceremony.
Solemnisation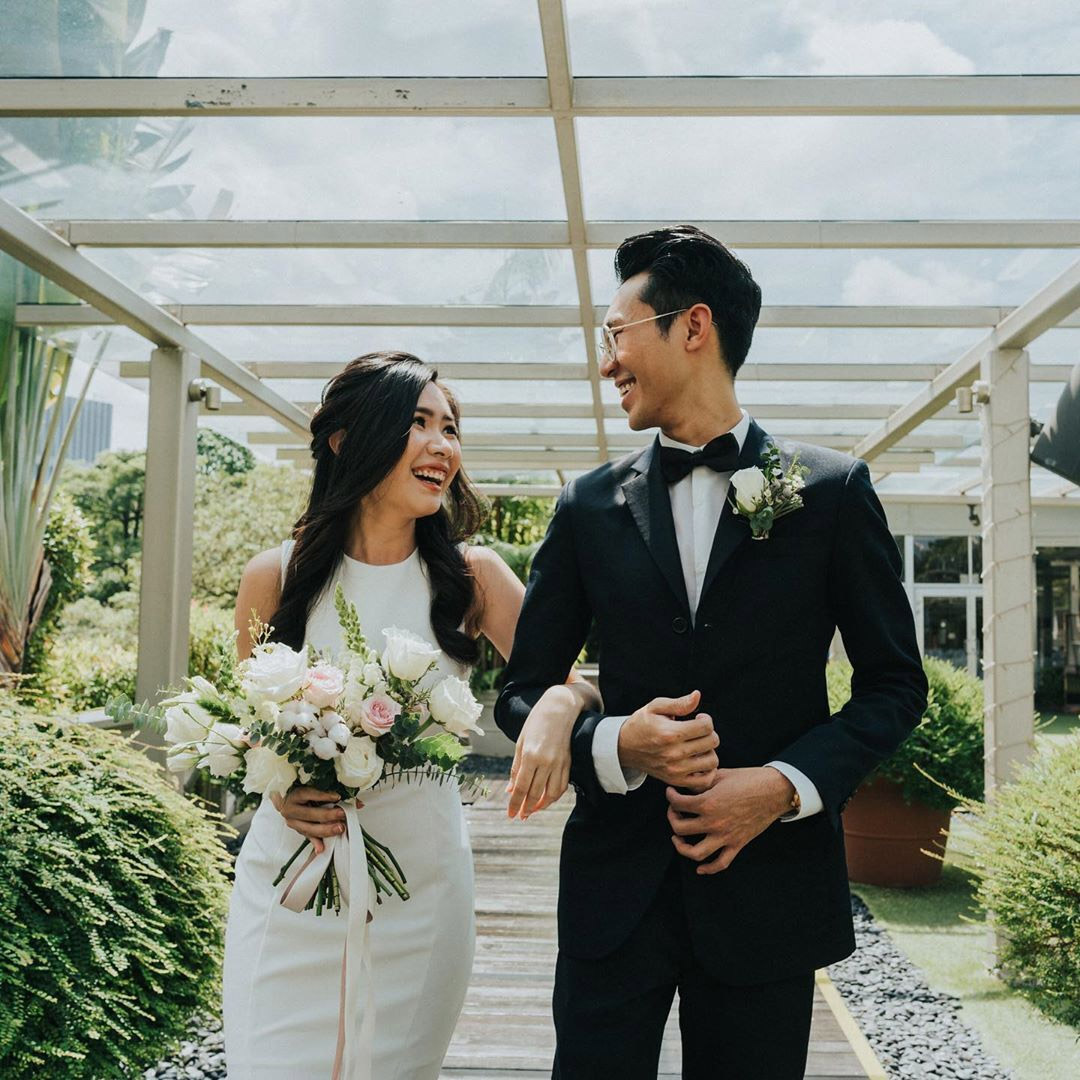 Source: @wewwwson
Even if you decide that you only want a private solemnisation ceremony, Hotel Fort Canning has a bunch of beautiful, private spaces that you and your partner can choose from as well.
Garden Terrace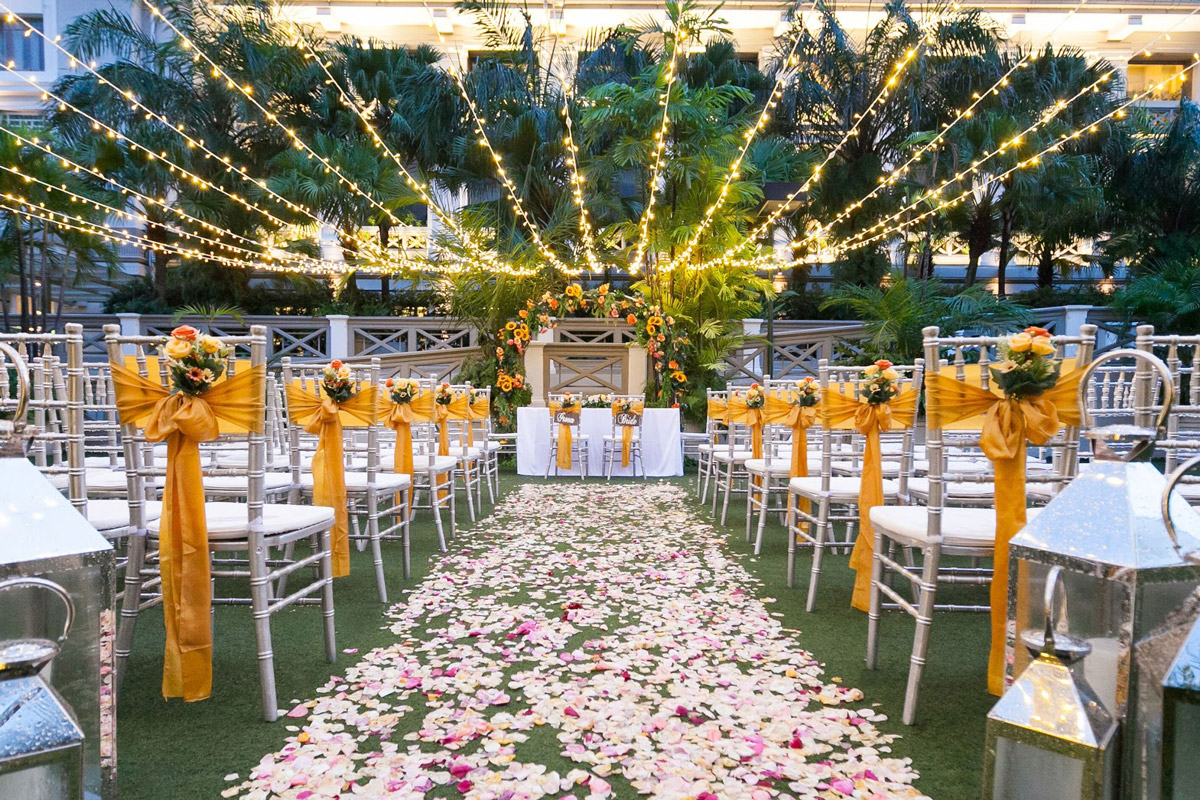 Fancy walking down the aisle on a lush, green turf instead of a classic red carpet? Set in a charming garden setting, the Garden Terrace is a quaint space where you can host your solemnisation with your closest friends, family, and precious pets.
Tisettanta Terrace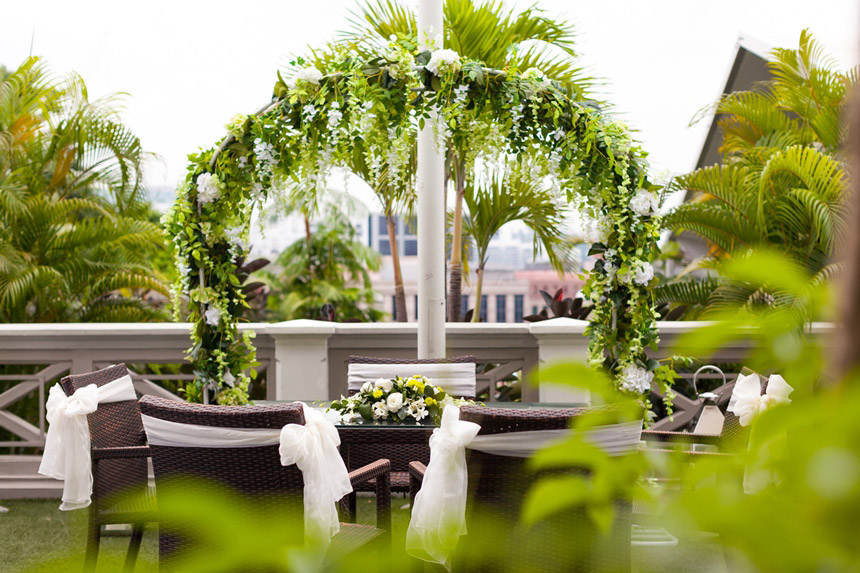 Overlooking the Fort Canning Park, the Tisettanta Terrace lets you exchange vows in an exclusive alfresco setting amidst treetops. This space also permits you to bring your beloved family pets so that your four-legged family members can partake in the festivities too!
Mineral Poolside & Sun Deck

Couples that are looking for something unique can also choose to have their solemnisation at the Mineral Poolside or Sun Deck. Swaying palm trees and the glittering water from the poolside creates a distinct tropical atmosphere for you and your partner to exchange your vows.
Charming heritage, lush nature, and dedicated services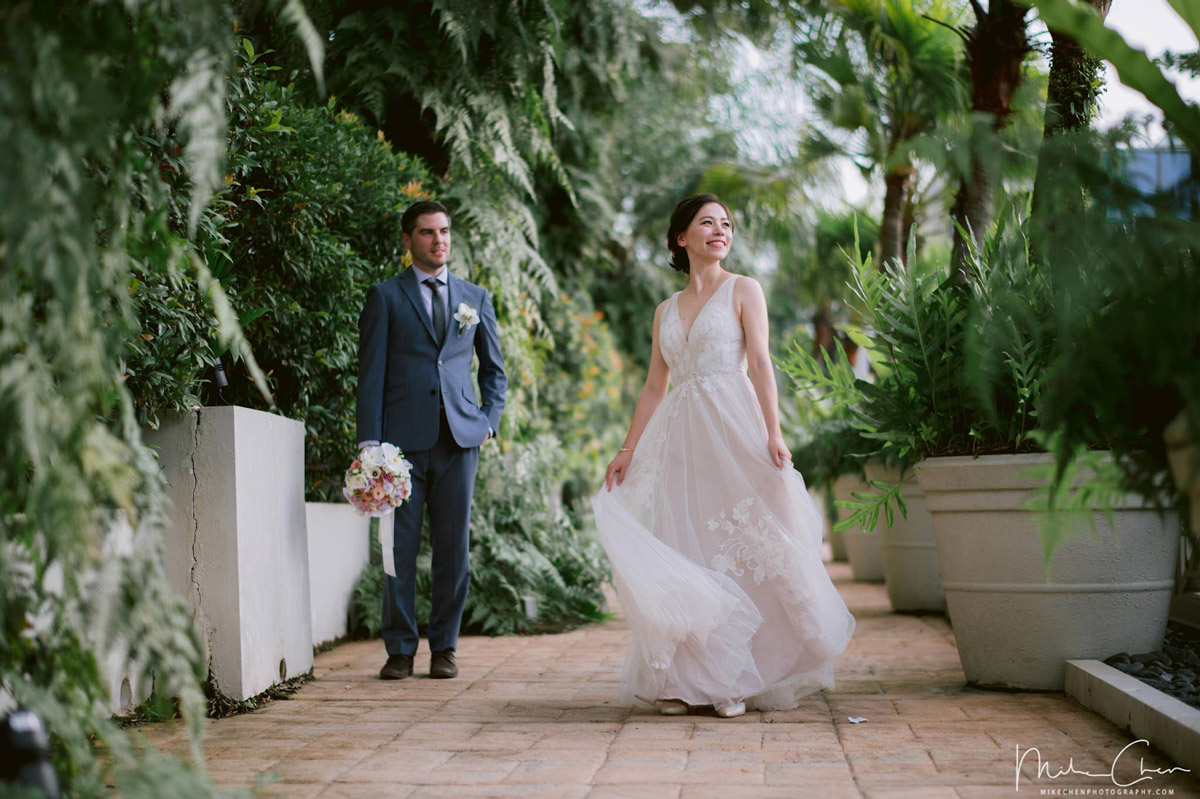 Source: Hotel Fort Canning and @mikechenphotography
In addition to their provision of spectacular wedding venues, Hotel Fort Canning also provides personalised themes and decor for couples, and even specialised decoration for wedding tea ceremonies. Couples can also book rooms for guests who are visiting from out of town, complete with access to the hotel's many amenities!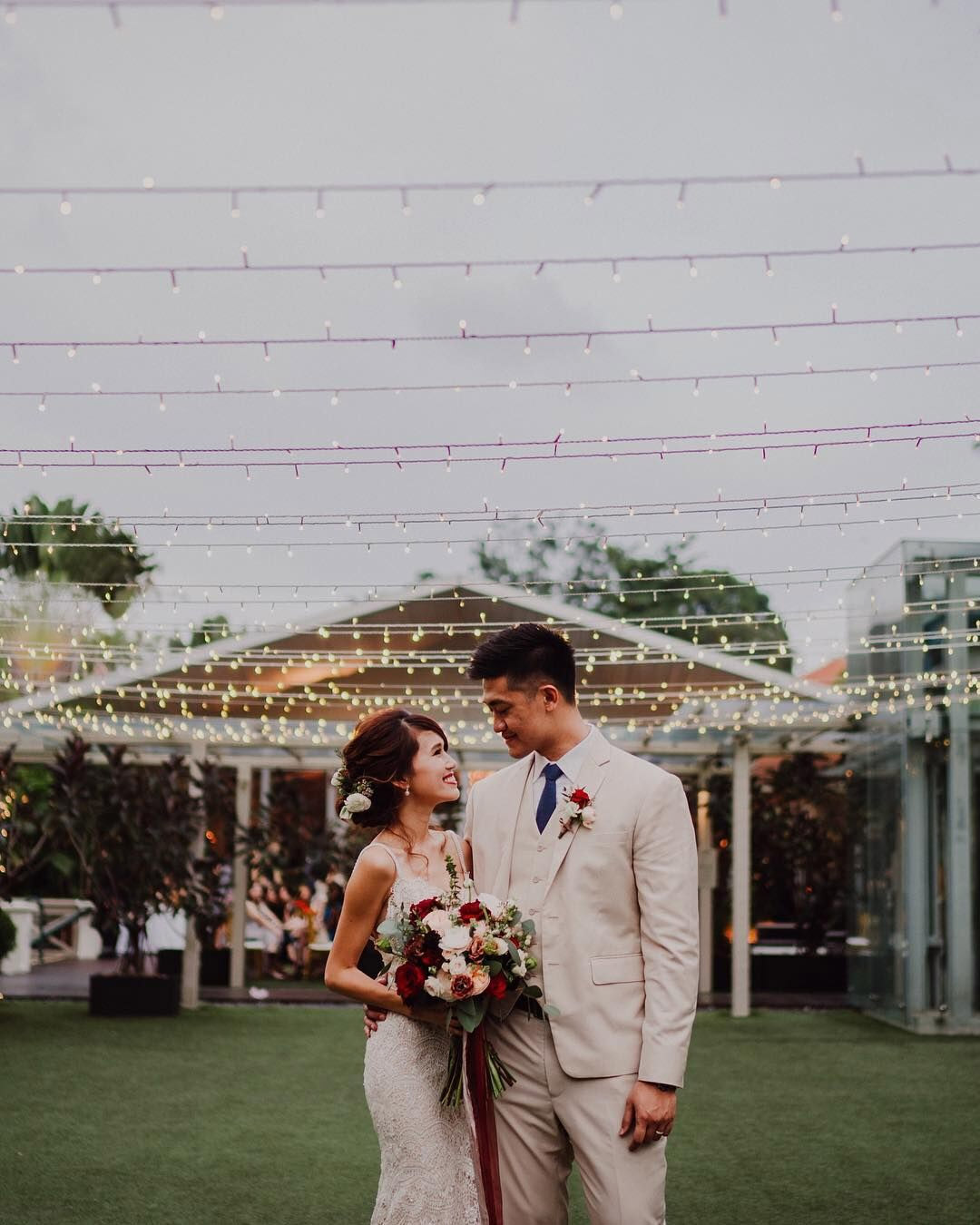 Source: @jocinaaa
Moreover, the hotel also provides special areas for brides to get ready in, complete with sofa beds where you and your extended family can rest and facilitate meetings. Their experienced team will also make sure that everything goes smoothly and seamlessly from beginning to the end!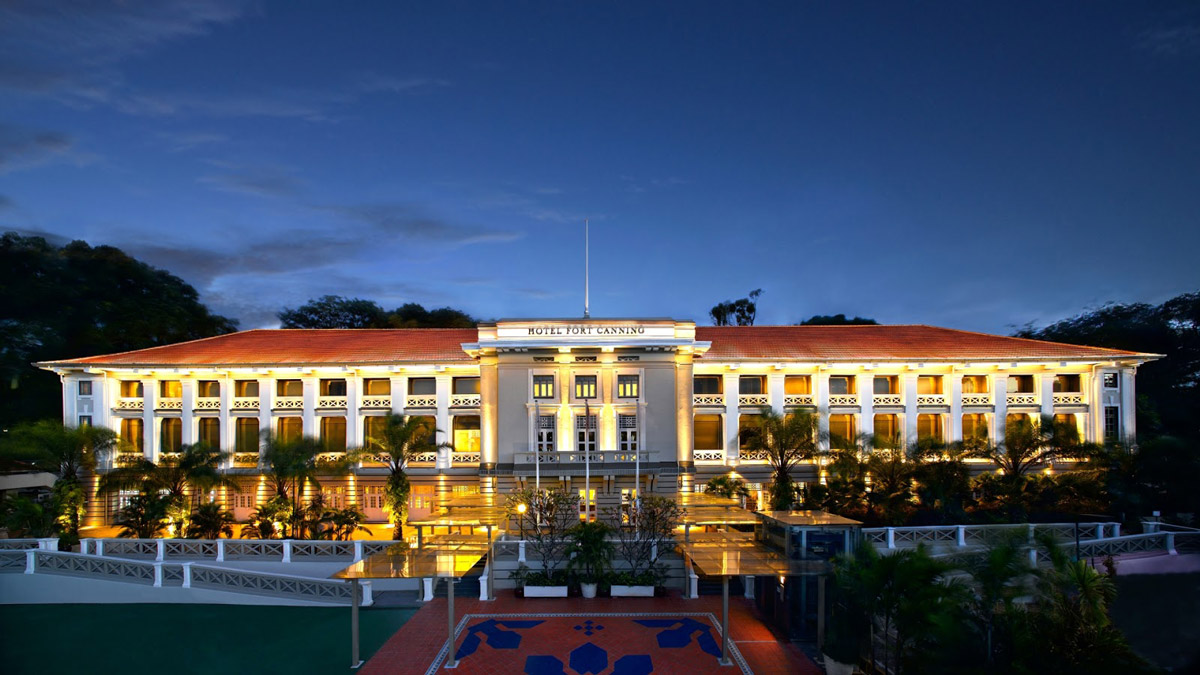 If you'd like to wed in a place where charming heritage meets lush nature and hospitality, simply call +65 6559 6783 or drop an e-mail to fnb@hfcsingapore.com to find out more about Hotel Fort Canning's extensive list of wedding venues and spaces.
This article was written for Hotel Fort Canning.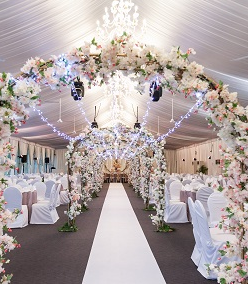 Hotel Fort Canning
Rating:

Address:

11 Canning Walk Singapore 178881

Phone:

6559 6770