Introducing Linus Lee, The Wedding Showmaster for a Memorable, Entertaining Musical-Wedding Without the Stress!
2020-08-06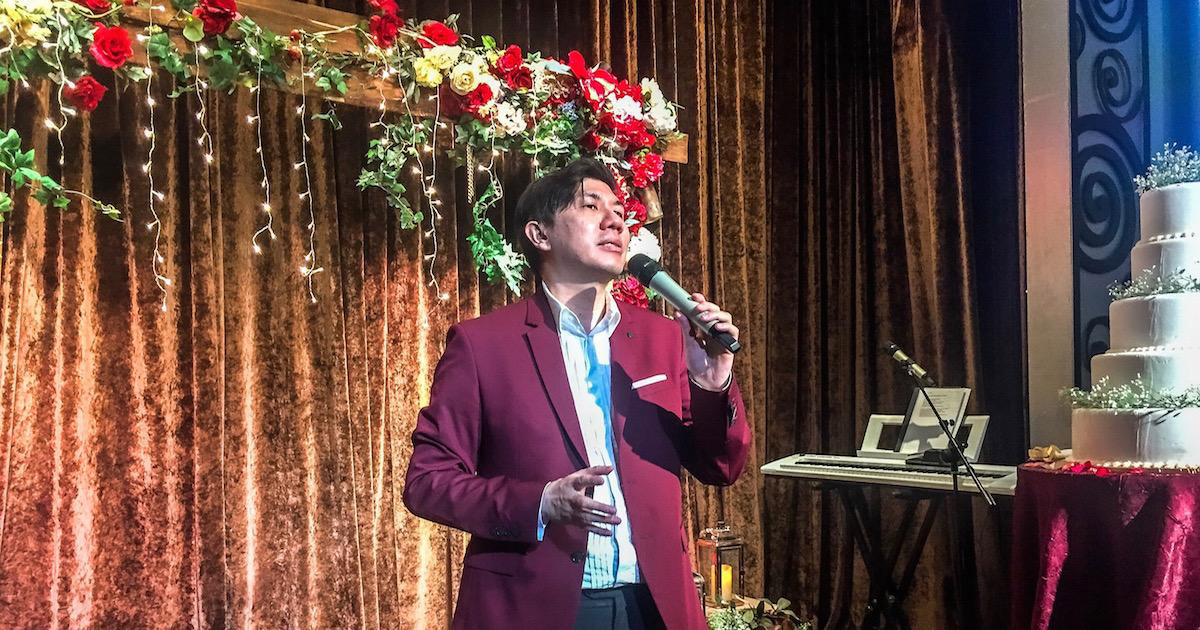 Want to reenact a lively song and dance number from your favourite fairytale? Or channel your inner Romeo and Juliet, except that you two do end up getting married and live happily ever after? Now you can, with the help of Wedding Showmaster, Linus Lee.
Here to make your special day exceedingly memorable and enjoyable, Linus and his wedding entertainment company, Masterpiece Entertainment, helps your wedding stand out a cut above the rest at an affordable price. Say goodbye to cookie-cutter weddings, exorbitant budgets, and stressful planning!
What exactly is a Wedding Showmaster?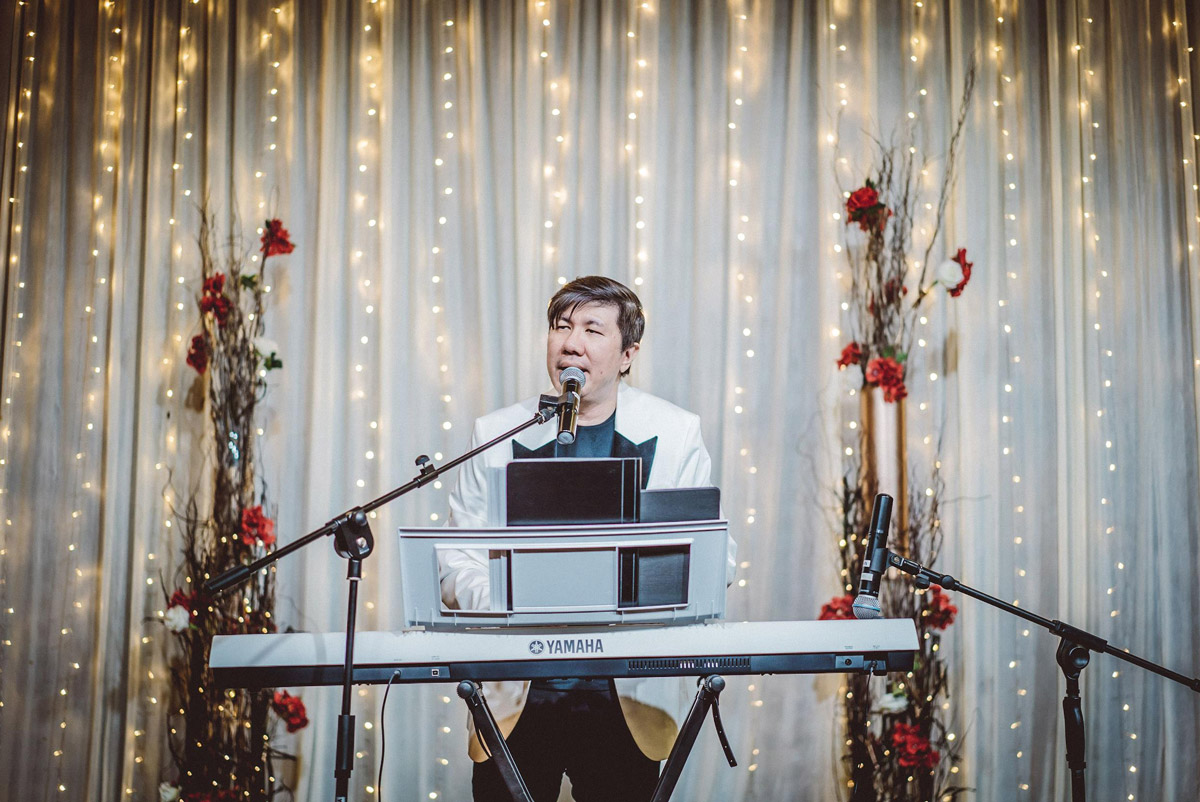 Be it the live instrumental to your first dance, or beautiful jazz-pop music to accompany the scrumptious main courses at your wedding, Linus has it all covered
More than just a wedding emcee who reads off a script, Linus is a Wedding Showmaster who truly brings memorable entertainment and joy to you and your guests. A master of the art of showmanship, Linus hosts, sings, plays the jazz and pop piano, and even conceptualises and directs your dream musical wedding programme with you.
Some of his popular themes that have garnered raving reviews by couples include Fairytale Dream (dance to an enchanting medley of animation tunes), Step Back in Time (think retro beats and disco balls!), and East Meets West (why not enjoy the best of both worlds?).
His sole purpose is to provide everyone with a good time and free-up the main stars of the show — you and your partner — so that you can focus entirely on your guests and the magical moments of your special day without feeling any ounce of worry and stress.
Ah, yes, and without having to pull out the big guns at the expense of your wedding budget or rely on your friends, ensuring a stress-free, fun, and smooth-sailing affair for all.
Why work with Linus?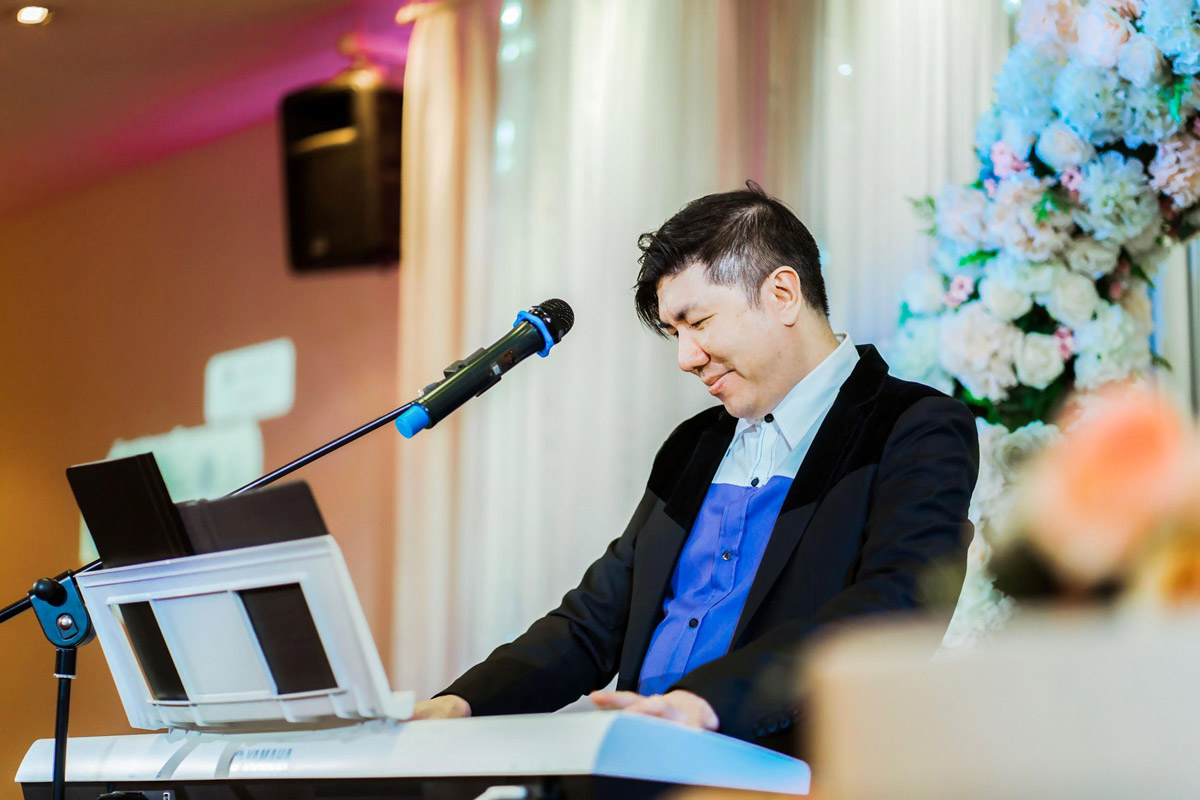 Known as the 8-in-1 Wedding Showmaster, Linus Lee's skills ensure a well-coordinated wedding filled with rich tunes and dance
With hundreds of special events under his belt, Linus knows how to work his musical magic to create a special theme-based wedding show. Incorporating his show-hosting skills with music, dance, vocal prowess, enchanting magic, brilliant circus acts, and other add-on entertainments, he can even help to choreograph a dance or a song exclusively for you, to add to the musical celebration.
You can expect nothing but top-notch charm and charisma on stage too, as Linus has been in the wedding hosting business for 16 years and is an established pianist, having tickled the ivories in concert halls and venues all over the world for the past 25 years.
What makes him extra dependable is none other than his passionate desire to combine his musical and hosting strengths to help couples create their best celebration, be it a grand or small intimate wedding. On top of that, he takes it upon himself to advocate the building of strong marriages, even during his off-stage interaction with wedding couples and guests.
The impressive 8-in-1 experiences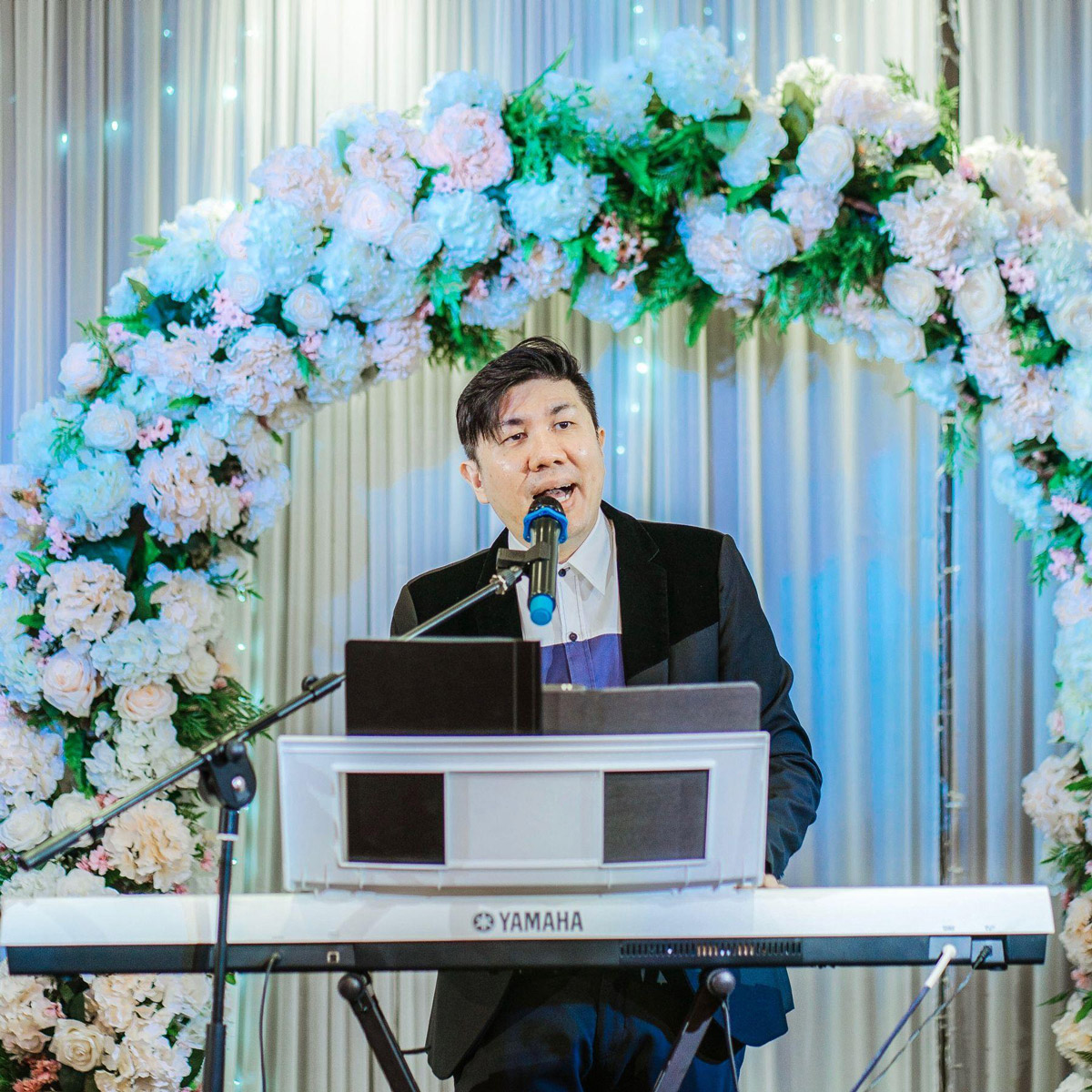 A wedding event is a once-in-a-lifetime experience, and Linus believes that every couple deserves to have a unique and memorable wedding regardless of their budget. As a professional entertainer who goes above and beyond to make your wedding both lively and engaging, Linus shines with his 8-in-1 experiences for couples:
1. Tailor-made wedding programmes
Ensuring that you're never alone in this entire process, Linus tailor makes and plans with you your dream wedding programme.
2. Guidance and advice for wedding preparation
Linus will offer you professional support and advice for a smooth-sailing, worry-free celebration.
3. Coordinates your celebration programme on your behalf
He also doubles as the event director on the actual day of your wedding to help coordinate your programme, relieving your burden and allowing you to spend time with the ones who matter on your special day worry-free.
4. Hosts professionally in both English and Mandarin
A dual English and Mandarin speaker, Linus can lend his wit and charm to keep all guests, whether young or old, entertained at all times.
5. Performs live piano and singing
With over 20 years of experience, your guests will be enthralled by his unique jazz-pop vocals and virtuous piano performances throughout your affair.
6. Creates a theme-based celebration
Have a Hollywood, fairytale, or travel theme in mind? Linus will have the details down pat, from the music to the choreography, and all the nitty-gritty in between.
7. Recommends & arranges all your wedding music
With his vast musical experience, Linus can help you to find the right music for your march-ins and dining ambience.
8. Inspires guests to build strong marriages
Setting off with the mission to advocate strong marriages, Linus weaves in his "Pillars of a Strong Marriage" message to create an event with an inspirational purpose for you and your guests.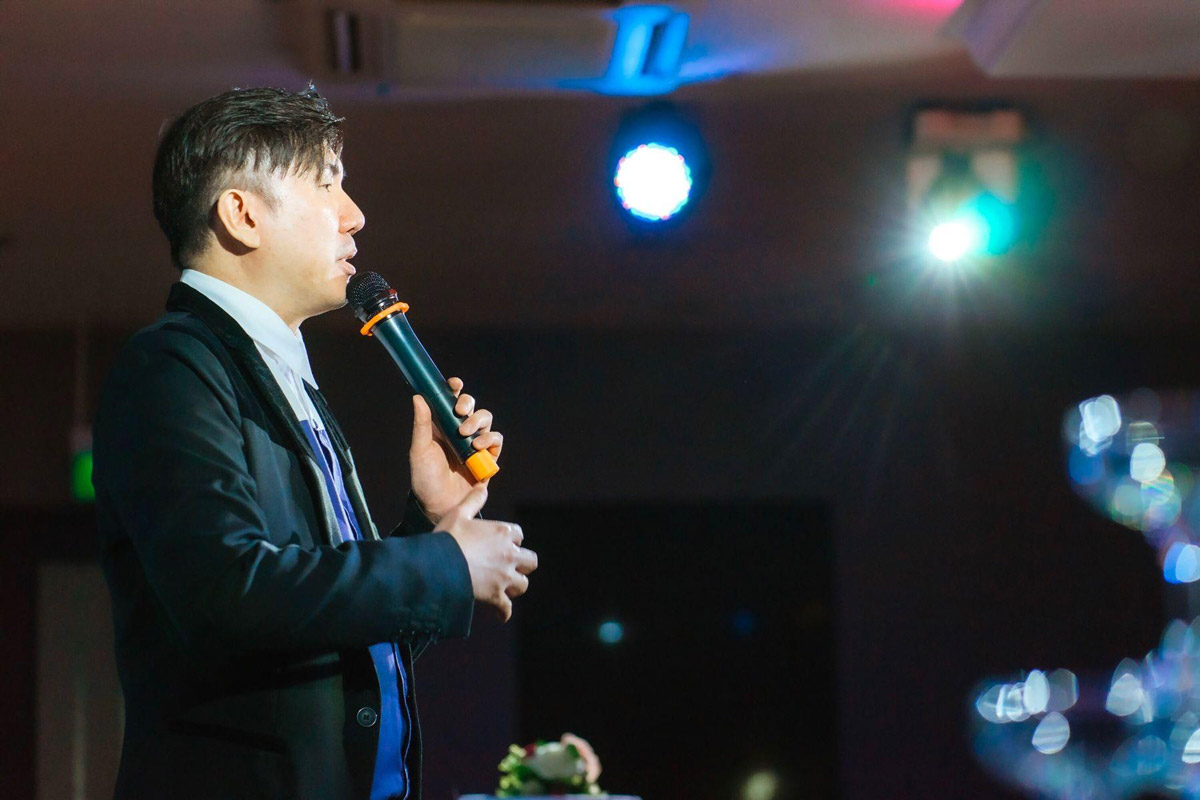 If you're interested to find out more about Linus Lee and Masterpiece Entertainment, drop him a text on WhatsApp at +65 9668 4820 or send an email to enquiry@masterpiece.sg and you can kickstart your journey to a memorable, entertaining, and musical-esque wedding without the stress!

Website
Instagram
Facebook
Reviews
________________________________________
This article was written for Masterpiece Entertainment.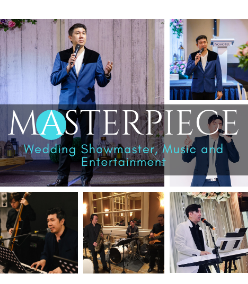 Linus Lee & Masterpiece Entertainment
Rating:

Address:

8 Burn Road #15-13 Trivex S369977

Phone:

9668 4820