Novotel Singapore on Stevens: The Versatile Wedding Venue for Every Couple
2019-09-13

Celebrate your day of love and commitment at
Novotel Singapore on Stevens
– be it an intimate solemnisation ceremony or a splendid, luxurious affair, they've got just the place you're looking for, customised to your style. Awaken your inner romanticist with Novotel as they pledge: Ever Yours, Ever Mine, Ever Ours; a timeless and elegant wedding!
Diving Into Nature's Arms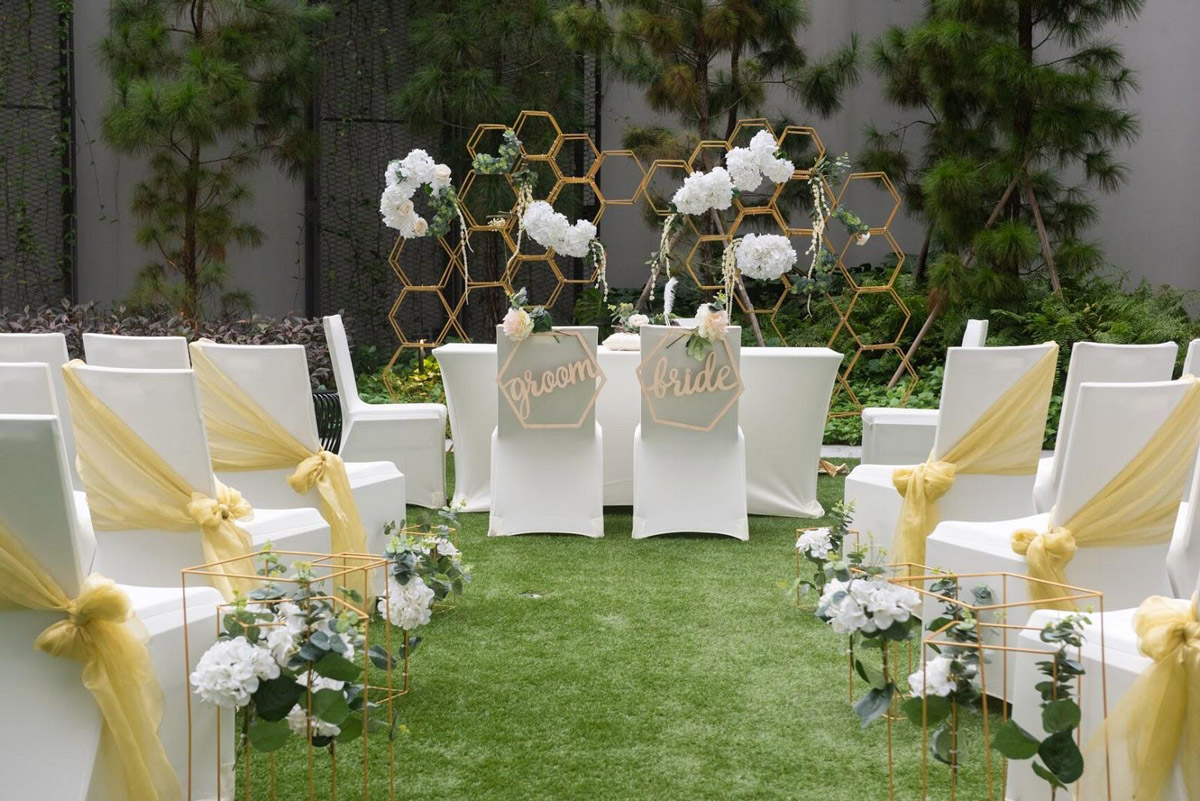 Perfect for a cosy and private solemnisation, Novotel's La Terrasse is a charming little natural backdrop for your very own garden wedding. Sit under an idyllic flower arch of gorgeous spring blooms, in white chairs brightly contrasting against the luxuriant greenery surrounding you and all your loved ones, as they witness your blessed ceremony.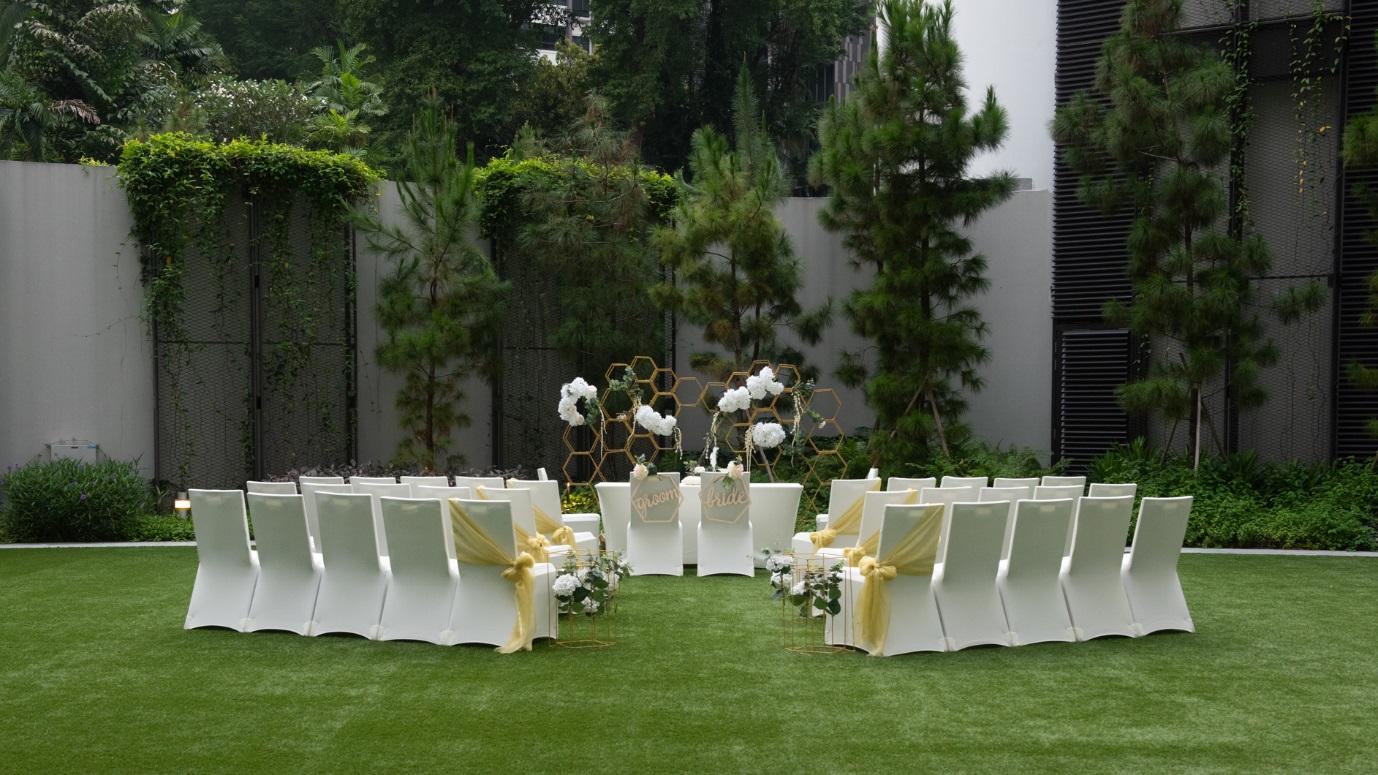 You can also choose to have your solemnisation affair by the pool for a carefree, resort-like feel!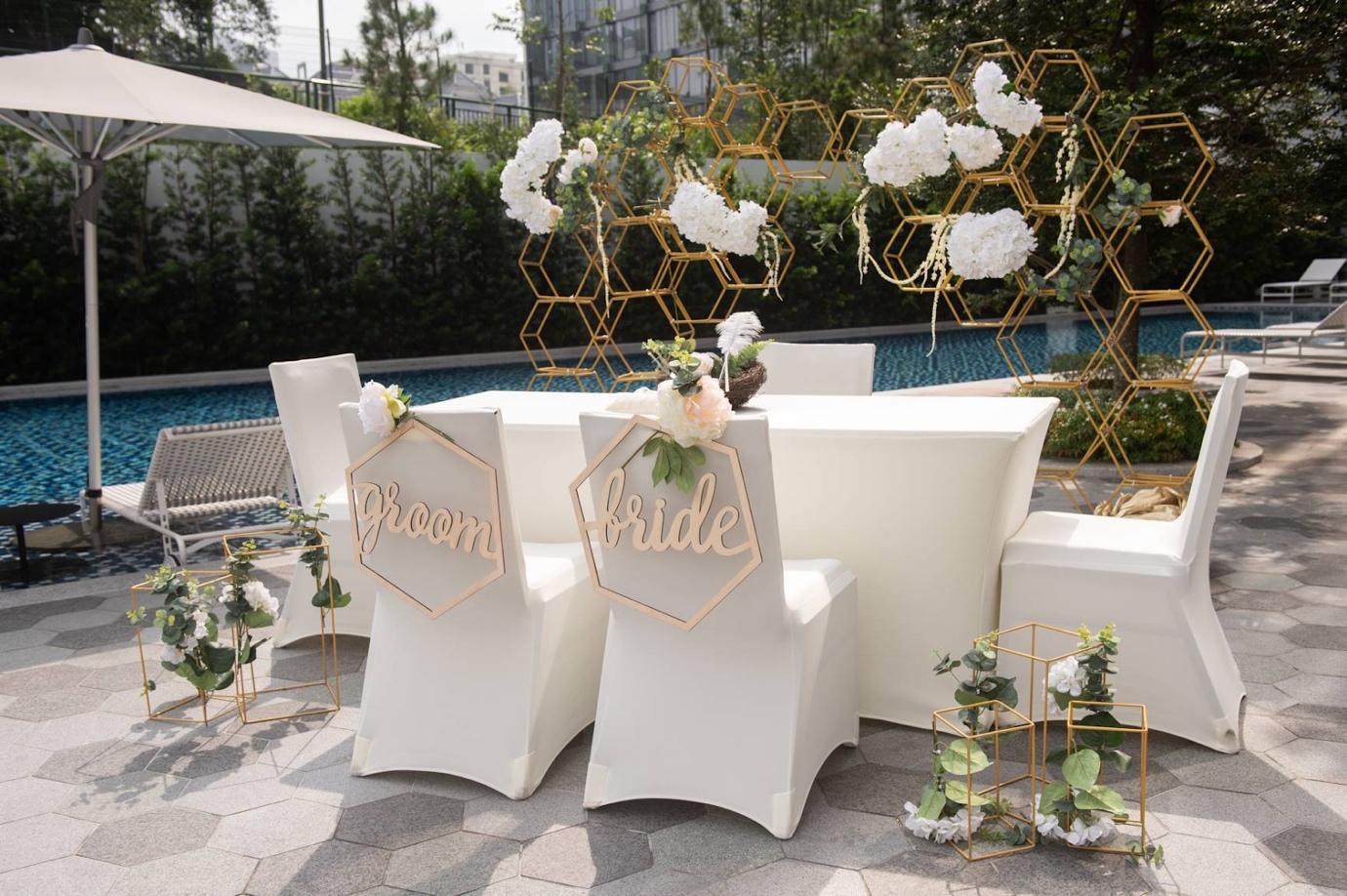 Dancing under the Stars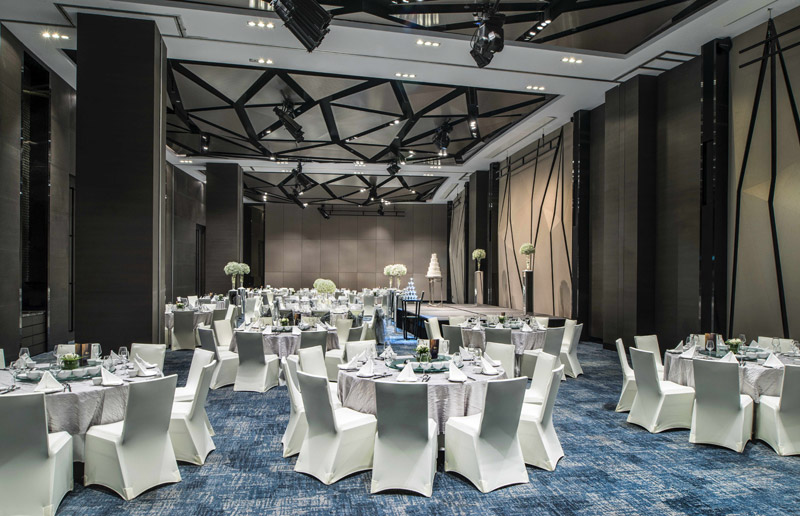 Once the solemnisation is over, proceed to Novotel's Grand Ballroom, aptly named The Polaris. There, the glistening lights on the 6-feet high ceiling resemble mesmerising stars that are bound to take your breath away.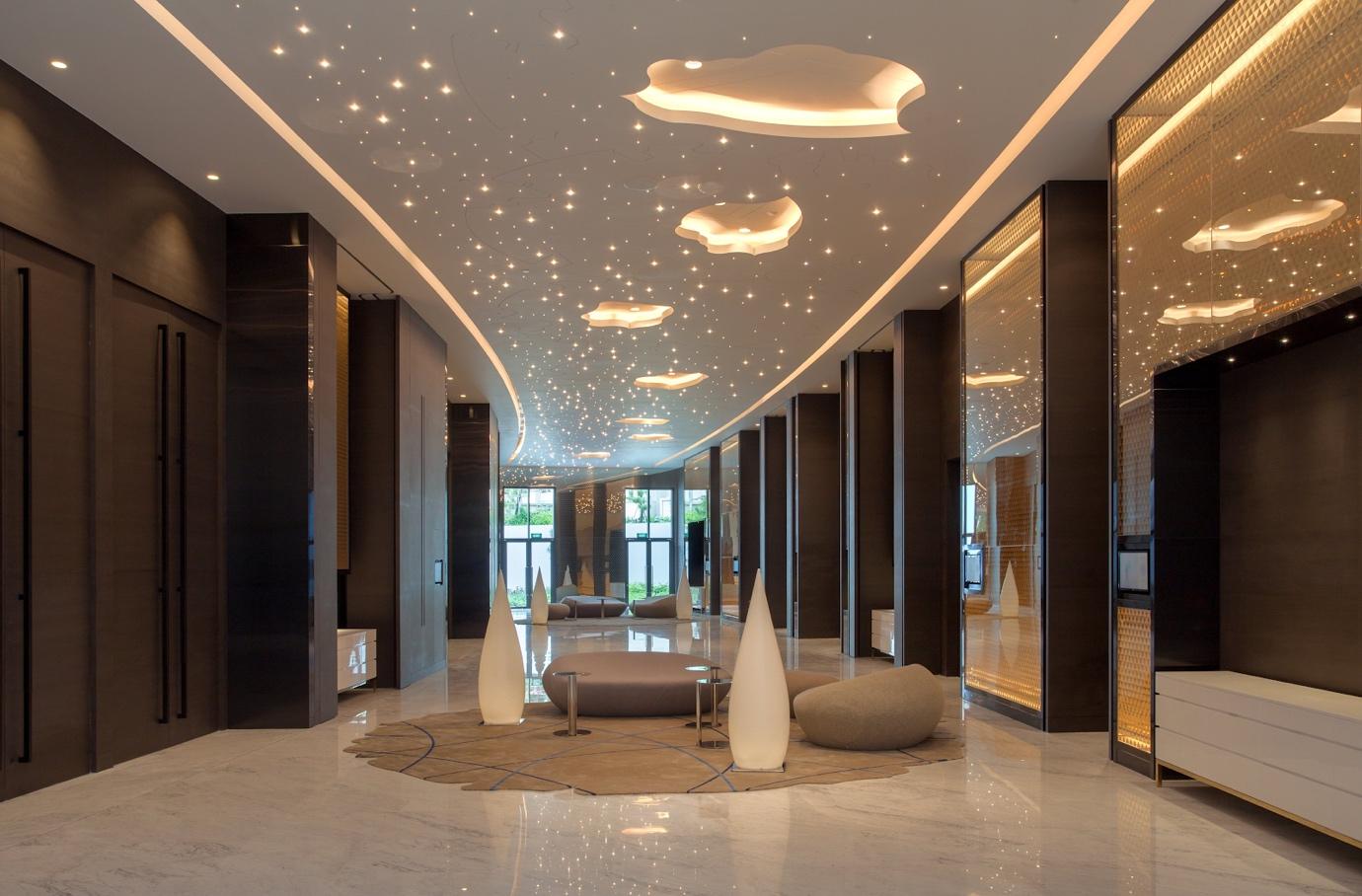 Guests are free to savour delightful canapes and cocktails at the adjoining Milkyway foyer, before entering the ballroom, which can accommodate up to 320 guests. You won't even need to lift a finger, as Novotel's specialised team of wedding planners are experts in tailor-fitting the wedding to your style, from mood lighting to dinner presentation.
Speciality Themes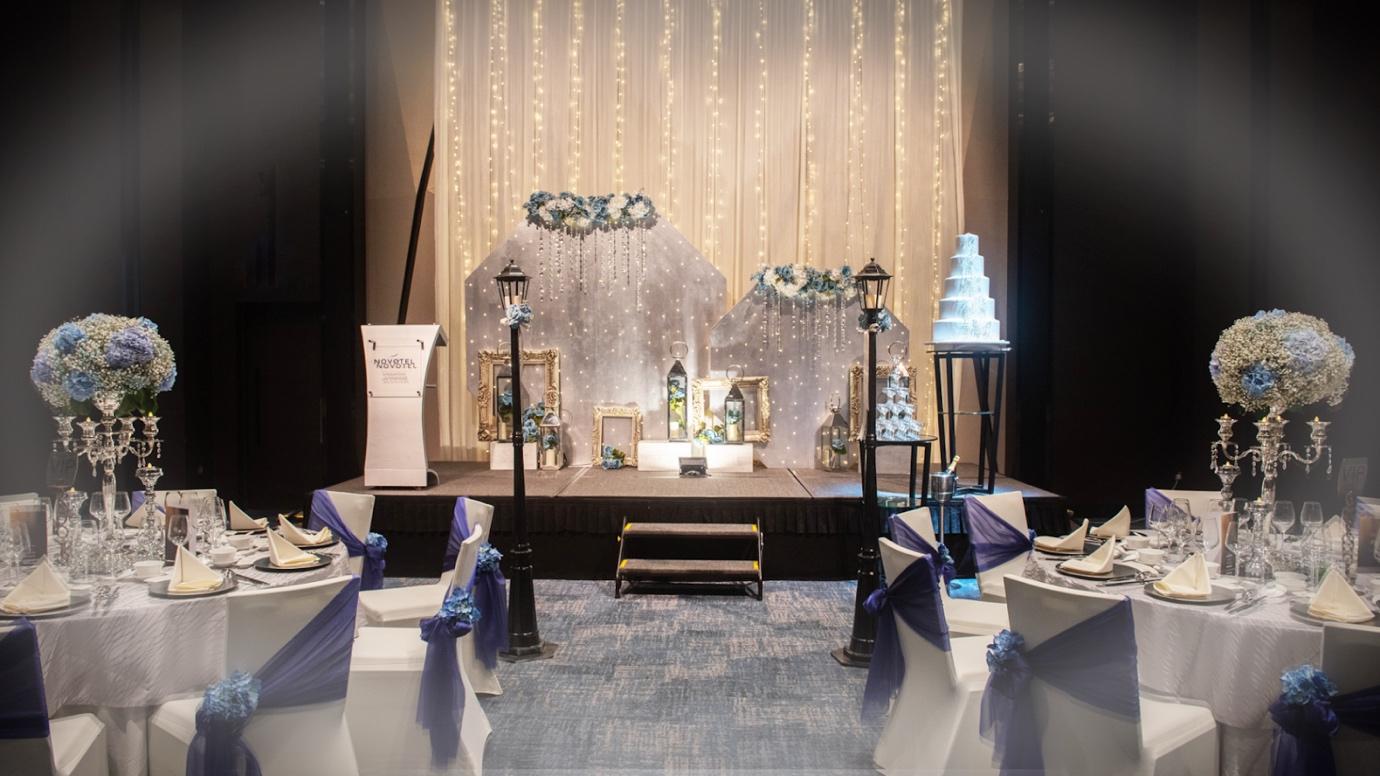 Glittering Bliss
Novotel Singapore on Stevens has three different themes that you can choose from. The first, Glittering Bliss, has fairy-lights galore and is a whimsical theme that evokes magic in the air. The simple blue and white theme is accompanied by baby's breath crowns, a silver canopy, and candlesticks, guaranteed to match your lovely white gown.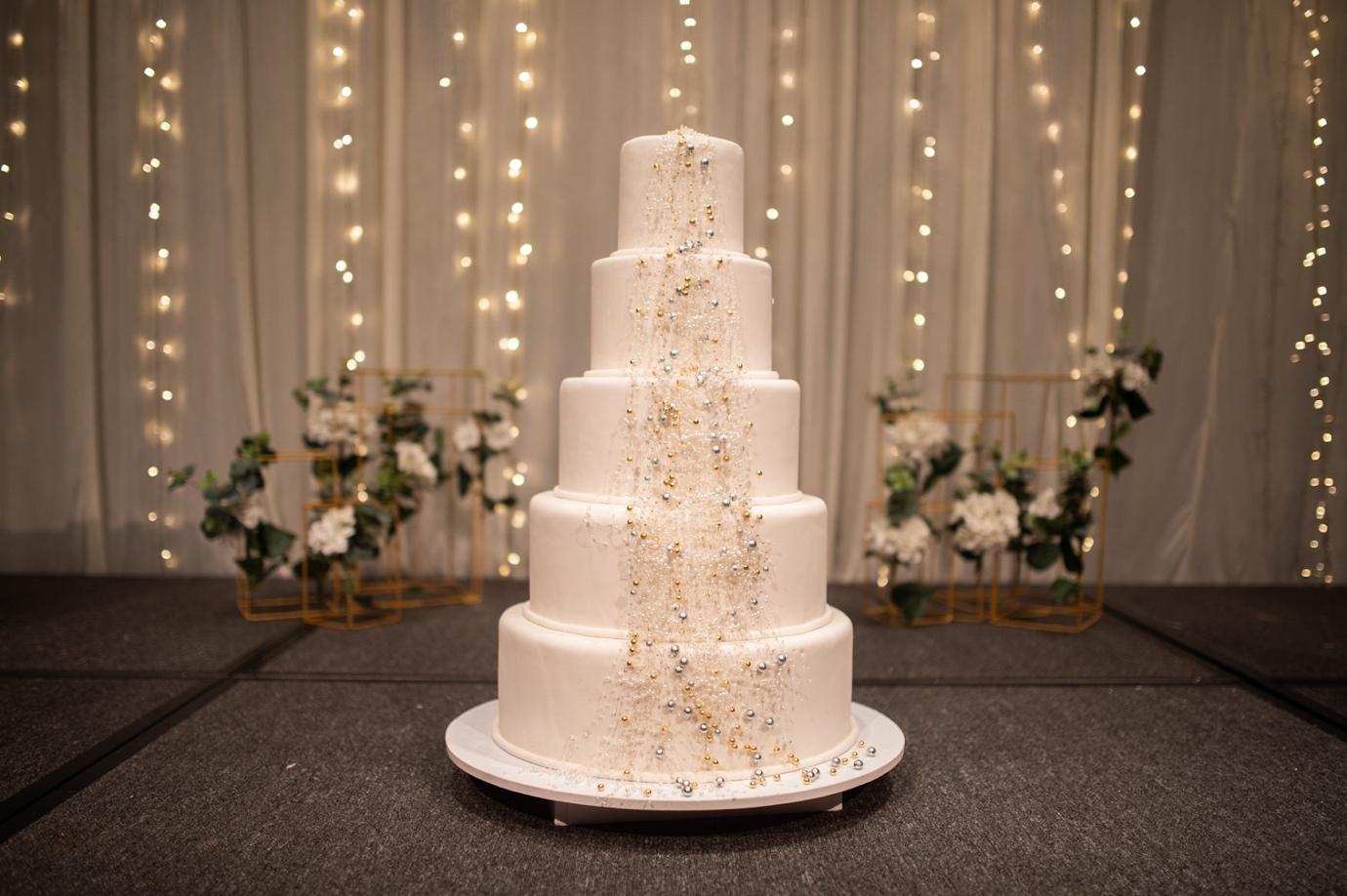 The Glittering Bliss cake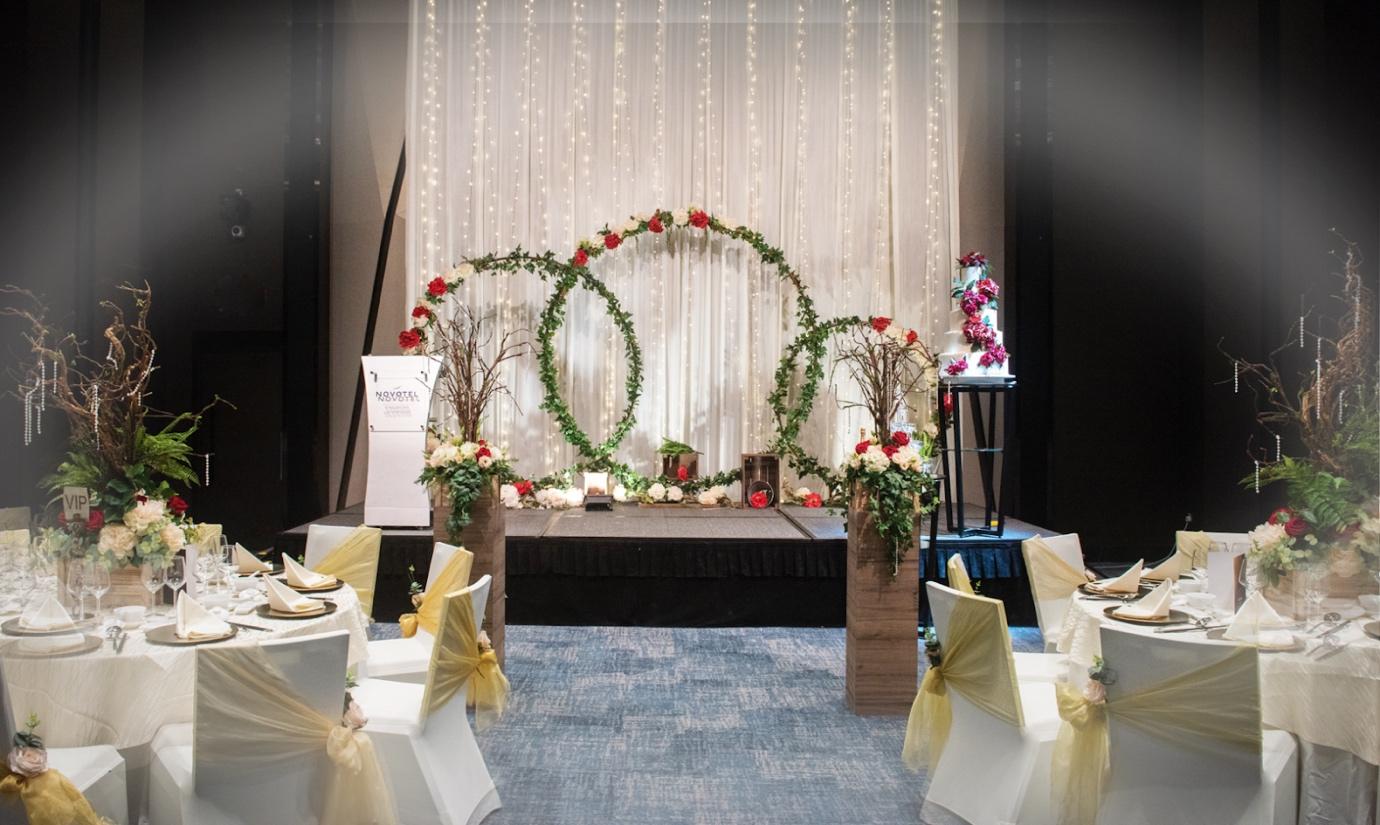 Infinite Eden
We love Infinite Eden's giant floral wreath, as it makes for a picture-perfect frame for you and your significant other as you take the centre stage together. Roses artfully adorn each table, colour-coordinated with vivid greens and golden accents. True to its name, Infinite Eden is the ultimate garden-themed wedding you could wish for.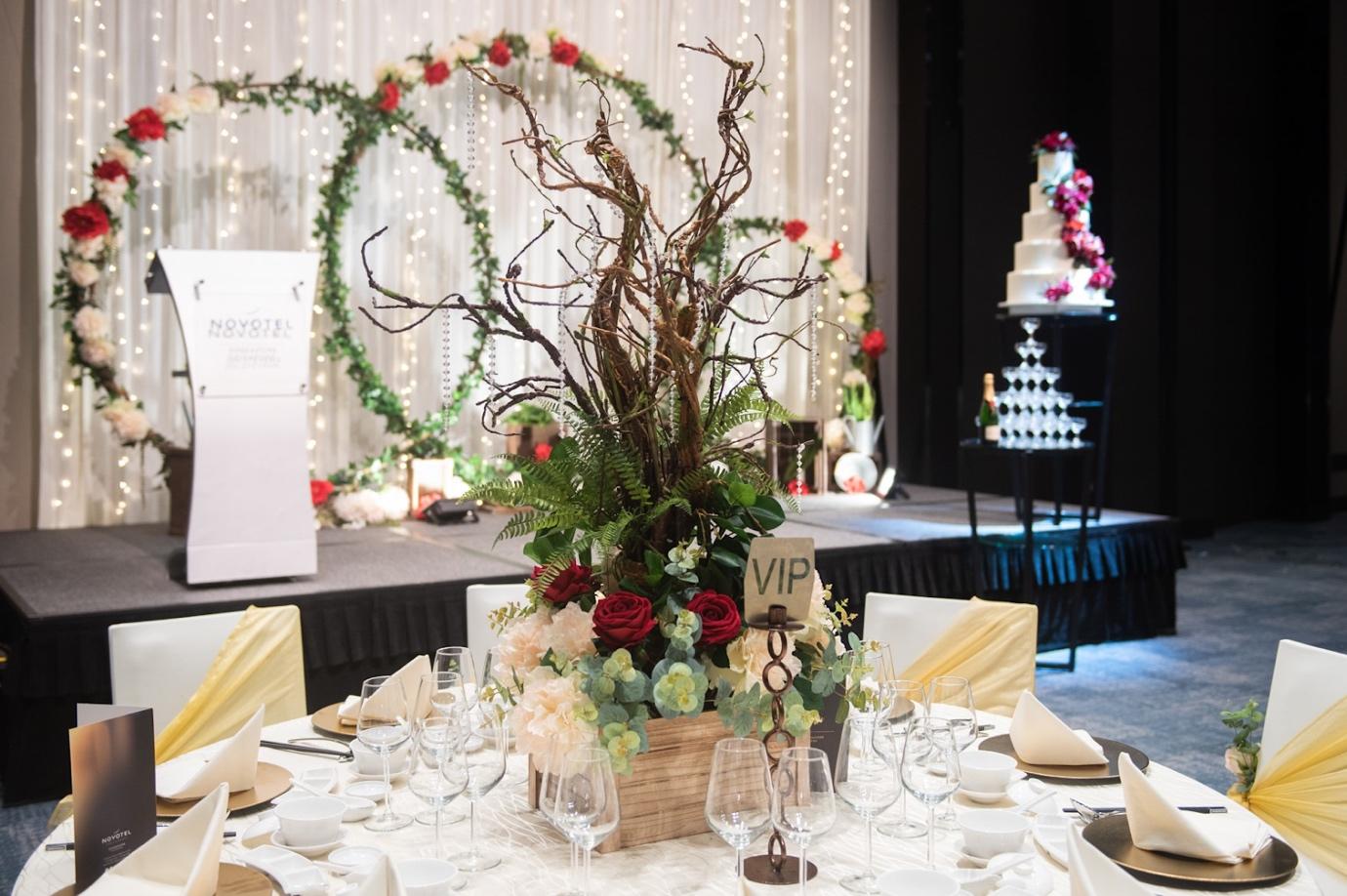 Last but definitely not the least, Sweet Serenity reminds us of a pair childhood sweethearts. In dainty pink and white, this theme brings out a flair of innocence, especially with the twine swing as its centrepiece. Perfect for those who prefer gentle, pastel hues, this soft colour palette is for you.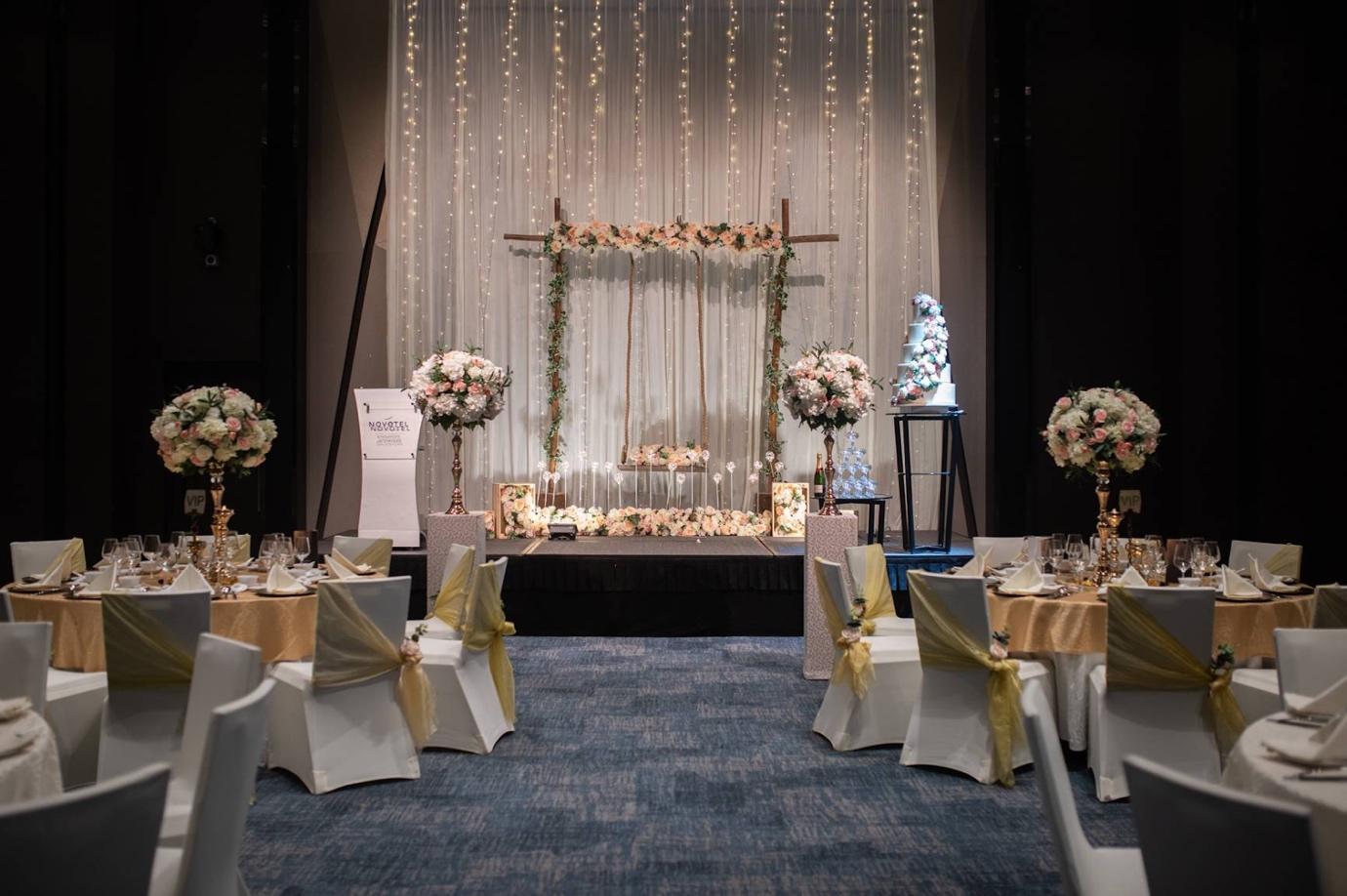 Sweet Serenity
Each of the themes can be further personalised if you have specific flowers or colours that you wish to include, giving you the liberty to nail that perfect dream wedding. If you can't decide on a single theme, not to worry as well – simply mix and match the different elements!
Catering to Your Every Need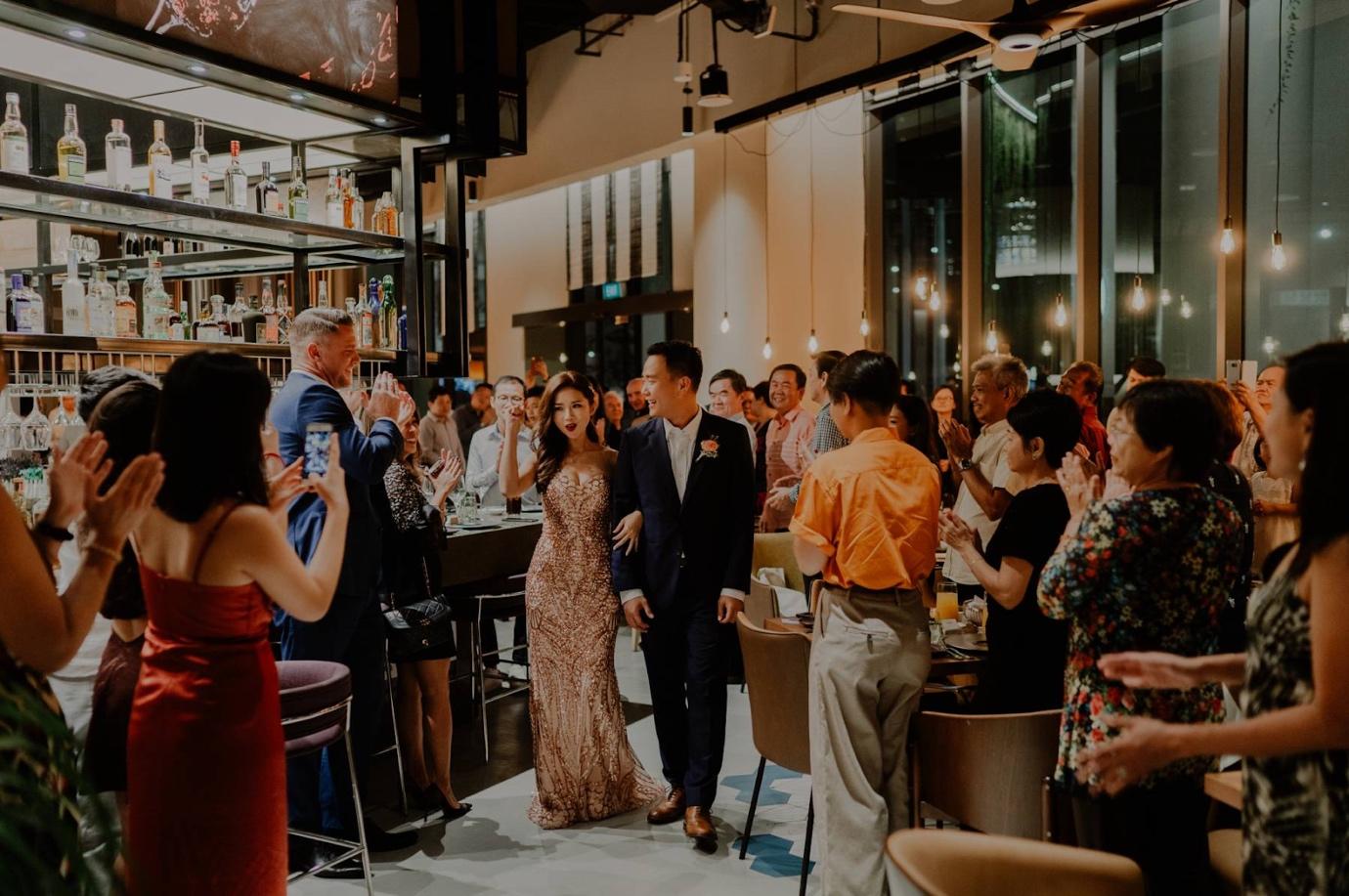 Winestone
For more intimate celebrations, Novotel also has smaller function rooms and swanky restaurants befitting of your special day. One such venue is Winestone, a cosy European restaurant that serves individually-plated authentic modern European cuisine.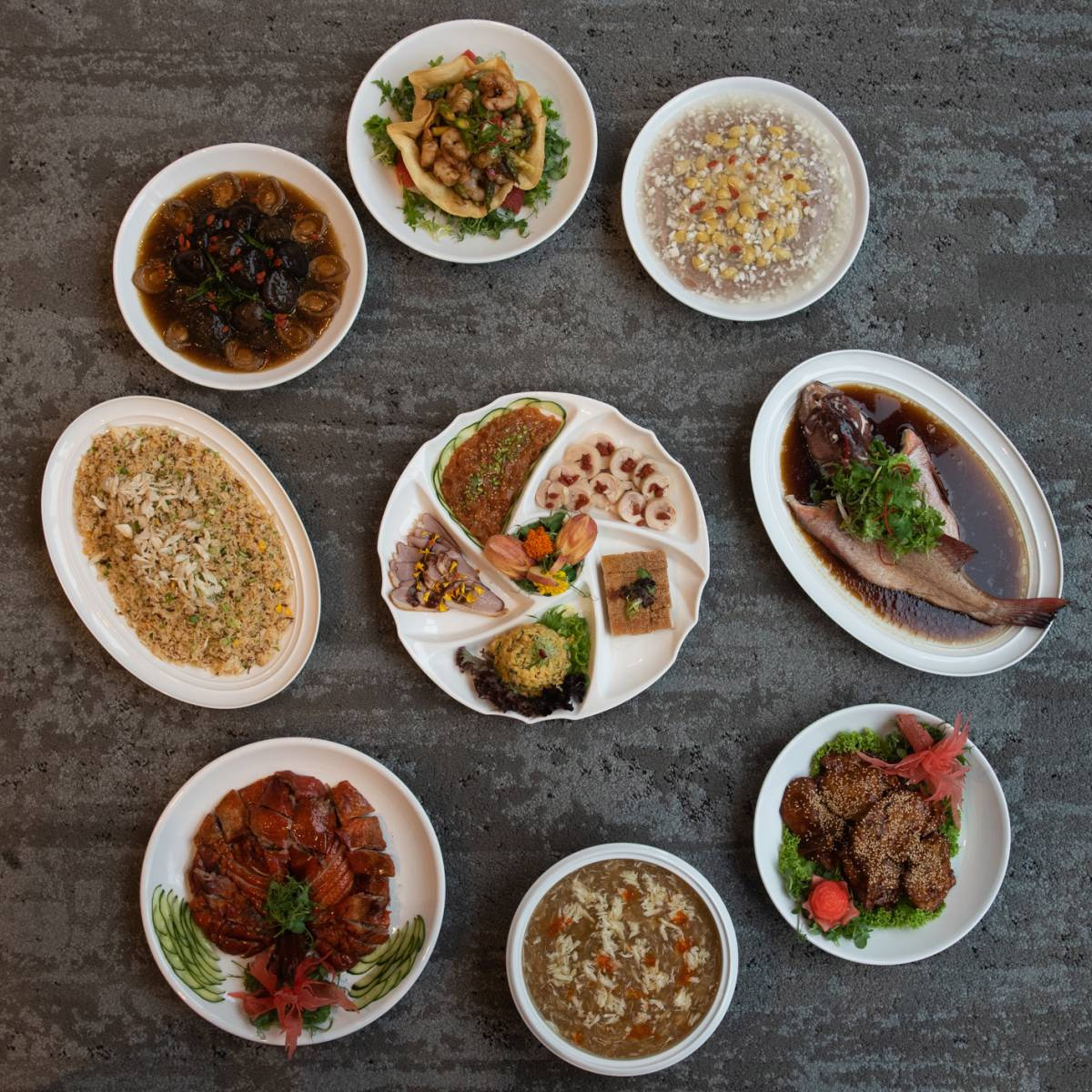 Otherwise, Novotel's chefs also have specially designed banquet menus for your selection, ranging from regional to international options. Impress your guests with authentic Chinese cuisine prepared by award-winning chefs, or add a unique touch to your wedding banquet with Western dishes or a buffet.
Halal menus are also provided upon request, and couples can further add on to their wedding with dessert bars, canapés, or an afterparty session. All you have to do is ask and Novotel's talented team will dedicate themselves to making it happen.
Make your dream wedding come true while you remain stress-free at Novotel Singapore on Stevens! Visit www.novotelstevens-weddings.com, call 6491 6100, or email H9543-SC6@accor.com.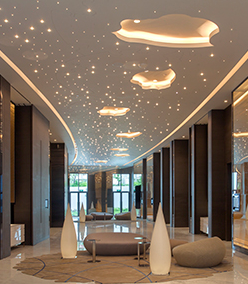 Novotel Singapore on Stevens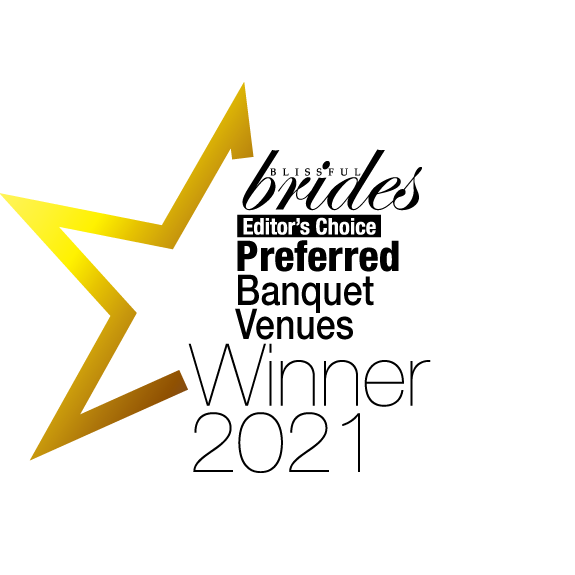 Rating:

Address:

Novotel Singapore on Stevens, 28 Stevens Road, Singapore 257878

Phone:

6491 6100, 6491 6106

Fax:

64916085