Sheraton Towers Singapore: Everything You Need for Your Dream Wedding
2019-10-22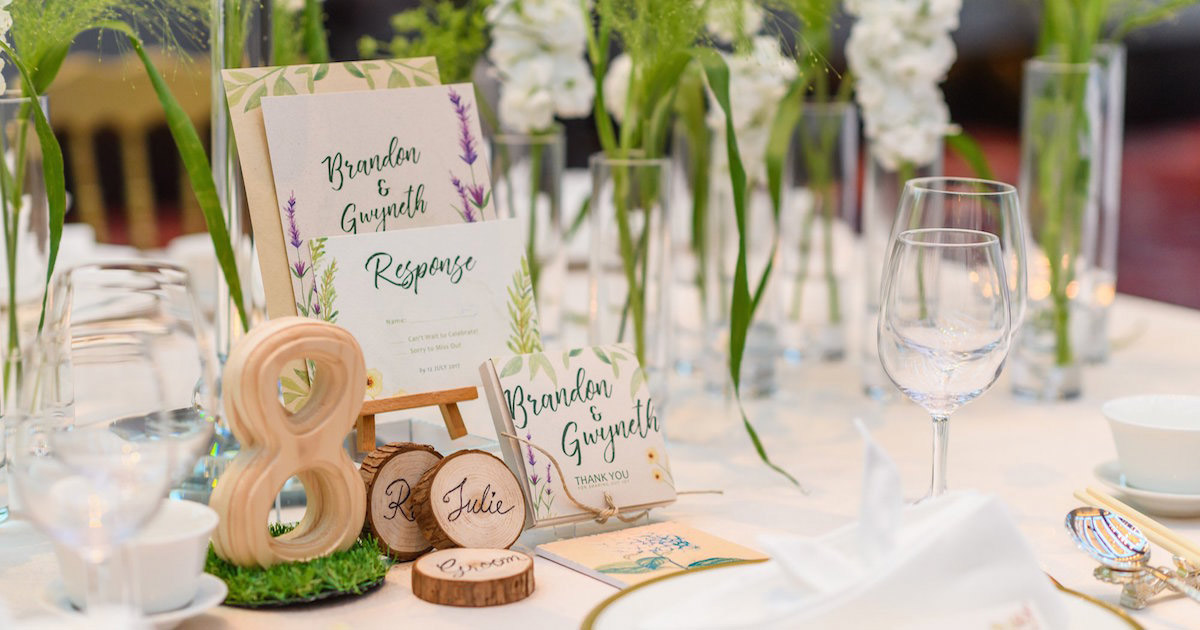 At Blissful Brides, we believe that the love between every couple is unique and that your wedding should be an expression of the distinct bond that you share with your significant other. Sheraton Towers Singapore firmly shares this belief and in order to reflect this special love story of yours, they offer a wide range of services that can be readily customised, complete with experienced wedding consultants who will guide you along every step of the way.
Elegant Venues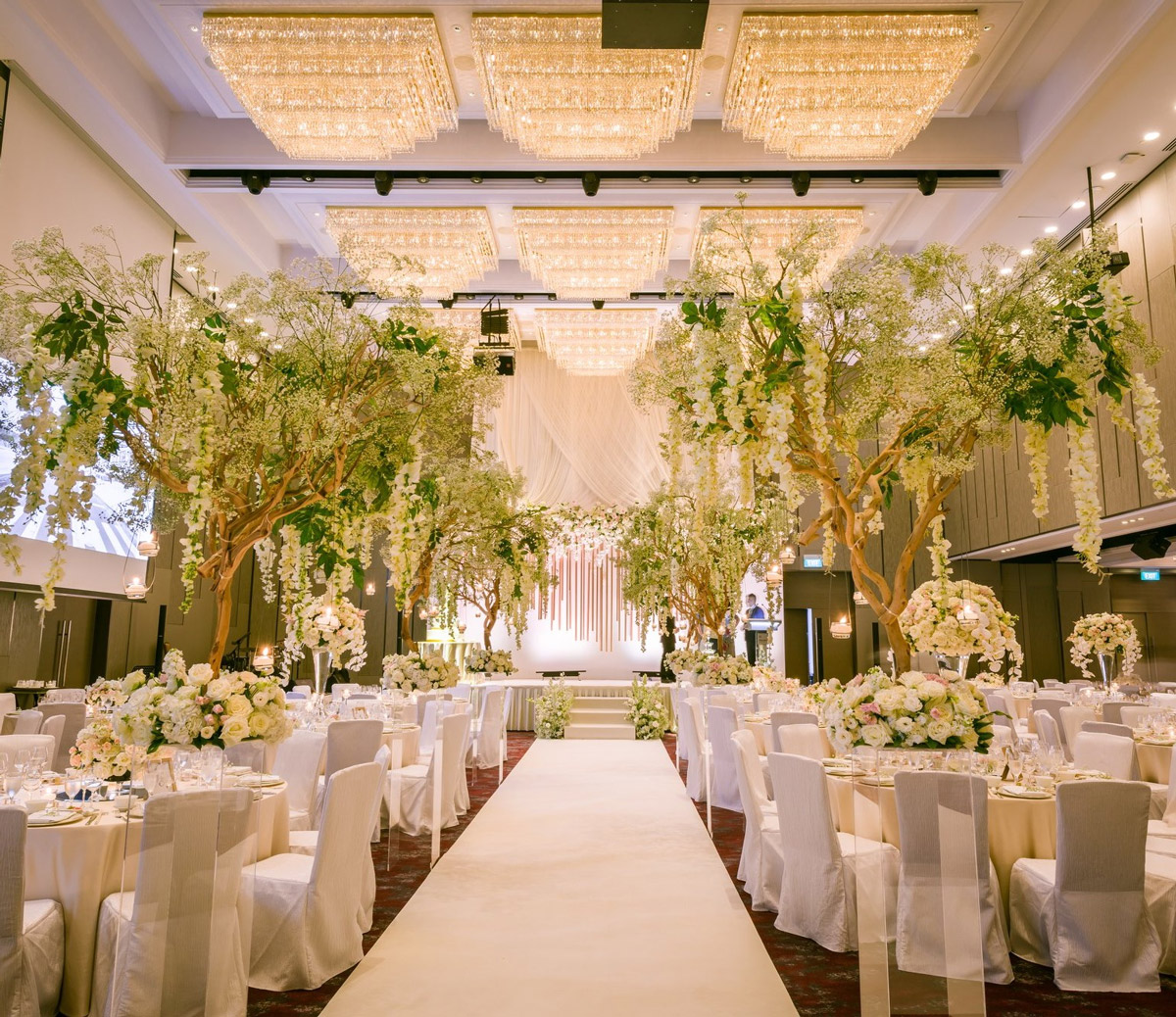 Turn your wedding ballroom into a secret garden!
Right off the bat, Sheraton Towers Singapore provides multiple venue options, each with their own distinctive features that will perfectly enhance the atmosphere on your special day. This includes the grand ballroom, a resplendent venue that boasts pillarless high ceilings and sparkling chandeliers.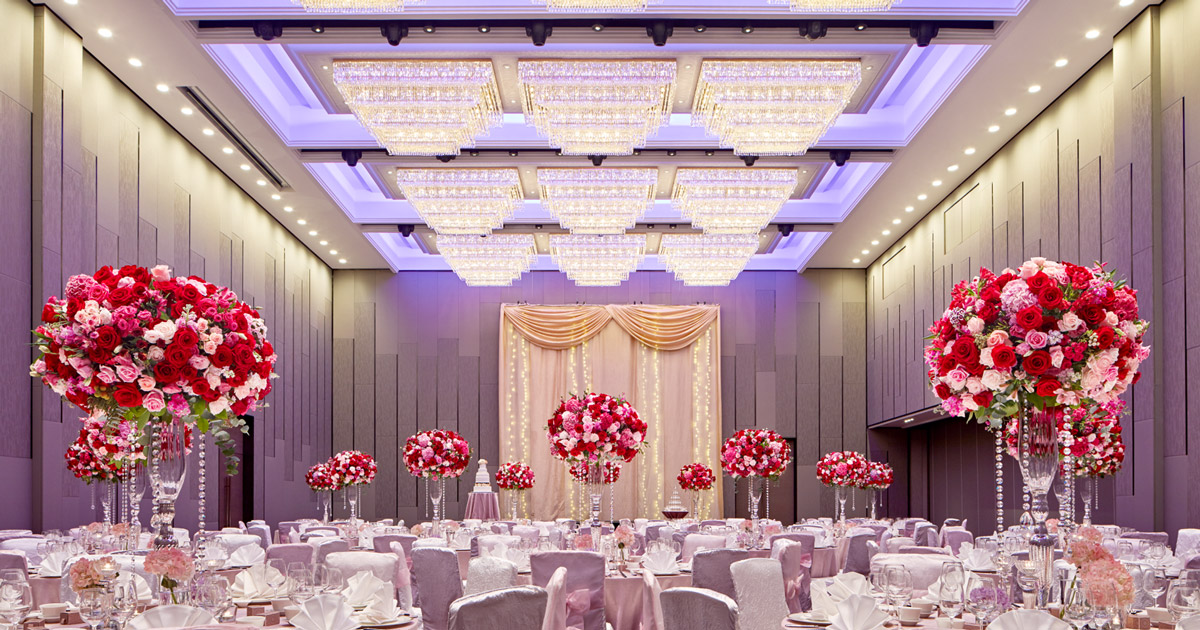 A wedding at the Grand Ballroom
Perfect for an extravagant affair to shout about your love, couples can choose from four newly curated style themes, each one designed to evoke different feelings:
Rustic Romance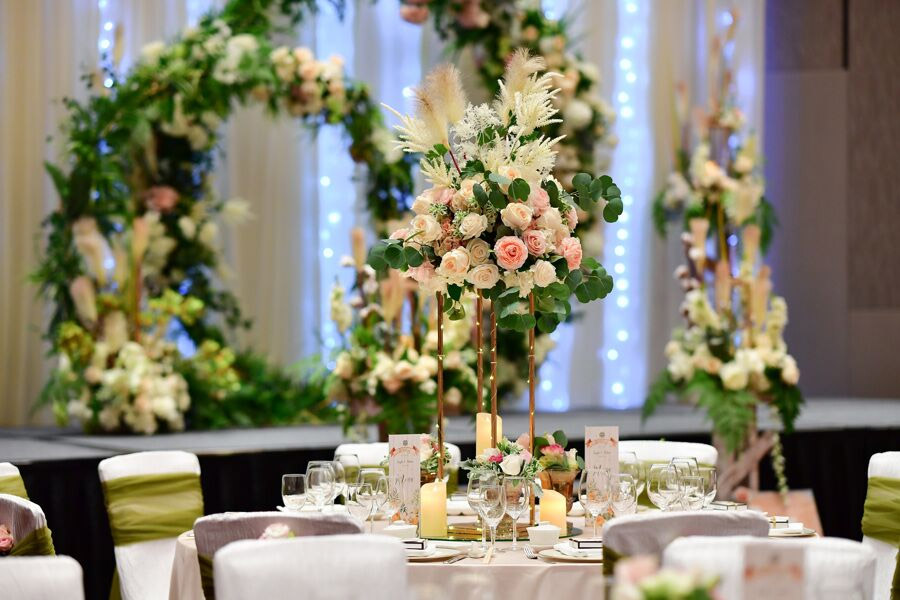 Inspired by nature, the Rustic Romance theme combines unstructured floral arrangements, wood, and metal elements to bring your modern fairytale fantasies to life.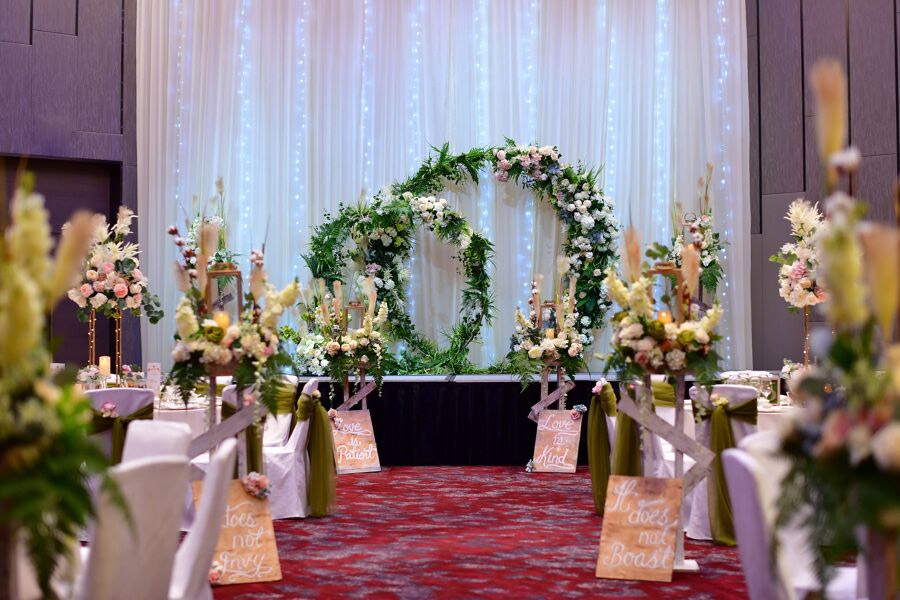 Well-suited for couples who wish to have that free-spirited, forest-inspired vibe in the comforts of an air-conditioned indoor venue, expect a beautifully defiant asymmetrical and organic touch at your wedding!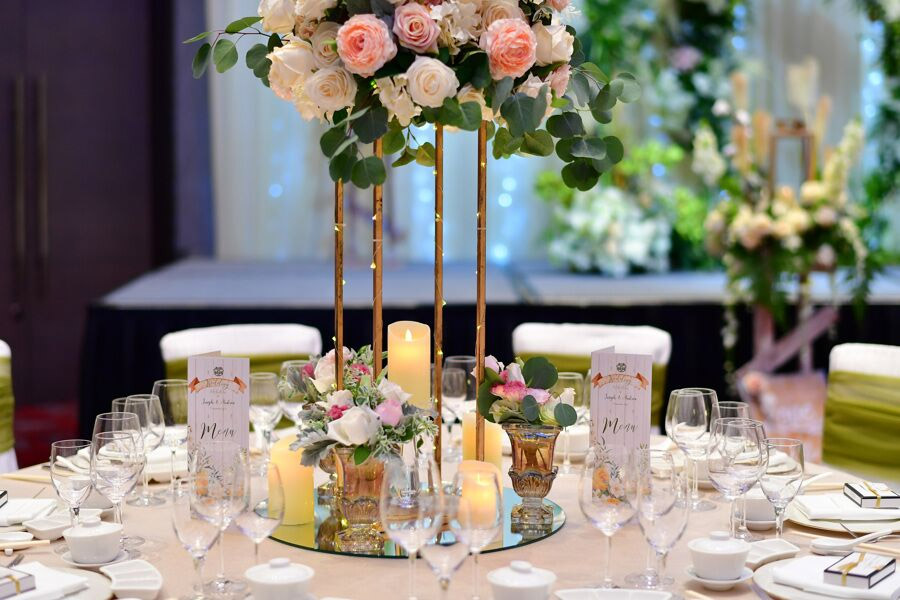 Wondrous Whimsy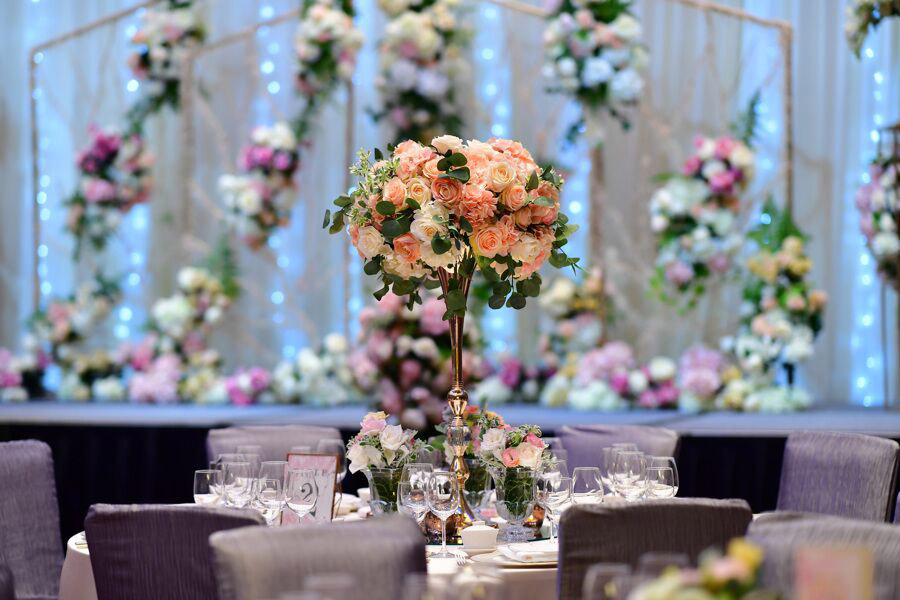 Easy on the eyes, pastel floral arrangements accentuated by rose gold and pearl decor adorn the tables and stage in the Wondrous Whimsy theme. Representing love and luxury perfectly, this theme is both delicate and romantic, and of course, a heart-stealer for those who love pink.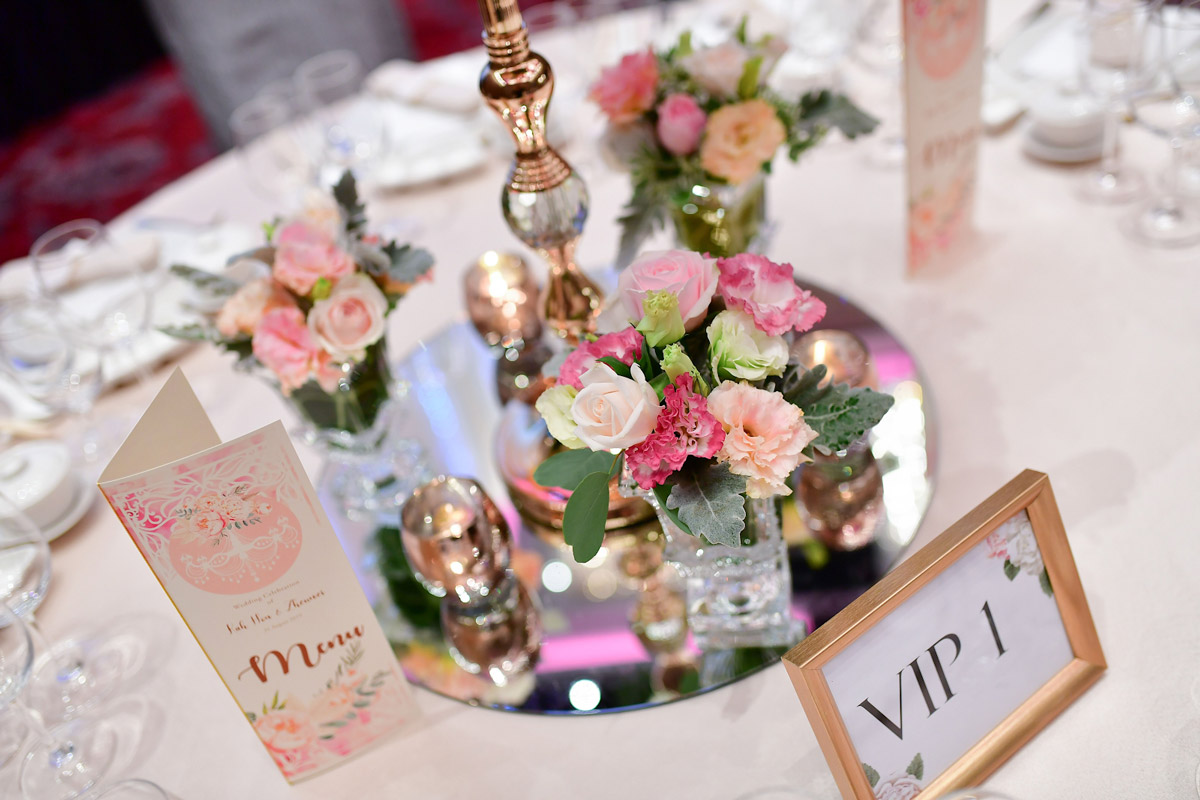 Using only simple structures and soft colours like cream and blush pink, Wondrous Whimsy leaves plenty of room for customisation because it is easy to match and can blend well with other decorations to form a harmonious wedding theme.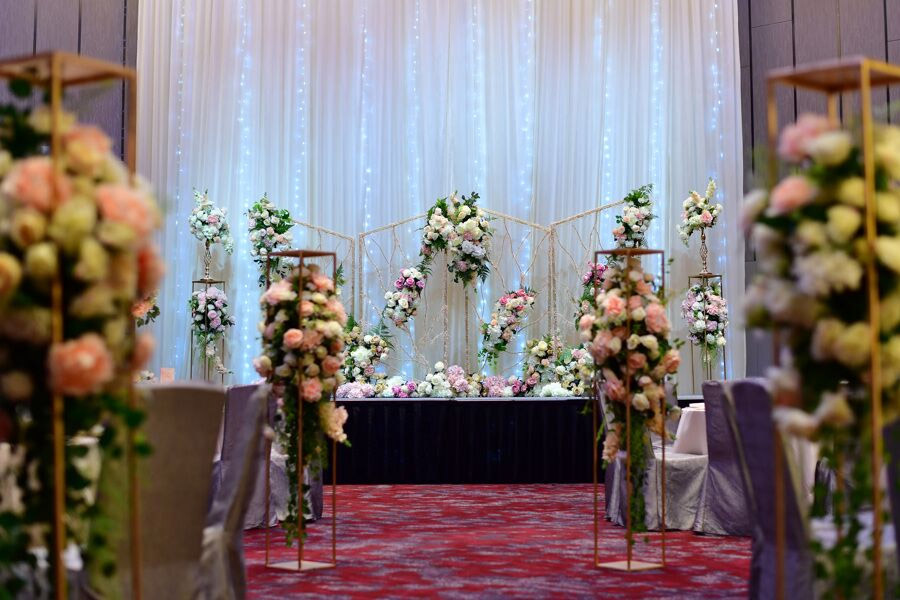 Victorian Allure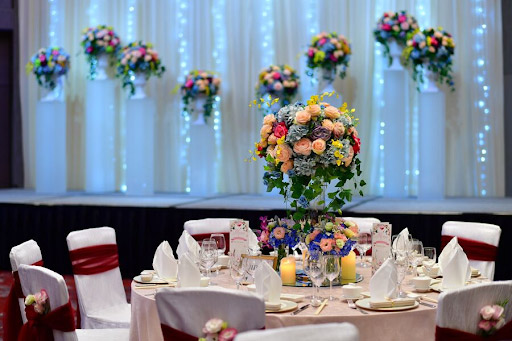 If you and your partner have bright, larger than life personalities, the Victorian Allure theme might be for you. Boasting a blend of rich and vibrant colours such as fuschia pink, rich purple, and brilliant blues and greens, this theme adds a lively yet regal touch to your wedding and will help to breathe life and glamour into your big day.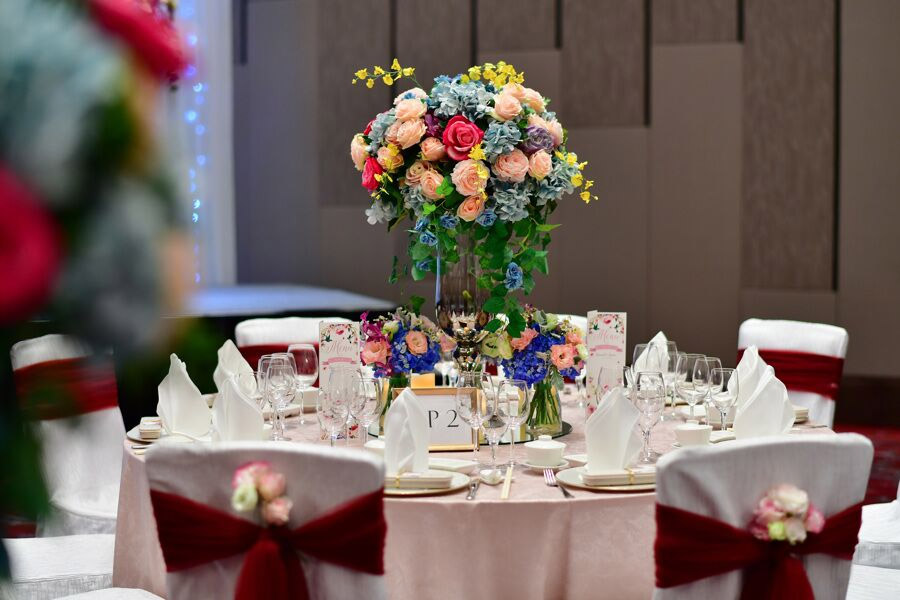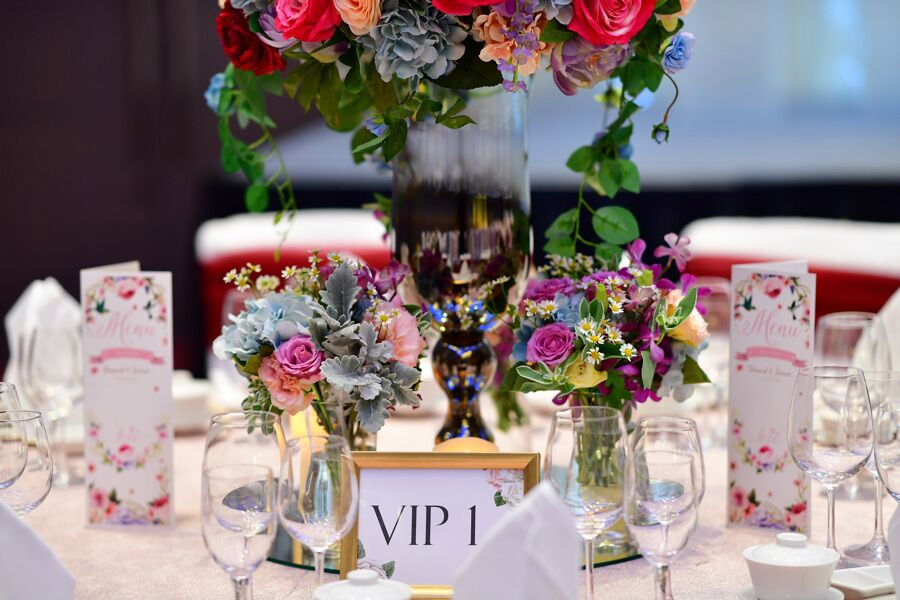 Eternal Elegance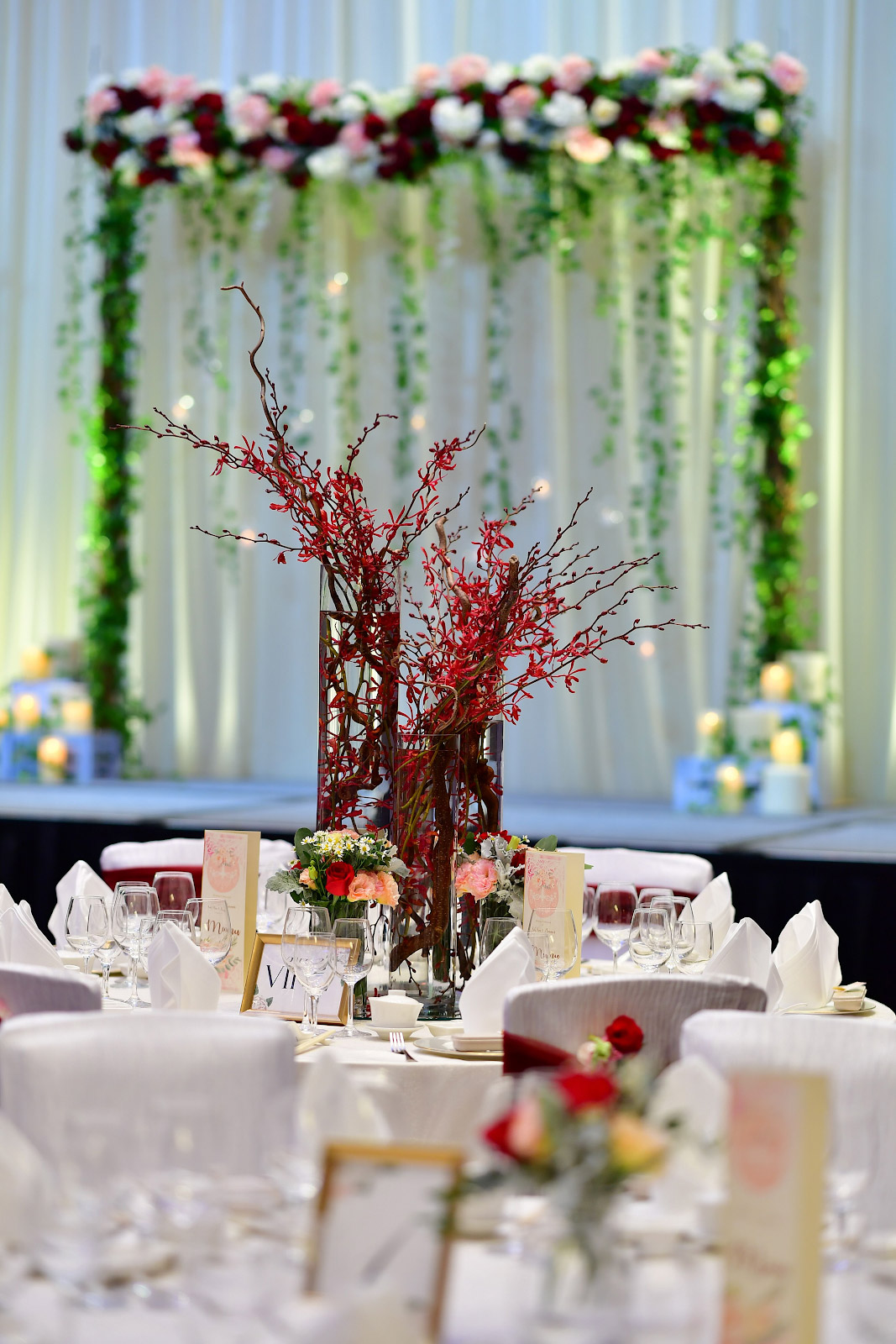 Featuring burgundy, champagne, and ivory flowers, Eternal Elegance gives off a deeply elegant and sensual vibe. Perfect for couples who wish to showcase their passionate love for each other, this theme features lots of deep, dark red, including an eye-catching red willow centrepiece on every table.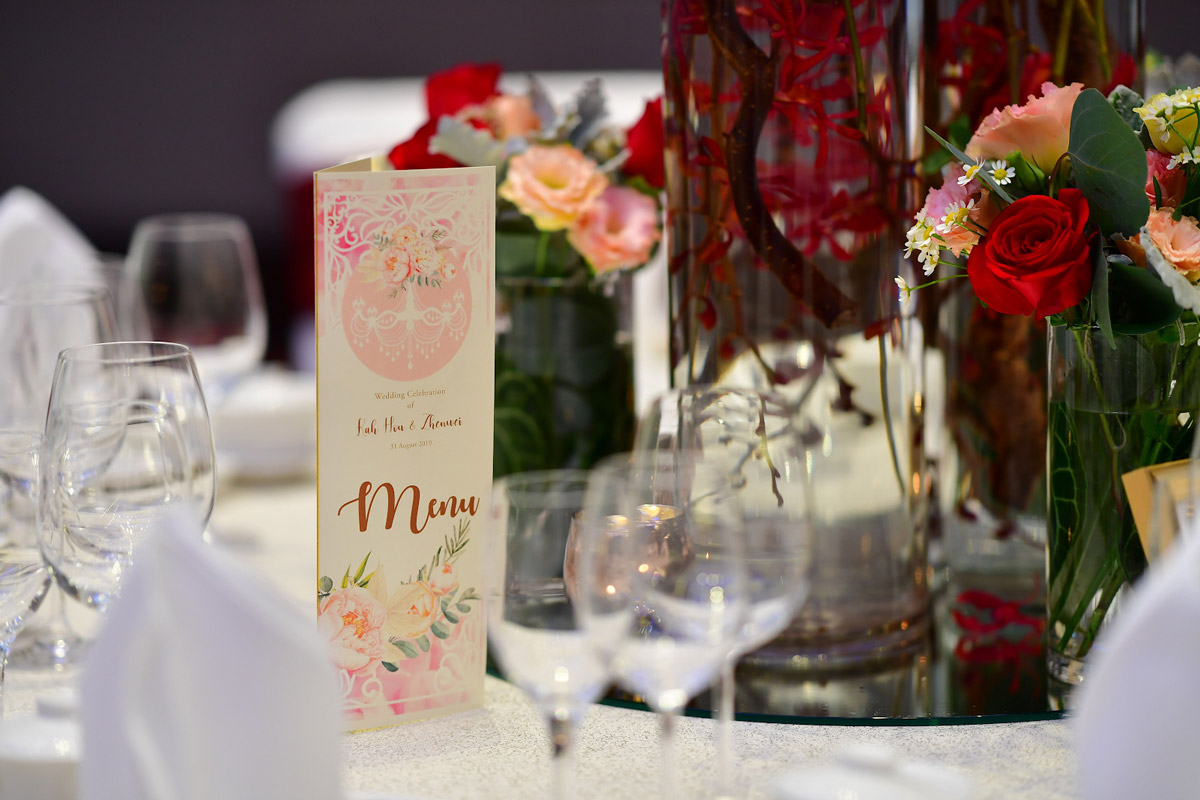 Intimate Affairs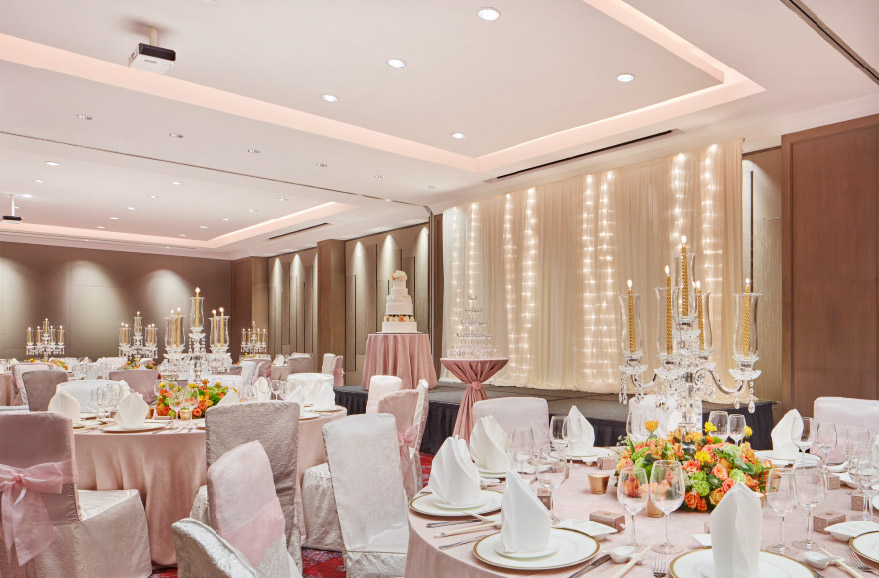 If you prefer intimate settings for a more private, cosy celebration, the Sheraton Towers Singapore also has smaller rooms suited to your needs. Designed to let natural daylight in, their rooms, coupled with exquisite fabrics and decor, exude a sense of luxury and a welcoming warmth that is befitting of your joyous occasion!
A Different Wedding Experience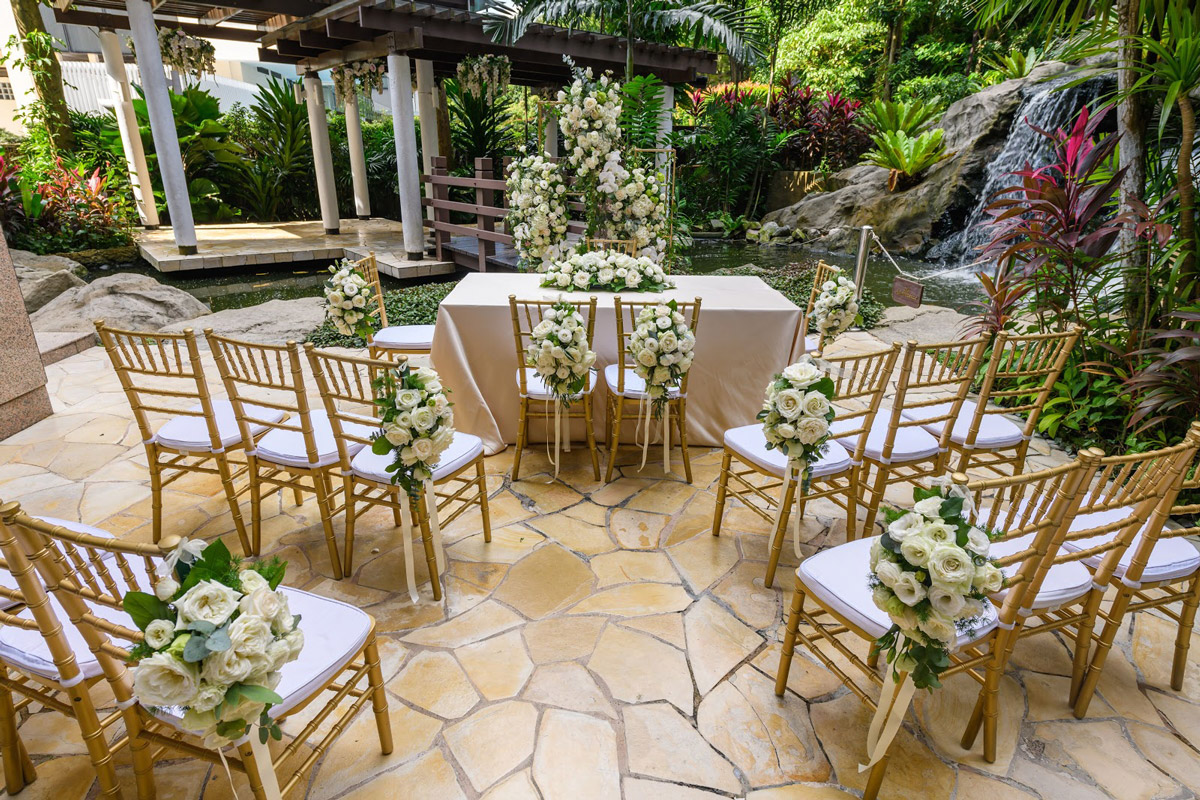 For adventurous spirits who want a different wedding experience, Sheraton Towers Singapore has another hidden gem ‒ an outdoor garden by a waterfall! Surrounded by lush greenery with stone flooring, your solemnisation will feel like a destination wedding at a far-flung island.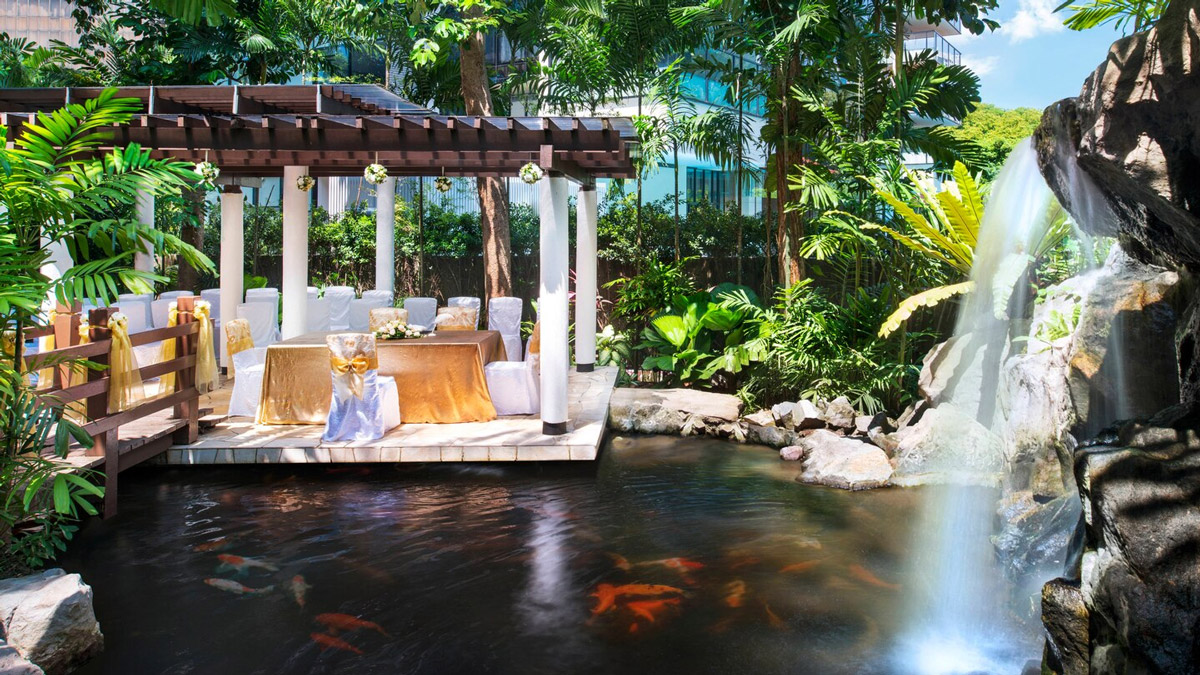 Exquisite Cuisine

We can all agree that one of the most important things at a wedding is food. By serving delectable and memorable dishes which leaves guests with a satisfied and happy tummy, your wedding will definitely be one to remember for years to come.
The Sheraton Towers Singapore offers exquisite culinary options skillfully executed by the chefs of their award-winning Li Bai Cantonese restaurant. Other meal options include Western cuisine, and you can customise your wedding menu for those with special dietary needs as well.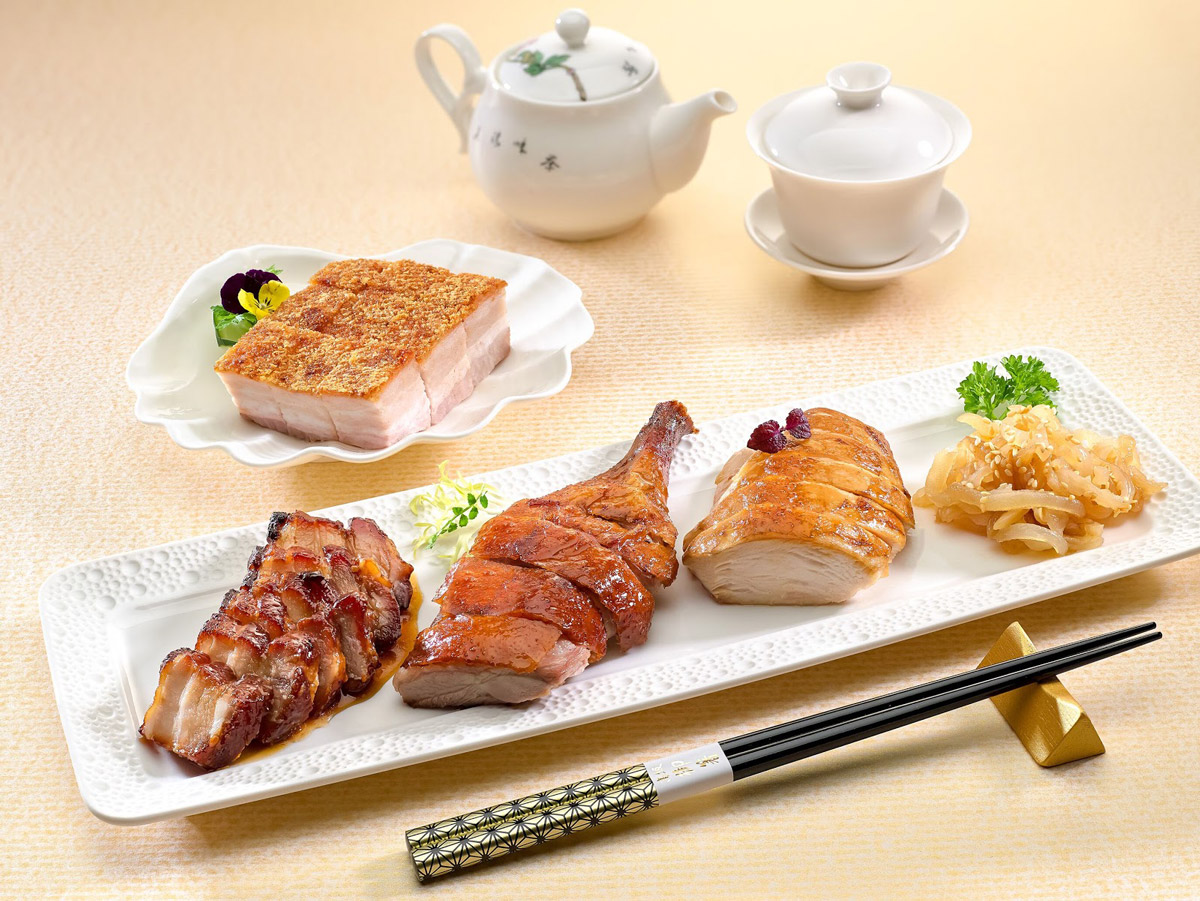 Food from Li Bai Cantonese Restaurant
Treatment fit for Royalty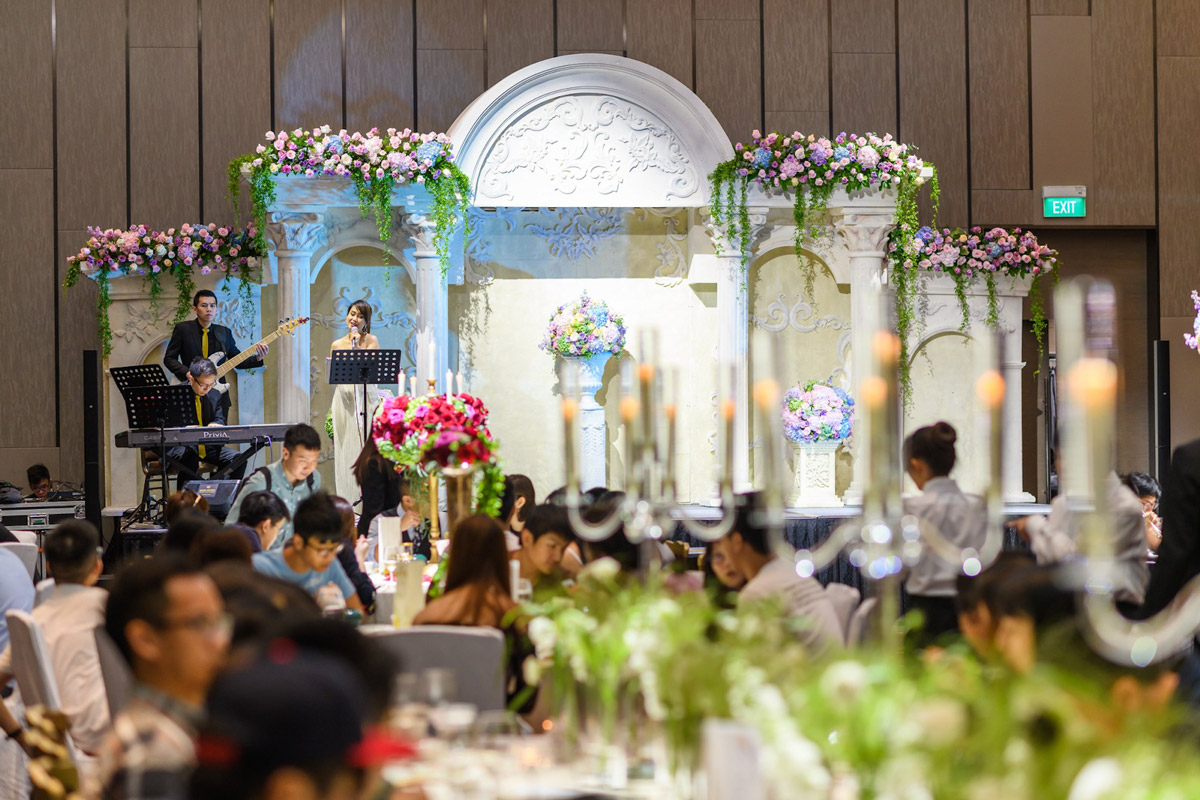 After a long day of smiling, waving, and interacting with your friends and relatives, it's undeniable that even the most energetic bride or groom will feel exhausted. To make your day as smooth-sailing and tireless as possible, the Sheraton Towers Singapore's wedding package includes a stay in their one-bedroom bridal suite.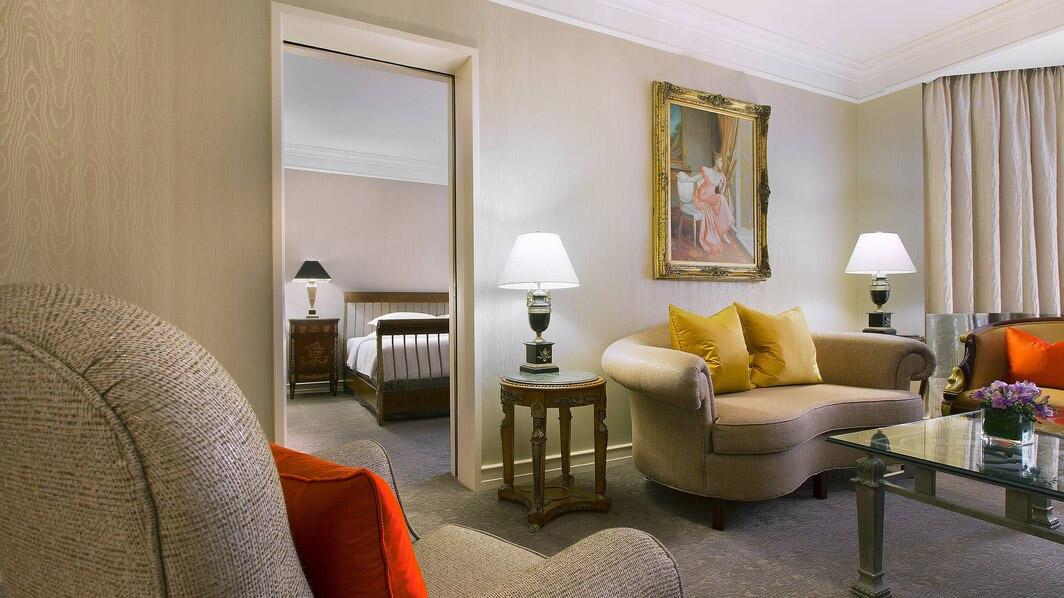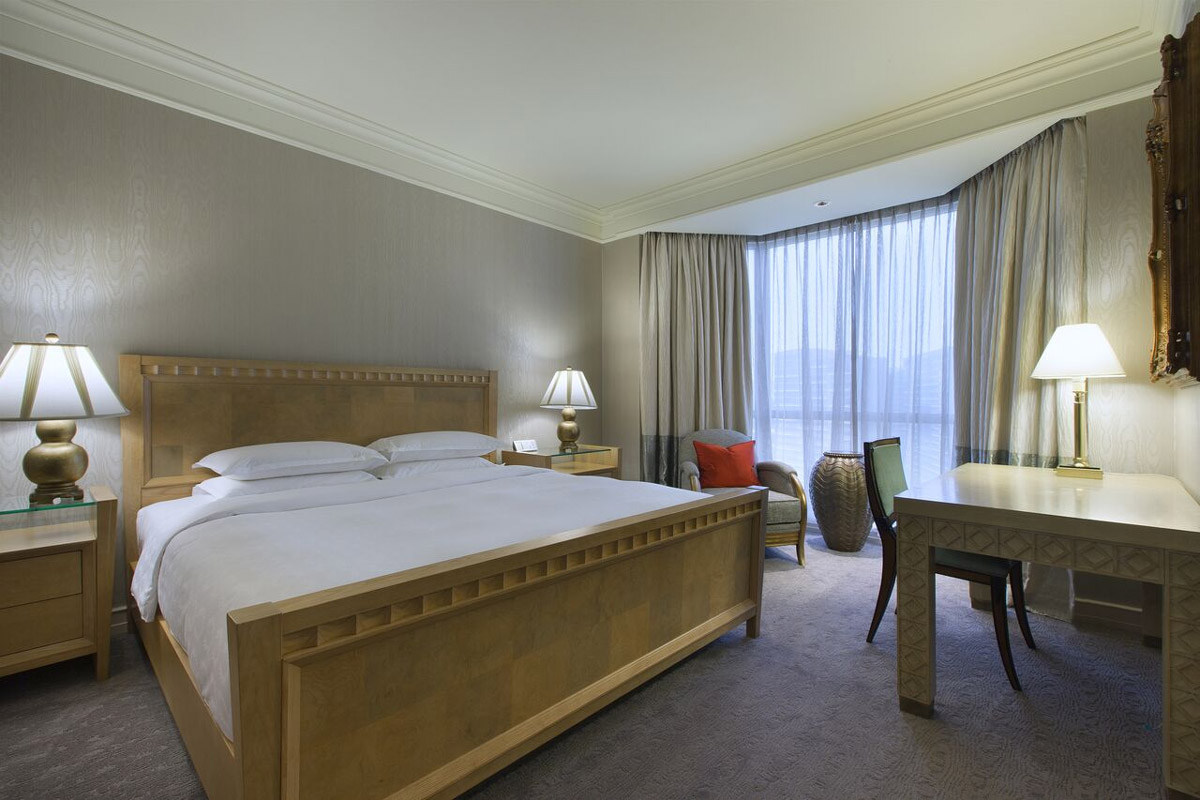 The Executive Suite
This comes with welcome amenities, complimentary in-room dining service, and exclusive access to the Towers Executive Lounge for the ultimate pampering experience for you and your significant other! Their professional wedding consultants will also be there to guide you every step of the way, from the planning of the wedding to the executing of the actual day, so that you and your sweetheart can sit back, relax, and enjoy the ride.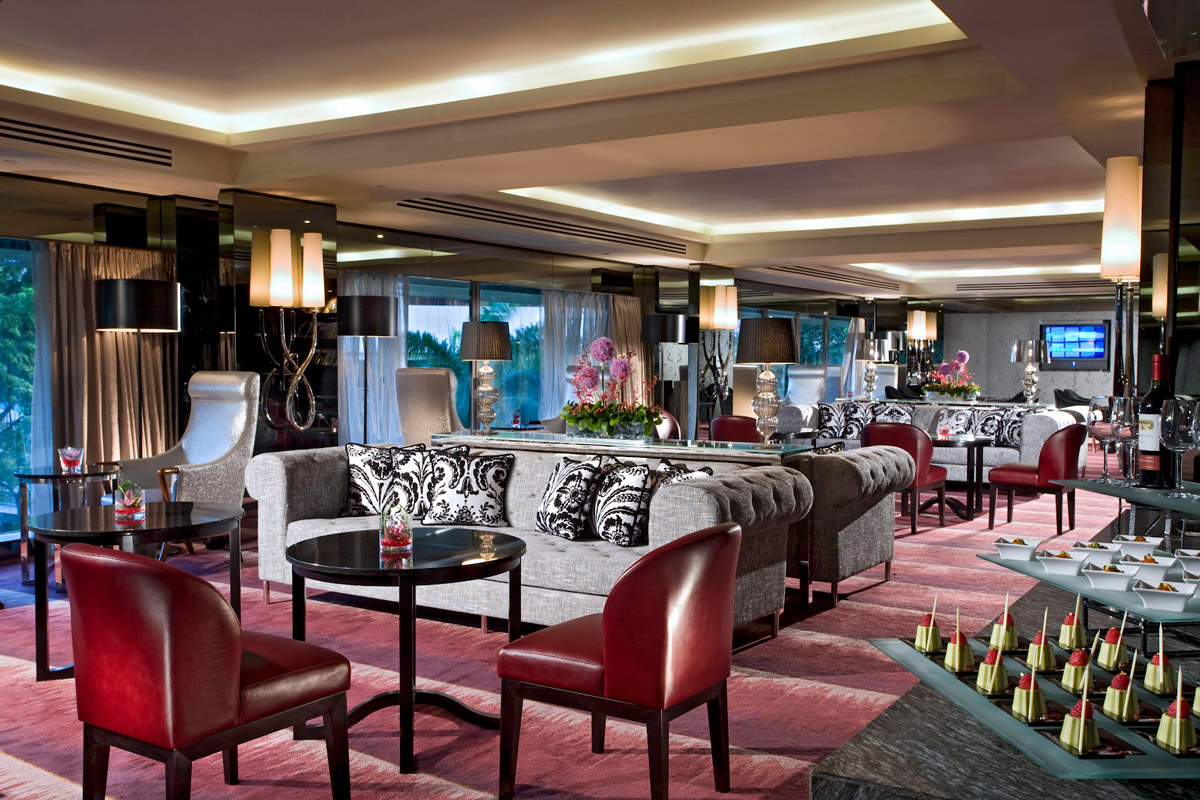 The Executive Lounge
To find out more about how Sheraton Towers Singapore can help you plan the dream wedding that you deserve, simply contact them at 6839 5845 or send an e-mail to weddings@sheratonsingapore.com!
This article was written for Sheraton Towers Singapore.
All photos were taken from Sheraton Towers Singapore.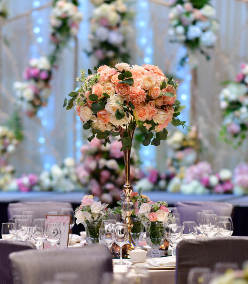 Sheraton Towers Singapore
Rating:

Address:

39 Scotts Road, Singapore 228230

Phone:

6839 5845 / 6839 5832