Si Chuan Dou Hua Restaurant: A Modern Chinese Wedding with Customised Punch Bowls & Tailored Tea Bars
2020-08-23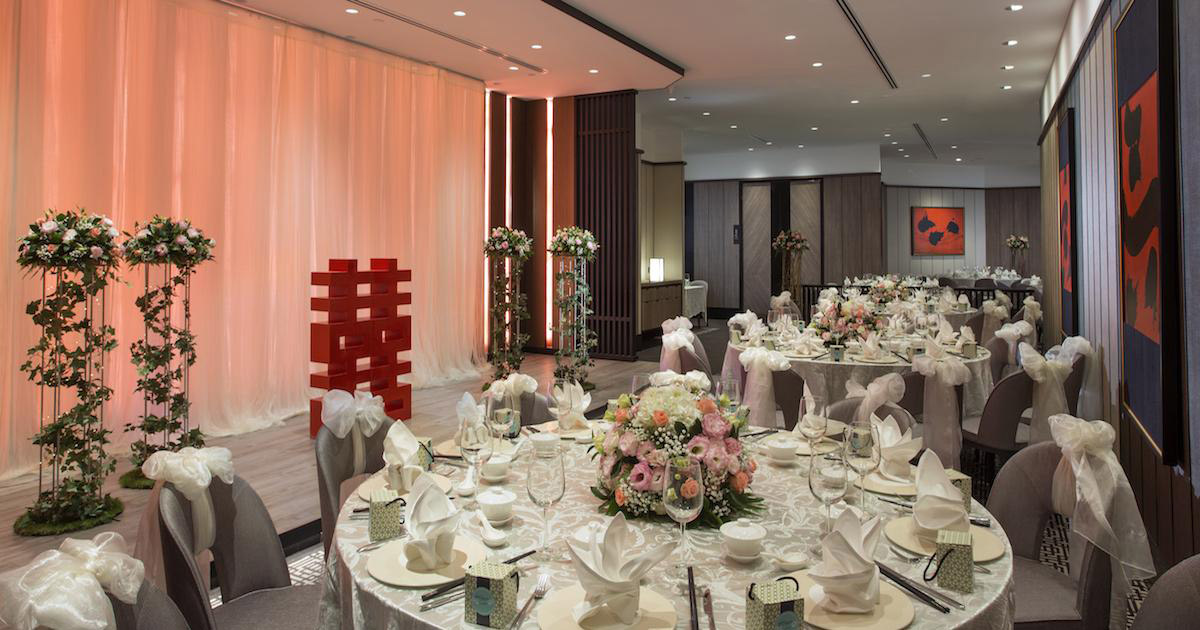 Picture this: you're at your wedding, and it's held in a sleek restaurant with contemporary oriental decor. The exquisitely plated dishes look amazing, and some of your guests are busying themselves with packing their own tea blend at the tea bar, while others are marvelling at an acrobatic tea-serving performance, completely enthralled.
If this sounds like the entertaining, interactive, and memorable wedding experience that you wish to share with your loved ones, then Si Chuan Dou Hua Restaurant is for you!
Boasting the perfect blend of oriental cuisine and traditional elements repackaged with a refreshingly modern twist, Si Chuan Dou Hua Restaurant first opened in 1996 and was one of the pioneers of Sichuan cuisine in Singapore. Today, besides delivering unfalteringly authentic and delicious Chinese fare, they also offer uniquely refreshing services that adventurous couples would love, such as tailored tea bars, customisable punch bowls, a canapés bar, and tea master performances.
Exquisite Sichuan and Cantonese cuisines

Left: Stir-fried Prawns with Mangoes in Sweet and Sour Sauce Served in Basket
Right: Boiled Sweetened Peach Resin with Lotus Seed
Specialised in bringing out authentic Sichuan flavours which are sure to please the young and old, Si Chuan Dou Hua Restaurant allows couples and their guests to relish in the explosion of flavours from their 8-course wedding menus.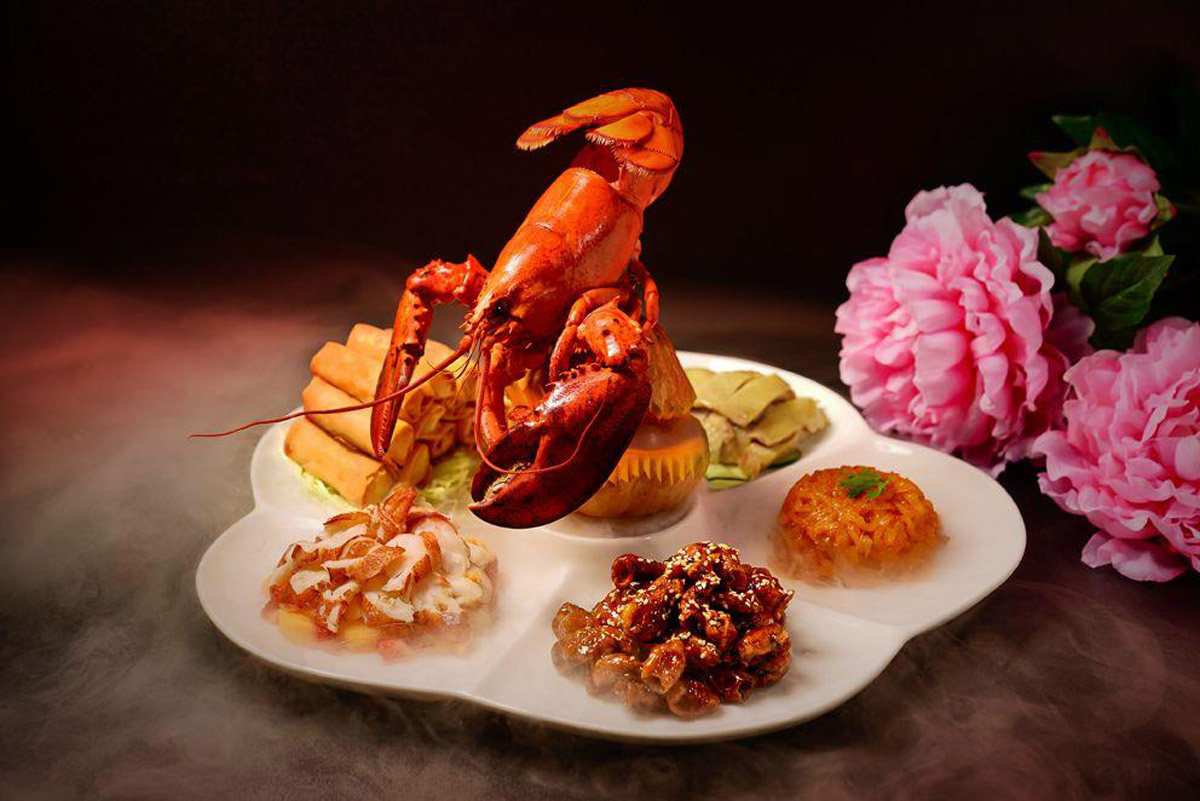 Some of these specialities include the Braised Seafood Treasure Soup with Dried Scallop, Traditional Steamed Soon Hock Fish with Black Fungus in Superior Soya Sauce, Braised Pork Belly with "Bai Ling" Mushrooms served with Seasonal Vegetables and many more.

Si Chuan Dou Hua Restaurant recognises that every couple has their own unique taste and preference, which is why they allow customisation of their menu. With the help of their professional bartenders at their cocktail bar, Chuān @ The Sixtieth (川), concoct your very own punch bowls and impress your guests with a cocktail of your own — that's not something that you'd expect to find at a Chinese restaurant!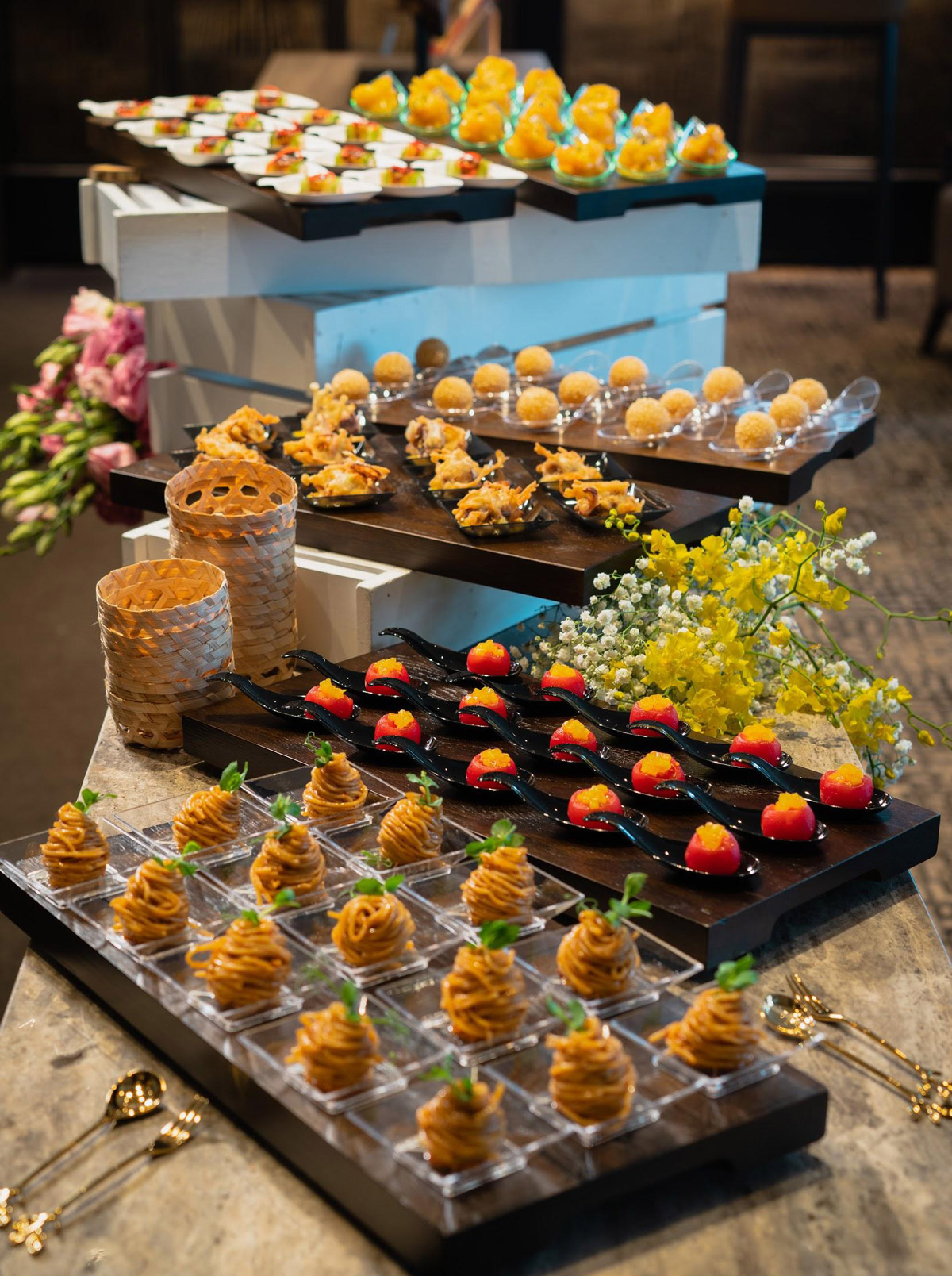 In addition to the punch bowls, the restaurant also offers a wide selection of tantalising treats from their canapés bar. Depending on your selected menu, couples may either add on the canapés bar for $80/$130 for a choice of three or five items, or enjoy a complimentary canapés selection of five items (20 servings for each item)!
Signature tea blends with a twist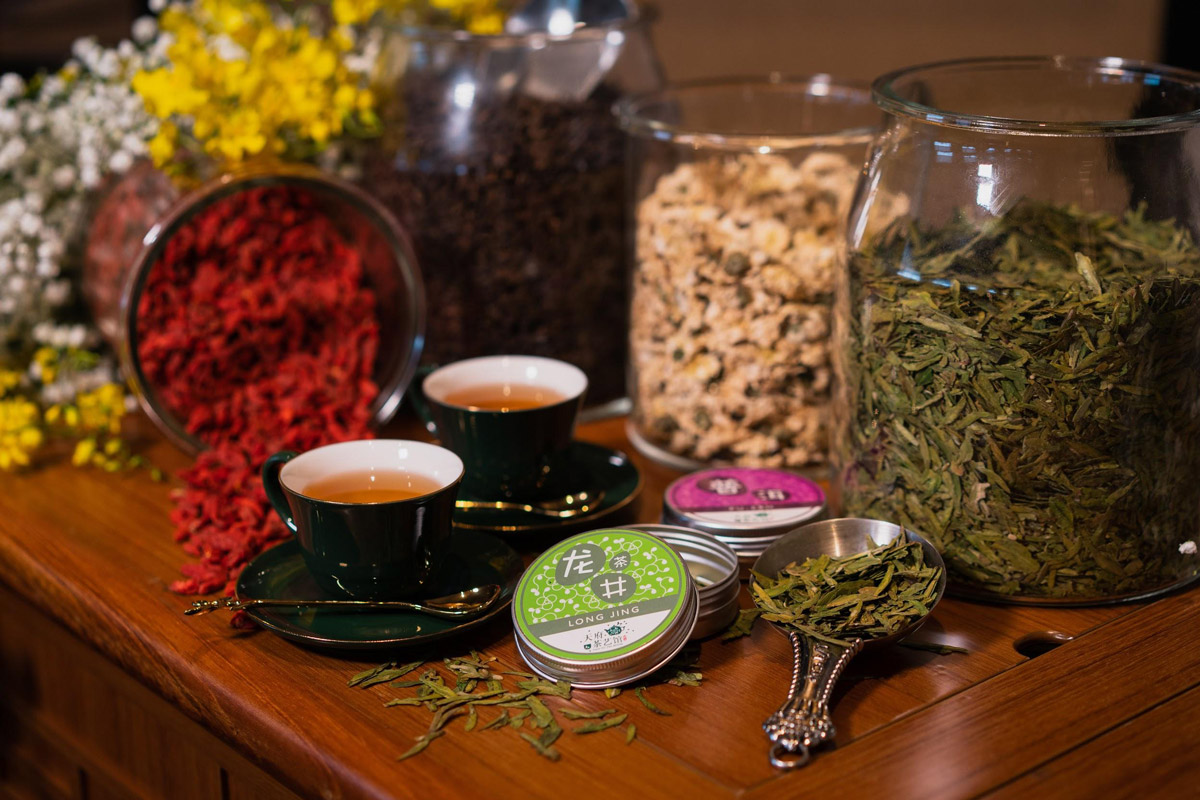 Besides their gourmet creations, Si Chuan Dou Hua Restaurant also specialises in premium Chinese tea with a wide selection of over 30 varieties that range from the familiar green and red tea, to the more exotic yellow, white, and flower teas. Delivering only the freshest tea leaves from harvest to cup, these premium brews will leave a lingering and invigorating aroma in your mouth that tea lovers (especially the elderly) will enjoy immensely.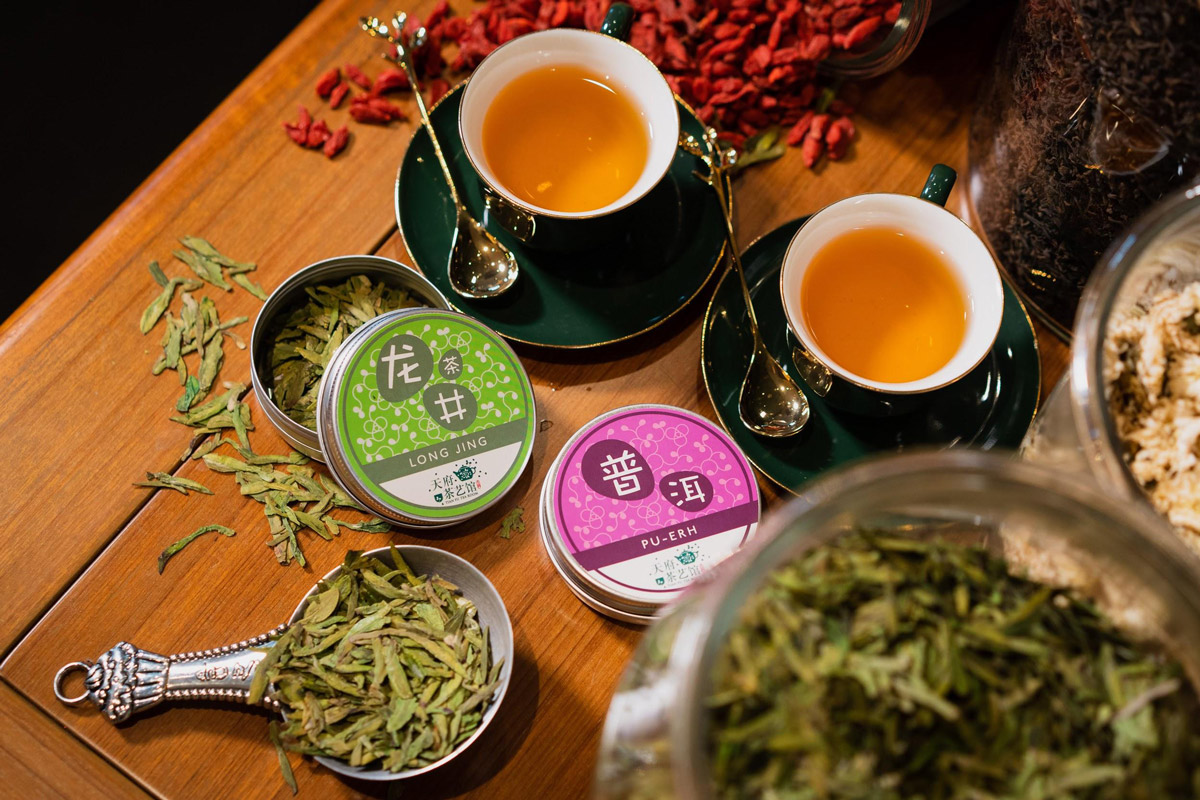 Si Chuan Dou Hua Restaurant never ceases to surprise us, because in addition to their specially curated tea blends, they also offer a tailored tea bar for a personalised tea experience, where one can create your very own tea blends with their high-quality tea leaves!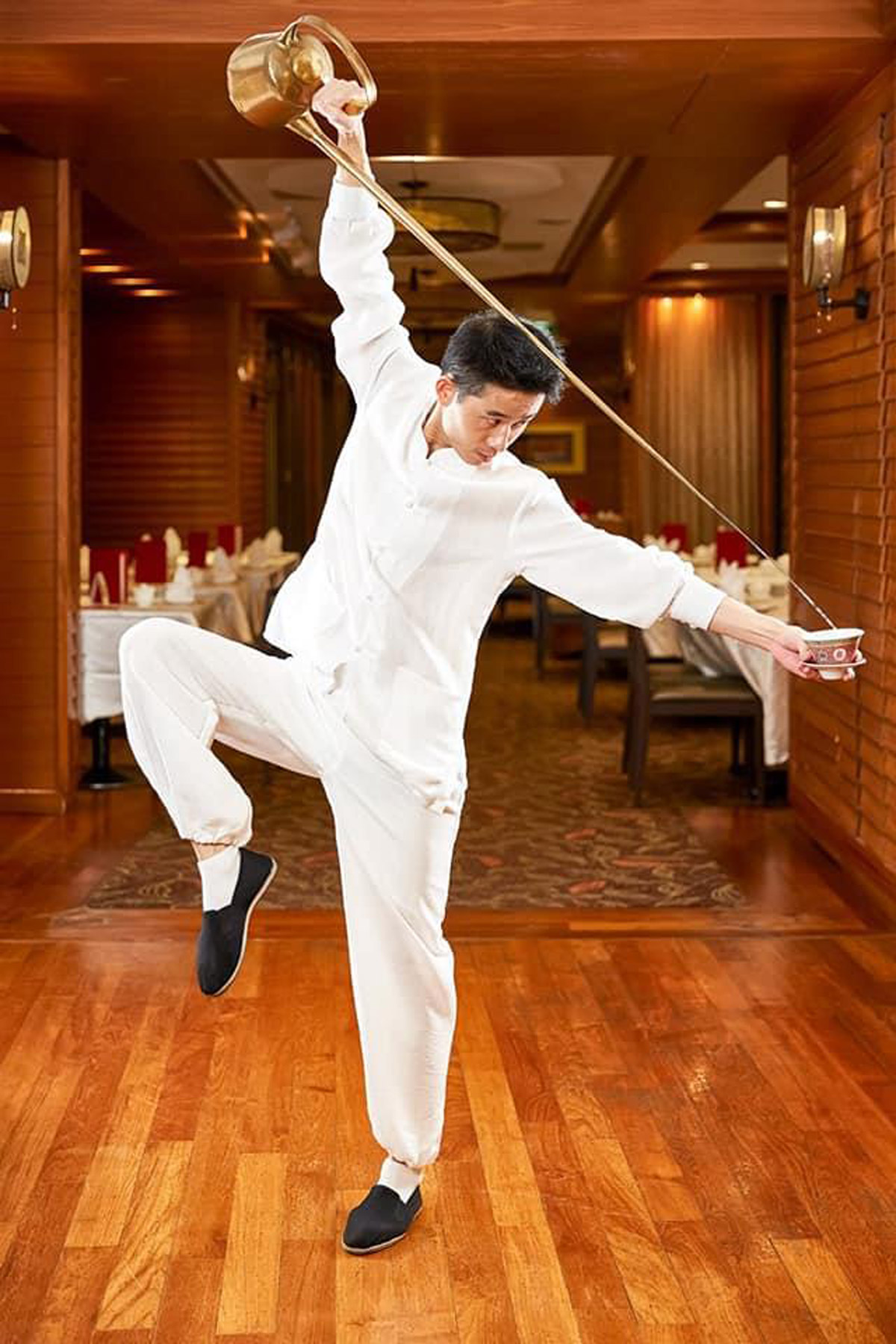 To complete the whole tea experience, delight your guests with a theatrical tea performance by skillful tea masters and their traditional long-nosed bronze kettles! These nimble and skilled professionals will impress with acrobatic tea serving stunts and a combination of martial arts, dance, and showmanship, which not only provides entertainment for your wedding, but also brings out the beauty of traditional tea pouring.
Panoramic city views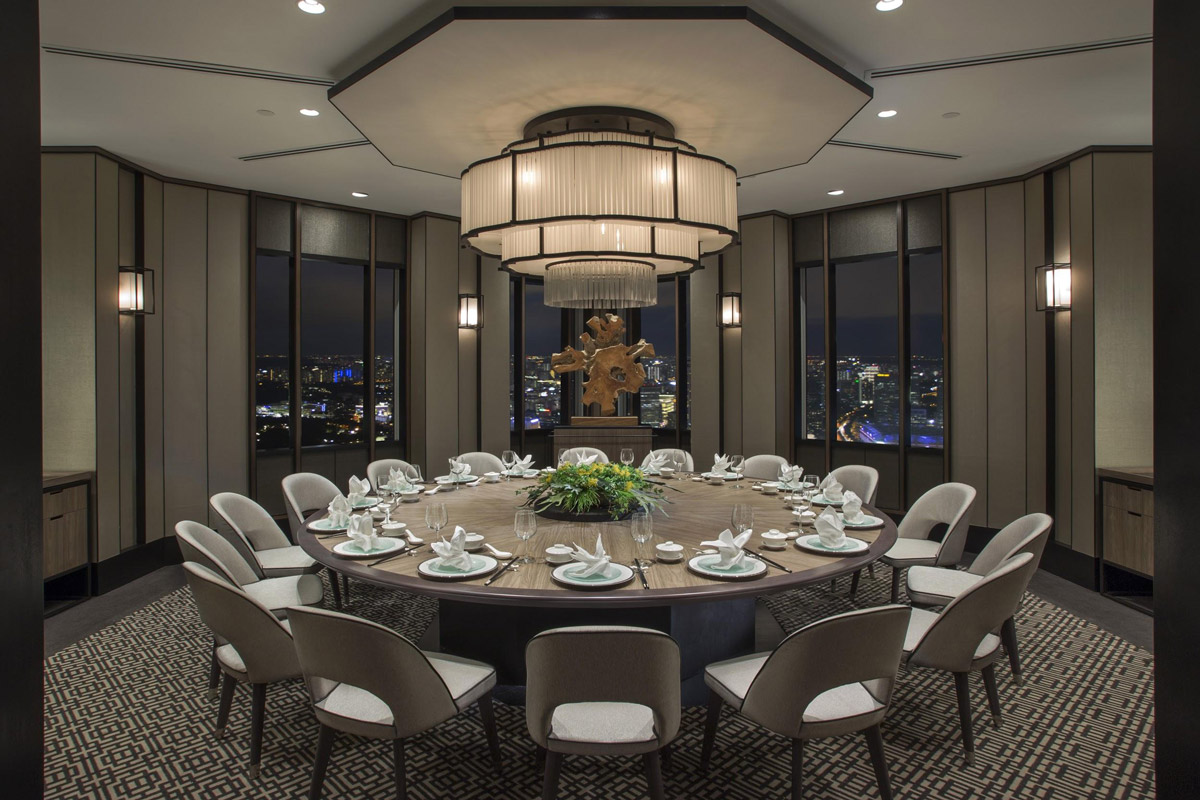 To take your wedding experience to the next level, their flagship outlet located at the 60th floor of the iconic UOB Plaza treats you and your guests to unparalleled 360-degree spectacular views of the skyline.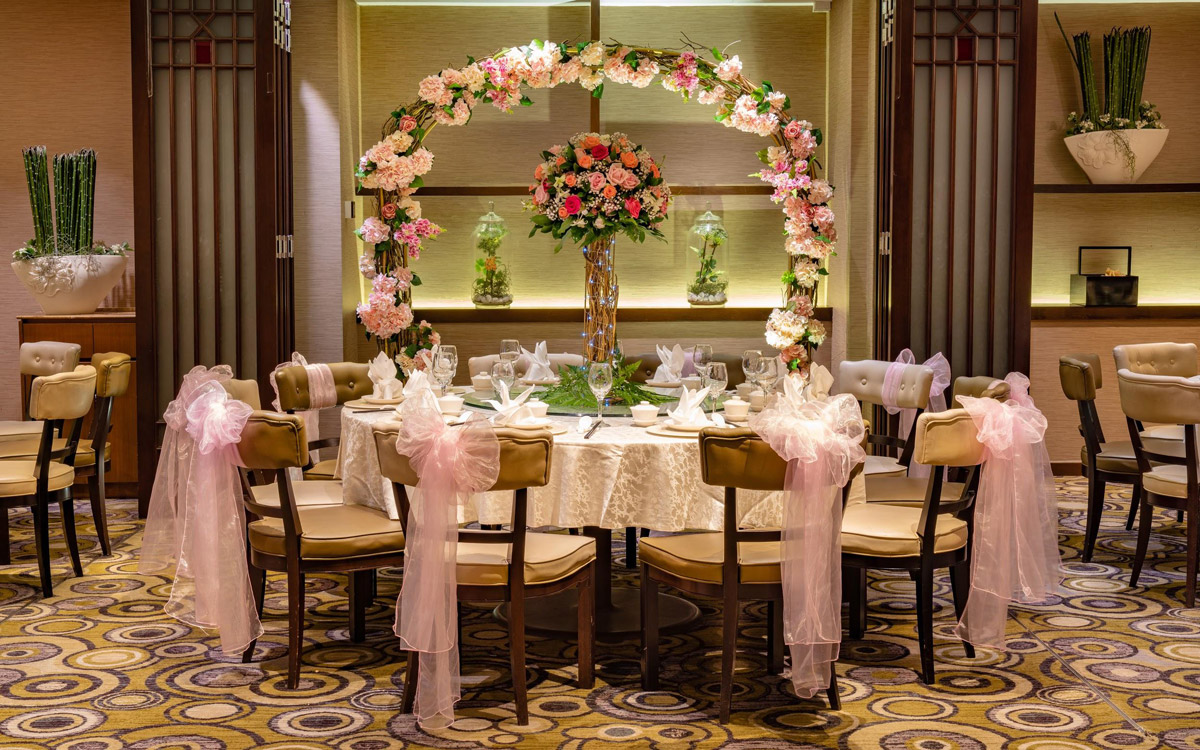 If a cosy, quaint atmosphere is more your cup of tea, their other two outlets at PARKROYAL on Beach Road and PARKROYAL on Kitchener Road are perfect for intimate celebrations.
Utmost hygiene and safety
Hygiene has always been one of the top priorities at Si Chuan Dou Hua Restaurant and in light of the recent COVID-19 situation, couples can rest assured that their hygiene measures have been tightened further:
● Hand sanitisers are provided
● Service staff wear masks and gloves at all times
● Compulsory temperature taking required for all guests
● There will be individual servings of all dishes for all guests
● The restaurant will be closed for weddings of 50 pax (subject to change according to restrictions in place)
● Guests are limited to a maximum of 5 per table (subject to change according to restrictions in place).
To find out more about their refreshingly modern yet traditional wedding packages, simply contact them at +65 6535 6006 or email them at top@sichuandouhua.com!
Si Chuan Dou Hua Restaurant
TOP of UOB Plaza
Address: 80 Raffles Place, Singapore 048624
Telephone: 6535 6006
E-mail: top@sichuandouhua.com

PARKROYAL on Beach Road
Address: 7500 Beach Road, Singapore 199591
Telephone: 6505 5722
E-mail: douhua.prsin@parkroyalhotels.com

PARKROYAL on Kitchener Road
Address: 181 Kitchener Road, Singapore 208533
Telephone: 6428 3170
E-mail: douhua.prskt@parkroyalhotels.com
Website
Facebook
Instagram
________________________________________
This article was written for Si Chuan Dou Hua Restaurant.
All photos were provided by Si Chuan Dou Hua Restaurant.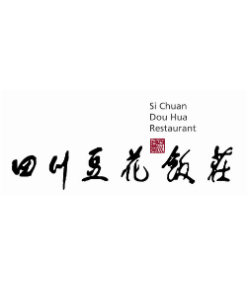 Si Chuan Dou Hua Restaurant
Rating:

Address:

80 Raffles Place, #60-01 UOB Plaza 1, Singapore 048624

Phone:

6535 6006