The Best of 2018 Wedding Invite Trends
2018-08-19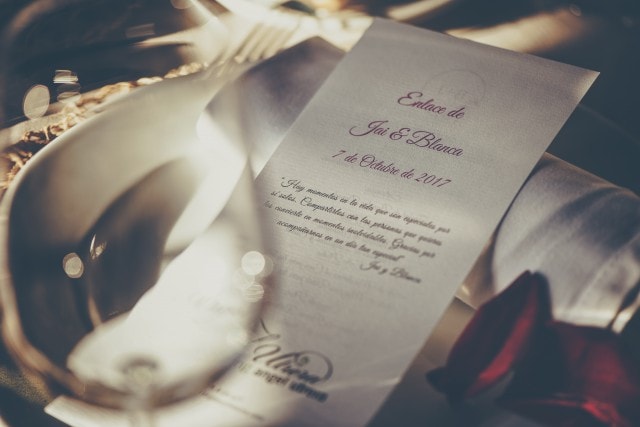 We're eight months into the year, and trends have come and gone. But the great thing about weddings is that timeless and classic is always in. We take a look at some of the hottest wedding invite trends of 2018, and pick out the ones we loved the most for their sleek, classic and forever-a-favorite edge.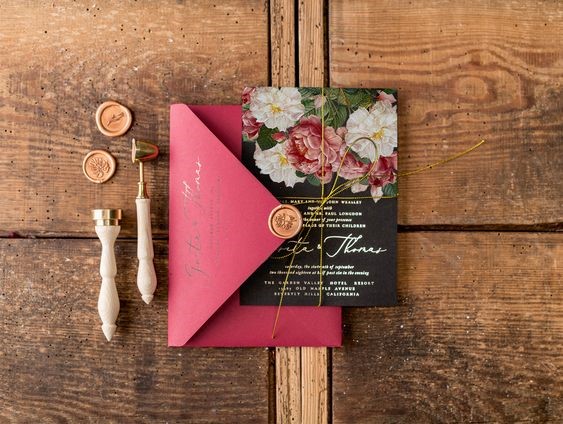 Source: Pinterest
Acrylic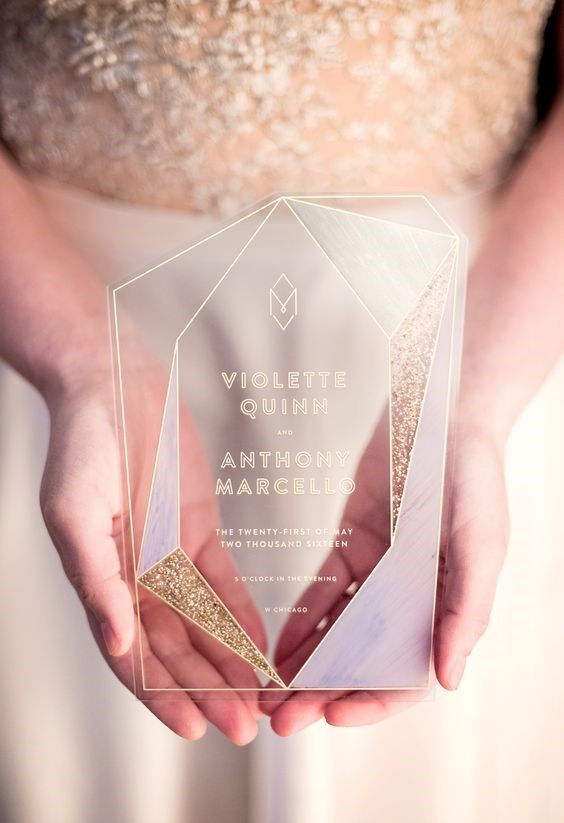 Source: Pinterest
This will be the most stunning wedding invite your guests will ever receive! Shiny, formal and yet oh-so-chic, acrylic invites are definitely here to stay. You have the option to frost them over or keep them clear, but we love it most when they are dappled with gold accents. Not only is this one trend we hope lives on, but your acrylic invites will live on in your guest homes too – who wouldn't want to frame up such a gorgeous piece of art?
Watercolor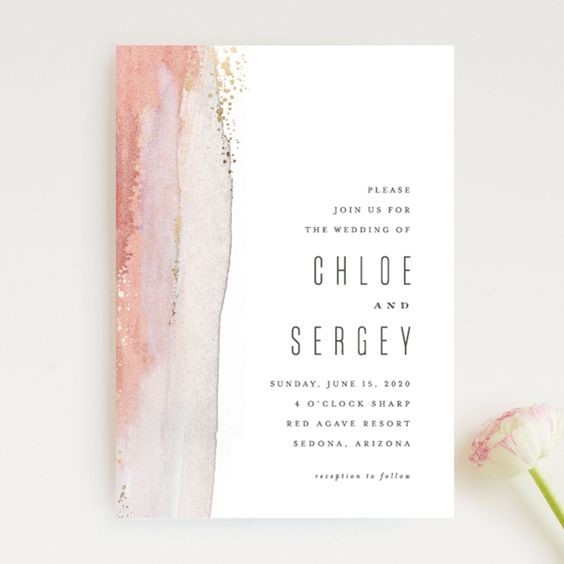 Source: Pinterest
Be it actual watercolour paint or an effect rendered online, watercolor brings a romantic softness to invites that nothing else can! Whether pastel, bright and cheery or monochromatic, there are many ways of achieving different effects with watercolour. If you have the time to design your own watercolor invite to be scanned and mass printed, that adds on even more of a personal touch to your pre-wedding elements.
Blind Letterpress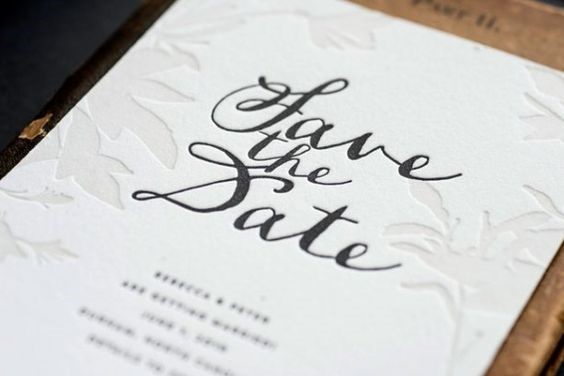 Source: Pinterest
This method of printing embosses a pattern onto a piece of card, creating a "dent" or impression onto the paper that is visible even without any ink. Adding texture to cards, it is the ultimate treat for the eyes and hands as your guests trace over the letters and patterns in wonder. You'll definitely get an RSVP from them with a "yes" with these invites!
Floral Geometry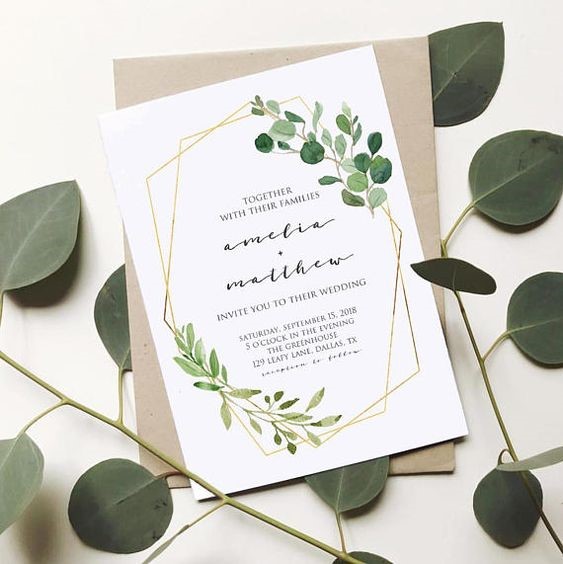 Source: Pinterest
This combination is the perfect pairing we wish we'd thought of earlier! Perfect for boho-chic, girly and sweet or even a minimalistic Singapore garden wedding, this invite style will add a magical touch to many different themes. The geometric lines add structure to the flowers, while the beautiful blooms add softness to the otherwise harsh geometry. A match made in heaven, we think!
Laser-Cut Pockets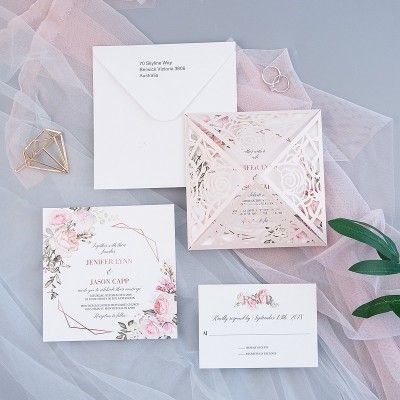 Source: Pinterest
Laser-cut pieces can be extremely intricate, with paper cuts that aren't possible with a pair of scissors or penknife. For a lace-like effect or simply to add a wow factor to your invites, wrap your cards with a laser-cut pocket or envelope and tie it off with string. While delicate, they can be done on firmer cards to ensure that the pattern stays intact forever.
Embellishments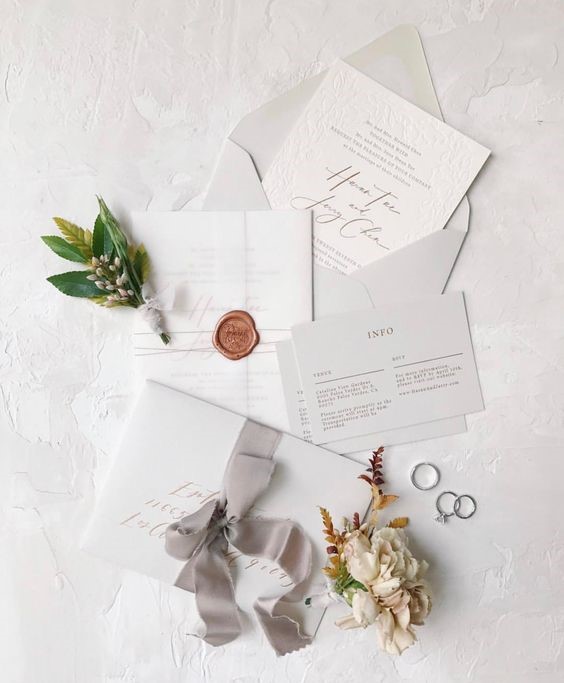 Source: Pinterest
Last but not least, every invite can always do with an added romantic touch. Be it wax seals, ribbons, shells, stamps or satin flowers all tied up in twine, embellishments are there to be used! Pick carefully, because the tip for using embellishments is always less is more. But if done right, they'll enhance your wedding theme and make your invites feel like the door gift in itself!