The Perks of Hotel Weddings with PARKROYAL on Beach Road
2019-06-06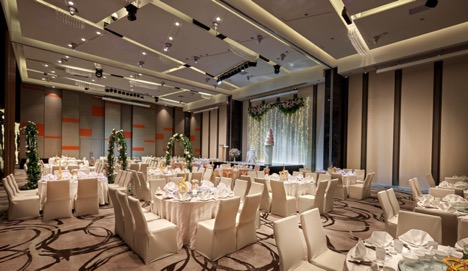 Everlasting Romance, one of PARKROYAL on Beach Road's many wedding themes
One of the biggest decisions to make during wedding-planning, selecting the perfect venue requires careful consideration – ranging from the wedding theme to the guest list.
While hotel weddings are the most common of options, that doesn't mean you have to necessarily dismiss the idea. Hotel weddings are popular for a variety of reasons, especially for established ones such as PARKROYAL on Beach Road.
Brilliantly located in the heart of the city and offering various delicious cuisines, PARKROYAL on Beach Road is not only accessible, it is also a highly versatile wedding venue. Read on to find out what other perks there are to hosting a hotel wedding!
Variety of Venues
Housing a number of different venues, hotels are often capable of providing you the luxury of choice depending on your wedding needs.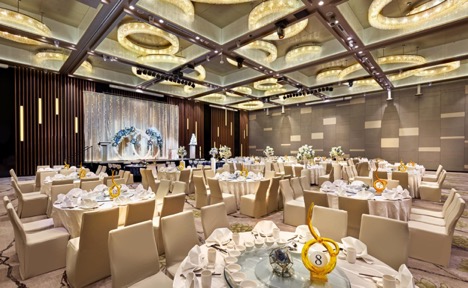 Eternal Bliss wedding theme
Boasting a 7-metre high ceiling and pillarless room, the Grand Ballroom at PARKROYAL on Beach Road is grand and spacious, ensuring your guests an uninterrupted view of the entire celebration. Seating up to 450 guests, the ballroom perfect for large-scale weddings and a memorable time for your guests.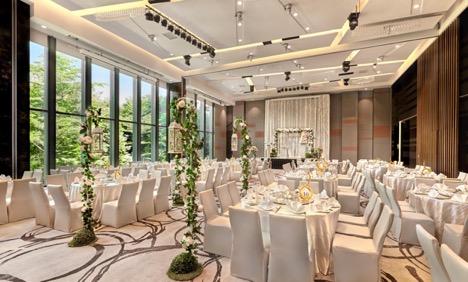 Enchanting Dreams wedding theme
Alternatively, the Sky Ballroom at PARKROYAL on Beach Road seats between 220 to 300 guests, making it ideal for more intimate celebrations. Not only that, it's ideal for couples who are looking for a twist on the usual ballroom setting as it features stunning floor-to-ceiling windows that bathe the venue in natural light. Whether a romantic evening wedding or a glorious daytime affair, the Sky Ballroom provides as an alternative to the usual ballroom celebration.
Celebrate in Comfort
Outdoor weddings are beautiful, especially with the lush greenery and bright sunshine. However, this also means that couples and their guests will have to contend with the occasional heat wave and humidity that may cause a (makeup) meltdown. Having your wedding in a hotel such as PARKROYAL on Beach Road allows you to have all the pros of an outdoor wedding with none of the cons. The aforementioned Sky Ballroom, for instance, creates the illusion of a garden wedding while you and your guests remain in the cool indoors.
Stellar Service
Unlike alternative wedding venues, hotels usually house a team of experienced wedding planners/coordinators that are dedicated to realising your dream wedding. Thanks to the numerous weddings that they have assisted with, the team at PARKROYAL on Beach Road promises top-notch service, including a wedding coordinator who takes you every step of the day to your big day. The professionals not only offer expert advice, but also helps to manage any hiccups that might surface during the planning stages and on the actual wedding day, allowing you to relax and enjoy the process. Expect a pleasant dining experience as the service team is usually more experienced with banquet service, especially when compared to the crew at non-hotel wedding venues.
Fuss-Free Celebration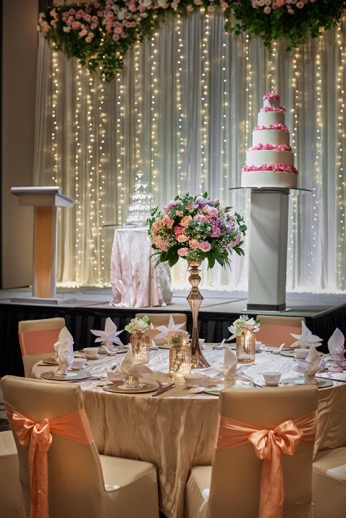 Everlasting Romance wedding theme
Another aspect that enables you to fully immerse in the joy of your wedding celebrations is the fuss-free planning that a hotel venue entitles you to. Unlike alternative venues, hotels such as PARKROYAL on Beach Road are equipped with its own audio and visual systems. Omitting the need for equipment or rental purchase for the reception's entertainment. Additionally, PARKROYAL on Beach Road provides themed décor and a model cake, minimising the need for a stylist.
Additional Perks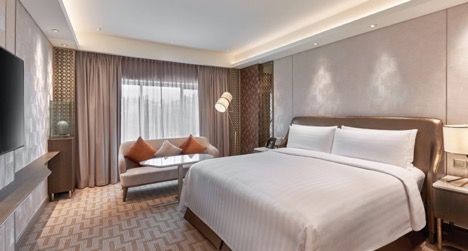 One of the best things about a hotel wedding is the exclusive add-ons. Beyond hosting a sumptuous banquet, a wedding package with PARKROYAL on Beach Road also provides wedding favours, a specially designed guest book, money-box and wedding invitation cards, printing excluded.
To ensure an unforgettable wedding, PARKROYAL on Beach Road also includes a one night stay for the couple in the hotel. Couples who opt for wedding lunch packages will be entitled a stay in the hotel's Orchid Club Deluxe Room, while hosting a dinner banquet will entitle you a Suite Room stay. A luxurious spa treatment for two (valid for three months after the wedding) is also included, with snacks provided!
Hotels offer a whole host of benefits as a wedding venue, from the versatility of settings available to the excellent service and great extra perks granted. PARKROYAL on Beach Road, in particular, has an incredible variety of venues and perks that accompany its wedding packages. Leave your wedding to the professionals and enjoy the big day!
All photographs are courtesy of PARKROYAL on Beach Road.