The Residence Bintan: Plan an Idyllic Destination Wedding with Fireworks & Wishing Lanterns by the Beach!
2020-08-24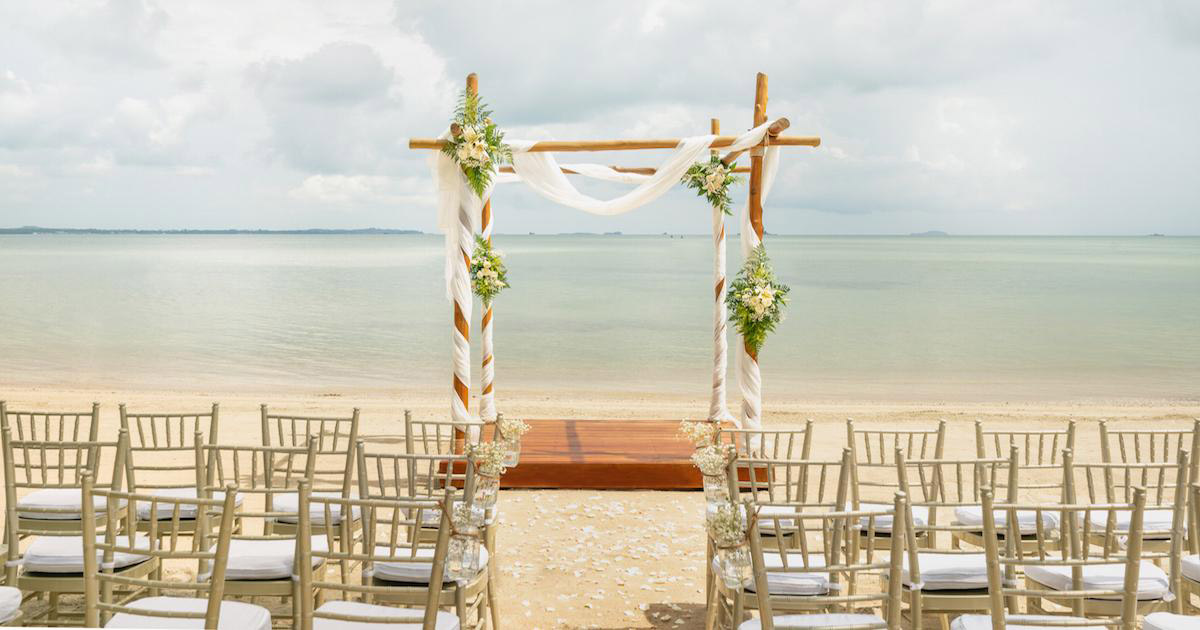 As we all know, COVID-19 has placed a stop on all possible travel plans, which includes destination weddings. However, if you and your partner are not in a rush to hold your wedding ceremony and have always dreamt of turning your ideal destination wedding into a reality, there is no need to let the current situation dampen your spirits — now's the time to slowly start planning for it!
If a luxurious beach-side celebration with fireworks, candlelit dinners, and wishing lanterns sounds amazing to you, The Residence Bintan is an idyllic retreat just a short ferry ride away. Find out how you can escape the hustle and bustle of the city and have a fun-filled wedding at the resort!
Breathtaking venues for a dream-like reality
Serene solemnisations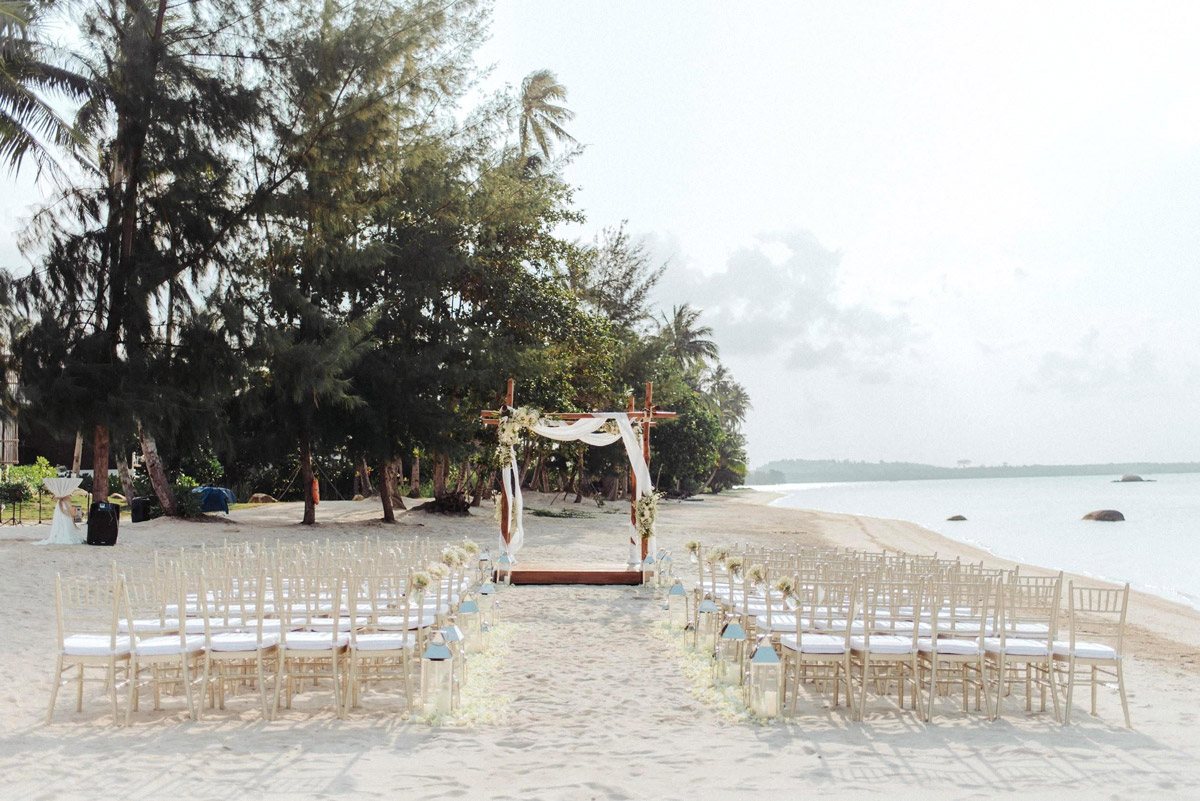 Destination weddings are attractive to many because of the unique and romantic spaces available that cannot be found in most hotels and restaurants. Over at The Residence Bintan, couples can look forward to holding a small and intimate solemnisation on a breathtaking beach right by the South China Sea. Just imagine how spectacular your solemnisation would look with a beautiful, vibrant sunset in the back!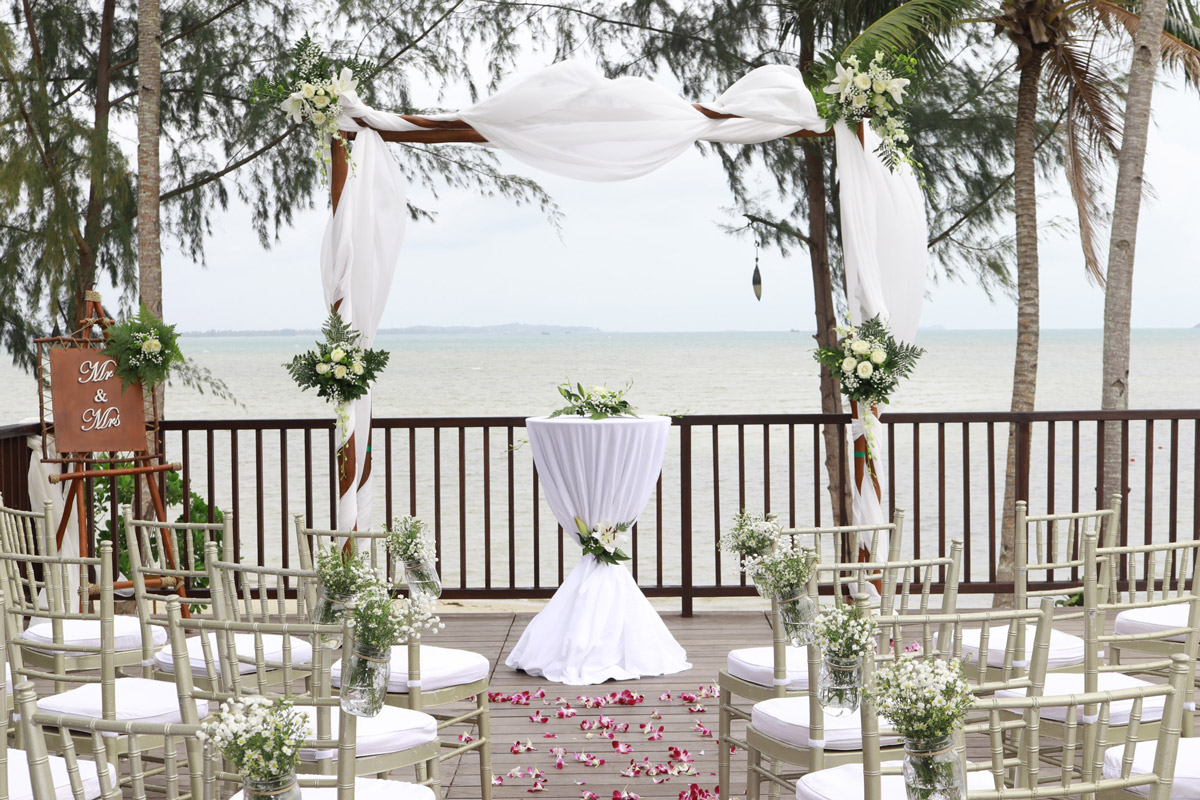 Alternatively, the poolside deck also makes for a great location for a solemnisation ceremony, where you and your guests will be treated to a panoramic view of the beach and the cool sea breeze. Surrounded by lush, tropical trees, the deck will complement any nature or floral theme that you are going for.
Unforgettable candlelit dinners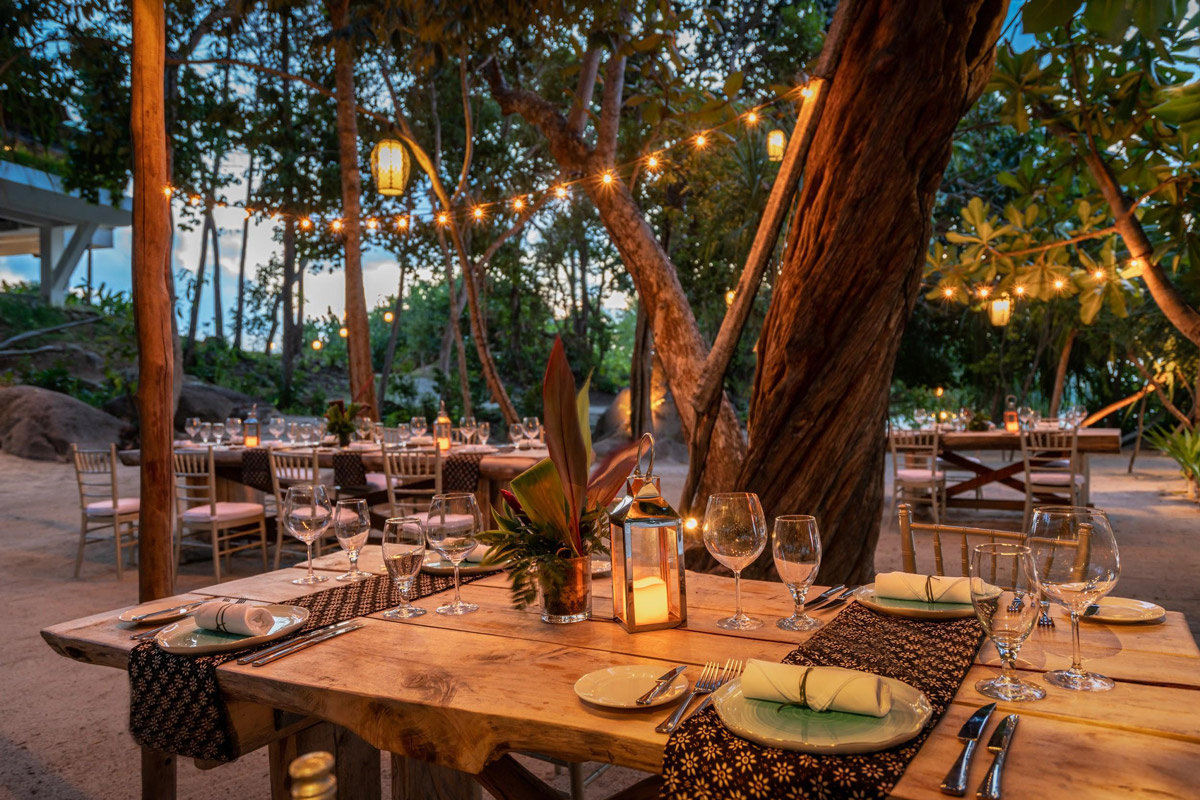 After the solemnisation ceremony, couples and their guests can head down to the Garden Lawn or Clear Marquee for a candlelit dinner. Nestled among lush foliage and sturdy trees, the resort will expertly transform the area into a fairy-tale-like setting with warm fairy lights, candle lights, and gourmet delights from the chef's speciality menu.
Opt for either a 4-course meal or a buffet, with authentic Indonesian dishes such as Rendang Sapi (Slow Cooked Wagyu Beef Cheek with Aromatic Spices and Coconut), Sambal Goreng Udang Belimbing Wuluh (Wok-Fried Prawns with Chili Sauce and Belimbi), and even a live cooking of Roti Kirai with Chicken Curry!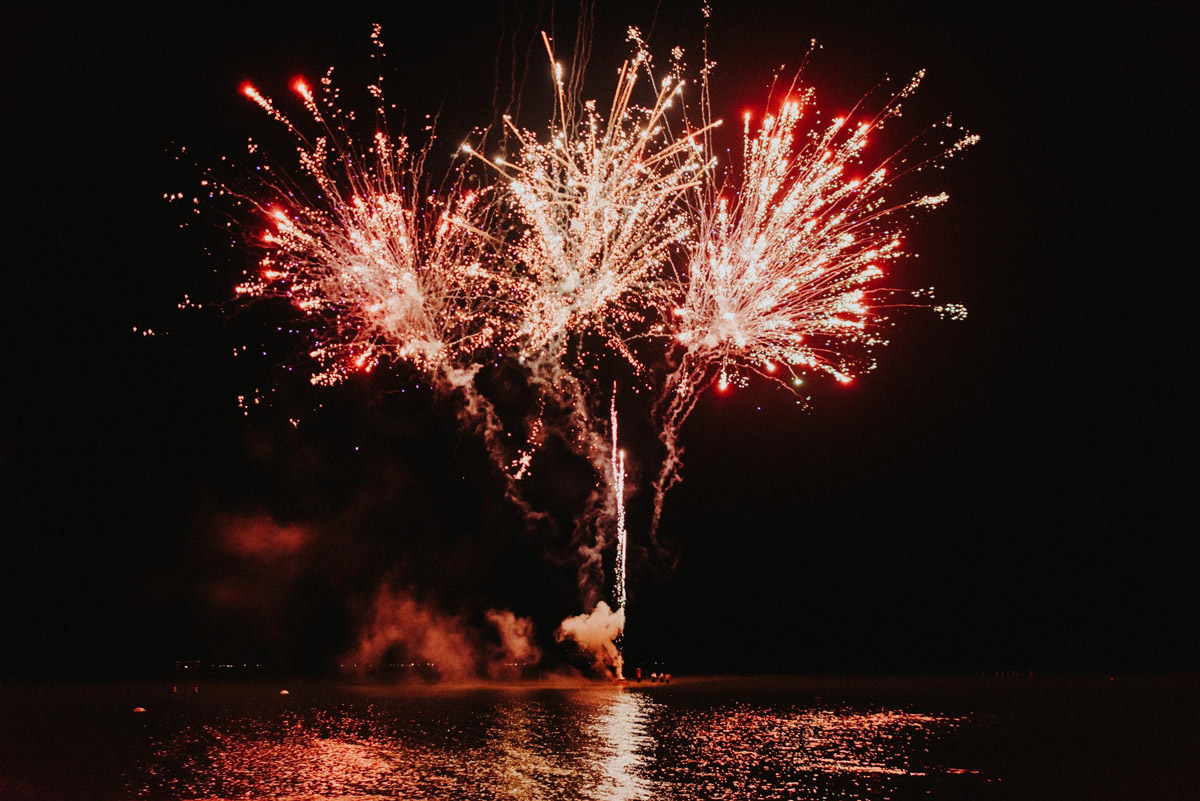 Couples can also further enhance their wedding experience with exclusive services such as a live band, wishing lanterns, and even dazzling fireworks! That's something that you definitely won't be able to enjoy in Singapore!
Luxuriate in restorative indulgence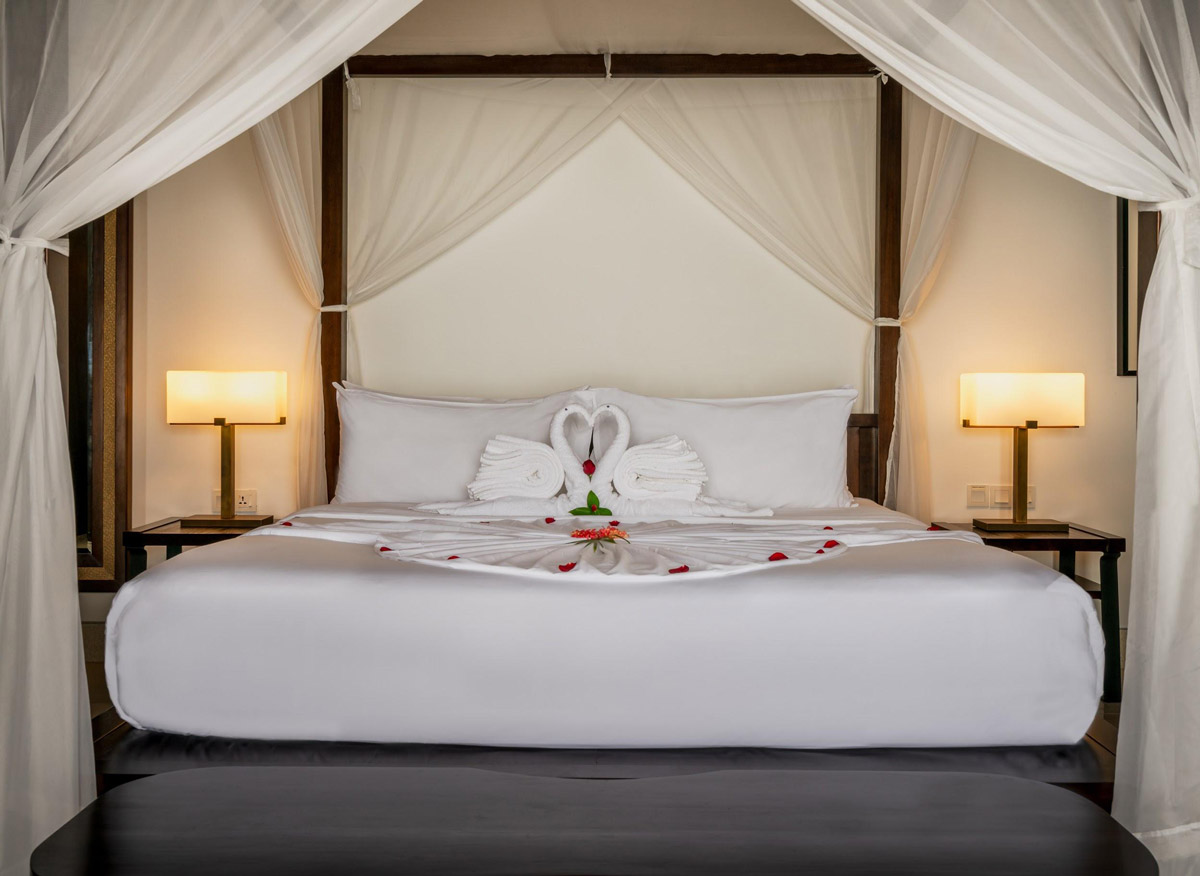 After a long day of festivities and celebrations, you and your guests can look forward to winding down at their comfortable and luxurious accommodations. The Residence Bintan offers 3 unique suites and villas for the perfect retreat, namely the Garden Terrace/Upper Sea View Suite, the Deluxe Sea View Villa, as well as the Beachfront Villa, which comes with its very own private pool.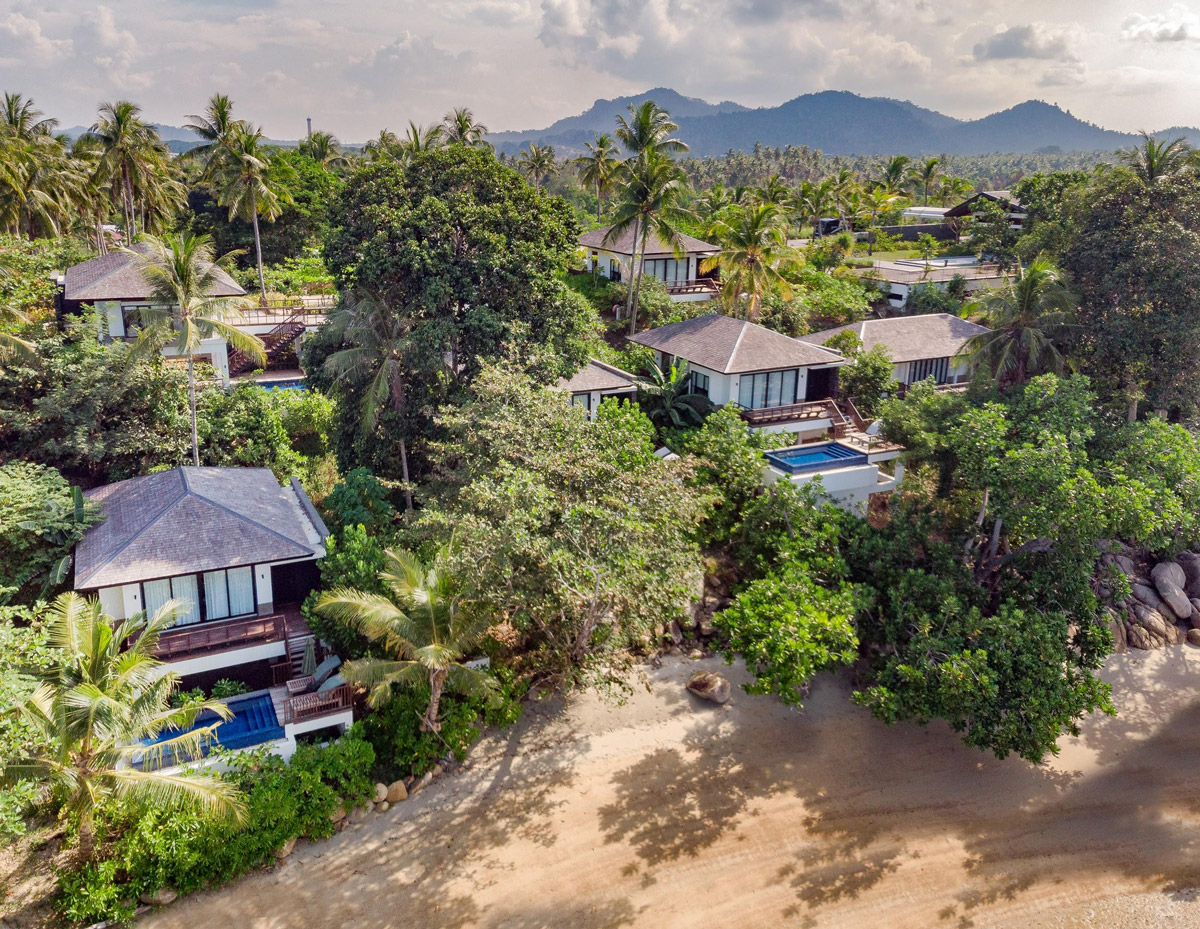 With the largest private pool villa inventory of 47 units, as well as a spacious room size of 100 sq.m in their Suite accommodations, The Residence Bintan offers the perfect romantic getaway escapade as you and your partner can enjoy each other's company with minimal distractions and discomfort.
Never-ending excitement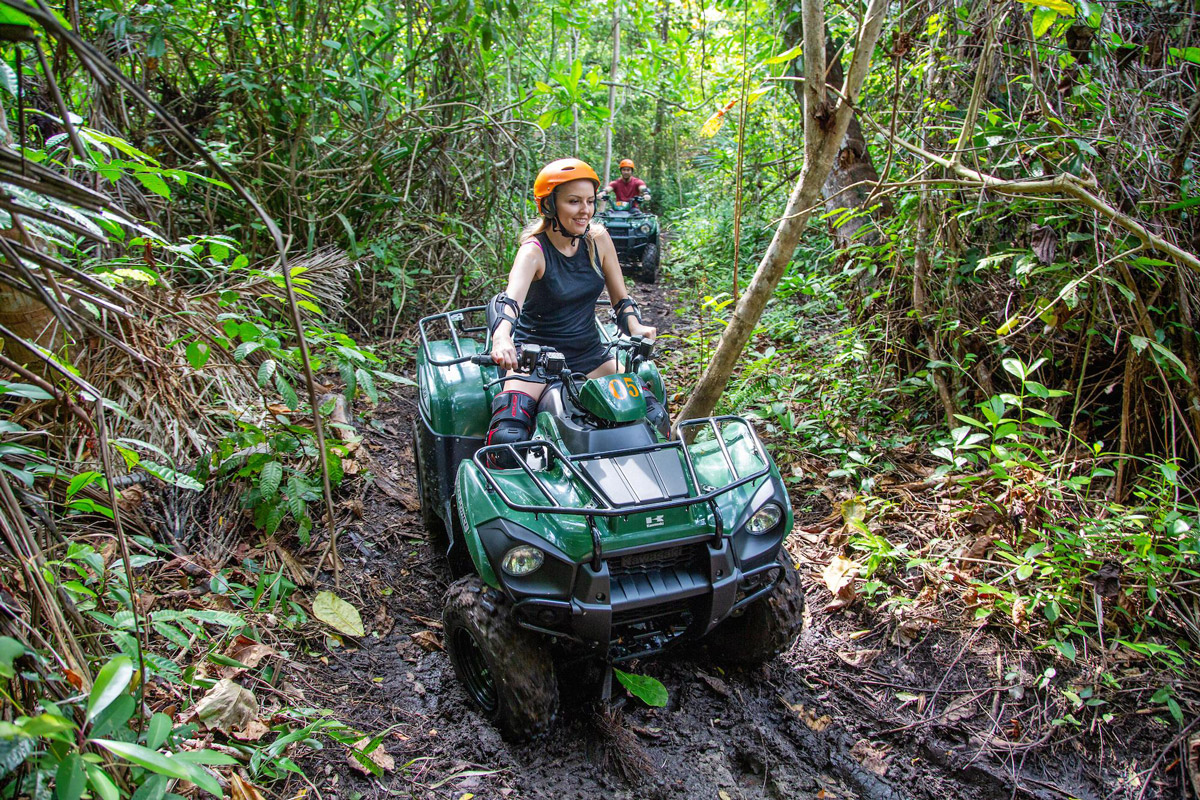 At The Residence Bintan, the fun need not stop after the end of the wedding! The resort is located right in the heart of nature, with over 70 activities for you and your guests to have the time of your lives. The resort offers complimentary benefits for in-house guests, which includes 2 units of bicycles in each room to roam around the resort, in-house activities, as well as Kakatu Kids Club activities for kids aged 3 and above.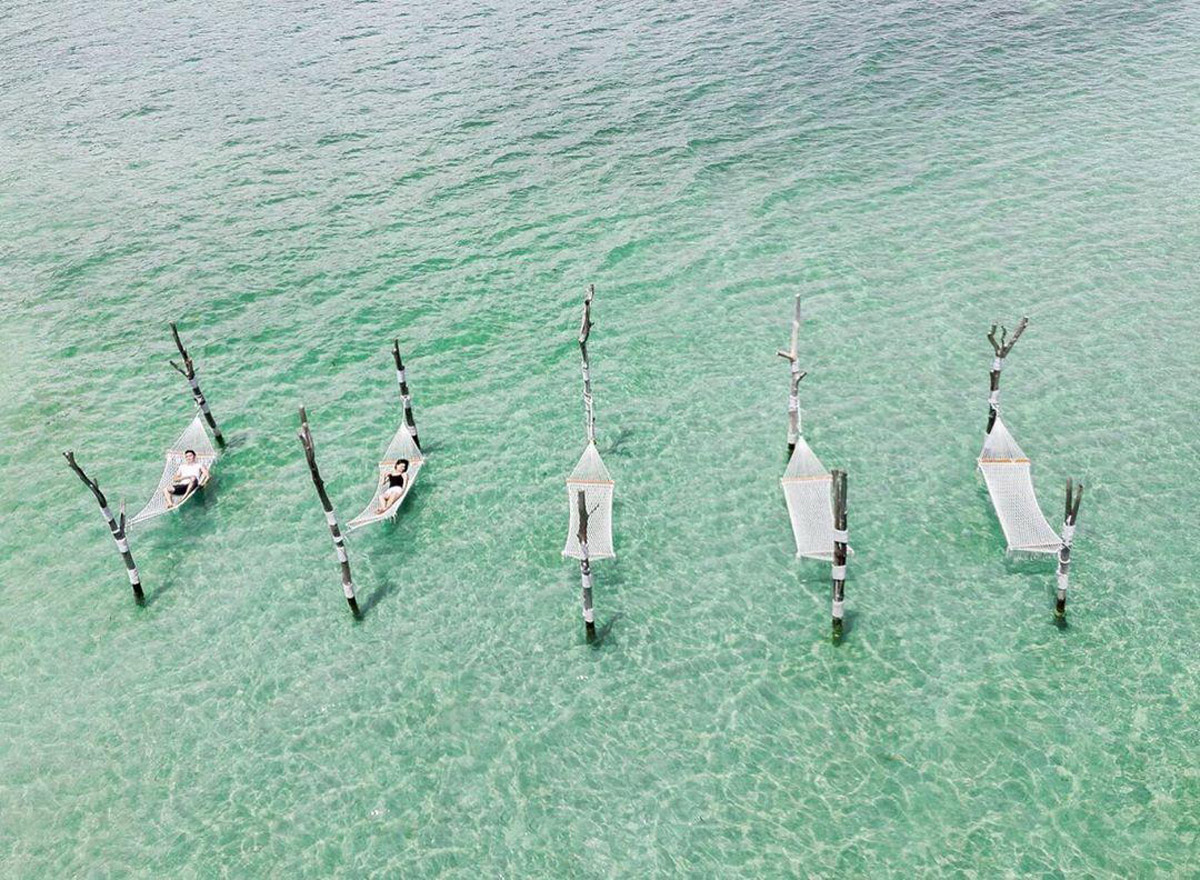 Soak in the sun on their sea hammocks!
For couples who are more adventurous, dive into a hands-on farming experience in resort Earth Basket or island-hop to Mapur Island or White Sand Island to snorkel! The Residence Bintan is also home to an international spa brand from the UK, Spa by ila, which is perfect for those who prefer to lounge and relax.
Impeccable services for a one-stop retreat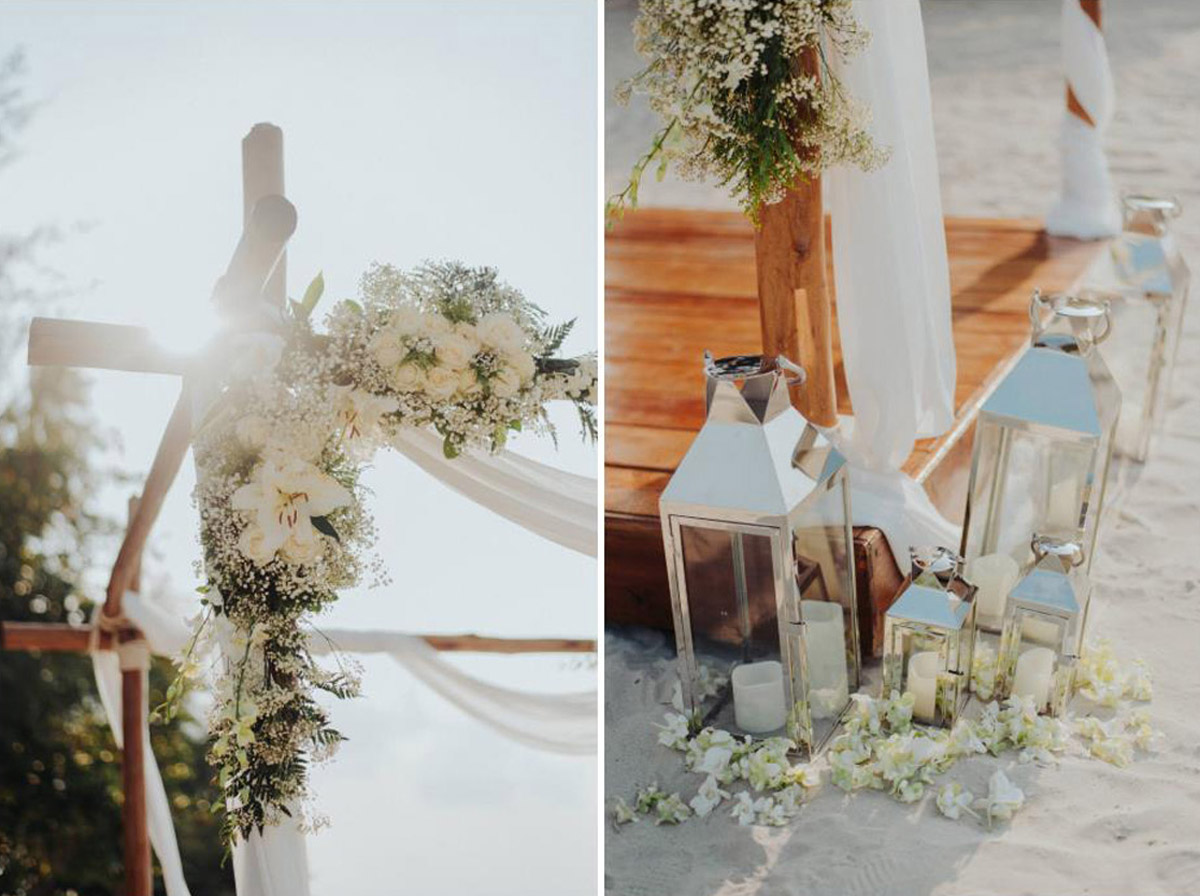 The Residence Bintan is capable of intricate flower set-ups and decor!
While a possible downside to destination weddings are the logistics involved, couples can rest assured that their overseas wedding experience at The Residence Bintan will be as smooth-sailing and effortless as possible thanks to their experienced team of wedding planners and stylists.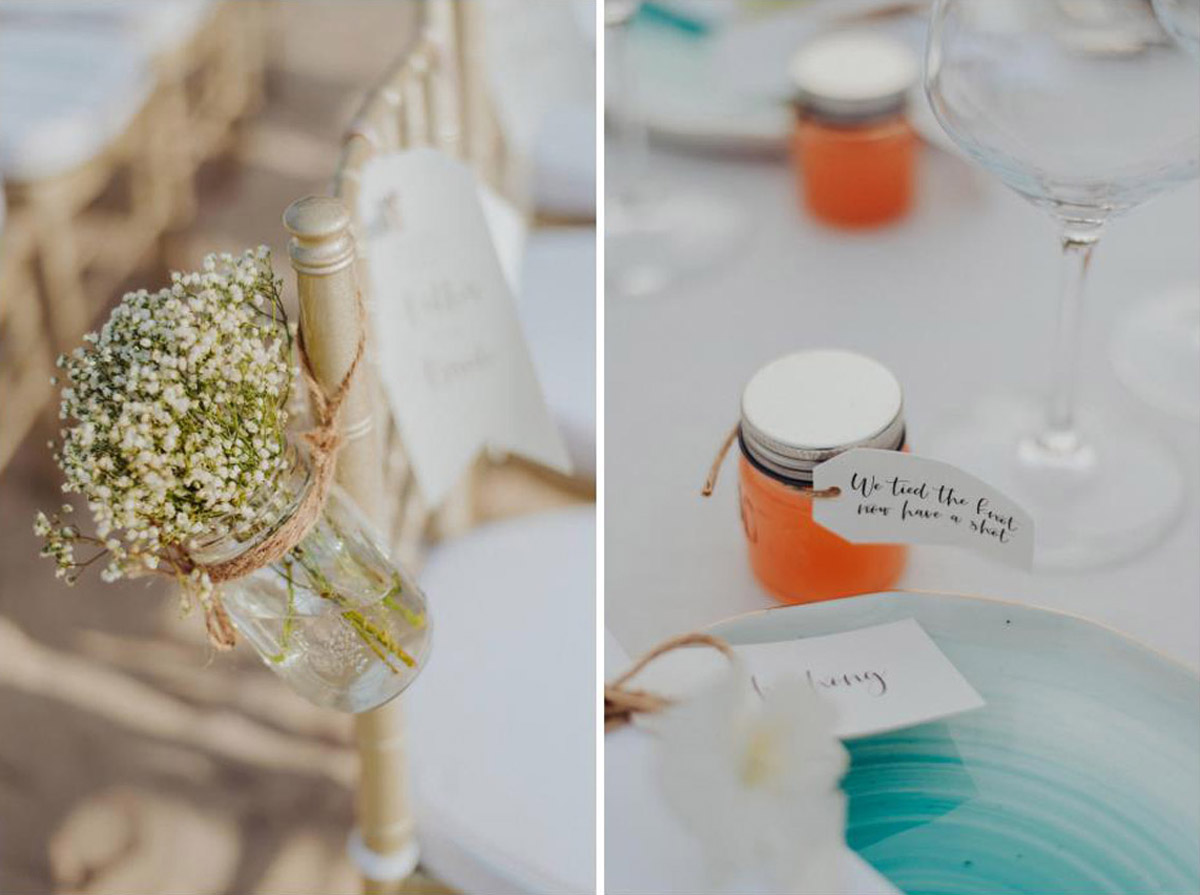 From concerns over accommodation, F&B, to even details such as decorations, The Residence Bintan is extremely meticulous to cater to every couples' tastes and preferences. Working hand-in-hand with you to customise your perfect moments, they can even organise gatecrashes, tea ceremonies, and after-party sessions within the resort compound!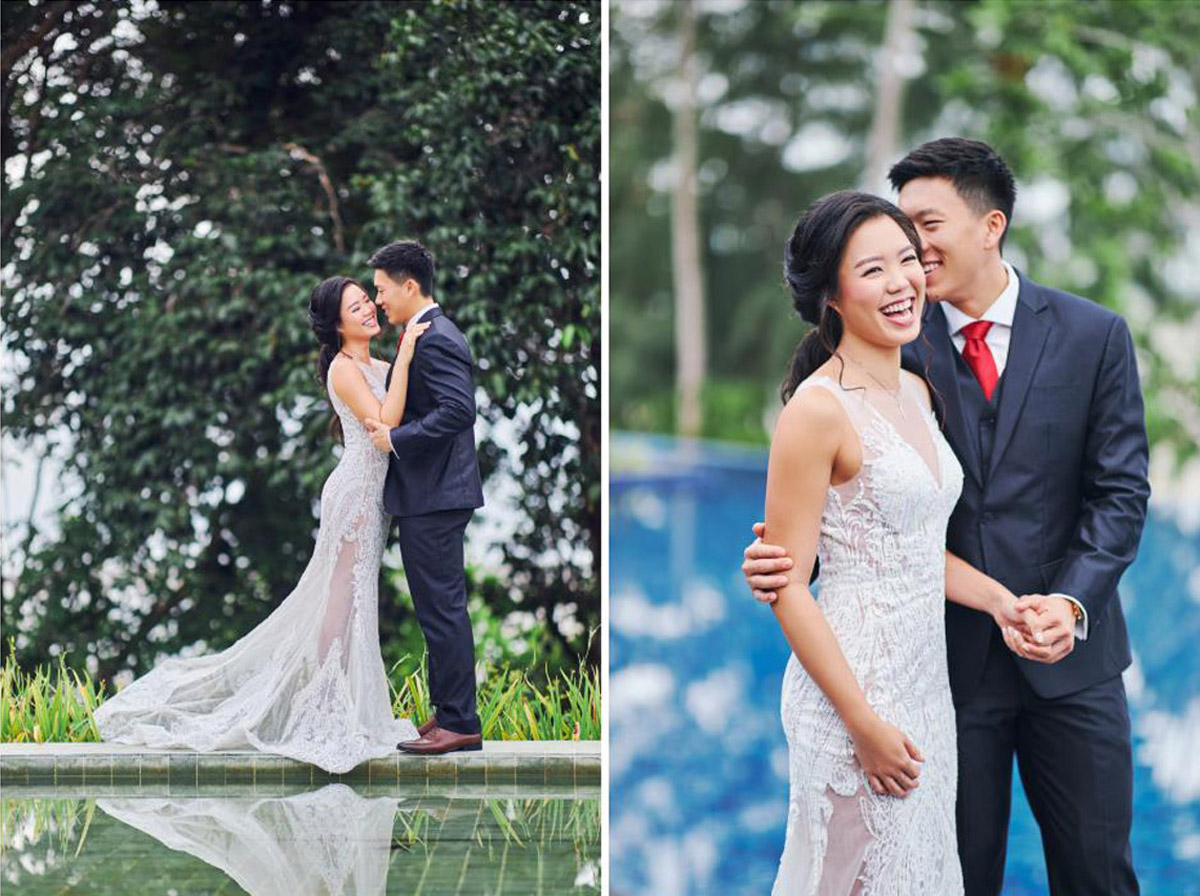 Besides their attractive wedding packages, The Residence Bintan also welcomes couples who are interested to have their pre-wedding photoshoot at the resort. In addition to gaining permission to use the resort area for your shoots, you and your partner can also enjoy a 1-night stay in Beachfront Villa, a 3-course set dinner in Rica Rica, their Indonesia speciality restaurant, as well as have an event assistant dedicated to helping you with your needs.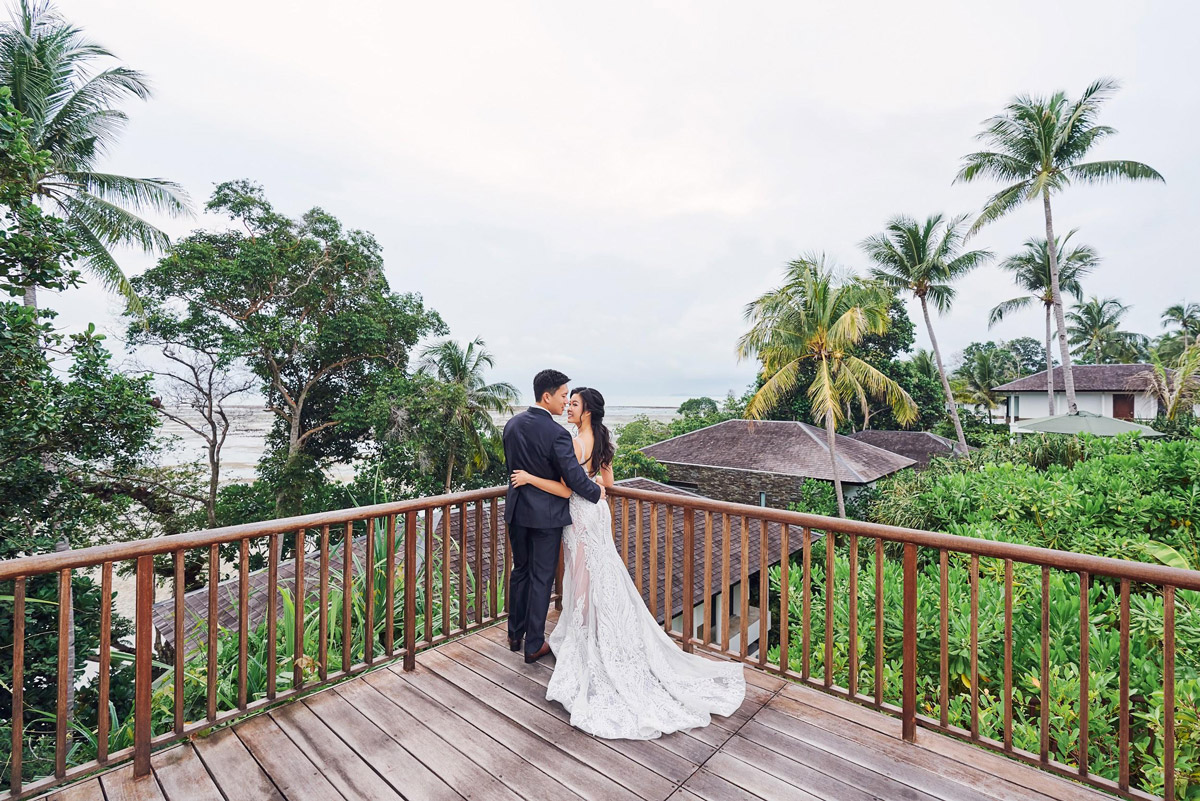 Needless to say, destination weddings are a once-in-a-lifetime experience that will definitely create an unforgettable memory for you, your partner, and your dearest wedding guests. If you intend to have one, we'd say go for it — after all, COVID-19 is but a temporary phase while the celebration of your love story will forever remain etched in your mind!
To get a headstart on planning for your destination wedding or to find out more information about their exclusive perks and wedding packages, reach out to The Residence Bintan at +65 6833 1729 or event-bintan@theresidence.com.
The Residence Bintan
Address: Kampung Galang Batang RT 005 RW 003, Desa/Kecamatan Gunung Kijang, Bintan, Kepri, Indonesia 29153
Telephone: 6833 1729
Email
:
event-bintan@theresidence.com
Website
Facebook
Instagram
________________________________________
This post was written for The Residence Bintan.
All photos were sourced from The Residence Bintan.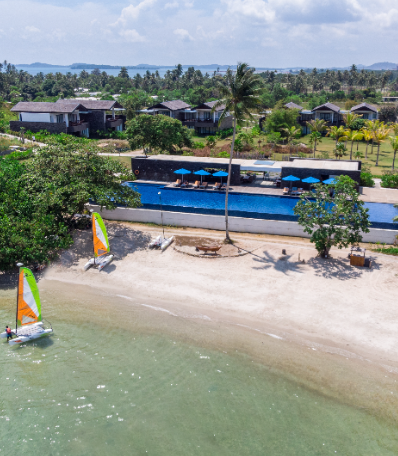 The Residence Bintan
Rating:

Address:

Kampung Galang Batang RT 005 RW 003, Desa/Kecamatan Gunung Kijang, Bintan, Kepri, Indonesia 29153

Phone:

65 6833 1729, 62 811 703 1676