The Wedding of Rachel Wee & Ken Chen – Crazy Rich Asian Style
2019-06-02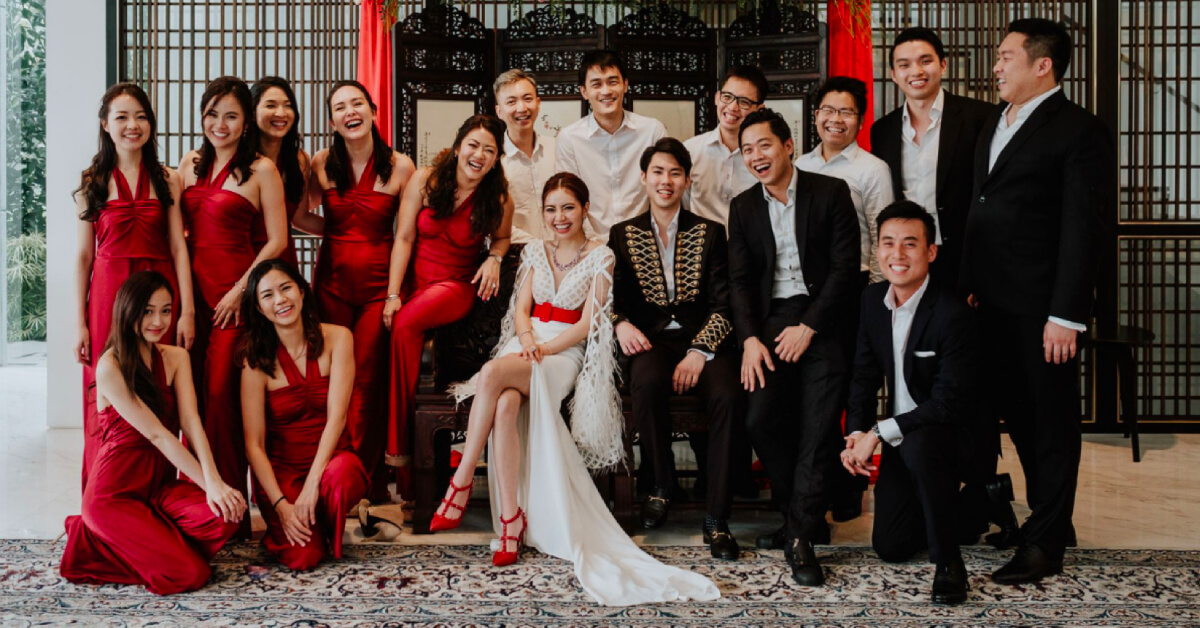 Source: Singapore Tatler
Most of us are familiar with Crazy Rich Asians and while we may be quick to deny the extravagance portrayed in the movie (let's be honest, we can barely afford to have our wedding at CHIJMES, let alone one with a water aisle), one local couple went as far as starring on a British Television Network show My Crazy Rich Asian Wedding to prove us all wrong. From pre-wedding festivities to the actual wedding day, here's a look at Rachel Wee and Ken Chen's grand wedding.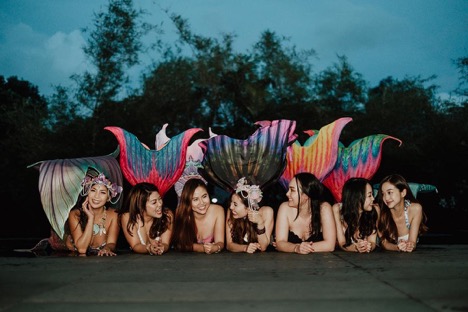 Rachel and her friends dressed in mermaid tails
Source: @rachelbambi
A mermaid-themed bridal shower complete with a professional mermaid was a dream come true for Rachel. The ladies put on their tails and scales, and had their celebration captured by a hired photographer.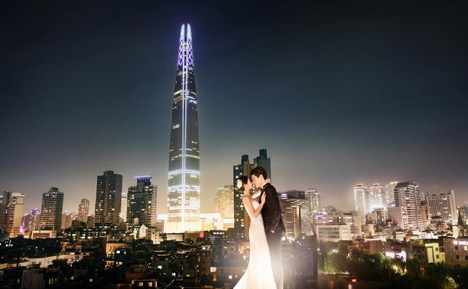 Rachel and Ken's pre-wedding photo taken at the N Seoul Tower in Korea
Source: @rachelbambi
For their pre-wedding photoshoot, Rachel and Ken had set their hearts on Korea – the country where Ken proposed.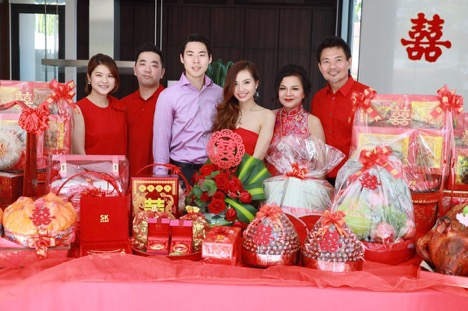 A table full of gifts for guo da li
Source: @rachelbambi
Moving on to actual wedding festivities, starting with the guo da li. In displaying his sincerity, Ken sent gifts including a roasted whole suckling pig and various jewellery to Rachel's house.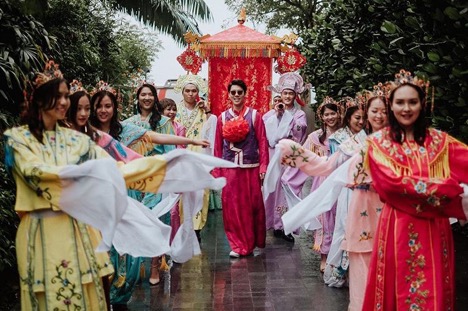 Traditionally, the sedan chair carries the bride back to the groom's home
Source: @huaabs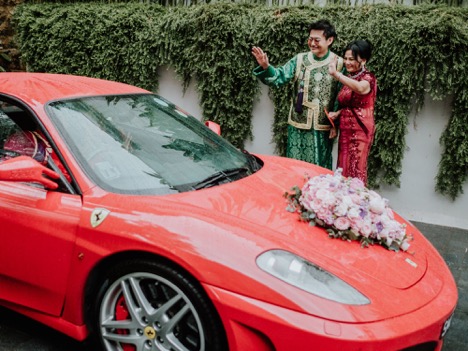 Rachel's parents waving to the couple in a Ferrari
Source: Super Panda Presents via Singapore Tatler
Later, Ken, together with a wedding entourage, brought a traditional sedan chair and a sedan car (as pictured above) to the bride's house.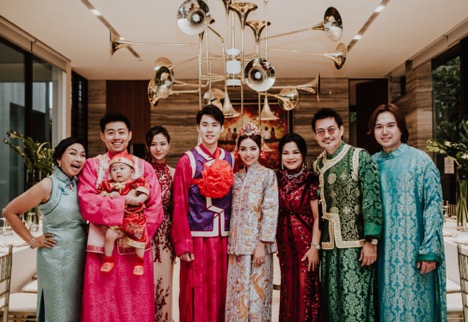 Fetching the bride
Source: Singapore Tateler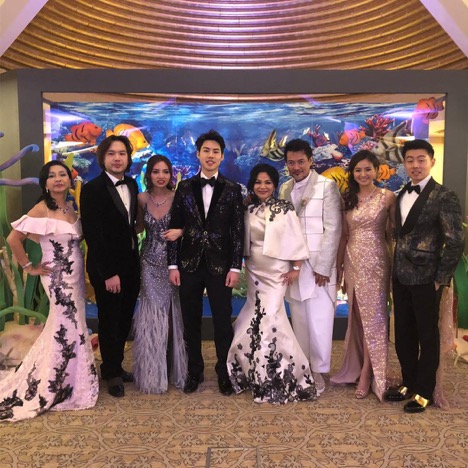 Rachel and Ken with their family and friends in front of the human-sized aquarium
Source: @yepeifen
At the Ritz-Carlton, Rachel and Ken celebrated their marriage with some 600 guests. The wedding, which took Rachel and Ken one year to plan, was underwater-themed. For their guests, this meant a giant aquarium photo wall.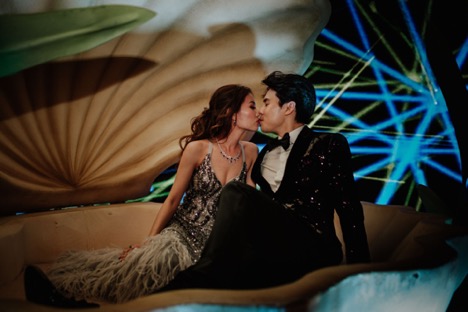 Rachel and Ken in a life-sized clam
Source: Super Panda Presents via Singapore Tatler
Sticking to her mermaid-princess theme, Rachel made her entrance in a giant clam that costs over a whopping $5000. Meanwhile, in staying true to the wedding theme, Rachel's father appeared as God of the Sea, Neptune.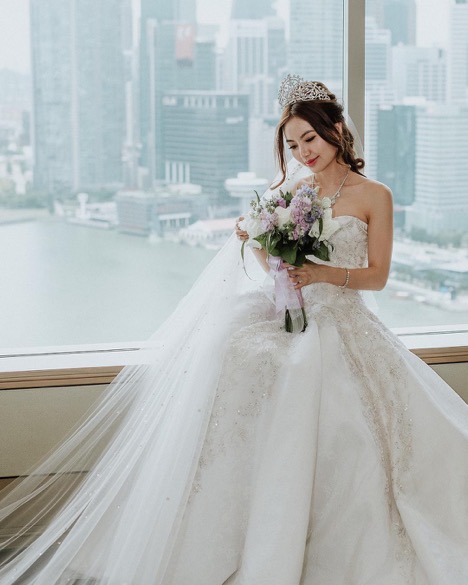 Rachel's wedding dress was adorned with over 6,000 Swarovski crystals
Source: @rachelbambi
With 6,000 Swarovski crystals on 35 metres of satin and lace, Rachel's wedding dress was a sight to behold. However, as seen on My Crazy Rich Asian Wedding, she later acceded to her mother's request to add more crystals to "go all the way". While brides usually switch their gowns just once, Rachel was seen in at least four different outfits throughout her wedding night.
Additionally, a diamond necklace and earring set, costing $1.05 million and bought all the way from London, accompanied Rachel as well.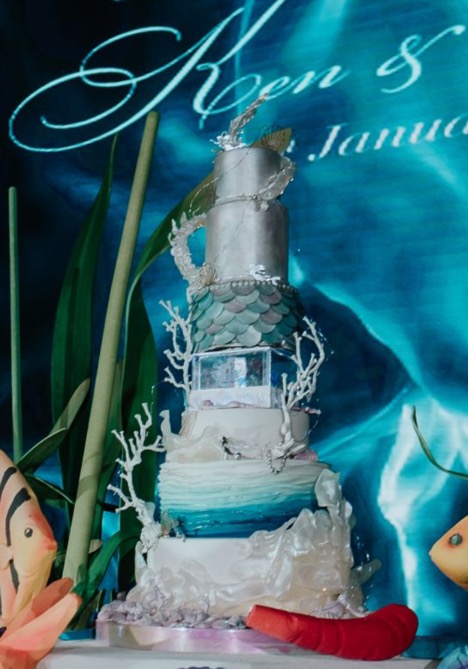 Rachel and Ken's wedding cake by aBite Atelier
Source: Super Panda Presents via Singapore Tatler
As for the wedding cake, Rachel wanted one with four tiers, while her mother wanted 5. Eventually, a compromise was reached to create this mermaid cake, with a "dummy" as the base. This was not all – from a string quartet and an after-party to a mobile bar, Rachel and Ken surely went all out for their special day.
Even though the total sum Rachel and Ken spent on their wedding is undisclosed, Rachel and Ken's wedding planner claimed he was paid about $1.4 million. For most of us, this extravagance is too much of a luxury. However, in the spirit of making dreams come true, let this serve as an inspiration for those of us who also have dreams of becoming a real-life mermaid!