Tropical Yet Regal: Your Destination Wedding Close to Nature at Amara Sanctuary Resort Sentosa
2021-08-25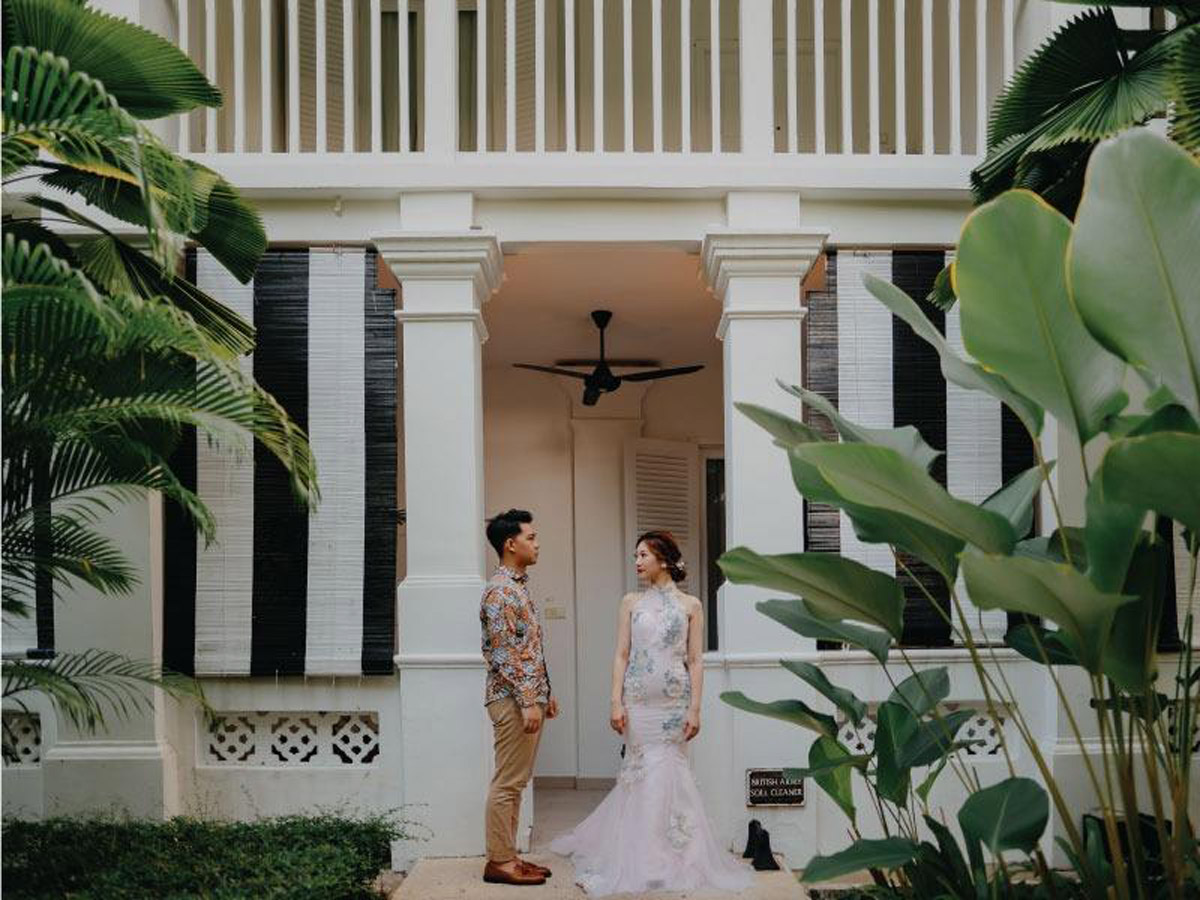 Source: Amara Sanctuary Resort Sentosa
Sentosa — Singapore's little private island gem just off the mainland coast. Tourists love it, locals adore it. It's where we all patronise on our weekends or days off to be transported away from the hustle and bustle of the urban jungle and enjoy a taste of tropical paradise instead. Nothing is quite like escaping the hecticness of Singapore in exchange for some lounging by sandy shores.
Capitalising on that, Amara Sanctuary Resort Sentosa is the epitome of the perfect resort getaway — embodying all the elements of luxury and celebration. As a contemporary resort located on Sentosa Island, this resort boasts a host of unique destination-wedding-esque locations along with a dedicated wedding team to craft a bespoke celebration just for you.
G is for Grandeur
Grand Ballroom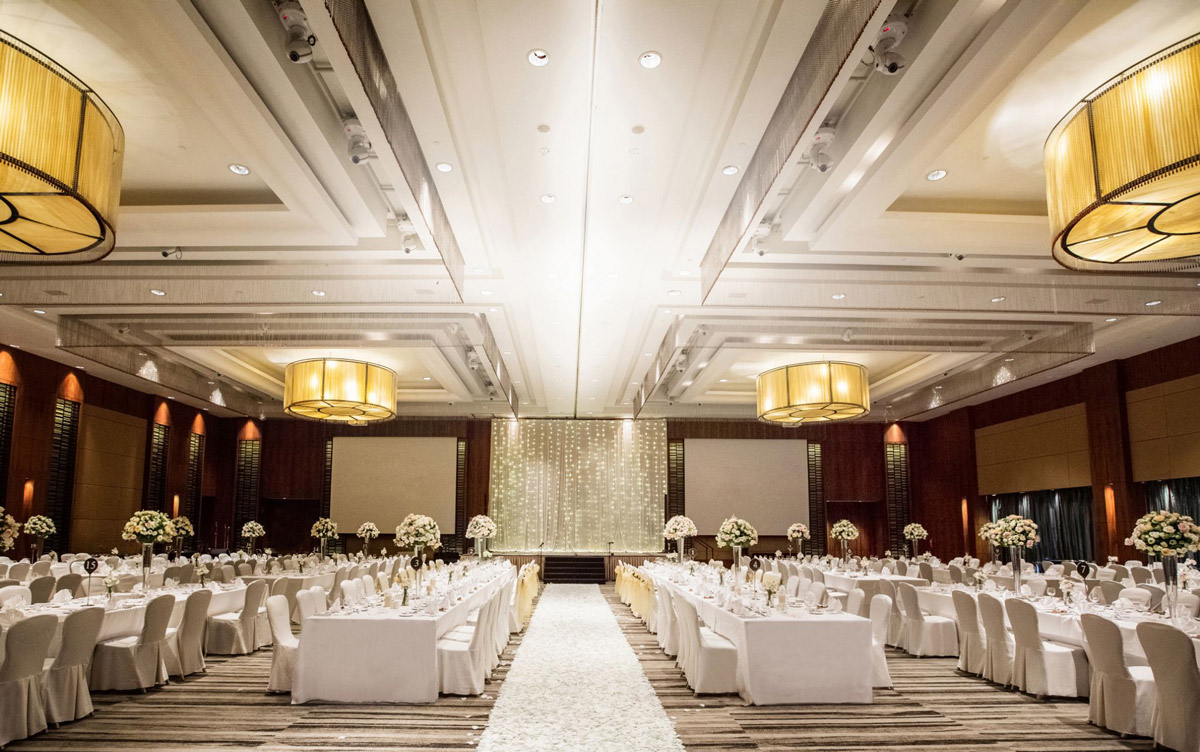 Grand Ballroom
For brides-to-be with a penchant for grandiose and opulence, the Grand Ballroom will be right up your alley. Living up to its name, its 6m-high pillarless ceiling gives all guests a clear, unobstructed view of all wedding affairs. With an opulent foyer, a private entrance and an impressive seating capacity of over 450 guests, the Grand Ballroom doesn't disappoint.
Whether it's for a pre-wedding reception, the wedding banquet or an afterparty, this ballroom fulfils all the criteria for a good time with you and your guests. Furthermore, only one wedding lunch or dinner can occur at any given time. Now that's what we call exclusivity!
Housed within a majestic two-storey all-glass building, both the confine's interior and exterior exudes an air of resplendence and regality. The use of glass panels was evidently a gorgeous choice because they capture the sun's rays beautifully to highlight the building's spaciousness marvellously. However, this spaciousness isn't just an illusion.
Upper Tier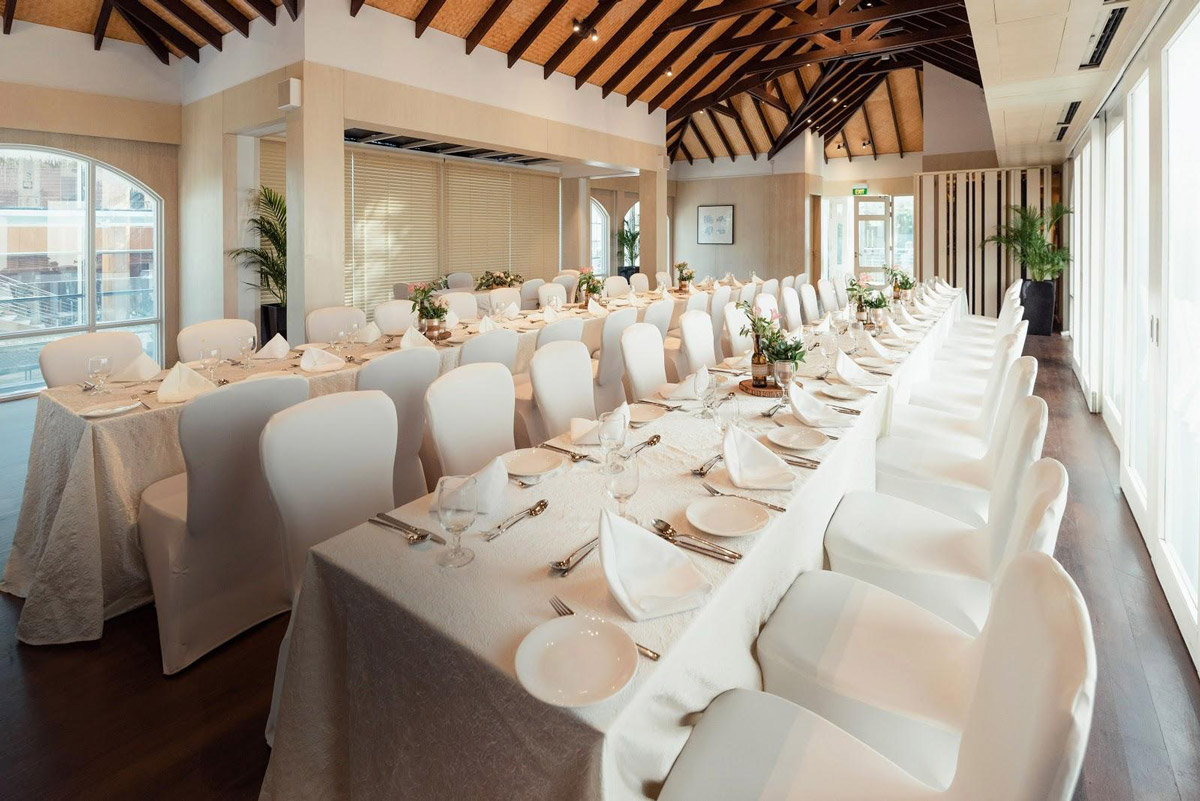 Upper Tier
For couples interested in smaller celebrations, the Upper Tier is a cosy alternative featuring an exposed wood-beam ceiling for that touch of rustic charm. Take advantage of the Upper Tier's elevation to capture those picture-perfect moments overlooking the Sentosa backdrop. All these factors combined undoubtedly make for a romantic and intimate venue.
Spiral Stairway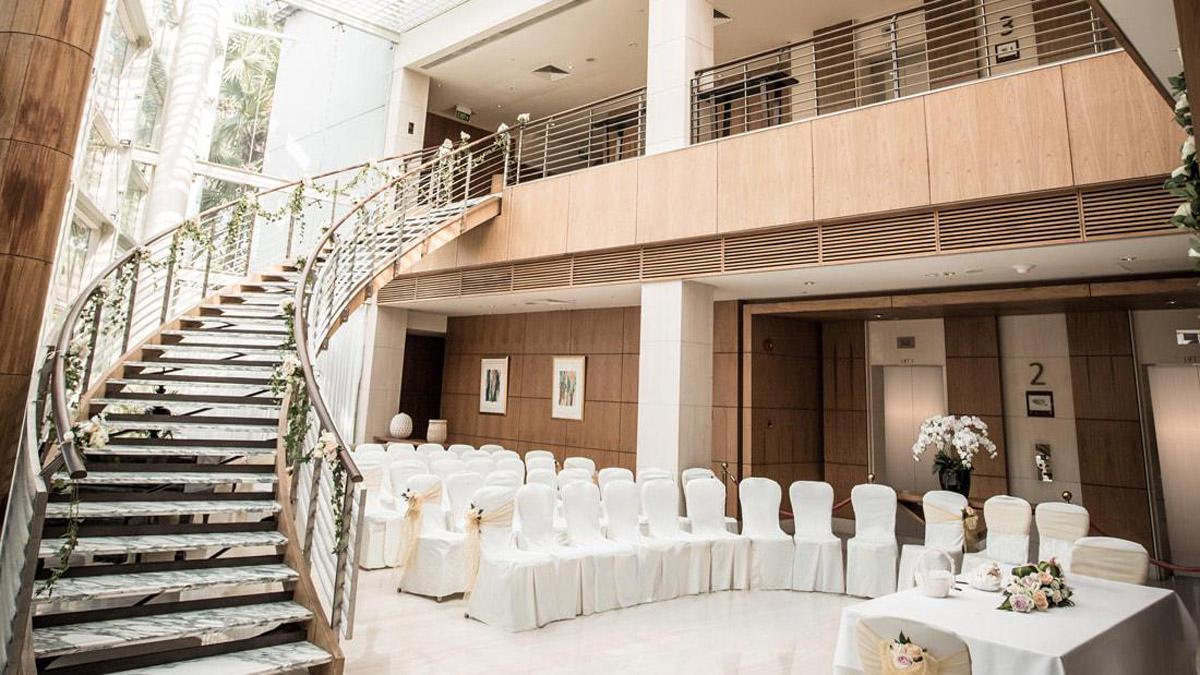 Stairway Solemnisation
Live out your best regal fantasy when you twirl your way down a resplendent spiral stairway composed of white marble and delightful wood accents. Once again, natural sunlight is your friend here. With stunning floor-to-ceiling windows following the staircase, the otherworldly glow along with the sweet serenade of the grand piano is sure to take everyone's breath away.
Just as the spiral staircase is the main centrepiece of the room, you'll likewise be the star attraction. So as you take each descending step, take each moment to savour and soak in this tender moment surrounded by all your friends, loved ones and of course, your beau.
Savouring the Outdoors
Glass Pavilion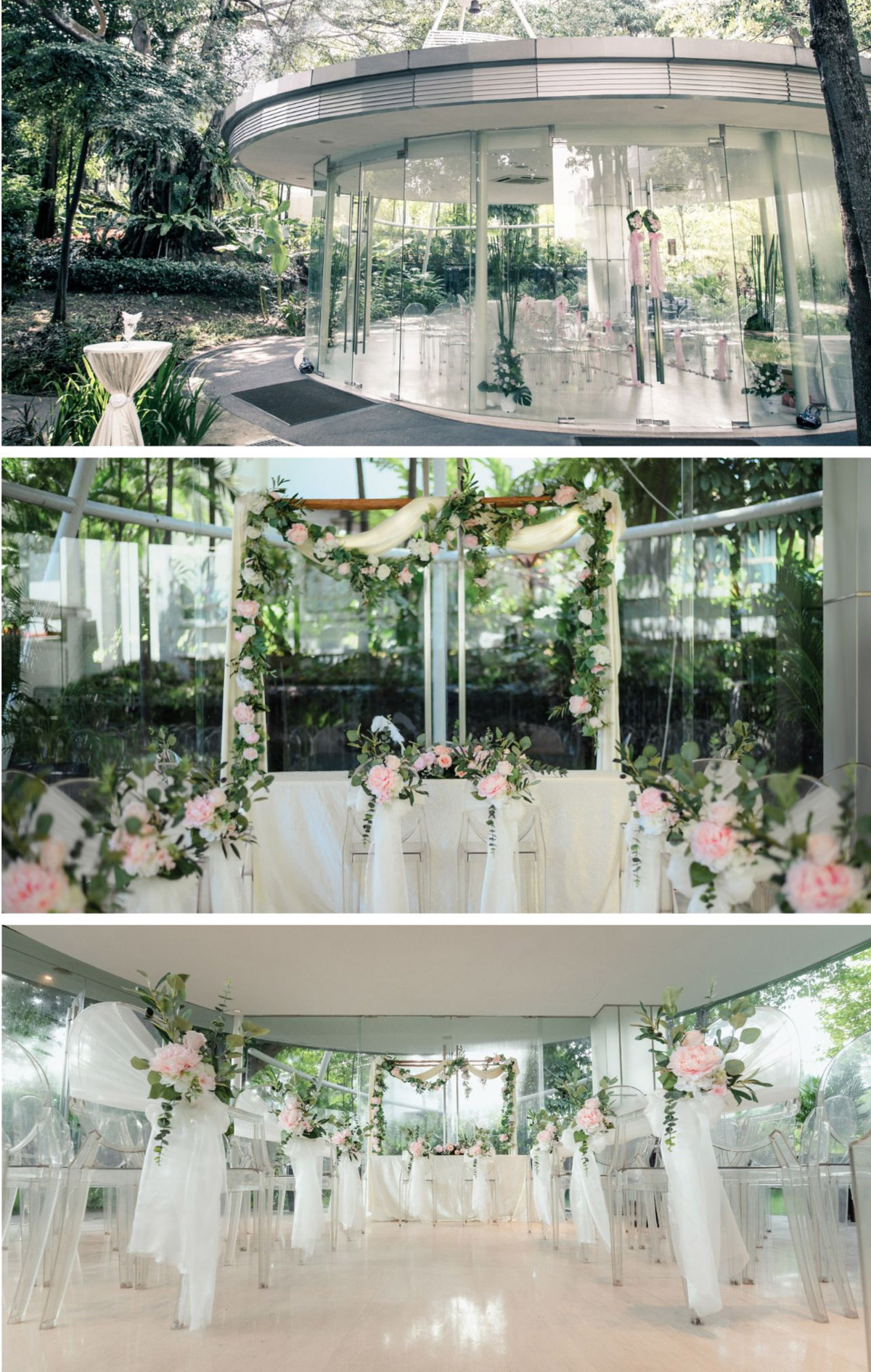 Glass Pavilion
If you fancy the idea of glass greenhouses, the Glass Pavilion is a sophisticated and chic reverse play on that. Instead of admiring botanics outside looking in, you'll be admiring the foliage from inside looking out.
Modestly-sized and fully air-conditioned, it can accommodate up to 50 guests with its chic and transparent Philippe Starck-designed Louis Ghost chairs. Moreover, its entire glass-paneling construction presents nothing short of a phenomenal panoramic view of 3.8-hectare lush tropical greenery inclusive of a waterfall and a sacred old bodhi tree bestowing its blessings upon every wedding here. Other than the flora, one might even catch a lucky glimpse of the fauna here like squirrels, butterflies, peacock, peahens, chicks and even exotic birds.
If the Glass Pavilion is the prime definition of refinement amidst a vibrant gardenscape, we don't know what is. To top it all off (literally), it's adorned with an antique chapel bell that compliments the charming appeal of this glass dome. The Glass Pavilion gives all the experience of an outdoor wedding with all the comforts of an indoor venue — making it great for an indoor "garden" wedding concept.
Larkhill Mansion Private Lawn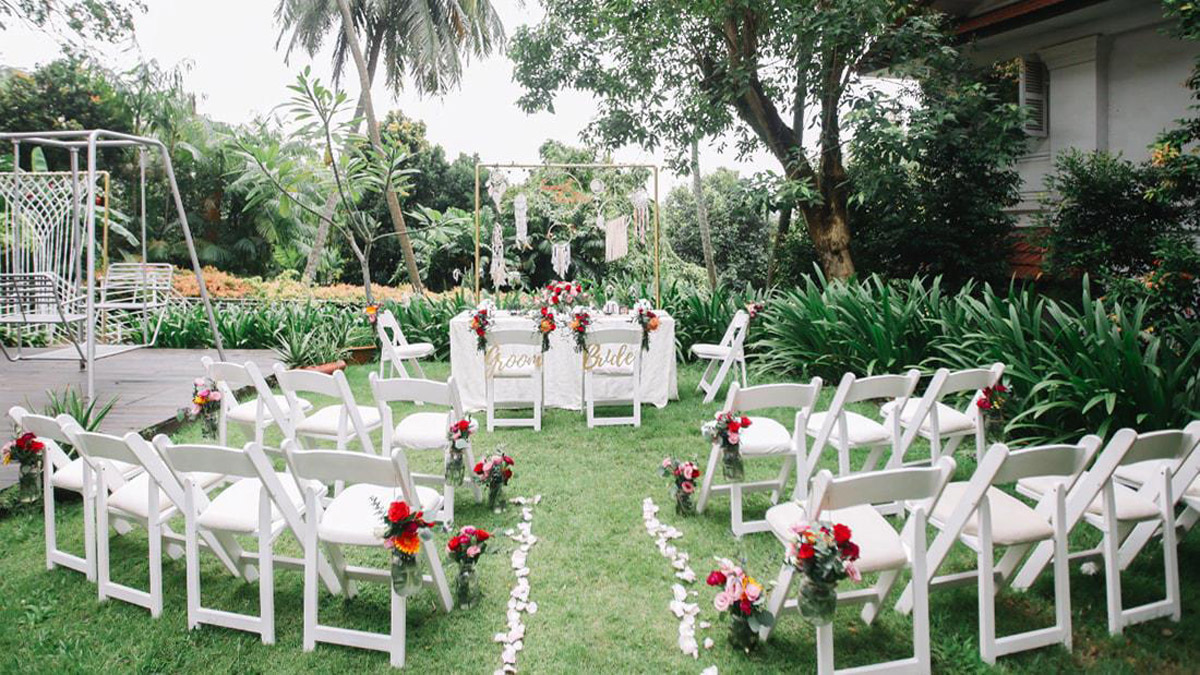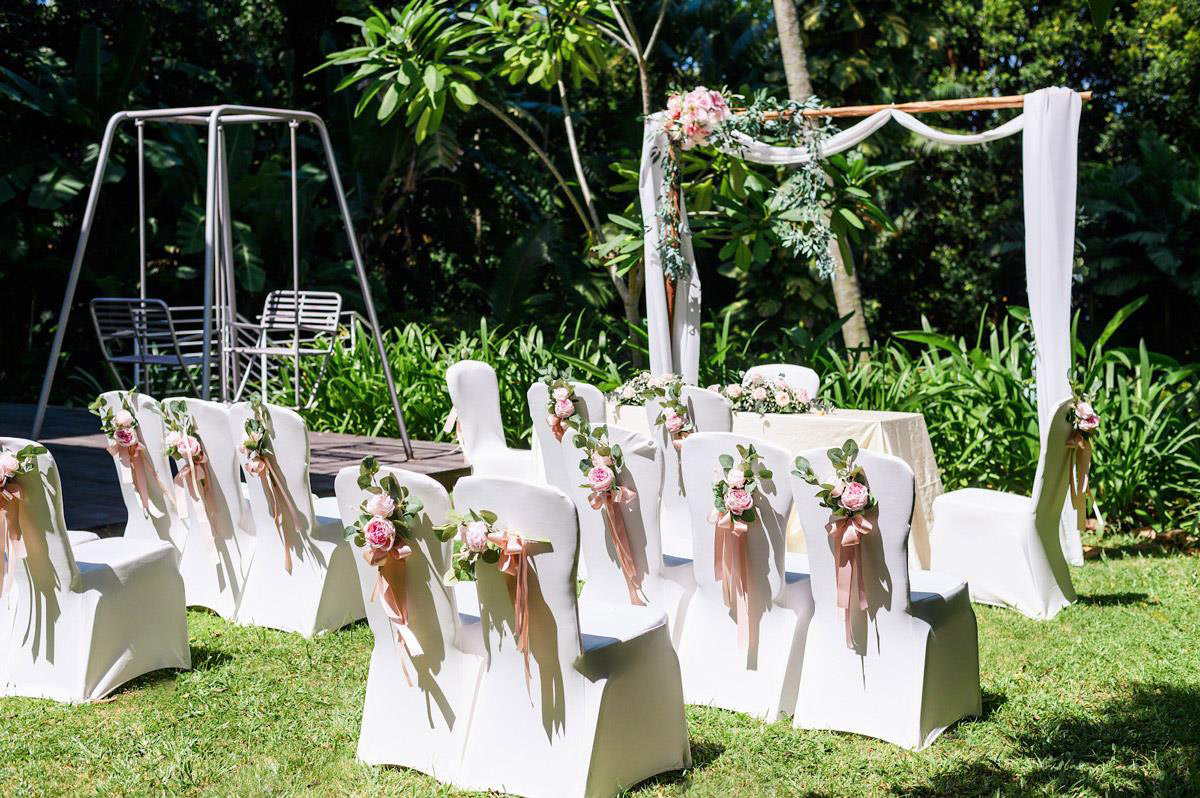 Larkhill Mansion's Private Lawn
Moving back down to ground level, the Larkhill Mansion also comes furnished with a pristine and well-groomed lawn to complement the colonial heritage setting. This venue is also another excellent choice to host your intimate wedding ceremony.
With a capacity of up to 20 guests, recite your vows to the peace and serenity that Mother Nature brings with the enchanting flora and fauna all around. All these elements act as pieces to the idyllic wedding puzzle: The colonial architecture, the natural greenery and the company of your closest kins and companions make for a memorable vintage-themed wedding!
Larkhill Mansion Terrace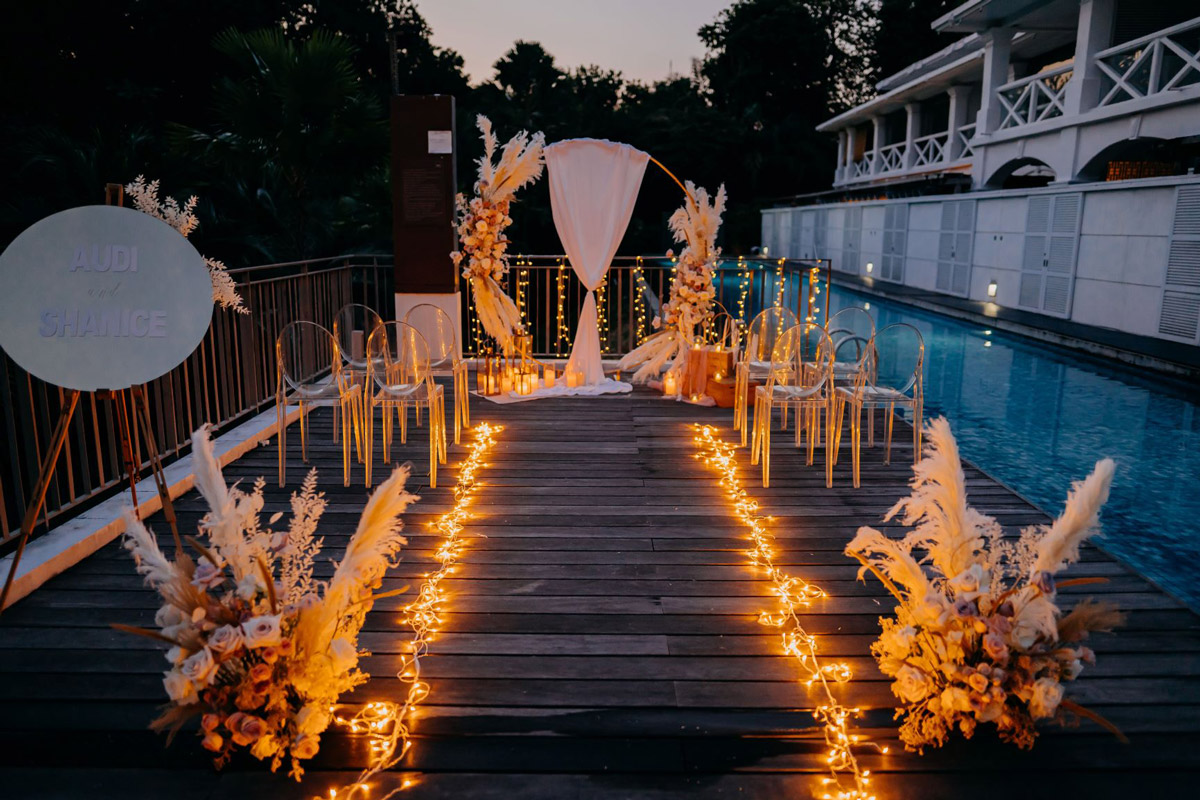 Larkhill Terrace
Get ready for a blast to the past with a colonial homage to the elegantly restored Larkhill Mansion. Ideal for those with an appreciation for our heritage and history, the mansion's timber deck by the pool is an unassuming but quaint detail.
Perfect for brides who wish to proclaim their vows under the canopy of a starlit night sky, your solemnisation will definitely be one for the books — both history and yours — every moment spent here feels frozen in time.
Once the official ceremony is over, this alfresco deck can also be converted into an afterparty venue to kick back, relax and let the good times roll with you and your posse of guests (of course, while abiding with the relevant Covid-19 restrictions).
Swimming in the Clouds
Skypool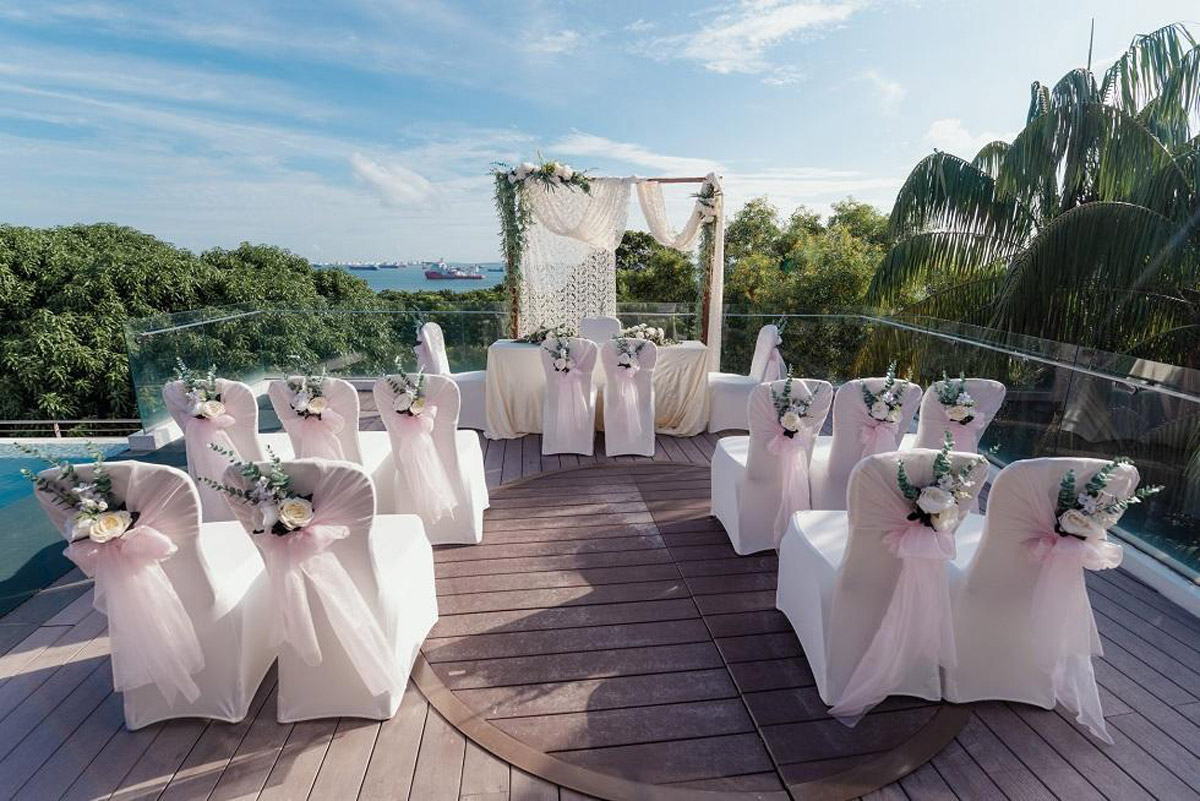 Skypool
Take your solemnisation to the next level (literally) at the Skypool with a 360-degree view of the South China Sea. Let the ambient sounds of the ocean waves soothe your soul and calm your nerves whilst exchanging your vows under the expansive sky. Unsurprisingly, the extensive skyline for your picture backdrop is going to be hard to beat.
Did Someone Say... Intimacy?
The Villa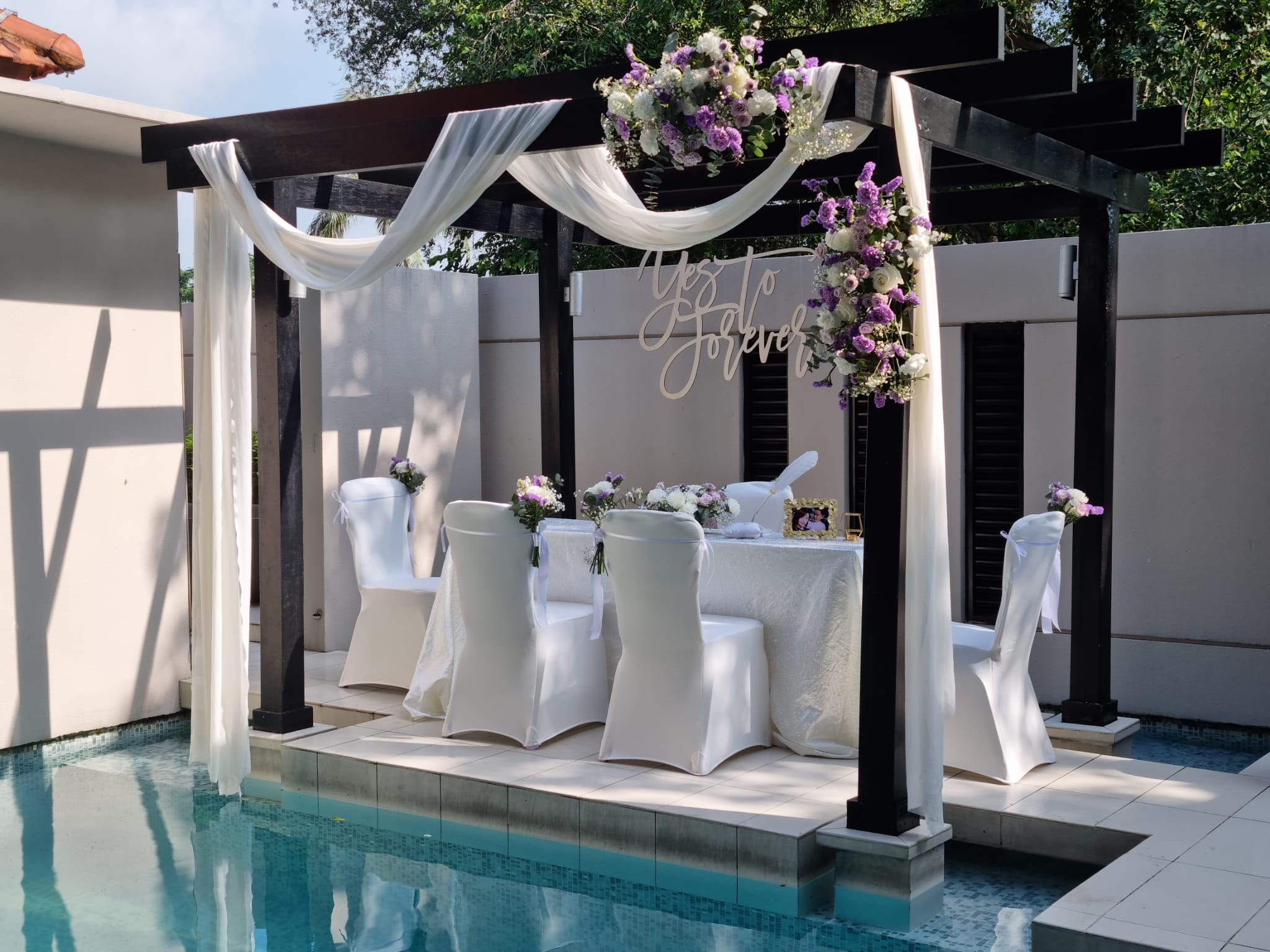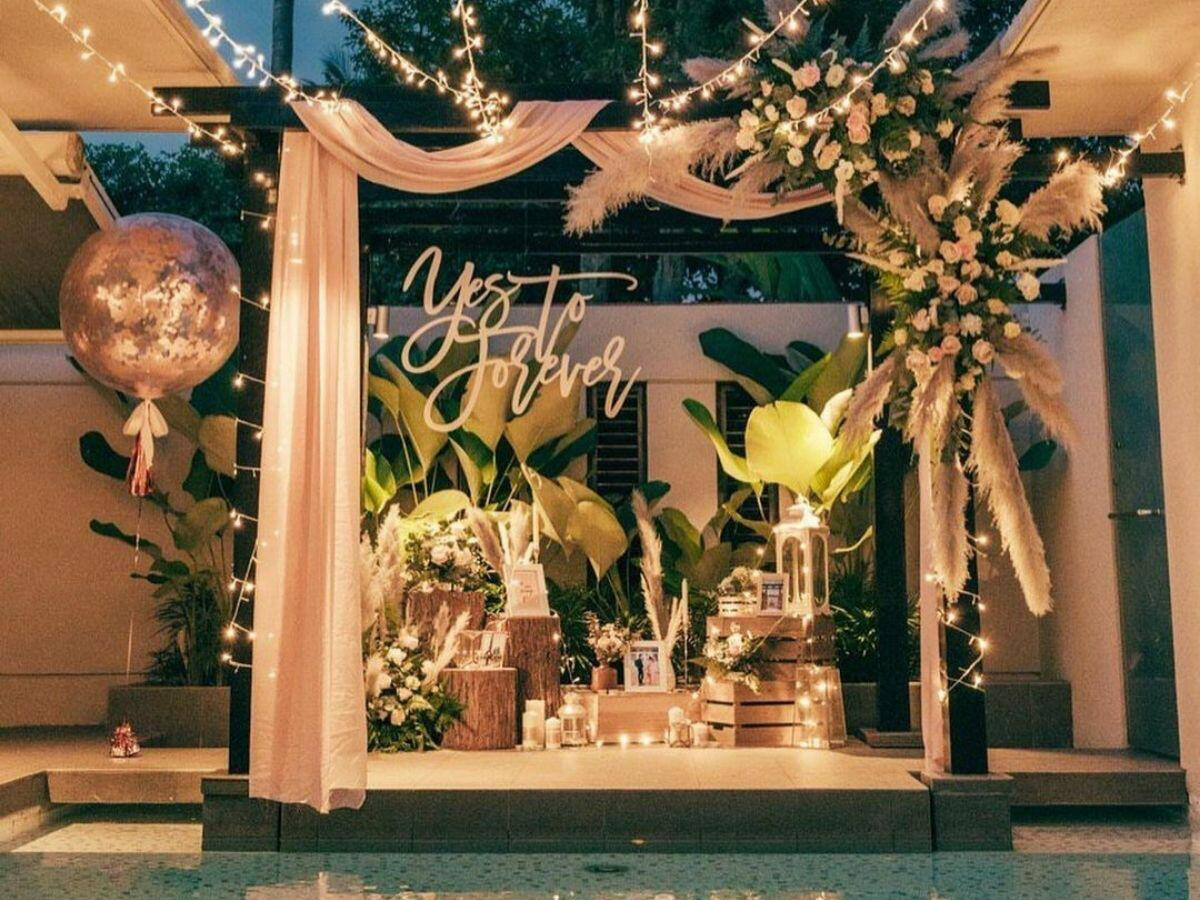 The Villa
Tucked away in a serene corner, the Villa might seem oxymoronic; the wedding affairs partaken here might be cosy and intimate, but the villas are nothing short of spacious. Be charmed by the rustic appeal of the poolside deck framed by a romantic trellis alongside a tranquil pool. Indeed, this venue is highly recommended for those favouring private tea ceremonies or solemnisation.
Outdoor exterior aside, each villa also comes equipped with its own living room, an ensuite bedroom with a king-size canopy bed, a luxurious indoor rain shower, and a rejuvenating stone bath.
A Tailored Wedding Experience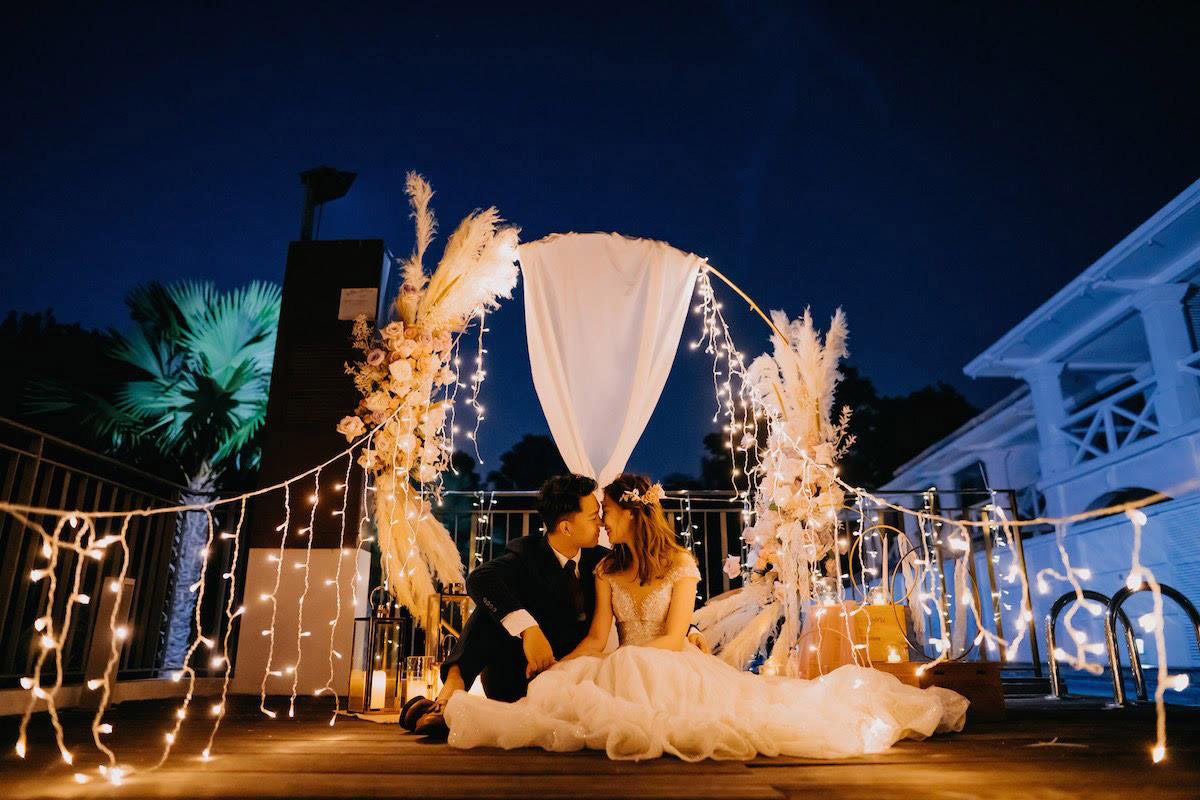 Source: Amara Sanctuary Resort Sentosa
Aside from their extensive array of unique destination-wedding-esque locations, Amara Sanctuary Resort Sentosa offers exclusive and holistic wedding packages to accommodate the best wedding experience for you. From delightfully scrumptious gourmet meals to specific wedding themes to complimentary wedding favours, the Amara Sanctuary Resort Sentosa's dedicated team will bring their A-game to craft a customised bespoke celebration for you and your beau. Wedding planning will no longer be a nightmare but rather a dream come true.
For more information, simply contact Amara Sanctuary Resort Sentosa at the following details below:
Address: 1 Larkhill Road Sentosa, Singapore 099394
Tel: +65 6825 3888
Website: https://sentosa.amarahotels.com/
E-mail: wedding@amarasanctuary.com
Facebook: www.facebook.com/AmaraSanctuaryResort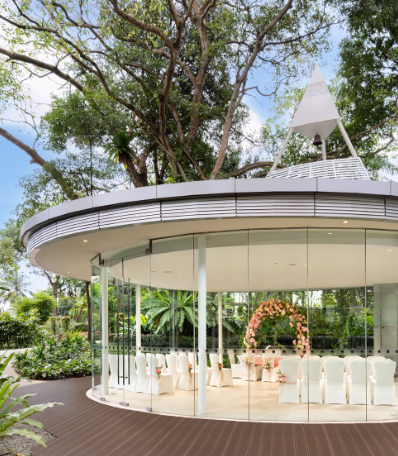 Amara Sanctuary Resort Sentosa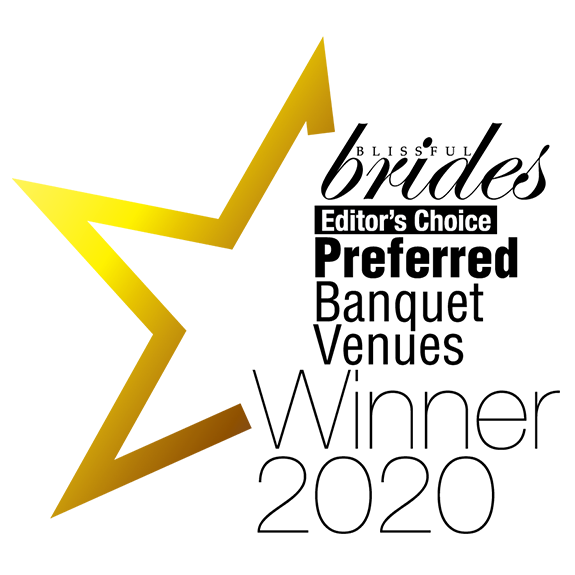 Rating:

Address:

1 Larkhill Road Sentosa

Phone:

68253831

Fax:

68253843