Waltz Your Night Away With The Great Ballroom
2021-02-26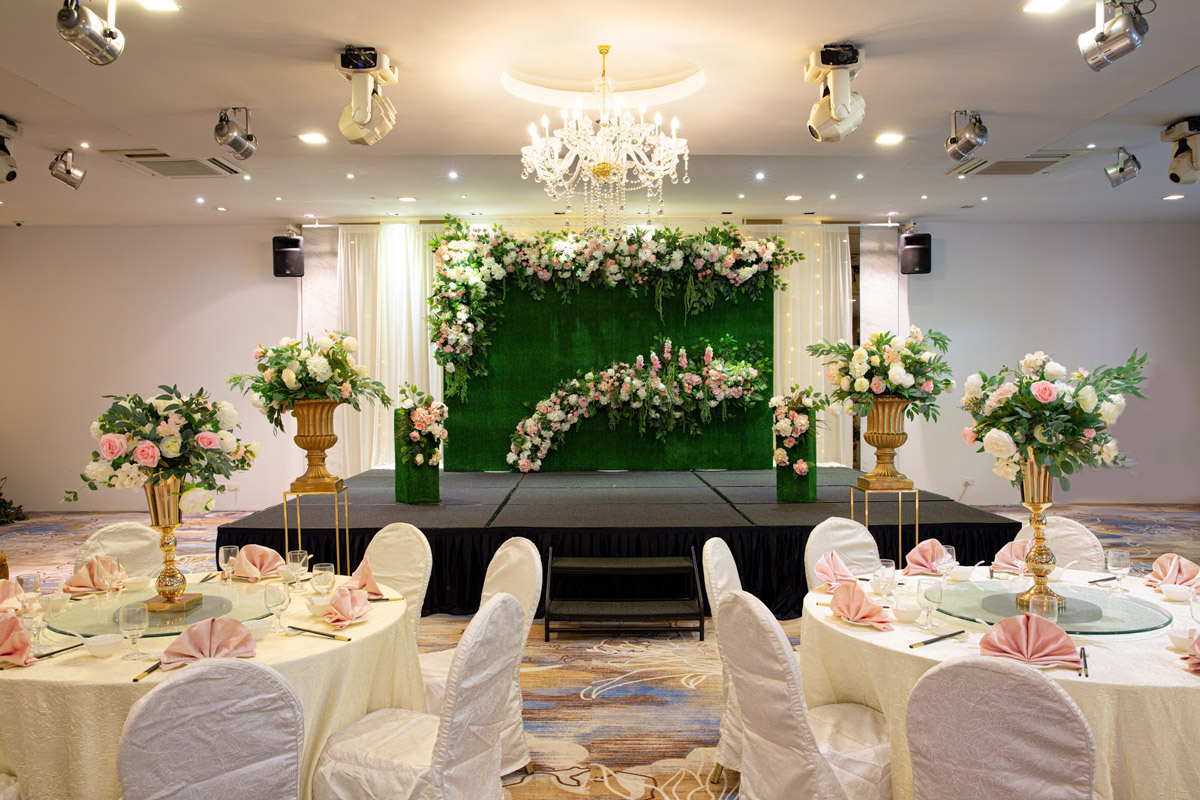 With a reputable presence within the wedding industry and central location (in the heart of Chinatown and Outram), The Great Ballroom operates on another calibre above the rest. Offering unparalleled wedding-related services ranging from wedding theme decorations, wedding favours, floral arrangements and more, they guarantee nothing but exceptional service to couples and attendees alike.
Quaint but Intimate: An Exclusive Ceremony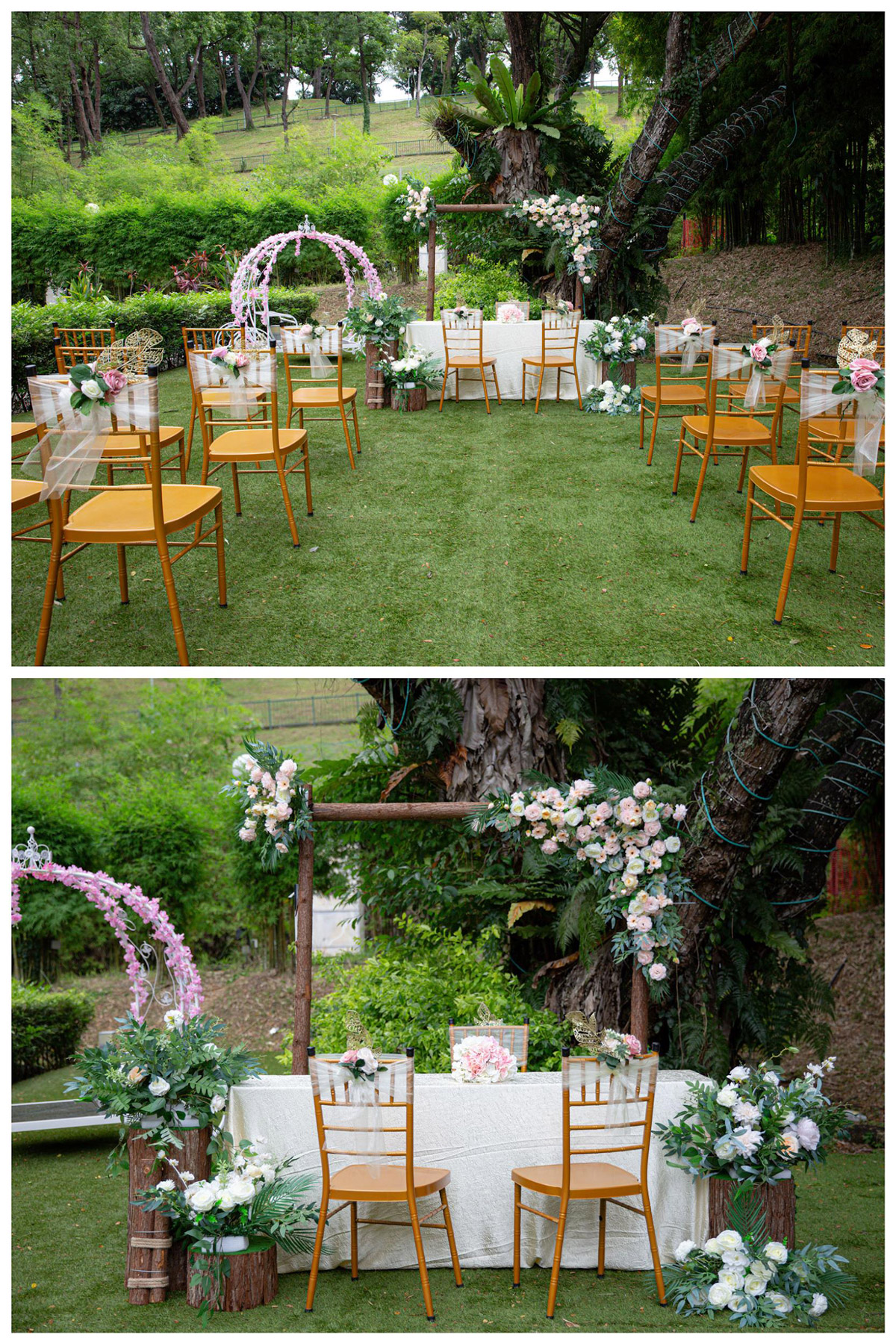 Outdoor Garden Venue
For couples looking for an intimate and private solemnisation ceremony, The Great Ballroom features a quaint and whimsical garden setup reminiscent of an enchanted forest. Taking centre stage, the solemnisation table is framed by a wooden panel that exudes a rustic, cottage charm.
Besides that, a gorgeous swing set intertwined with blooming flowers poses beautifully against the backdrop, completing the fantastical atmosphere. Given the intimate setting, the garden venue allows up to 20 guests to bear witness — which is also appropriate in accordance with current Covid-19 guidelines. Nothing screams exclusivity like solemnising your vows in your very own private backyard.
Wedding Bash: Grandeur and More
For the main event, The Great Ballroom boasts an impressive pillarless ballroom spanning over 560 square metres and a capacity of over 500 guests. This massive space is the perfect venue for throwing magnificent wedding bashes of your dreams. However of course, given current pandemic circumstances, partying to that extent has tentatively been placed on hold.

Regardless, the ballroom is accented with warm, muted wood tones, scintillating wall fixtures, fabric walls and watercolour blue carpets. These ornate decorations exude an air of resplendence, giving a sense of grandeur and opulence to the ballroom. Elegant chandeliers hang gracefully from the high ceilings, customised with adjustable configurations to satisfy different moods per request.

Moreover, the ballroom is equipped with state-of-the-art facilities such as an AV & sound system, projector, double built-in projection screens, a sizeable stage and a wide range of colour themes and other decors to choose from.

Aside from these technical aspects, the ballroom also comes with its own attached kitchen, allowing direct service of banquet delicacies fresh from the kitchen and straight to the guests' table without a single delay. On top of all that, free parking is also complimentary to all patrons. Thus, to say that The Great Ballroom prides themselves on providing nothing but the best facilities and delivering efficient service is an understatement.

Of course, apart from the default setup, the ballroom can also be customised (as per couple's request) from a beautiful selection of preset wedding themes: Elegant Red, Whimsical Winter, Garden Fairytale, Rustic Beauty, Great Gatsby and Enchanted Love.
Finding the Perfect Wedding Theme
Stunning Splashes of Red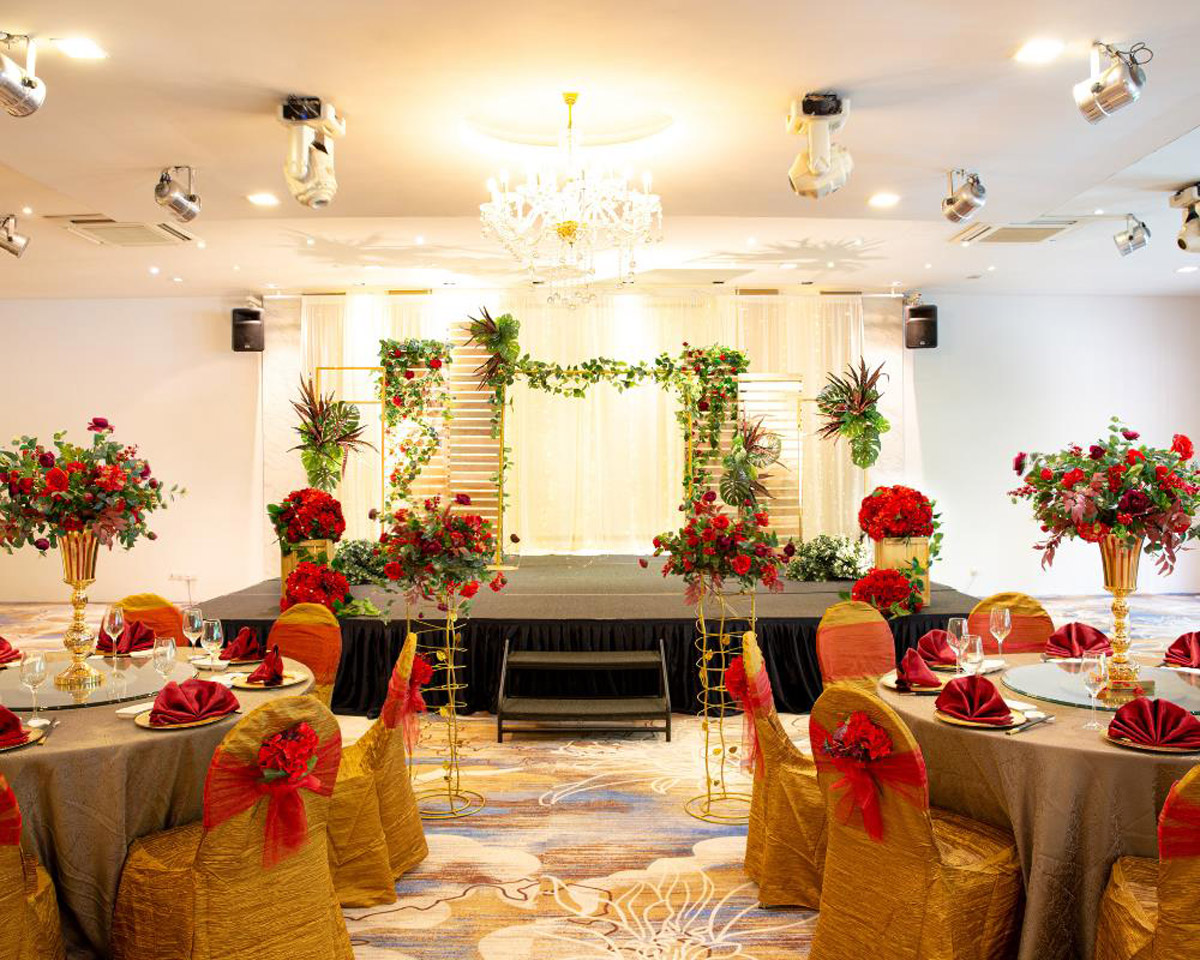 Elegant Red

Feel the passion in the air with this fiery red ensemble, Elegant Red. Warm brown and golden hues take a backseat in this theme because, as the name suggests, the focal point of the decoration is the abundance of red roses all around the room — adorned at each table, the main aisle, and centre stage.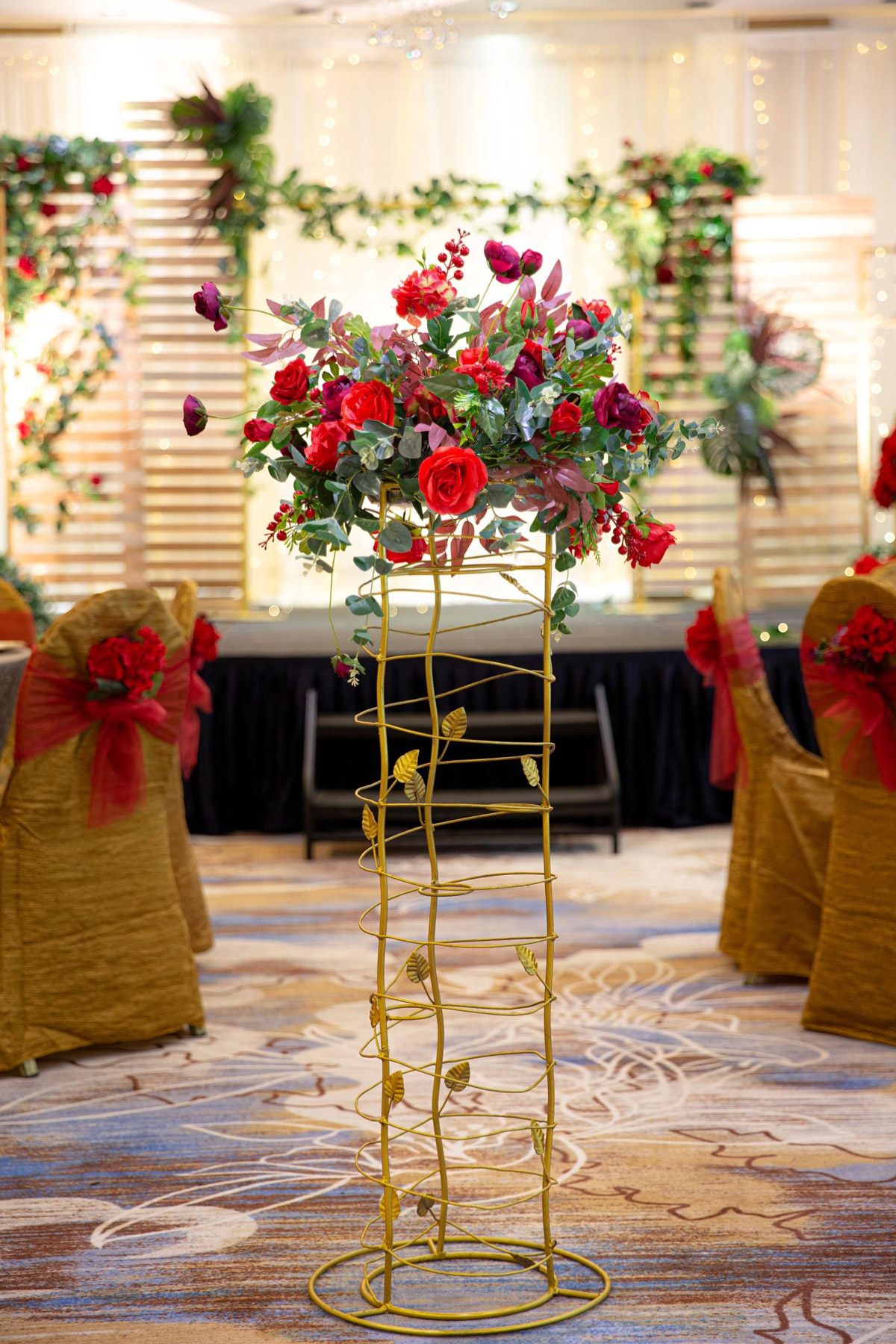 Elegant Red

This theme is absolutely perfect for those couples who want to celebrate the excitement and fervour of their relationship as symbolised by the intense ruby red tones of the roses.

A Winter Wonderland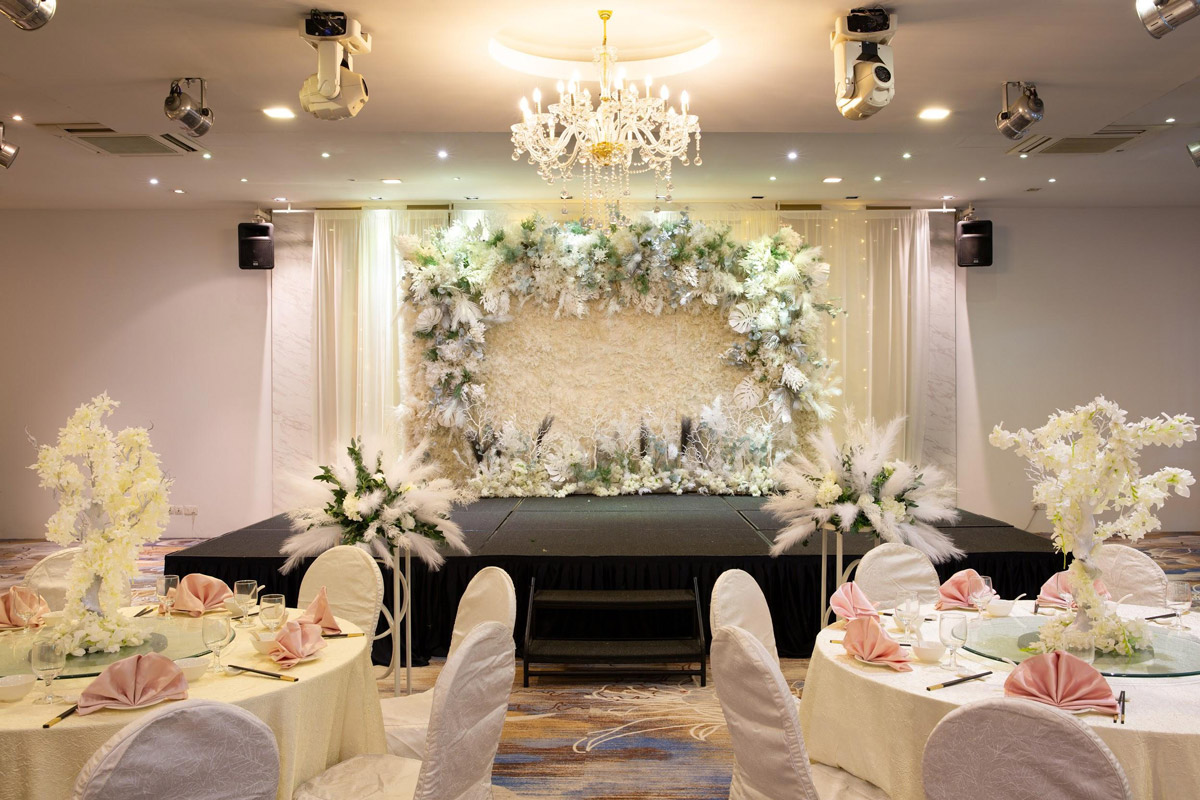 Whimsical Winter

Replicate the winter wonderland with the Whimsical Winter ensemble. Embellished with a frosty, creamy palette, this theme produces the ambience of a calming winterscape. The implementation of feathery details in conjunction with white wildflowers evokes all the gentleness and grace of the union between a bride and groom embodies.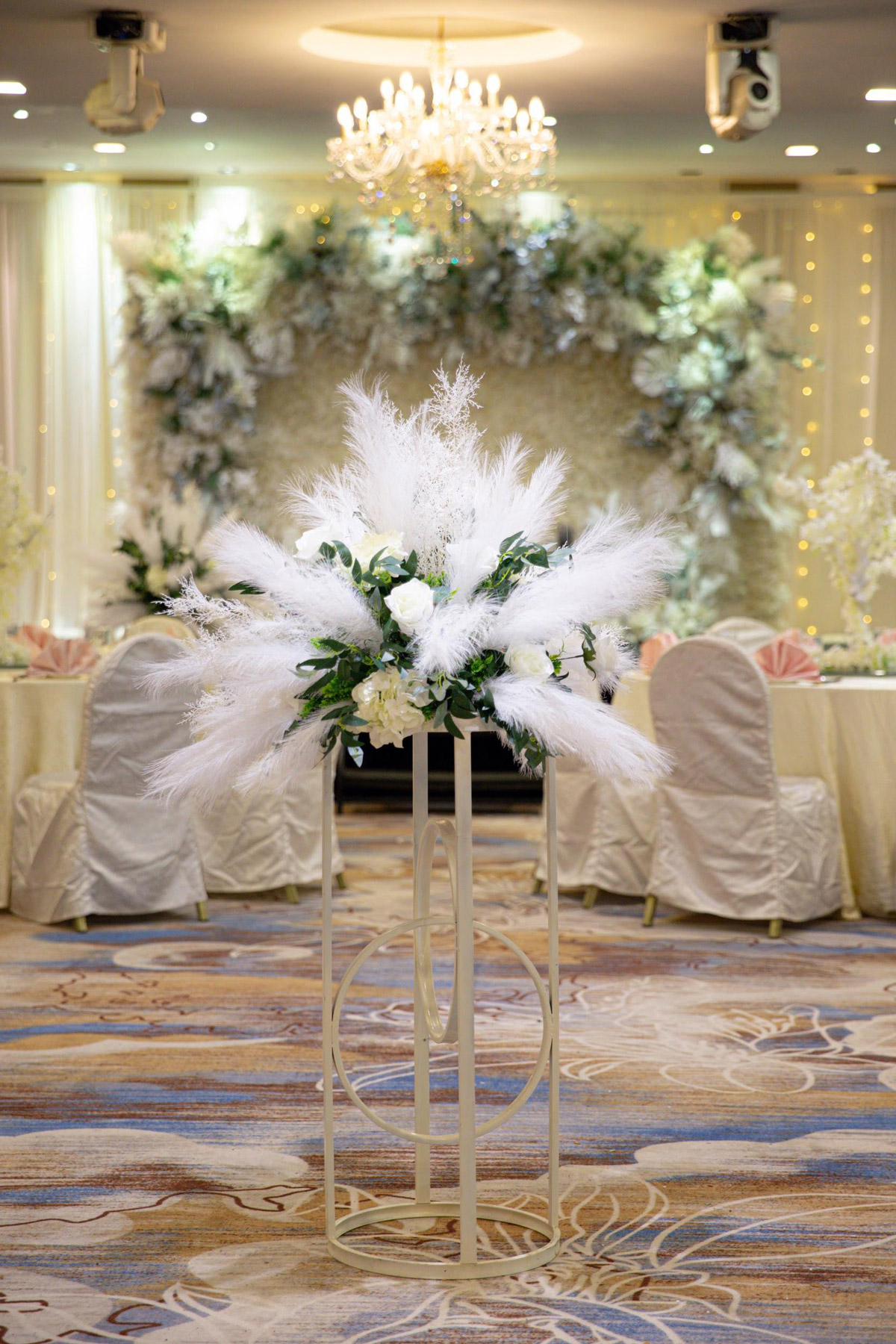 Whimsical Winter

Indeed, Whimsical Winter welcomes the happy, newly-wedded couple into a new chapter of eternal bliss.
Be Enchanted with Love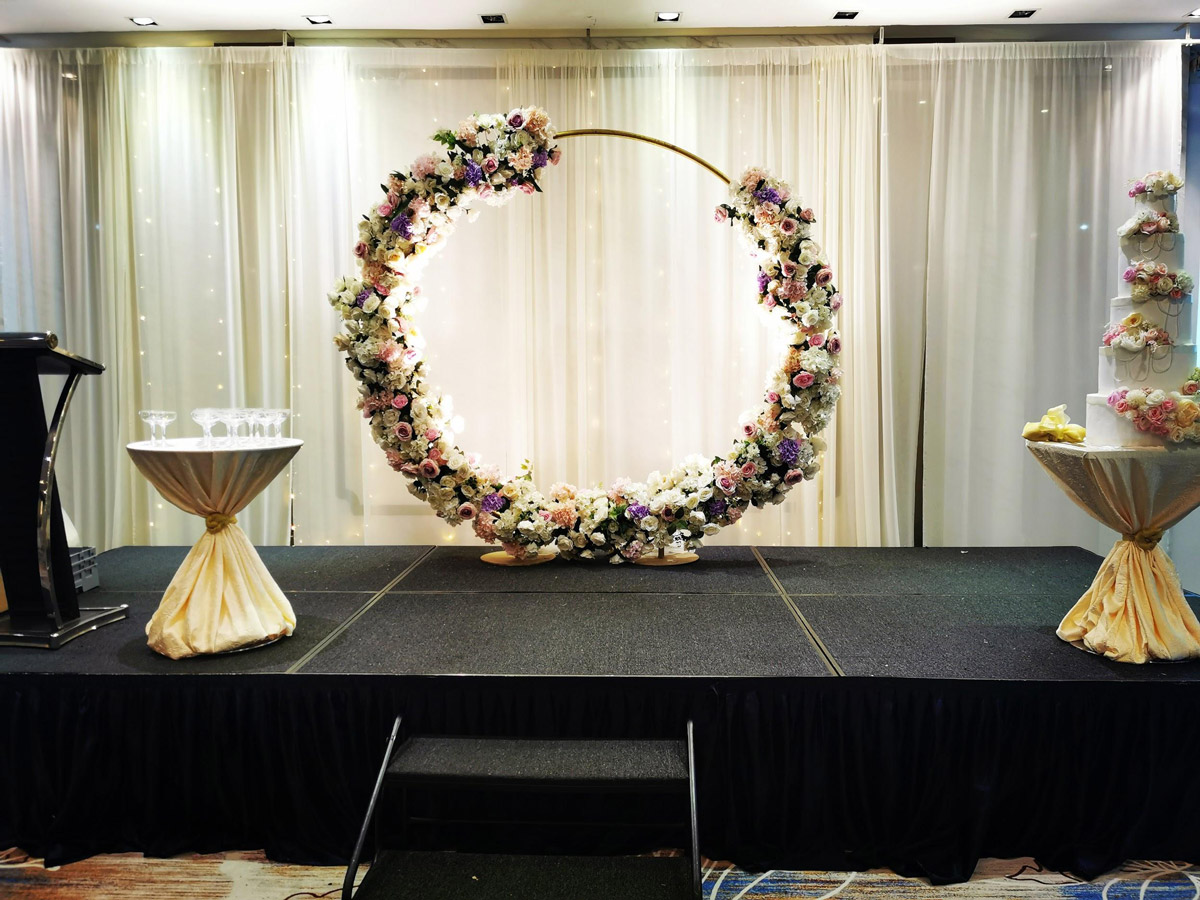 Enchanted Love

Be enraptured with the season of love with this sweet and romantic ensemble. Enchanted Love aims to encapsulate all of the charm and splendour of holy matrimony with its infusion of delicate pink and white roses. Additionally, fairy lights layered on top of the translucent cream backdrop elicit a soft and dreamy atmosphere.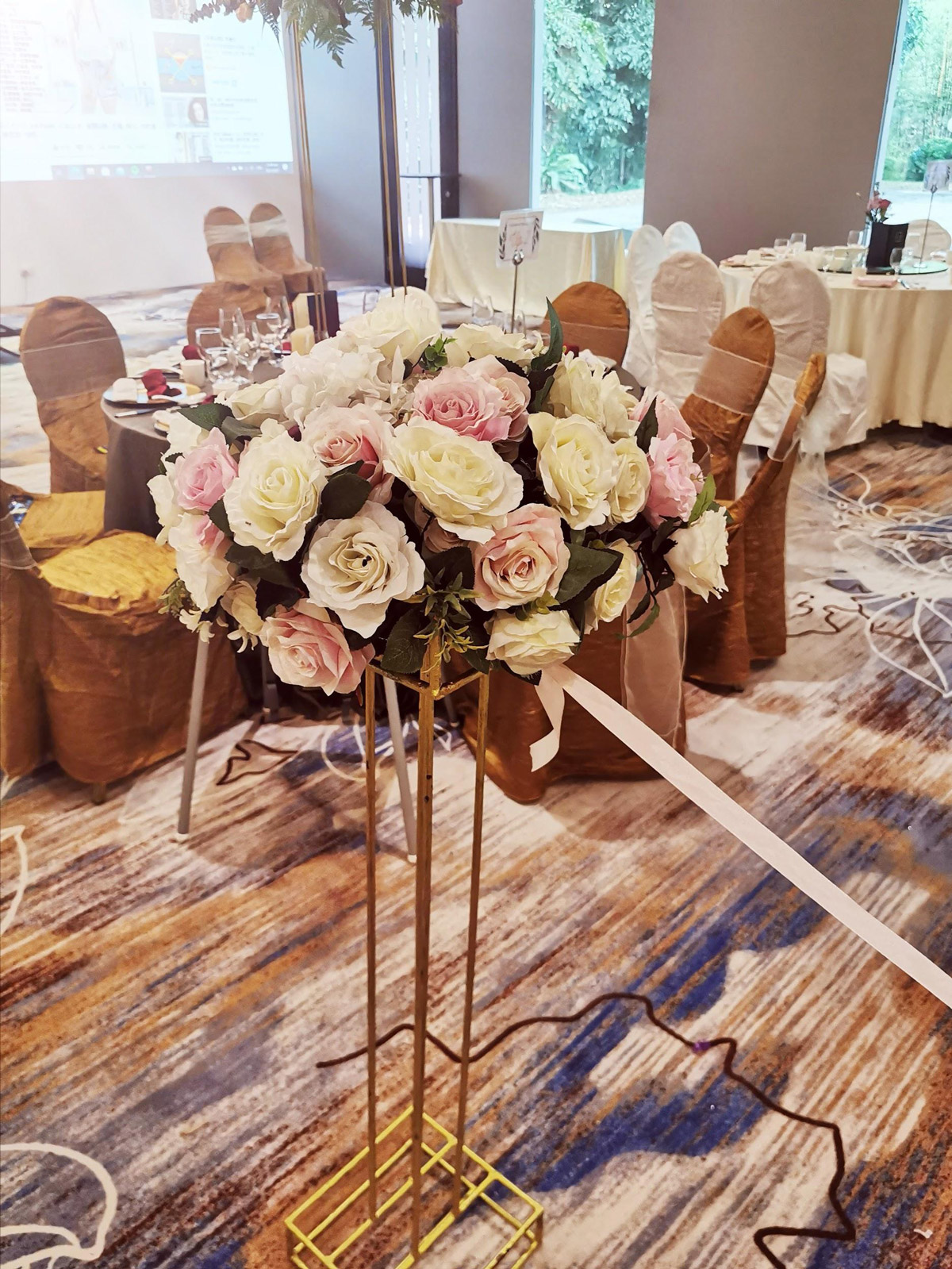 Enchanted Love

Get ready to be swept off your feet with a whirlwind fairytale romance when you commemorate your special day with Enchanted Love.
Dressed to the Nines; Party at Ten
Great Gatsby

As the saying goes, "A little party never killed nobody". Celebrate everything jazz and retro with this fantastical Great Gatsby theme. Furnished with classic brass and gold glassware and furniture, the embellishments juxtapose against the sleek black wallpaper, stage and tablecloths.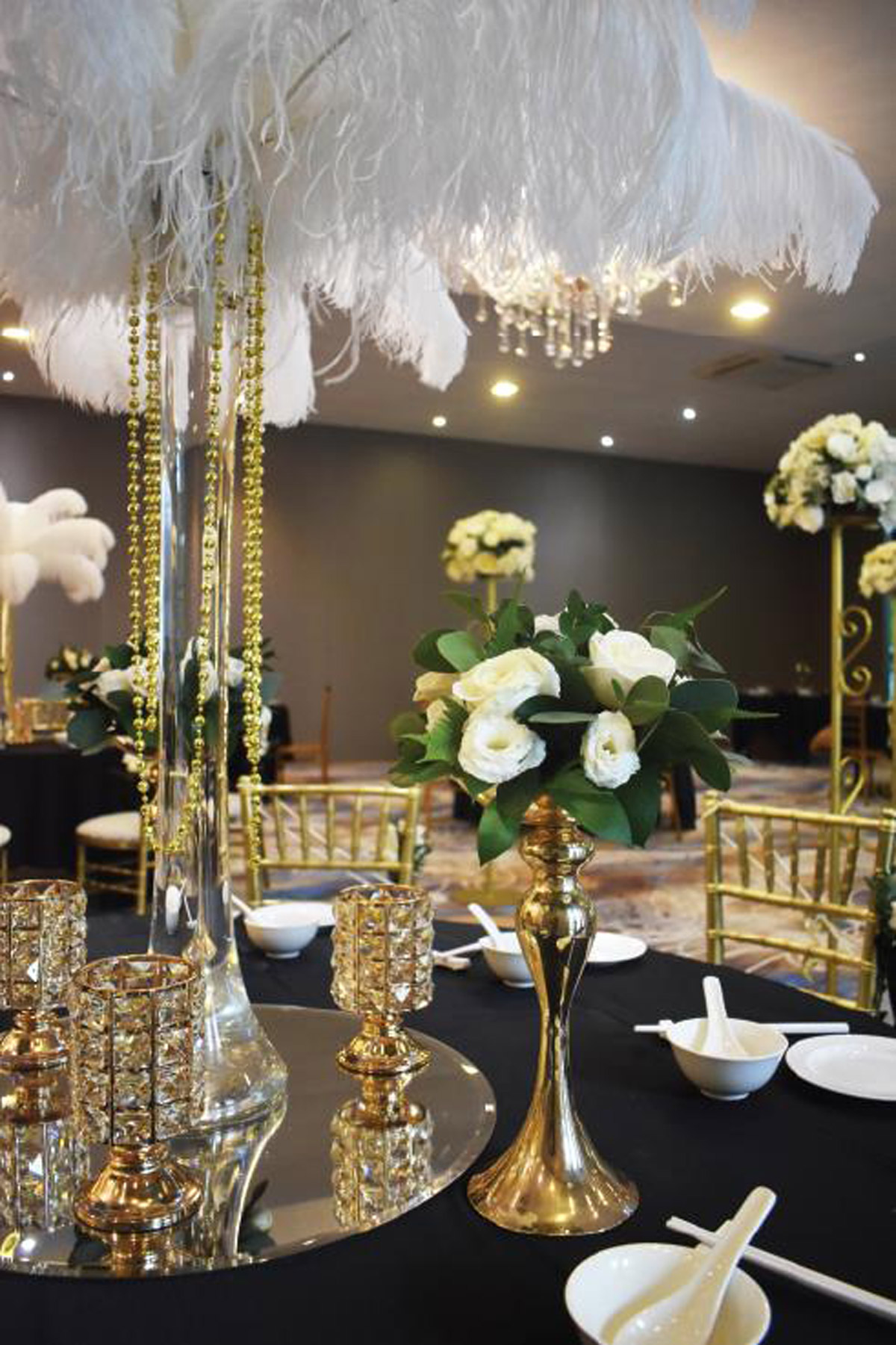 Great Gatsby
This brilliant contrast between the shiny brass and matte black exude an air of unmatched refinement and class. Couples and guests alike will feel chic and sophisticated when enjoying the wedding banquet with the Great Gatsby decor.
Whether you choose to go with a stylish, sweet or classic theme, one thing's for sure: you'll never have a dull moment with The Great Ballroom. Your wedding will definitely be a night to remember. So let loose, let go and have fun on your special day with all your loved ones and friends.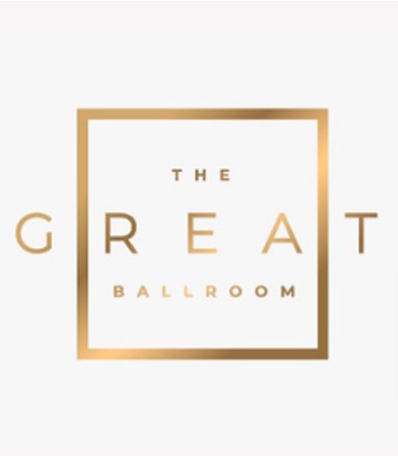 The Great Ballroom
Rating:

Address:

175A Chin Swee Road Singapore 169879

Phone:

81002361