4 Qualities to Look Out for When Hiring A Live Band for Your Wedding
2020-05-12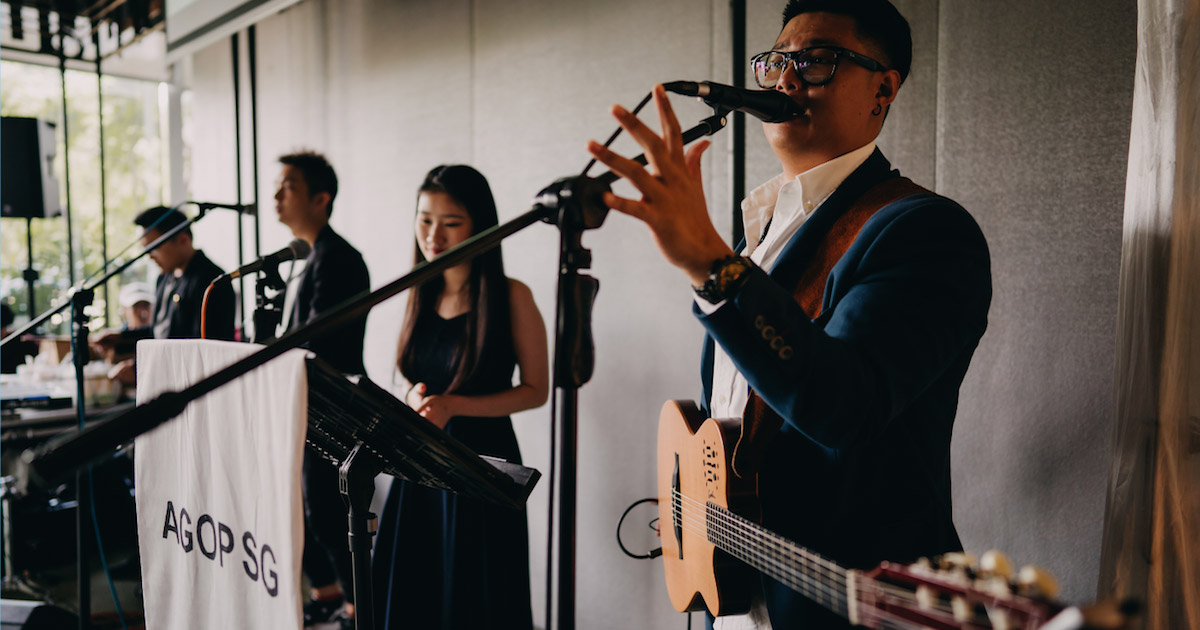 So you've decided to hire a live band for your wedding. It provides interactive entertainment for your guests, helps to set the mood for your wedding, and adds a human touch for an unforgettable experience.
But with so many live bands to choose from, how do you decide which to engage? Besides ensuring that the band's music style align with yours, here are 4 qualities to look out for in a live band to know that they're the one:
1. Experience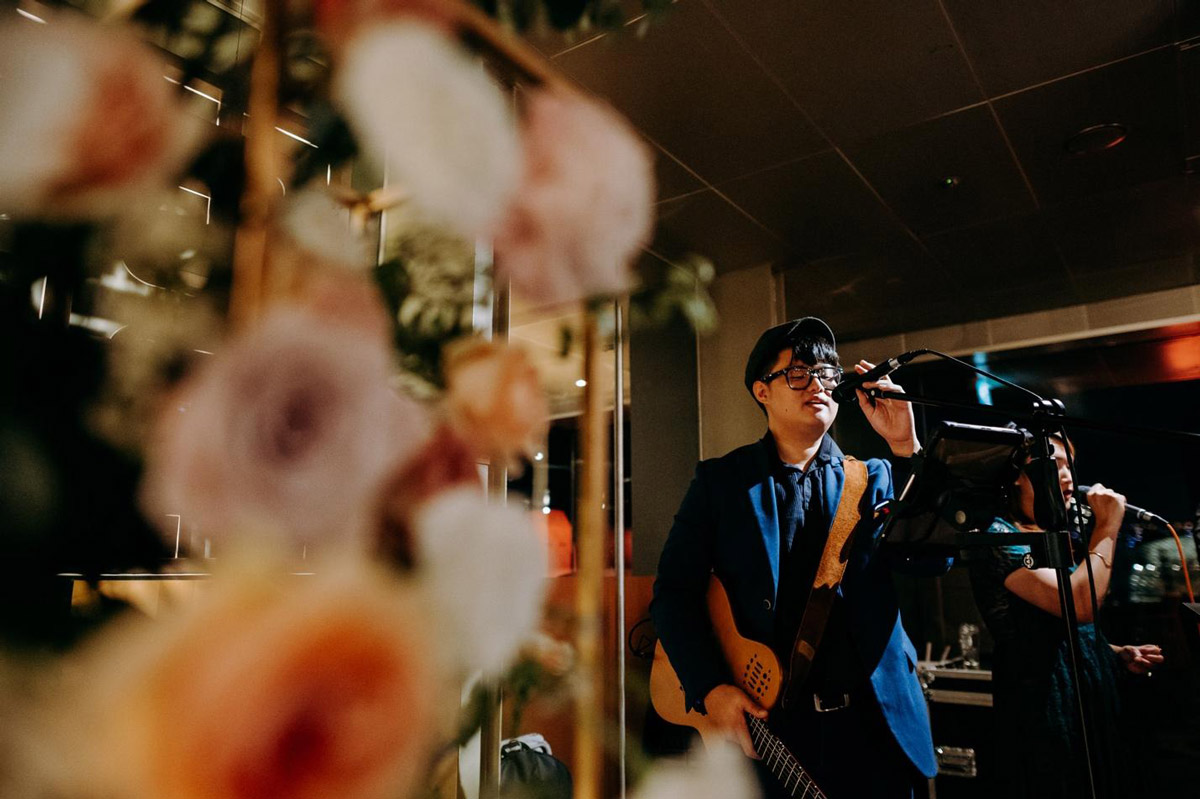 Source: A Group of People
While it doesn't mean that a newly-formed band isn't any good at making music (there are many talented budding musicians out there!), hiring a band that has amassed some experience under their belt helps to guarantee that the band is capable of pulling off the show that they've promised you at your wedding.
They'll also be more prepared to tackle unforeseen emergencies that may happen on the day itself, which includes technical, equipment faults or a delay in plans. You'll also be able to feel more at ease since they have reviews and past performances for you to view beforehand.
2. Stamina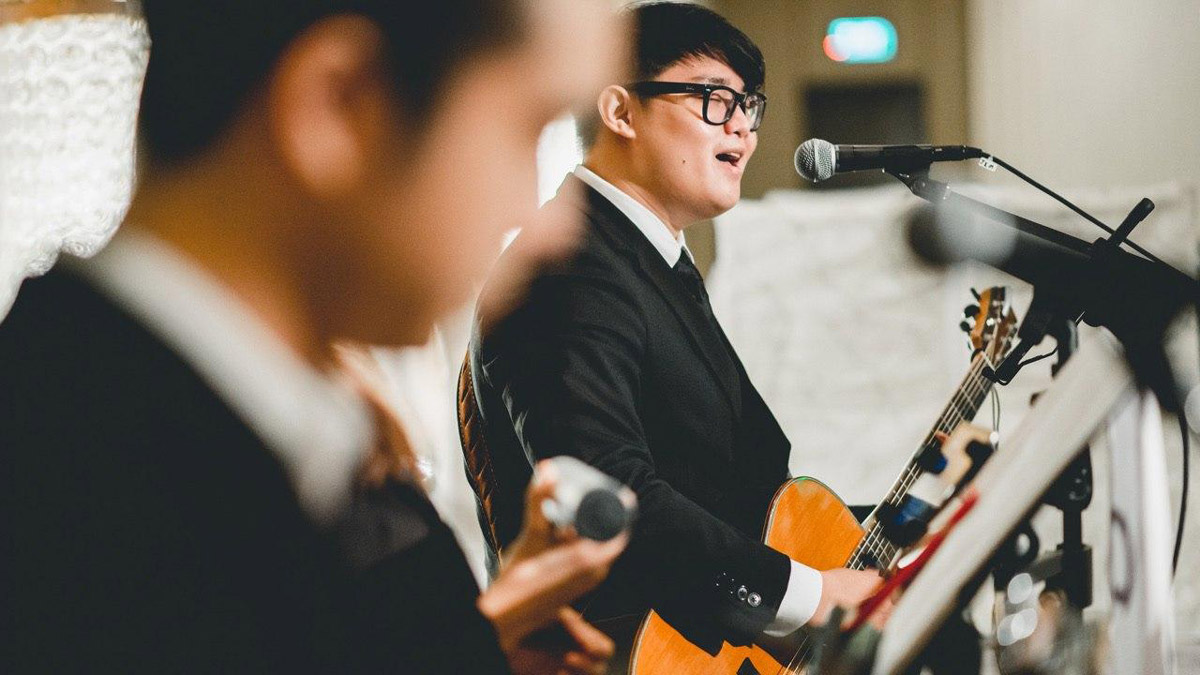 Need accompaniment as you recite your vows?
Source: A Group of People
Performing four songs and performing for four hours back-to-back are two very different things. If you wish for music to be playing for the entire duration of your ceremony, which typically lasts about two to four hours long, you'll need to find a live band who has the stamina to last all night long.
Usually, most bands may perform in sets to ensure a consistent energy level throughout their songs, but there are bands such as AGOPSG who can deliver soul-stirring, body-grooving, or heart-fluttering tunes from the start till the end of the wedding.
3. Versatility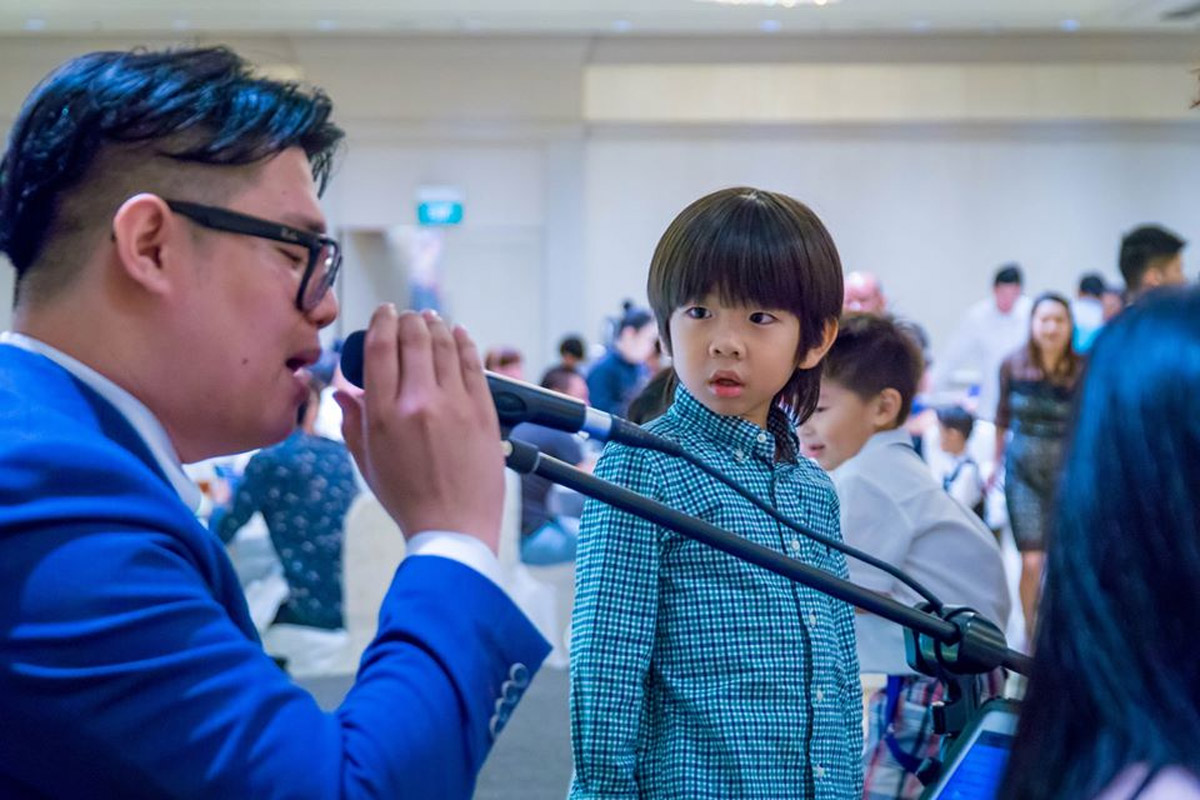 Find a live band who can capture the hearts of your guests, both young and old!
Source: A Group of People
Chances are, you'll have guests of different generations at your wedding. From your grandparents to your peers, in order to make sure that the music reaches out to every one of them, it's best to find a live band who has a versatile enough repertoire that can cater to the crowd. This includes not just performing songs from various eras but also performing in several languages, such as English, Mandarin, and dialects!
4. Professionalism

Does the live band you're considering have their own sound system and instruments?
Source: A Group of People
As the bride and groom, the only thing that you should be doing at your wedding is to enjoy yourselves. Leave the logistics and all the stress of making sure that your big day goes as smooth-sailing as possible to your team, which includes your wedding planner (if any), bridal entourage, and wedding vendors.
This includes the live band that you've decided to engage, so make sure to find one that can and is willing to settle everything for you, from the providing of equipment to the set-up.
More than just entertainment with AGOPSG
Established in 2014 with over 5 years of experience performing as a group, A Group of People (AGOPSG) is a professional live band that has performed at over 300 weddings and corporate events to date.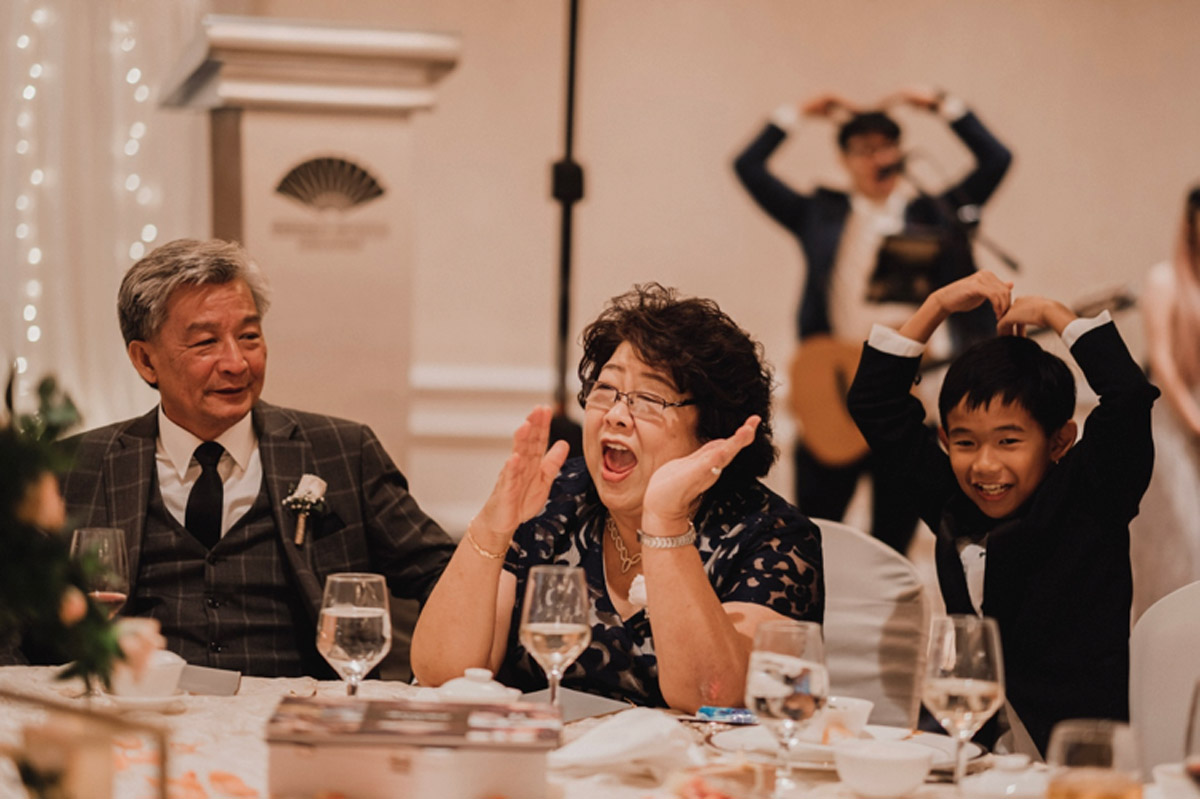 Give your loved ones a happy memory with AGOPSG
A perfect choice that checks all the boxes for a live band of calibre, AGOPSG is able to perform a wide variety of songs in various languages, including the latest hits, old English jazz, Mandarin ballads, and old-school dialect songs that will pull at your parents and grandparents' heartstrings.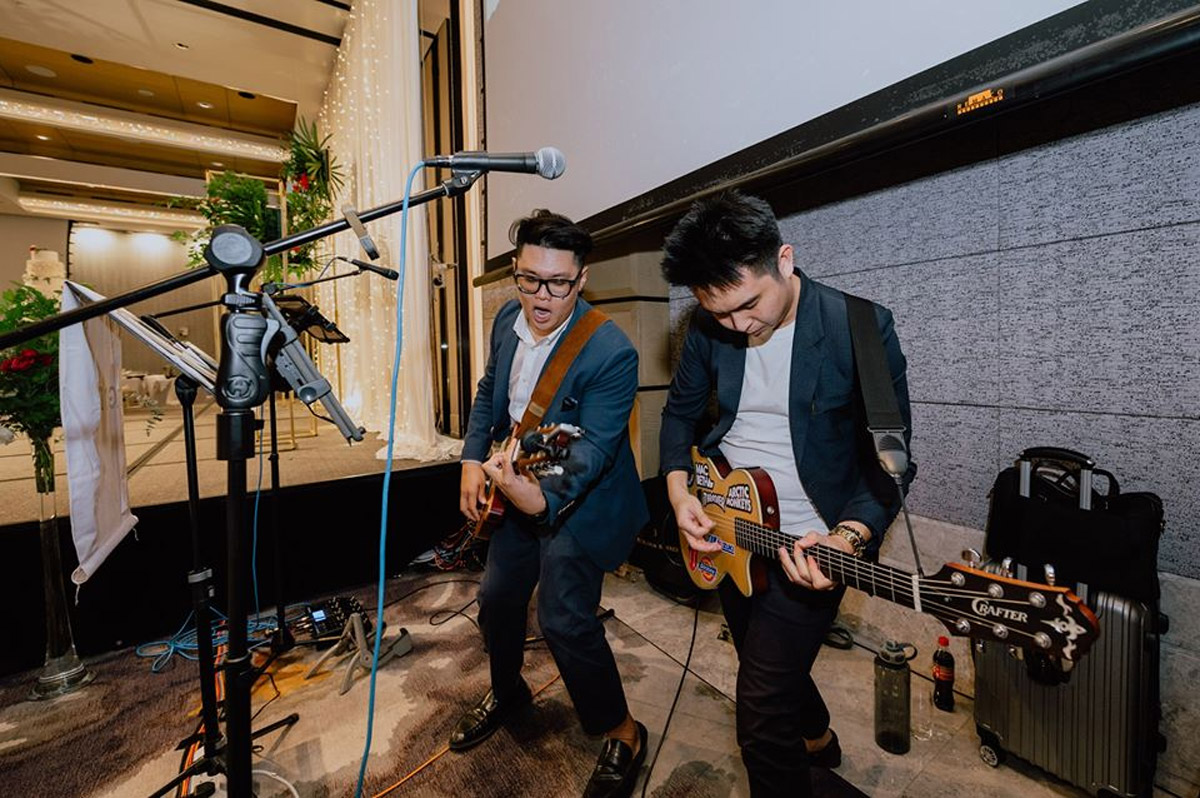 Look at that high energy level befitting of a happy occasion!
They also do not perform in sets and pride themselves on their ability to deliver top-notch performances for the entire duration of the wedding, ensuring that the mood and spirit of your wedding and guests never falter throughout the ceremony.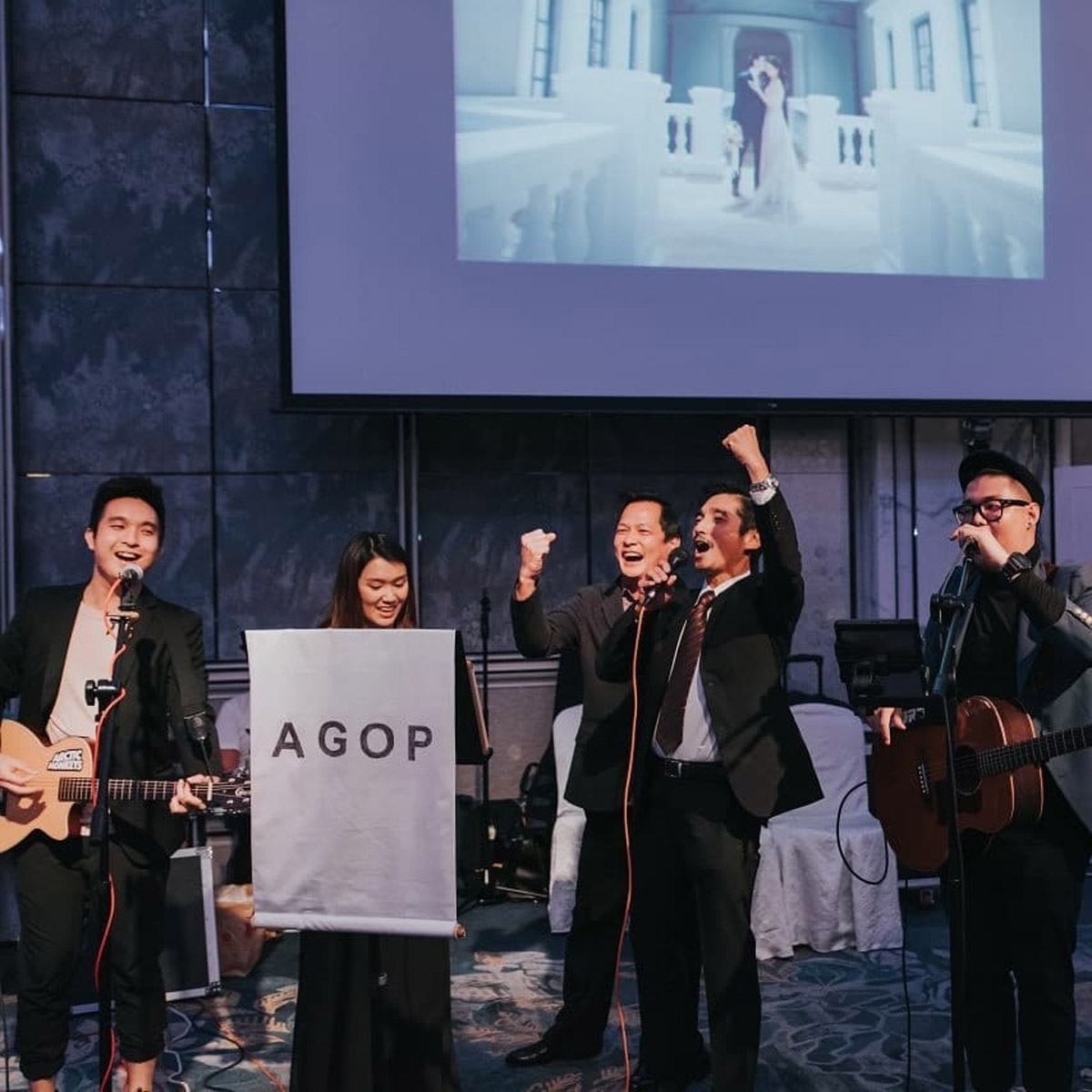 Made up of people who came from different walks of life and then converged through music, AGOPSG believes that everyone's heart can be touched through music. With that as their driving force in every performance, they've entertained and moved over 50,000 guests and counting, and they have plenty of videos on their Instagram, Facebook, and YouTube channel as a testament to that.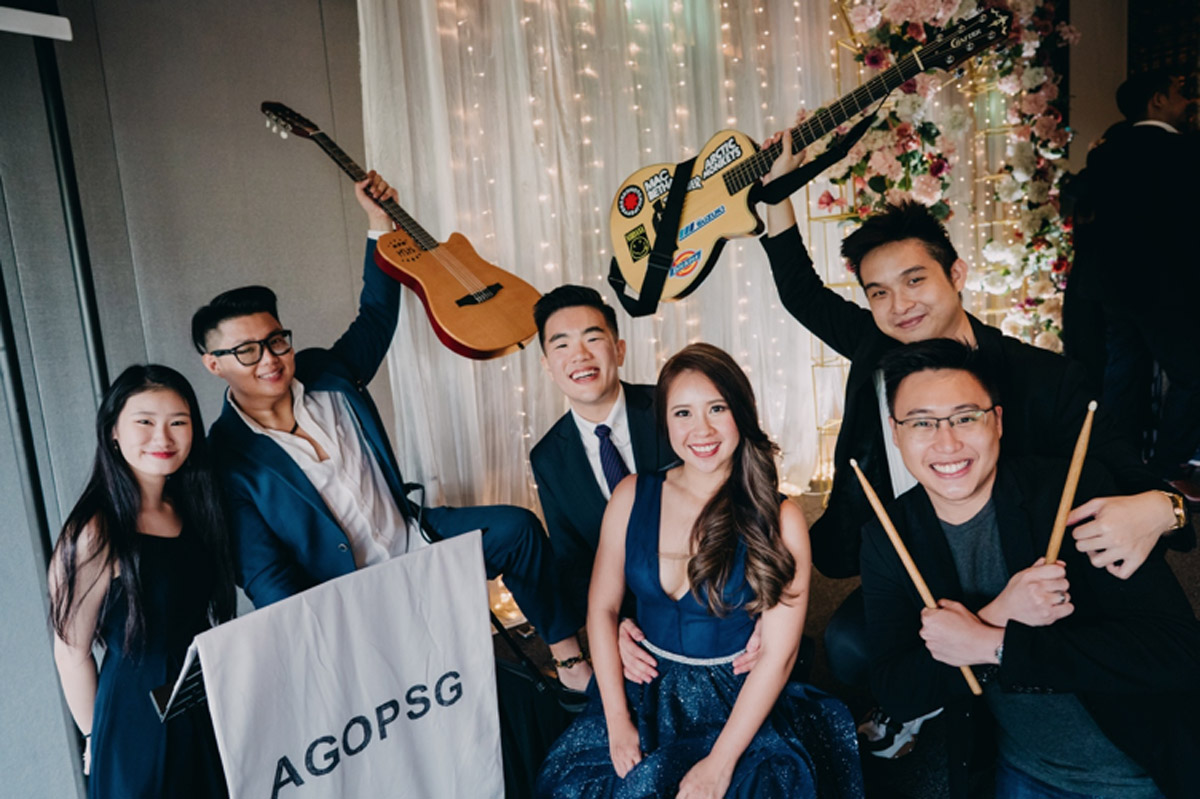 The talented team at AGOPSG with a happy couple!
If you wish to engage AGOPSG's help to make your wedding a memorable one for not just you but also your loved ones, simply get in touch with them at jiaxin@agopsg.com or 9641 6808!
AGOPSG
Address: 22 Sin Ming Lane #06-76 (Midview City), Singapore 573969
Telephone: +65 9641 6808
Email: jiaxin@agopsg.com
Website
Instagram
Facebook
YouTube
________________________________________
This article was written for AGOPSG.
All images from AGOPSG.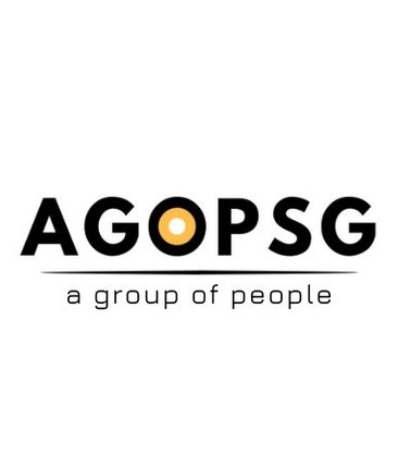 AGOPSG Pte Ltd

Rating:

Address:

22 Sin Ming Lane #06-76 (Midview City), Singapore 573969

Phone:

94778015