7 Tips on How to Make Your Wedding Memorable
2020-05-11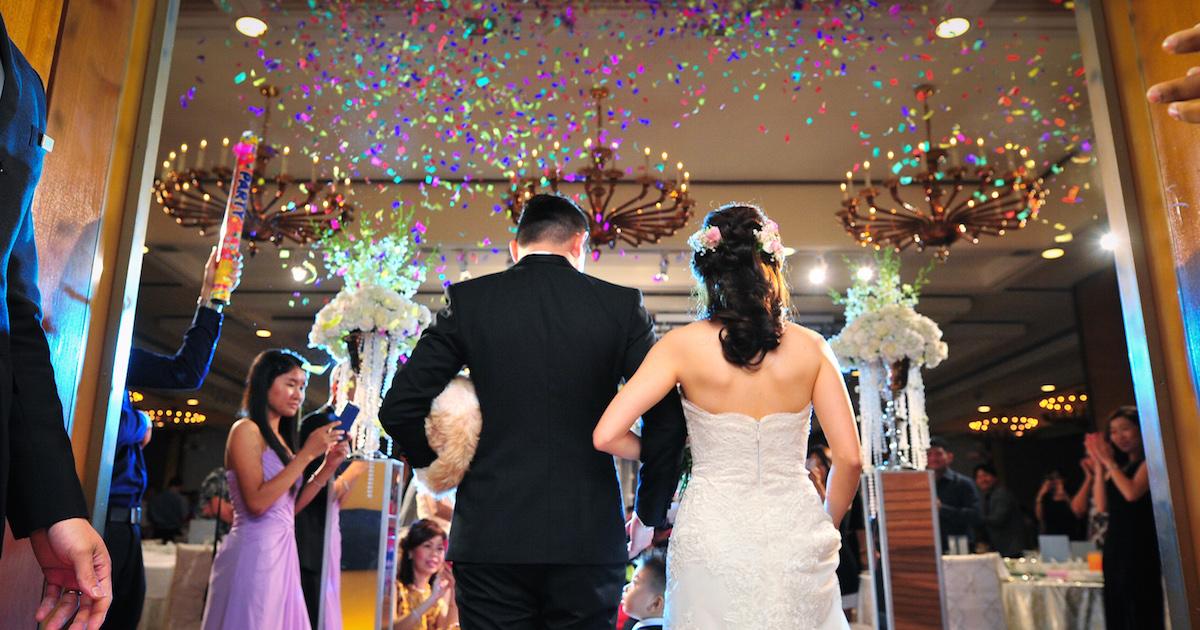 Congratulations on getting engaged! Now that you've agreed to embark on a shared adventure with your other half, the next step is to pull off a memorable wedding that you can look back on with ease and pride years later.
As most of us would agree, the best celebrations often incorporate personal, fun, and unique touches. To help you achieve an unforgettable wedding that has your guests smiling from start to finish, here are 7 tips to keep in mind when planning your special day:
1. Make full use of flowers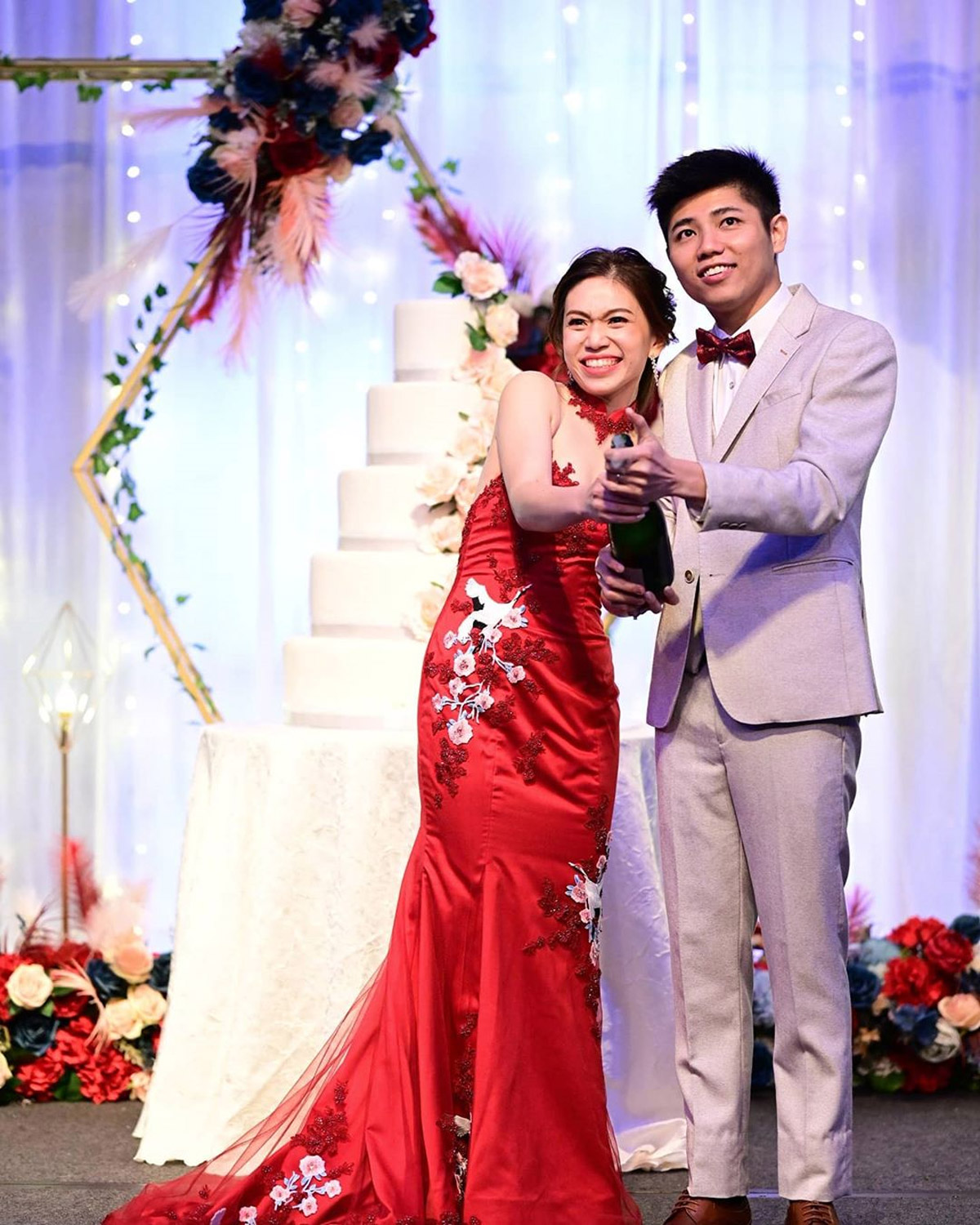 Source: @live.sg
The right decor will elevate your venue's aesthetics, but the right flowers will bring your entire design together for your wedding venue to truly shine. This is especially so if you're not one for cookie-cutter decor, preferring to opt for different types of linen, table settings, and more to add depth and character to the wedding, which could very easily end up being slightly disorienting for your guests instead.
In order to make a statement while retaining a sophisticated, harmonious theme overall, make sure to weave in flowers in the little details. If you're planning for a colourful wedding, consider using muted, complementary colours to blend the different hues together; if you'd like to add a splash of vibrancy to an otherwise minimalistic theme, play around with bold, colourful floral arrangements.
From floral table runners and floral arches to floral chandeliers and even a wall of flowers, the possibilities are endless! Not only would these blooms impress your guests and beautify your venue, but they will also create photo-worthy spots for everyone to take snapshots of the day.
2. Play with lighting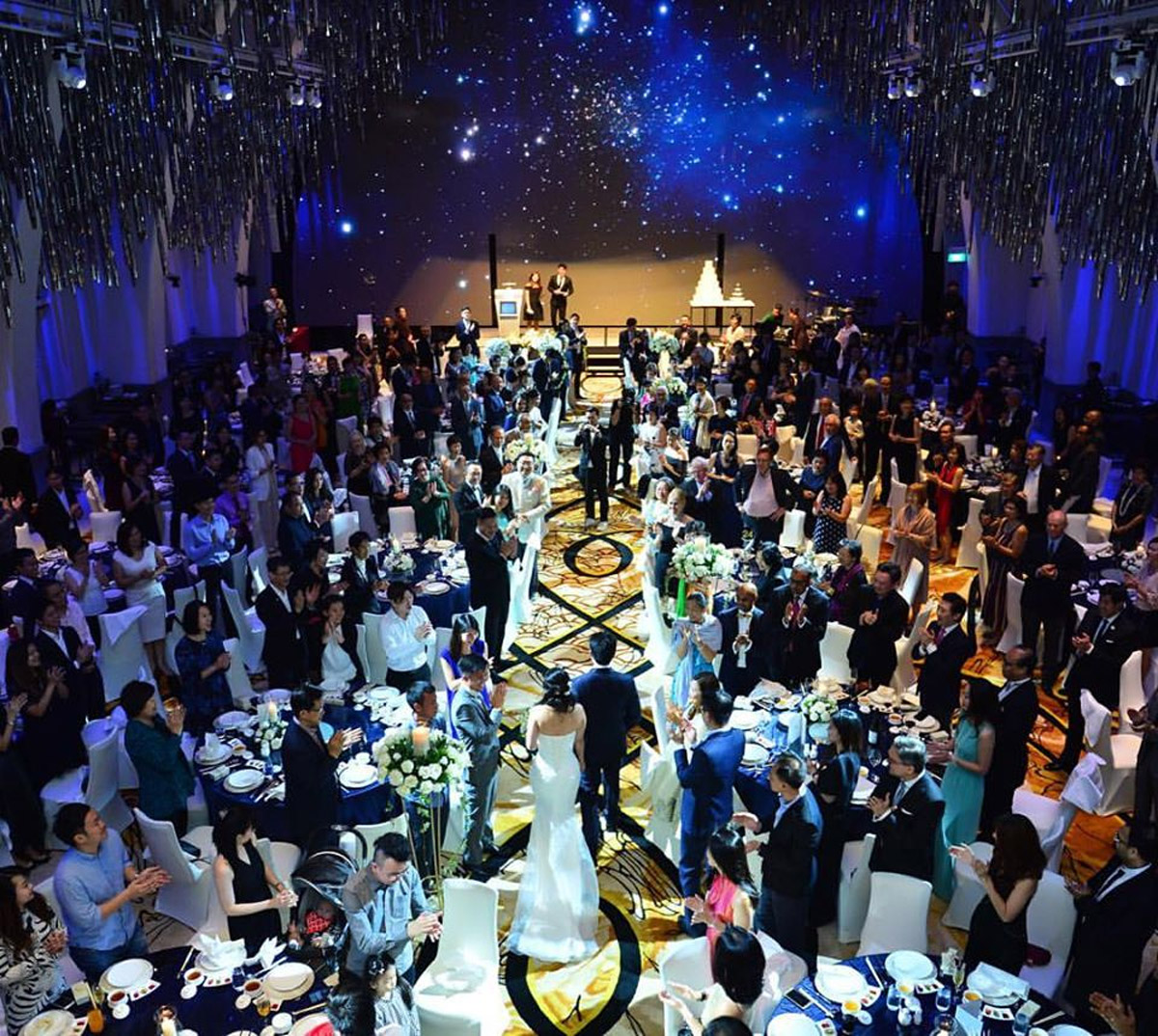 Source: LiveStudios Interactive Photography
When done well, lighting can make everything look better, from your wedding dress to your guests. Depending on the colour and intensity, it can also easily change the room's ambience from warm and romantic to fun and playful, so always discuss with your venue's staff on how you can make full use of the in-built lighting to do so.
In fact, the right kind of illumination will also ensure that everyone at the wedding is focused on what's important at the right moments. Whether it's the venue's centrepiece or you and your sweetheart walking down the aisle, it'll help to shape your guests' experience of your special day and make it that much more impactful.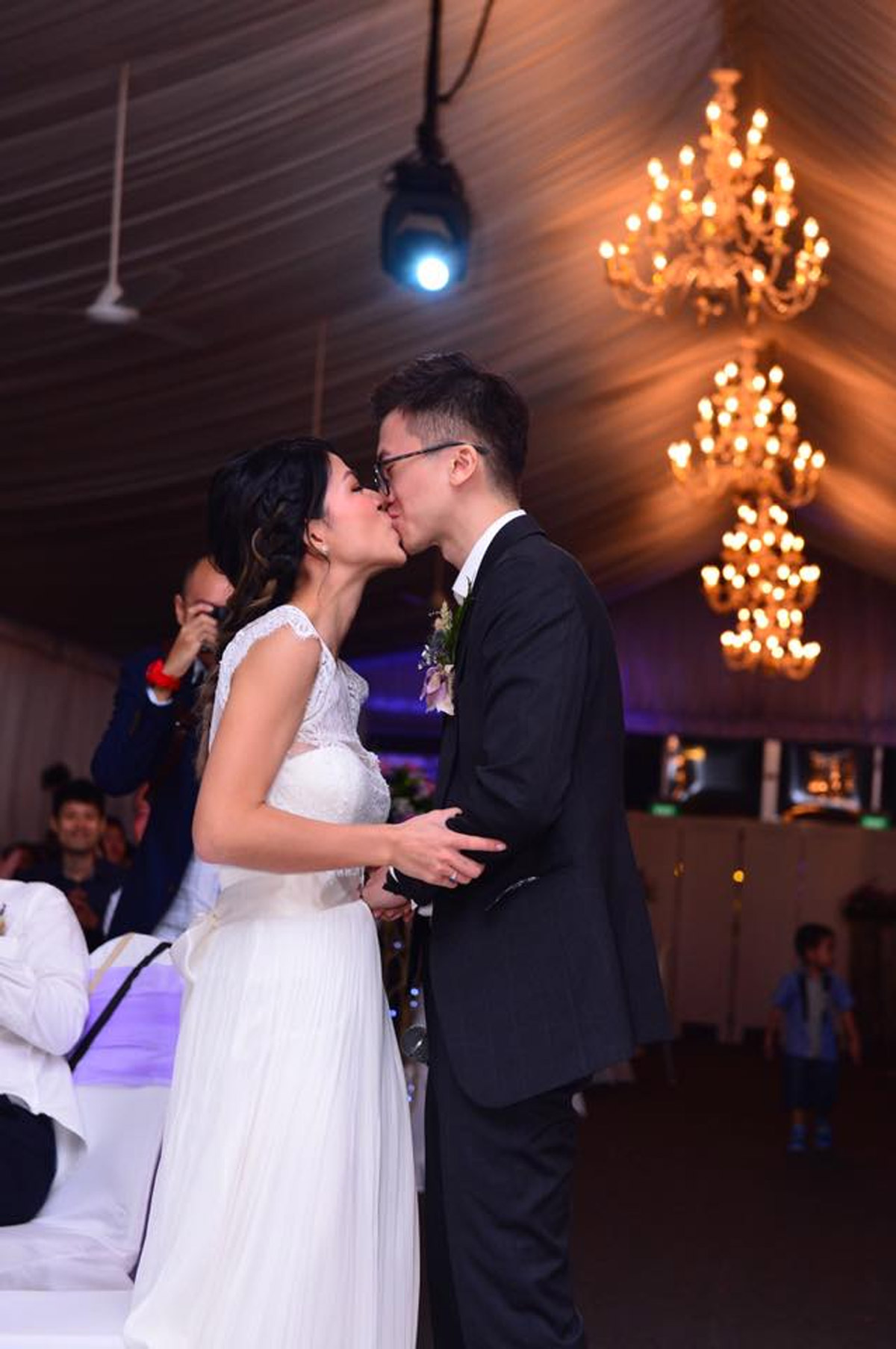 This couple utilises a spot light to keep the focus on themselves while creating a warm and cosy atmosphere with the chandeliers.
Source: LiveStudios Interactive Photography
While there's no right or wrong, we recommend having a colour scheme with 2 or 3 complementary colours. Use the funkier-coloured lights for your background, keep the white and yellow lights on your guests, and try not to have too bright lights or it'll be harder to balance the ambience light! As a general rule of thumb, if the lighting looks good on your mobile phone, it will look in photographs and videos.
3. Engage a live band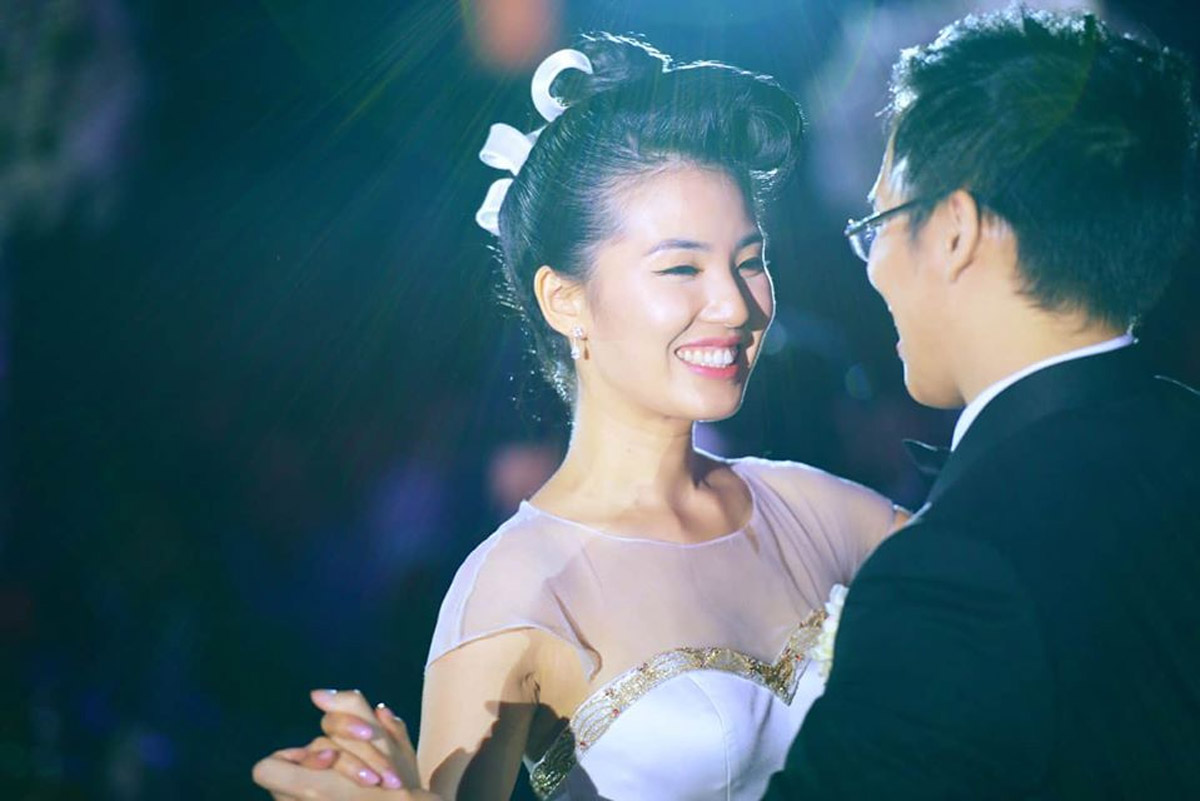 Trust us, a live band will take your first dance experience to another level.
Source: LiveStudios Interactive Photography
To inject some energy into your wedding and make music a treat not just for the ears but also for your other senses, we recommend engaging a live band. There's a reason why people love going to concerts, and it's because of the interactions and emotions present in a live performance!
Besides making your wedding playlist come to life, a live band also allows for versatility. Apart from being able to take song requests from your guests to up that fun factor, a live band would also have its own unique style, giving your setlist that added pizzazz.
4. Pay extra attention to the seating arrangement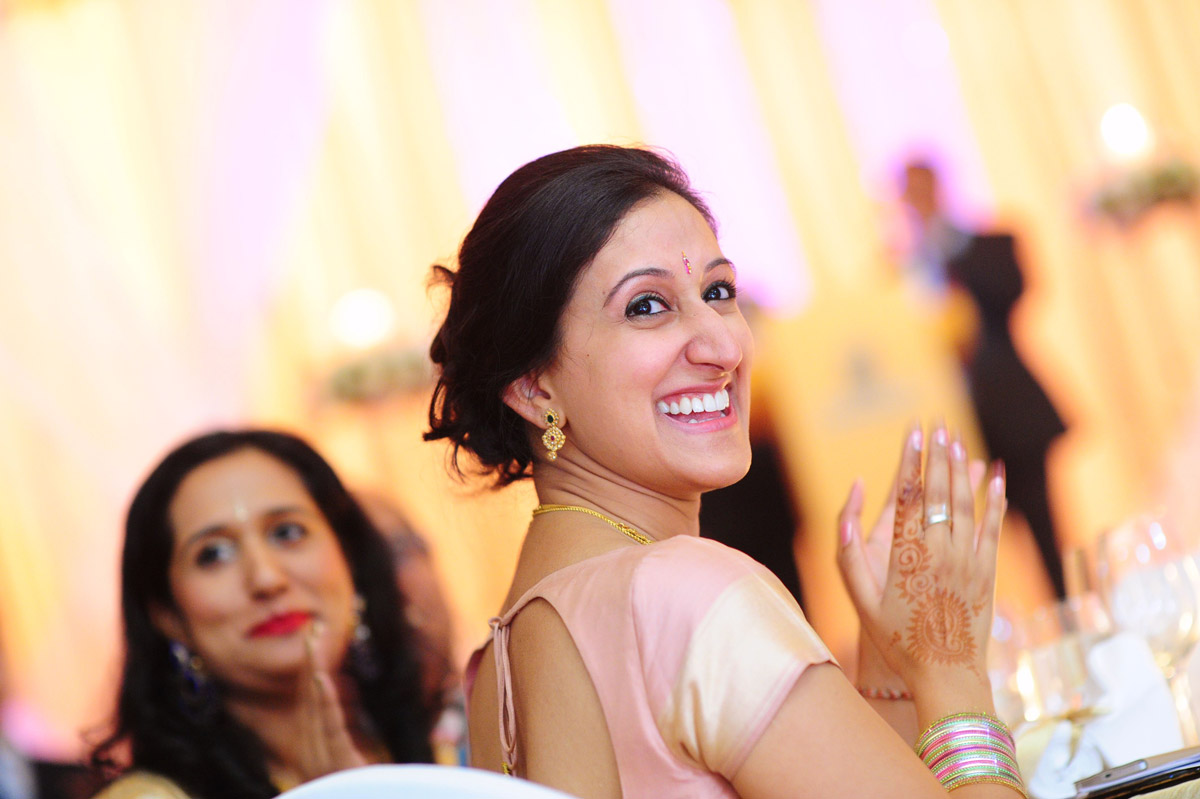 It doesn't matter if the seating arrangement at your wedding is going to be a conventional banquet style or long-table style; a carefully-planned seating arrangement of your guests is crucial to ensuring a good time for your friends and family.
While it might be tempting to play matchmaker or convenient to lump oddly-numbered groups with strangers, it is always best to place your guests with people that they know and get along with. This will get your guests talking to one another, which in turn paves the way for great conversations and an enjoyable, memorable night. Plus, your loved ones are ultimately here for you on account of the times you've spent together, so it's only fair to allow them to have a catch-up session about the good ol' times.
5. Shower your guests with hospitality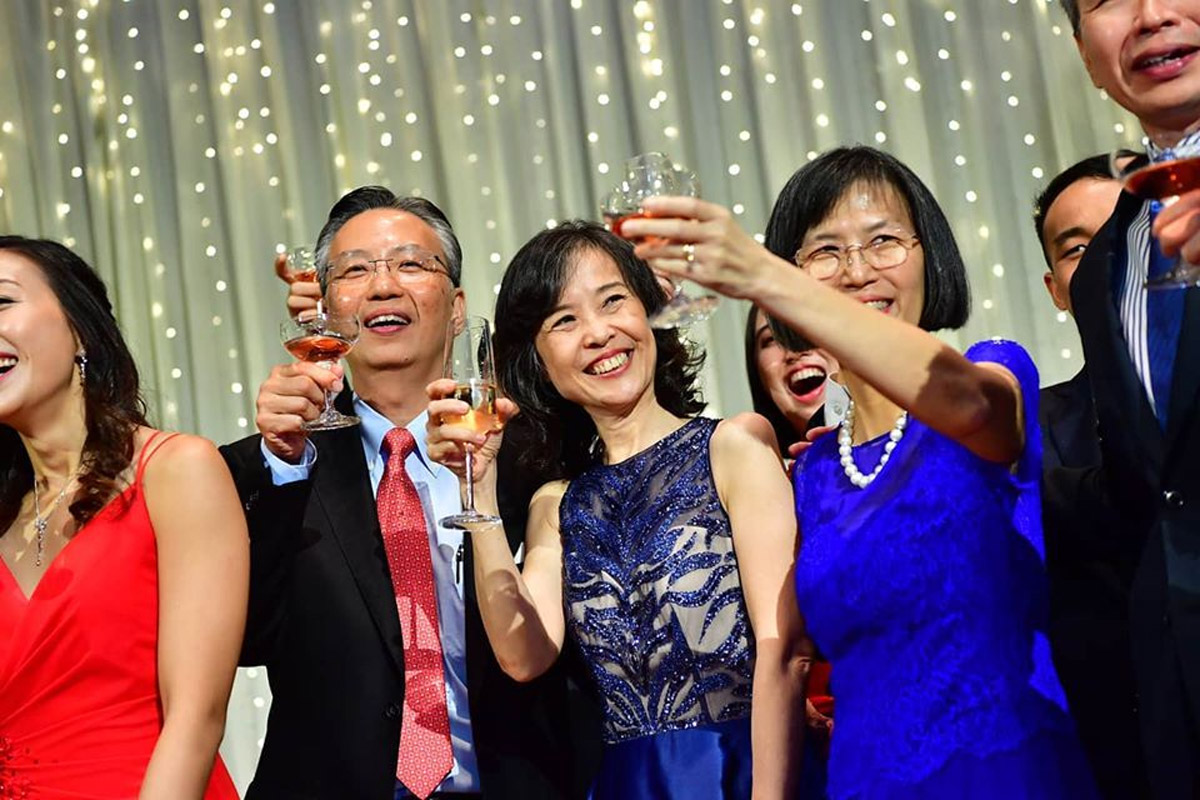 Source: LiveStudios Interactive Photography
A little goes a long way, and showing your guests that you care for their comfort and well-being at your wedding will definitely touch their hearts and make it a memory that they will treasure for years to come.
It also works as a way to thank them for taking the time and effort to come and celebrate your union with you, and all you need to do is to provide them with a little something extra that they might need in order to stay comfortable throughout your ceremony. This could range from a cab voucher for those who drove but still wish to drink, to a shawl to stay warm in case it gets cold, or colouring books for parents to keep their young children happily occupied.
6. Provide plenty of engagement
Get everybody up and grooving with a dance!
Source: @live.sg
For a wedding — or any other event — to truly leave an impression, it has to be engaging and stimulating. Consider including interactive activities in your wedding, be it a photo booth, a game that everyone can participate in, or a live food station where you can customise and watch your meal be freshly prepared with flair, right in front of your eyes!
7. Surprise with live photos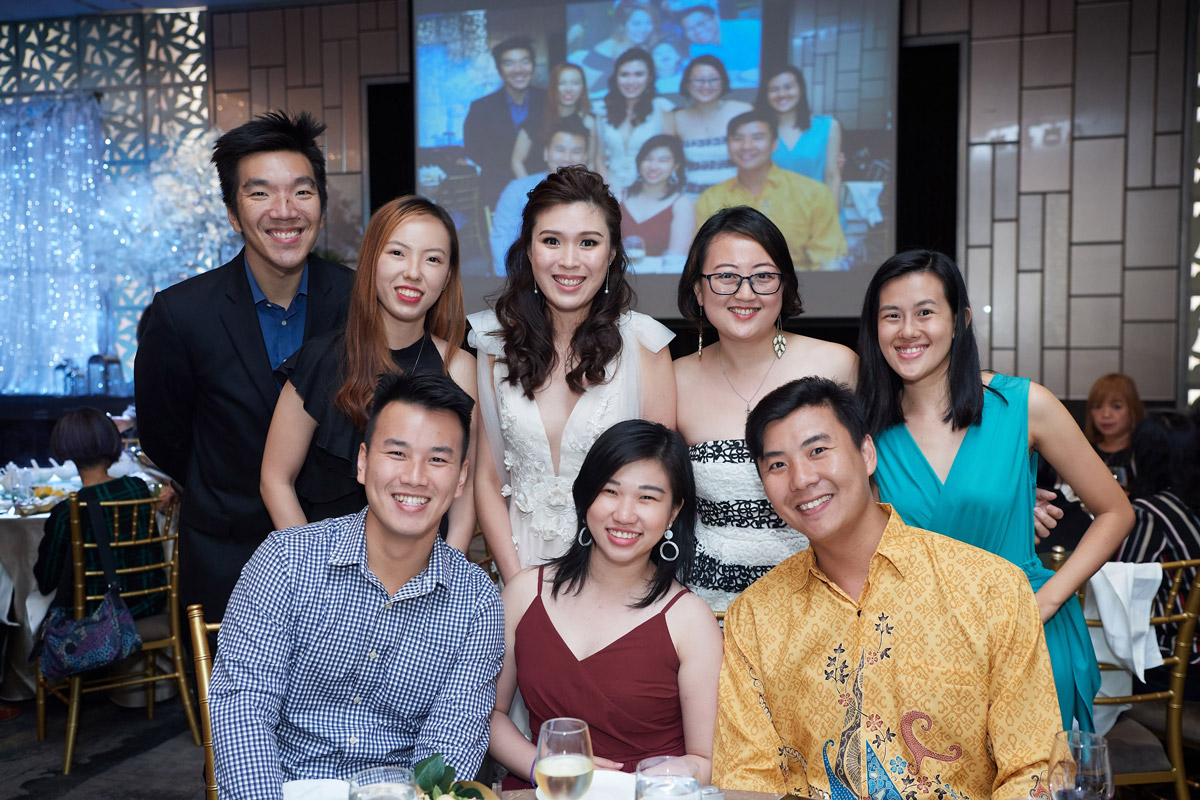 In the same vein as including interactive activities in your wedding programme, capture your guests' attention and imprint your wedding in their minds with "live" photography! An interactive form of wedding photos, live photography is when photographs taken by your wedding photographer are instantly projected onto your venue's viewing screen for all to see.
An innovative form of entertainment and wedding photography combined, this will not only delight your guests when they see flattering candids of themselves, but also help to enhance the mood of your wedding by showing the warm, genuine exchanges between your guests and yourself.
This provides additional content on top of the usual wedding montage videos, and since the wedding photographer will be roaming the grounds snapping candids of everyone, you'll be able to bring home memories of even the most camera-shy guests or elderly who would hesitate to go to a photo booth.
A fun-filled, memorable wedding with LiveStudios Photography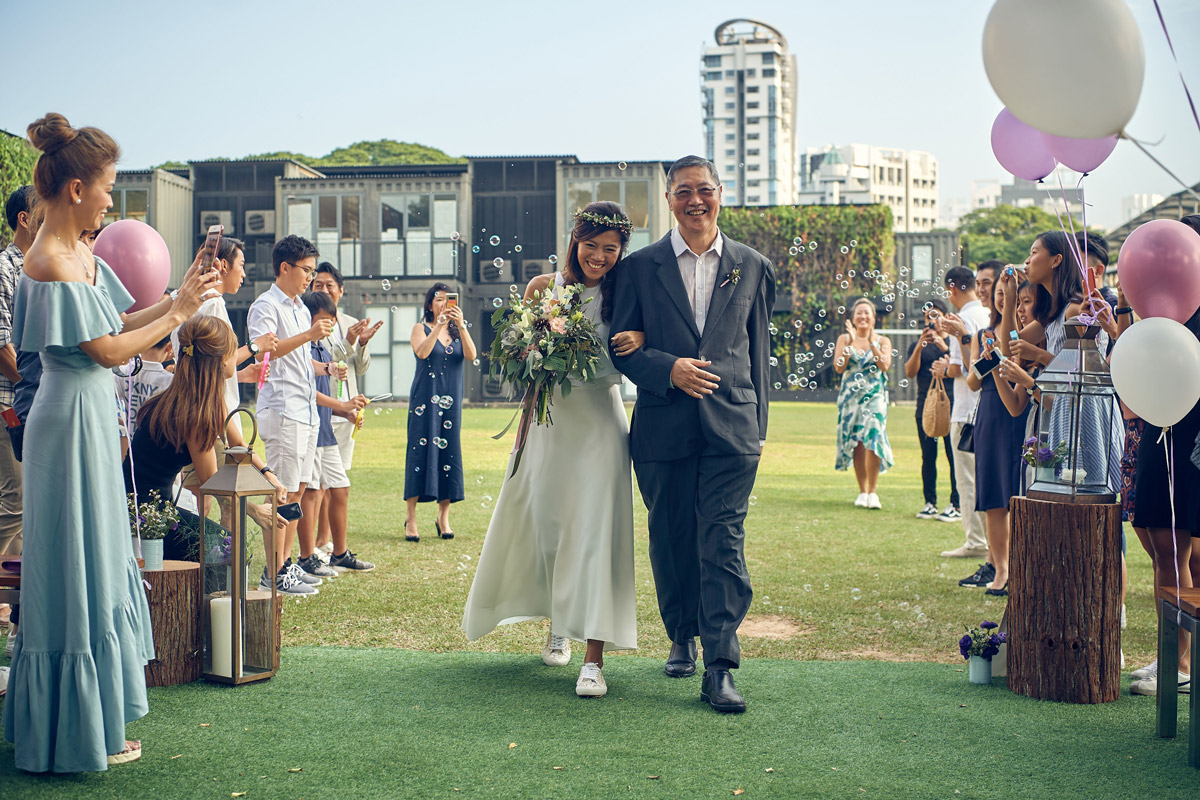 Feeling ready to take on the planning of the most memorable wedding ever? If the idea of live photography sounds particularly intriguing to you, LiveStudios Photography is one such company that provides actual day wedding photography, live photography, and instant printing services all in one fuss-free package!
That's the equivalent of three different vendors combined into one, which makes planning for your fun-filled, unforgettable wedding that much more efficient and convenient. Using WIFI-enabled DSLR cameras, all photographs taken by their photographers will be projected within seconds, filling guests with the excitement that comes with watching the banquet unfold in real time on screen.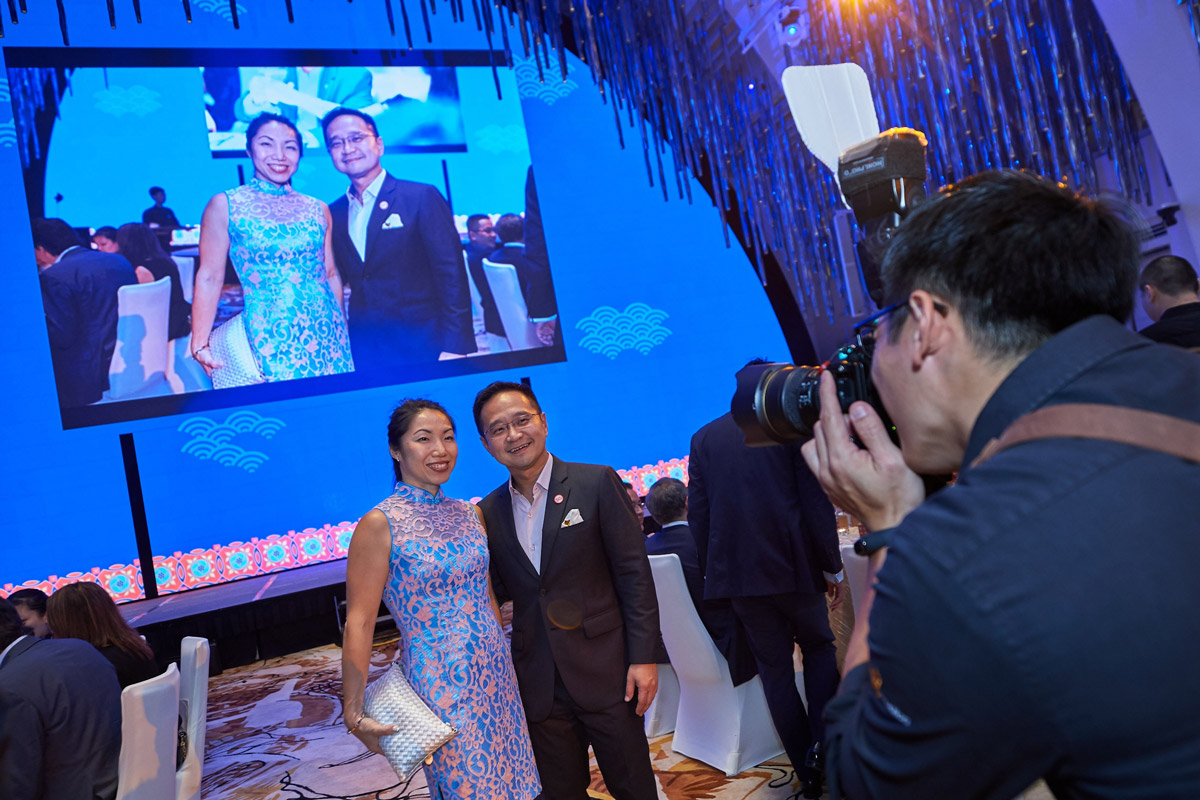 Plus, what makes LiveStudios Photography stand out from the crowd is that they specialise in capturing flattering candid moments. Whether it's a subtle smile shared between you and your spouse or the happiness radiating from your wedding guests, the team of photographers at LiveStudios Photography are all highly professional and well-trained in predicting and capturing these precious moments as beautifully as possible.
This is especially important because couples often have little time to really soak in all the fun and emotions of the day until it's all over, and it is through these authentic moments captured on film that we're able to relive the day's events.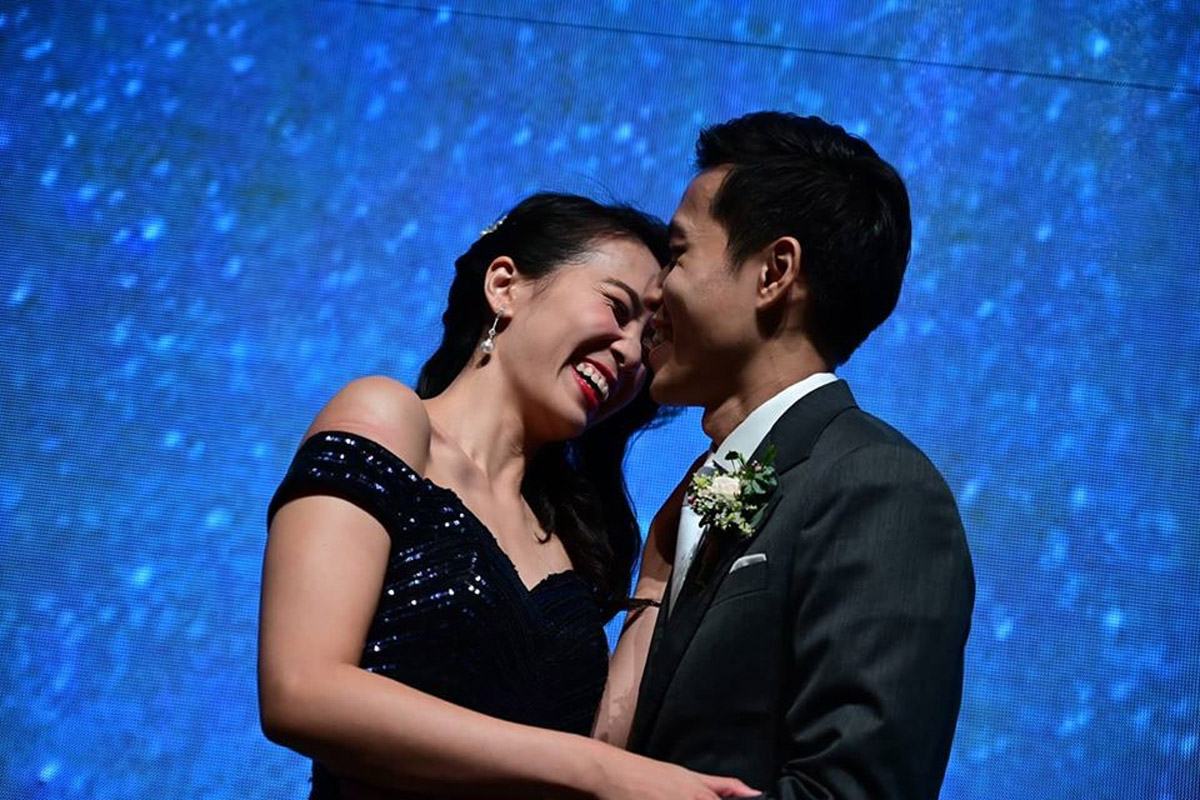 We're also more than familiar with the struggle of finding flattering candids of ourselves when they are taken by our friends and family, but with more than 17 years of experience in the wedding industry under LiveStudio Photography's belt, couples can rest assured that only the best angles of themselves and their guests will be captured.
Because they're so skilled at what they do, their photographs also hardly require editing, which means that couples can expect to receive a soft copy of their wedding photos incredibly fast — more specifically, right at the end of the wedding itself!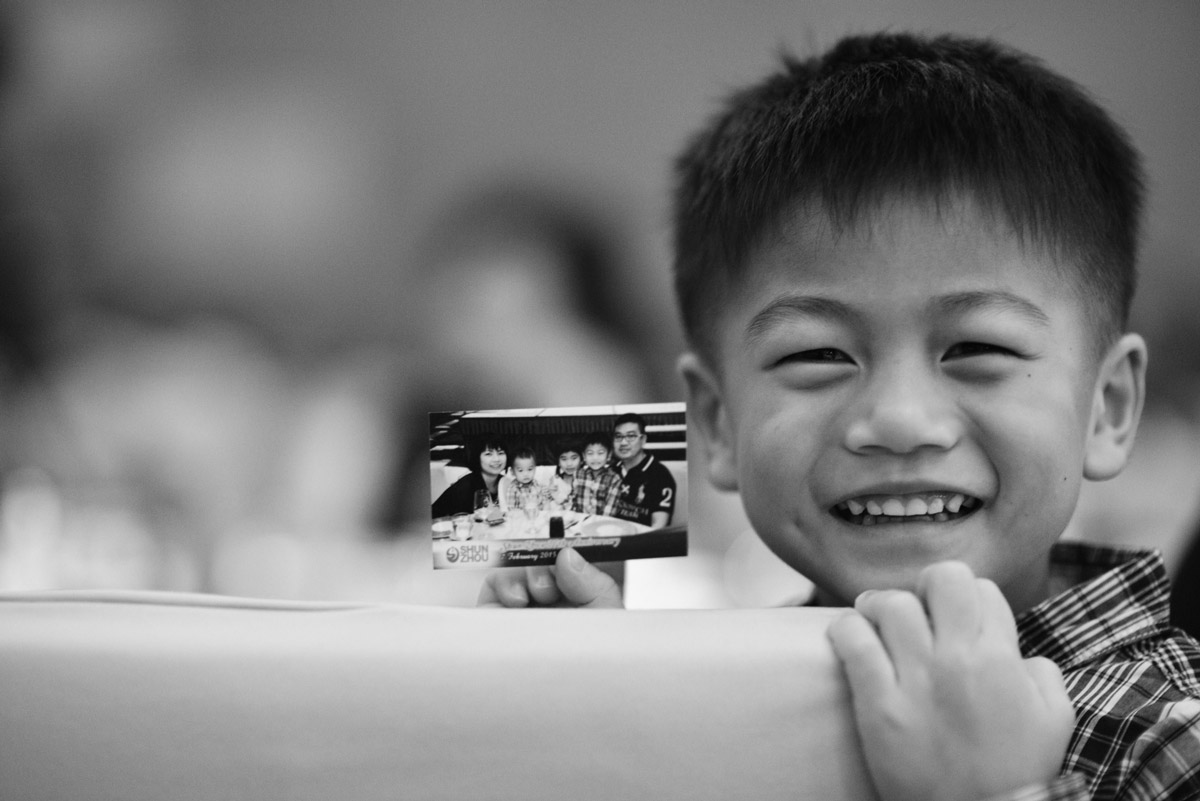 These photocards are the perfect size to fit into wallets, stick on fridges, or display on office partitions. In other words, they are a great way to hold onto memories.
The friendly and cheery team at LiveStudios Photography also believe that a wedding should be fun and engaging for guests of all ages, so they often make it a point to proactively the elderly and those who might be too shy to pose in front of a camera by themselves as well. Your guests will then be able to receive a pocket-sized printout of the photograph within just minutes that they can carry around with them with ease, complete with a custom logo and design that you can personalise beforehand!
To top it all off, LiveStudios Photography also has an interactive digital guestbook service, which allows guests to pen their well-wishes next to their photographs on a digital tablet. These heartfelt messages can then be displayed live on the venue's big screens, printed out, or even uploaded to the couple's social media accounts.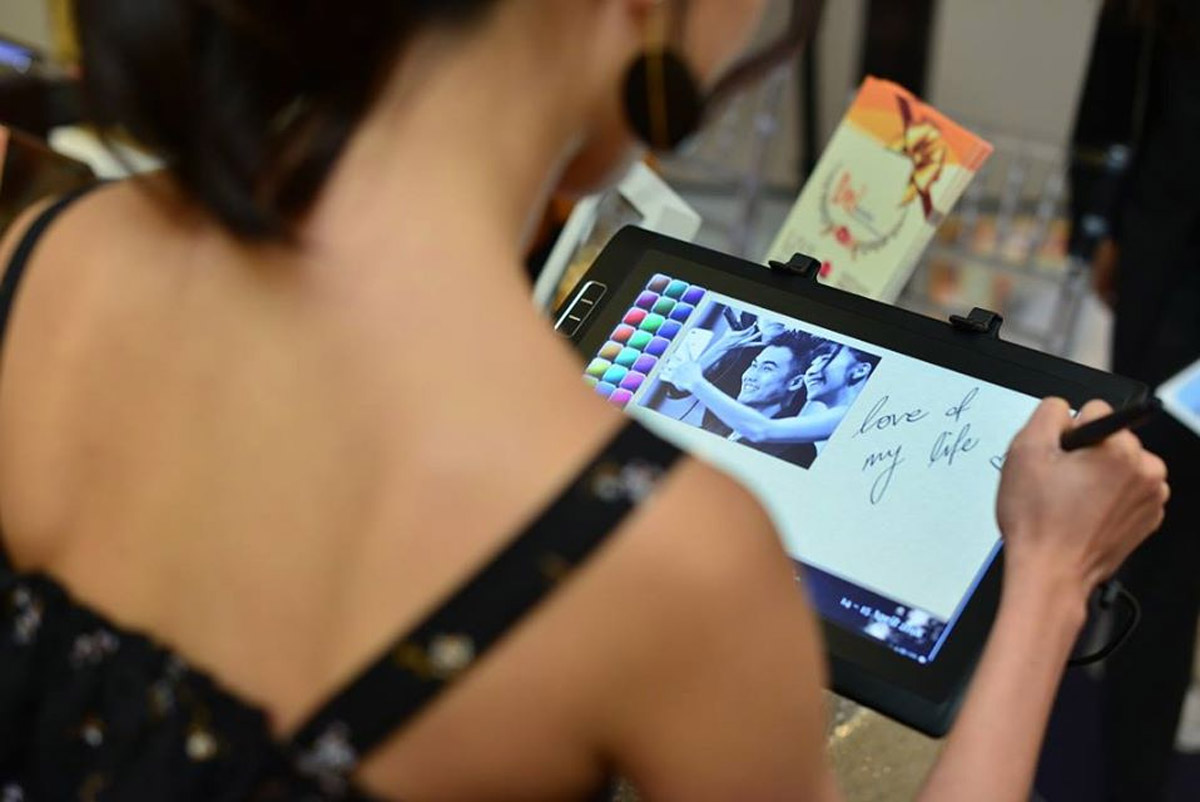 Additional options such as light painting, a GIF booth, and a 180° Bullet Time feature that captures a moment simultaneously from multiple angles are just some of the fresh and creative services that LiveStudios Photography also offer, so make sure to reach out to their team to find out more about what they have in store for couples here!
LiveStudios Photography
Website: https://livestudios.com/
Facebook: facebook.com/livestudios
Instagram: instagram.com/live.sg/
________________________________________
This article was written for LiveStudios Photography.
All images are from LiveStudios Photography.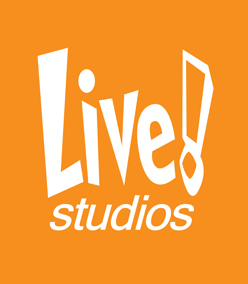 Livestudios Photography Pte Ltd
Rating:

Address:

52 Niven Road, Singapore 228400​

Phone:

6250 0791