Revel in the Most Popular Styles and Signature Wedding Ring Designs at Love & Co.
2021-09-22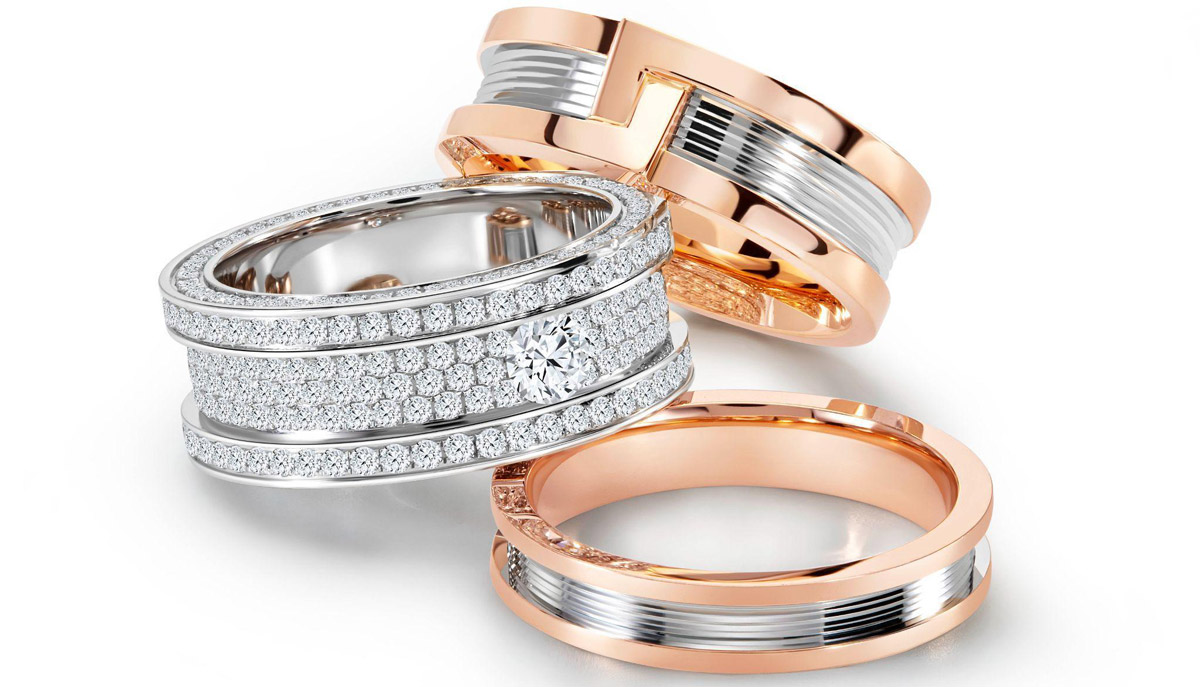 Wedding rings are more than just mere jewellery! They are an emblem of love through time, as well as a symbol of devotion and commitment between two lovers. This is why it is important to find the right pair that represents your eternal love.
Love & Co. is a premier jeweller in Singapore that specialises in a range of jewellery, from timeless wedding bands to eternal engagement rings and other bridal jewellery. If you are on the lookout for a ring that looks like it was made just for you, look no further! Read on to immerse yourself in the most popular styles and signature wedding ring designs at Love & Co.!
Signature Wedding Bands from LVC Promise Collection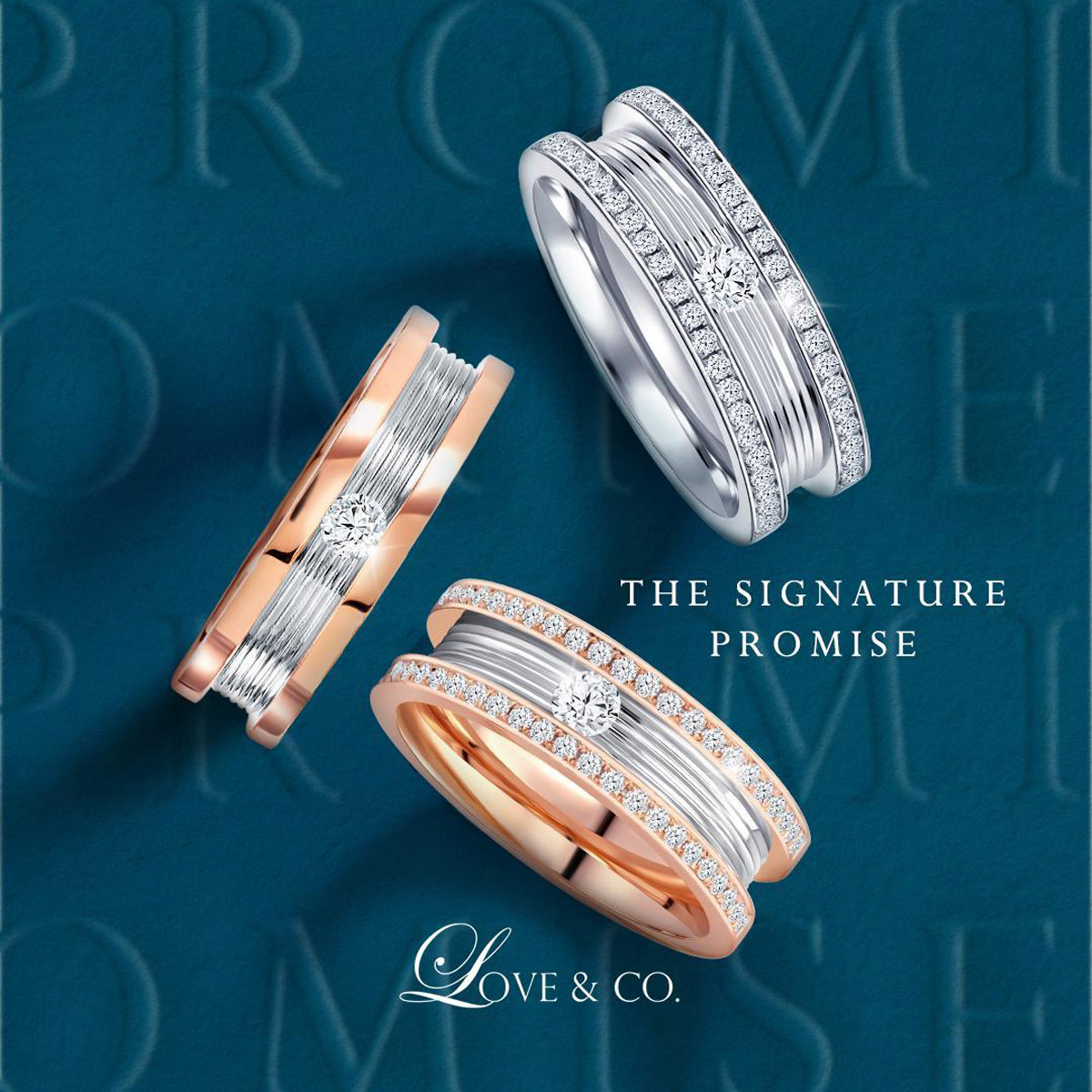 If you are on the hunt for exclusive and signature wedding bands, the LVS Promise Collection is THE ONE for you! Inspired by the interlocking of a bolt and nut, these designs symbolise the strength that comes from the perfect union and bond of two individuals. With the intricate detailing exclusively designed at Love & Co., there will always be a special story to tell with LVC Promise rings. This collection also caters to the modern couple with its thicker wedding band that can also double up as a statement piece.
With Love & Co.'s high-quality craftsmanship, gone are the worries of having an uncomfortable wedding ring that tugs at your skin. Wedding bands from the LVC Promise collection are crafted using a special cutting-edge CNC technology that ensures maximum comfort for daily wear. The rings undergo many rounds of polishing in the process to guarantee smooth surfaces of the ring for a comfortable fit.
Popular Wedding Band Styles
Unsure of which wedding band styles to go for? Fret not! Here is a list of Love & Co.'s popular wedding band styles that you can take inspiration from!
1.
The Timeless Romantic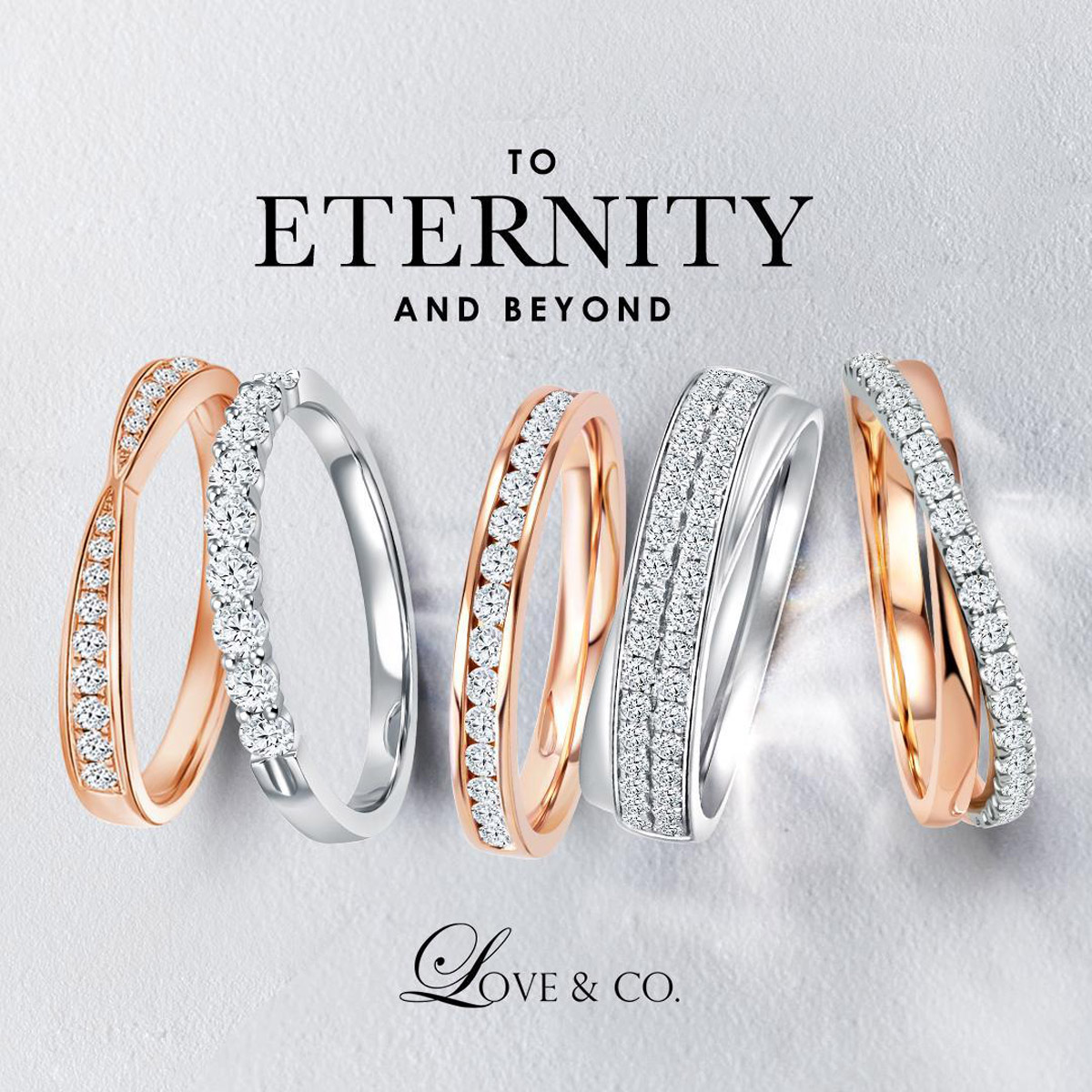 If you are looking for wedding bands that exude a more romantic style that will never grow outdated, look no further than the LVC Eterno Collection! Designed for life's major milestones, these eternity bands are undoubtedly a classic piece of jewellery that will withstand the test of time. There is no other collection than the LVC Eterno Collection that will better represent your undying and everlasting love.
Apart from its eye-catching sparkles that gleam from every curve and angle, the versatility of an eternity ring is also another of its prominent features. You may choose to wear the gorgeous band alone or stack it with other rings to elevate the band's brilliant beauty.
Available in a range of colours including white gold, rose gold, and even dual-toned, there is no doubt that you will find an eternity band that fits your preferred style.
2.
Simple Yet Elegant Styles

If you prefer rings that are a more simple style and yet also radiate elegance, Love & Co. also have designs that will be right up your alley!

LVC Perfection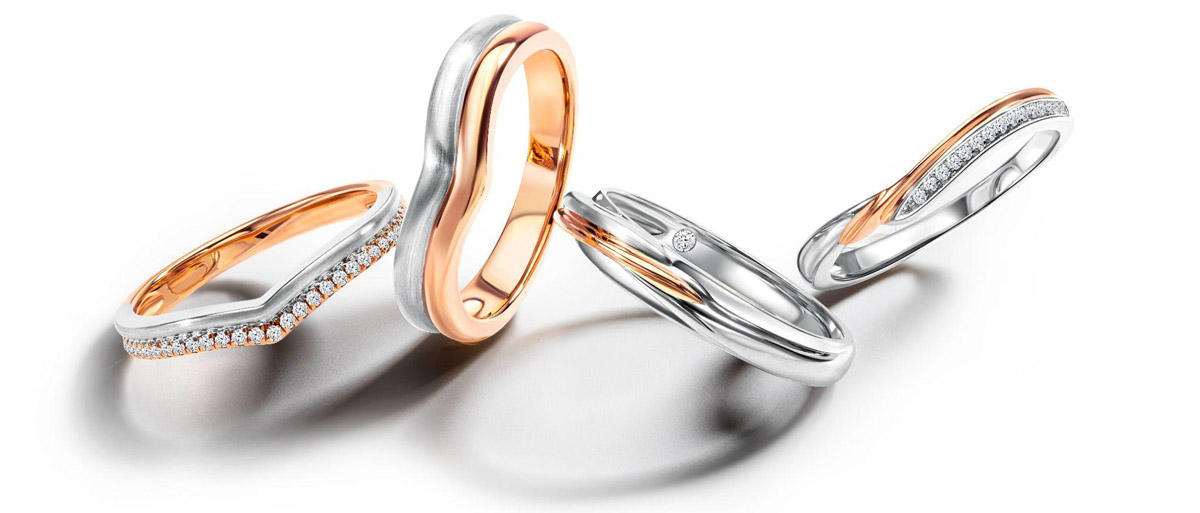 "All good things come in pairs." This is a saying that we are all familiar with. That is why Love & Co. has come up with a collection that marries the beauty of a duet. LVC Perfection Collection is perfectly tapered and proportioned to complement your engagement ring. With this collection, you no longer have to worry about your engagement ring and wedding ring clashing with one another!
LVC Perfection is the most popular collection for those who are seeking matching pairs of wedding bands. However, if you are just looking for rings that are simple with subtle design details, this collection will also appeal to you.
LVC Desirio

Do you have a more independent and confident style and would like to have a ring that showcases these qualities? LVC Desirio collection will be the perfect expression of YOU as a unique couple.
The LVC Desirio collection has been proven to be very popular with many customers loving its unique and exclusive designs. The intricate designs on these rings are only possible with the most experienced designers. At Love & Co., their rings are beautifully crafted with the highest quality craftsmanship. Love & Co. understands that wedding bands are of great significance and meaning, therefore a lot of thought has gone into every ring design. Each design concept has a special inspiration, emulating the stories embodied in each couple's wedding bands.
3.
The New and Modern Wedding Band Design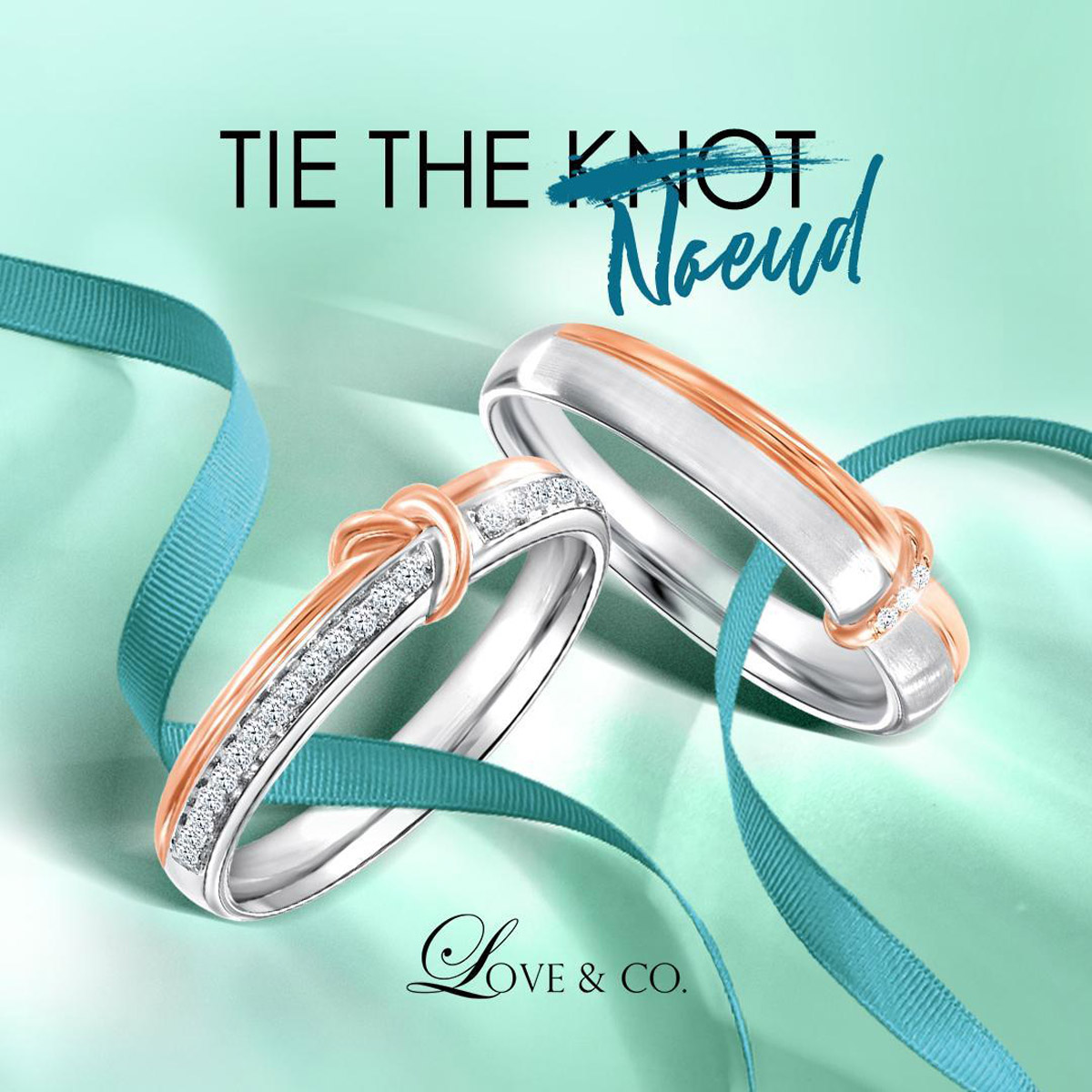 Want something that is unique and modern? Love & Co.'s latest LVC Noeud collection may have the one you are looking for! This collection consists of matching pairs of wedding bands for both females and males that are NOEUD (not) your typical kind of wedding bands. Featuring a variation of the very intricate yet subtle detail of the "knot" design, this collection represents the symbolic tying of the knot between a couple.
The knot design together with the dual tones will definitely elevate the ring as a stunner and conversation starter. Be prepared to turn heads when you rock your wedding bands from the Noeud series!
Signature Love & Co. Engagement Rings
Are you looking at the above wedding rings, getting inspired to propose to your significant other but don't know where to start? No worries, we've got you covered! Here are some of Love & Co.'s signature engagement rings that will make her want to say "yes"!
LVC Destiny
The LVC Destiny is a one-of-a-kind masterpiece, specially crafted by Love & Co. The LVC Destiny iconic design exhibits an infinity symbol decorated with a choice of pave diamond band which offers a perfect combination for maximal sparkle. By incorporating the infinity symbol in the ring, it symbolises the everlasting love and promise between a couple.
The New Destiny engagement ring continues to feature the intricate detailing of the infinity symbol with a subtle twist band in the perfect dual combination of white and rose gold. The seamless balance and union of the dual tones create a harmonious piece that celebrates your love.
LVC Love Journey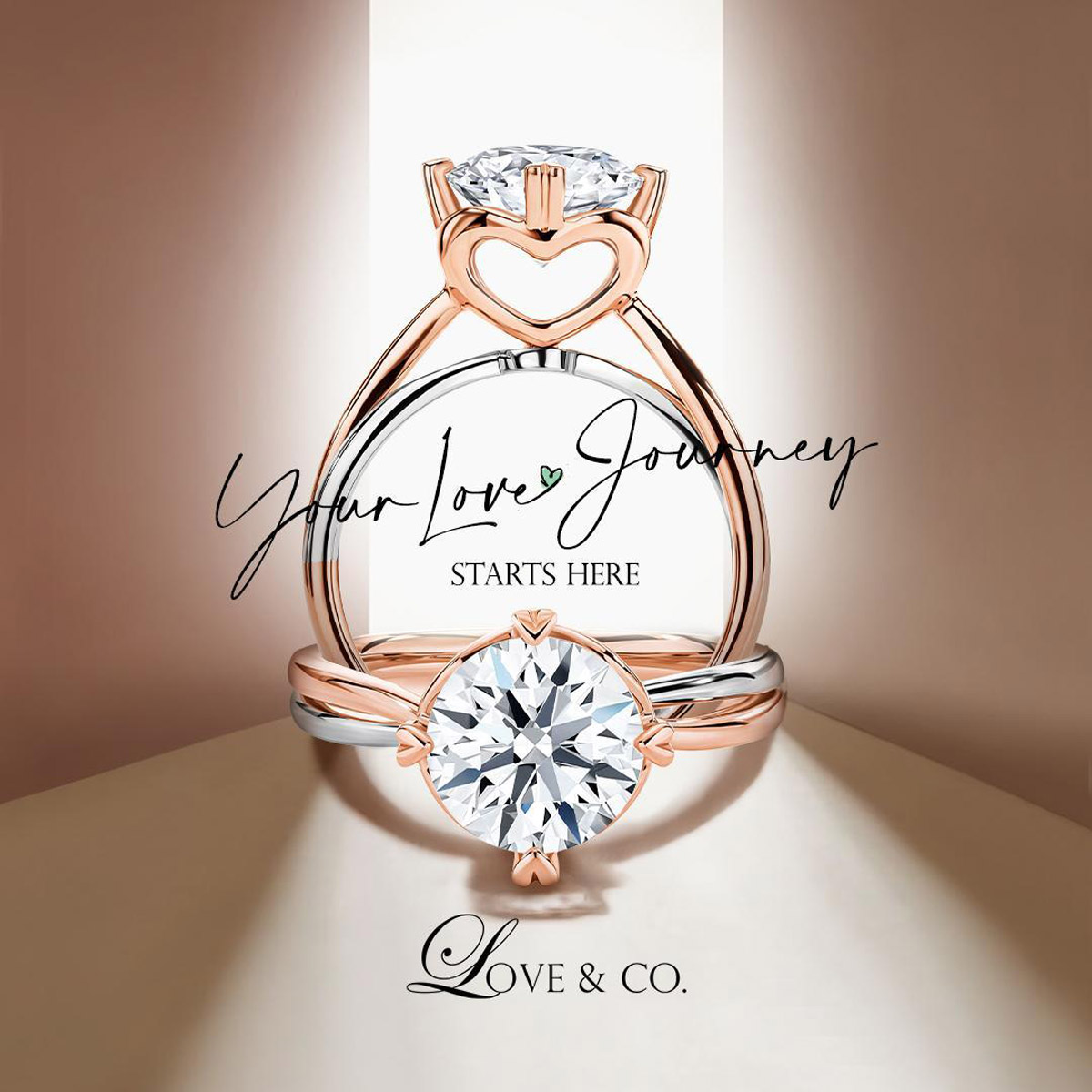 LVC Love Journey is a signature design by Love & Co. that seeks to narrate the unique love story of a couple through their rings. Specially designed with hearts within the ring setting, it elevates the centre diamond, giving your ring the extra bling.
The New Love Journey engagement ring signifies the start of a new chapter. This ring is the ultimate choice for one to express their unique love story. Not only will this engagement ring encompass the promise of love, but it will also embody the heart that you have entrusted your partner with.
Made for you, by you - Love & Co. bespoke service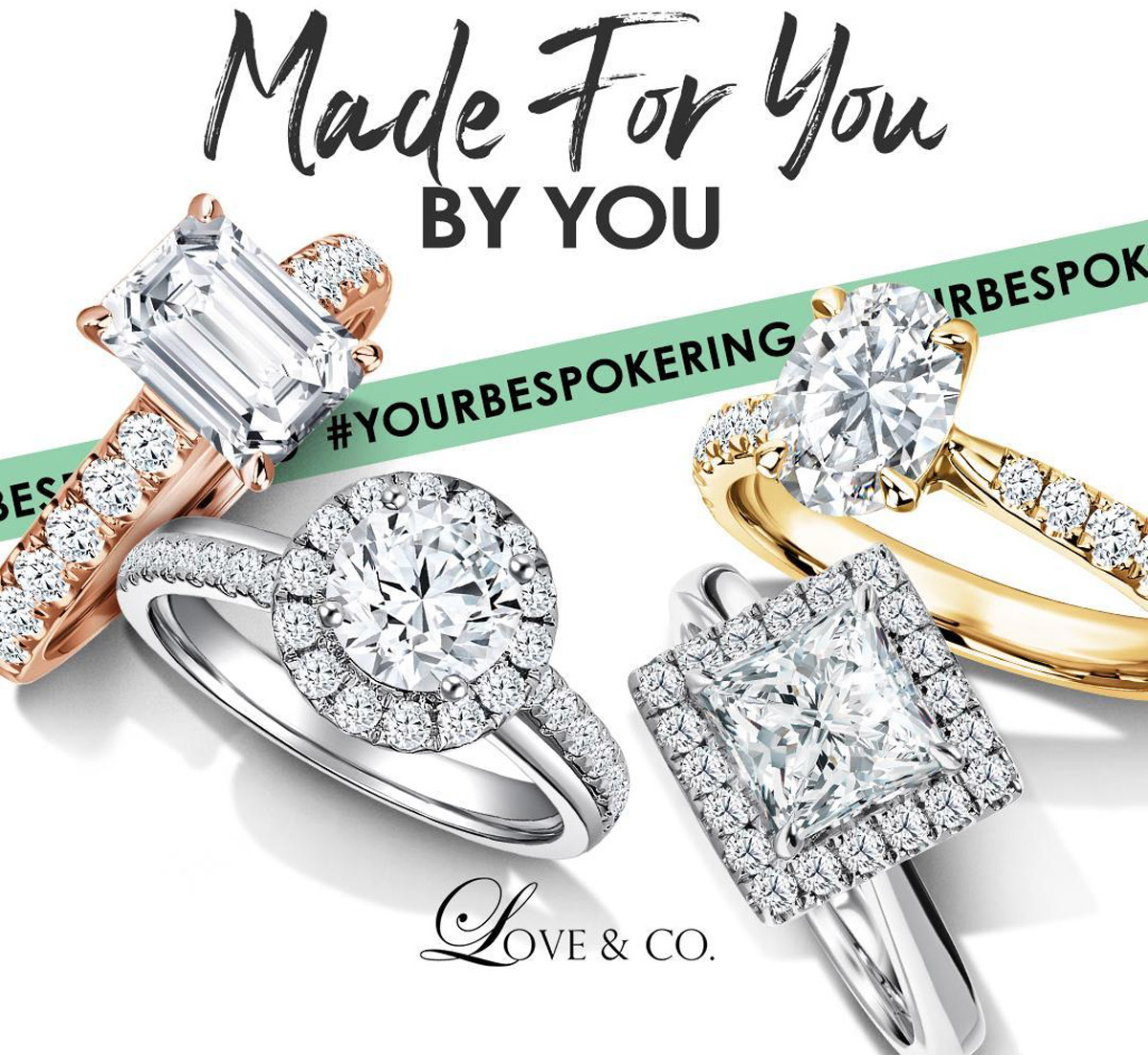 Still unable to choose the right ring for you? That is okay! With Love & Co.'s bespoke engagement rings, you can have a stake in your dream engagement design! Love & Co. offers a plethora of popular fancy shape diamonds, such as the princess cut, emerald cut, oval cut, or the classic round brilliant cut, that you can choose from. After choosing your preferred shape, you can then look at the ring styles and settings. You may wish to opt for the halo design with diamonds encircling the centre stone or even a pave setting with side diamonds on the band.
At Love & Co., the possibilities are endless! Through their bespoke process, you may customise your engagement rings down to your preferred band design and metal type. Unsure of whether you can take on this responsibility? No worries, Love & Co. has diamond experts who will be willing to walk you through the different permutations of ring designs so that you can craft your very own. Now, with Love & Co.'s "Made for you, By you" bespoke suit, you can fulfil your dream engagement ring wishes and confidently announce that it was indeed made FOR YOU.
Get Your One-of-a-kind Engagement ring or wedding bands at Love & Co.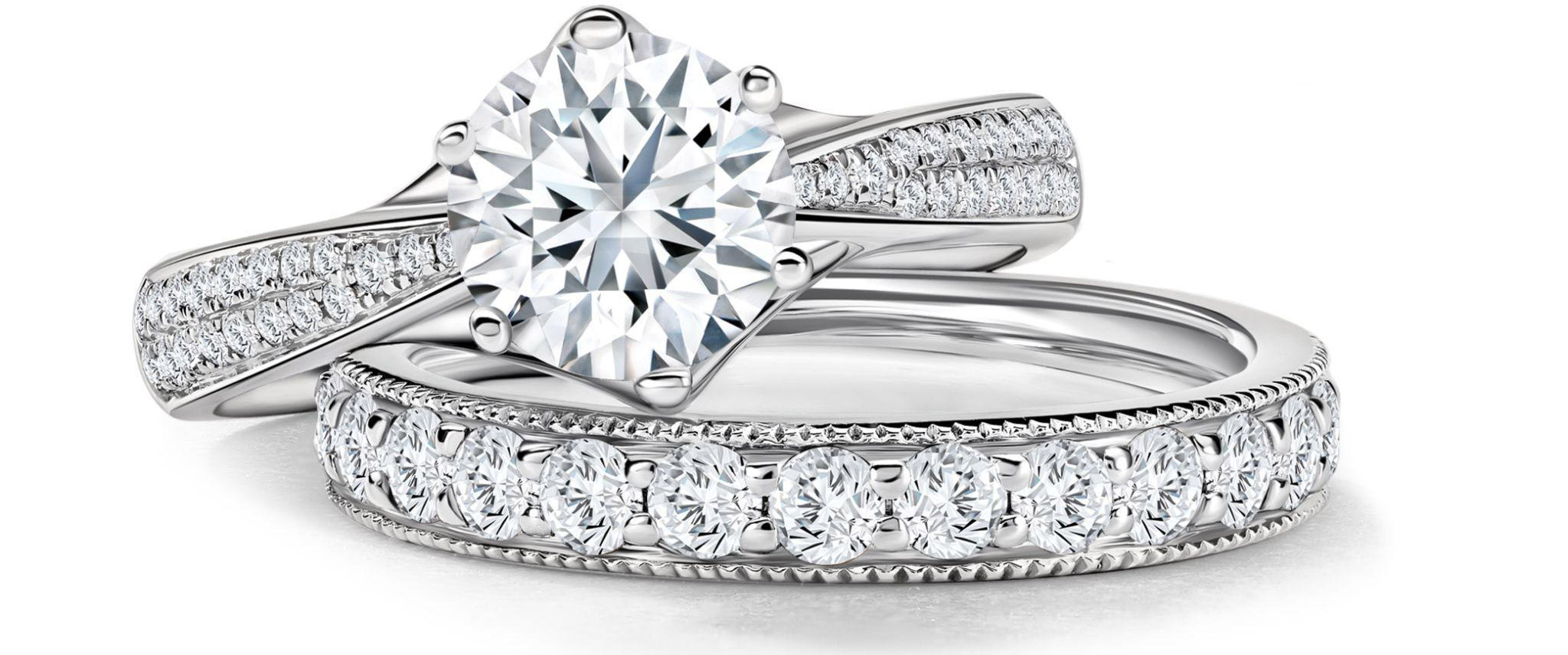 Being the top bridal jeweller specialised in wedding rings, be assured that our experts here are more than willing to assist you in finding your dream engagement ring or wedding band. Not only will you have the power to choose, but you can also have a stake in your ring design. Do not worry about getting too overwhelmed as their experts will advise you on the basic diamond terminologies and tips to look for in a diamond or wedding band respectively. They can provide a variety of ring pairing inspirations since lots of thoughts have been put into the design of their rings.
At Love & Co., their designs are unique, intricate and one-of-a-kind. Crafted with special technology, they ensure that the rings are at maximum comfort for daily wear.
To find out more about their wedding bands and engagement jewellery, feel free to book an appointment with them here.
Love & Co.
Stores & Tel:
Ion Orchard #B2-64, Singapore 238801 | 6509 8633
Plaza Singapura #01-07, Singapore 238839 | 6835 7533
VivoCity #01-145/146, Singapore 098585 | 6376 9033
JEM #01-47, Singapore 608549 | 6734 8033
Jewel Airport #01-258, Singapore 819666 | 6970 4233
Northpoint City South Wing #01-187/188, Singapore 768019 | 6255 3933
Vivocity #01-125/126, Singapore 098585 | 62644733
E-mail: contact@love-and-co.com