Solemnisation Package Prices for 2021: Hotels & Restaurants
2020-10-16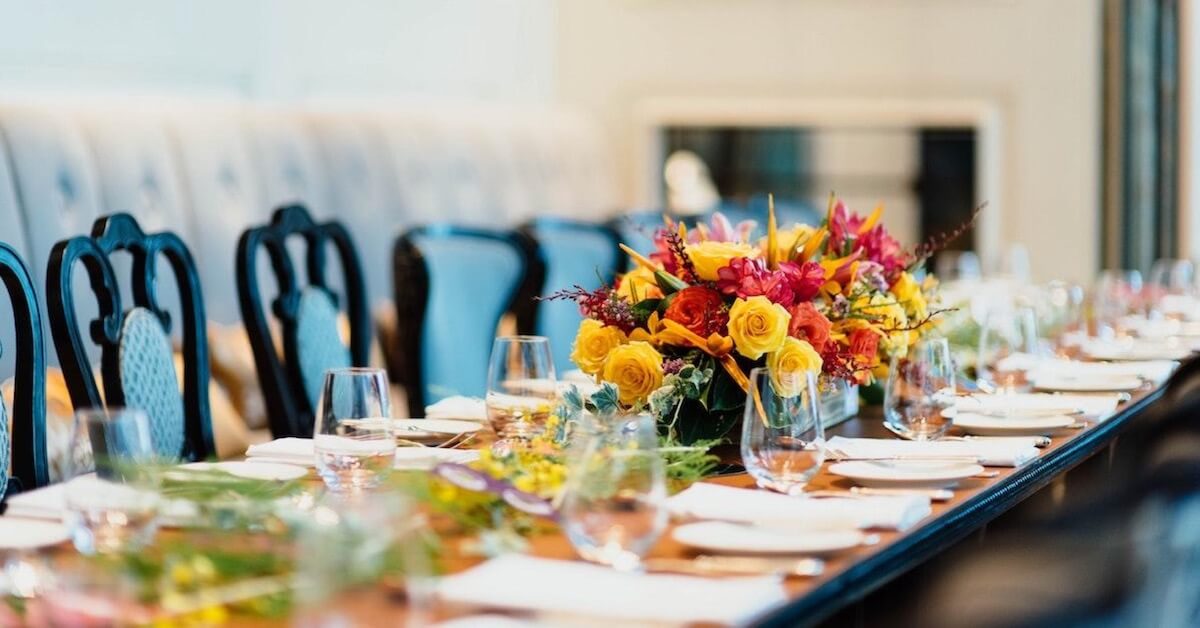 Source: ChutterSnap on Unsplash
Wedding planning can be exhausting because of the number of steps involved, especially if you're planning to host it this season, post-COVID. The good news is, Singapore has stepped up their safe distancing measures and many restaurants and hotels still offer solemnisation services!
To save you the hassle of researching every venue one-by-one, we've compiled a list of solemnisation venues in Singapore (hotels, resorts, country clubs, and restaurants included) suitable for an intimate celebration of less than 100 pax with their solemnisation package prices and additional costs, if any.
Note: This list was updated as of September 2020. Please feel free to drop us a message if you notice that any of the prices listed here needs updating, or if you need us to add in a specific venue! We greatly appreciate your feedback.
P.S. Swipe to see the prices if you are viewing on mobile.
Hotel/Resort/Country Club
Lunch
Dinner
Additional Information
Package PDF
Amara Sanctuary Resort
(Stairway Solemnisation)
-
-
Package from $2,088++
- No food catering
Click & view here
Amara Sanctuary Resort
(Upper Tier)
$95++ per person
$105 ++ per person
Package from $1,088++
Click & view here
Amara Sanctuary Resort
(Glass Pavilion - Package 1)
-
-
Rental of Glass Pavilion with no food catering from $3,888++
Click & view here
Amara Sanctuary Resort
(Glass Pavilion - Package 2)
$108++ per person
-
Rental of Glass Pavilion & Buffet Lunch from $2,288++
Click & view here
Amara Sanctuary Resort
(Glass Pavilion - Package 3)
-
$118++ per person
Rental of Glass Pavilion & Buffet Dinner from $2,288++
Click & view here
Amara Sanctuary Resort
(Lark Hill Mansion)
$75++ per person
$85++ per person
Minimum number of person: 30
Package from $6,888++
Click & view here
Amara Sanctuary Resort
(Intimate Villa Party)
-
-
1-bedroom villa from $2,088++
2-bedroom villa from $2,288++
Click & view here
Amara Sanctuary Resort
(Larkhill Terrace)
$108++ per person
$118++ per person
Package from $3,888++
Click & view here
Amara Sanctuary Resort
(Skypool)
$108++ per person
$118++ per person
Package from $1,588++
Click & view here
Amara Singapore
Chinese Set Lunch at $780++ per table (10 pax)
High Tea Buffet at $68++ per pax
Chinese Set Dinner at $980++ per table (10 pax)
Weekdays Only
Click & view here
International Buffet Lunch at $78++ per pax
Halal Buffet Lunch from $68 per pax
International Buffet Dinner at $98 per pax
Halal Buffet Dinner from $68 per pax
Weekdays Only
Click & view here
Chinese Set Lunch at $880++ per table (10 pax)
High Tea Buffet at $78 per pax
Chinese Set Dinner at $1,080 per table (10 pax)
Weekends Only
Click & view here
International Buffet Lunch at $88 per pax
Halal Buffet Lunch from $78 per pax
International Buffet Dinner at $108 per pax
Halal Buffet Dinner from $78 per pax
Weekends Only
Click & view here
Capella Hotel
(Poolside Bliss Package)
$6,888++
$6,888++
Max no. of guests: 50
Click & view here
Capella Hotel
(Garden of Dreams Package)
$5,888++
$5,888++
Max no. of guests: 50
Click & view here
Capella Hotel
(Horizon's Verge Package)
$3,888++
$3,888++
Max no. of guests: 50
Click & view here
Capella Hotel
(Chef's table Terrace Package)
$3,888++
$3,888++
Max no. of guests: 50
Click & view here
Carlton Hotel Singapore
$898++ for 10 Persons
$898++ for 10 Persons
Min no. of guests: 40 persons
Max no. of guests: 50 persons
Click & view here
Crowne Plaza Changi Airport
$1,288.00 ++ for 20 guests
$1,288.00 ++ for 20 guests
Maximum 20 guests
Click & view here
Furama City Centre
$60++ per person (Buffet)
$628++ per table (Chinese Set)
$55++ per person (High tea)
$70++ per person (Buffet)
$708++ per table (Chinese Set)
Minimum number of persons: 30
Guaranteed number of tables: 3
Click & view here
Furama Riverfront
Buffet Lunch at $73++ per person
$70++ per person (High tea buffet)
Buffet Dinner $83++ per person
Minimum number of persons for Buffet meal: 50
Click & view here
Chinese Set Lunch at $828++ per table
Chinese Set Dinner at $928 ++ per table
Minimum number of persons for Chinese Set Lunch: 30 pax
Click & view here
Grand Copthorne Waterfront
Western Menu at $128++ per person
Western Menu at $128++ per person
Min. number of persons: 30
Max. number of persons: 50
Click & view here
Chinese Set Menu I at $1,088++ per table of 10 persons

Chinese Set Menu II at $1,188++ per table of 10 persons
Chinese Set Menu I at $1,088++ per table of 10 persons

Chinese Set Menu II at $1,188++ per table of 10 persons
Min. number of persons: 30
Max. number of persons: 50
Click & view here
Grand Park Orchard
Chinese Set Lunch: $1180++ per table of 10 pax
Chinese Set Dinner: $1380++ per table of 10 pax
Minimum number of person: 30
Click & view here
Hilton Singapore
Chinese 7 Course Lunch: $800++ per table of 10 persons

Lunch Buffet: $80++ per person
Chinese 7 Course Dinner: $900++ per table of 10 persons

Dinner Buffet: $90++ per person
Minimum number of tables for Chinese menu: 5

Minimum number of guests for buffet: 50
Click & view here
Hotel Fort Canning
-
-
Exclusive use of Garden Terrace only for 50 persons at $2500++
Click & view here
Hotel Fort Canning
(Enchanted By You Package)
Lunch: $148 ++ per person
Dinner: $168 ++ per person
Minimum Number of persons: 30
Click & view here
Hotel Fort Canning
(Love Me Tender Package)
$148++ per person
$168++ per person
Minimum Number of persons: 50
Click & view here
Hotel Fort Canning
(Now & Forever Package)
$128++ per person
$148++ person
Minimum Number of persons: 50
Click & view here
Intercontinental
(Ambassador Suite)
$2388++ for min. 10 guests, max. 18 guests
$2388++ for min. 10 guests, max. 18 guests
Additional $98.80++ per person
Click & view here
Intercontinental
(Grand Ballroom Package)
$138.80 ++ per person
$138.80 ++ per person
Minimum Number of persons: 50
Click & view here
Intercontinental
(Library Package)
$3288++ for min. 20 guests, max. 30 guests
$3288++ for min. 20 guests, max. 30 guests
Additional $98.80++ per person
Click & view here
Intercontinental
(Presidential Suite Solemnisation)
$4888++ for min. 20 guests
$4888++ for min. 20 guests
-
Click & view here
Marina Mandarin Singapore
(New Beginnings Package)
Bento Set Lunch: $65++ per person

High Tea at: $55 ++ per person
Bento Set Dinner: $65++ per person
Min. number of persons: 10
Click & view here
Novotel Singapore on Stevens
High Tea Buffet:
$73++ per person

Buffet Lunch:
$93++ per person

Chinese Set Lunch:
$938++ per table of 10 person
Buffet Dinner:
$103++ per person

Chinese Set Dinner:
$1038++ per table of 10 person
Minimum number of persons: 40
Click & view here
One Farrer Hotel & Spa
Buffet lunch at $78++ per person

High tea at $68++ per person
Buffet Dinner at $88++ per person
-
Click & view here
One Fifteen Marina
(NOVA Room)
-
-
$1,500++ for up to 25 guests
Click & view here
One Fifteen Marina
(Bar Nebula)
-
-
$1,500++ for up to 25 guests
Click & view here
One Fifteen Marina
(Rooftop Terrace)
$3,588++ for 30 guests
$3,888++ for 30 guests
-
Click & view here
One Fifteen Marina
(Boater's Bar)
$3,588 ++ for 30 guests
$3,888++ for 30 guests
Max no. of guests: 50
Click & view here
Orchard Rendezvous Hotel
Buffet Lunch at $75++ per pax

High Tea Package at $70++ person
Buffet Dinner at $80++ per pax
Minimum number of persons: 30
Click & view here
Orchid Country Club
Not including food: $688++

Venue rental with food catering: $488++ / from $55++ per person
Not including food: $688++

Venue rental with food catering: $488++ / from $55++ per person
-
Click & view here
Park Hotel Clarke Quay
(Solemnisation Buffet)
$3288 ++ for 30 persons

$2888 ++ for 30 persons (High Tea)
$3688 ++ for 30 persons
-
Click & view here
Park Hotel Clarke Quay
(Solemnisation Chinese Set Dinner)
$998++ per table of 10 persons (Mon-Thurs, Excluding Eves & Public Holiday)

$1038++ per table of 10 persons(Fri-sun, Eves & Public Holiday)
$998++ per table of 10 persons (Mon-Thurs, Excluding Eves & Public Holiday)

$1038++ per table of 10 persons(Fri-sun, Eves & Public Holiday)
-
Click & view here
Park Hotel Clarke Quay
(Solemnisation Chinese Set Lunch)
$918++ per table of 10 persons (Mon-Thurs, Excluding Eves & Public Holiday)

$948++ per table of 10 persons (Fri-sun, Eves & Public Holiday)
$918++ per table of 10 persons (Mon-Thurs, Excluding Eves & Public Holiday)

$948++ per table of 10 persons (Fri-sun, Eves & Public Holiday)
-
Click & view here
Park Hotel Clarke Quay
(Solemnisation Western Set)
Western Set Menu #1 at $98++ per person (Min. 30 persons)

Western Set Menu #2 at $108++ per person (Min. 30 persons)
-
-
Click & view here
Ramada Singapore at Zhongshan Park
Buffet Lunch from $70++ per person
Buffet Dinner from $80++ per person
(Min. guarantee 100 persons)
Click & view here
Rendezvous Hotel
Lunch Menu A: $3188 ++ per person

Lunch Menu B: $3,488 ++ per person
Dinner Menu A: $3888 ++ per person

Dinner Menu B: $4,088 ++ per person
Minimum number of persons with Menu A: 30 guests

Minimum number of persons with Menu B: 30 guests
Click & view here
Seletar Country Club
Buffet Lunch at $60++ per person

Chinese Banquet Lunch at $688 ++ per table of 10 person
Buffet Dinner at $65++ per person

Chinese Banquet Dinner at $688++ per table of 10 persons
-
Click & view here
Serangoon Country Club
International Buffet Lunch at $70++ person pax

High Tea Package at $60++ per person
International Buffet Dinner at $70++ per person
Minimum number of persons: 30
Click & view here
Shangri-La's Rasa Sentosa Resort & Spa

(Barnacles By the Sea)
$1088++, for a maximum of 50 seats
$1088++, for a maximum of 50 seats
Outdoor ceremony only available with package of lunch or dinner for min. of 80 guests
Click & view here
Sheraton Towers Singapore
Chinese Set Lunch: $1038 per table of 10 persons

Buffet Lunch: $105 ++ per person

High Tea at: $85 ++ per person
Chinese Set Dinner: $1188 per table of 10 persons

Buffet Dinner: $120 per person
-
Click & view here
Sofitel Singapore City Centre
$3,500++ to $4,200++ for up to 50 guests
$3,500++ to $4,200++ for up to 50 guests
-
Click & view here
Sofitel Singapore City Centre
(Outdoor Solemnisation)
$4,880++ for up to 50 guests.
$4,880++ for up to 50 guests.
-
Click & view here
Sofitel Singapore Sentosa Resort & Spa
From $3,088 ++

- The Cliff Sunset Deck (20 guests) - The Stage (40 guests) - Spice Island point (50 guests)
From $2,088++

- Villa Du Jardin (30 guests)
From $3,088 ++

- The Cliff Sunset Deck (20 guests) - The Stage (40 guests) - Spice Island point (50 guests)
From $2,088++

- Villa Du Jardin (30 guests)
-
Click & view here
Village Hotels Changi
Serenity Lunch Buffet from $88++ per person
Tranquility Dinner Buffet from $98++ per person
Minimum number of persons: 50
Click & view here
Village Hotel Bugis
$65 ++ per person
$65 ++ per person
Minimum number of persons: 30
Click & view here
Village Hotel Katong
Western Lunch: $128++ per person (min. 20 pax)

Chinese Lunch: $138++ per person (min. 20 pax)

Serenity Lunch Buffet:
$88++ per person (min. 50 pax)
Western Dinner: $138++ per person (min. 20 pax)

Chinese Dinner:
$148++ per person (min. 20 pax)

Tranquility Dinner Buffet:
$98++ per person (min. 50 pax)


-
Click & view here

Click & view here
W Singapore Sentosa Cove
$161.80++ per person
$161.80++ per person
-
Click & view here
Restaurant/Others
Lunch
Dinner
Additional Information
PDF
Faber Peak Singapore
(Private Dining Room)
Chinese Lunch Set at $128++ per person

Asian Fusion Set at $128++ per person

Modern European Set at $128 ++ per person

International Buffet at $118++ per person
Chinese Dinner Set at $148++ per person

Asian Fusion Set at $148++ per person

Modern European Set at $148++ per person

International Buffet at $138 ++ per person


Option available to add a garden solemnisation at $688++
Click & view here
MASONS
Deluxe Wedding Lunch Package at $7,888++

Intimate Wedding Lunch Package at $3,888++
-
Deluxe Wedding Package serves up to 45 pax, additional guests at $88++ per pax

Intimate Wedding Package serves up to 30 pax, addition guests at $75++ per pax
Click & view here
MONTI At 1-Pavilion
Lunch: $150++ per person
Dinner: $198++ per person
Venue Rental at $1,500 ++
Click & view here
Peach Garden @ OCBC Centre
$938++ to $1388++ per table of 10 persons
$938++ to $1388++ per table of 10 persons
-
Click & view here
Peach garden @ Thomson Plaza
$688++, $788++, or $888++ per table of 10 guests
$688++, $788++, or $888++ per table of 10 guests
Min. of 2 tables
Click & view here
The Alkaff Mansion
$135++ per person
$180++ per person
Venue Rental at $1,500 ++
Click & view here
The Garage
$130++ per person
$150++ per person
Venue Rental at $1000 ++
Click & view here
The Riverhouse
$135++ per person
$160++ per person
Venue Rental at $800++
Click & view here
The Summerhouse
(Exclusive Package)
$125 ++ per person
Dinner: $150 ++ per person
Venue Rental at $800+

Spaces include: Dining Room & Balcony, Private Bridal Room, Garden Gazebo & Courtyard
Click & view here
Vineyard
Deluxe Package: $119 ++ per person

Premium Package: $139 ++ per person
Minimum Number of persons: 50
Min. of 2 tables
Click & view here
1-V:U
$150++ per person
$180++ per person
Venue Rental at $1,500++
Click & view here