Tailor-made for You: Create the Wedding of Your Dreams at Downtown East
2021-09-01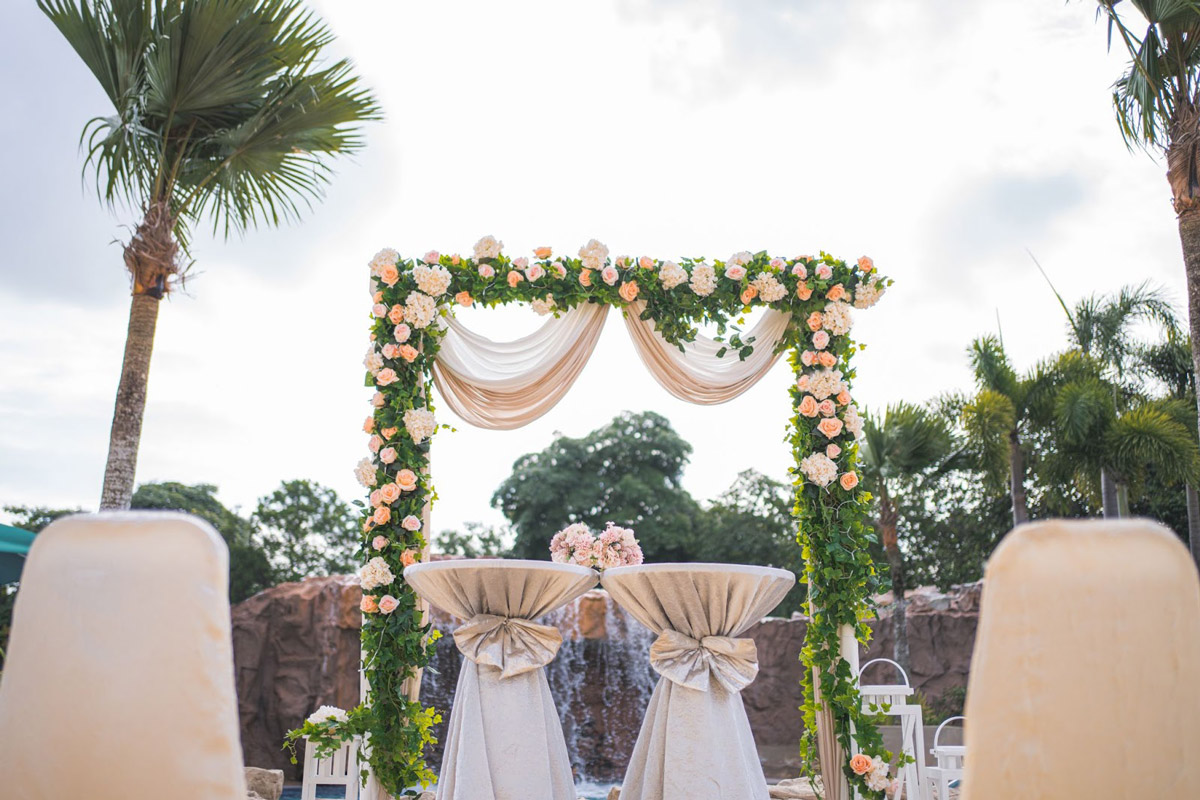 Wild Wild Wet Solemnisation
In these times riddled with uncertainty due to the COVID-19 pandemic, you should not have to grapple with an additional headache: finding the perfect venue to tie the knot! Fortunately, NTUC Club has the solution for you: With a multitude of solemnisation venues and dazzling ballrooms to choose from, NTUC Club's Downtown East boasts itself as one of Singapore's most versatile wedding venues. Nestled in the heart of Pasir Ris, Downtown East promises to transform your dreams into reality with the picturesque wedding you deserve!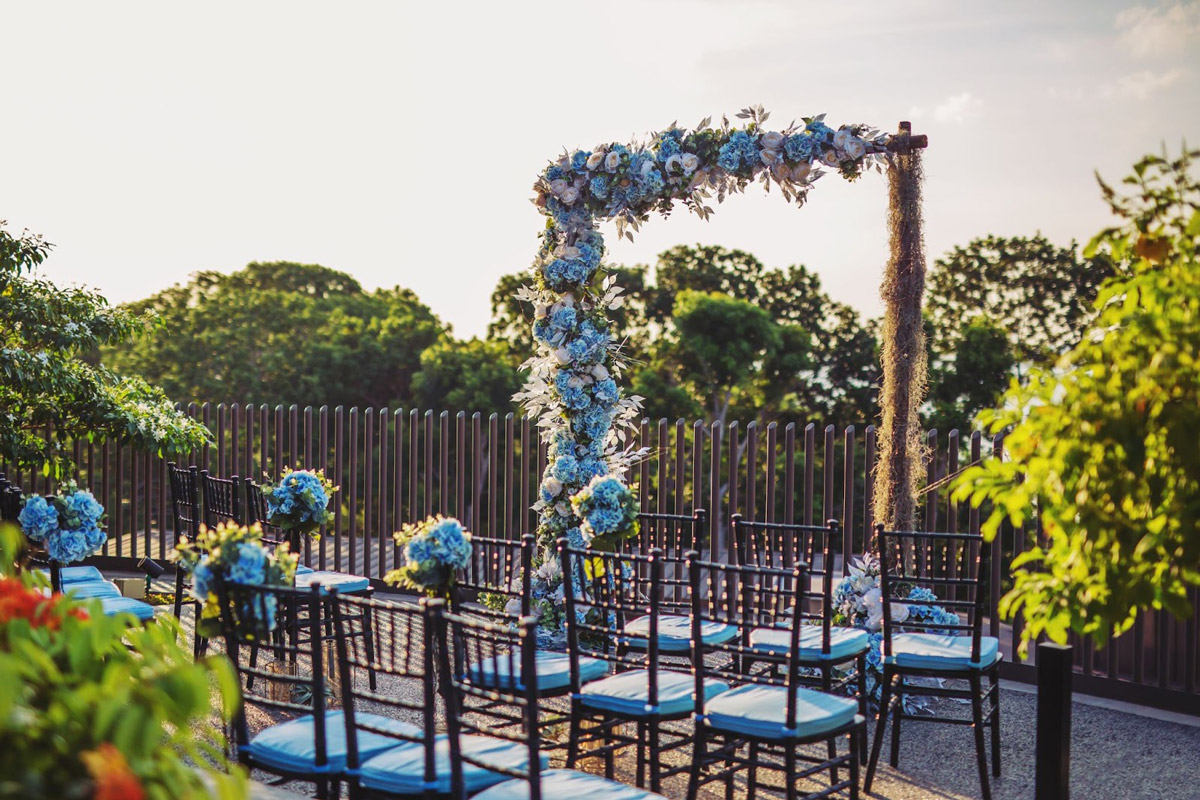 Sky Garden Solemnisation
Let your creativity flow
At Downtown East, there is no shortage of choices. Take your pick from a stunning man-made waterfall, a glittering poolside or gorgeous sky garden exterior for a solemnisation filled with sights to refresh the heart and mind. From there, transition into a graceful lunch or dinner at one of the many lush venues available.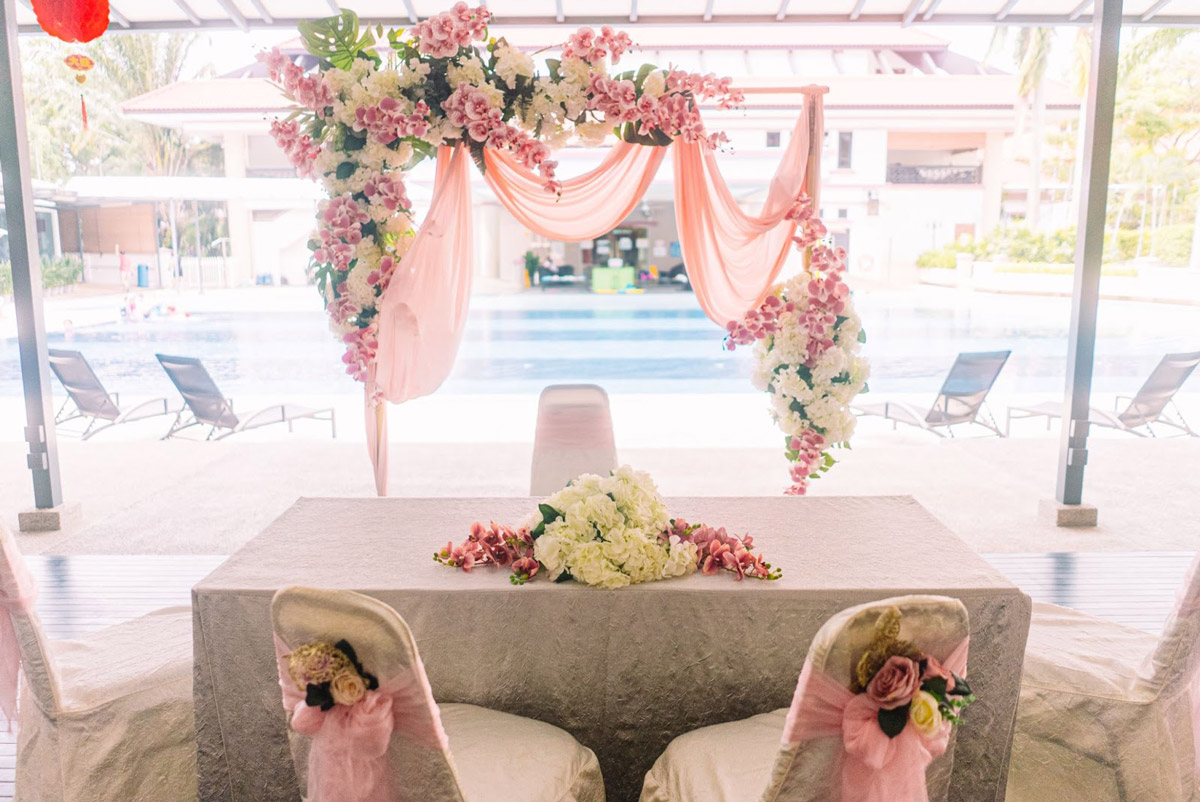 Poolside Solemnisation
For a wedding full of grandeur, couples may choose to host their weddings in the Cassia rooms. Beautiful lighting bathes the cream and white interiors in a soft, golden glow, promising a magical ceremony. The two rooms are able to accommodate up to 160 guests each. While such a figure may not be possible due to the current COVID-19 restrictions, the room's cosy and elegant design will undoubtedly create an intimate atmosphere as you celebrate your loved ones.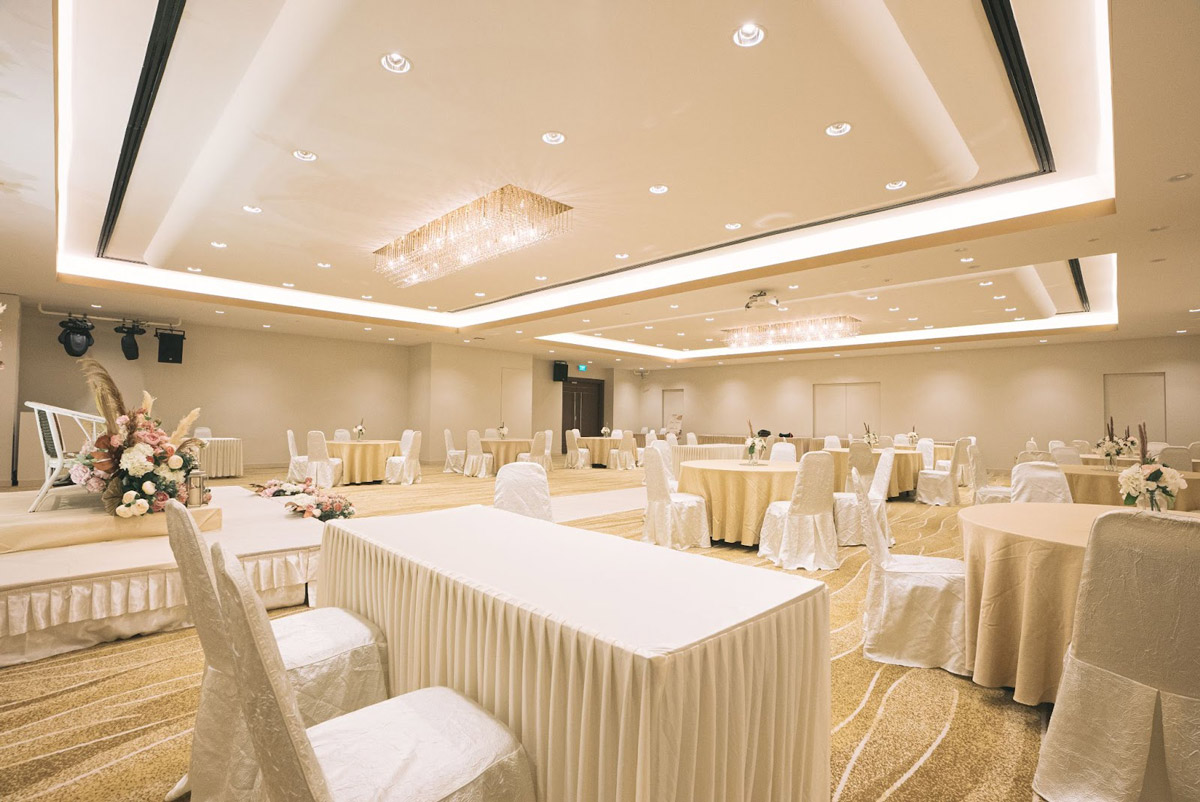 Cassia 1
For a larger setting, the Begonia Ballroom is a perfect choice. Up to 320 guests can be seated within the spacious, well-lit interior. The ballroom boasts a sophisticated charm across its 561 square metres. Both the Begonia Ballroom and Cassia rooms may be dressed up and down to suit your unique taste. Let the venue take on a classical, grand appearance to take your guests' breath away. Alternatively, take advantage of the refined interiors to create a simple, yet modern and chic setting. Bring your dreams to life—the world is your oyster!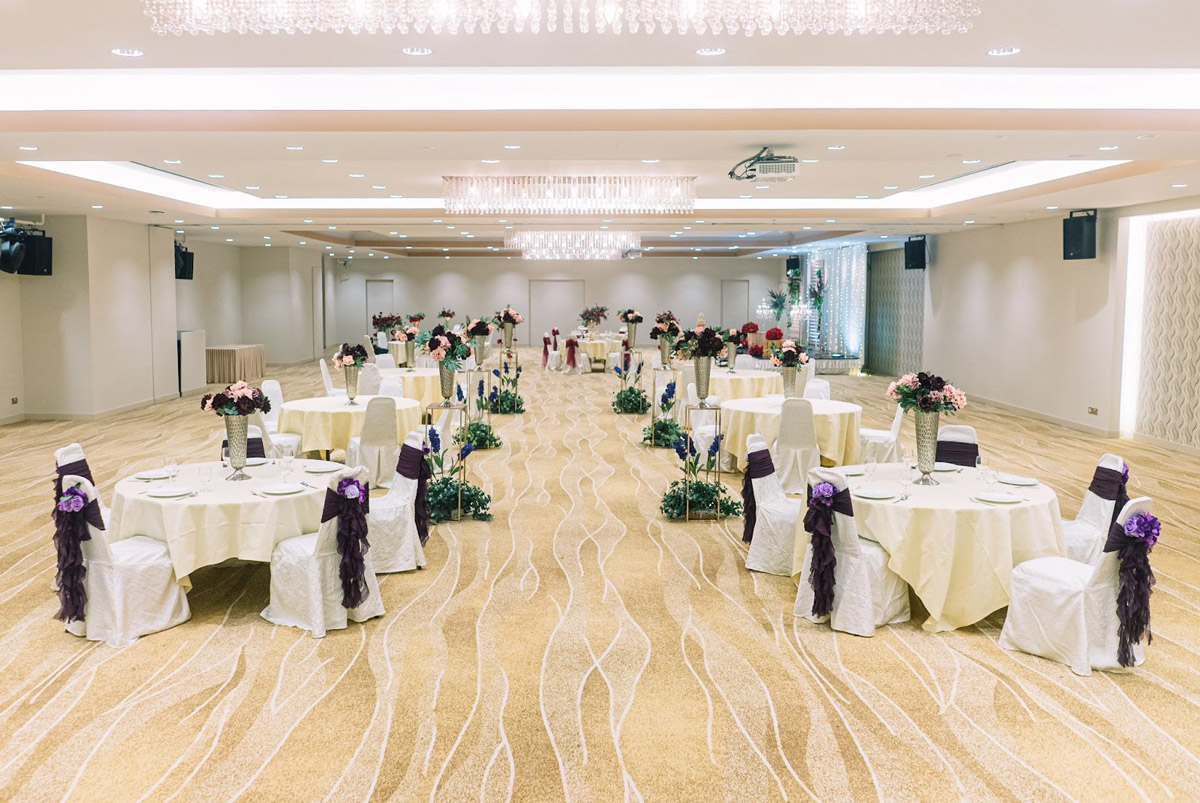 Begonia Ballroom
Want a fun, mega-sized venue for the ages?
It wouldn't be Downtown East without the perfect solution! The D'marquee is a large, fully air-conditioned multi-purpose hall. Spanning an impressive 1700 square metres, it promises to perfectly deliver on even the most ambitious wedding themes. Dazzle your guests as you transform its vast canopy into a wondrous sight. The pillar-free expanse can ordinarily seat up to 800 of your distinguished guests, however a smaller guest list would still be guaranteed a blast at the D'marquee!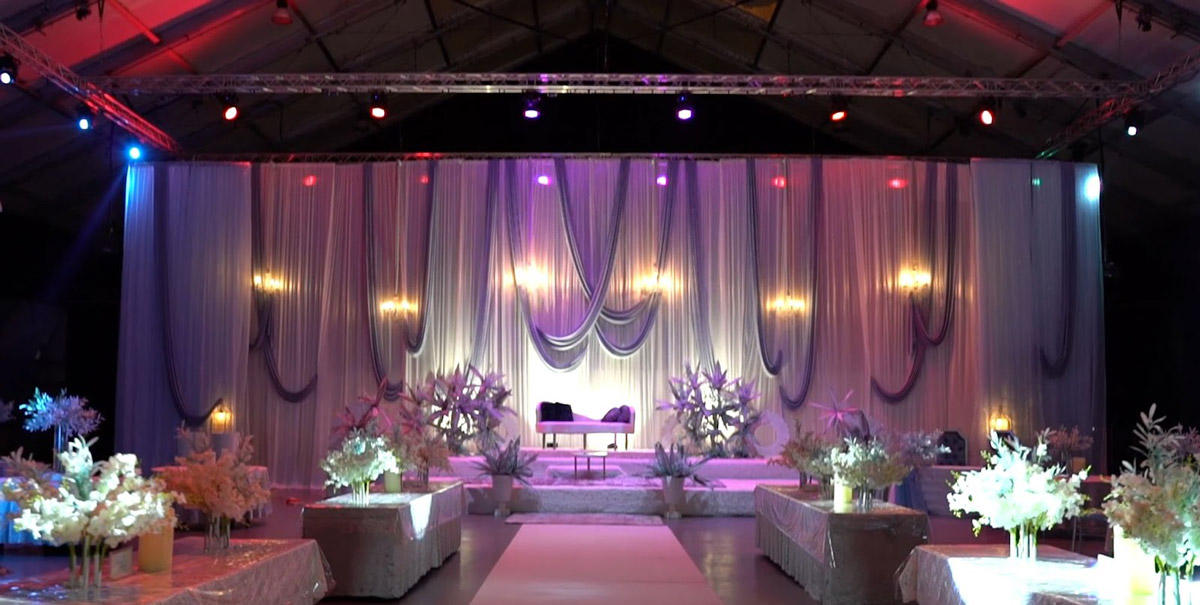 D'marquee
Ensuring your comfort and happiness
Besides an array of choices for your ceremony, venues at Downtown East can accommodate multicultural weddings, so you and your loved ones can celebrate the occasion in the most comfortable way possible. Maintaining inclusivity as a key, Downtown East prioritises their guests' comfort and tastes.
The Muslim Wedding Rental Package is a prime example of this, exhibiting the stellar service you can expect at Downtown East. While the Begonia Ballroom offers its stunning interior for the main event that day, three separate function rooms will be made available for family, prayer and bridal changing rooms. The beautiful stage, arch and aisle décor provided are the icing on the cake, along with complimentary usage of the sound system and LCD projectors.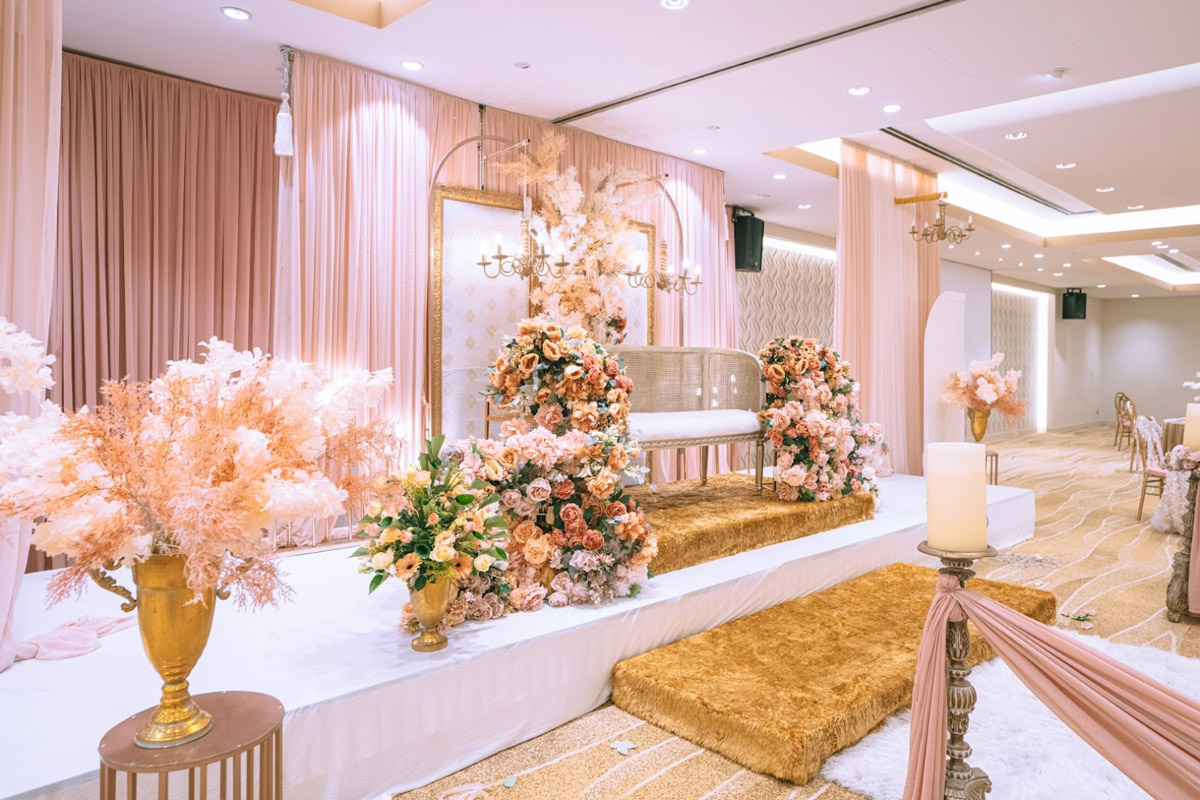 Begonia Ballroom Décor
Memorable, safe ceremonies
Over the past year, we have found ourselves whittling down our guest lists in line with COVID-19 safety regulations. In fact, micro-weddings may continue to be a facet of our 'new normal'. Downtown East poses itself as an excellent choice for smaller ceremonies, as its heartland location, as well as array of different-sized venues guarantees flexibility for you to manage guest numbers and social-distancing measures. Your special day will be fuss-free and safe!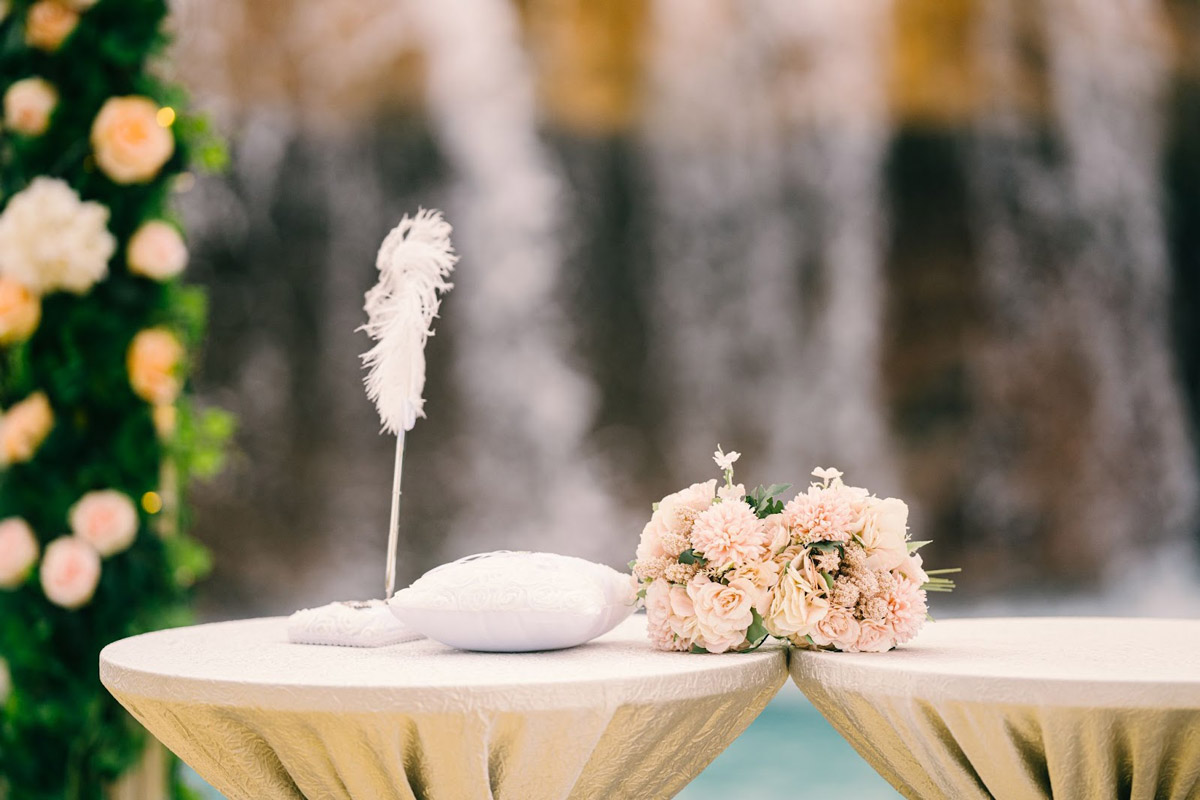 Great value for money
Downtown East lets you plan your wedding without the stress over dollars and cents. In the true spirit of creating a seamless wedding experience, NTUC Club is now offering two special promotion packages. The Solemnisation Package offers exclusive usage of the Begonia Ballroom, complete with floral arrangements and a sound system. Its affordable price starts at $688 for 30 guests. You can even enjoy its complimentary Zoom Live Streaming service, to reach out to more of your loved ones on your special day. The service starts at $450.
But wait, there's more: The National Day 2021 Package is now going for $5600 for the first 10 couples to sign up this August! You can find out more by contacting them via email at corpsales@ntucclub.com.sg or WhatsApp at +65 9021 2844.
With NTUC Club, you can rest assured your every wish will be catered to, so you can create the memorable wedding of your dreams.
Downtown East
Address: 1 Pasir Ris Close, Singapore (S)519599
Tel: +65 9021 2844/+65 6589 1688
Email: corpsales@ntucclub.com.sg
Website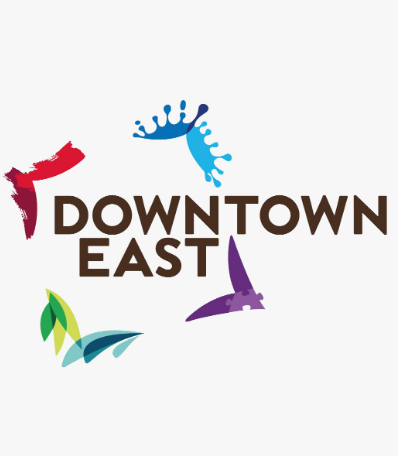 NTUC Club, Downtown East
Rating:

Address:

1 Pasir Ris Close Singapore 519599

Phone:

65891666

Fax:

65825332