Top 5 Picture-Perfect Wedding Venues in Singapore
2017-05-02

A wedding will not be known as the Big Day for nothing. Every aspect of the ceremony should be near to perfection, from the invitations to the dress to the wedding venue. Obviously, a perfect wedding day always starts with a beautiful venue. With a great location, you can have a wonderful and memorable wedding celebration that you'll love to remember for the rest of your life. So you should be meticulous in picking a venue where you want to tie the knot.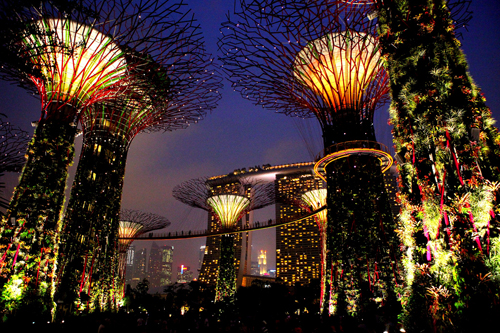 With so many beautiful locations in Singapore, choosing the one might be a little challenging. So to help you get started with your dream nuptial, here is a list of venues suitable for wedding that will truly amaze you and your guests.
Venue #1: Gardens by the Bay
When it comes to breath-taking wedding venues in Singapore, the Gardens by the Bay is always included in any list. Why not when it promises a fairy-tale like location? There are three different venues you can choose from at the Gardens by the Bay, making it a versatile wedding location. If you want an indoor wedding, you can celebrate your wedding at the Flower Field Hall or at the Waterview Room. Choose the Silver Leaf if you prefer an outdoor venue. You can walk down the aisle under the canopy of Supertrees complete with the iconic views of the Flower Dome and the Marina Bay skyline.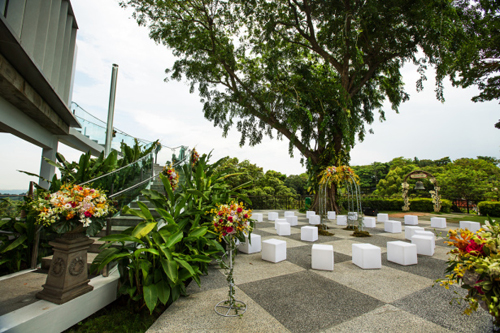 Venue #2: Amara Sanctuary Resort Sentosa
Widely known for its charming Glass Pavilion, the Amara Sanctuary Resort Sentosa has captured the heart of many brides. The pavilion is a nostalgic architectural structure surrounded by lush tropical gardens. This place is regarded as one of the best wedding venues in the country where the couples and guests can have an unforgettable and enjoyable wedding reception. Aside from the iconic Glass Pavilion that makes a beautiful spot for solemnisation, there are other reasons why people want to celebrate their wedding in this place such as greenery tropical surroundings and tranquil ambience within Resort Sentosa.
Venue #3: Faber Peak Singapore
For a romantic view overlooking the city, the Faber Peak Singapore would be a perfect choice. Formerly known as the Jewel Box, this venue lets your wedding vows soar into eternity atop the infamous Mount Faber. You have three wedding location choices with unbeatable views that will surely leave all your guests breathless. The Ballroom is a good choice for a lavish wedding banquet with its floor-to-ceiling glass windows overlooking the Harbourfront-Sentosa area. If you want an indoor and alfresco venue, the Spuds & Aprons can give you a relaxing atmosphere while the Private Dining Room offers exclusivity with a panoramic view of the sea. So if you are planning a wedding, don't forget to include the Faber Peak as one of your choices.
Venue #4: Singapore Flyer
Think wedding ceremony is only held on land? You'd be surprised to know that you can have a wedding up in the air! You can celebrate your wedding matrimony inside a Singapore Flyer capsule. Exchange vows and rings along with two dozen of your closest family and friends at 165 metres above the ground.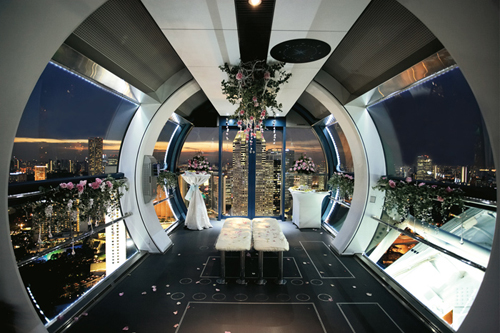 Venue #5: Singapore Zoo
Do you love nature and animals? Then you should get married at the Singapore Zoo! Animal lovers who are looking for a great place to throw a memorable wedding will surely find this place a sanctuary. They can fulfil their dream of being surrounded by animals while tying the knot. Nestled in the heart of the rainforest, the majestic wildlife forms in the zoo are the perfect backdrop for a safari-theme wedding. The Singapore Zoo is one of those wedding venues that you'll less likely expect to become a perfect location to exchange vows.