Sinfonia D'amore Wedding Showcase

(0)
people join this
Organizer :
Venue :
Sinfonia Ristorante, Victoria Concert Hall
Admission :
Free
Event Date & Time :
2019-10-20 05 : 30 : PM
To
2019-10-20 08 : 30 : PM
---

Events & Contest details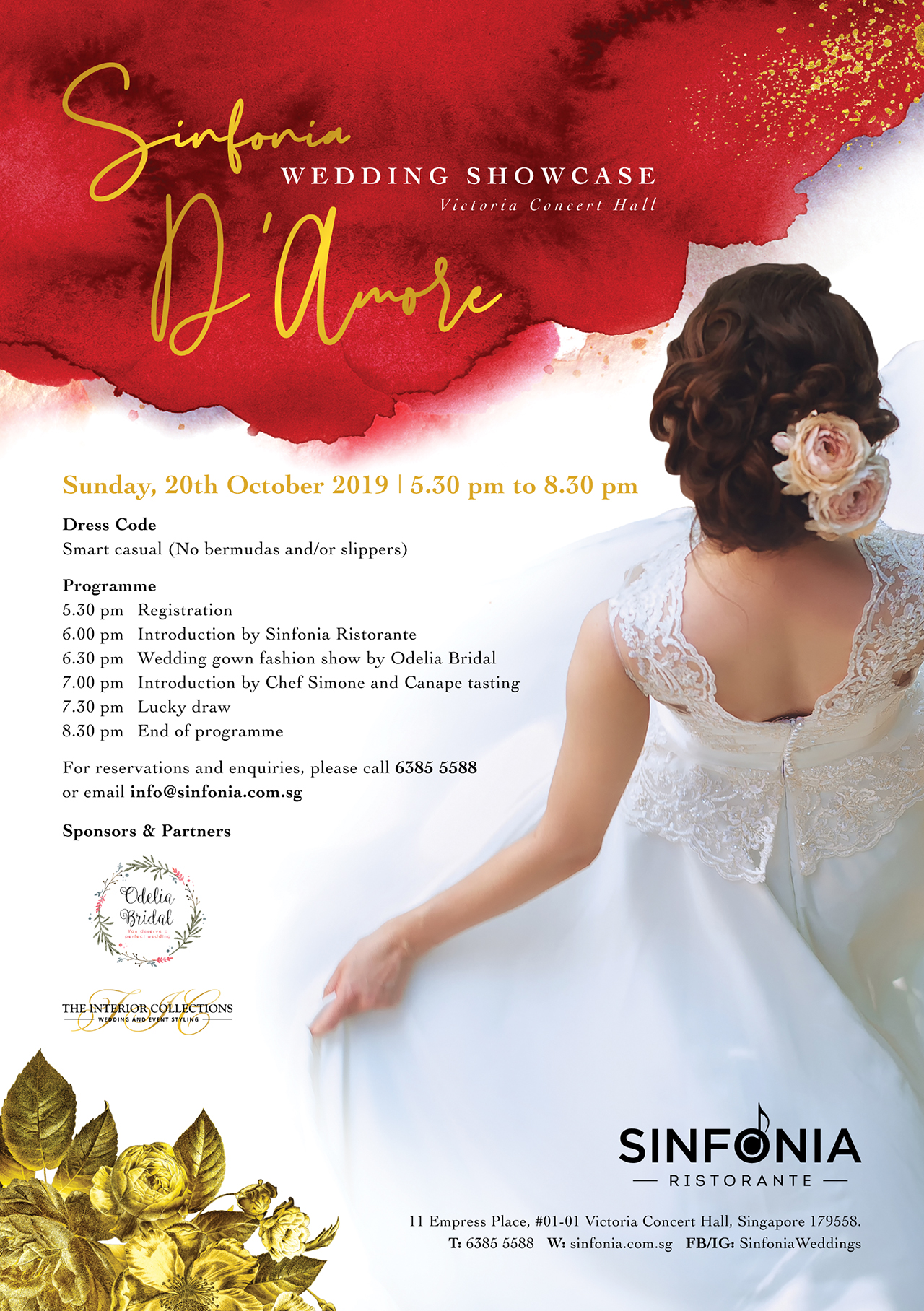 Ever wondered how your wedding will look like?
Sinfonia Ristorante warmly invites you to take a glimpse of your dream wedding at our upcoming wedding showcase, "Sinfonia D'amore" on Sunday, 20th of October from 5:30pm onwards.
Be awed by the grandeur of the majestic Victoria Concert Hall and the restaurant's colonial architecture marked by grand Corinthian columns and high ceilings while being enchanted by Odelia Bridal's exquisite gown collection.
Savour a selection of canapes specially prepared for you by Executive Chef Simone Delpalmas and be entertained by our live band. Our florist, wedding gown and photography professionals will be around to answer any questions you may have.
Stick around for our lucky draw and you might just win yourself some attractive prizes!
You deserve the very best on your special day, and the dedicated team from Sinfonia Ristorante commits to impeccable planning and service. Couples can work with our Executive Chef to create bespoke menus for your special celebration. From canapes to fusion to degustation menus, our team will be able to orchestrate an unforgettable experience for you.
A highly customisable space likened to a blank canvas, you can easily transform the venue to fit your desired wedding theme. Sinfonia Ristorante's magnificent setting sets the stage for the elegant and sophisticated wedding of your dreams.
The restaurant was recently chosen as the Top 10 Wedding Venues by the prestigious Singapore Tatler for 2018 and 2019, as well as top banquet venue by Blissful Brides Editor's Choice of 2018.
Admission is free!
Register your interest today.
---
Please fill in the application information *
Please login first *