All That Glitters
2015-09-23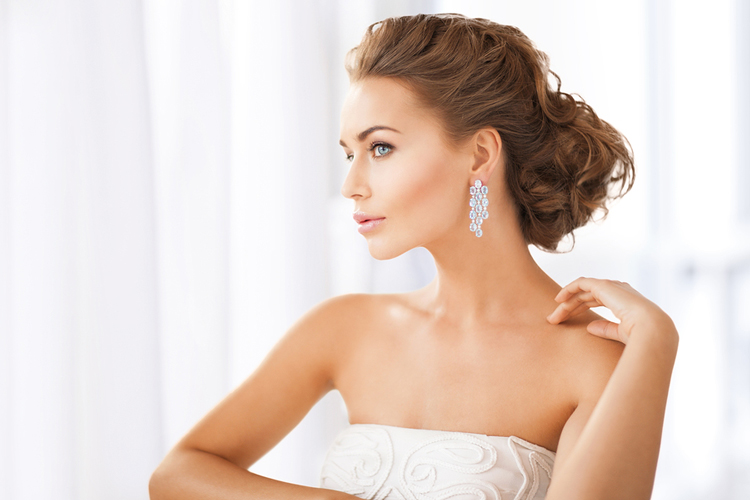 Gown shopping was fun. Now that that's cleared, you're in for a real treat – it's time to accessorise! We list some simple tips so you'll look like the princess that you are. After all, it's really the little details that make you look perfect!
The first rule to remember when picking out your glittering pretties is: Never overdo it. It may be difficult to pick the perfect pair of earrings, but having three pairs on your earlobes can be a turn-off. You shouldn't be looking like a Christmas tree on your Big Day! Instead, focus the attention on your natural beauty with elegant, understated pieces and you can be sure that they add that finishing touch to your perfect look. Here are some simple tips:
Understand Your Gown – The style and colour of your bridal gown plays a major role in the selection of accessories, which should always enhance your overall look. Take a close look at the colour, cutting and design of your gown. What shade of white is it in? Does it have a low neckline or is it halter? Is it a simple dress or does it have intricate detailing?
Most brides opt for a white bridal gown, but few understand that the shade of white can make a difference to your overall look. For instance, rhinestones, crystals, diamonds and faux diamonds can work with all gown colours, but it is best to use a silver setting with white and a gold setting with other gown colours.
And as a general rule, the more glitter and detailing on the gown, the simpler the jewellery should be, while a more plain gown can support more opulent selections. Ask your bridal designer for advice as to how you should match your accessories to her gown.
Go Classic – You'll never go wrong with the modern classic look. Signature classic pieces like a strand of pearls will never go out of style. Brides have worn pearls for centuries as a symbol of purity and perfection. In ancient Rome, the pearl was the ultimate symbol of wealth and social standing, while the ancient Greeks associated the pearl with unrivalled beauty and marital harmony.
If deciding on your jewels is proving more difficult than finding the gown, there's one jewellery combination that is timeless and elegant: Pair diamond drop-earrings with a sophisticated necklace, such as a strand of pearls or a diamond pendant choker, and voila, you're done!
Special Touches Want to go beyond the ordinary into the exceptional? Then add some special touches to your overall ensemble. Dainty additions like a princessy tiara or a treasured heirloom rhinestone bracelet can look marvellous on a happy, glowing bride.
If you decide to crown yourself with a glittering tiara, consider keeping your other jewellery simple. Small pearl earrings and a simple necklace will let your tiara be the point of focus and any extra jewellery will be unnecessary.
Should you come into possession of a treasured family heirloom such as your grandmother's antique bracelet, you can make the elders happy by putting it on too. Brides should realise that watches are only appropriate at weddings if they are unusual antiques or family heirlooms.
Dazzling Bride –
Modern brides have an abundance of choices, and the final wedding jewellery ensemble is often a combination of shiny gems and signature pieces. From conservative pearls to colourful gemstones to glittering diamonds, the possibilities are truly endless! It's your special day, so put on what makes you feel most like a dazzling bride!