She Said Y.E.S!
2016-07-15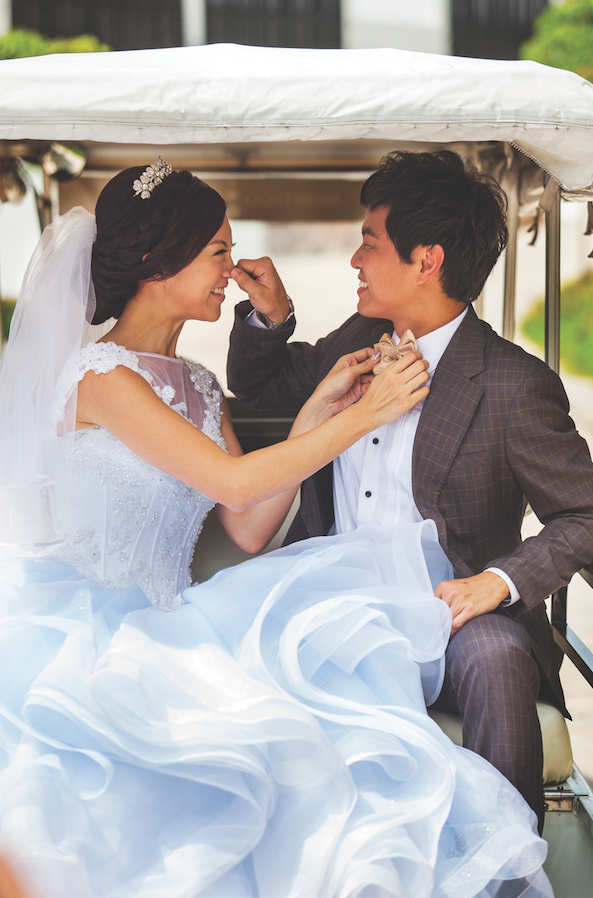 After 10 years of courtship, Mediacorp Radio producer-presenter Lim Pei Fen and her bank project analyst fiancé, Lie Wei Xiang, are finally tying the knot. Michelle Zhu finds out how this adorable couple has kept the fire burning for a decade, and will do so for many more to come.

Pei Fen reveals that she initially had a crush on Wei Xiang when they first met in junior college, which eventually faded into platonic affection. "We took some time to realise our feelings for each other. I thought of Wei Xiang as a guy who was nice to hang out with – but I didn't think it would develop into love. We were both too busy with our own lives and commitments at the time, so it wouldn't have been easy for us if we started a relationship back then," she says matter-of-factly.
The lively Y.E.S. 93.3FM radio deejay also mentions that they lost touch with each other after graduating from Hwa Chong JC, and only resumed correspondence during Wei Xiang's National service days while she was studying in Nanyang Technological University (NTU). "He gave me the guitar score for a Mandarin song that we both liked, entitled Ni De Dao Ying (Your Shadow) by Liang Wenfu… That got us talking a little bit more again."

Even her fiancé's first attempt at courtship was not met with immediate success. "I tried to invite her for my Officer Cadet School (OCS) commissioning ball, but she turned me down because she was too busy to make it. I had feelings for her back then, and was a little sad when that happened," shares the Wei Xiang, who holds a Bachelor of Engineering in Computer Engineering from NTU.

"It was a couple of years after when I asked her out again for karaoke, just the two of us," recalls Wei Xiang, to which Pei Fen cheekily adds: "He mesmerised me on our first date over karaoke, because he could sing Jacky Cheung's songs so well.

She continues: "We went 'official' on the day we went to watch Spider-Man 2 in 2004. After the movie, he popped the question during the cab ride home. It was already a bit of an unspoken relationship before that, but of course I said yes.

"Dating after years of friendship seemed like a natural process. We already knew each other so well, so when we first started out, we felt like we were already an old couple."

The next big 'yes' took place nine years later in 2013, when Wei Xiang proposed to her in Seoul, Korea.

"I guess you can say it was always meant to be, and we were lucky enough that it happened," asserts Pei Fen with a slight smile.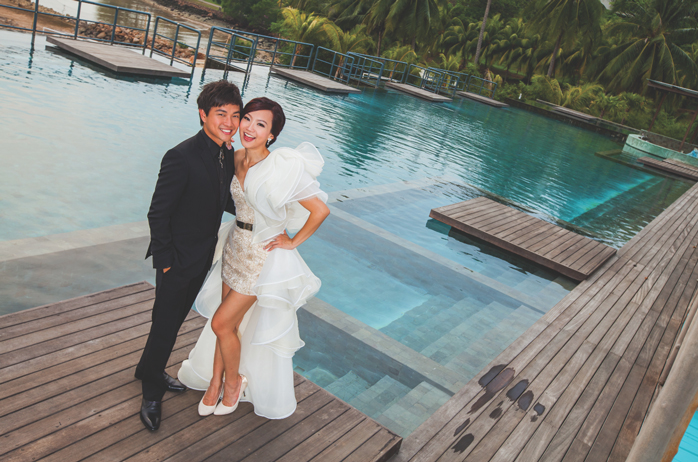 Did you plan for the wedding yourselves?
PF: That's right. We did think of engaging a wedding planner. When Wei Xiang said, "I think we can do it (ourselves), right?" I didn't want to make it seem like we weren't up to the challenge, so I said, "Okay, let's do it ourselves!"
It is our own big day, so I like it that we're handling all the wedding planning and preparations ourselves so that we can feel like we're fully part of it, rather than sitting back and waiting for things to be done by someone else. Marriage is a journey together, and in fact we've gotten to know more about each other through the process. Wei Xiang and I sometimes meet up in the evenings to talk about the wedding over dinner, and a lot of things got done over e-mails and messaging through the day.
Tell us more about the concept behind your wedding.
PF: 'Vintage whimsical' – those are the two words for our wedding decoration theme. I've always been into 'old' stuff: vintage fashion, movies and music. I chose the venue for the good food. That's really the highlight of the basics because when you go for a wedding dinner, you want to eat great food, right?
To keep our guests engaged, we've got plenty of mobile photography services planned out on the night itself. Besides the regular photo booth at the reception, guests can take pictures with their mobile phones and send it for printing during the event, even over dinner. This way, it's not just the event photographer who will be going around taking pictures.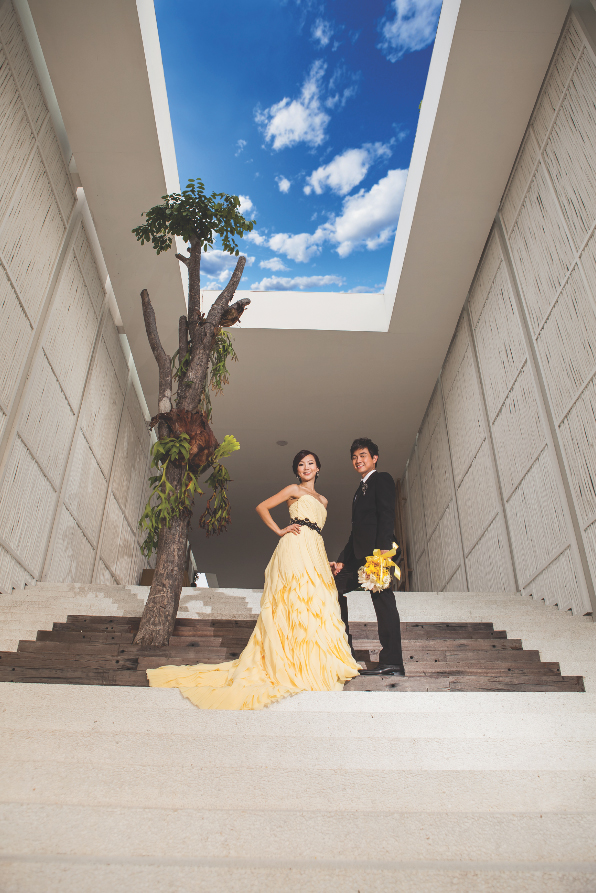 If you could have an endless honeymoon destination list, where are some of the places you'd like to visit?
PF: I've always wanted to visit Santorini (or Thíra) in Greece. The Maldives is also one place that I would love to go with him, simply to laze around. I don't really like sun tanning, but I love being by the sea and enjoying the views of it. I also plan to travel to Italy with him, because I've been there on my graduation trip and I think it's a really romantic place to visit.
What are some of the things that the both of you have in common?
PF: We both love cats; we have three of them at home. We also share the same values, which is very important trait for someone you are spending the rest of your life with. For instance, Wei Xiang and I value family a lot.
He communicates very well with my parents, which it so much easier whenever I wanted to spend time together with both him and my family at home. My mum laughs at all of his jokes, which are not funny…Sometimes, I get jealous and suspect she loves him more than me. But I know she really loves him because of me.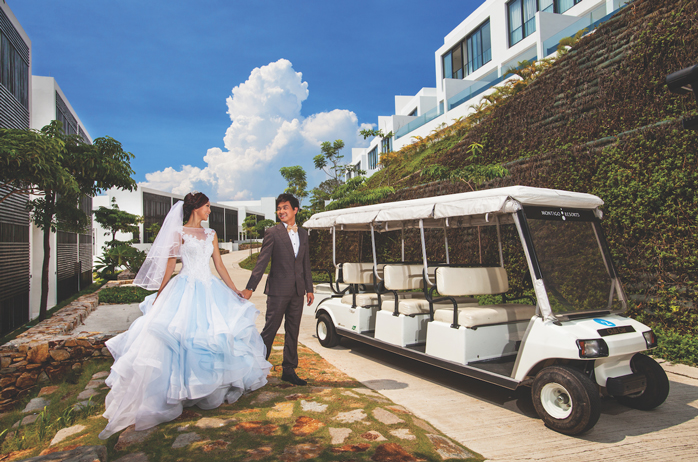 What do you love most about each other?
PF: His love for family. Because I'm going to be family, if he's devoted to his family, that will definitely include me.

WX: She's passionate and independent.

Which, in your opinion, is the most important aspect of the wedding?
PF: The marriage, instead of the wedding. Everybody places so much emphasis on the day itself that you tend to forget that marriage is about making a commitment to each other. I've heard about how much unhappiness can be involved in planning a wedding, and all the quarrels and problems that arise from it. The most important thing about the wedding day is to celebrate and simply be happy.
What are some of your major plans after marriage?
PF: Have kids and build a family, I suppose! We spend time with Wei Xiang's nephews almost every weekend, and we really enjoy it. I know having children is not just about the fun, but the love and joy we shall experience will be so fulfilling. If possible, I'd like to have two within the next couple of years or so… but we'll let nature take its course.

WX: How about three kids? We have three cats, so one for each cat. Let's pair them up like dire wolves and the Stark children in Game of Thrones.